Client Letters 2015

From: Ophelia
Sent: Thursday, December 24, 2015
To: Donna Strucic
Subject: Trip Follow Up
Dear Donna,
it has been a few weeks since I returned from my Pilgrimage to Fatima, Spain and Lourdes. I had knee surgery shortly after my return so was unable to drop you a line until now. I did want to thank you and 206 Tours for yet another fantastic pilgrimage. Once again I was able to visit locations I heard about growing up and never imagined that I would ever have the opportunity to visit. My Tour Group included about 20 of us. A perfect number to travel with. It turned out one couple I had met in 2014 on the Holy Land Pilgrimage I took and 2 other ladies who were on the Rome portion of that trip were also part of this group. It was like a family reunion to come together once again and make more precious memories.
The Spiritual Leader, Father Luis was wonderful. A warm and very outgoing young Priest who walked with us and reinforced our faith and was able to add so much to our experience. I hope 206 uses him again. He took the time to spend time with each of us. What a blessing! I don't have enough words to express how great our Tour Guide, Juan was. Such a nice young man with so much faith and information that he shared with us. Very caring about our needs especially those of us with medical issues. (It was unknown to me at the time I took the pilgrimage that I would be coming home only to have knee surgery but I had some struggles on the pilgrimage and he was so very thoughtful to warn me of possible challenges I might be facing incase I needed to make alternate plans). I appreciated this so very much. He did the same for others on the trip. Our driver was excellent. Always careful, on time to pick us up and left us amazed with his skills maneuvering a bus in tight spaces. BIG kudos to 206 for hiring only the BEST.
The hotels you chose for us were perfect. Such close proximity to the churches and places we were visiting that I never felt I was unable to visit everything I wanted. I was able to easily walk back and forth during our down time if I wanted to. I could go on and on about everything I loved about the Pilgrimage but I hope the fact this was my second trip with you is enough to express that. I am already looking at what might be my 3rd pilgrimage with you. Thank you and the rest of the Team at 206 for handling these pilgrimages with the care that you do. It is obvious it is a labor of love for you not just a job. Merry Christmas and blessings on you all.

Ophelia M.Gonzalez-Nix
From: Father Scott
Sent: Monday, December 21, 2015
To: Bika Stevic
Subject: Pilgrimage to Shrine of Guadalupe & Mexico City: December 10 - 15, 2015
Dear Bika, Salus et pax. Many thanks for the welcome home. We had a great time in Mexico City with Our Lady of Guadalupe. It was a blessed experience, and I remain quite grateful for the opportunity to be the spiritual director for the other pilgrims. It was truly a great group and we got along quite well. We had such a good time that some of us are talking about going on another pilgrimage together! We will see what the Lord has in mind in that regard. I appreciate all the hard work that Melissa and you and all your 206-colleagues did to make our pilgrimage a success. And it was just that: we experienced many graces! The guide – Roberto – was quite friendly, helpful, and patient with all of us. He took care of us as did Juan, the driver. Gonzalo, one of the drivers, was also quite attentive. The Celebration of the Eucharist on the 12th, the Feast of Our Lady of Guadalupe, which was preceded by the opening of the Jubilee Doors for the beginning of the Extraordinary Jubilee of Mercy, was the highlight of the trip. That day and the whole pilgrimage have provided great memories for me and the others! We are compiling an album of pictures. Maybe we can share some of those photos. Stay tuned. May all of you at 206 Tours have a Mary Christmas.
Fr. Scott
From: Flora Hanten
Sent: Thursday, December 17, 2015
To: 206 Tours
Subject: Viva México! Me México Lindo e querido! | Pilgrimage to Shrine of Guadalupe & Mexico City: December 10 - 15, 2015
Dear Bika Stevic, Thank you very much for your awesome e-mail. I really enjoyed the pilgrimage in Mexico with the Group that God selected thru you 206 tours. I brought Mexico and the Group in my heart. Those people in the Group all are precious. We understand each other marvelously we shared prayers, songs, food, a lot of talk with each other, and with People in Mexico. I send my gratitude to all of you that provided that gorgeous holy pilgrimage. I send my deepest gratitude to those people that were in charge of the group like Fr. Scott, our spiritual guide, Mr.Roberto the tourist guide and Joan and Mr. Gonzales the drivers. Fr. Scott did divine work. He celebrated all Mass including in the Shrine at Guadalupe. Also he explain the word of God very clear with deep spiritual simple way that all of us Could understand easily. He knows how to communicate with wisdom, patience, easy and clear. We prayed the Divine Mercy chapel , the rosary and many prayers. Also a lot of Mexican people wanted to touch him and talk and confess with him. It was amazing. Fr. Scott is very anointed with the Spirit of God. Mr. Roberto is an excellent professional he explain everything in detail patience care and responsibility. Mr Joan and Mr Gonzales also very responsible patient and care. All of them I stand my deep gratitude and I hope to see them again. I already miss this group . Also I take a little time to send my gratitude to Melissa Mulligan who sold me the ticket trip and she took her time to explain everything nicely to me. I really feel that I am member of that gorgeous family 206 tour. I thank all of you with my heart and my soul ,who make this pilgrimage possible. And from the bottom of my heart I wish you Merry Christmas and happy New Years. Feliz Navidad.
Flora Hanten
From: Minene Pacia
Sent: Thursday, December 17, 2015
To: 206 Tours
Subject: Pilgrimage to Shrine of Guadalupe & Mexico City
I would like to express my heartfelt gratitude to 206 Tours for an excellent service we had in our pilgrimage to Mexico City, we were a small group and so we became very close like a family, Father Scott was amazing, he's a truly man of God,a holy priest, Roberto our tour guide was very professional and patient, and our driver Juan was a safe driver and very helpful, it was indeed a very spiritual pilgrimage, thanks again, I will surely call you again for any plans of future pilgrimages, Merry Christmas and a Happy and Prosperous New Year!
love in Christ,
Mickee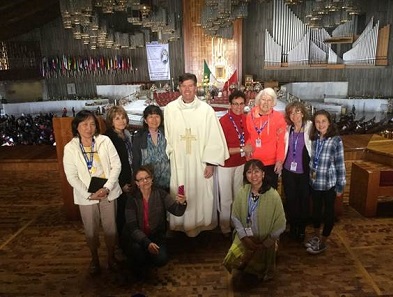 From: Martha Hertanu
Sent: Wednesday, December 9, 2015
To: 206 Tours
Subject: Pilgrimage to Fatima, Spain, Lourdes & Paris: October 29 - November 10, 2015
I want to let you know that we have so much joy with this trip. I am speechless with what 206Tours done. Let me start with my mom, who was the reason I booked this tour. On her birthday, my mom was so surprise with her birthday cake. I am so grateful that you did that. Second, with her age, 83, I requested the wheel chair and special care for her, We got the wheel chair in most needed airports, this is so helpful. she can't do it without this. We got the special need hotel room, thank you. The wheel chair was also available in the bus. I can't thank 206Tours enough for all these services. My mom was overjoyed and she still talking about how happy and how blessed she was during the trip. Note: my mom finally didn't use the wheel chair provided in the bus. She decided to walk slowly and I was with her most of the times. Her happy spirit helped her to walk at the sites, though slowly. Second, Juan. I can't stop thanking him. He really took care the group in DETAIL. His instruction is clear. Not only that, his knowledge about the place we visited is superb. He answered all questions we had. Also, he always check with me about my mom, how is she doing. When we were in Lourdes, he managed our own group night procession since we were already in November when we reached Lourdes. I love all the movie he played in the bus, very very helpful in understanding the background of the holy sites we visited. We can feel his faith and passion about these holy sites. He deserves 5+ stars. Thank you. Third, the drivers. We have 2 drivers. Both of them are excellent and helpful. But we love our driver from Lisbon to Lourdes, he is warm to the people and smile a lot 🙂 Fourth, the local tour guides: All are good, except when we were in the city of Avila, Spain. Her story and or explanation wasn't that clear. I am sorry I don't remember her name. Fifth, Father Luis, he is a joy for the group. I love his homily (I learn from it and it touched my heart). He is so humble, happy, funny and so warm to us. He cares about us. Sixth, the daily Mass in the holy sites. This is the highlight and really the joy of my spiritual journey. Seventh, the tour guide package you sent before the trip. It's very good, so detail, very helpful. And I am grateful with 206Tours arrangement in regards to Tipping. Very helpful that we are not worry about tipping here and there, and very simple that we only prepare for the drivers and the tour guide. Thank you. Just a comment. It's such a blessing we had a total of 21 people in the group (from Lisbon to Lourdes). I am happy as I think this is the right size. Note: With 206Tours, this is my 2nd pilgrimage I had. The first 1 one (about 3 years ago) was also about this size and it's good. If it's greater than 30 I think it's too crowded. 206Tours will be in my first list for my next pilgrimage. I pray for 206Tours, that you continue helping the pilgrims reaching their holy sites beautifully. Pictures below: 1. My mom with her birthday cake 2. the group in Fatima.
Sincerely,
Martha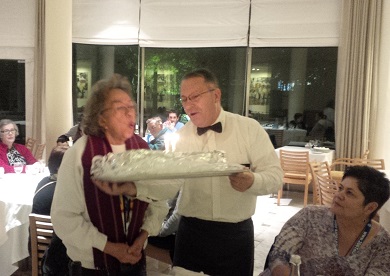 From: Jeanne Dione
Sent: Monday, December 7, 2015
To: Amanda Fortunato
Subject: Our Pilgrimage to Israel | November 9-18, 2015
Dear 206 Tours, We just returned from a magnificent tour to Israel with 206 Tours. Our accommodations and food were excellent. It was a trip of a lifetime. I must commend our Tour Guide, Shafik. He was a biblical scholar, constantly connecting the Old Testament to the New Testament. He also was an historical scholar. Within his connections, he included the past history from the occupation of Ancient Rome to the Crusaders and the Byzantine Empire. I am a retired teacher and enjoyed every minute of listening to him. He was funny and enlightening. You could tell he loves Jerusalem, where he was born, as well as his country – the Promised Land. What a wonderful young man. I also would like to commend Mike Milano! He was in charge of the tour. He made our trip enjoyable, comfortable and holy which is a tribute to him, as well as to Father Robert. What a great team! These three people made this tour incredible. I would recommend using all three for any pilgrimage that you organize. We went on a 206 Tour to Lourdes in July, but this experience was above and beyond our wonderful excursion to France this summer. My husband and I are both involved in the church and brought back so many memories that will last us for the rest of our lives. This pilgrimage has also deepened our faith. Thank you, Mike, for introducing us to 206 Tours and we both hope to go with you again soon.
Sincerely,
Jeanne & Bill Dione
From: Sharon and Bob Sowadski
Sent: Sunday, November 29, 2015
To: Amanda Fortunato
Subject: Matthew Shelby & Fr. O'Connor | Italy Pilgrimage | November 2015
We had a wonderful pilgrimage with Fr. O'Connor and Matt. Everything went smoothly and we were well taken care of. Our main Tour Guide Vanessa could not have been any better. She was very caring, patient, knowledgeable and delightful. I really think she went above and beyond what we have experienced with other tour guides. The hotels were very nice and their location to what we were touring was well situated. Our bus driver was very helpful and friendly. I would highly recommend 206 Tours to anyone who is interested in a pilgrimage. We really did come back spiritually enriched. Sharon and Bob Sowadski
From: Guevarra, Alicia
Sent: Friday, November 27, 2015
To: Natasha Tosic & Liz Shea
Subject: Fr. Kevin | All Italian Shrines | November 2015
Happy Thanksgiving to to both of you. We arrived last Monday night tired and exhausted. We had a very wonderful trip. Thanks to you guys. The weather was great except for one day in Padua that we got rained out the whole day. The hotels we stayed in were superb. We had so much food and wine. The Shrines & museums we visited were fabulous. The best of all is that we had 2 great individuals with us, Gaia, the guide and Giovanni, the bus driver. Gaia really went out of her way to take care of us. She treated us like her mother, daughter & sister and took care of our comfort & needs. She also worshiped and prayed with the group in the churches we visited. I think I had found a friend for life. And Giovanni – he was not talking that much, but drove us safe and sound to the places we went to. Thank you 206 tours for making our trip a treasure and a memory to remember for a long time.
Happy Holidays!!!
Alicia
From: Larry Watkins
Sent: Tuesday, November 24, 2015
To: 206 Tours
Subject: All Italian Shrines: November 9 - 22, 2015
I would like to take this opportunity to thank 206 Tours, their staff and all of their representatives for providing me with the spiritual trip of a lifetime! Being that I have numerous health issues and some limited mobility I was concerned about my ability to make this journey but your staff put my mind at ease and I did it! I must admit that it was physically the hardest thing I believe I have ever done. This just wouldn't have been possible without the assistance of the best bus driver in the whole world, Maximo, who helped me on and off the bus every time and also helped me with my belongings. Also, our tour guide, Ana, was the most wonderful guide we could possibly have had. She was patient and helped me along the way as well as offered words of encouragement to keep me going. Our spiritual director, Fr. Sabino, was such a joy to have with us. He made us think, pray and laugh! I owe a debt of gratitude to these three which I will never be able to repay. I must also thank all of my fellow pilgrims who were all so kind and special. We all instantly bonded and had a wonderful time together. These are all new friendships which will last a lifetime! One final note, as for the water taxi in Venice, well, let's just forget about that embarrassing incident. (My fellow pilgrims will understand. LOL).
Larry Watkins
From: Fr. Mike
Sent: Tuesday, November 24, 2015
To: 206 Tours
Subject: Carmelite Pilgrimage - Celebration of the 500th Anniversary of the birth of St. Teresa: November 6 - 19, 2015
My dear 206 Tours,
Good Morning. First of all let me express my gratitude to you for having given me this opportunity to be the spiritual director for the Carmelite Pilgrimage. I am not only blessed with the pilgrimage but enriched and energized as well. I also got a chance to have more new friends. All of them are so wonderful people. Secondly, I admire you, the 206 Tours. While so many tour companies try to make profits, your company is committed to evangelization and use it as a way of ministry. You also have and excellent staff besides selecting professional and knowledgeable tour guides. I can honestly say Mr. Felipe is a wonderful and extraordinary guide. He guided us not only as a guide but as a brother, friend and a guardian as well. My gratitude goes to him. He made our pilgrimage so easy and comfortable. On certain occasions, he emerged as a good shepherd – helping the pilgrims in their various needs – even at the times when a person was lost, he went in search of the lost. All other local guides too were very efficient.
All the pilgrims were so blessed to have the unique chances to be in the holy places of St. Teresa of Avila – her birth place, her church of baptism, her convent of incarnation, her chapel of transverberation, the room where she died etc were are very memorable. I can't find anything negative about 206 tours. You are one of my favorite friends. I wish you all the best in your ministry. May God shower
upon you his choicest blessing upon all of you.
In union of prayers
Fr. Mike
From: Matthew Schleier
Sent: Tuesday, November 24, 2015
To: Amanda Fortunato
Subject: Matthew Shelby & Fr. David | Italy Pilgrimage | November 2015
Hello Amanda,
We had a wonderful trip and would most certainly use 206 Tours again in the future. One specific item I wanted to share was how wonderful our guide, Vanessa, was for our trip. Her leadership, knowledge and guidance really helped us have a wonderful experience. Please know that she is an outstanding guide and deserves recognition.
Thank you,
Matthew and Victoria Schleier
From: Michael
Sent: Thursday, November 19, 2015
To: Sammie Gough
Subject: Guadalupe & Mexico Pilgrimage
Dear 206 Staff, Thank you for the wonderful pilgrimage to Guadalupe & Mexico. It was a great spiritual experience.
Fr. Michael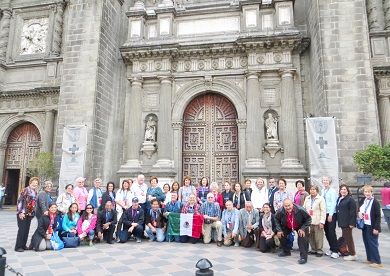 From: Philipp Ehrman
Sent: Monday, November 16, 2015
To: Donna Strucic
Subject: Rome: November 9-13, 2015
Dear Donna, This was my third pilgrimage with 206. Great just like the previous ones and I already have two more booked! Don't change a thing.
Philipp
From: Tol Crowley
Sent: Wednesday, November 11, 2015
To: sales
Subject: Our Tour to Medjugorje, Rome ansd Dubrovnik Oct 2015
Dear Katherine, Once again a thousand thanks for coordinating our pilgrimage. It was beyond our expectations. Everything went on schedule and as coordinated by you. We met such wonder pilgrims on our journey. Slavenka was FABULOUS as usual. She deserves a raise and a bonus!!! Zdenko our driver also was his usual congenial self. Our drivers Augusto and Maximillian in Rome were exceptional. The hosts at the Sulic Pansion also were again very hospitable and gracious. It was a very clean pansion. The weather was perfect for walking and climbing. Wayne was once again a marvellous and knowledgeable host. We will always travel with 206TOURS. We encourage al we encounter to book tours/pilgimages with youall. Our next trip will include Amsterdam, Dubrovnik, Medjugorje and return thru Paris. The day layover is very refreshing and rewarding. Once agin a thsnk you is not enough. Until next time.
In Christ,
Sylvia R. Crowley
San Antonio, Texas
From: Donald Kaull
Sent: Monday, November 9, 2015
To: Amanda Fortunato
Subject: Rev. Bob | Holy Land | October 2015
Dear Amanda,
We had a wonderful time. Your guides were very good. It was good that we were in a small group (20) as it made it easier to get around. the Guide you had for Jordan was especially good. The hotels and food were top notch. You have put together an excellent tour. We will return to Israel in a few years. At that time I will bring my grandchildren.
Donald Kaull
From: Vattimo, Anthony
Sent: Friday, October 30, 2015
To: Bika Stevic
Subject: Pilgrimage to The Holy Land & Rome: October 4 - 16, 2015
Hello Bika,
I would like to give you my feedback for our Israel and Rome Pilgrimage. I believe that my wife Christine (CC'ed on this email) may give you her impressions in a separate email. There were many great things to mention about Israel. We appreciated the local 206 Tours representative greeting and checking on us. We never felt uncomfortable and always felt and "were" safe. That was a very nice touch to have him spend time with us besides of course Jack! Jack, of course, was the Superstar!! We loved him and would always insist on being with him if we repeated this Pilgrimage. Jack's knowledge, passion for this country and our faith, his wonderful personality, and manner made this a memorable experience. I got to the point where I was recording him on video as he is a font of knowledge and Faith. I would not want to forget his words. We would like to keep in touch with him via email. He should write a book as his knowledge and passion are very evident. Rev. Allen was also a standout for us. He is very priestly, human, open hearted, warm, and spiritually gifted. We had wonderful Masses and thoroughly enjoyed Father Allen's company. We will stay in touch with him also! Some of our memorable Masses with him where "Mass on the boat on the Sea of Galilee" and "Mass on the Altar next to Christ's Spot on Calvary". Really pretty amazing when you think of it !! We also had a Storm with wind and rain appear after our Mass on the Boat. It was just like the Gospel stories. Once again amazing! When we reached the other side the sun came out. We, as a group of Pilgrims, bonded very unexpectedly. I can say we had a bond with every person in Israel to the point where we exchanged emails and phone with everyone. It was a special group and it was a family. We spent time with everybody and got to know everyone! We made some new friends that hopefully we will maintain going forward. The accommodations were excellent. The food was very good and the nice touch was the water and wine at the tables. The time we spent after dinner was very special. Instead of just eating and leaving, we would sit and sip wine and have a great time with each other. Very nice! We also enjoyed our lunches very much. We had some great "St. Peter's Fish" at a local place. Very good! And the Lamb lunch was great. I think it was in Jericho. The restaurant name was something with mustache. The two owners had big mustaches. Of course everywhere we went we were warmly greeted due to Jack. I know Jack brings them business but you can see that they also loved Jack. Jack made this trip special! We shopped at two Christian businesses. One Glass and the other Olive Wood. We brought back some nice treasures. We also liked our Driver Joe very much. He was a great driver and an equally nice person. Joe had water for us for purchase and that was also a great touch. Summary – We would go back in a heartbeat! With all of the local struggles and problems, the profound nature of the Holy Land overshadowed any Political and Religion problems. We would also ask for Jack as our Guide without question!
The Tour Guides and local guides in Rome were very professional and caring. Massimo our driver was also very nice. There were two groups of Pilgrims so we did not have the ability to get to know many people especially in light of the short duration. There were others from our Israel tour who were with us. So we gravitated to them. Nonetheless it still was very nice. Our guides knew how to maneuver the crowds for the Papal Audience and were very beneficial as the logistics of the Rome visit were much more demanding due to the crowds. The local guides were very skilled with the Art and Museums. In addition a lesson of "crossing the streets in Rome" was invaluable. The dinner on the last night was very good as we had Opera Singers join us. Obviously the food in Italy was outstanding. All our meals were what I expected and more. The hotel Visconti was excellent including the Breakfast Buffet. The Art, architecture, and stone in Italy were amazing. Since we had two groups we had two priests. We especially liked a Father Kevin. A young priest from North Carolina. He like Father Allen in Israel, was very priestly and gave us spiritual directions that we will always remember, he was also was very likeable. At this point the only negative is being harassed incessantly by street vendors. This is in both Israel and Rome. It eventually got to be annoying. But when you look at their lives, you could understand why they do it as it is a means to support their lives and families. It made you stir up some patience. Overall, I would surely use 206 Tours in the future. Everyone who I dealt with was great and the sales associates took care of everything and were accurate is all ways. I appreciated our Pilgrimage very much and would highly recommend 206 Tours. We would like to visit Medjugorje eventually.
Thanks,
Tony
From: Fr. Michael
Sent: Thursday, October 29, 2015
To: 206 Tours
Subject: My Time Spent in Ireland
On arrival in Dublin we toured the city and we stopped for an extended period of time at Trinity College. Here we were able to view the Book of Kells, which contain a lavishly decorated copy, in Latin, of the four Gospels. Given its monastic history and its arrival in Dublin in the 17th century you get a real sense of the foundations of the Irish Church and its monastic roots. As a chaplain on any pilgrimage I have the priviledge of offering Mass in many beautiful Churches, Cathedrals and Basilicas. This was certainly the case as we travelled through the country. By the time we arrived in Killarney in my 3rd Mass I referenced a poem in my homily by the British poet Gerard Manley Hopkins entitled God's Grandeur. The Ist line reads: "The world is charged with the grandeur of God." This is certainly true of Ireland. The scenery was absolutely beautiful – green countryside, rolling hills and to top it all off we had sunshine the whole time we were there. God's grandeur was powerfully manifest to us every day. The churches are magnificent, one towering over the other. Again we got a glimpse into the history and the faith of the Irish people. Unfortunatley in our ignorance we didn't recognize a large framed portrait of St. Oliver Plunkett, Archbishop of Armagh and Primate of all Ireland. He was one of the brightest names in the Irish church throughout the time of religious persecution. He was martyred in 1681 and canonized by Pope Paul VI in 1975. Other highlights included the Cliffs of Moher a well know tourist attraction. Unfortunately not included in tours and pilgrimages are the Kilkee Cliffs in Co. Clare. The Cliffs are magnificent. This was a welcomed surprise detour. Here one not only gets a sense of the slow workings of God as we realized it took millions of years for these formations to evolve. We were priviledged to witness our escort as he sprinkled the ashes of a deceased loved one whose ashes and been sent home from the States to Ireland to be specifically sprinkled offf the Killkee Cliffs, her most favorite spot in her homeland. This was truly a special moment for us all. Just a few days before we returned to Dublin we visited the Shrine of Our Lady of Knock. In 1879 about 30 years after the famine Our Lady appeared in this tiny village and several villagers witnessed the apparition. She remained silently for 2 hours with St. Joseph, St. John the Evangelist, The Lamb on the Altar with Angels hovering above. She came as the Loving Mother to offer comfort, hope, Encouragement and to remind all that God was with them. With the famine, religious persecution and at that time fear of another famine how timely for the Blessed Mother to appear as she has done historically in so many situations to be there for her children. Yes, Ireland is charged with the granduer of God. Would I return? In a heartbeat. I was reminded of this quote; " Hope is the ability to hear the music of the future. Faith is the courage to dance to it today."
Fr. Michael
From: Judy Cottle
Sent: Tuesday, October 27, 2015
To: 206 Tours
Subject: Pilgrimage to Santiago de Compostela, Fatima, Spain & Lourdes: September 11 - 22, 2015
How do I put into words my gratitude and heartfelt thanks for 206 Tours? My pilgrimage was a trip of thanks to our Blessed Mother and her Son, my Lord and Savior, Jesus Christ. I felt an overwhelming heart full of love and the dear friendships of my fellow pilgrims. Every moment was filled with the Holy Spirit and my prayer intentions where heard even though I was unable to express them aloud. Father Jason is a compassionate priest with the love of Heaven lighting his entire being! An amazing priest whom I believe will one day be a great leader. He listened when we asked, answered when we needed the word. His depth of understanding is beautiful and 206 Tours was represented beautifully!!! Ivan, WOW, a great man of faith. Generous with his time, talent and joy. I was so impressed with his knowledge of our Holy Mother and her Beloved Son and he too was an inspiration for me. I was also joyfully happy that he got my quirky sense of humor and references to American TV shows. Laughter and shared time with all as he was never too busy to watch over us whether on the bus or in the cities he truly cared for our safety and well being. Because of plane trouble we only had a few hours with Juan Carlo but those few hours were meaningful. He too is an asset to 206 Tours. Our bus driver Pedro….great! We had the pleasure of meeting his lovely wife and beautiful daughter in the square of Salamanca on his day off. If I am blessed with another trip I will definitely book with 206 Tours and I have told my friends of your amazing company. I was blessed to find you and will always use your services. Thank you for everything and your continued prayers for all of us.
Love in Christ,
Judy Cottle
From: Linda Giltner
Sent: Monday, October 26, 2015
To: 206 Tours
Subject: In the Footsteps of St Paul with Greek Isle Cruise with Fr. Arlou Oct 9 - 20 2015
Cc: Natasha Tosic Dear 206 Tours Staff, All things worked out perfect. Everyone is back in one piece and feeling great for having taken the trip, thanks be to God! It was especially nice to have such a small group as we all bonded together. My personal thanks goes to Natasha Tosic who patiently waited for our decision to make this pilgrimage a reality, to Yaritza Rodriguez and Katherine Iversen whom I called and asked many questions for information I needed to know or facts my fellow pilgrims wanted to clarify; but of course to the entire 206 staff, thank you. The accommodations in remarkable hotels were exceptional, and the food was amazingly good not to mention – wine with dinner. We had a great time and enjoyed every aspect of the places we visited with our most talented tour guide Ms. Christiana, who was very pleasant and knowledgeable in every facet she presented. She was very efficient in all she did. Thank you so much for giving us the opportunity to grow in our faith intellectually and spiritually. I also thank our bus driver Bobbis, who had a good hand maneuvering on the narrow roads we passed over. Everyone enjoyed the three day cruise. Our tour guide Yiannis delivered good historical information of the places we visited. The local guides were equally conversant on the history of the sites we explored. Celebration of the Holy Sacrifice of the Mass every day, especially on the ship while we were sailing in route to the next port was so peaceful and reflective. Thanks to our Spiritual Directors Rev. Fr. Arlou who was always ahead of us to make sure everyone was present, his knowledge of Greek language helped us understand the significance of the place and Rev. Fr. Chris for his homilies. Among the highlights of the trip were the ancient ruins of Ephesus, Phillippi, Corinth, the Acropolis, the House of the Virgin Mary in Kusadasi, the spectacular mountain top Monasteries of Meteora, the Byzantine art and Icons of the Greek Orthodox Churches and the beautiful Greek Isle's from the cruise. Thank you. It was a wonderful spiritual journey. Be assured that I will recommend 206 Tours to anyone who wishes to make spiritual trips.
To God be the Glory!
Linda D. Giltner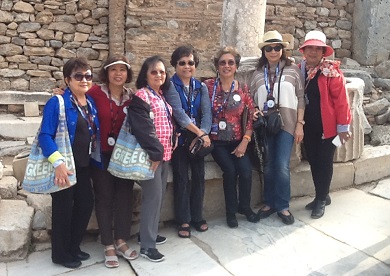 From: Dr. Ted Dugas
Sent: Monday, October 26, 2015
To: Chris Wright
Subject: Spirit Daily & 206 Tours to Portugal Spain and France
Hi Chris, An awesome experience enhanced with Michael Brown, Fr. Guida and VENESSA, our tour guide. Venessa is the best guide. Venessa made this pilgrimage! I'm a fan of 206 and every pilgrimage gets even better. This was my 8th pilgrimage with 206 and not the last.
God bless,
Ted Dugas
From: Doris Nolan
Sent: Monday, October 26, 2015
To: Yaritza Rodriguez
Subject: Medjugorje with Ivan Dragicevic | Oct 4-12, 2015
Yaritza,
We had a wonderful experience. It will allow us to have moments that we will continue to share for a lifetime. Every nuance was addressed; it could not have been more perfect!
Doris Nolan
From: Fr. Paciorek
Sent: Wednesday, October 21, 2015
To: Milanka Lachman
Subject: Fr. PACIOREK
Dear Milanka, The 'Tour 206' to Portugal, Spain, and France was excellent. We had the outstanding accommodation in the remarkable hotels, and the food was incredible good. Our luggage was carried from the bus to the hotel rooms directly. All the people, kind and polite, were well integrated and united. Juan Carlos is a great man, had always assisted everyone. Every day we pray the Rosary and I celebrated the Mass with the group of the pilgrims. Many healings occurred, spiritual as well as physical. Some people received the grace of healing for their family members. The veneration and touching of the relics made a great impression on every one of us. This spiritual pilgrimage made a powerful influence on my priestly ministry. All of us received many blessings and renewal, even the revival of the Catholic Faith. The need for pilgrimage is as the need for the sacraments, penance and Eucharist. I will be glad to do the same pilgrimage next year at the same time (September-October) with the people from Ave Maria, Naples, Fort Myers. I believe that it will be not too difficult to have enough members to organize the 'Tour 206'. And also I am interested to have the tour to the Shrines of Italy in the second part of May 2016. There are many people willing to do the pilgrimage. Thank you for having me in this journey.
Sincerely,
Fr. Paciorek
From: Alexis Isip
Sent: Monday, October 19, 2015
To: Bika Stevic
Subject: Pilgrimage to Fatima, Spain, Lourdes & Paris: October 4 - 16, 2015
Dear Bika,
Thank you. It was a wonderful spirit-filled pilgrimage. My spirituality is deeply enriched. Our tour guide was very impressive, well organized and very knowledgable about the inspiring life of the saints we had visited. Yes I will definitely recommend 206 Tours to whoever is planning to go on for a pilgrimage. The service is excellent. I rate the tour guide an A+. This is my favorite shot where the angel appeared to the 3 Shepherds.
Sincerely,
Alexis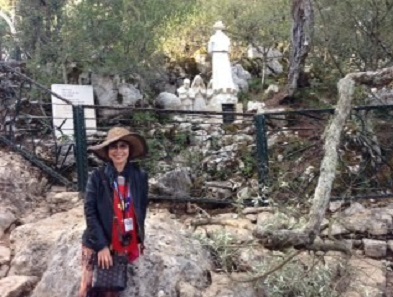 From: Ellen Subia
Sent: Friday, October 16, 2015
To: Bika Stevic
Subject: Re: Welcome Home! | Pilgrimage to Shrine of Guadalupe & Mexico City: October 8 - 13, 2015
Hi Bika,
Thank you for your email, we're back home safe and sound and most of all spiritually recharged and refreshed. Our pilgrimage was indeed spiritually rewarding with the wonderful presence and assistance of our Spiritual Director, Father Philip, our guide Roberto and our driver Mario. They all did a superb job in making our pilgrimage seamless with the exception of the WIFI situation/misunderstanding. We were under the impression that the WIFI is free as indicated in the brochure but we were only allowed two free hours which worked for us to say the least.
Father Philip's homily and guidance were so impressive that everyone of us could relate in the way he translated the gospel readings to our everyday lives. Roberto, was also very knowledgeable of the place particularly the history and miracles of our Lady of Guadalupe, and he's been very patient and accommodating to two of the pilgrims needing wheelchair assistance. Our driver Mario, needless to say is an expert in driving us to all those pilgrimage sites and the city's attractions. The hotel was okay although the food served us could still be improved in terms of taste and quality. We were hoping to have some real authentic Mexican food in the hotel and the restaurants much better than what we've been used to here in the States but it was quite different there. Special mention though to our complimentary margarita cocktail in the hotel which was the best ever. This has been our third pilgrimage with 206 Tours and overall we're highly recommending it to our friends and family. Thanks so much for taking good care of your clients/pilgrims. We're also sharing some pictures per attached.
Ellen Subia
San Marcos CA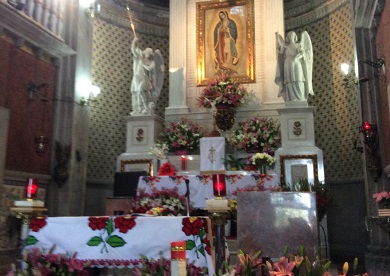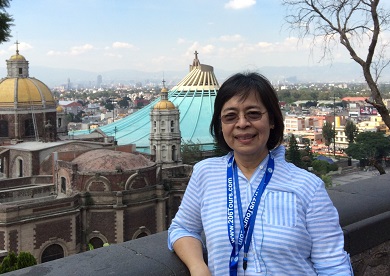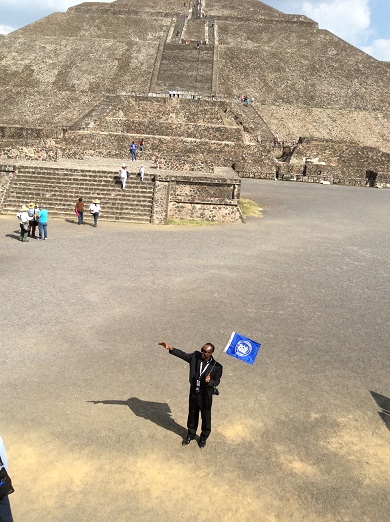 From: Regina M Joslin
Sent: Friday, October 16, 2015
To: Bika Stevic
Subject: Pilgrimage to The Holy Land: October 4 - 13, 2015
Bika, My trip to The Holy Land was spiritually rewarding and exceeded my highest expectations. All of you at 206 Tours are to be commended for planning and executing a perfectly flawless trip. Flights, hotels, food, itinerary, and in-country transportation were all exceptional. Please pass on my sincerest thanks to everyone at 206 Tours who was involved with ensuring the success of this pilgrimage. Our tour guide, Jack, deserves high praise. His concern and personal involvement ensured that everyone had an amazing experience. His knowledge, personality, and ability to overcome last minute logistics issues were beyond compare. Please continue to use him as a guide for all of your Holy Land tours. God Bless and I look forward to taking future journeys with 206 Tours.
Sincerely,
Regina Joslin
From: Sid Ortigoza
Sent: Thursday, October 15, 2015
To: Bika Stevic
Subject: Poland, Prague, Austria & Budapest: September 23 - October 8, 2015
The group after 2 pilgrims left
Sid and Ortigoza
Holy Family Parish
Kirkland, Washington
From: Janine Piras
Sent: Wednesday, October 14, 2015
To: Bika Stevic
Subject: Pilgrimage to The Holy Land: October 5 - 13, 2015
Dear Bika,
It was unbelievable!!! I want to go again!!! Thank you so much
Janine
From: Susan Gudaitis
Sent: Tuesday, October 13, 2015
To: 206 Tours
Subject: Pilgrimage to Rome & Medjugorje: October 4 - 12, 2015
Hello – It was absolutely wonderful. I loved Rome and the guides were GREAT. Fantastic!!! Transportation was also great. Medjugorjie was wonderful and the family was wonderful there. Food and everything was terrific. Thanks so very very much. Please keep in touch.
Susan Gudaitis
From: Sid Ortigoza
Sent: Saturday, October 10, 2015
To: Bika Stevic
Subject: Pilgrimage to Poland, Prague, Austria & Budapest: September 23-October 8, 2015
This journey made each destination a joy to visit. The ongoing variety of "stories", historical, local and superbly done by our guide, Ewa, opened a better understanding of today's Poland, Chek, Austria and Hungary ( bit of Allotting, Germany included). Emperors, empresses, kings, queens, governments, music and musicians, food and drinks, spectacular sceneries, Churches, devotions, lunches, curious questions, ski areas, cable cars (not gondolas), movies, family, and on and on. We might not be able to remember them all, but a beautiful experience of discovery / pilgrimage in faith and culture. A big plus was the warmth of fellow pilgrims, punctuated with the presence of a young priest, Fr. Michael of the Diocese of Kentucky, who wore his Roman collar all the time. A huge thank you for your team, navigating all the details of what made our trip not jus that, but a full experience of life with God in the middle, in beautiful weather all the way. You get an A plus recommendation from us.
Thank you,
Sid and Leni Ortigoza
Holy Family Parish
Kirkland, Washington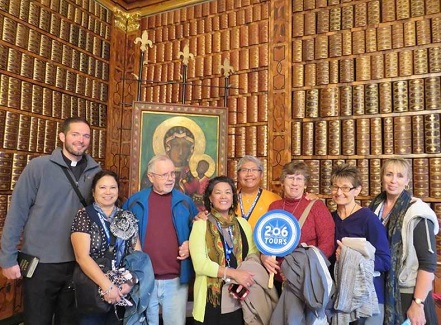 From: Beverly T
Sent: Wednesday, October 7, 2015
To: Bika Stevic
Subject: Pilgrimage to Fatima, Spain, Lourdes, Paris & The Shrines of Italy: September 3 - 23, 2015
Hello Bika,
Thank you so much for giving us the opportunity to grow in our faith intellectually and spiritually. We cannot say enough about our positive experience with 206 Tours. The guide, Javier, was excellent and actually an over-achiever in his service to us. He, at all times, watched out for us by making sure we were on the bus on time, and getting to see all the religious sites in a timely manner. Fr. Damien was a excellent priest, that always challenged us with catholic trivia and expanded our catholic knowledge which we in turn will share with others. Matilda, in Italy, was excellent as well and very caring and knowledgeable on all aspects of our tour. We would highly recommend 206 Tours and will be booking our next trip with you. Just from our recent sharing today, a couple of friend of ours will be calling 206 to check out tours that you offer.
Thank you for considering our feedback and we look forward to our next pilgrimage.
Dan and Beverly T.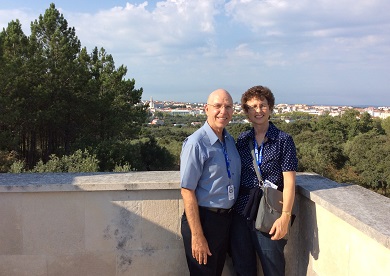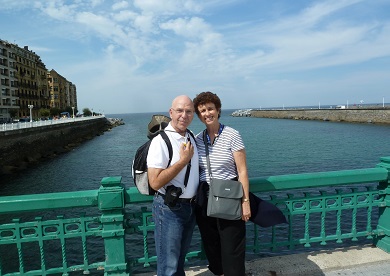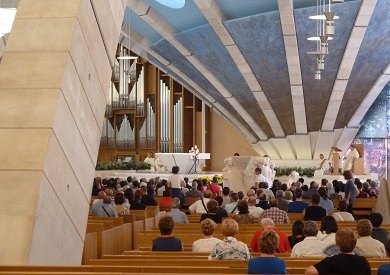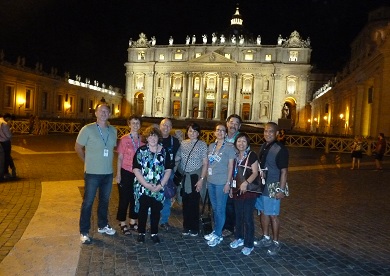 From: Bonnie Petro
Sent: Wednesday, October 7, 2015
To: Bika Stevic
Subject: Pilgrimage to Fatima, Spain, Lourdes & Paris: Sep 23 - Oct 5, 2015
Bika,
I don't know where to begin to tell you how wonderful our Pilgrimage was, it was truly a spiritual journey. Our guide, Juan, was very special. He treated each pilgrim as though he/she was the one on the journey. He went out of his way to make sure we were happy at every moment. Thank you, Juan! The drivers were all excellent – one of our drivers had to swerve to avoid hitting a deer. He was amazing. The rooms were excellent – clean, neat and beautiful. We had more food than we needed. It couldn't have been better. My sister and I took a leap of faith with 206 Tours. We found you on the internet and didn't know anything about you. However, no one needs to fear booking with your company. We were treated like royalty and everything ran flawlessly. Thank you so much for the Pilgrimage of a lifetime. I will recommend you to all I talk to. Great experience. I hope to travel with you again in the future. Hopefully, Juan will be my guide. He was superb!
Bonnie Petro
From: Ed Garcia
Sent: Monday, October 5, 2015
To: Susan Garcia; Bika Stevic
Subject: Fatima, Spain & Lourdes: Sept 24 - Oct 2, 2015
Hi Bika,
It was a wonderful experienced for me and my husband. Before our trip, my husband wasn't able to walk due to his problem with his achilles tendon. I even reserved a wheel chair just in case. and was even thinking of canceling our trip, but thank God and Our Lady he was able to walk using only his cane. He was able to climbed the hill in Lourdes and finished the Stations of the Cross. The hotel accomodation and the food are great. Juan and Pedro are very helpful and did a wonderful job. The places that we went, are very uplifting and rewarding. Our stay for several days in Fatima and Lourdes and experiencing the parade of thousands of devotees and the blessing each evening was simply amazing to witness. All those times with tears in my eyes, especially when I was immersed in the spring water of Lourdes. Daily Holy Mass and communion with Father Peter and being there was like showering in Gods graces all day every day. This trip is an experience we found profoundly moving despite the downpour when we first arrived in Lourdes to attend the candle light procession. But after that first night, the rest of the week were sunny and wonderful..We really admired the volunteers that transpored the sick and joined the procession. We will definitely use 206 Tours on our next visit probably in Rome and the Holy Shrines in Italy.
Sincerely,
Susan and Edwin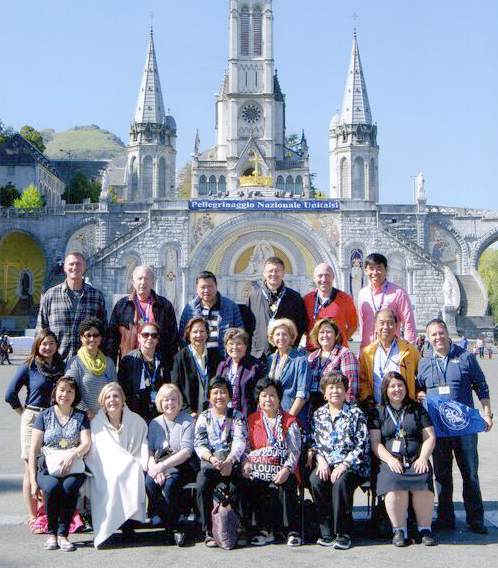 From: Mark Roh
Sent: Sunday, October 4, 2015
To: Bika Stevic
Subject: Pilgrimage to Fatima, Spain, Lourdes & Paris: September 13 - 25, 2015
Dear Bika, We appreciate for the follow-up mail from you. The pilgrimage was a great and blessed experience for us and we have truly enjoyed the journey. Thank you, Tour 206. Our spiritual director, Fr. Jason, was truly outstanding for us and we had enjoyed traveling with Fr. Jason. Arrangements for a daily Mass was also a blessing for all of us. Plus our guide, Ivan and all the local guides gave us a good explanation to make us to understand the site, spirituality of all saints, and churches. I want to commend the patience and good humor of Ivan and for his excellent guide for our group. Yes, Pedro who drove the bus with his smile all the way from Lisbon to Lourdes. Included is a photo that Fr. Jason had shared with all members that were taken in Lourdes which was from one member, and I hope that this may be good (and acceptable to Fr. Jason and all) if you wanted to use. In the photo, Ivan is the first from the right of the third row and Fr. Jason with sun glasses is the third from the right of the third row. I also wanted to thank Fr. Jason who gave us a chance to pray the rosary in Fatima and it was a blessing for us. We were also blessed for the excursion to Lisieux to be close with St. Therese, the Little Flower and Avila with St. Theresa of Jesus as Secular Carmelites.
Thank you again,
In Christ.
Mark and Molly

From: Regine Turnier
Sent: Sunday, October 4, 2015
To: Bika Stevic
Subject: Pilgrimage to Fatima, Spain & Lourdes: September 13 - 22, 2015
Hi Bika,
My pilgrimage to Fatima, Spain, & Lourdes (Sept 13 – 22, 2015) was excellent. I had a great time seeing wonderful religious sites and being with humble pilgrims. Our tour guide, Yvan was friendly, warm, patient and knowledgeable. Our spiritual leader, Fr. Jason was lively, energetic, enthusiastic and charismatic. We need priest like Fr. Jason to bring humanity a fresh breeze of Christianity. Our driver, Pedro was respectful, kind and helpful. The accommodations for hotel, transportation and food were outstanding. I'll always encourage my family, friends and coworkers to use 206 tours for an incredible experience. The best pilgrimage tour ever!
Truly yours,
Regine
From: Jeff Ryan
Sent: Saturday, October 3, 2015
To: Bika Stevic
Subject: Pilgrimage to Classic Italy: September 14-27, 2015
Dear Bika,
The Classic Italy pilgrimage was our first experience with 206 Tours and it certainly won't be our last. The tour was expertly handled from start to finish by our guide Sylvia, priest Father Joseph and driver Massimo who served as a wonderful team for our group of 15 pilgrims. We received concierge treatment as we were ushered into private chapels for daily Mass, skipped lines with very knowledgeable local guides and were given surprise experiences which were not on the planned itinerary such as a wine tasting in Assisi. We planned our pilgrimage to Italy as a celebration of our 30th anniversary. Father Joseph gave us a special blessing at Mass and Sylvia arranged to have a cake for us at dinner on the day of our anniversary. We are truly appreciative of the personal touch they added which made our trip most special. The itinerary of this trip enabled us to experience the breadth and depth of Italy and it is amazing what we were able to pack into 13 days. If our minds are a sponge, then mine is dripping now with everything I experienced throughout the pilgrimage. I could have never planned and executed a trip like this on my own. Of all the holy sites we visited on the trip, Assisi stands out as a place where we experienced the charism of St. Francis where people are greeted with "Pace Bene" or peace and good. I also sense a rebuilding of the faith in my life as a result of the pilgrimage, not unlike Francis' rebuilding of the church. Thank you for a most wonderful pilgrimage and memories which will last a lifetime!
God bless, Jeff and Lori Ryan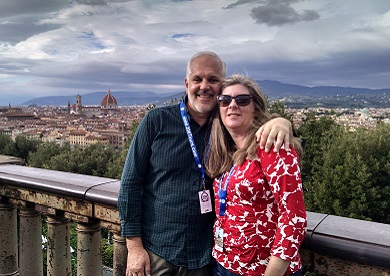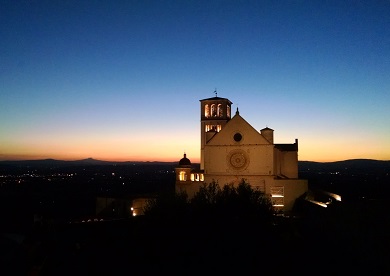 From: Fr. Joe
Sent: Sunday, September 27, 2015
To: Milanka
Subject: Feedback Classic Italy
Dear Milanka,
I want to tell you that we had a great Pilgrimage! Much more than that I expected! Everyone one was very happy and they are planning to recommend this particular tour as the best! It had everything; fun, prayer time, celebrations and knowledge and learning! The "surprise picnics" were very much appreciated and enjoyable, thank you for your generosity! The hotels, food, rooms, guides etc. were fantastic! We all liked very much our escort Silvia. She was very gentle, caring, and always very joyful!
With my prayers and thanks,
Sincerely in Christ and our Lady,
Fr. Joe
From: Maryann Kwok
Sent: Thursday, September 24, 2015
To: Bika Stevic
Subject: Pilgrimage to The Way of St. James - El Camino - Spain: September 11 - 22, 2015
Hi Bika,
We had a wonderful time in Spain. We also had a great tour escort, Alessandro. He was attentive and constantly checking on us to make sure everyone's needs were met. He is also sincere, knowledgeable and has a great sense of humor. Please make sure our compliments about Alessandro get forwarded to him and to his supervisor. We really have no complaints about the arrangement organized by 206 Tours, and will recommend your company to friends who want to go on a pilgrimage. The only suggestion to your staff, when booking air portion, is to allow more time for connecting flights. With bad weather and other situations beyond our control, it is best to have at least 3-4 hours for connecting international flights. We went on our 1st pilgrimage with 206 Tours last year, and will be looking forward to our 3rd one next year.
God Bless,
Maryann and Bernard
From: Julie Shepherd
Sent: Saturday, September 19, 2015
To: Amanda Fortunato
Subject: Italy | September 3-12, 2015
Dear Amanda,
Thank you for all of your help in arranging this trip for me and my fellow pilgrims. It truly was the trip of a lifetime for me, and it would not have been possible without your help. There were so many things that I liked that it is hard to catalogue them all: the choice of pilgrimage sites, the hotels that we stayed at; all of our loving guides, and last but hardly least the country itself and its people. One thing I am particularly grateful for was having the opportunity to receive the papal blessing on Sunday, Sept. 6th. I will never forget it. I also really enjoyed learning about all of the different basilicas, the cooking school, the olive oil tasting – I could go on and on about how I and so many others on the trip really had a great time. I would also not hesitate to use 2006 Tours again or hesitate at all to recommend your firm to others. Many of my fellow passengers had better cameras and were more adept at photography than myself; that said, I have enclosed a very few that were taken. The first was taken at the Vatican Museum, the second at Assisi, and the third one fairly accurately reflects my feelings about the whole trip; it was taken at the Hotel Cellai in Florence. Feel free to use them as you wish, the images are of me, but the spirit of the photos belongs to you.
Sincerely,
Julie Shepherd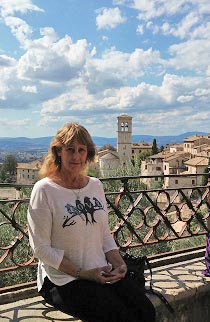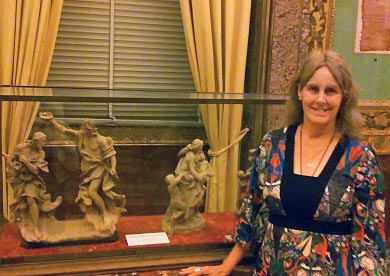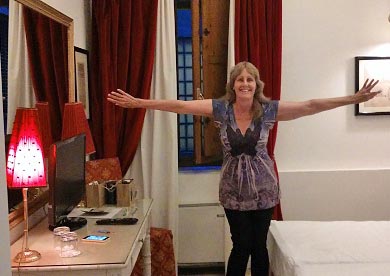 From: Joseph Aparicio
Sent: Friday, September 18, 2015
To: Amanda Fortunato
Subject: Italy | September 3-12, 2015
The Italy trip from 206 was great. It was more than I expected. everything ran smoothly. The location visited were just what I wanted to see. I rate the tour a 10. and will highly recommend to others. I spoke with other people from other tours who had negative comments on their tour company. I advised them to book with 206 tours next time. I am looking forward to a next year tour to Spain.
Joseph
From: Cyndi Mangus
Sent: Thursday, September 17, 2015
To: Amanda Fortunato
Subject: Italy | September 3-12, 2015
Amanda,
This was a trip of a life time! Thank you so much for all your hard work; it was wonderful and full of wonder!!! 206 Tours did a fantastic job with the tours, guides (especially Sylvia) venues and rooms! I can't thank you enough for the fantastic experience!!
Respectfully,
Cyndi Mangus
From: Joseph Zahra
Sent: Monday, September 14, 2015
To: Melissa Mulligan
Subject: Joseph Zahra from Australia
Dear Melissa,
Now I am back in Australia and return to my normal routine. I want to thank you for organising everything for me and my wife with regard the transfer to the hotel from the airport and also for sending me and my wife those packages with the priest. We really enjoyed the tour and people were wonderful. We were like a family. The tour leaders were fantastic and very helpful. It was a wonderful experience. I wouldn't hesitate to recommend 206 Tours to everyone I know.
Bye and God bless,
Joseph Zahra
From: James McNeil
Sent: Saturday, September 12, 2015
To: Bika Stevic
Subject: Pilgrimage to The Shrines of Italy: August 31 - September 9, 2015
Our experience with 206 tours has been nothing but incredible, from our first call to the office to our flight home. The office staff were upbeat, professional, and went out of their way to answer our questions as well as accommodate our special request of ensuring that my wife's sister was seated next to us on the plane. Father Peter Dugandzic is a resource beyond belief, with his Phd in Moral Theology, his 2 1/2 years living in Italy and his depth of knowledge of all the sites that we visited; we could not imagine anyone that could have provided a greater experience. He truly lead us on a pilgrimage as opposed to a site seeing tour. Then there was Alessandro, our tour guide, who embodies the true Christian spirit of caring for others in his "family". We observed him looking after others who didn't feel well or were having difficulty keeping up and he did so with a quiet gentle manner. One morning Delphyn was not feeling well and he simply told her that whenever she needed assistance in finding a bathroom she was to just get his attention. He was so attentive and when she did need help, he made it happen, even under challenging circumstances. We simply can not praise his professionalism and caring enough. Another example of the caring of both father Peter and Alessandro was on the evening in Rome, when we went to dinner at a restaurant that had two opera singers. My sister-in-law told Father Peter that that day was her 53 wedding anniversary and that her husband had stayed home subclauses he didn't like to fly. Those two quietly arranged for a delightful celebration that included the opera singers singing to her, a cake, Alessandro dancing with her, and I with the female opera singer. My sister-in-law was extremely touched and your company has provided her a memory she will have forever. The itinerary was tremendous, the experiences were unrivaled and the "surprises" of linen tablecloth picnic and one held in a vineyard were fantastic. Your company exceeded every expectation we had. We can not thank you enough.
Jim & Delphyn McNeil
From: Fr. Paul
Sent: Saturday, September 5, 2015
To: Bika Stevic
Subject: Pilgrimage to The Holy Land: August 23, 2015
Dear Bika,
I had a wonderfully uplifting pilgrimage. There were two wonderful moments for me…. In the Holy Land it was incredible that 206 was able to arrange for me to celebrate the Holy Eucharist at the very spot of the Resurrection in the Church of the Holy Sepuclar. I can image a more wonderful experience for any priest! The second moment came when at the Audience in Rome the Holy Father gave me a Zuchetto! You can see it happening in the youtubeenclosed. There is an old custom that if you present Pope Francis with a Zuchetto, he will present you with one. Tours 206 was able to get me into the square and at the right spot for that to happen. If you want to use the youtube you are free to do so. I would highly recommend Tours 206 for everyone!!!!!!!!!!!!!! I did not hear a single suggestion that anything should be changed on either trip from the pilgrims. You do a wonderful ministry for the church.
Fr. Paul
From: Alma Mintu
Sent: Wednesday, September 2, 2015
To: Bika Stevic
Subject: Pilgrimage to The Holy Land: August 24 - September 1, 2015
We had a fantastic trip to the Holy Land, thanks to all the arrangements done by 206 Tours. It was truly the experience of a lifetime and more. I had high expectations of this trip and it was far surpassed. The spiritual enlightenment was truly felt. Walking in the footsteps of Jesus gave us a much deeper love and gratitude for everything Jesus [Mary and his disciples] did for us. We thought the itinerary's schedule was just right. We were given enough time to reflect in each of the churches/holy places and came back to the hotel late afternoon. All the places visited will draw you closer towards Jesus. Reading the scriptures and witnessing where the events took place made strong lasting impressions. The choice of where Mass was celebrated each day were incredible. Our group had the incredible experience of celebrating Mass in the actual room where Jesus' tomb in the Holy Sepulchre is located. Celebrating Mass on a boat floating in the waters of the Sea of Galilee was so peaceful and reflective. We walked the Stations of the Cross at dawn – this was the perfect time. Nadi was a great guide. He is obviously very knowledgeable and professional. He was very patient with us, especially since I had my 81 year old mom with me. Nadi was very good in warning us about pick pocketers and purchasing items. He truly cared for our well-being. We appreciated all the hard work he did to make our pilgrimage enlightening. Our spiritual leader was Fr. Paul. He is quite a gem. All his homilies were poignant and relevant to our day-to-day lives. He was very generous with his time. Fr. Paul was a lot of fun to be around. Thank you Fr. Paul for sharing this journey with us.
Alma Wimsatt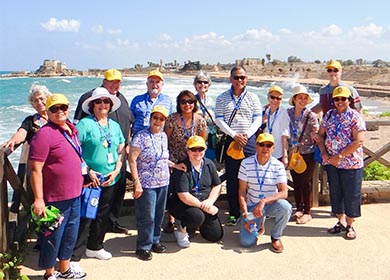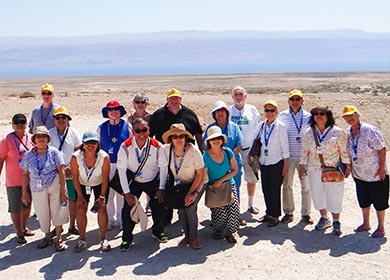 From: Pete and Jenny Brown
Sent: Tuesday, September 1, 2015
To: Bika Stevic
Subject: Pilgrimage to Medjugorje & Shrines of Italy: July 18 - 29, 2015
Dear Mrs. Stevic,
Our pilgrimage was a spirit filled experience and a journey that will always remember with great joy!
Our trip was not uneventful since my husband's luggage was missed at the airport and was never located
during our entire trip, however he was able to manage and the experience reminded us that material things
are not really necessary to receive the grace that comes with humility and patience. The accommodations were decent and our tour guide,Jesus,and our driver,Luciano, were very welcoming, enthusiastic and friendly. This was our second pilgrimage and our friends, the McLaughlins and us, look forward to our next journey together-The Way of St James! Thank you for your kindness, dedication and diligence in all the arrangements and details of our trip.
God bless you and Keep you
Jenny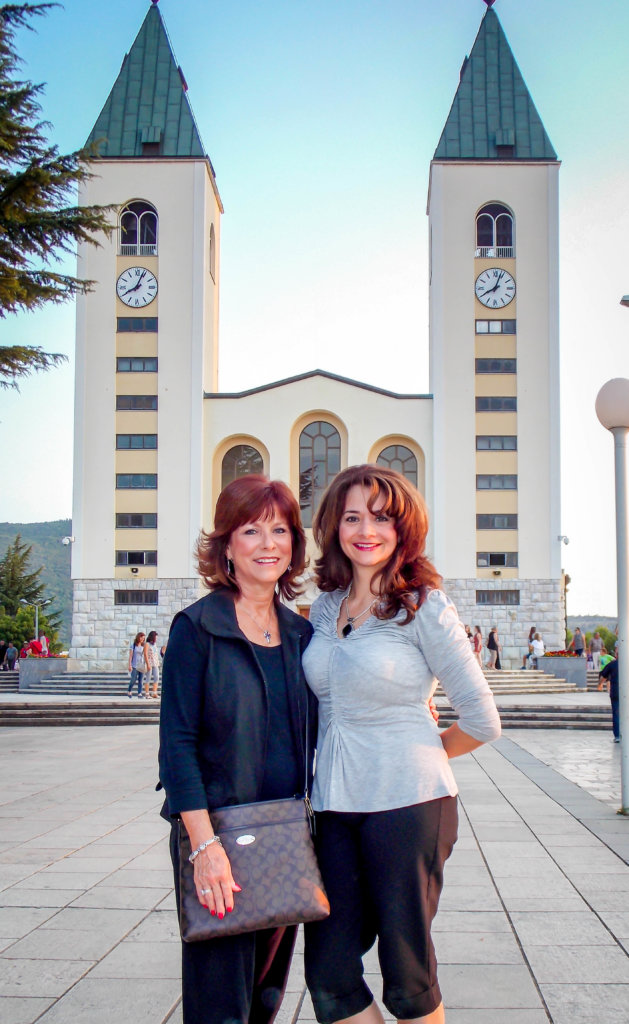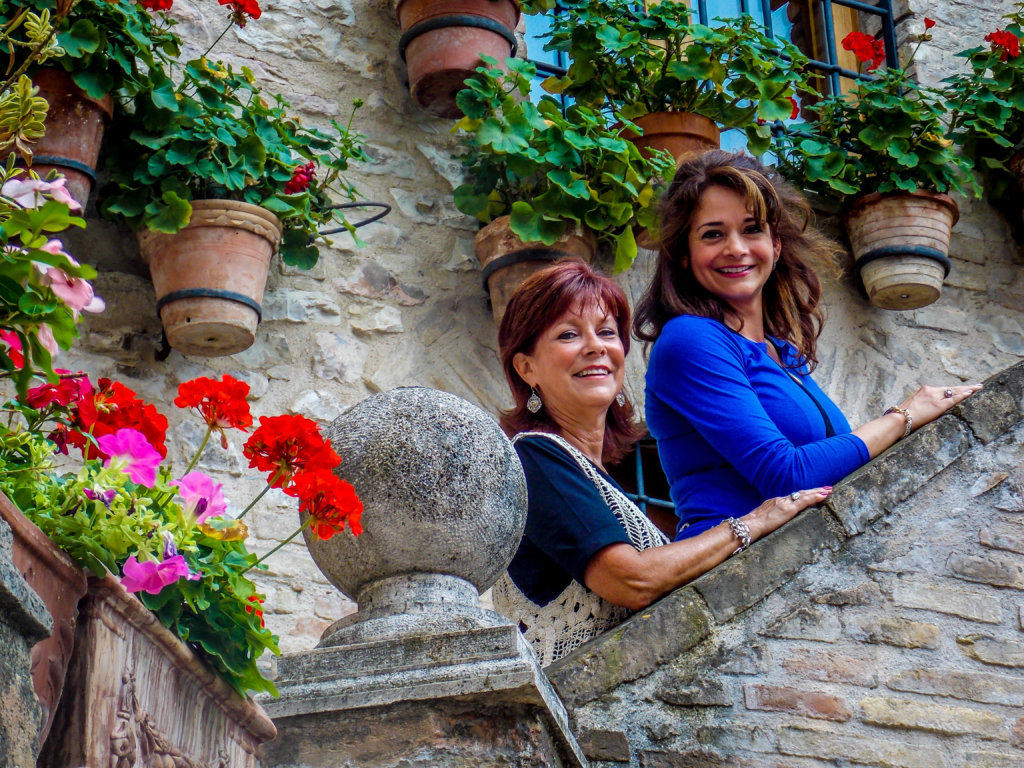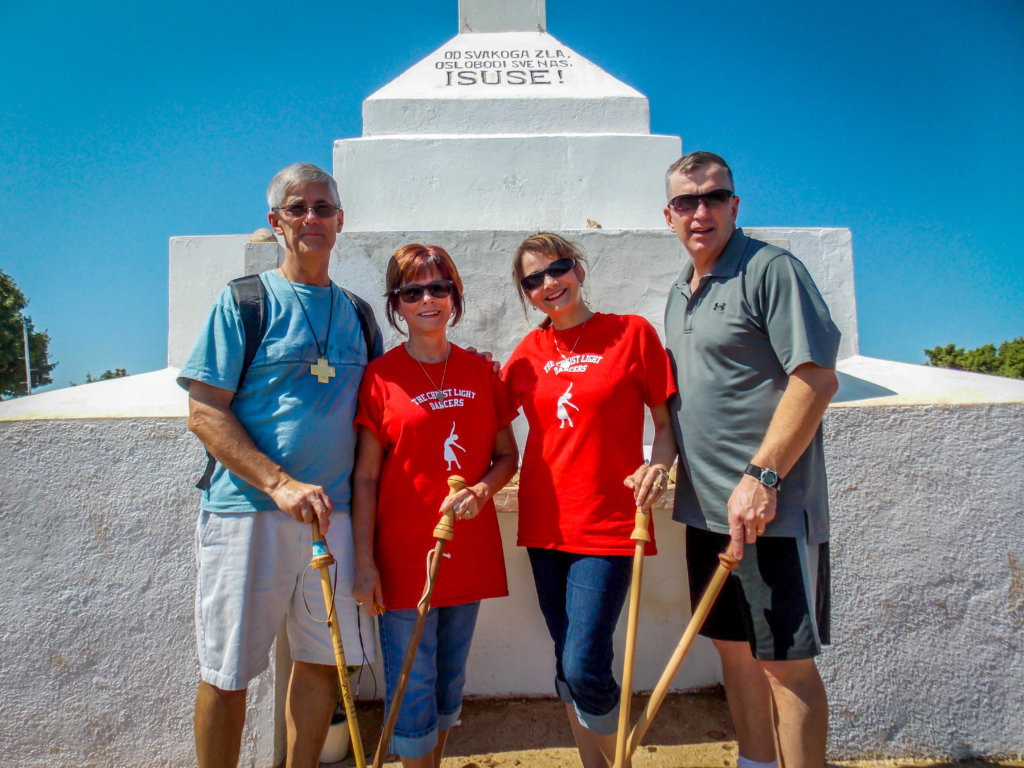 From: Bobby Sebastian
Sent: Tuesday, August 25, 2015
To: Bika Stevic
Subject: Pilgrimage to Greece in Footsteps of St. Paul: August 15 - 21, 2015
Cc: Piernha Marc
Dear Ms. Stevic,
First of all I thank 206 Tours for arranging these excellent pilgrimages, which gives time to reflect on one's spiritual self. A special thank you to Piernha of 206 Tours for guiding me, step by step, in preparing & providing me all the documents needed to make this pilgrimage. She is an asset to 206 Tours. Spiritual direction under Fr. Murphy was a unique experience. His sermons during Mass and spiritual reflections were quite enlightening. I made some good friends like Richard & Laurie from Dallas, and Rudy & his wife from Arkansas. They're both wonderful couples. The group had people from all walks of life, and it was nice to share and learn some experiences from them. The guide, Mr. Ioannis, was quite knowledgable. I wish 206 Tours all the best, and I wish to go on future pilgrimages with 206 Tours. I recommend 206 Tours to anyone who wish to make spiritual trips and strengthen their faith. God bless 206 Tours.
Thanks & Regards,
Dr. Bobby Sebastian
Abu Dhabi, UAE
From: Martinez Family
Sent: Monday, August 24, 2015
To: 206 Tours
Subject: Pilgrimage to Fatima: August 16 - 23, 2015
Our pilgrimage and experience with 206 Tours was fantastic. Our guide Jesus was great, our driver Miguel was also wonderful. We only have positive thoughts about the whole experienced we were blessed with. I will certainly recommend 206 Tours to others. Aside from the spiritual blessings and graces we received, we are thankful for the way we were treated by 206 Tours from the booking through the trip. This is my second pilgrimage with 206 Tours. I attended with my mother last year, the Canonization of St. JP II in Rome and that experience left us impressed with the company.
206 Tours is a blessing to Catholics and thank you so much for what you all do. Again, from the kindness, patience and in general Christian character observed through the booking process to the affordable, well organized trip experienced. We never experienced any "hiccup" throughout our trip (so to speak). We are highly impressed with how well organized you all are. All the information you provided was clear, you all were always available to answer questions in a kind way, you all are punctual…I really could go on. God willing, my family and I are looking forward to planning another trip through 206 Tours. With the experience from the last two trips, I can't imagine going through another company for a pilgrimage. God bless you all. Many people are receiving blessings and graces through the pilgrimages you organize. Thank you again for such a wonderful experience.
God be with you,
Martinez Family
From: Martha Corcoran
Sent: Thursday, August 20, 2015
To: 206 Tours
Subject: Pilgrimage to Medjugorje: August 13 - 18, 2015
My 206 Tour to Medjugorje was so wonderful. Our guide (Slavenka) was very friendly, very organized, very spiritual, and full of great wisdom. For me, it was truly a once in a lifetime experience filled with many blessings. Thank you.
Martha
From: Mila B
Sent: Tuesday, August 11, 2015
To: Bika Stevic
Subject: Pilgrimage to The Best Shrines of France: July 17 - 28, 2015
Dear Bika,
We were very fortunate to have the services of Alessandro as our Tour Guide. He was so caring, very patient and knowledgeable, deeply religious and very helpful. Something we felt – he wanted us to enjoy as much as appreciate our spiritual journey while looking after our own health and safety. Likewise, we were blessed to have as our Spiritual Guide, the wonderful, funny and deeply religious Fr. Van. What a great pilgrimage we had! Please thank these two unselfish workers of the faith. Keep up the good work in the name of Christianity. You need to bring the rest of the world to these religious places.
Best regards,
Milla F.b
From: Andrea Banicki
Sent: Monday, August 10, 2015
To: Bika Stevic
Subject: Pilgrimage to Poland: In the Footsteps of Saint John Paul II & St. Faustina: July 28 - August 5, 2015
We absolutely loved our trip, we were so blessed to have three priests joining us! Fr. Fred was exceptional as Spiritual Director and the two other priests were wonderful as well. We were very pleased with Chris who guided our group, he was knowledgeable, well organized, and very receptive to the needs of our group members. This was a trip of a lifetime for our family, although, strenuous, my 87 year old mother-in-law was able to keep up, with a little help from our friends. We were blessed to have so many lovely people in our group who were so willing to help us, help her. We learned so much on this trip about our beloved homeland and were able to see so many sites, that it would be difficult to fit any more into this trip. The two things that we can think of that we missed, was a musical experience of some kind i.e., concert or dance and we would have enjoyed a traditional evening Polish meal. The accommodations were superb, breakfasts amazing, and dinners quite good.Thank you again for planning this journey and providing this opportunity, I am attaching a picture of the three of us at Wawel Castle!
Blessing,
Andrea, Guy, and Dorothy
From: Patrick McDonald
Sent: Monday, August 10, 2015
To: Bika Stevic
Subject: Pilgrimage to The Holy Land: July 27 - August 4, 2015
No amount of words could ever tell you how grateful I am to what 206 Tours did for me! The trip was life changing and I couldn't have had better arrangements the entire way!
Blessing,
Patrick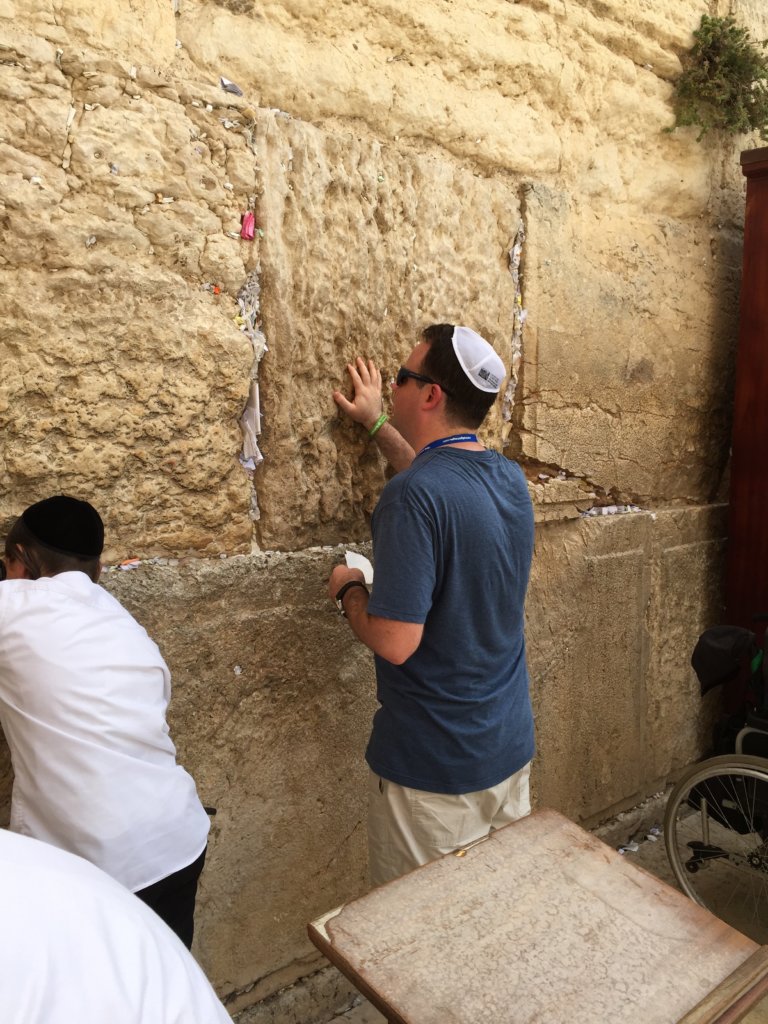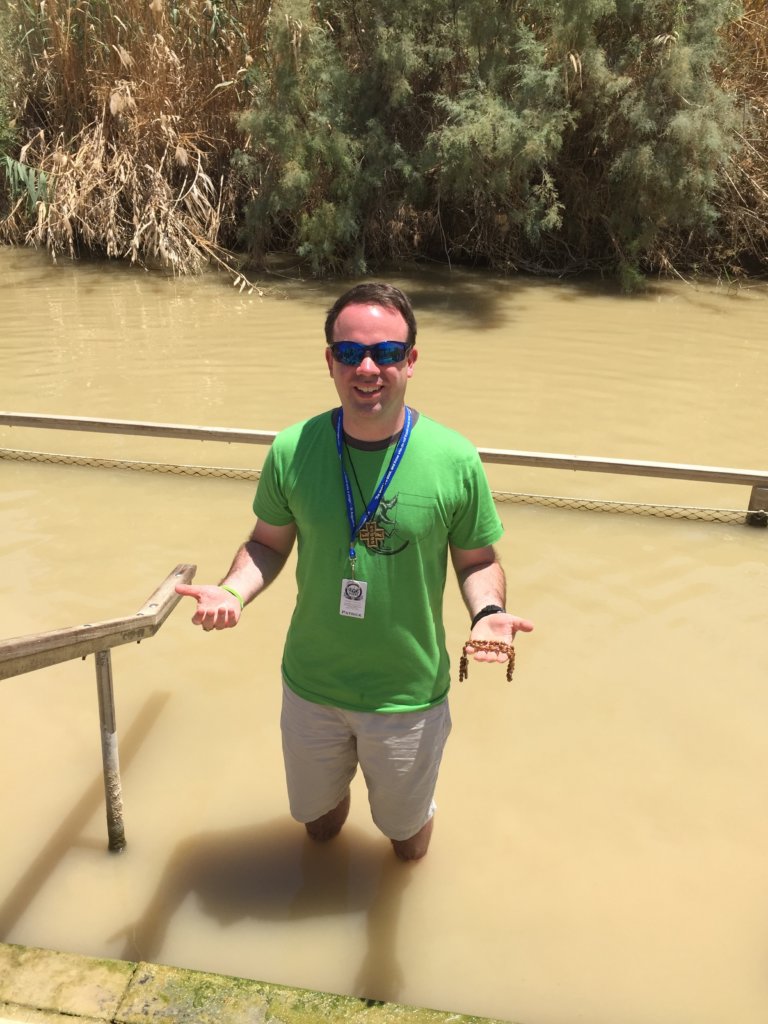 From: Andy and Grace Domingo
Sent: Thursday, August 6, 2015
To: Bika Stevic
Subject: Marian Shrines in Portugal, Spain & France: July 13 - 28, 2015
Dear Bika,
Our pilgrimage with 206 Tours was life-changing! We had an exceptional tour guide, Alessandro, who started our tour by calling us all "family" and thus we all became one. Now, we have "family" all over the United States and the world! The activities and schedule were very organized and if changes needed to be made, they were for the benefit of everyone. All of the activities were meaningful to our Catholic faith and were organized so that we all came to a deeper understanding of the lives of the saints and the places we visited. Alex was a fantastic informational and spiritual guide and worked well with the priests on our tour. In the places he did not guide us, he organized some excellent local guides who gave us in depth knowledge of the area and people. The change in tour guides was for our benefit: we got to keep Alessandro for the 2nd half of our tour all the way to Paris. Our friends who flew to Paris to tour with Jesus, said he was also great…but we got the same guide for the entire tour! 🙂 I cannot say enough positive comments about our pilgrimage and your company; we are excited to share our pilgrimage experiences with our friends, and we are looking forward to our next pilgrimage with 206 Tours!
Blessings!
Andy Domingo
From: Padre Van
Sent: Tuesday, August 4, 2015
To: Milanka Lachman
Subject: Feedback Best Shrines of France
I'm glad I decided to come a couple days early in order to help me get over the "jet lag" that makes any visit uncomfortable. I've been here in France now for a week & am finally back to "normal". Our "tour guides" have really helped us have a greater appreciation of Our Lady's apparitions to St. Bernadette & to the sanctity of Bernadette herself. We were able to visit the house where St. Bernadette was born, her family's house & the house where she lived 'til she was 10 years old. She was given the chance to study away from her family, but decided to return in order to be closer to her family, even though the living conditions were much harder to bear. The Blessed Virgin appeared to St. Bernadette 18 times & told her to "drink the water & wash in it". So, that's what we did. We all had a "private bath" in the water of Lourdes. I was given the very special privilege of presiding & preaching at Holy Mass in the grotto where the apparitions took place along with 6 other of my brother priests from all over the world. We also made the "Stations of the Cross" where life-size images had been erected near the shrine. Fr. James, from Omaha, was another priest who was acting as "spiritual director" for part of our pilgrim group & we concelebrated Holy Mass together while in Lourdes. He then accompanied some of the pilgrims to Paris where they were off to other Marian sites. The tour company has arranged our lodging & meals in "5-star" hotels all along the way. We have internet access & today we even have an outdoor pool. The temperature has been in the upper 90's most of the time during the day & it cools down at nite & in the mornings. 10,000 people visit Lourdes every day & over 6 million a year! I have a whole list of "prayer intentions" that people have given me to pray for while in Lourdes [& other shrines]. More later. Pix, too. A voice for the defenseless poor,
Padre Van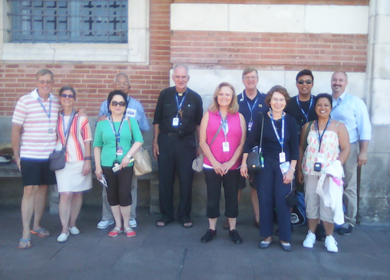 From: dee paddon
Sent: Saturday, August 1, 2015
To: Piernha Marc
Subject: Feedback | Pilgrimage with James Twyman to The Holy Land July 15-24, 2015
Hi Piernha,
I had such an Amazing time!!!!!! Before I went on this pilgrimage I had a lot of fear come up, but this trip was perfect!!! So professional and loving and the booking details just flowed. This is such a gift you share being in service to God and Jesus and providing me with reassurance. I nearly cancelled but I am so grateful to you that I didn't because this has been such a life changing experience. The whole group was amazing and they had such beautiful souls.
The driver, the tour guide and James Twyman were all amazing beautiful souls and my gift to you is a picture which was totally a gift from God. I loved this picture I have so many amazing memories and pictures but this one stood out. It's a picture of beloved Mother Mary and Jesus but also felt Archangel Michael an Angel presence with this painting its so beautiful and peaceful I couldn't pull myself away, I could have just stayed there for ages I feel this would be a good one for you to share. deepest gratitude for all you've done blessings of love.
Dee
From: Ana Shawl
Sent: Saturday, August 1, 2015
To: Milanka Lachman
Subject: Milancica
We loved it! Alessandro was fantastic and really a special guide. He never complained, was always so accommodating even in some difficult situations with people being wheeled in Wheel Chairs, Wheeling them uphill. He really went over and beyond what I have seen. The hotels were great. I will have to go back and see more of what I put. I know San Giovanni Rotondo was a little older perhaps but it was a great location. Hotel Giotto was great with good food and very nice people all around. Anyway Tihana and I got there and the taxi driver was there waiting. Nice car and very professional guy. He was trying to explain where we were so good impression. First class. Hotel very nice AND they were friendly and smiling!! Clean hotel and the location was great.
I didn't know when to meet the group the next day and the reception didn't know but I sent a text message to Alesandro and let him know we came and what time to meet with him and group. He wrote back right away and let me know. The whole thing was great and you know, there were those nice extras that you didn't write about but were included and I heard that this also made a big impression on some. Some of the people didn't know one way or the other, but for me, knowing that everything costs somewhere along the line, I was impressed there were some nice picnic lunches and I kind of made it know to some of the others that this was really special and over and beyond what other pilgrimage companies offer:-)
Love,
Ana
From: Woods, Nancy
Sent: Wednesday, July 29, 2015
To: Bika Stevic
Subject: Marian Shrines in Portugal, Spain & France: July 12 - 28, 2015
Good Afternoon, Bika! We were thrilled with our 206 tour from July 12 to the 28th. This was our 4th tour with 206 and we continue to experience the BEST in religious sites, accommodations, etc. Thank you for all the work you put into arranging these pilgrimages!
In the Trinity,
Nancy
From: Michael J. Preszler
Sent: Tuesday, July 28, 2015
To: Piernha Marc
Subject: Pilgrimage with James Twyman to The Holy Land July 15-24, 2015
Hi Piernha,
The trip was OUTSTANDING!!!! 🙂 I loved everything about it. Our tour guide George was wonderful. So full of wisdom, patience, and humor. He really made the trip great. All of the accommodations, travel, food and sights far exceeded my expectations. And the bus driver might be the best driver ever! Thank you for putting together such a wonderful trip.
Michael
From: Rachelle Butler
Sent: Wednesday, July 22, 2015
To: Chris Wright
Subject: Trip Update
Hi Chris!
So sorry I haven't responded to you yet about the trip!! It's been so busy and when we are finally back in the room I've been so exhausted! I've been trying not to email unless connected to wifi but so hard to do it at night after a long day, so I'm finally typing this on the bus on the way to Portugal. Anyway, we are all having a great time!! With the exception of Jake's missing luggage, everything has been going smoothly. Juan Carlos and Pedro, our driver, are so nice and have been extremely flexible with my big family. The hotels have been excellent, and the lunch recommendations of Carlos have been delicious! Again, other than my entire family's missing luggage situation causing us to have to scramble to reschedule the vow renewal toSaturday, everything else was perfect. The dinner was delicious and the extra touches (champagne, cake, etc) were very nice! I didn't get to make the special tags for the "favors" but Juan was so nice to get little glass bottles for everyone to put their grotto water in and also a little toy for the kids. Luckily, my mom likes to befriend any priest she meets anywhere, so we introduced ourselves to Fr. Hagar when we arrived in Pau. We thought he was with us, but he was actually flying in a couple days earlier than another 206 tours group he was with. He was super nice and offered to help out when we heard our situation and need of rescheduling the vow renewal to Saturday. So we walked him to his hotel when we arrived in Lourdes and invited him to come meet with Us back at our hotel for coffee and to join us on some of our tours. He also came to lunch with us after the vow renewal. We really enjoyed his company and so appreciated his help with the vow renewals. He ended up renewing vows for all the married and engaged couples in our family! It was beautiful and very emotional to see all of my siblings recommitting to each other and then finishing off with my parents' renewal.
Thanks so much for all of your help on this trip. Jeff and Dave left yesterday and arrived in Cali safely. The rest of us are enjoying the rest of our trip and awaiting news of jakes luggage. Last we heard was that they at least found it but they have not informed us of exactly where it is. Once they tell us, we are supposed to advise them as to where to send it – either directly back to Orlando or our hotel in Portugal.
Thanks again and take care!
Rachelle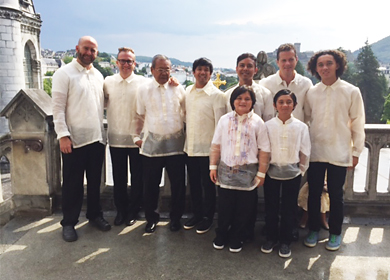 From: Diane & Tommy
Sent: Saturday, July 18, 2015
To: Bika Stevic
Subject: Greece Pilgrimage July, 2015
Dear Bika and Milanka, Thank you for another wonderful pilgrimage! What I love about 206 tours is that I never have to worry about the details they are always meticulously planned out. This was a last minute trip for us and I didn't even have time to really look at the itinerary, but knew it wouldn't disappoint, and it didn't. This was the fifth pilgrimage for me, and the fourth for my son. He started going the 206 pilgrimages with me when he was 10 years old. We both love them. It has brought to life the gospels and with this pilgrimage the letters written by St. Paul. We have both grown in faith and knowledge of the life and times of Christ and his Apostles. Among the highlights of the trip were the all the ancient runs of Ephesus, Phillippi, Corinth, the House of the Virgin Mary in Kusadasi, the spectacular mountain top Monasteries of Meteora, the Byzantine art and Icon's of the Greek Orthodox Churches and the beautiful Greek Isle's from the cruse. In closing, I would like to say Thank You again for being a wonderful company that excels in bringing people closer to Our Lord.
God Bless,
Diane Deegan and Tommy Deegan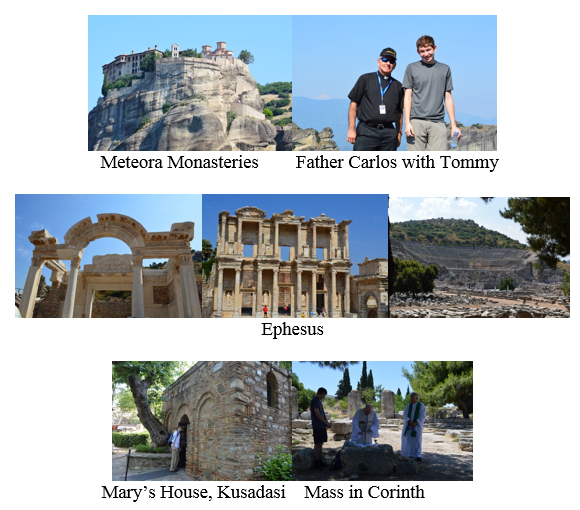 From: Jen R. Rasavage
Sent: Wednesday, July 15, 2015
To: Bika Stevic
Subject: Shrine of Guadalupe & Mexico City: July 9 - 14, 2015
Our tour guide, Roberto, was outstanding, patient, kind – and a lifesaver! When I got ill on the last day of the pilgrimage, I asked him to help me negotiate getting a taxi back to the hotel so I could rest, since my Spanish is not fluent. Not only did he get me a taxi but paid for it himself as well as buy me something to drink to settle my stomach! Don't ever lose him as a tour guide!
Jen R. Rasavage
From: Louise Cronin
Sent: Tuesday, July 14, 2015
To: 206 Tours
Subject: Greece in Footsteps of St. Paul with Greek Isle Cruise: July 3 - 13, 2015
The trip went very smoothly. The hotels were fine and staff very accommodating. The tour guide in Thessaloniki, Christiana was EXTREMELY knowledgeable, accommodating, and blessed with great personal traits (sense of humor, patience, and diplomacy). The restaurant will well selected. It was an informative Christian experience with so much history. You can actually sense the sufferings and accomplishments of St. Paul and the life and suffering as a Christian which we often do not learn or remember. The island cruise was a wonderful and informative experience. The trip to Ephesus was breathtaking. guide also very informative giving us the history of the Ionians who first settled in Ephesus to the Persians who had possession to Alexander the Great freeing Ephesus in the 334BC. and on to be ruled by Egyptians Romans, etc. We were enhanced by so many cultures and art forms, myths and beliefs. Our tour guide Yiota for the island cruise was younger and had less experience than Christiana, however, she did share knowledge, was formidable in responding to questioning and researching answers that she did not have on the spot. Yiota was professional, personable, and accommodating. I see her a becoming an asset to 206 tour guide roster.
In addition to the professional guided tours our trip was enhanced by a great group of people. I was so happy Diane forwarded me the information regarding this trip.
Louise A. Cronin
From: Bill
Sent: Tuesday, July 14, 2015
To: Bika Stevic
Subject: July 3-13 Pilgrimage Footsteps of St Paul
Bika,
We just returned from the July 3-13 Pilgrimage of the Footsteps of St. Paul. It was a wonderful trip. 206 Tours couldn't have handled things better. Everything was first class and went smoothly. The hotels were great. The tour guides and bas drivers were terrific. The group blended together very well. We were very grateful for 206 Tours making accommodations which lessened the anxiety of the group in relation to the crisis going on in Greece right now (which by the way didn't affect us at all). We had some sharings at Mass at which many in the group shared the pilgrimage was "a shot in the arm" spiritually for them, that they had a greater understanding of St. Paul and his mission, and that they felt renewed for the work of evangelization. These pictures are of us renewing our baptismal vows at the place Lydia was baptized, the group at the port at which St. Paul entered in Thesolonika, the group at the Olympic Stadium in Athens, reading Paul's letter to the Corinthians in Corinth, and Mass in Corinth. It was a great trip.
Fr. Bill, OSA
From: Bachynsky, Michael
Sent: Saturday, July 11, 2015
To: Bika Stevic
Subject: Pilgrimage to The Way of St. James - El Camino - Spain (A Walking Pilgrimage): Jun 30 - Jul 9, 2015
Bika,
The trip went very well. The accommodations were excellent. The weather was perfect with no rain. Our guide Javier and bus driver David anticipated our every need. I cannot say enough about what a great job Javier did. He was full of enthusiasm for showing us different sites and telling us about the local culture. We could tell that he enjoyed doing his job and it showed in the way that he treated us. The food was fantastic. Javier always asked us to try the food local to the region we were in. Also being able to celebrate Mass every day in local churches was special.
One minor point which you should consider. Our itinerary did not show any lunches included. In fact, all of our lunches were included except on our rest day and on the day we had a free afternoon in Sanitago de Compostela. This was a great benefit because we were able to re-connect at lunch with the others in our group and Javier was able to order food local to the area. The detailed itinerary or the website information makes no mention of lunches. Having lunches included is really another selling point because more value is included for the price.
Attached are some pictures with the following comments (left to right).Fr. Walker and myself at the top of the steps in Portomarin, Dinner with the group at a restaurant in Palas de Rei, Shaun and Cathy McKenna and myself with some nuns outside of their convent near Arzua, Fr. Walker and myself celebrating Mass at a chapel at Monte del Gozo.
Michael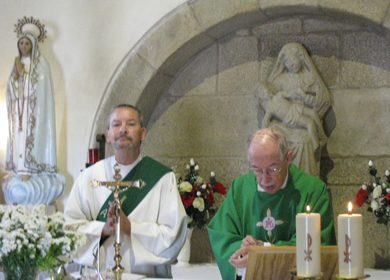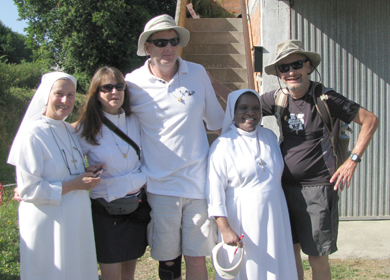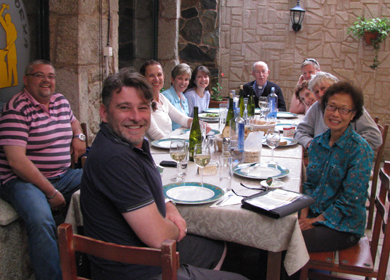 From: Shaun McKenna
Sent: Friday, July 10, 2015
To: Bika Stevic
Subject: The Way of St. James - El Camino - Spain (A Walking Pilgrimage): Jun 29 - Jul 9, 2015
To put it simply the trip and 206 Tours was amazing. I will be you best promoter locally.
Shaun
From: Przemyslaw
Sent: Wednesday, July 8, 2015
To: Bika Stevic
Subject: Feedback: Pilgrimage Shroud of Turin and all Italian Shrine.
Dear Bika,
Thank you for your email. All about 206 was really outstanding. I was honored to be a spiritual director.
We had blessed time. A lot of prayers, singing, walking and giving thanks to God. Jesus and Matilda tour escorts both great.
We had couple from Australia, what a joy that they traveled with us. Thank you 206 for all you have done for pilgrims!!!!!
God bless you all,
Fr. Przemyslaw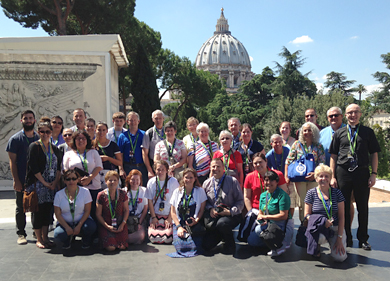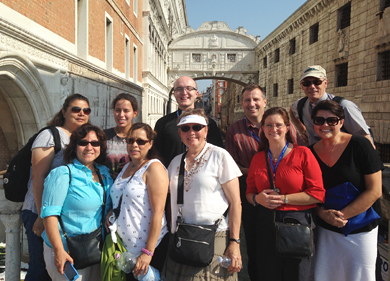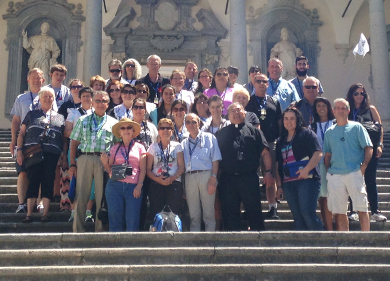 From: Cathy Young
Sent: Saturday, June 27, 2015
To: 206 Tours
Subject: Pilgrimage to Santiago de Compostela, Fatima, Spain & Lourdes: Jun 9 - 20, 2015
We have returned from our amazing pilgrimage June 9-20-15 to Santiago de Compostela Lisbon, Fatima, Avila, Loyola and Lourdes. Javier our tour guide was exceptional, we were able to connect with our tour within minutes upon our late arrival, due to plane cancellation. Javier's smile made all the inconveniences worth the wait. Our lost luggage arrived two days latter and the remaining part of our trip made up for the loss of time. Our Catholic Faith has come alive, with all the history of our beautiful Church, in these most unforgettable places. It's going to take awhile for this experience to settle in. The pace was fast, but no regrets here, we have seen much and so appreciate all the work that has gone into refining such a tour, to help us grow. I would highly recommend this tour to anyone, we had a core group of about 25 people and it was neat to learn you can pick up on this tour at any one place you want to see. So our group grew to 35 or so at any given spot, we liked the smaller size group experience. We all became like family, it was an amazing experience. Now with some 349 pictures, putting our trip together in a photo album will help reinforce all the places we have visited and be a wonderful memory whenever we wish to revisit it. Thank you all at 206 tours for this unforgettable experience. You have touched many lives, may God continue to Bless your great works.
Gratefully Yours,
John & Cathy Young
From: Dyann M. Andersen
Sent: Wednesday, June 24, 2015
To: 206 Tours
Subject: Medjugorje: May 7 - 18, 2015
I couldn't ask for a better Tour Agency!! You people are the Top Of The Line. I do not hesitate in recommending you!! I have been three years in a row and your customer/travelers are so well taken care of. This May trip I needed and received such wonderful care from your Agent, Slavenka!! She is the most wonderful lady and I think she is the "Cherry on the Top" in what she does!! And when she could not come to the hospital she send her very lovely daughter Eva, who is the nicest young lady I have seen in today's world! I mean it, both of them are fantastic people and they truly love the Lord and Our Lady and the people they care for, i.e. customers. Of course, I am terribly spoiled having Slavenka, I love her like a Sister! I really could be a 'one-person' advertising person when it comes to speaking of 206 Tours.! If I can do anything, anything at all for you and company please do let me know. I welcome the chance to do something for 206 Tours and you considering you all have been just absolutely wonderful!! Thank you for your care and devotion to making 206 Tours the Top Notch company that it is!! God Be With You and your company!!
Very sincerely,
Dyann Andersen
From: Ramessar, John
Sent: Monday, June 22, 2015
To: 206 Tours
Subject: The Holy Land: May 25- June 2, 2015
Elena and I had a most uplifting experience touring the Holy Land, walking in His footsteps, visiting his Mum's home and the town where He grew up, sailing on the Galilee and walking the Via Dolorosa to Calvary. The spiritual director Fr Co was an excellent choice – a bright earnest priest obviously filled with the spirit – a grace to us. The tour guide was very knowledgeable and helped bring to light many unknown things about the gospels for instance why Jesus waited 3 days to visit the dead Lazarus ( tuerns out the old Hebrews kept the body in a burial ante-chamber for 3 days prior to final embalmment and entombment – this prevented the odd comatose person from being inadvertently entombed alive). Thank you again for a great pilgrimage. The only cause for complaint was that it had to end and had to return to 'normal' life.
John
From: David and Cosi
Sent: Thursday, June 18, 2015
To: Amanda Fortunato
Subject: FIT Tampa Family | Poland and Italy | May 24-June 4, 2015
As parents to 4 young children, my husband and I are always challenged with the task of providing our children with new experiences for their spiritual and cultural development. When my parents first suggested we take this pilgrimage with them, we were simultaneously nervous and excited with the prospect! While we are no strangers to traveling, we had yet to attempt a tour "across the pond." We have been back home now for a few days (after a 12 day journey) and are still "starstruck" from our time in Poland and Italy. The children are ecstatic about sharing their stories with everyone they encounter and I am chronicling our adventures in my journal so as not to forget a single precious anecdote (and boy, are there many!). Each of my children (including our toddler) demonstrated beautiful connections with their faith when they were able to see in person what they had learned from books at home (the Holy House of Loreto, St Francis' Hermitage, etc) and my husband and I grew in our faith seeing them.
Our children range from ages 20 months to 8 years so needless to say there were many obstacles along the way. The tour guides and chauffeurs (thank you Massimo!) couldn't have been more accommodating or understanding to our needs. Whether it was adjusting a tour to their level (thank you Ella for the wonderful Dragon of Krakow story!), to helping us find a quiet place to change a dirty diaper in Loreto (Veronica, you're a lifesaver!) or giving us a "don't worry about it" look when our youngest decided to pitch a spectacular fit in St Francis' cathedral (grazie Signore Eduardo), all parties involved contributed to helping us complete this journey with their patience and kindness. There is so much more we could include about our experiences but mainly we wanted to express our gratitude for all the work and effort that went into coordinating this trip from our adventurous parents (May 24-June 4, 2015), to Amanda and 206 Tours in New York and for all those that welcomed us in their country. Thank you for helping my family in this spiritual and unforgettable journey!
Blessings,
David and Cosi
From: Gerald Foley
Sent: Tuesday, June 16, 2015
To: Katherine Iversen
Subject: Reflections on our Frassati Pilgrimage
Hi Katherine,
I wanted to share how moving and wonderful our recent pilgrimage was for both my mother and me. Neither of us had ever been on pilgrimage before, and neither of us had ever traveled overseas. 206 Tours did a marvelous job in planning and coordinating every aspect of the trip!
There is a long list of people to acknowledge beginning with you, Yaritza, and Sadie. On pilgrimage, Giovanni (our driver for most of the trip) and Gaia, our guide, were remarkably competent, professional, generous and kind. I want them on every future pilgrimage I intend to make with 206 Tours as a result of this marvelous experience. Our priests, Fr. Charles, Fr. Tony, and Fr. Dan, were such a blessing! These are holy and happy men, and our pilgrimage was especially graced by their presence and ministry. I have had a special devotion to Blessed Pier Giorgio for some time, which deepened and grew more fervent on and as a result of this pilgrimage. Pier Giorgio, no doubt, was with us on every step of our journey, and engineered so many graces and marvels for us throughout. I will journey back to Turin and Pollone in the future because of my devotion to him, but I know he is with me every minute and day that will pass between now and then. I am forever grateful to 206 Tours, to Fr. Charles, Christine, and Wanda, for making my first visit to the home of my beloved Pier Giorgio so poignant, profound, and moving. On top of this, to have had the opportunity to venerate the Shroud of Turin and to pray at Pier Giorgio's grave leave me bereft of words but filled with gratitude and humility. My fellow pilgrims were a joy, and true witnesses of the One Lord whom we all worship and adore. I look forward to receiving their contact information; there are so many with whom I am eager to remain in touch.This pilgrimage was, for mom and for me, the trip of a lifetime in so many ways. And I am filled with joy and expectation as I ponder future pilgrimages I will make with 206 Tours. Your work is both ministry and gift! May you and everyone at 206 continue to know God's bountiful blessings!
Yours,
Gerry Foley
From: Stephanie Nelson
Sent: Tuesday, June 16, 2015
To: 206 Tours
Subject: The Way of St. James - El Camino - Spain (A Walking Pilgrimage): May 14 - 24, 2015
Hello from Austin Texas,
Life is good. But my pilgrimage to St. James will always remain one of my more meaningful journeys. I felt I was being Called to this pilgrimage for many reasons and I have to say God and I used our time together very well. I was able to spend a lot of time alone with Him. The priest and daily Mass were beautiful! Being in Spain during the spring was fantastic. The food was TOO good…I gained 3 lbs. after walking 75 miles. The "family" as Javier called us, were warm and fun companions. Javier was the best. He was caring, funny, on top of things and so helpful. He was also so spiritual. David was wonderful. In all my travels, I never had a driver who was so helpful, fun and ALWAYS had a smile for us. (A real keeper) I am so grateful for finding your tour company and I plan on using you again in the near future. Next time my husband will be with me!
May God continue to bless your work,

Stephanie Nelson
From: Coki
Sent: Monday, June 15, 2015
To: Amanda Fortunato
Subject: FIT Tampa Family | Poland and Italy | May 24-June 4, 2015
Dear Amanda,
We're finally back to the daily routine and there is so much to tell but I will try to be brief and see if I can organize my thoughts after visiting so many holy places. First of all, We want to thank you once more for the hard work you put into this family customized independent pilgrimage. Once more 206 and its staff did an outstanding job and rest assured that we are already talking (my husband and I) and saving money for our 5th pilgrimage in the future with 206. POLAND Amadeus Hotel; excellent, extremely clean, very delicious breakfast, staff very, very polite and informative, excellent location. Only a small detail, but we didn't mind and we would choose Amadeus a second time in spite of sagging mattresses. Ella the tour guide, very nice lady and wonderful with the children. Gabrieliño (20 month old) went running to her and gave her a hug the second time he saw her. Thank you for your prompt help in regards with the city tour and securing transportation as the children were unable to walk all the distance involved. It was much appreciated by all and 206 came to the rescue once more. ITALY, Assisi, San Pietro Hotel, again very clean, good breakfast, excellent location, good mattresses. One of the older staff members at the receptionist desk was a bit crabby with the children, but by the time we left, the children had already made a good rapport with him with their "buon giorno" and "grazie" every morning and his attitude towards us changed 180 degrees. Massimo our chauffer was the best driver of all!!! The owner of the transportation agency, Vittorio, drove us in his Mercedes (my husband, Gilda and myself) to the Portiuncula and Cascia. Our daughter and family went in a regular van with Massimo. It was very convenient and we found out after we arrived in Cascia because ten years ago in our first pilgrimage with 206, the big bus left us at the bottom of the town and we had to climb all the way to the top where the Basilica and Convent of St. Rita are. This time, they planned well and by using two cars they were able to drive us all the way to the top in front of both convent and basilica. That morning, Vittorio's wife had fallen at home and broke her foot while he was with us. We told him we were going to pray for her that day and next in Loreto, and Massimo heard us praying a Hail Mary and called him and told him and he was very happy. Our tour guide Eduardo, was the same tour guide we had 10 yrs ago and Vittorio told us that he had been working for him for the last 40 years. Eduardo answered my questions about gaining all the indulgences from the Portiuncula and the day after we returned home, we went to Mass and finished the requirements at a Franciscan Church in downtown Tampa. In Cascia, we were also able to see the Eucharistic Miracle. It was very special for our oldest granddaughter, Fausty. She made her First Holy Communion three weeks before the trip. Loreto I want to share what happened in Loreto to the tour guide, Veronica, and myself. After we exited the Holy House of Loreto while still inside the Basilica, Veronica advised us to get in line to receive a blessing from an older Franciscan priest sitting at a desk and to give a donation and take home olive oil blessed inside the Holy House. We did that. Right then, Veronica started to feel something and she asked me if I felt anything. I said no. This special anointing came to her even stronger, and she asked me a second time, and I repeated again no. No sooner had I said that when I started feeling it all over my arms and back and I told her, YESSS!! The day after we got home, after completing the requisites for the plenary indulgences from the Portiuncula, we went to visit our Spiritual Director and told him about what happened in Loreto. I asked him to bless both of us with the oil, especially my ears that were bad from the pressure in the planes. I had vertigo in Rome and was losing my balance that first day at home. Within a few minutes, my ears got well, no more dizziness and I have not felt this way in many years. I know the Blessed Mother has a lot to do with this healing. Praise be Jesus. Thank Mother Mary! Today, the rosary group in church was blessed with this oil. Hope and pray many people receive healing too. Assisi was a very special place and we felt the same PEACE as we did ten years ago. It is a place you don't want to leave. Even the children felt this peace. "Pace e bene " over and over. Roma Michelangelo Hotel. We liked it better that the hotel we stayed ten years ago. Location excellent, we walked to the Vatican several times. A superb breakfast! Staff was very busy but were polite to us. Very clean and excellent mattresses. This time we were able to visit Santa Croce and see the relics of the Holy Cross and tomb of Nennolina, the 7 yr old Servant of God, buried there. We had another healing. Fausty, 8 years old, woke up that day not feeling well with an upset stomach and was walking slowly and complaining of pain in her abdomen. After visiting Santa Croce, St. John Lateran and the Holy Stairs, she could hardly walk and started throwing up. Our daughter picked her up and crossed the large avenue with her in her arms. I silently prayed to little Nennolina and Our Lady of the Miracolo to intercede for her. We were all concerned, even the tour guide. After a few minutes she told her mom she felt well and my daughter put her down. She started walking straight and when I asked her, she replied, abuelita, the pain is gone and I feel well. I then told everyone about my silent prayers. I have no doubts that Nennolina and Our Blessed Mother interceded for Fausty wellness and we were able to finish our pilgrimage with no more 'interferences'.
Once back home, my 89 yr old mom that lives alone and five hrs from us, told me she had fallen in her yard the day before we left but didn't break anything, only a black cheek and bruised knee and foot. Praised be Jesus again. I would like to tell all the pilgrims that we all need to prepare and pray and go to confession before we go in a pilgrimage. The graces are many and we need to be open to them. The nine of us, started praying for thirty consecutive days, before, during and after, our pilgrimage, three Hail Mary's and the Memorare and we prayed for Conversion, Healing and Protection and the graces that we need the most and we don't know how to ask for them. We had friends back home joining us with the same intentions that we took to all the Holy Places we visited for us and for them. We had Masses said for these intentions in Our Lady of Zchestochowa-Jasna Gora ;Lagiewniki-Divine Mercy; and Our Lady of Perpetual Help-Redemtorist Church in Rome.
We know we have been blessed with this trip and we wanted to share these blessings with our family and friends, including 206 Tours Personnel. We thank almighty God, Mother Mary and all the Saints we saw for their intercession and protection. Amanda, Rinda and the rest keep up with the hard work of bringing people closer to God. WE NEED IT!!
A Tampa Family
From: Christine M. Wohar
Sent: Tuesday, June 9, 2015
To: Katherine Iversen; Yaritza Rodriguez; Sandra Lippold; Elise Devery
Subject: Italy with Fr. Charles: May 24 - Jun 4, 2015
Dear Katherine / 206 Tours,
I was involved with some of the planning of this trip with Father Charles, especially regarding the visits to the places of Blessed Pier Giorgio Frassati. So I was expecting it to be a wonderful spiritual experience for the group which it absolutely was.
What I was not expecting was to encounter someone as professional, accommodating, enthusiastic, organized, joyful and loving as our guide Gaia. What an amazing person! To move a group that size and keep everything under control the way she did was beyond impressive. I overheard many people saying things like, "If Gaia's here, everything will be okay." That was the common sentiment. She really played a huge part in making the trip as fabulous as it was. Father Charles repeatedly would say, "Now you know why we asked for Gaia!" When we visited the Frassati villa and the mountains, there were a lot of last-minute adjustments that she had to make in territory that she was unfamiliar with. I can't think of a single challenge that was presented to her that she didn't promptly resolve in a cool, calm and collected manner. In my 30-year professional career, I could probably count on one hand the people I have worked with who fall into the category of excellence that she does. It goes without saying that I would never want to bring a group to Italy without her.
As for the logistics of the trip, there was little I think you could improve on. Our bus driver was wonderful, the hotels were fine – some fabulous, the priests were solid in the Faith, even the weather cooperated! The farewell dinner was incredible and the spirit of the group was exceptional. The guide in the catacombs was not my favorite but I know they are randomly assigned. I had a little passport glitch before leaving the U.S. but I understand how it slipped through the cracks. And the only other issue I can think of was the pace we had to keep to do everything. I know from experience that it has to be that way, though, so I don't think there was much that could have changed. I would wholeheartedly recommend 206. It was a life-changing experience even for me who has "been there done that" about a dozen times.
Mille grazie!
Christine Wohar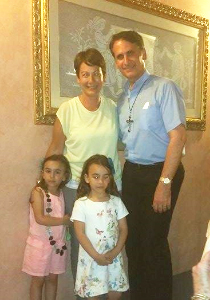 From: Clara Ponce
Sent: Tuesday, June 9, 2015
To: Bika Stevic
Subject: Holy Land & Rome: May 24 - June 5, 2015
I had a fantastic trip, everything was perfect, I would not hesitate using 206 for my future pilgrimage. Ramy was fantastic! We had a wonderful group of people all got alone so well, no complains everyone was always on time It was just beautiful. I would definitely recommend 206 tour. I'm sending you a group picture, you are welcome to share it. I'm the front line 3rd one from left strips long hair. The size of the group was perfect!
Blessing in Christ
Clara Ponce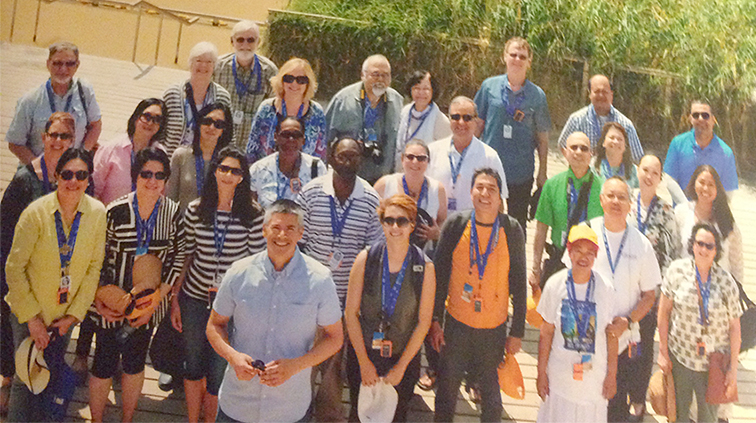 From: Mavis Aldridge
Sent: Tuesday, June 9, 2015
To: Bika Stevic
Subject: RECENT PILGRIMAGE
Dear Bika,
I am so glad that I decided to make this pilgrimage, and even more happy that I chose 206Tours as my agent. THANK YOU SO MUCH for the meticulous care and the rewarding experiences which you planned for all the pilgrims. Personally, I had an unforgettable journey. Ever since I learned about Mary at about age fifteen, she became my friend. I always wished I could visit even one of those places where she made her apparitions. Lo and behold! At age 80, my wish came true not just at one apparition site, but three! I broke down in tears at Fatima, then I became overwhelmed as I joined in the procession at Lourdes; I was in awe during the celebration of the Eucharist at Lourdes, and couldn't believe I was standing in the town of Lisieux, the birthplace of St. Therese. As for the art and architecture of the many churches, basilicas, and the Cathedral at NotreDame, I am still wondering if I temporarily traveled to a different dimension! I have had memories to last for three lifetimes! I would like to give special mention to our guide, Vanessa. Her patience, caring, high sense of responsibility, historical knowledge and explanation of the various places were among her admirable qualities. Congratulations 206Tours for your efficiency! You have certainly enriched my life in my advanced senior years! Thank you and many blessings to your and your staff as you continue your wonderful work!
Sincerely,
Mavis Aldridge
From: Kevin Hall
Sent: Tuesday, June 9, 2015
To: 206 Tours
Subject: Rome: June 1 - 5, 2015
We are very pleased with our 206tours experience. I really did not know what to expect. My hesitation was totally unfounded. The activities were quick-paced and exhilarating. Father Richard was great — very spiritual yet able to kick-back during dinners. The dinners far exceeded our expectations. They were fantastic — both the food quality and conversations. We hope to take another 206tour in the future, but, honestly, the cost of over seas traveling will be a deterrent.Thanks for the superb pilgrimage.
Kevin & Diane
From: Julie Gregory
Sent: Saturday, June 6, 2015
To: 206 Tours
Subject: Greece in Footsteps of St. Paul with Greek Isle Cruise: May 16-25, 2015
Greece Pilgrimage was wonderful. I personally thanks 206 for the opportunity to share another pilgrimage with my last year roommate Pat Nelson, which we have kept in touch and share this years this marvelous pilgrimage. "206 making new friends on Christ" A wonderful group very devoted Catholics which their intentions and our prayer together made my journey a little bit easier for the intersection of my husband health.
Masses were wonderful with Fr. Anthony and the great help of Deacon John, the wonderful singing of Marian Astle. The sites visited are wonderful increasing the value of our faith, food was very good as well the accommodation. Anyway highly recommended this Pilgrimage. I am attaching this pictures of the group, I am Gloria ( Julie Gregory with the green blouse.) Thanks Tour 206, Well Done.
May God continue blessing you.
Julie Gregory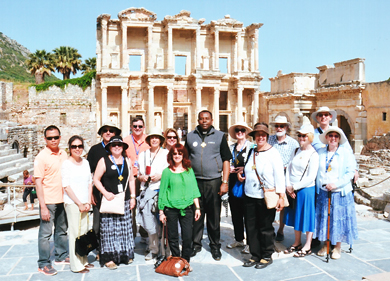 From: Tom and Alison Kelly
Sent: Tuesday, June 2, 2015
To: Bika Stevic
Subject: Re: Welcome Home! Pilgrimage to The Way of St. James - El Camino, Spain (A Walking Pilgrimage) May 14 - 24, 2015
To all who are behind the scenes at 206 Tours,
Thank you for coordinating our Pilgrimage to Santiago and the resting place of our beloved St. James. This was truly a joy filled and spiritual journey for Tom and I. It is impossible to say in a few sentences how enriched our lives have become after this experience. Walking the Camino was peaceful, scenic, and so up-lifting. We met so many pilgrims along the way and learned a little about their stories. What started as a tour "group" became family after just a few days. The 25 of meshed so well together and were supportive of one another. Our guide was SUPERFANTASTIC! Javier went over and above to see that all of our needs were met. He anticipated what we needed without us even asking. Besides being extremely knowledgeable about the Camino he is truly a special human being. I would not speak out of turn to say that everyone in our group would echo my thoughts. The priest assigned to us is such a kind and humble man. He shared so much of his experiences and faith through his homilies and interaction with each of us. I can not image having done this without Father Jaehwa. Last but not the least by far, there is one individual who always had our backs: our driver David. He met us along the way at checkpoints with smiles, hugs and always a thumbs up. We were so happy to see him.
To anyone thinking of doing this 206 Tour, please do! It is just wonderful. A word of warning: do not expect to lose weight walking the 100+ kilometers. The food is plentiful and very good. Enjoy.
God Bless,
Alison and Tom Kelly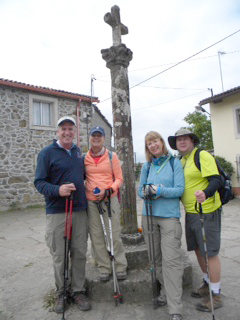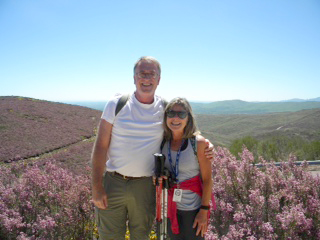 From: Nghiem Nguyen
Sent: Friday, May 29, 2015
To: Amanda Fortunato
Subject: FIT Nghiem Van Nguyen | Fatima, Lourdes & Rome | May 2015
Dear Amanda,
We all like to say thank you to you and all your help to organizing for our trip, It was a big impact to our faith, Jesus Vivas Garcia guiding was perfect, through him we can see a reflextion of loves to others more than just a tour guide, we just wish if we can afford to make our trip longer, now we have to wait for the next trip. Every one of us have invited Jesus to visit Perth, Western Australia so we can meet again. In the future if I want another trip, I then will contact you.
Chao,
Nghiem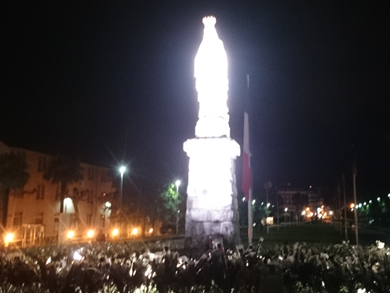 From: Tina Corteza
Sent: Friday, May 29, 2015
To: 206 Tours
Subject: Shrines of Italy: May 19 - 27, 2015
My sister and I were extremely pleased with this pilgrimage tour. Best pilgrimage I've had. First of all, 206 tours remained true to its word of pushing through with the pilgrimage at the set date (our schedule is not flexible), regardless of how many people turned up. I know this may not have been financially favorable to the company, but it did made our pilgrimage more personal (not herded en Masse), more quiet, with more chance for meditation. It felt like a family. We were able to do things that a big group cannot, like celebrating Mass in the very small room housing the bones of St. Benedict and Scolastica. The itinerary was ideal. It covered a lot of places in a short period of time and still allowed us personal time to pray and meditate. Our pilgrimage tour director, Alessandro was exemplary. He was very efficient in the technical aspects (everything ran smoothly – a reflection of organization, adaptability and resourcefulness). Most of all, by his actions, he showed us he was a fellow pilgrim himself. He was a daily communicant and an altar server. He always made sure we said our morning prayers and rosary, never losing focus on what the pilgrimage was about. He even asked us to join him in the 6:45 am laud and matins by the nuns of St Clare, a routine he does on his own when he is in town. It makes a big difference when the tour director himself is also spiritual. He's the best pilgrimage tour director I've ever had!!! Most of the group members were deeply spiritual and thus helped feed one another's spirituality further. It had a multiplier effect. I came out of it stronger in faith, deeply encouraged by the sufferings and holiness of the saints, hoping to one day be as holy as them for after all, we are all called to be saints. I will definitely consider doing another pilgrimage with 206 tours in the near future. Good job!!!
Tina Corteza
From: Dexter Koehl
Sent: Thursday, May 28, 2015
To: 206 Tours
Subject: 206 Tours Santiago de Compostela
Where to begin? Our Camino was incredibly well run right down to the last detail yet we never, ever felt restricted. Needs were always met, seemingly effortlessly. Nothing was forgotten or left to chance. Kudos to 206 Tours but especially to Javier our leader and of course David who drove the bus but did so much more. Father Jaehwa's homilies at daily Mass were so personal and moving. Our spiritual growth on the Camino was subtle but life changing for us. Each person gets something different out of it. We felt blessed to have Mass for our group celebrated in some very special churches and chapels with significance in the history of the church.
From the first meeting in Madrid we all got along well but by the end of our Camino in Santiago we felt like family. Perhaps it was the chemistry of the people but we all know it takes more than that to create a cohesive group. Javier and David's sense of humor was infectious. Many in our group caught the "infection" and it spread rapidly. Laughter is a wonderful medicine, even or perhaps especially on a pilgrimage. The hotels were excellent. Everything was always in place on arrival – luggage appeared and disappeared as scheduled. The meals were excellent as well. We thought we would lose weight with all our walking. It didn't happen! Javier prepared a "picnic" one day that can only be described as spectacular. We will be preparing paella and Javier's sangria recipe for our annual family gathering at the beach in a few weeks. Thank you in advance.
The walking was strenuous and sometimes difficult but then again we were a good 10 – 15 years older than everyone else in our group! Mary Louise said "it was the hardest thing she had ever done but it was the best thing she had ever done". "Sin dolor, no hay recompensa". No pain, no gain. But we wouldn't trade any of it. Walking poles are a definite plus and we would recommend them to anyone taking the trip. Also, we were able to walk at our own pace and not impact the rest of the group. Go Team Turtle! We were blessed with excellent weather so we were able to really appreciate some of the most beautiful scenery, countryside and people in the world. Nothing can compare to the sounds and smell of walking. The Galicians are a warm and friendly people. We loved Spain and Galicia and every stop along the way to Santiago. Too bad it's such a long plane ride from home! Thank you for a wonderful experience. It is a memory that will be with us forever.
God Bless
Dexter & Mary Louise Koehl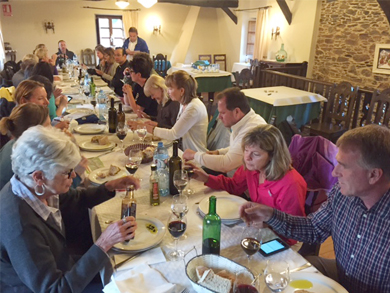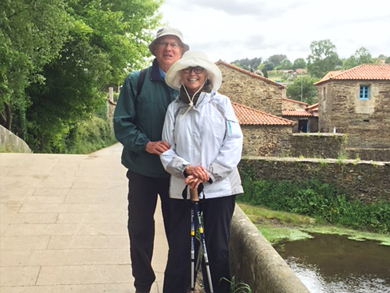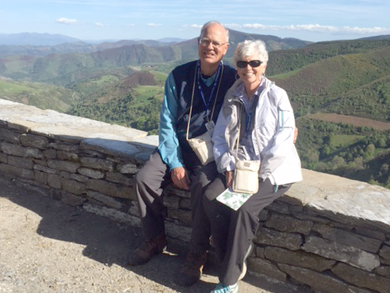 From: Rosemary Barrett
Sent: Tuesday, May 26, 2015
To: Amanda Fortunato
Subject: Fr. Edward Murphy | Medjugorje | May 11-20, 2015
Amanda,
The trip to Medjugorje with Father Murphy was so spiritually enriching. It left a supernatural imprint on the soul. It was a pleasure to be with such wonderful people and to share the faith journey with them. How fortunate we were to experience the peace and reverence of the people of Medjugorie. Dubrovnik was an added bonus steeped in antiquity. The hotel was nicely located overlooking the Adriatic. Thank you for orchestrating the tour!
Blessings,
Rosemary Barrett
From: Rosario Charito
Sent: Monday, May 25, 2015
To: 206 Tours
Subject: All Italian Shrines, The Shroud of Turin, Fatima, Spain, Lourdes & Paris: April 20 - May 16, 2015
This trip was a dream come true for me. Each shrine was amazing and different. Everyday was a grand experience. Kudos to 206 for a tour well done. Thanks for the surprises and small mementos. The beautiful Basilica of Santa Maria degli Angeli in Assisi was really special to me. My friends and I were able to attend the early morning and evening prayers sang by the monks. That was like heaven. I was able to spend more quiet time in the Porziuncula and was definitely feeling some inner peace and happiness within those ancient walls. And there were many , many more incredible blessings.
My trip actually started with some anxiety. My 9:00am Delta Air flight from LAX to JFK was cancelled due to a storm in NY. I was transferred to an Air France 3:30pm flight to Paris then to Rome. I missed the 10:00am pickup at Rome airport and I missed the 6pm orientation. Not only that, my suitcase was damaged when I got it. I asked the guide where I can buy a suitcase and he said "I'll show you". I thought he meant he'll point to me to a street where I can find a store. Instead he walked with me under the scorching noon day sun of Rome looking for a suitcase store. After walking up and down twice, I was ready to give up. But he said "wait here". He walked further up and found the store while I cooled myself inside an air conditioned store. Half way back to the hotel, I said to Alessandro, I forgot the receipt I really need it to file a claim on my travel insurance. And he promptly left me to go back to the store: ( so embarrassed. He certainly earned two thumbs up from me. But the saga of my suitcase did not end there. Moving to our next hotel, my suitcase went missing (ugh). Of course Alessandro found it and he said to me as we were transferring to our next, next hotel "I personally carried your suitcase". Yay five stars for Alessandro.
The next segment of our tour was with Matilde. I am impressed with the immense knowledge of Matilde and all the 206 guides. 206 must hire only top notch people. Drivers – Giovanni in Italy, David in Portugal, Spain and Jose in France – were all efficient and drove us safely to our destinations. Our spiritual directors Fr. Jim and Fr. Greg were both inspirational. Let me mention here that Alessandro contacted Matilde (twice?) to ask how we were doing and made sure my friend was improving. My friend Lorie left Italy with a bad cough. This is my friend's story to tell. Now you understand why we are fans of Alessandro. More power to 206 and more blessings to your staff & crew. I've already mentioned 206 to my family, relatives and friends. God willing I'll be able to travel with you again. Thank you once again for the wonderful, incredible and unforgettable experience.
Rosario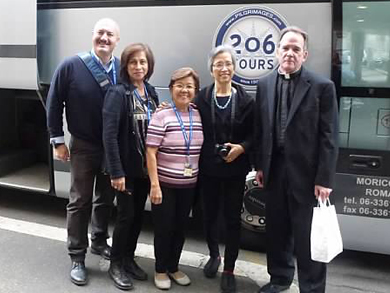 From: Fr. Dominic
Sent: Saturday, May 23, 2015
To: 206 Tours
Subject: Poland & Prague: May 12 - 22, 2015
Praise and blessings to you and the wonderful and helpful staff at 206 who assisted in scheduling our Pilgrimage to Poland and Prague. Our entire group had a most joyful and blessed experience these past days. We were a blend of loving pilgrims from Wisconsin, Philadelphia, New York, Washington, and as far away as Australia! All of us became prayerful companions within minutes of meeting each other mainly due to the fact that all of us had a common goal to praise the Lord and His Saints, Saint John Paul II, Sister Faustina, St. Maximilian Kolbe, and to celebrate Mass to honor the Infant of Prague. Olga was a most wonderful and loving guide to us, so helpful and knowledgeable and easily understandable. The group really trusted and liked her endearing personality. The local guides were very knowledgeable as well, and our driver was exceptional! Marie Fonslow from our group arranged for those who wanted to do the readings, lead our rosaries and the Divine Mercy prayers, etc., and she will forward to you some special pictures of our group soon. The sister guide who took us through St. Faustina's home, was one of the highlights of the tour. There was a chalk hop scotch drawing on the street and she actually showed us how it was done! All Sisters and guides were wonderful. Again, thank you for this wonderful and prayerful experience which we will never forget, and we hope to join 206 again in the future.
Sincerely,
Father Dominic
From: Mary Ellen Waterman
Sent: Friday, May 22, 2015
To: Amanda Fortunato
Subject: FIT Jim Waterman | Medjugorje | May 10-15, 2015
Hi Amanda,
This is Mrs. Waterman, Mary Ellen. It was a fabulous trip which was beyond my expectations! Our guide, Dragon was outstanding in knowledge, spirituality, care and guidance. It was the right mix of education, activities, insight and private devotion. The transfers back and forth were excellent and timely. The hotel accommodations/staff/food was excellent! Fr. Murphy provided an extra reinforcement of the importance of pilgrimage/prayer. I can't wait to return and I will definitely recommend your agency. We ended our trip in Budapest. There is a devotion spreading called,"The Flame of Love," the seer, since passed, is Elizabeth Kindelmann who is buried in the Holy Spirit Church there. Her diary has received the Imprimatur. I couldn't find any pilgrimages to visit the sites where she frequented in her lifetime. Perhaps a future tour for you?
God bless you all!
Mary Ellen
From: Kathryn Barrett
Sent: Thursday, May 21, 2015
To: Bika Stevic
Subject: Shroud of Turin & All Italian Shrines: May 2 - 17, 2015
The Pilgrimage was a wonderful experience. Our tour director, Alessandro, made it a delightful trip. He went beyond the call of duty to make sure were were all cared for along the way. We were also so very grateful to have Fr. Denis as our Spiritual guide. As a musician, he made every Mass memorable with his chanting and songs. My one suggestion would be to reprint your song book with more familiar hymns. Fr. Denis would be a good individual to consult for this update. The hotels for this trip were remarkable. For the most part, they were new, refreshing and quiet.The dinners in neighborhood restaurants in Rome were fantastic. The "surprise" picnics were truly appreciated. Thank you 206 for making this another memorable event in my life.
Kay Barrett
From: Nancy Edenbo
Sent: Wednesday, May 20, 2015
To: Bika Stevic
Subject: Shrines of Italy: May 4-13, 2015
How many superlatives can I pack into one email? This was my first tour, with 206 Tours or otherwise. My sister and I planned this for two years. For you and your guides, it may be a way of life (and I am glad it is!) but for me it is now a beautiful memory. Our tour began in Rome with a papal audience (undoubtedly the high point), and from there we traveled to Assisi and then to Siena. Each day held unbelievable beauty and surprises. Our guide Alessandro kept track of everyone and everything and took care of those of us who unfortunately got a little sick. He truly made these places come alive for us and made this pilgrimage unforgettable. 206 Tours "little surprises" could be a taste of a local cookie, lunch in a stunning garden, wine tasting at a vineyard in Assisi–or dinner and opera at La Carovana! Mass each day was at a special altar and I especially appreciated that we had Mass early in the morning at St. Peter's, when it was quieter and we had the opportunity to enjoy a more meditative atmosphere. The Benedictine Abbey was especially meaningful. We were able to tour the artifacts there from the WWII bombing. Our bus driver, Mauro, was also a big part of the trip. His skill was remarkable. Riding through the Italian countryside was an experience unto itself! To say nothing of the city traffic. Every day I continue to unpack the memories from these shrines and experiences shared with my sister in Italy. We stayed in great hotels and had wonderful meals, where we got to know our fellow pilgrims and discover the best of the local cuisine. I can't thank 206 Tours enough for the attention to detail and the personal touches that made this pilgrimage absolutely beyond my expectations!
God bless,
Nancy Edenbo
From: Daniel Robinson
Sent: Tuesday, May 19, 2015
To: Bika Stevic
Subject: Pilgrimage to Lourdes, Paris, Nevers, Lisieux & The Shroud of Turin: April 2015
In response to your inquiry, we had a WONDERFUL trip! Everything ran according to schedule with the tour group, and was well organized. Our guide, Jesus, was great! He was knowledgeable, personable, and kept us on task. It was a fast-paced tour…early mornings and late dinners, with little free time to spare; however, we enjoyed every minute. It was a spiritual, moving trip for both of us, and we both felt like we grew in faith. We saw amazing places and things that we would never have experienced if we had arranged the trip ourselves. It was nice to have a priest and tour guide with us throughout the journey. This was our first pilgrimage, and we knew it was not going to be a typical vacation, but we still had a level of uncertainty of what to expect. It was not disappointing in the least; just the opposite…better than we hoped for, and very spiritually rewarding. There has even been some conversation about where our "next pilgrimage" will take us! I would recommend 206 Tours to anyone looking for a Catholic pilgrimage. The preparation packet mailed to us prior to the trip was helpful, and even the backpacks are top quality!
Thank you for a beautiful trip, 206 Tours!
Dan & Sharon Robinson
From: Fr. David
Sent: Tuesday, May 19, 2015
To: Bika Stevic
Subject: Pilgrimage to Poland, Prague, Austria & Budapest: Apr 28 - May 14, 2015
Thank you for the opportunity to be spiritual director on the Pilgrimage to Poland, Prague, Austria and Budapest, April 28-May 14, 2015. The trip was absolutely wonder, the pilgrims prayerful, our guide, Chris and our driver, Robert fantastic. On the pilgrimages I always recommend 206 Tours to the pilgrims because these pilgrimages are truly spiritual, and therefore, true pilgrimages. Poland was an extraordinary experience because I was not aware of the depth of the Roman Catholic faith in this country. Poland is certainly a place of pilgrimage. Warsaw, Wadowice, Niepokalanow, Czestochowa, Zakopane, and Krakow, each had so much to offer. Some places, of course, more than others. I would actually consider extending Poland to include Vilnius, Lithuania, so we can have a full appreciation of St. Faustina's life journey. In this regard, many of the pilgrims, myself included, felt that our time at the Divine Mercy Shrine was not enough, in order to go to Auschwitz in the afternoon. In fact, Lagiewniki and Auschwitz should be on two separate days: Lagiewniki is very spiritual, Auschwitz is very emotional. The solution to this might be by adding one day to Krakow. If this is combined with a few days in Vilnius, the pilgrims who want a pilgrimage focusing more on the life of St. Faustina would be satisfied, myself included. I would say that the Lagiewniki experience was somewhat rushed. I am aware that MG travel made some changes to the itinerary but they overlooked that Monday was a holiday and the museum in Krakow closed which effected our itinerary. The Divine Mercy convent in Lagiewniki Monday morning is gated due cleaning which meant we could not return to the chapel until noon. I thought the work that has been done to St. John-Paul II's home in Wadowice was excellent. I told the Sister that this was one of the best museums I ever visited. It is truly worth the visit. Prague was a new experience for me, and for many of the pilgrims also, as many had never been to Prague. What a beautiful city! Both history and religion, of course with the Infant Jesus of Prague, made this visit enlightening and enriching. Salzburg, Vienna, Budapest, and the Marian shrines in-between, Altotting and Mariazell, were all extraordinary experiences, each with their history. These shrines gave us a sacred place to pray.
I believe one of the most profound moments of our pilgrimage was to have a Sister of Divine Mercy talk to as at the Divine Mercy shrine in Lagiewniki. She was wonderful and we were all very moved by her discussion on St. Faustina's Diary. Her name is Sister Maria Vianneya. Chris, our tour guide, was very helpful and made sure all the pilgrims had everything they needed, especially access to the washrooms. We were well-informed of the places/regions/history, and of our itinerary on a daily basis. Robert is an excellent bus driver. Thank you to all your staff who worked hard to put this pilgrimage together, from the itinerary, to the flight bookings, especially Melisa Mulligan. Thank you once again; this is part of Europe that I have never visited, and it has been so long that I wanted to go to Poland. God bless you.
St. Faustina, St. Maximilian Kolbe, St. John-Paul II, pray for us,
Father David
From: Philipp Ehrman
Sent: Tuesday, May 19, 2015
To: Sandra Lippold
Subject: Re: Welcome back from your Pilgrimage with Fr. Calloway
Fantastic pilgrimage. I went to Mexico last year with 206 and I am already booked for Poland (Divine Mercy Sunday) next year with Fr.
Calloway. Our guide and driver were unbelievable. Please make every effort to use them for all 206 pilgrimages to the Holy Land. Don't change a thing!

Philipp
From: Radloff
Sent: Monday, May 18, 2015
To: Bika Stevic
Subject: Re: Welcome Home! | Pilgrimage to All Italian Shrines: April 21 - May 3, 2015
Dear Bika,
We have just returned home from Italy and Australia where we spent 2 weeks after the completion of our "All Italian Shrines" Tour in Venice. Would you please pass on to 206 Tours that it was an excellent Tour in every way. Alessandro, our tour Guide, was very efficient and provided every comfort! I was just so amazed at how the timing and guide representatives at each venue/place was there to give us first hand information. The bus driver drove smoothly and was also excellent. Our Spiritual Director was quietly unassuming and blended into the group so well and the Mass and short homilies were all relevant and to the point. There were no hitches and we hope to do another tour with you in the future. Please convey this to your directors.
Many thanks.
Hilary & Chris Radloff
From: Anne Sheflin
Sent: Sunday, May 17, 2015
To: Bika Stevic
Subject: Poland, Prague, Austria & Budapest: Apr 29 - May 14, 2015
This was a very well organized trip. Both the tour Guide and Bus Driver were off high quality. I do not go on any pilgrimages. But have been to each place we traveled. Having daily Mass was a great experience. I had not traveled with your tour before but am looking at other trips offered by 206. Father David was a great asset and his words at each Mass were very timely.
Anne Sheflin
From: Jan
Sent: Monday, May 11, 2015
To: Bika Stevic
Subject: Re: Welcome Home! | Pilgrimage to Fatima, Spain, Lourdes & Paris: April 26 - ...
It was a WONDERFUL trip. Much more than I ever expected. JESUS was an outstanding Tour Escort. He did everything for us. He is very knowledgeable about Portugal,Spain and France. He told us a lot of history about each town we went into. I can't tell you enough about how great he was to all of us. My friend lost her suitcase at the beginning of our trip. She was without it for 11 days and JESUS was calling the airlines everyday checking on its whereabouts. He was always there when we needed him. He truly did an outstanding job. Our bus driver was also very good, I don't know where he learned to drive but he was a terrific driver. Our Chaplin Father Stephen was TERRIFIC. He gave great homilies and said a very spiritual Mass each day.As you can see from my letter the Pilgrimage I took on your 206 Tour was very very special. I can't stop raving about it to all my friends. I will definitely recommend 206 Tours-Catholic Pilgrimages to everyone that I know who would like to take an outstanding Pilgrimage. Thank you for making my Pilgrimage so perfect.
Sincerely,
Jan Kelly
From: Olufunke Iroegbunam
Sent: Monday, May 11, 2015
To: 206 Tours
Subject: Medjugorje Mini-Stay: April 24-28, 2015
I would like to thank you for the excellent pilgrimage to Medjugorje Mini-Stay: April 24-28, 2015. My trip was a wonderful spiritual experience; I believe it was God's special gift to me! The drive to and from Dubrovnik airport was pleasant as Zdenko, the driver, was kind enough to point out landmarks and places of interest. Slavica, our escort, was a real gem. I truly benefitted from Slavica's depth of knowledge; she was so passionate and allowed me to gain a better appreciation of the spiritual aspects of the journey. I still smile when I think of our trip to the Apparition Hill, our 4a.m. climb up the Cross Mountain and the special gift from Our Lady…. our private meeting with Vicka in her living room!!
I have shared my experience with several friends and recommended 206 Tours as a company that can provide a wide range of Catholic pilgrimages. Thank you the wonderful spiritual journey.
Warm Regards
Francesca Olufunke Iroegbuanm
From: Daisy
Sent: Sunday, May 10, 2015
To: 206 Tours
Subject: Fr. Enrique Salvo and His Mom Daisy group pilgrimage from Nicaragua to the Holy Land, with 206 Tours
In the Footsteps of Jesus was really our pilgrimage to the Holy Land. Not even praying the Our Father will now be the same. This pilgrimage is something that every Catholic should do. (I visited Jerusalem before with my parents on our own and it is not compared) The daily Mass at the holy places touched our hearts. Fr. Enrique was great (mom's eyes) so Fr. Otilio. Thank you for giving us such a professional trip where history and our Catholic faith shake hands. The tour guide spoke perfect spanish and was always looking after us so did the driver. Hotels and food were also great.
In the photos you can see the Nicaraguan flag waving on the boat ride on the Sea of Galilee. Fr. Enrique right at the shore where Jesus after the Resurrection waited for his disciples. Singing to the Virgin Mary "Tu Gloria" a song of the Purisima the biggest Marian celebration in our country. Nicaragua is one of the most Marian countries in the world. St. Pope John Paul II was very pleased when he visited Nicaragua twice.
Couples renewed their wedding vows. Even husbands were very touched. Thank you for your cooperation and patience with this Latin group.
Hope to meet you when I visit Enrique again.
Daisy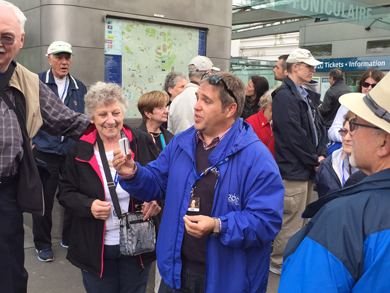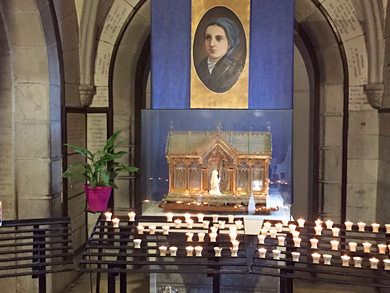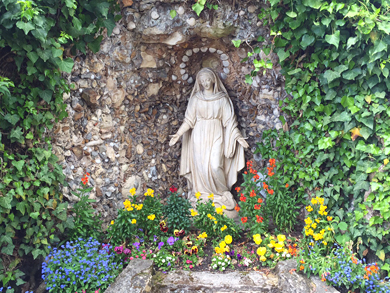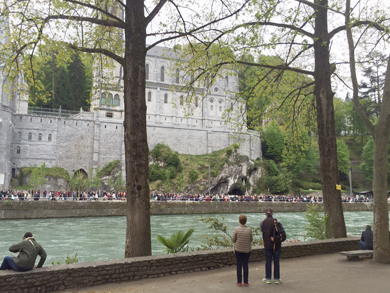 From: Joseph Semaan
Sent: Saturday, May 9, 2015
To: Milanka Lachman
Subject: Re: Hello
Hello Milanka,
I hope all is wonderful with you. Usually you would expect to receive a Thank you note at the end of the journey, but I must say that the good Lord has showered me with all his Blessings so far on my journey and many thanks to you and everyone at 206 Tours for making my dream pilgrimage journey has a heavenly reality so far 🙂 hopefully Our Blessed Mother will continue her abundant grace for the remainder of my pilgrimage.
I must be your biggest advocate, constantly encouraging everyone on my tours to visit other shrines and Jerusalem (I even ended up recruiting few pilgrims during our Papal audience) I didn't get a one on one with Pope Francis (but I will tell you the story some other time) ended up in section one, right by the gate first to see home (my camera froze but I savored the moment) At Manopello they wanted to close early (but a nun agreed to let me stay all alone locked up in the Church and venerate the veil for 21/2 hours) All the guides are superb! Jesus got me to carry the statute of Our Lady in Fatima twice! Juan got me an extra ticket to venerate the Shroud a second time (one time is surely not enough for me!) I was kind of worried few days before heading on this trip, to be all alone for so long and joining so many different groups (everyone was so welcoming and made so many friends) all thought I was either a teacher in theology or Priest! I keep reminding them of the wonderful Graces of our Pilgrimage with 206. So glad you finally added on the new web page the explanation of your company name! I spent the early part of our trip in Fatima explaining it to my new friends.
You are always in my prayers for your intentions and for the continued success of 206 tours (even though I am not done with this journey and still looking forward to Our Lady in Guadalupe) I am already planning and dreaming up my next journey (not three weeks again! I miss Kathy so much that she will joining me earlier in Paris and I may end up my trip a day earlier in Paris and meet up with her on our own)
Don't worry when I recommend 206 I always give out Rinda's name 🙂 hope she doesn't mind All the Blessings and hope to see you soon
Joseph
From: Rose Healy
Sent: Friday, May 8, 2015
To: 206 Tours
Subject: Fatima, Spain & Lourdes: April 26 - May 5, 2015
I had one of the most memorable experiences of my life. I am totally renewed spiritually. 206 will be recommended by me. Jesus, our Guide from Spain was wonderful-it is not a job for him but a Vocation. Our Chaplain celebrated the Eucharist with great respect and gave great sermons. The Hotels were A+. It was truly a Pilgrimage, and I am grateful, that you make sure we are above all Spiritually renewed. Thanks and I hope to go on other trips with you.
Peace and Love to all.
Elizabeth Rose Healy
From: Rev. Francisco
Sent: Friday, May 8, 2015
To: Chris Wright
Subject: Guadalupe, Puebla, & Mexico City with The Angel Connection
Chris,
As the spiritual director for this Pilgrimage, I would like to congratulate your entire organization "206 Tours". It was a joy to associate ourselves with you from beginning to end. I particularly like to stress your professionalism, efficiency and multiple acts of kindness. The process of registration was handled very well, the accommodations in Mexico were fantastic, the driver and tour guide were EXCELLENT. I know that all my pilgrims, as well as myself, will remember this trip for a long time: so much to be grateful for, so impressed with the whole experience.
May the Lord continue to bless you. I don't say this just to pay some lip service: I will highly recommend your organization to others, and I am certain that we will choose you over other similar organizations in our future pilgrimages. Thank you again, and may our good Lord and our Blessed Mother help us all indeed, "to journey together in faith until we reach our homeland in heaven".
Rev. Francisco
Pastor
From: John King
Sent: Friday, May 8, 2015
To: 206 Tours
Subject: Holy Land Tour & The Shroud of Turin
I have just returned from my tour and cannot begin to express how moved and spiritually renewed I feel. I have lots to share if you like but wanted to begin to express my thanks. I have included a photo taken of a tomb in Bethany. God placed the scene on my heart and a fellow Pilgrim took it for me. It will always serve as a reminder of my reawaking in Christ our Lord, and rising to renewed life in Him. Please feel free to share.
Your Brother in Christ,
John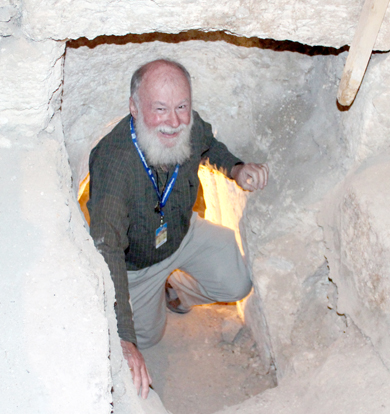 From: Gabriel
Sent: Thursday, May 7, 2015
To: 206 Tours
Subject: The Holy Land: April 27 - May 5, 2015
It gives me tremendous joy to sincerely offer my thanks and deep appreciation for granting me the great privilege and wonderful opportunity to visit the Holy Land. It was a very spirit-filled and memorable event – one that I will always cherish. The tour guide, clergy and pilgrims bonded well and journeyed with minimal problems.The visitation of the various holy sites was splendid, spirit-filled and absolutely educational. It is instructive to mention that and our tour guide, Rimon, did an exceptionally outstanding job in explaining thoroughly and patiently the spiritual, social and political scenario and this assisted in making the Bible and the life of Jesus more alive. Rimon was brutally honest and certainly looked after the well-being of all. His deep concern and genuine care, coupled with his good sense of humour should be given high recognition. A noteworthy aspect of the pilgrimage is the prayerful manner in which the clergy conducted their affairs. This served as a tangible witness to the pilgrims and further assisted in making Jesus real and alive. Things were splendid and I am happy and delighted.
With renewed expression of gratitude,
Fr. Gabriel
Trinidad and Tobago
From: Fr. Joe
Sent: Tuesday, May 5, 2015
To: Milanka Lachman; Sandra Lippold; Patrick McKenna
Subject: The Best Shrines of France & The Shroud of Turin on April 17-30, 2015
I was very blessed to participate in another 206Tours pilgrimage. It went very well. Miguel Martin is an excellent guide and worked with the group quite well. Though I particpated in three different groups, they were all very attentive to the spiritual nature of the pilgrimage and got along well with each other. Thank you again,
God bless you all,
Fr. Joe, C.P.
From: Mary Hadenfeldt
Sent: Tuesday, May 5, 2015
To: Milanka Lachman; Sandra Lippold; Patrick McKenna
Subject: The Shrines of Italy on April 20-29, 2015
Wonderful experience. Alessandro is amazing, hope you are paying him what he is worth! Giovanni the bus driver was very good and cautious, we saw some crazy driving in Italy, but did not have to worry with him at the wheel! And Father Jim was a blessing. Thank you for providing these tours!
Mary Hadenfeldt

From: Adriana Rodriguez
Sent: Tuesday, May 5, 2015
To: Sandra Lippold; Milanka Lachman; Patrick McKenna
Subject: Turin & The Shrines of Italy on April 18-29, 2015
Hello,
I enjoyed every part of the pilgrimage. The Holy Sites were amazing and so spiritually enriching. Both Alessandro and Fr. James made the pilgrimage a wonderful experience and made us all feel like a true family in Christ. The entire tour was very well organized. I plan to recommend 206 Tours to my friends and other people that are interested in pilgrimages. Thank you for the opportunity to join a 206 Tours pilgrimage. It was a true blessing.
Adriana Rodriguez
From: Ellen Miller
Sent: Tuesday, May 5, 2015
To: 206 Tours
Subject: Shroud of Turin & The Shrines of Italy on April 18-29, 2015
Dear Suellen,
Thank you so much for all your help in arranging our Pilgrimage with 206 Tours.
It was fantastic; the tour guide Alessandro was lovely. He was always putting our needs first and nothing was ever too much trouble.
Father James (our spiritual leader) was amazing. I loved his common sense and practical ways of assisting all of the group. I'm already missing my new friends and hope to stay in touch with them long after the tour has ended. I have now been overseas four times since 2011 and this was the best trip. 206 Tours enabled us to experience some amazing religious sights and opportunities will stay with me hopefully forever. 206 Tours made sure everything was 1st class. I would recommend 206 Tours to anyone wishing to undertake a Pilgrimage in the future. If it is possible, I would certainly travel with 206 Tours again. Thanks again for everything.
Best wishes
Ellen Miller
From: Frank Nelson
Sent: Monday, May 4, 2015
To: Milanka Lachman
Subject: Thank you!
Hi Milanka,
We are back safe & sound. We had a wonderful trip and I believe all the pilgrims came back ready to move from a pilgrim to a disciple who is willing to 'tell the story' and witness to their faith. I was very proud of them- a couple who were slow moving especially- everyone cared for them together as a group. Very moving. The flights were good and on time so everything was fine there. Most people said they wanted another day in Lourdes! So, I will have to remember that for next time. Thanks again for a great trip Milanka!
Peace & Love,
Fr. Frank
From: Robert DeMartino
Sent: Monday, May 4, 2015
To: Bika Stevic
Subject: Pilgrimage to Shroud of Turin & The Shrines of Italy on April 18-29, 2015
Hi Bika,
The pilgrimage was fantastic. 206 Tours did a marvelous job and it was one of the best tours I have ever taken. Our tour guide Alessandro was terrific and so was our driver Giovanni and Father Jim. My only complaint is that the time went too quickly. Many thanks to everyone who put this pilgrimage together for Joe and I and the rest of our group. The things I have seen and experienced will remain with me forever.
Many thanks,
Bob DeMartino
From: Connie Bartley
Sent: Sunday, May 3, 2015
To: Bika Stevic
Subject: The Best Shrines of France & The Shroud of Turin
Thank you for arranging the pilgrimage to Lourdes and the Shrines of France and Shroud of Turin. It was my first pilgrimage and it was a great experience for me. Both our tour director, Miguel, and spiritual director, Fr. Joe, were very good.
Thanks again. God bless.
Connie Bartley
From: Deborah Leath
Sent: Sunday, May 3, 2015
To: Bika Stevic
Subject: Shroud of Turin & The Shrines of Italy on April 18-29, 2015
I loved all of the tour…our guide, Alessandro treated us like very special family
and was attentive to all our needs. I could not have asked for a better experience.
206 is the best! HAVE A BLESSED DAY!
Deb
From: Roseanne Bell
Sent: Saturday, May 2, 2015
To: Yaritza Rodriguez; Elise Devery
Subject: Our Pilgrimage
Our trip was amazing! I'll give you a full recap later, but for now I just want to say that Ines did a lot to make the pilgrimage successful. She is absolutely wonderful! She's professional, knowledgeable, friendly, patient, caring – I could go on and on. We all love her! 206 Tours did a great job putting the trip together. The itinerary was wonderful and exactly what we wanted.
Roseanne
From: Celna Aurellano
Sent: Thursday, April 30, 2015
To: Bika Stevic
Subject: The Holy Land & The Shroud of Turin: April 12-23, 2015
Hello Bika,
I would like to take this opportunity to thank the 206 Tours organization for making our Holy Land Pilgrimage very special and memorable! Our guide George S.'s knowledge of the details was truly amazing and he was very intense and passionate in sharing all the wonderful stories. Father Terry, our spiritual director, made the perfect team with George, each complementing the other with their funny anecdotes. Although Father Terry was very funny and always upbeat, his daily Mass service was beautiful, solemn and touching. We loved the hotels and all the wonderful meals. Imad, our excellent driver, was also very helpful and enjoyed teaching us Arabic greetings. I was deeply moved when we touched the actual birthplace of Jesus as well as the rock of Calvary at the Holy Sepulcher Church where Jesus was crucified and died. To think that we 'Walked in the footsteps of Jesus' is an experience we will forever cherish. We even renewed our wedding vows at Cana! Thanks to the many wonderful new friends we met and we even had special celebrations for Duncan and Ann Vincent's 25th Wedding anniversary and Father Terry's 25th Ordination Anniversary. We also continued on to the special exposition of the Shroud of Turin. Special thanks to our guide Juan Carlos for his outstanding help. He even went out of his way to make sure our check in for our flight home went smoothly. Thank you 206 Tours for consistently being the best! This is our second pilgrimage with 206 Tours and we are amazed at your organization and attention to details. We only have superlative words of recommendation to all our family and friends. Now, we just have to plan our next pilgrimage with 206 Tours!
Till the next one,
Celna Aurellano
From: Arminda Argandona
Sent: Wednesday, April 29, 2015
To: Bika Stevic
Subject: Pilgrimage to Greece in Footsteps of St. Paul
Hello Bika,
The pilgrimage was absolutely outstanding, the best of the best, I am so grateful to 206 Tours for letting me be part of the group, I only have words of thankfulness for the overall arrangements, Hotels, Transportation (first class coaches), the Tour Guides at different sites, the gentleness & caring of them all, of course the experience of being in all these ancient as well as the Holy places, make me feel like I am part of the History now. The trip to the Holy place of the Blessed Mother's House in Turkey was a breathtaking experience, the Holy Mass celebrated there; just at the time we arrived there, another group it happen to be there as well with their Bishop and the local Priest; we mingled with them and we had the most wonderful and solemn Mass ever. Also the Holy place of Patmos, the cave of Saint John was amazing, I couldn't believe that I was there, I was trying to figure it out how St. John was able to write so many pages as it has the Book of Revelation, no doubt that it was Divine Revelation.
I am just highlighting the places that impressed the more spiritually, not diminishing the importance of all the places we've been before, following the Footsteps of St. Paul, they all great places to visit and be part of the Bible Story (even only in our dreams)
Thank you very much, may God bless you all who made this pilgrimage possible. I definitely will be engaged in another tour, I am thinking of Ireland (In the footsteps of Saint Patrick and also I want to visit the Blessed Mother of Guadalupe in Mexico) I will let you know when I am ready.
206 Tours, you are the BEST!!!
Arminda
From: Fr. Joy
Sent: Tuesday, April 28, 2015
To: Bika Stevic
Subject: RE: Welcome Home! | Pilgrimage to Greece in Footsteps of St. Paul with Greek Isle April 17-27, 2015
Thanks a million for this outstanding pilgrimage. It is beyond words how well you have arranged this pilgrimage, nothing would stop me from if ever get a chance to go. You guys are the best pilgrimage organizers, and so proud of you all. I am back with lots of spiritual enrichment. Some highlights are:
1. Where Lydia was baptized
2. The prison st.paul was kept
3. Meteora monestary
4. Areopagus and everything in Athens.
5. The Mary's house ( rated the 1st)
6. St. Johns home
7.all those islands and the cruise.
I am impressed to the maximum. I am so grateful for you to have allowed me to be its spiritual director. No one on earth would do such a beautiful job. I have some pictures I like to share with.
Prayers.
Fr Joy
From: Fr. Peter
Sent: Monday, April 27, 2015
To: Rinda Kanidinc
Subject: Thank You!
Dear Rinda,
I just returned from a two week pilgrimage as the spiritual director to Fatima, Lourdes, and the stroud of Turin. The trip was very uplifting for me and I always enjoy seeing the pilgrims grow in a deeper faith in the Lord and His mother Mary by walking through holy sites. The pilgrims were from all over the USA and we truly had a nice group. Little did they realize how much they inspired me. I liked speaking with them and loved hearing about their lives of faith.
For the first part of the journey, we were blessed with Javi as our guide. Javi had a wonderful personality and had a tremendous knowledge of the various places and sites. He worked very well with the people and seemed to be liked by many. Personally, I found him to be a delight to work with and enjoyed laughing and chatting with him. He truly took personal care of the people and guided us with compassion and love like a dad. He is a keeper and does great work for 206 tours. I would travel with him again… Well done!
The second part of the journey was with our director, Jesus. Jesus and I traveled together in the past and I was glad to see him; almost like seeing an old friend. Jesus is a wonderful tour director and once again he proved to me that 206 is a great company because they hire well. Like Javi, he is a keeper! Jesus showed great love for the people. He is/was kind, funny, and very easy going with the people. I am always impressed over his great love for God and the Holy Mass. He served the Mass and did so with love and devotion. I would highly recommend him because he is a deeply spiritual man that loves his job and faith.
Thanks for allowing me to help out as a spiritual director. Please know that I would like to serve again if you are in need and if my schedule allows me to. Thanks for helping me with isle seats because being tall it's tough being stuck in the middle or near a window. Blessings and until we meet again.
God Bless!
Fr. Peter
From: Mary
Sent: Sunday, April 12, 2015
To: Donna Strucic
Subject: Feedback | Pilgrimage to Fatima, Spain, & Lourdes on March 5-14, 2015.
Hi Donna,
Sorry for the late response. My daughter Amy and I had a WONDERFUL pilgrimage. Our escort was Jesus and he was great. He was efficient and pleasant and we both enjoyed him a great deal. Jesus especially helped me when I had a minor health crisis. He was calm and got the job done. He is a very spiritual man with a great personality who added a lot to our trip.
The reason I went on this pilgrimage was to pray for a miracle. One week earlier, I had gotten a devastating diagnosis that I have a half dollar sized hole in my jawbone due to the radiation which saved my life from cancer 22 years ago. The options for treatment, range from extracting half of my bottom teeth, to cutting out dead bone, to removing my bottom jaw and grafting in part of my shin bone. Plus, all the doctors told me that I may never heal from the surgeries…that I could very well be going from the frying pan to the fire. Needless to say I was terrified and overwhelmed. I prayed for peace, clarity and hope.
I chose this particular pilgrimage because I wanted to see Lourdes, Fatima AND St. Ignatius of Loyola's home. Our first stop was in Lisbon, and the first church we went to was the Basilica of St. Anthony, a church that I didn't even realize was on the itinerary. The homily at the Mass went something like this.
"Most of us think of St. Anthony when we lose something. 'Tony, Tony, turn around. Something's lost and must be found.' But I want you to think of him a bit differently. I want you to pray to St. Anthony when you want to lose something–like your fear, or your pride…."
WOW! Pray to St. Anthony to lose my fear! It's like God was reading my mind and reached out to comfort me. 🙂 And then, we took a tour of the Basilica. They have two relics of St. Anthony in the church, and guess what one is?? His jawbone. Goodness! God was so sweet to send me such a personal message and so quickly, letting me know how much He cares about me. I prayed and my fear about the future left instantly and I have not worried since. What will be, will be. All will be well and God will be glorified. God is so good!
We thoroughly enjoyed Fatima and Lourdes. The weather for the trip was 8 & 1/2 cool, sunny days with blue skies and gentle breezes, and 1 & 1/2 days of cold, rainy weather in Lourdes. But you know, it didn't dampen our spirits a bit. A matter of fact, Lourdes was my favorite spot, rain and all. I particularly loved the Basilica of Our Lady of the Rosary. Gorgeous and very sacred.
Thank you so much for planning such a wonderful pilgrimage for us…worry free! God bless you all and see you soon!
Mary Ann B.
From: Lyn Stowers
Sent: Monday, April 6, 2015
To: Sammie Gough
Subject: Re: Pilgrimage to The Shrines of Italy on March 16-31, 2015!
Happy Easter Monday!
The tour was absolutely wonderful. I can think of nothing that would have made it better. Your staff and the local guides were incredible. I cannot say enough good things about Matilde and Fr. Diaz. I feel that that the time spent on tour was truly a pilgrimage. Even though our days were packed and often overwhelming, there were parts of every day that touched my soul. I have no hesitation to recommend 206 Tours to anyone – provided they are able to walk! Please also give my thanks to the transfer companies. The drivers were early, polite, helpful and always had the necessary size vehicle. My thanks to all of you at 206 Tours for such a amazing experience.
May the blessings of Easter stay with all of you during this joyous season,
Lyn Stowers
From: Dana Brant
Sent: Tuesday, March 31, 2015
To: Yaritza Rodriguez
Subject: Re: Pilgrimage to the Holy Land with Fr. Greg & Vicki Oden
What a privilege and honor to have been a part of the pilgrimage. Our spiritual director, Fr. Greg could not have been better. Our guide and bus driver in Israel were exceptional. Usama and Imad were so kind and took care of every last detail. Never did my husband or I feel unsure about anything. Usama was so very knowledgeable and he always had an appropriate response to any question our group asked. I would definitely use 206 again if I get the opportunity for another pilgrimage. I will be recommending you and Usama as a guide. I am blessed because of this great experience to walk where Jesus walked. It was truly an emotional experience that I cannot put into justifiable words!
God bless you all!
Dana Brant
From: Esmeralda Garcia
Sent: Monday, March 30, 2015
To: Amanda Fortunato
Subject: Deacon Pete | Holy Land Pilgrimage | February/March 2015
Amanda,
I would just like to say THANK YOU for such a wonder and spirtually filled trip that you arranged for our group and for that added peron ( Frank) he was an Angel . All the places that we went were so moving, cause I never would that thought that I one day would be walking in Jesus footsteps!!!! That was AWASMAN. Keep up you wonderful work that you and your company do us the PILGRIMS and may the Lord continue to Bless all of you in your work. I will continue to encourge other pilgrimes to take this Wonderful Journy and to use Tour 206 to do this.May God Bless you and all you family.
A VERY GREATFUL PILGRIM,
ESMERALDA G. GARCIA
From: Marcie Girolamo
Sent: Monday, March 30, 2015
To: Amanda Fortunato
Subject: Marcie Girolamo & Fr. Brian | Spain | March 20-29, 2015
Thank you! It was quite an amazing pilgrimage on so many levels. Luckily, I was journaling the whole time and kept very detailed notes so that I can continue to let this pilgrimage unfold in my life. A definite highlight of course were the tombs of St. Teresa and St. John but also the little town of Agreda. That might just be my favorite stop on the entire trip. I know that Javier Valdivieso also really loved visiting there. It was his first time! Fr. Brian bought her works – The mystical city of God – for Javier Valdivieso to read. He loved it. Very few pilgrims seem to go there. It was a tiny town – very humble. The sister spent quite a bit of time talking to us in the parlor and they even gave each of us a small piece of her habit that was actually on her body! A second class relic…amazing!!
I cannot say enough about this town and the stop and how it moved all of our pilgrims quite intensely. I would suggest considering adding it to some of your trips…specially if you have a group that is extremely devout.
The accommodations were fine in all of the towns. We absolutely loved Montseraat the most because of the breathtaking beauty and the simplicity of the rooms and also there was chapel access for us.
The type of people that we take on our groups – are not the normal tourists. Most are deeply spiritual people – looking for a lot of prayer time. Myself and Fr. Brian Grady included. The one downside is that you have to move around so much and it's often not as prayerful as one would like. This is okay, but it would be simply wonderful if we could stay at places that had a chapel or that had a church nearby that we could get into early in the morning to pray before we get on the bus to start the day. This would allow many of us to start the day having had prayer time – We can talk more about this as we plan our next trip.
Javier Valdivieso is like a living history book! He teaches us so much as we go around and has such a beautiful outlook on life. The fact that you can see what a spiritual man he is – comes out when he is explaining the places concerning the faith to our group. He truly makes these trips so special and prayerful. He is patient and kind to all our pilgrims – even the ones that tend to be needy –and he never gets worried or frazzled about anything! I have done 206 Tours with two other guides – both that were fine but none that even came close to making it the experience for our people that Javier Valdivieso does. He really loves our Lord and he loves his job at 206 as well!
We would like to plan a trip to France next year with 206 – having Javier as our guide. He said he was allowed to do France. We are thinking next fall – but I will get back to you. It doesn't need to be planned yet…and obviously right now we want to start to plug our Mexico City trip in February. Father and I will talk about all of the must-see places in France and send you a list and then you guys can put something together. I'm wondering if perhaps we could stay at places like Montserrat or places that have chapel access ? We can talk…
Lastly, thank you for taking care of my parents! One suggestion I have is to be sure that every Pilgrim has given you their passport information prior to departure. It was 100% my parents fault for not seeing that it expired – the five for the year 2015 truly looked like a six so you can see the mixup – but had they sent their stuff to you perhaps it would've been caught. The good news is they did they did not miss Avila, or the Camino or Agreda. Those three things were the highlight for my mother. The final item on her bucket list before she passes from this world was to walk on the Camino.
Now it is complete. 🙂
Marcie
From: Thomas Hoffmann
Sent: Thursday, March 26, 2015
To: Katherine Iversen
Subject: Re: Welcome Back! Pilgrimage to The Holy Land with Rev. Eric Ayers and Jackie Seyfried | March 3 – 12, 2015
Hi,
I was the oldest one on the pilgrimage and I was able to do and see everything. It was a wonderful experience spiritually and socially. Our guide, Said, was so well informed and so nice he added a lot to the enjoyment. Our driver was unbelievable negotiating small spaces and heavy traffic so skillfully. I will have so many great memories to mull over in my rocking chair. I would recommend 206 to anyone! Thanks for everything you did to help me get on board.

Elaine Hoffmann
From: norman ducas
Sent: Thursday, March 26, 2015
To: Yaritza Rodriguez
Subject: Italy with Fr. Mark & Matthew Leonard
Hello, Yaritza
Thank you for the opportunity to provide feedback of our recent pilgrimage to the shrines of Italy.Diane and I want to recognize the professionalism and expertise of our group leader Alessandro. He both cared for us, and cared about us.He took a personal interest in our well being. On Friday afternoon he lead us on an excursion that was not in the official program, to the churches of central Rome, such as San Luigi dei Francesi and St. Augustine near Piazza Navona, the Pantheon, Santa Maria Sopra Minerva and the Spanish Steps. On Monday evening he lead us on a passagiata through the streets of Assisi and on Wednesday afternoon to the San Damiano church and the hermitage. He took a personal interest in our well being from the time he met us at the airport through to the boarding of our plane home. Matthew Leonard provided us with insightful lectures, a witness and a testimony that strengthened and illuminated our faith.
Father Mark celebrated the Holy Mass everyday for us. He also provided his testimony and spiritual guidance. We feel very blessed to have had him as part of our group. The accommodations were excellent, especially at the Giotto Hotel in Assisi and the meals were delicious. Two evenings in Rome we walked to nearby restaurants where we enjoyed the local cuisine. What a treat! The daily schedule was chock full of activities. The only part that we found lacking was our tour of the Vatican museums. We were rushed through and did not have the chance to see the Raphael Rooms, nor did we see the paintings in the Pinacoteca. We would definitely consider taking other pilgrimages with your company. Next year we would like to take a tour of Paris and Normandy, visiting Chartres, Lisieux, Mont Saint-Michel, Bayeux, the WWII cemetery, Honfleur, and Rouen. We are also considering the Carmelite Pilgrimage in Spain.
We look forward to enjoying more travels.
Sincerely
Norm & Diane Ducas
From: Grace Donovan
Sent: Wednesday, March 25, 2015
To: Donna Strucic
Subject: Pilgrimage to Fatima, Spain, Lourdes and Paris
Donna,
I had a wonderful pilgrimage; it was a time of spiritual growth and renewal. Fr. Carlos was a great Spiritual Director and our tour guide, Jesus, kept us on time and took care of the whole group hotel and meal arrangements. This was my first pilgrimage with 206 tours and I was impressed by the organization and efficiency. Accommodations and meals were very good. Above all, I was surprised at how well we bonded as a group and were able to share from our life experiences and faith. Thank you for making this an unforgettable experience.
Blessings, Grace Donovan
From: LaChita Calloway
Sent: Wednesday, March 25, 2015
To: Yaritza Rodriguez
Subject: Pilgrimage to France with Fr. Donald Calloway, MIC March 16-23, 2015
Yaritza,
Our pilgrimage to France was fabulous! LOURDES, baths were open. Nevers & Lisieux – Very special, loved every minute! Paris- Checked all the right boxes-Amazing. Every step we took the pilgrimage to France just kept getting better! Our guide Javier is so very knowledgable, humble, & entertaining. He makes everyone laugh & very accommodating/patient, 20 new pilgrims added to the family. Hotels were top notch. Food- Excellent! Tour Guides- So nice! & historically accurate. Feel free to use any of my pics on my wall. I must have taken 300 between my iPhone & camera:). 206 Tours is just the best of the best for pilgrimage. It was overjoyed to spend time with Fr. Don & all the other pilgrims. I made new friends & every one was very nice 🙂 loved to see the Joy & Peace , Charitable Acts of Kindness we all shared for one another in Faith, Hope, & Love as pilgrims on our journey from the very moment our pilgrimage began!!! Thank You! JMJ, 206 Tours & Fr. Don Calloway, M.I.C., & All our newest family of pilgrims. Have A Happy & Blessed Easter.
Love,
LaChita
From: Chloe Giampaolo
Sent: Wednesday, March 25, 2015
To: Sammie Gough
Subject: message from Chloe re: pilgrimage
Hello Sammie,
Words fail to express my joy and gratitude for the wonderful experiences I had in making this spiritual journey!
Jesus, Slavenka, Fr. Carlos, and my driver Zdenkoin Medjugorje / Split were the best! The tour group I was with as far as Lourdes was lovely and we ll had a good time together. I have a strong feeling that Our Lady wants me to return to Medjugorje in the not-too-distant future. Please accept my heartfelt thanks for all that you did to make my pilgrimage a success.
Wishing you God's choicest blessings,
Chloe Giampaolo
Sent: Tuesday, March 24, 2015
To: Yaritza Rodriguez
Subject: Re: Welcome Back! Italy with Fr. McQuesten & Matthew Leonard
Hi Yaritza,
Yes, we are happy to share with you our wonderful experience with the 206 Tours pilgrimage to Italy. It was a fabulous trip! First, let me say how truly exceptional our tour director, Alessandro is. You are blessed to have him as a part of your company. He was patient and kind and immensely capable. A very knowledgeable and devout Catholic, he kept us well informed and in a "pilgrim" state of mind, always inviting us back to the heart and practices of the Church. He was gracious to the easiest AND most difficult in the group. He made the experience a relaxing one for us as we were confident that all the details were taken care of; he never seemed to stress out or become frustrated when one of us was tardy or missing or needed direction or a helping hand. Truly he was a gentleman and a blessing! A small example is I simply mentioned that "today" is Jim's birthday and he arranged to have the restaurant bring the dessert cake out with a candle on it and then began us singing Happy Birthday. It was thoughtful and special for us! Similarly, he helped organize a celebration for a couple's 50th anniversary and a woman's 70th birthday.
As for the itinerary of the trip we felt it was just about the right pace with enough free time to ourselves and yet we still covered many of the major sites of Catholic Rome. I must say we are thankful that we came in a day early, though. We explored many sites on our own that day and then we were well rested to join the group in the afternoon the next day. It was perfect, including the flight details you kindly arranged and the transfer at the airport. We were even able to attend Mass at one of the Station Churches the morning before the group arrived, joining a couple of hundred religious and possibly another hundred non-religious at 7am at St. Peter's first church in Rome: St. Pudenziana. This may be an option to consider and offer for Lent of next year.
The hotels were very comfortable and accommodating with delicious breakfasts and prompt courteous service. In addition, the dinners at San Giovanni Rotondo and Assisi were well prepared and varied nicely. My only suggestion is that, if possible, it would have been nice to eat in the community one night at each of those two locations. Engaging in the community with the "locals" at their dining establishments is always a lovely experience. That being said, we truly enjoyed the dinners and atmosphere of the small, quaint restaurants in Rome. From start to finish: our experiences with you and your office, the spiritual director – Matt Leonard, Alessandro, the local guides and the fact that a priest was able to join us were positive and joyful experiences. One thing that I would suggest is rethinking the times of the lectures given by the spiritual director. At such a late hour of the day, particularly after we all have had a glass of wine or two we were quite tired. All of us wanted very much to hear what he had to share but the lectures typically began a little later than we would have liked.
As for the sites/locations themselves, each stop was truly worthwhile and holy. It was simply a joy to learn about and experience the places where so many holy men and women walked and served the Lord!
Jim and I did a lot of reading, studying and watching DVDs of the locations and people that we were going to visit and that effort enhanced our experience immensely. Where others were remarking that they were overwhelmed, we felt that we were being reminded of what we already learned while gaining a little more info that we may have missed in our own preparation. Of course, physically being at the sites enriched our knowledge and experience of it a hundred-fold. I would recommend others do the same in preparation for the pilgrimage.Thank you again for helping to make our trip so memorable and enjoyable. We will happily recommend your company to all our friends and family as they consider their own pilgrimages!
May the joy of the Lord be with you and yours this Lenten season and throughout the Easter season.
Sharon (and Jim) Pierson
From: Angie McGraw
Sent: Tuesday, March 24, 2015
To: Donna Strucic
Subject: Re: Pilgrimage to The Holy Land on March 9-17, 2015.
Dear Donna,
I apologize for the delay in responding to your email. As you can imagine, it takes a bit of time and effort to get back in the swing of things after being gone.The Holy Land Tour surpassed all of my expectations! Hands down, the best part was our guide, Usama. He was knowledgeable, passionate, considerate, professional and best of all CATHOLIC! The group, a blend of a Missouri parish group and those of us "independents", was wonderful; I know that this was the group of people God chose to accompany me. I say this because I had hoped to go with the February 8 group and then was unsure if I could do the March 8 departure due to health issues that arose that week. All hotel accommodations were very good. The itinerary was busy and very full. Frankly, I don't think we missed a thing. In fact, when given the option of a few hours on my own in Jerusalem, I returned to the hotel because I couldn't think of anything we hadn't seen. Our bus driver was very good too! Overall, my pre-trip experience was good. I would highly recommend 206Tours to anyone interested in a Catholic pilgrimage.
God Bless,
Angie
From: Frank Saad
Sent: Monday, March 23, 2015
To: Yaritza Rodriguez
Subject: RE: Welcome Back! Italy with Fr. McQuesten & Matthew Leonard
Yaritza,
We found our trip to be a blessing that changed us! Alessandro is a Superstar Director! He was available 24X7 to respond to our needs and he was highly professional in his approach. Alessandro exhibited spiritual leadership that made the trip very special. We will look for Alessandro on future trips. I will remember him referring to us as Family for a long time to come! Matthew Leonard was also a Superstar! He is an outstanding speaker and attended all locations with us. Matthew is deeply spiritual and he engaged with the entire group. One of his outstanding emotional speeches had a life changing effect on my wife! The venues for Masses was truly spectacular and the church/museum visits were outstanding. Our bus driver Mauro was very skilled and professional. The tour guides were very insightful and in many cases endearing. Titziana in Rome had brilliant artistic and religious insights. Restaurant selections were very good and the Giotto in Assisi was truly 5 star. Hotel locations were also very good. Friday night dinner in Rome with singers will be remembered for a long time to come.
My one major complaint was the hectic pace. I understand the itinerary was packed with highlights but going from 6 AM in the morning to attending Matthew's talks at 8:30 PM made for an exhausting day. More time for reflection would have been appreciated. The bus was very comfortable at 1/2 capacity. A completely full bus would have been cramped.
Thanks for a memorable event.
We will return to 206!
Frank Saad
From: Butler, Denise
Sent: Monday, March 23, 2015
To: sales
Subject: Pilgrimage to Fatima, Spain, Lourdes & Paris (Tour 40)
Dear 206 Tours,
I wanted to tell you I had a wonderful tour. I went on the tour to Fatima, Spain and Lourdes. Our tour guide, Jesus, was the best. Very knowledgeable, and knew the areas well that we were visiting. He kept us on track, was very personable with a great sense of humor. He was great helping pilgrims (pushing wheel chair, helping others get to destinations), and me personally with an injury I had incurred in the airport. Our bus driver was exceptionally nice and helpful for all travelers, and brought us safely to all destinations. Our priest was present for everyone, right on target for guidance, keeping us focused. The tour was well planned, hotels very nice, meals exceptional. The tour was tight, always on a timeline, but we were able to experience and see some amazing sites. I highly recommend 206 Tours, and would personally use them again, if opportunity arouse for me to take another tour.
Thank you very much 206, Pedro, Father, and especially Jesus for making this a wonderful tour.
Dee Butler
From: marsha belvo
Sent: Sunday, March 22, 2015
To: Yaritza Rodriguez
Subject: Welcome Back! Pilgrimage to the Holy Land with Fr. Greg Oligschlaeger & Vicki Oden
It was a most fabulous trip. We were blessed along our journey. The memories will be with me for the rest of my life! Thank you for offering this wonderful experience.
Marsha Belvo
From: Frank Domeracki
Sent: Sunday, March 22, 2015
To: Amanda Fortunato
Subject: Deacon Pete Rodriguez | Holy Land Pilgrimage | February/March 2015
Hi Amanda,
I can sum up my feelings about this pilgrimage in one word: SPECTACULAR! The entire trip was an experience I will cherish the rest of my life. Deacon Pete and his group are some of the nicest people I have ever met. They welcomed me and made me feel accepted from the beginning. In fact, in the middle of the trip, a few people decided to "knight me" an "Honorary Hispanic" and made my name Pancho. I treasure my new friendships! I hope and pray we can bridge the geographic distance and stay in touch to some degree. I could go on and on about how wonderful these kind and God-loving people are, but I think these comments will help you understand how I feel.
While I felt the love and presence of God throughout the pilgrimage, I experienced 4 profound experience where I truly felt the awesome presence of our loving God. The most profound my time with the people on the trip, Deacon Pete, our guide Nadi, and our bus driver, Akrim. This scripture passage will sum up what I mean. Jesus said, "For where two or three are gathered together in my name, there am I in the midst of them." Matthew 18:20. Jesus was on the trip with us!
Our 206 Tours guide, Nadi, was a gentleman like no other. For example, I was not aware this trip was going to be in Spanish until I arrived in Tel Aviv. My thought when I was told this was, "Well I'm here by the grace of God. I am open to see what God has in store". Well, Deacon Pete and Nadi graciously decided to do in Spanish with English recaps. Nadi was immediately open to this despite the fact it would require more effort and work on his part. As the trip progressed, Nadi, Deacon Pete, and the group did some things in Spanish with English recaps and some things in English with Spanish recaps. This included the daily Mass. Everyone was open to this. (Some of the group said early on that while they knew Spanish, they would prefer things be said in English as they would comprehend better. ) I think the use of both Spanish and English allowed us to bridge our different upbringings and cultures. Nadi knows his stuff. He is very knowledgable. He had each days events coordinated in a way that we never had to wait for anything more than a few minutes, if that. Usually, we were admitted to Holy Sites as soon as we arrived. Nadi cared about us, got to know us, and made the trip exciting and fun. Towards the end of the trip, I realized the following: Nadi and our bus driver, Akrim, made each of us feel so special. I believe it can be challenging for people who do their "job" over and over again, such as the same tour over and over again, to project the sense of newness and excitement like it is their first time as well. Nadi and Akrim have the knowledge, skills, talent, and personalities to make any pilgrimage exciting and project newness and excitement to each and everyone there. Please thank both of them for me. I would gladly go on any tour with them again.
Sincerely,
Frank Domeracki
From: Matthew Leonard
Sent: Thursday, March 19, 2015
To: Milanka Lachman, Patrick McKenna, Yaritza Rodriguez
Subject: Alessandro
Milanka, Patrick, Yaritza, and everyone at 206,
I'm preparing to leave Assisi and just wanted to send a quick note to say thank you for all the work in putting this trip together. It's been beautiful. In particular, I want to commend Alessandro. He was absolutely phenomenal! Everyone adored him and was always on top of every detail, going above and beyond every moment. Of course, the same can be said for all of you,as well. God bless and I pray we all work together more in the future.
Matthew
From: Todd St. Romain
Sent: Thursday, March 19, 2015
To: Donna Strucic
Subject: Holy Land (March 9-17, 2015)
Donna,
I have never made a pilgrimage in my life. I really did not know what to expect. The travel arrangements and the extra amenities included in the VIP package were superb. The pilgrimage itself was enlightening and life altering for me. I had no idea of the magnitude of such a journey. It is like a veil has been lifted from me. Our guide, Usama added much value to the trip. He is very passionate about his faith and his work. I certainly look forward to more pilgrimages in my future.
May continue to bless you and 206 Tours.
Todd St. Romain
From: Deacon John
Sent: Monday, March 16, 2015
To: Liz Shea; Linda Antonelle
Subject: Thank you.
Liz and Linda,
I want to thank you both for the GREATEST TRIP EVER..  All of the people had the greatest time with no issues. 206 Tours IS THE GREATEST.After meeting with the Latin Patriarch, I came to the conclusion that I will be organizing a Holy Land Pilgrimage every 2 years and I will always use 206 Tours. You are great professionals who have done a phenomenal job helping me organize the trip of a lifetime for all the people who went on this trip. Also, our Tour Guide Jack Hasai is the GREATEST TOUR GUIDE EVER….  I and the group have nothing but HIGH PRAISE for the job he did.  Nassir our bus driver did a wonderful job as well. Please pass on my comments to the highest executives in 206 tours.  They are free to call me at any time if they have any questions.
God Bless you for work that you do.
In Christ,
Deacon John
St. Francis Church
From: Fred Marion
Sent: Monday, March 16, 2015
To: Milanka Lachman
Subject: Holy Land Pilgrimage with the Deacon John Hunt group
I just returned from my Holy Land Pilgrimage with the Deacon John Hunt group.  Our trip was from 3/5 – 3/14/15.  Naseey was our bus driver and he was clearly someone whom I felt comfortable with after seeing him weave our large bus through pretty small openings.
Jack Halis was our tour guide.  Jack was pleasant, informative, open to questions, and willing to point out changes in the itinerary that might make our trip more enjoyable.  His deep knowledge of the major sites we visited was something that surely is hard to come by.  He coupled his biblical knowledge with recent news about archaeological finds.  He interjected his information with spot-on delivery of witty humor.  It's easy to see why Scott Hahn has and will be using 206 Tours. Jack's a 'keeper'.  I highly recommend Jack and 206 Tours for groups seeking to go to the Holy Land and have a genuinely unforgettable pilgrimage.
Fred Marion
Dracut, MA
From: Msgr. John
Sent: Tuesday, March 3, 2015
To: Chris Wright
Subject: Re: Pilgrimage to the Holy Land w/Msgr. James P. Swiader
Good morning Chris,
My apologies for not replying sooner, especially since the entire pilgrimage with my good friend Msgr. Jim Swiader and parishioners from Garden City was FABULOUS!! In every respect, in every place, in every way. Our guide, Rimon, was encyclopedic in describing each of sites, and so much of the background and historical information about each place. I also came away with a new appreciation for the Franciscans, who so wonderfully care for the shrines, but whose involvement in nearby ministries of education, child care, health care, and low cost housing is little short of heroic. Good Friday's annual collection for Shrines in the Holy Land takes on a new impetus for me — and hopefully, for the parish. Saying Mass at a site each day, renewing Baptismal promises at the Jordan River, seeing couples renew marriage vows at Cana, the pilgrims' special prayers for Msgr. Swiader and I in the Upper Room — all of them were unforgettable, and very special!
Rimon arranged for a few stops at various shops in Bethlehem and Jerusalem — quite sufficient for those who wished to purchase some religious articles and souvenirs. My olive wood carvings arrived yesterday, wonderfully packed, and in excellent condition. The Hotel accommodations were fantastic and quite convenient. The food was excellent. Milanka and Patrick were most helpful with their suggestions at our preliminary meeting in January. It was a pleasure meeting them. While we have not met, it is a pleasure speaking with you. Thank you for your courtesies to me. Thank you for a wonderful trip, one which I will not soon forget! All the best for Lent, Holy Week, and Easter!
Gratefully,
Msgr. John
From: Mary McDonald
Sent: Wednesday, February 18, 2015
To: Donna Strucic
Subject: Feedback | Pilgrimage to The Holy Land: February 8-17, 2015 Dear Donna,
It was an amazing trip! We were nervous at first, as we have never been with a tour group before. We would usually go on our own, but we were truly blessed to be able too go on such a beautiful tour. Our tour guide, Jack, was an excellent guide! He truly loves what he does, and Father Brian was wonderful too. You can really see the love of our lord in him. Thank you so much for everything. We have already started to look at what pilgrimage we want to go on next
Blessings,
Mary
From: Lynn
Sent: Saturday, January 31, 2015
To: Amanda Fortunato
Subject: Fr. Raymond | Italy Pilgrimage | December/January 2015
The trip was spiritually fulfilling and both our guide Jesus, and our driver were excellent. Fr. Raymond was very supportive and a wonderful spiritual presence. Because of my walking with a cane, the hills and stairs were difficult, but fellow pilgrims were very helpful in assisting. I had to skip some of the more difficult areas to navigate and both Fr Raymond and Jesus were most gracious about my limitations and arranged for taxis when necessary. I have been to Italy several times and this pilgrimage afforded me to see things I'd not viewed on prior trips. Thanks for all the wonderful information you provided.
Lynn
From: Helene Knapp
Sent: Friday, January 30, 2015
To: Katherine
Subject: Welcome Back! Pilgrimage to Guadalupe & Mexico City with Fr. Donald | December 8-13, 2014
Katherine,
I had the BEST birthday of my life when I went on the tour to Mexico city with my daughter and 56 other wonderful , compatible pilgrims, and the amazing Fr. Calloway. I enjoyed every day of the tour. The hotel and meals were lovely, our tour guides (two Roberto's) were patient , informative, and always good-natured and available.The sites were well chosen and the daily Masses with Fr. Calloway were absolutely beautiful. Such appropriate and meaningful homilies!I found Mexico City to be very beautiful and saw churches that could rival those of Europe. I came home with a deep love for St. Juan Diego and Our Lady of Guadalupe. On my birthday, Dec. 9, the hotel made me a huge birthday cake and 56 people serenaded me with the birthday song loud and clear Also, at one of our lovely lunches, a mariachi-type band honored me and I have a photo with them wearing a huge sombrero just like theirs. I appreciated the two informative booklets you provided for us and my travel accomodations. In fact, it was a perfect tour in every way. it was difficult for me to return home to the hustle and bustle of the Christmas season after such serenity and inspiration. thank you to all who worked hard to provide this exceptional experience. I have raved about 206 tours to all my friends!!
Gratefully,
Helene Knapp
From: dianne arellano
Sent: Thursday, January 29, 2015
To: Donna Strucic
Subject: Pilgrimage to The Holy Land: December 27- January 5, 2015!
Hello Donna,
It's been a few weeks now since my family and I returned home from our pilgrimage to The Holy Land. All we can say is that it was a dream fulfilled for the three of us, and we are constantly reminiscing about how wonderful and truly special everything was. To have finally been there, physically, on the land that is so immersed in history, culture and religion, was simply incredible. We were so very blessed to have Fr. Nowak as our Spiritual Director, leading us in the footsteps of Jesus, bringing the Gospels to life, guiding us in prayer and reflection… and keeping us laughing with his fantastic sense of humor! And let me say, celebrating daily Mass in the most sacred places on earth was a bit surreal! Nadi, our guide, was great. He is intelligent, knowledgeable, and very helpful… what a great asset to your team! Every pilgrim in our small group was lovely, and it was quite special to see other younger people sharing this experience with their parents as well :). We would, without hesitation, encourage and recommend 206 Tours to anyone considering a pilgrimage to the Holy Land.
Thank you for providing such exceptional service, from beginning to end! There was not a single facet of the tour that did not meet our expectations, you actually exceeded them… by far!
I've attached a few photos that you are more than welcome to pick and choose from :).
Kindest Regards,
Dianne, Patricia and Roger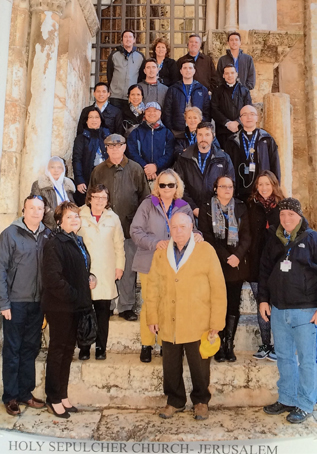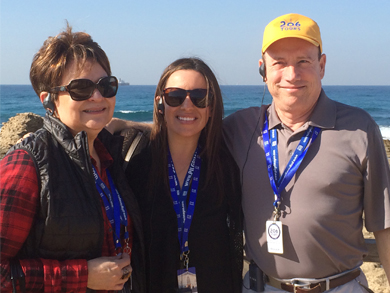 From: Butch Polasek
Sent: Thursday, January 29, 2015
To: Amanda Fortunato
Subject: Fr. Raymond McDaniel | Italy Pilgrimage | December/January 2015
It was a great trip. Father McDaniel was great and Jesus did a fabulous job. I appreciate what you did for us with our last minute decision to stay three extra days. The trip exceeded my expectations. Assisi was a real surprise and I would have like to spent more time there. The only negative I saw was that several people struggled due to health issues or age with the walking. Fortunately for us we enjoyed it and it was great exercise for us.
Butch
From: Jack Gieryic
Sent: Thursday, January 29, 2015
To: Amanda Fortunato
Subject: Fr. Raymond McDaniel | Italy Pilgrimage | December/January 2015
Dear Amanda,
It was above our expectations from accommodations to fantastic tour guide.  Jesus was the BEST!! It gave us the opportunity to not only see holy sites but also to see the countryside, talk to local people and experience the delicious food and drink we hear so much about the country of Italy.  We highly recommend this tour for anyone who would like to get out and about on a daily basis.
Our individual guides in the cities were exceptional, especially "T" in Rome ("Mama Mia").
Jack & Deanna Gieryic
From: Linda Piso
Sent: Thursday, January 15, 2015
To: Jennifer Norris
Subject: Holy Land & Rome: December 27, 2014-January 8, 2015
I was apprehensive when I began to search for a tour agency to lead me on a Pilgrimage to the Holy Land. Searching the internet for an agency to handle such a sacred journey seemed odd, for many reasons. At the time of my search I was not yet Catholic and would not be Catholic when the pilgrimage took place, but more importantly, I was transitioning from being a blissfully happy wife of 17 years to a suddenly broken hearted widow. After reviewing numerous tour companies, a little voice in my heart kept whispering, "journey with 206".
The wisphering had to be the voice of God. From the moment I left my home alone in Pittsburgh and arrived in Tel Aviv, I knew I was on a first class God lead Pilgrimage. Not only was I blessed with the opportunity to do a Pilgrimage to the Holy Land followed by three days in Rome, the blessings extended to the group of people I was with. Each member of our 24 person group was a blessing. From Fr Nowak and Deacon Sean, I could not have ask for more spiritual and bible backed guidence. Our local Israeli guide Nadi, a Christian, could not have been better! His infectious smile and silly jokes were an added benefit to his highly educated explanations of history and current events at these sacred spots. In Rome, Alessandro, our local guide was so approachable and he went to great lengths to keep us on track and show us as much as possible during our 3 day visit. He willingly stayed up well past 11 pm walking the city after dinner with group members – that is truely going the extra mile! Add to the fact that he got us so close to Pope Francis for the general audience, I could have touch him if I hadn't be awe struck! I will never forget the warmth I felt when Alessandro smiled in celebration of my successful completion of the 27 step climb of the Holy Stairs on my knees! Everything, from the minute I left my home til I arrived back home was even better than what the tour information on line promised.
The accommodations were much better than expected, the food was delicious and plentiful, we saw more than I actually anticipated! So, I want to thank you for the 5 star treatment, I want to thank my group for the loving arms and generous spirit they offered so readily. I really believe I've made life long friends and IT's because you all know what you are doing there at 206Tours.com.
Please feel free to share my email address with any person wanting a personal recommendation of 206Tours, and if you feel appropriate, publish any of the attached photos.
Linda (Pittsburgh, PA)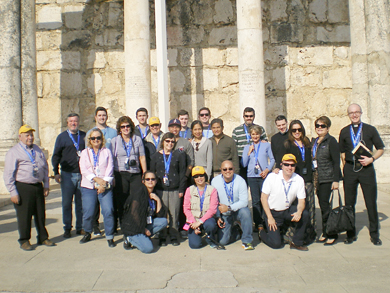 From: Rogelio and Aleli Duque
Sent: Tuesday, January 13, 2015
To: Jennifer Norris
Subject: Holy Land, Rome & Fatima: December 27-January 8, 2015
Hello 206 tours,
We just got back last night from the trip that was a fulfillment of a lifelong dream. Words cannot express how we feel at this very moment but 206 tours you did an excellent job of arranging such a pilgrimage. Our guide in Israel Nadi and driver Joseph, In Rome, Alessandro and our local guide Ulysses and in Lisbon,Santarem & Fatima – Felippe and Louise,they all did a very wonderful job in showing us and explaining to us the significance of the sites that we were seeing. Our spiritual director Fr. Nowak was so wonderful and the Masses that we have had in the holiest sites are so spiritually enriching. Nothing to complain about our hotel accommodation or the food that we were served or on anything.They were all fantastic. New friendship were created and we are looking forward to doing another pilgrimage with you and I will not hesitate to recommend 206 to my friends and family. I am attaching some pictures and you are free to share it in your site. Thank you again so much. May God continue to guide and bless you.

Rogelio & Aleli Duque
From: Caroline Dixon
Sent: Friday, January 9, 2015
To: Donna Strucic
Subject: Pilgrimage to The Holy Land: December 27- January 5, 2015!
Dear Donna,
We were so delighted with our trip! It was very well organized. We loved Nadi our tour guide and loved our priest Father Shemak. We were very lucky to have both of them on our trip with us. They made it all the more incredible and memorable!!! All the places we visited were fantastic – we couldn't believe we were at these sites! My 4 sons also loved the trip!! They were the youngest ones on the trip! We will never forget this unforgettable trip and 206 tours made it very special and we didn't have to worry about a thing!
Thank you so much,
Caroline Dixon