Client Letters 2011

From: Rita Dawson
Sent: Friday, December 16, 2011
To: Mike Alessi
Subject: Feedback - Holy Land and Medjugorje - November/December
Dear Mike,
Oh my GOSH! The pilgrimage was a class act. Cannot say enough good things about it. The only thing I would have changed on the trip was our flight times. My daughter and I had to get up in the middle of the night quite a few times to get to the airport and layover times, especially going home were very long (5+ hours for me and about 9 hours for her in Chicago). Next time we told us ourselves we would check our flight schedules more closely, as there were other flights that would have gotten us to our destination a bit better. All in all I would highly recommend 206 Tours for anyone wanting to go on a pilgrimage like we did. I also will look at what you offer for my next pilgrimage which I hope will be in 2012.
Thank you to 206 Tours, you all are wonderful.
Rita Dawson
From: Cora Reyes
Sent: Monday, December 5, 2011
To: 'Milanka Lachman'
Subject: Our Lady of Mercy Pilgrimage to Portugal, Spain and France Sep 16-27,2011
Dear Milanka,
I cannot say enough good things about our expert Guide, JAVIER VALDEVIESO, who worked seamlessly and professionally every step of the way. And then, there was our equally-expert Driver, MIGUEL MARCOS, who never rushed, was always helpful, ever dependable. Every day was memorable. But, let me point out some stand-out moments:
In Fatima, the group felt so privileged. Javier obviously knew the right people and before you knew it, we were not just simple pilgrims who were part of the crowd – we became primary participants in major activities in the two days that we were there.
Although it was not in the itinerary, Fr. Doming was invited to lead the 4th Mystery reflections during the evening Rosary at the Chapel of the Apparition. During the morning Mass, Fr. Doming was Main Celebrant. I was Lector. Our Eucharistic Ministers were invited to help with Communion. Our hastily-formed "206 Choir" was invited to lead the singing. On the 2nd night, Fr. Doming was again invited to lead the 4th Mystery reflections, while I was invited to lead the first 5 Hail Mary's of the 4th decade. To top it all, the men in our group were invited to carry the image of the Blessed Mother during the 2 nights we were there for the Rosary Procession. When it was time to leave, we all felt a sense of belonging to the shrine. We felt sad to have to go.
Oh, by the way, one of our pilgrims got pick-pocketed during the Procession and lost her Passport and some Euros. Javier found her 206 packet the next day in Lost and Found, passport intact, though no more Euros. We all heaved a sigh of relief.
In Lourdes, the experience revolved around being dwarfed by the multitude of kindred pilgrims and being engulfed by the atmosphere of prayer. The Baths was an experience where most of our pilgrims had a most intense sense of being overcome. First-timers were crying through the experience, something that took them by surprise because they couldn't explain why. A few even went back the next day during their free time. The Procession was where the feeling of belonging was most felt.
It was also in Lourdes where one of our Pilgrims slipped and fell as she entered the function room where we were having dinner. Javier quickly sprang into action. He and two of our urgent care and operating room nurse pilgrims accompanied Loretta to the local hospital. Thankfully, no broken bones and we were clear to travel on.
The trip up the zig-zaggy road to Montserrat was where we all stopped breathing for a few minutes and marveled at how expertly Miguel was able to maneuver the winding road with ease. Montserrat was truly beautiful and prayerful. Though the bells that rang every hour somehow irritated some through the night, for me – it felt like a lullaby that led to a comforting sense of peace and sleep.
Again, here Javier showed us how he could make things happen. The whole group wanted to get to Barcelona sooner. So, he had to find a way so that we could hear Mass at the Main Altar at an earlier hour with the rest of the Benedictine monks. He also was able to arrange for Fr. Doming to concelebrate and "read" the Gospel in English so we could understand. The welcome felt genuine as the Main Presider, I believe acknowledged in Spanish a group of pilgrims from California (us). That church was just magnificent and the chance to hear Mass with the monks was magical.
Anyway, happy Advent to you, too, Milanka!
I know that you are now a newly-minted granny and are probably over the moon and crazy in love with the little one. Congratulations to you and to your daughter, Sandra!
And, our greetings to your staff, most especially, to Liz, who has worked with me the most during the preparations for our 1st Pilgrimage.
Many thanks,

Cora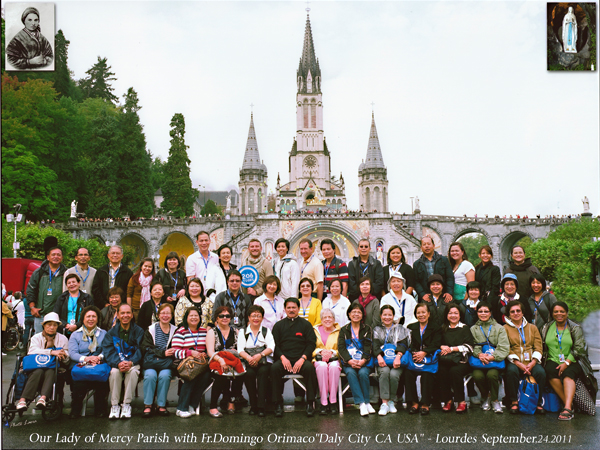 From: Mr A. Fusco Sr.
Sent: Sunday, December 4, 2011
To: 'Rinda Kanidinc'<rinda@206tours.com>
Subject: The Holy Land || November 19-28, 2011
WITHOUT A DOUBT IT WAS THE BEST,GREATEST,TOUR THAT I HAVE HAD THE HONOUR TO BE PART OF. THE GUIDE MR.JACK HALIS WAS OUTSTANDING.NOTHING COULD DESCRIBE THE SPIRTUAL LEADERSHIP OF FR. EDWIN JOSEPH. GREAT, JUST GREAT IN ALL ASPECTS. THE HOTELS THE BUS THE MEALS… JUST GREAT.
YOURS TRULY,
A FUSCO SR
From: Terence Blackwell
Sent: Saturday, December 3, 2011
To: rinda@206tours.com
Subject: The Holy Land || November 19-28, 2011
There were two things my wife and I were discussing today that we really ought to make note of:
the "Ron Beach" hotel on Sea of Galilee, was AMAZING…rooms right on the water and the BEST buffet I have EVER, anywhere eaten. Assortment was amazing, fresh and appealing. Staff were courteous and professional – this is a 5 STAR place. (and we stay in a lot of 5 star places in the USA, simply fantastic).
second, the price of your trip – also an amazing thing. When were were checking the airfare alone before we left, the round trip ticket was roughly the same price as the entire cost of your package….how do you do it???? Certainly ought to market it!
Terence Blackwell, Jr. CEO, BCBA, SAS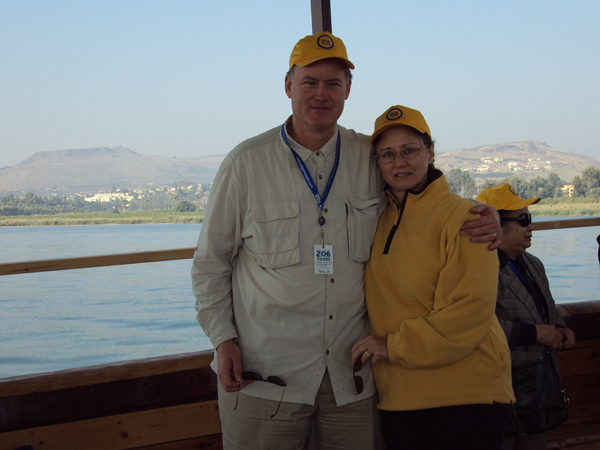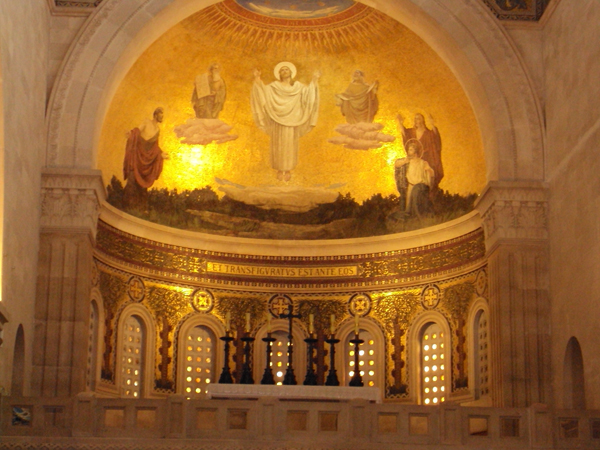 From: Nina
Sent: Thursday, December 1, 2011
To: Mike Alessi
Subject: Italy - November
Dear Mr. Alessi:
No offense to our originally scheduled main guide, but perhaps it was divine intervention that Gaia was my group's guide. She was definitely heaven-sent. I did not know anyone before I arrived in Italy, much less Europe, for the first time. When Gaia greeted and welcomed me with such sincerity at the airport, I already had a good feeling and felt welcome. Gaia was sincerely caring, compassionate, considerate, respectful, accommodating, etc. She definitely went above and beyond in every aspect, as consistently exemplified by her planning and hospitality, to make this pilgrimage spirit-filled, uplifting, enjoyable, memorable, etc.
Giovanni did an outstanding job driving and maneuvering our tour bus. In addition, he was very courteous, respectful, considerate, etc.
The Starwood Michelangelo was a world-class establishment. My room was kept meticulous/immaculate by an extremely conscientious management and staff.
The only suggestion I have is, if possible, to have a part of the group reserve seats for the Papal audience so that not everyone would have to wait the full time.
Thank you, and God bless you and your family during this Advent and upcoming Christmas.
Sincerely,
Nina Baynosa
From: Clark Stojan
Sent: Saturday, November 26, 2011
To: Rinda Kanidinc
Subject: The Holy Land || Oct 25- Nov 3, 2011
Dear Rinda:
I want you to know how very pleased I was with the all the tour arrangements, and am so glad I chose your company for this trip. Being a real novice at this kind of travel, I did not know what to expect, so I purposely tried to keep my expectations modest, so I would not be disappointed. But at every step, from the materials sent prior to the trip, the greeting at the airport, the bus trips, and the hotel accommodations, you far exceeded my expectations. From all the pilgrims with whom I spoke, I am sure the feeling is the same.
But more than that, it was the people who made the trip so special. Our guide, Usama, was not only very personable and knowledgeable, but also shared with us about his family in a way that made us feel like family with him. Our driver, Basama, was outstanding in getting us to all the sites, and he and Usama obviously work well together. Their knowledge of the sites, the people in charge, and the best arrangement of schedules to see the sites with a minimum of waiting made us feel like VIPs!
On the spiritual side, we were truly blessed to have Father Richard Barcliff and Deacon Matt Levy as our spiritual leaders. The opportunity for a daily Mass at one of the sites was extraordinary, and our leaders' love of the Lord and reverence in leading the worship created many memories that will remain. (As I observed other tour groups we encountered, I was sure the same opportunities were not being enjoyed by most of them, and really came to appreciate your care and the effort which went into your making those arrangements possible. Those experiences alone would fully justify the choice of your company!).
Our group became very close, and I am sure our leadership had much to do with that. Father B and Deacon Matt were always available to talk, and offered evening sharing times which allowed us to become like family, and bond in ways I did not expect. I especially appreciated Deacon Matt's sharing of his Jewish heritage and culture, and his explaining of the seder meal connected us with our Jewish roots in a way which was so appropriate as we tried to absorb parts of our Lord's life in his times.
I learned on the trip that your company is family-owned, and the visit with Gabriel in Jericho just reinforced what we felt the entire trip-that we were being treated like family, with the same care we would give to our own. Be assured, we are telling all our friends that not only is it safe to travel in the Holy Land, but we know the best people to take you there.
Blessings as you continue your work,
Clark J. Stojan
From: Jill
Sent: Friday, November 25, 2011
To: Mike Alessi
Subject: Italy - November
Mike
My pilgrimage was perfect. Gaia was one of the keys. She
• was a terrific logistics coordinator
• kept us on track in a pleasant way
• is Catholic and understood our need for prayer
• was knowledgeable, joyful, upbeat, and pleasant
Truly, to get this group up and at it most days at 5:30am with no complaints from us indicates a high level of leadership skills.
I will certainly offer support of your organization in general and this tour specifically.
Jill
From: patrick toilolo
Sent: Friday, November 25, 2011
To: mike@206tours.com
Subject: Feedback - Italy - November
Hello Mike,
The pilgrimage was excellent! Gaia, (tour guide) was superb. She was bubbly, upbeat, professional and alert. The hotel was excellent as well as the tours
that we took. I think everyone had a wonderful time.
Everyone at 206 Tours did a wonderful job at keeping us updated and answering our questions.
Thank you for everything,
Deacon Patrick
From: Cara Manise [mailto:cara@206tours.com]
Sent: Wednesday, November 23, 2011
To: Genevieve Relyea; Milanka Lachman
Subject: Feedback Letter from Fr. Gerard Gordon | TR 37 Nov 2-11
96 Anstice Street
Oyster Bay, NY 11771
November 15, 2011
Dear Cara:
I hope this letter finds you well. We have just returned from our trip to Fatima, Northern Spain and Lourdes. I have received your letter asking for feedback about the trip. I had intended to write to you to express my complete satisfaction with everything about the trip. Firstly, everything about the trip depended upon our guide, Jesus. I cannot tell you how professional, patient and competent he was throughout. He was accommodating in every way with the group and was most knowledgeable of the places we visited. Jesus was the keystone to the entire trip. Further, he was very helpful to me in preparing for Masses and the various religious services we held. No matter where we went, the locals knew him and liked him. Our hotels and food were good quality. The service staff in every hotel was prompt and courteous. There was no hot water for anyone in the hotel in Lourdes on the next-to-last-night. No one complained. Our bus driver Michelangelo was always professional and prompt. The local guides used on-site were professional, courteous, polite and friendly. The flights were all good, albeit full. Thank you to 206 Tours for 2 lunches provided in Lourdes.
As an aside, our guide Jesus graciously made available to our group the option of visiting the local Spanish Police Academy for about 1.5 hours. Since the groups was 90% police, the offer was put before the group and agreed upon. I had explained to everyone from the very beginning of the tour that any pilgrimage is the microcosm of life in which there are sometimes inconveniences and changes. This is to be expected. It is my hope that this minor detour was in no way a poor reflection upon our tour guide who extended himself to provide this option to our group.
Please know of my thanks to 206 Tours for all you have done for us on this holy pilgrimage. Cara Manise always made herself available and was a pleasure to work with. I know everyone in our group was most impressed with the tour.
With my thanks and commendation, I am.
Sincerely yours,
Father Gerard Gordon
Chaplain, Nassau County Police Department
From: Delia
Sent: Wednesday, November 23, 2011
To: mike@206tours.com
Subject: Italy November 2011
Dear Mike,
Where do I begin? This trip was such an unforgetable uplifting experience. God blessed me with good health during all the time there…….met many wonderful people. Attending and celebrating Mass everyday in different churches was a wonderful blessing. So much to see…..I'm still trying to digest it all and can hardly wait to share with the rest of my 10 siblings in Texas, this Thanksgiving Day.
Gaia was the best guide, so uplifting, funny, caring and full of energy. Thanks to our priest and deacon and other staff that helped put this tour together. Our hotel and meals were great!
May God continue to bless you and your staff.
Delia O'Neal
From: Conny Erlenbaugh
Sent: Tuesday, November 22, 2011
To: Mike Alessi
Subject: Feedback - Italy - November
Dear Mike,
I don't think that our pilgrimage could have been any better. Thanks to Gaia, her total professionalism and natural caring for everyone of our pilgrim made it a wonderful experience for first time or repeat visitors to Rome. Each of our daily tour guides were knowledgeable and easy to work with. Again I can not say enough about Gaia she is diffently an asset to your operation. I also appreciate all your advance planning on our behalf.
Thanks again.
Mike & Conny Erlenbaugh
From: Mary Fritch
Sent: Tuesday, November 22, 2011
To: Rinda Kanidinc
Subject: The Holy Land || October 25- November 3, 2011
Our guide, Usama Salman was very professional, kind, and an excellent guide and historian for our pilgrimage. With the safe driving with Basaam, Usama was able to facilitate our arrival and spiritual time in every location and church. The other two members of our wonderful pilgrimage, Father Richard Barclift and Deacon Matt Levy, shared their knowledge and provided spiritual support and guidance with the Masses and our sharing gatherings.
I'm very impressed with everything about the 206 trip. May God bless you with continued faith, dedication, and care for your pilgrims, as you have done for me.
Mary Fritch
From: Neil Delargy, President, Police Holy Name Society of Nassau County
Sent: Saturday, November 19, 2011
To: Cara Manise
Subject: Fatima, Spain, Lourdes: November 2011 - Feedback
We had a fantastic trip! Everything was exceptional. Our guide Jesus was very professional and we could not have asked for a more understanding and accommodating representation of your company. I will follow-up with a letter post the HNS November monthly meeting. Thank you again, and we will use 206 Tours again in the near future.
Neil Delargy
President, Police Holy Name Society of Nassau County
From: Nora Ausejo
Sent: Friday, November 18, 2011
To: Mike Alessi
Subject: Feedback - Medjugorje - November
Dear Mike,
I had a most spiritually fulfilling pilgrimage. 206 Tours met my
expectations and much more. The plane connections went smoothly; the short
tours and the talks were informative and inspiring. I would like to
specially mention our Tour Guides, Dragan and Slavenka, they were helpful,
friendly and informative. I will try to send you some pictures soon. I would
definitely recommend Tour 206 to my friends.
Thank you for all that you do.
Nora Ausejo
From: Volney DeRosia
Sent: Wednesday, November 16, 2011
To: yaritza@206tours.com
Subject: Doreen Duquette Pilgrimage-Medugorje- Oct/Nov 2011
Yaritza,
Thank you for following up about our Pilgrimage to Medugorje with 206 Tours. I must say that of all of the Pilgrimages, this one was the most "Pilgrimagy"… meaning, I truly felt it to be a prayerful experience. While I have enjoyed the other pilgrimages I have done (Holy Land; WYD Sydney; Footsteps of Peter and Paul– Turkey, Greece, Italy), this was by far the best experience. We had plenty of time to get to be immersed in the local culture, to pray, to climb the mountains, etc..
Thank you.
-Fr. Von
From: Con Anna Th. Nguyen
Sent: Wednesday, November 16, 2011
Subject: Medjugorje, Lourdes & Fatima with Thulan Sep-Oct 2011
Dear Rev. Thuong, Rev. Hai, Rev. Bich, Ms. Milanka, Ms. Yaritza and Ms.Thu Lan:
Hope you are all doing well. I would like to take this opportunity to thanks Ms. Milanka the President of 206 and her assistant Ms. Yaritza for their arrangement for such a wonderful and spiritual pilgrimage trip that I was privileged to attend recently with my family member. Without God and the Blessed Mother's love, it would not had happened. I felt blessed that I were able to attend Mass celebrated by the priests from our group at the Apparition Chapel at Medjugorje, Mass celebrated at the Grotto of Lourdes, and the holy Mass celebrated right at the Chapel of the Apparitions- the spot where Our Lady appeared to the three little shepherds at Fatima, Portugal.
In addition, our pilgrimage group was blessed to have two wonderful and friendly tour guides from the 206 tour: Mr. Dragan and Mr. Javier-the two wonderful tour guides who speak fluently English, knowledgeable, friendly, kind and down to earth. Due to my earlier fly to Toulouse at 6:25AM from Medjugorje, a few elderly woman in my group and I had met another 206 wonderful employee-the bus driver who drove our small group from Medjugorje to the Dubrovnik airport. The 206 tour is truly blessed to have these wonderful people as their employees.
I would also like to thanks especially to Rev. Thuong, Rev. Bich, Rev. Hai and Ms. Thu Lan for their patience and prayers for our pilgrimage group. Due to their devotion and endless prayers, our Lord Jesus and the blessed Mother had answered and granted tremendous blessings to our group.
May be you do not know, due to my severe leg injury, I did not plan to attend this spiritual and unforgettable pilgrimage trip. At the last minute, and out of the blue, I decided to attend. Because, I registered at the last minutes, I had to pay an extra fare in order to get on this pilgrimage trip, but it well worth all my effort. "At Medjugorje on Saturday, September 24, 2011 a miracle had happened to me. By God's mercy and love, I was allowed to run, jump for the first time, since February 18, 2011. Yes, an unexpected accident happened on February 18, 2011 that left completely torn of my ACL (anterior cruciate ligament), MDL (medial collateral ligament) and chondromalacia patellae (severe pain on my left cartilage). Based on the MRI record, I was required to have the ACL reconstructed. Now, it is no longer necessary nor required. My Orthopaedic surgeons are now speechless and shocked of my un-explained recovery. Without God and the Blessed Mother love, I would have end up in the wheel chair. (During the injury, I felt badly 5 more times.)
Ms. Milanka-the 206 President: The backpacks that my family received from your company are now being used by my kids (My young children have been promoted the 206 tour in their school and religious class with the 206 backpacks":-)
Ms. Thu Lan: I am attaching additional pictures with captions that were taken at Medjugorje, Lourdes and Fatima for your view. Please forward the attached pictures to our group, especially, to those people who had their pictures taken.
May God continues to bless you and your loved ones, wishing you and your family a blessed Thanksgiving. Please keep my family member in your daily Mass and prayers!
God bless,
Con Anna Th. Nguyen
From: Rev. Nils Hernandez - DBQ039
Sent: Wednesday, November 16, 2011
To: Rinda
Subject: Thanks
Rinda,
We returned safe and sound to the USA and to Clarion.
I really enjoyed the pilgrimage to the Holy Land.
For my next pilgrimage, I would like to have the same guide if possible.
We met Gabriel who is a holy person and really impressed our group. That was a plus!
Thanks,
Fr. Nils Hernández, Pastor
From: JAMES ANDERSON
Sent: Thursday, November 10, 2011
To: rinda@206tours.com
Subject: Trip
Rinda,
just wanted to let you know that the trip to the Holy Land with Father Barclift and Deacon Matt was very uplifting. Usama was the best and went out of his way to make us happy and see the most plus understand what we were seeing. This has been a long life dream of mine since my Uncle Connie went when I was little and would listen to his stories and now 47 years later I got my chance. I feel he was there with me spiritually. I wish my family could have experienced what I did and saw what I have seen. Thanks again for all your help getting me there and for the wonderful trip. I have told many of your company and that it is the best, hopefully some day I will be able to get my wife there.
Thanks again,
James Anderson
From: mary johnston
Sent: Tuesday, November 8, 2011
To: Milanka Lachman; Rinda At 206 Tours
Subject: Holy Land trip
Dear Milanka,
As always, the Holy Land was WONDERFUL!!!!!!!!!!!!!!!!!!!!!!!!
Having Usama for a guide really made the trip special for me. He was such a great guide last year, that is the reason I wanted to return this year.
We didn't go to as many sights as last year. I have mixed feelings about that. Of course you want to see EVERYTHING, but I really think that missing the few that Sam had added last year was the right thing to do, people were not so tired at the end of the day. We made all the stops on the list plus a few extra.
About the priest and deacon. They have worked together for the last 10 years and it really showed. They really complemented each other well. They did the homilies together at times, other times one or the other would give the homily. Always very good homilies. They both have a very good sense of humor, a trait I always enjoy.
The last two years, at Cana, married people could renew their wedding vows. This year, Father said that everyone enters into covenants and this was a good place to renew your covenant. So we were all encouraged to first pray with Deacon Matt, then go to Father Barclift and renew that covenant. I really liked that because it included everyone. Father talked about what a covenant was on our way to Cana.
As you know, Deacon Matt was raised Jewish. He brought booklets for us on a Seder Supper and one night he explained how that supper relates to the Mass, then on night we had a Seder supper.
You would have to meet Matt to understand how excited he is about his faith and how much energy he has. He is one of the best people I have met in a long time. Matt's wife is also a wonderful person.
Matt kept telling people on the trip how wonderful 206 was (and of course I agreed), he told of experiences with other tour companies and how much better you are.
Another thing Matt and Father did; we had the opportunity to meet every night for sharing. This was great, it bonded the group plus we could talk about what we had seen that day, so it helped us remember the sites. I can honestly say, that there was no one on this trip I didn't like, and I think a large part of that was the nightly meetings, when you get to really know the people, you see them in a different light. They become real people.
Milanka, I think you know me well enough by now to know that I tell you how I really feel because I think you need the truth. So good, bad, or indifferent, you hear it from me. I think everyone on the trip felt the same way, I only heard good things all 10 days.
We prayed for your new grandbaby in the Holy Land!
Prayers,
mary johnston
From: Walt & Diane Giesing
Sent: Tuesday, November 8, 2011
To: Rinda Kanidinc
Subject: The Holy Land October 25- November 3, 2011
Dear Rinda, Thanks for writing and welcoming me home. Your 206 Tour Company is the best! Your Christian Guide, Usama, was one of the main reasons I enjoyed my pilgrimage so very much! Not only was he informative and knew so very much about our Christian faith, he was just months away from getting his doctorate and so when he spoke, we knew he was talking fact, and not his opinion. He never once gave opinions unless we asked and he said it was His opinion, not the fact, and that we had to choose ourselves, based on fact. He took us to all the Holy Places Jesus Christ went to, and explained in detail all that we needed to know and much much more! Of course Mary's places too!
Your accommodations were more than i thought they were going to be, as I was expecting nothing big. However, the people you connected us with, including the bus driver, and of course my spiritual director Father Barclif, were amazing! Fr. B as we called him and his deacon Matt and Lisa his wife, were the icing on the cake. Fr. Barclift was fair with everyone, humorous, and holy. He was perfect as the spiritual director! So was Deacon Matt & wife Lisa!
I could not have had a better experience, as I am no longer the person I was when I embarked on my pilgrimage on the 25Th of October 2011. It was very spiritual, and filled with history, illumination of thought, and most of all Love. I happened to have gotten sick on the plane trip home as I caught something over there, or it was my medicine interacting with the flight. I was very sick, and a Kind, pilgrims, Mary and Clark, stayed with me the entire time. Even to the point of getting on and off the plane. Fr. and Deacon Matt didn't have to, as Mary was a nurse and Clark was part of our group and sat along side us. Everyone became close and I felt sick, but felt i had family there. I don't think I could explain exactly how I felt, but I appreciate your professionalism, and your high class standards as it made my trip a wonderful one even while I was sick for 14 hours on the flight! (I am sure this is due to the people your tour attracts).
Thank you once again, and the only suggestion I could give, is to offer "back-packs" instead of bags as everyone who saw my only back pack from 206 Tours, wish they had one. Because of my back operation, the back pack help to distribute the weight of all that I carried. I am sure they all would have taken the pack instead of the bag if given the choice. Mine was a God thing as I was asked the question. Perhaps you only had a few left. Don't know.
Thanks and yes I will be using your 206 Tours the next time I decide to take my Pilgrimage again to wherever I go. I will definitely tell all about 206 Tours! I give You an A Plus for everything! Food, lodging, transportation, all inclusive, people who took me on the tour and the guide, Usama and Basam the bus driver!…….Cant say enough about Usama! Cant say enough about Fr. B and Deacon Matt, especially together! The pair makes the trip….. hah lots of laughs.
Sincerely,
Diane Giesing
From: ISSA PIROUZNIA
Sent: Tuesday, November 8, 2011
To: Yaritza
Subject: Welcome back from your Pilgrimage!
The trip to Italy with Bishop Medley was fantastic, marvelous wonderful! I can't say enough good things about the trip or about our tour guide Elena Nouisainen. She was knowledgeable, personable and professional. The trip was all I expected and more. I want to return to Italy again.
Mary Jean pirouznia
From: Rosemary O'Dowd
Sent: Monday, November 7, 2011
To: mike@206tours.com
Subject: Feedback - Fatima, Spain, Lourdes, Paris, & Medjugorje
I'm still trying to come back down to earth following the wonderful 206 Tours pilgrimage we were so lucky to be a part of.
For me, it has changed my life! As a "Cradle Catholic" who was educated at St. Peter grammar school '62 (Franciscans), St. Scholastica High School '66 (Benedictines), and DePaul University '70 (Vincentians), …….I found everything that I had learned — all those years ago — came back to life for me! In such a crazy world, it feels so good to be "grounded" again.
Thank you, and your staff, so much for making a dream come true!
Mrs. Rosemary O'Dowd
From: Brenda Reyes
Sent: Monday, November 7, 2011
To: milanka@206tours.com; amanda@206tours.com
Subject: Pilgrimage To Spain with Fr. Pat (Oct. 23 - Nov. 4, 2011)
Dear Milanka and Amanda,
The pilgrimage to Spain with Fr. Andre Patenaude (Oct. 23 – Nov. 4, 2011) was another spiritual, wonderful and unforgettable experience. The highlight of each day is the Mass, celebrated mostly by Fr. Pat, concelebrated by two other priests and assisted by a deacon. Fr. Gerald and Fr. Herbert took turns in celebrating some Masses, with Fr. Pat concelebrating. Fr. Pat is a most wonderful Spiritual Director. He gave excellent homilies, sang beautifully (with or without his guitar) during all the Masses, during the mornings and rosary while traveling on the bus, and also sometimes during mealtimes. A 4th priest, Fr. Jim Buckley, added to the special blessing for our group. We were also blessed with a wonderful group coordinator (Fran Gunning), a knowledgeable, wonderful, helpful and friendly tour guide (Javier Valdivieso), an excellent and friendly driver (Gonzalo), and excellent local tour guides (my favorite is Antonio Rocco). There were 21 of us, including the 4 priests above, and the camaraderie was excellent. Staying at the Hosteria Guadalupe, which is connected with Guadalupe Monastery and staying at Hotel Abbat Cisneros, which is at the entrance of the Montserrat Monastery were my favorites. The itinerary was excellent. The 2-nights' stay at 5 places was great. In Zaragoza, even if we had only one night, we were able to spend the next day in and around the Cathedral until 3 PM before we left for Montserrat. The hotel meals were very good. The farewell dinner in Barcelona was great!
Thank you, Milanka, Amanda and all everyone at 206 tours! May God continue to bless you in your ministry.
Love, joy and peace,
Brenda
From: "R. L. Barclift"
Sent: Sunday, November 6, 2011
To: Rinda Kanidinc
Subject: Welcome Home || The Holy Land || October 25- November 3, 2011
My Dear Rinda – friend,
Please know that I – as Spiritual Director, am most graciously in your debt for inviting me to go on this Journey.
I have never been so lifted, moved, inspired, touched, renewed, informed and centered in My Catholic Faith – than I am right now and for the remainder of my life, here!
Thank You so much!
I am retired as a Pastor, so please accept my offer to join in with your team on yet another Pilgrimage. I can also be called on short notice. . .
I have no photos to share. Many on our Tour DO have and can share.
The entire group was so elated and moved that you deserve to hear from them as well.
I was most impressed with our guide – USAMA SALMAN..
His command of history, and insights was immense and very insightful. He is a Perfect fit for this ministry. His humor and input had our interests all in hand.. He is a FIVE STAR Guide..
I want him on my next Pilgrimage.
Transportation, hotels, food services, the schedule, the joy AND Our Excellent Bus-Driver made for a perfect Pilgrimage. I urge and highly recommend this tour to any and all Christians whose Faith and Life can grow in Vitality and meaning. Please, everyone – consider this, my Invitation to you to refresh, renew and simply to be delighted with the Faith we Share.
God Bless 206!
God Bless any and all who made this Possible for us.
PEACE BE WITH YOU.
FATHER RICHARD L. BARCLIFT
retired Catholic Pastor
Rock Island, Illinois
From: Fr. Joseph
Sent: Thursday, November 3, 2011
To: Cara Manise
Subject: Feedback Letter | 16-24 October | Pilgrimage to Medjugorje
Dear Pilgrims, Praised be Jesus Christ, now and forever. I primarily thank Jesus for giving us His mother to be our own.
Thank you all for making the journey we took together to Medjugorje a holy, peaceful, and prayerful time. I thank you for reinvigorating my faith and hope the pilgrimage brought you closer to Jesus and to His Church.
I am especially thankful to Penny Abbruzzese, Cara Manise and 206 Tours for giving me the opportunity to have the pleasure of meeting and being with all of you, particularly with the McDonald family, whose trust in God is inspiring. I am also grateful to our hosts in Medjugorje, whose humility and hospitality was extraordinary. Furthermore, the kindness and generosity, which all of you showered me with, could last me a lifetime; because of you, I am just as on fire for the priesthood now as I was when I was first ordained, thank God.
Our trip together brought about countless moments which I will never forget, but the greatest gift—really miracle—that I am eternally gratified for is the peace and fellowship we shared with one another. Thank you… Thank you… Thank you… and may God bless you all.
I have posted all of the pictures I took on Facebook to share them with all of you. My Facebook name is Joseph-Nahas: id: 775324164 . If you are not on FB and wish for me to send you a few pictures via email, please send me a note, and I'll do my best to forward the group picture and whatever pics I think you'll enjoy best. If you are not pleased with a photo of you and wish for me to take it down, let me know and I'll take care of it asap.
I pray you stay in touch. Regardless, let us remain united in prayer.
Your servant,
In Jesus and His Mother Mary,
Fr. Joseph A. Nahas
Sent: Thursday, November 3, 2011
To: Chi Thu-lan, Quy Cha, cac bac, anh chi than men
Subject: No subject
Dear Chi Thu-lan, Quy Cha, cac bac, anh chi than men!
I would like to take this opportunity to thank Father Thuong, Father Bich, Father Christopher, Chi Thu-Lan, and tour 206 for the travel arrangements what a blessed trip! I had a wonderful pilgrimage! I completely enjoyed myself from beginning to end. The trip to the Medjugorje was more than perfect, flight connections all made, the hotels were all wonderful, the weather was great! My journey to Medjugorje was indeed a powerful human and spiritual experience. Of course I am greatful to Dragan and Jasna & Kruno Vasilj house, they were excellent. Dragan provided history about his country and Medjugorje, and great appreciation for the Croatian people. I am back from that wonder filled pilgrimage, It was a spiritual journey where we learned so much and our Blessed Mother truly walked us through with great joy! May Blessed Mother bless you all with Health, Wealth, Love, Joy and Peace in your lives!
Anh Vu from Texas
Sent: Thursday, November 3, 2011
To: Thu-Lan and Yaritza
Subject: No subject
Regarding the pilgrimage trip: This was my first experience of being a pilgrim to religious sites. It was a great and wonderful trip, very memorable trip. It was carefully planned out. I did not need to worry of anything since everything was being taken care of like where to go, what to do, what religious sites to visit, which hotels to stay, etc. The tour guides especially Javier are very friendly, knowledgeable, patient, helpful, accommodating, accountable, and affectionate. I like the food and hotels in Lourdes and Fatima; good service. We had good drivers throughout the tour. Co Thu-Lan and Cha Thuong are fantastic and patient with our group. We have several elderly people in the group. Father Thuong was always there to lend a hand including the tour guides. I would do it again and highly recommend Tours 206 to others.
My spiritual experiences: We were blessed to have 3 priests for a small group of 39 people in Medjugorje and down to 33 people in Lourdes and Fatima. Father Thuong was a great spiritual director, along with the assistance of Father Bich and Father Hai. I liked praying, attending Masses, Rosary, Eucharistic Adoration, and walking to Stations of the Cross. I came on this trip with empty, worried, sadness, and disconnected heart to God. However, this pilgrimage trip enriched me spiritually and brought me closer to God. In Medjugorje, my heart lifted with peace, full of graces of Blessed Virgin Mary and Sacred Heart of Jesus. I felt the strong presence of Jesus in Eucharist and the presence of Blessed Virgin Mary. I asked, I prayed to Virgin Mary, Jesus and my prayers were heard. Just like in Mathew 7:7 "Ask and it will be given to you; seek and you will find; knock and the door will be opened to you." Psalm 34:4 "I sought the LORD, and he answered me; he delivered me from all my fears."
Words cannot describe the special feeling that I felt. Blessed Virgin Mary was truly with us, protect us, and showered us with graces throughout our 13days of journey. This was the most memorable trip of my life and thanks to co Thu-Lan, Father Thuong and Tours 206 to arrange for this fabulous and blessed pilgrimage trip.
May God bless co Thu-Lan, Father Thuong, Father Bich, Father Hai, and Tours 206!
Grateful,
Maria Tien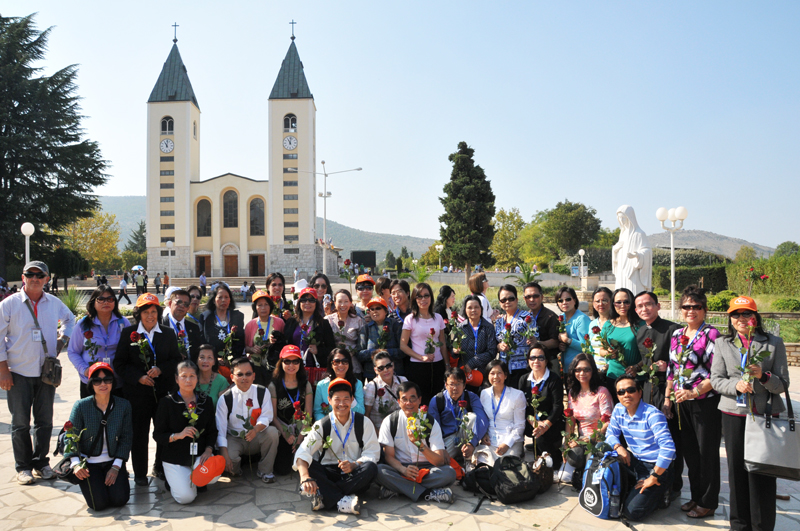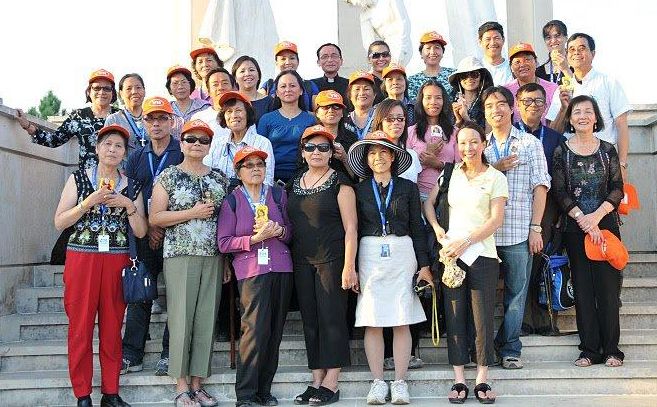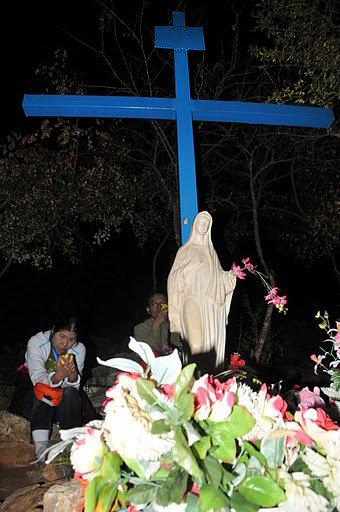 From: Melvyn Escara
Sent: Wednesday, November 2, 2011
To: Rinda Kanidinc
Subject: Shrines of Italy - Spiritual Director
This is our 3rd. time with 206 & we are very satisfied with our experience. We had a wonderful time & very spiritual. Our priest, Father Brandon Ware, is awesome. An excellent spiritual director. Love to go with him again some times. The places, the churches, we went every day were astonishing. Excellent choices.
Thank you,
Melvyn Escara
From: Maria Almeida
Sent: Monday, October 31, 2011
To: Yaritza
Subject: Welcome back from your Pilgrimage to Poland with Sister Isabel!
Dear Yaritza,
I thank you for your very thoughtful e-mail and for organizing the pilgrimagw so well. My great experience was interacting with the sisters of Our Lady of Mercy. In Warsaw where Our Lord appeared to St. faustina and where earlier on Fr. had celebrated the Holy Mass in the Chapel I was in adoration – kneeling on the kneeler at the relic of St. Faustina – I was deep in contemplation. While others were at lunch break I decided to do that not having Polish currency and what was lent to me by a fellow pilgrim I spent it on buying souvenirs – that was more important to me – also it gave a chance to pray amidst all polish devotees in adoration of the Blessed Sacrament.
As I said I was deep in prayer somewhat weeping at the relic of St. Faustina praying for a very difficult intention – when I was aware of a gentle tap on my right shoulder. It was the sister who was in charge of the shop – she motioned me to follow her and led me to the refectory – She made me sit at the head of the table and she kept me company – I spoke in english – and The Holy Spirit must have translated it for me. Meanwhile a slim sister came in holding lovingly a white bowl covered – there was a soup spoon and she gently laid it on the table. The sister in charge of the shop – said: she is like St. Faustina – I served myself of the tasty soup and bread as we tried to converse with each other – I thought that was all but no -next she brought in the main dish and by now the sister of the shop left as she got a call to attend to her duty. I was overwhelmed – then came desert and tea – all this was beyond my belief and I was transported in a different world – a world not of this world but within the world where Our Lord had treaded on the same grounds and knew that St. Faustina had arranged it all – I was alone now for the sisters wanted me to be at ease.
After this sumptous meal and reflection at the photographs in the refectory including one of Saint John Paul II – I stood up and prayed and waited. Prompty the sister who served me (sister Faustina) came and I thanked her. She very gently showed me the way and I went to to the shop and met the sister who taped on my shoulder. I realized they would take dollars and I bought some souvenirs and she generously gave me pictures and others material and said "Take to India".
I still cannot get over what Divine Providence had for me – I silently and deeply contemplated on it as I once again went to the kneeler of St. Faustina's relic and adored and gratefully thanked the Lord and St. Faustina for this marvellous gift. This was something very personal and deep – May the Lord Most High be praised and may St. Faustina continue to interced for us all in the world. Amen
And this my very personal experience. I very reluctantly left the Chapel.
All for Jesus through the Immaculate Heart of Mary,
Maria
From: Ed Lenahan
Sent: Wednesday, October 26, 2011
To: cara@206tours.com
Subject: Feedback Letter | 16-24 October | Pilgrimage to Medjugorje
Cara,
Our trip thanks to you and all your hard work went off without a hitch. The trip was long and hard and i now know why it called a pilgrimage. Our host Matte and his family make you feel that they have know you all your life. Its is such a beautiful place to visit and you feel that you are in the lords presence at all times. Cara thank you so much for all the help with this difficult journey . 206 tours and Lufthansa airlines and their angel Christina is the only way to travel.
God bless
Ed Lenahan
From: Martha Schneider
Sent: Monday, October 24, 2011
To: Mike Alessi
Subject: - Ireland - October
Walter and I LOVED Ireland!! The itinerary was wonderful!! Walter was okay with just the one night in Knock, but I must admit that I would have loved to have two nights in Knock…I loved Knock!! Our bus driver, Greg was just fabulous…he took excellent care of us and gave us a wonderful history of the Irish people and the Republic of Ireland. Fr. Orama, our spiritual director, was excellent. I would love to do another pilgrimage sometime with him….
Martha Schneider
From: MICHAEL STANTON
Sent: Thursday, October 20, 2011
To: Mike Alessi
Subject: Feedback - Holy Land - October
206 Tours,
Just a note to tell you how much I enjoyed the Holy Land Pilgrimage. Our three priests; Fr. Joseph M. , Fr. Joseph K. and Fr. Sam provided wonderful spiritual direction. Our guide George was outstanding, making a difficult job look easy. Our bus driver was skillful and always delivered us safely to our destination. Best of all, I made great new friends in my fellow pilgrims. The visits to these biblical spots will be permanently etched in my mind. I'm very grateful to God that I was allowed this opportunity. I will travel exclusively with 206 Tours because of their exceptional service and performance.
God Bless,
Michael J. Stanton
From: Fr. Joe Mundakal
Sent: Wednesday, October 19, 2011
To: milanka@206tours.com
Subject: Holy Land
Hi Dear Milanka,
Our Holy Land Pilgrimage was very spiritual, enjoyable and wonderful in every level!
I am very thankful to You, Rinda, Mike, and all at 206 Tours. The respect, love, and care that all pilgrims gave to each other, and to me and George and the driver Hamed, were really heart-felt!
The great admiration I have for 206 Tours and your Pilgrimages is that ALL THE PILGRIMAGES ARE REALLY VERY SPIRITUAL AND REALLY "PILGRIMAGES" ! THE GUIDES LIKE GEORGE, JAVIER, SLAVENKA, DRAGAN AND ALL THE GUIDES IN MEDUGORJE, ARE REALLY SPIRITUAL PEOPLE AND ARE GUIDING PEOPLE TO TRUE SPIRITUALITY THROUGH THEIR FAITH AND WORDS !
With my prayerful wishes,
In our Lord and our Bl. Mother,
Fr. Joseph Mundakal
From: Connie Cameron
Sent: Tuesday, October 18, 2011
To: mike@206tours.com
Subject: Holy Land Tour feedback
Dear Mike and 206 Tours:
Thank you so much for the wonderful experience in the Holy Land in October 2011. My group was especially blessed to have three priests with us on our journey. Fr. Joseph was a wonderful spiritual director. The tour guide, George, seemed very well connected and was able to avoid difficulties with crowds and lines. The small size of the group was efficient and easy to get to know each other. Overall, my experience was very positive and I am already planning for my next pilgrimage with 206.
Thank you,
Connie Cameron
From: Patsy Gonzalez
Sent: Tuesday, October 18, 2011
To: Rinda Kanidinc
Subject: Feedback Holy Land Pilgrimage
Thanks, Rinda. I just want to let all of you at 206 TOURS know that you have the most professional and truly outstanding pilgrimage agency. The hotels were very comfortable, the meals very good, the itinerary was excellent and the guide, George Said was exceptional.
Fr. Joseph was the best spiritual guide any pilgrim would ever hope for. Before we decided on the tour, I asked Anton to check his credentials because I am very particular about the spiritual director. I have not only been on other tours but also arranged a couple.
On the scale of 1-10 on ratings, I would give your agency an 11! Please pass this on to the others that work with you. Oh yes, and God arranged to give us wonderful fellow pilgrims. I loved them all! You have not seen the last of us.
God bless,
Patsy Gonzalez
From: Vicky Legaspi
Sent: Monday, October 17, 2011
To: 'Katrina Calvacca'
Subject: Tour #37: Oct 5-14, 2011
Just to let you know how very happy I was for the 206 tours. We have an excellent Tour guide Jesus Vivas. He took very good care of us 16 pilgrims. Miguel our driver took us all and was a very careful driver. I will tell everybody I know about your excellent tours. God bless.
Victoria C. Legaspi
From: Julie Zackrisson
Sent: Monday, October 17, 2011
To: Milanka Lachman
Subject: Medjugorje Pilgrimage
Dear Milanka,
I have already talked with Amanda, but I want to let you know about our pilgrimage to Medjugorje also. It was so wonderful! It seems that every pilgrimage is better than the last and this one was no exception! The graces flowed freely and could be felt by all!
Slavenka, as always, was a blessing for our group. She does her best to raise the level of spirituality and she truly was a blessing to all of us! We are grateful for the beautiful person that she is! She did so many special things for our group! We love her!
And, we love Ivanka, Natasa, Milo, and Anela too! They are such good people! They make us feel so "at home" in their home.
We also were very happy with the time we had in Dubrovnik and the extra half day there. We had such a good time there and it was so relaxing. The Hotel Ivka was great too!
The NH Hotel in Frankfurt was beyond my expectations. The room was unbelievably quiet! And, the food was extraordinarily good! Our waitress was delightful and added even more joy to our dinner on Saturday night.
We look forward to going back again next year!
God bless you and thank you for your beautiful ministry in providing such a great pilgrimage!
Love,

Julie
From: Zenaida de Jesus
Sent: Monday, October 17, 2011
To: Katrina Calvacca
Subject: Lourdes Tour
I took the 206 Tours to Lourdes with my mom and sister for a 5 days tour to Lourdes (Oct 10-15).
We were very happy and pleased.
The hotel accommodation was very impressive, service was great but most of all Jesus ,
our tour director, was superb. He was very pleasant, kind, accommodating , knowledgeable and professional.
To compare my previous two trips to Lourdes, this was one of the best.
Also, please extend our thanks to Fr. Charles. He is a great spiritual advisor.
Looking forward to my next pilgrimage.
Sincerely,
Zenaida de Jesus
From: Maria Almeida
Sent: Thursday, October 13, 2011
To: Liz Shea
Subject: Poland with Sister Isabel and Fr. Primich
Dear Liz,
I thank you for your very beautiful e-mail – that so much concern and interest is involved is truly wonderful. First and foremost you really served me well – your clear – concise instructions made me have everything ready in time to set myself for the pilgrimage although I applied late. The group was simply great – all very nice and spiritual people and I enjoyed most of them thoroughly. Sister Isabel and Fr. Primich took interest in each one of us – they are great people – may God keep them in good humor and health. All was organized well and I must say our Guide Chris was excellent – a great scholar in religious and art history. I have come to love the people of Poland – they are wonderful. Being where Our Lord appeared to St. Faustina was to me a very moving experience. I cherish each of the holy sites where 206 Tours took us – so much was covered and I hope my soul – heart and mind will retain all that imanaged to absorb.
I thank you and all your staff at 206 Tours – may God expand your services and keep you in His Divine Mercy Love – Amen.
All for Jesus of Mercy,

Maria
From: Bud and Elaine Smith
Sent: Friday, October 7, 2011
To: Mike Alessi
Subject: Feedback - Fatima, Spain, Lourdes, Paris, & Italy - September
We were extremely pleased with our 206 tour. This was our second Pilgrimage with your tour group and we would highly recommend you to all of our family and friends. The first leg of our tour through Portugal, Spain, and France could not have gone better. The tour guide, Javier Gomez is tops. His knowledge and faith shone through in every aspect of his effort to give us a Pilgrimage to remember. The special insights and descriptions of all of the places we visited was so complete and informative that we don't feel that we missed anything of importance throughout this part of the trip. We also want to commend our Spiritual Director Father Peter Dugandzic in making this part of our tour a truly faith filled time that we won't soon forget.
The second leg of our trip was with a different guide and Spiritual Guidance from three of the finest gentlemen that has been our pleasure to meet. Father Tim Campoli, was wonderful, and along with him we had the pleasure of sharing our journey with Monsignor Ron Yargeau, and Deacon George Nolan, who shared the spiritual duties throughout this time in Italy. Our tour guide in Italy, Karin Videbaek was well informed and knowledgeable, and made our time there just as memorable. We can't say enough about the itinerary, locations, the hotels, and the food. Although we came home totally exhausted, we would not have missed a thing and we feel we have received a lifetime of memories to share with our family and friends. Now that we have told how much we enjoyed everything, there were a couple of unfortunate glitches in Italy (i.e.) The bus going to the wrong hotel, and causing a late start one morning, and an extra hour standing in line at the Vatican museum, because of a 206 tour guide with another group taking our reservation by mistake. You also might ask Karin to give a few minutes of quiet time, and allow the pilgrims some time to catch their breathes between stops. Otherwise we feel you fulfilled your quest to give us as memorable a pilgrimage as our one to Medjugorie.
Sincerely,
Elaine and Charles Smith
From: Rosemary DeCostanzo
Sent: Tuesday, October 4, 2011
To: Mike Alessi
Subject: Feedback - All Italian Shrines - September
Hi Mike:
I was planning to write you to tell you that the trip was wonderful ! But in particular that Fr. Tim did an excellent job as a Spiritual Director and so did Karin who was the group tour guide for the 2 weeks. She is so knowledgable about the country, the shrines, the history, etc. and has a very joyful personality! The biggest frustration was the large number of people in some of the bigger cities we had to deal with trying to visit sites, including the Vatican/Rome and also in particular Florence and Venice. Certainly not your problem. Somethings are not in our control! I used to travel in the Fall because the tourist season was the summer months but that is apparently changing! In general everything went smoothly! There was a lot of walking and I was amazed how some of those older than I were much more agile!
I certainly have enjoyed all my travels with 206 and would recommend you to anyone with an interest in seeking spiritual growth!
God bless,
Rosemary
From: Bobbie Guerra
Sent: Sunday, October 2, 2011
To: Javier Gomez Alonso; Milanka Lachman
Subject: Continued Blessings
Javier and Milanka,
I would like to thank you again for the life changing Pilgrimage I attended in March of 2010 to Fatima and Lourdes. My conversion back to Jesus Christ through the intercession of Mary is something I thank God for everyday. Javier your love for Our Blessed Mother and how you talked of her with such reverence is something I will never forget. You gave us so much of your heart just by living your faith. Please know that you touch the hearts and souls of the pilgrims and we are not the same people when we go home as when we came. I pray that Our Blessed Mother protects you both and your families. May Our Lord shower you with grace and love.
I plan to go back and thank Our Lady for her intercession someday.
http://www.bobbieguerra.com/pilgrimage_2010/index.html
God Bless you Both
Bobbie Guerra
From: Margaret Darnell
Sent: Friday, September 30, 2011
To: Mike Alessi
Subject: Fatima - September
I was very pleased with my tour and was very happy that I decided to stay in Fatima! I feel that it took me that much time to absorb the feeling, I was looking for. I also think as just a hint the meal the hotel gave us to take to the airport could be left out as I had to get rid of my water and juice to clear security. The thought was nice but—-. I was impressed with the quality of the buses and cars plus the drivers ability and intelligence. Everyone seemed to be quite helpful especially, Jesus.
Thank you
Margaret Darnell
From: Pishkin, Richard
Sent: Friday, September 30, 2011
To: Mike Alessi
Subject: Feedback - Classic Italy - September
Mike,
Maureen & I truly enjoyed the trip to Italy; the tour group mingled very well and the weather cooperated!! The food was great, the wine flowed and the spiritual sites were excellent. We were very pleased with our tour director, Karen, who was always looking out for our best interest all the time; her energy and spontaneity were an energetic source for the entire group. Maureen & I will always consider 206Tours for future travel and we'll recommend the 206Tours to our fellow parishioners in the Boston area.
Thanks,
Richard & Maureen
From: Gus and Ann Guerrero
Sent: Friday, September 30, 2011
To: Mike Alessi
Subject: Fatima, Spain, & Lourdes - September
Dear Mike,
As usual 206 Tours did not disappoint. Fr. Peter Dugandzic was a great spiritual director who gave very relevant and inspiring homilies. He set the right tone for our pilgrimage. Javier Gomez was of course one of the best guides we could ever have. Without these two, our pilgrimage would not have been as spiritually fulfilling.
Thank you. We hope to join your future tours.
Gus & Ann Guerrero
From: Dave & Deb Coleman
Sent: Wednesday, September 28, 2011
To: Mike Alessi
Subject: Feedback - Shrines of Italy - September
Dear Mike – We had an absolute wonderful time on our pilgrimage! Is was historical but more importantly it went beyond our expectations of a spiritual experience. Not only did we have Fr. Tim Campoli, but also a monsignor and a deacon in our group. How blessed we were! We had people from all over the country with us and as Fr. Tim put it at one of our Masses,"Everyone just geled together." We made new friends and memories we will forever cherish. The part of our tour that was the most special for us, was to be in San Giovanni Rotondo for St. Pio's feast day. Unbelieveable!
Our tour guide, Karin Videbaek, did a fantastic job of keeping us on schedule, and she was so knowledgeable on what and where we visited. Is she the one that has the connections that allowed us to celebrate Mass at all the holy places? We can't tell you how special that was! She was very attentive to each and every person on our trip. She was patient and she "listened" when we had questions or comments. We just loved her!
On the negative side, the hotels were all beautiful, but didn't meet the description of their amenities as described: one hotel had no hair dryer, free wifi was misleading, we had twin beds in Rome. We offered these little inconvieniences up, but on the other hand need to mention them for the trip was something we have planned for a while and quite costly for us.
We would most certainly choose 206 Tours again, and are already discussing a pilgrimage in 2013.
Christ's blessings….
Debbie & David Coleman
From: Cathy and Steve Funkhouser
Sent: Wednesday, September 28, 2011
To: Mike Alessi
Subject: Feedback - Shrines of Italy - September
Dear Mike,
Our trip was awesome! We really didn't know what to expect – so we went with very open spirits and minds. We were more than pleased with the experience.
Fr. Tim, Monsignor and Deacon George – did a beautiful job of guiding and ensuring our spiritual needs were met. The Mass locations were outstanding! Karen – our tour guide – went out of her way to insure that the location and atmosphere were perfect! She is wonderful – and such a wealth of information. She made sure that we were always aware of our schedule – and the schedule was great! I think I can speak for both me and Steve in saying that our most memorable stop was in Siena – at the Eucharist Miracle. One of the most moving and spiritual events of our lives. Fr. Paul led us in a very lovely adoration ceremony – and – again, it was thanks to Karen that we had Fr. Paul.
The hotels, meals and daily tours were great. We really felt like we were being looked after and provided for in the best way possible.
Just a couple of things you may want to know. At the Hotel in San Giovanni Rotunda – the staff was not very friendly and the "Peace March" in Assisi did effect our experience there. Over all though, the scheduling and organization of the trip was great!
We will definitely take another trip with 206. We can't thank you enough for providing us with such an awesome experience.
Many Blessings,
Cathy and Steve Funkhouser
From: Valsa Pattara
Sent: Wednesday, September 28, 2011
To: mike@206tours.com
Subject: Pilgrimage September 12-19. 2011
It was an excellent trip with 206 Tours. We were spiritually enriched and it was because of the holy spirit, Fr. Peter and Javier. Everything was fantastic, they were so helpful every way. We will go again with 206 if Fr. Peter and Javier is taking us again. Food was so good all the time.
Thanks & God bless,
Valsa
From: Maryann Wright
Sent: Saturday, September 24, 2011
To: mike@206tours.com
Subject: Feedback - Medjugorje - September
Mike,
The tour was fabulous. Every detail was perfect. Dragan was a super tour director and our accommodations were great….with every detail and kindness towards us being exemplary. The food was fantastic, too. The staff there was so attentative.
Thank you for helping make our tour all that we expected and more.
Mary Ann Wright
From: Levi Guerrero
Sent: Saturday, September 24, 2011
To: mike@206tours.com
Subject: Holy Land, Fatima and Lourdes
I know that this is long overdue but I would like to make a comment on our recent tour to the Holy Land last May. We had really a great time and it was an eye opener as we expected. Jack Hlais, our guide was very knowledgeable and took his time in explaining things to us. He is a very decent man and quite sincere. Fr Tom Ganley was also excellent. A very likeable person and a good spiritual guide. This was our first 206 tour and we were really satisfied. We just concluded our 2nd 206 tour to Fatima and Lourdes this Sept and it was even better.
Levi & Ophie Guerrero
From: Frank Cervenka
Sent: Saturday, September 24, 2011
To: Mike Alessi
Subject: Feedback - Medjugorje - September
What a beautiful, memorable and inspiring pilgrimage! It was like a little bit of heaven with all the opportunities available to enhance our spiritual life. The prayerful atmosphere and fervent Pilgrims were most edifying. We certainly plan on returning as we now feel Medjugorje is our second home. Our host family and tour guide were outstanding, personable and welcoming friends. Thank you for a most blessed pilgrimage.
Frank & Kathleen Cervenka
From: Carlos Grecia
Sent: Thursday, September 22, 2011
To: Yaritza
Subject: Pilgrimage to Lisbon, Fatima, Spain and Lourdes on September 6-15, 2011
Hello 206 tours,
This the first time that we encounter 206 tours in our pligrimages.My wife and myself and a friend of ours who we always goes together in our pilgrimages comments the 206 tours is exquisite fantastics,and gorgous company. we are planning again next year perhaps spring to go to Paris & Italy (Rome) for next next pilgrimage.God Bless and keep the good work.
Carlos Grecia
From: Robert John and William Peter Koller
Sent: Monday, September 19, 2011
To: mike@206tours.com
Subject: Feedback - Fatima, Spain, & Lourdes September
LOVELY AND SPIRITUAL !!!!!!!!!!!!!!!!!!!!!!!!!!!!!!!! Thanks !!
Robert John & William Peter Koller
From: Chitra R
Sent: Saturday, September 17, 2011
To: Milanka Lachman <milanka@206tours.com>
Subject: Portugal, Spain & Lourdes - Tour 37
Dear Milanka,
This was our third pilgrimage with you. Father Peter and Xavier were a perfect team! Due to their untiring efforts it was the "Very Best".
We had a prayerful, soul stirring and spiritually uplifting experience. Father started every trip with a prayer and blessing; sometime between take off and reaching our destination, he prayed the rosary followed by a hymn. This is how a pilgrimage should be. It was perfect! Just what we were looking forward to experiencing.
Xavier was patient, extremely knowledgeable and very eloquent. He treated each and everyone of us with love and respect; tended to our every need. I had to use a wheelchair this trip. He made sure I was given every opportunity to use it, if, and when I needed it. His trainee, Angel is a very personable young man. He was a great help in wheeling me around. I was privileged to have even Father and other pilgrims take over from my husband whenever he needed some help.
God willing, we may go with 206 again, especially, if we are assured that Father Peter and Xavier are the team that would accompany us.
We would like to take this opportunity to thank Michael Alessi for the travel arrangements etc.,
Thanks 206 for a Blessed Trip!
Certainly, we will pray for you and please do keep us in your prayers.
Sincerely,
Therese & Conrad Ramenaden
From: Fr. Jim Walker
Sent: Thursday, September 15, 2011
To: mike@206tours.com, Milanka@206tours.com
Subject: Feedback - Poland, September 2011
Dear Mike,
The jet lag has finally been resolved and I feel that I'm back to normal. Overall, the trip was a good one. I think the people received many blessings and we had a few nice surprises along the way. There were two of the group who stood out in a negative sense. For a group of eighteen people, and considering that aside from the seven from the Albuquerque area, all the others were from scattered places around the country, I thought we got along very, very well.
The guide was first rate. Janusz outdid himself in helping us. He arranged few surprises, for example, we stopped at the gravesite of Fr Jerzey Populinski who is already declared a Blessed by the Church. We enjoyed the new Pope John Paul II Center near the Shrine of Divine Mercy. On the way into the building which is still under construction, we ran into Archbishop Dziwisz, now Cardinal of Krakow previous post the private secretary to Pope John Paul II for all those years at the Vatican. I pointed this out to our group and they were most pleased. We were able to see the new altar with the vial of the late Holy Father's blood and also the marble tomb cover that was over his remains in the Vatican until they recently moved his remains upstairs to the main area of St Peter's Basilica.At the church where St Faustina was baptized, we all loved the Sister who talked to us. She then said that she would take us to the actual home of the family and our group was so excited for this "extra" item on the trip. At Czestochowa, we also had a Sister as our guide. She was an older nun but she gave us a lot of her energy in explaining everything so well.
At Lagiewniki, again we had a Sister talk to us. In each case, the Sisters were in full religious habit and that made quite a difference with our group. We appreciated all three. The hotel in Czestochowa was a disappointment, certainly not what 206 Tours usually provides. The Masses we were able to celebrate were all in very good locations. It was a good pilgrimage and most really got a lot from it. The shrines were all good. Auschwitz was sombering as you would expect.
Thanks again, to 206 Tours for the privilege to visit so many special places in Poland.
Fr Jim Walker
From: Elizabeth Lanham
Sent: Wednesday, September 14, 2011
To: mike@206tours.com
Subject: Feedback - Greece, September, 2011
Dear 206 Tours,
Thank you for an amazing experience! From booking us at the last minute to the conducting of an organized, perfectly operated tour, I have nothing but thanks and admiration for 206 tours. The guides were wonderful, the hotels comfortable, free time adequate, and the agenda perfect. I can't imagine a better tour walking in the footsteps of St Paul. I thoroughly enjoyed every moment and hope to travel with 206 again.
PS I'd like to point out that our first tour guide, Yanis, was exceptional. He kept almost 40 people, mostly elderly, on time without rushing, was knowledgeable about practically everything, paid attention to practicalities (frequent WC stops) and was funny and interesting to listen to as we drove through the mainland of Greece. Special thanks to him!
God bless,
Elizabeth Lanham
From: Fr. Jim McNamara
Sent: Wednesday, September 14, 2011
To: mike@206tours.com
Subject: Feedback - Greece, September, 2011
Our recent pilgrimage in the Footsteps of St. Paul in Greece consisting of 39 people was a truly spiritual experience. The people were very cooperative and were hungry for input on St. Paul. The guide was excellent: informative, gentle, and caring.
The pace was hectic and yet people want to see everything. I would make Mass the priority event of the day and would leave room in the schedule for more spiritual and Scriptural input on St. Paul as I believe the faith-filled people who go on this pilgrimage would benefit from that. The cruise is distracting because it is a totally secular setting. There should be a room available each day for Mass and talks on the Epistles of St. Paul.
Fr. Jim McNamara
From: Eileen Granger
Sent: Friday, September 2, 2011
To:
Subject: Medjugorje August 21-29, 2011 at Ivan Dragicevic's house
Hi Sandra,
Many thanks to you and Milanka for suggesting this pilgrimage. It was a blessed and humbling experience. Meeting Ivan and staying in his home enhanced the whole trip, along with being present each evening during the Apparition, which is something I will never forget.
Ivanka was by far the best tour guide I have ever encountered. She was so informative and personable; a real delight to get to know.
There was great camaradarie between each of us on this pilgrimage. We thoroughly enjoyed each other's company and are hoping there will be a reunion in the near future.
I definitely plan on going back to Medjugorje and staying once again at Ivan's house. After being in his home, I can't imagine staying anywhere else; it was perfect!
God bless you all at 206 Tours!
Eileen Granger
WPB FL
From: Fr. Charles Mangano
Sent: Monday, August 22, 2011
To: 'Milanka Lachman'
Subject: From Fr. Charles Mangano---Thank you sooo much.
Dear Milanka,
I just wanted to thank you for a wonderful trip to Ars, Lourdes and Paris.
All the hotels were wonderful and so was our guide Javier Valdivieso.
It was a deeply spiritual trip.
God bless you for all your help.
Peace and blessings,
Fr. Charles Mangano

From: Meghan M.
Sent: Thursday, August 18, 2011
To: liz@206tours.com
Subject: Fr. Mangano's pilgrimage to France
Hi Liz,
Thank you for your e-mail. The pilgrimage to France was very nice. It was a beautiful experience.
As someone who used to work at 206 I understand very well how things go. I know that the airlines can do what they want and it is out of our control. I also know as someone who is religious that their are things out of our control because God has other plans!!! As the saying goes "If you want to make God laugh, tell him your plans." I tried to explain all of this to my fellow pilgrims and some people get it and some people don't. It is a pilgrimage, not a vacation. Was it a huge inconvenience to have to travel to one airport and then back to the other airport, YES, and it was a complete waste of a day. Unfortunately, some people will be stuck on this instead of the graces they received while on this fabulous pilgrimage.
Javier Valdivieso was AMAZING!!! He made all of us fell so special …let we were family. Some of the pilgrims had birthdays and he would buy them something and make a big deal! It was awesome. He even bought me a little something because I jumped into 206 mode and was hands on helping him keep track of our very large group. He was a blessing. He is a great guide!!
Thank you and the whole 206 team for all the work you do. We are very blessed to have you doing Gods work and allowing us to pilgrimage to these places God has made holy.
All the best always,

Meghan
From: Kim Bellone
Sent: Wednesday, August 17, 2011
To: milanka@206tours.com
Subject: Greece, In the Footsteps of St. Paul, with Fr. Mickey Bancroft
Dear Milanka,
Thank you for putting together another beautiful and spiritual pilgrimage. Greece (In the Footsteps of St. Paul) was beautiful. We had a small group of 13 pilgrims including Fr. Mickey. Our guide Jannis was wonderful. He was always very patient and helpful with us. I was amazed at how knowledgeable he was with regards to both St. Paul and the history of each site we visited.
The moments that stand out to me, were our visit to the Meteora Monasteries and to Kusadasi (Mary's House). The Meteora Monasteries left me breathless. I can not even begin to describe what I felt at Mary's House. Let just say I was most at peace when visiting these two sites.
As always I treasure the daily Masses. Fr. Mickey was wonderful. He made sure to include as many of the Pilgrims as possible, as Lectors and Eucharistic Ministers. For one Mass (at Kusadasi), he preformed a special blessing for the married couples of our group. It was beautiful. I'm sure it is a moment that they will never forget. Fr. Mickey always had a ready smile on his face, was available to answer our many questions, and always made sure to spend time with all the pilgrims. He made this a truly Blessed experience for us all.
I look forward to my next pilgrimage experience with 206. Thank you again for everything. Many blessings to you, your family, and all at 206.
Warmest Regards and Blessings
Kim
"When we take one step toward God, he takes seven steps towards us."
From: Dariusz Misiolek
Sent: Monday, August 1, 2011
To: Milanka Lachman
Subject: Fr Dariusz Misiolek - Medjugorje
Dear Milanka,
I was thinking a lot about you and your company since I came back to Canada. I am so impressed of professionalism of the pilgrimage which you organized to Medugorje. I am sure you are working on all your pilgrimages wherever you go. I am not saying that just to be nice, I REALLY mean that. Big part of this very positive experience was because of Slavenka, who was not only a guide, but also wonderful witness of faith and Jesus' disciple for all of us. Her faith was very much visible in everything she was doing. Accommodations and food was great, plan of a day worked very well for all of us, giving us freedom to reflect and have time for silent reflection. Because of Spirit in our group my work was quite easy. A lot of them came to me for confessions and spiritual directions. The Holy Spirit was moving our pilgrims hearts so, my role was just to show what God is doing in their life.
On personal note I would like to say "THANK YOU" for allowing me, along with my parents to experience your pilgrimage. It was the time to be with my parents with others from "American culture" in the very special spiritual environment of Medugorje. We all just loved it.
You are doing very good work for the Lord, helping others realize God's love for us and I am proud to be a small part of that.
With prayer
Fr Darek
From: Regine Turnier
Sent: Wednesday, July 27, 2011
To: amanda@206tours.com
Subject: The Holy Land & Lourdes with Fr. Romane St. Vil - July 2011
I was very pleased with my pilgrimage to the Holy Land & Lourdes with Father Romane St. Vil. A special "thanks" to the 206 tours for organizing such an amazing, exciting and educative trip. Everything about the trip was well planned: nice airline, four star hotels, comfortable bus and professional tour guides and driver. Hani, our tour guide in Israel, was exceptional, not only he is well educated, knowledgeable, professional, but also he is respectful and patient – a real nice gentleman!
I will recommend my relatives and friends to book their trips with your company, and I am looking forward for my next trip: Portugal, Spain, Rome, Prague or Medjugorje????
Thanks again,
Regine Turnier
From: Irela Ros
Sent: Tuesday, July 26, 2011
To: 'cara@206tours.com'
Subject: Feedback - Tour 37 - May 8
To Cara and all the 206 Tours persons:
I'm sorry it took me this long to send you this letter, but between the work that was waiting for me in my office in New Jersey, having to develop the pictures (over 600) and the way my sister Hirma & I felt (we were in awe) after the trip, I couldn't find the right words to tell you what a wonderful trip it was.
Hirma & I were so touched by the faith of ALL the people in our group. Fatima was beautiful; going to the houses were Lucia, Francisco & Jacinta lived; the places where the angel appeared to them, and finally where "the Lady appeared to the three shepherds in different places.
Avila in Spain was something special to us, as we were brought up and went to St Teresa School in Havana, Cuba, so we always wanted to see where she was born, lived and died, and to see her heart and talked to one of the sisters there, it was something we will never forget.
Lourdes…what can we said about Lourdes; a little place of HEAVEN ON EARTH. The churches, the underground Basilica of St Pious X, the Stations of the Cross, the candlelight processions every night we were there, the Mass at the grotto, the bath; it really touched our hearts in so many different ways.
Father Murphy was such a spiritual priest. Every rosary we prayed, every Mass he said, his homilies really touched our hearts.
Javier…what can we said about Javier; he was THE BEST tour guide anyone can ask for; he explained everything in such a way. He was Father Murphy's " altar boy" at every Mass, and you can see his faith coming out of him every time he spoke about Our Lady & Jesus.
And finally, Miguel our bus driver; what a fantastic bus driver he was; maneuvering that humongous bus on those narrow streets, we don't know how he did it.
I'm sorry I cannot express in English all the things I want to say, but Hirma & I came out with so much faith and love for Our Dear Mother and Jesus.
We are so glad that we found 206 Tours to go to Fatima, Avila & Lourdes. Thank you so much, and God bless you for a great job done. I am enclosing some pictures. I hope you enjoy them.

Irela & Hirma Ros
a/k/a " The Cuban Traveling Sisters"
From: Carlo DiMaggio
Sent: Tuesday, July 26, 2011
To: Rinda Kanidinc
Subject: Medjugorje " 30th Anniversary " June 2011
Dear Ms. Rinda Kanidinc,
We would like you to know that we were very satisfied with your tour accommodations. The family (Ante's House) we stayed with was very generous and gracious. Our tour guide Slavica Marincic was very helpful and out of all the times I've been to Medjugorje, she was by far the most dedicated guide and always very respectful. We have recommended your tour services to family and friends. Thank you again!
Sincerely,
Carlo DiMaggio
From: Fr. Vincent
Sent: Tuesday, July 26, 2011
To: mike@206tours.com
Subject: Feedback Tour 99, July 11
Mike, Milanka and Rinda,
Thank you very much for a wonderful pilgrimage to the shrines of Italy. Our tour guide in Italy Luigi was probably the best I have ever had on a pilgrimage. He was kind, compassionate, intelligent and lots of fun. I highly recommend him for any group you are sending to Italy. The Hotel accommodations were excellent, food was fabulous and the local tour guides were great. Both myself and Fr.Gilbert were so very pleased with the group of pilgrims they were great and all helped one another out. Thank you to all of you who made this trip to Italy possible!
In Christ Jesus,
Fr.Vincent
From: Dolores Henderson
Sent: Saturday, July 9, 2011
To: Rinda Kanidinc
Subject: The Shrines of Italy ( Rome , San Giovanni Rotondo and Assisi) || June/July 2011
Rinda, My son and I more than enjoyed our pilgrimage! This was our first, and my son's highschool graduation gift . We both are overwhelmed with gratitude for the blessings received from our pilgrimage! I can't say enough good things about the tour and especially,our guide Karin and our Priest, Father Fred Walters! Karin was always preparing us for the next event and looking out for us; she is also very enthusiastic and easy to understand. Fr. Fred was so patient with our many questions and celebrated Mass for us every day when it was possible. I really don't think anyone could've done any more. I am glad that you told us to prepare for a lot of walking and referenced the uneven pavements; it would be a difficult journey for disabled people. God bless you for the good work you do! I would definitely recommend you to a friend!
Dolores Henderson

From: Fr. Klevence
Sent: Thursday, July 7, 2011
To: cara@206tours.com
Subject: Medjugorje Anniversary 20-28 June
Cara,
I had a most wonderful time on the recent pilgrimage. It was just what I needed- a time of quiet, reflection and prayer. It did me a world of good to be with like minded people who were all connected by our faith in the Lord and our trust in the maternal care of the Blessed Mother.
I was happy with our host family. They were very considerate and helpful to the group. The food was quite good and the location of our home was very close to St. James' Church which made me very happy. Our guide was excellent and I enjoyed being with her and talking with her. Overall, I was very pleased with the experience and to the best of my knowledge I don't recall any complaints.
God bless!
Fr. Klevence
From: Ed and Marilyn Maher
Sent: Tuesday, July 5, 2011
To: Amanda Fortunato
Subject: Kris McGivney's pilgrimage - Holy land - June 12-21, 2011
Amanda, Liz, Sandra & Yaritza:
We had an unbelievable and inspirational Pilgrimage!
Everything from accommodations, to food, to travel, to the way in which everything was planned and completed, was terrific. Your preparations were wonderful!
We cannot say enough about our Guide, Jerius—-he was the best, in everything he did for us, from his explanations on the way to the various sites, at the various sites, to responding to questions, and to taking care of all our needs. Put very simply, he made our Pilgrimage even more exciting and inspirational for all of us. We KNOW we had the best possible Guide! We are so thankful for him, and to him.
And thanks to you…….you have a great Pilgrimage and Tour service. We would recommend your company to anyone who asks.
Ed and Marilyn Maher
From: Spergl, Patricia
Sent: Sunday, July 3, 2011
To: Cara Manise
Subject: Medjugorje 30th Anniversary
Hi Cara,
I had a wonderful experience in our recent pilgrimage to Medugorje. Mate and his family were AMAZING hosts and guides. I probably wouldn't stay with anyone else, they were so amazing. We met so many wonderful people on our trip. I think each pilgrim on our trip had a purpose for going to Medugorje and it really added to the spirituality of the whole trip.
Thanks,
Patricia Spergl
From: Sr. Denise Sickinger, FMA
Sent: Sunday, July 3, 2011
To: cara@206tours.com
Subject: Medjugorje Anniversary 21-29 June, 2011
Dear Cara,
Indeed, a very huge thank you for having given us the opportunity to become pilgrims to Medjugorje. The entire trip was a most welcome experience: from the group we were with to the family of the Tunin Inn who couldn't have done more to be gracious or inspiring with the mission they've taken on to host and guide pilgrims. I am most grateful to Our Lady and Her Divine Son for having called us to Medjugorje and the role you play in making all of that possible.
God bless you!
Sr. Denise Sickinger, FMA
From: Mary Ann
Sent: Saturday, July 2, 2011
To: Amanda Fortunato
Subject: Kris McGivney's pilgrimage - Holy land - June 2011
Greetings: We had an outstanding pilgrimage experience on the June 12-21 tour. The Continental flights (going/returning) were on time and without a hitch. Jeries Farah was truly a blessing. His knowledge, his delivery, his passion for the history and people of the Holy Land, and his caring for our group were in evidence each and every day. This was our seventh bus tour to Europe/Russia over the past ten years and he ranks at the top of some very good guides. And our coach driver, Sharif, never put us at risk whatever the situation. The coach was spotless too. The hotels, the meals, the great locations were all first rate as well. The itinerary gave us a wonderful perspective on the history of the region going back to the time of Christ. Having a group of 23 added to our enjoyment as a group twice that size would have lost the closeness that developed with our group. All in all our experience was first rate. Thank you for your assistance, and those in Israel too, in making our pilgrimage a truly life altering event.

Ron and Mary Ann Specht
From: Larry Gregg
Sent: Friday, July 1, 2011
To: Amanda Fortunato
Subject: Kris McGivney's pilgrimage to the Holy land June 2011
Amanda,
my wife and I truly enjoyed everything. The accommodations we very good. The bus was clean and our drive was excellent. The schedule was fast but as we expected. Amanda, the unexpected was our guide Jerius (sic). Please know that he was phenomenal. He was so much more than we expected. He knew scripture and connected it so well. He demeanor was kind and pleasant, he was always present, where we needed him but never overly obvious. Jerius left before I could thank him and I hope he received our tip. We obviously gave him more than recommended but I wish I could have afforded much more, he is truly worth it. I could have recommended 206 Tours to friends who are planning a church trip to the Holy Land.
Thanks for giving us Jerius, for a wonderful trip.
God Bless,
Deacon Larry Gregg
From: anna oconnor
Sent: Friday, July 1, 2011
To: Amanda Fortunato
Subject: Kris McGivney's pilgrimage to the Holy land June 2011
Dear Amanda,
I did send a note to Linda when I returned. I cannot say enough about your tour company, our guide was absolutely phenomenal, driver and Allyson our 206 contact. Your company is well known and respected in Israel and I'm sure everywhere. This was a journey of a lifetime for myself and sister-in-law and we are well traveled all over the world. Thank You so much.
God Bless,
Anna O'Connor
PS and your effort to accommodate my sister-in-law's flight from Newark to join us.
From: St. Raphael Group
Sent: Friday, July 1, 2011
To: Amanda Fortunato Cc: yaritza@206tours.com; sandra@206tours.com; liz@206tours.com Subject: St. Raphael - Holy Land Pilgrimage
Subject: No subject
Amanda, Liz, Sandra & Patrick,
I think I have finally recovered and am now in my correct time zone. We had a phenomenal trip! Everything was perfect!
What a blessing to have Jeries Farah as our guide. At each site we learned the history, the Bible (Old & New), and current events. He was fascinating. And the entire pilgrimage seemed flawless, we know he worked hard to make it so. Shariff did a tremendous job driving.
Fr Tim loved saying Mass at all of the sites. He was particularly moved at the holy hour you arranged for at Gethsemane. That was very special for him and he anointed each one of us. We also appreciated the tour of the exhibit of the Shroud of Turin that you arranged. Each day I think of more memories and am so grateful we could go to the Holy Land at this time.
I can't thank you enough for organizing this trip for us – I was special to many of us in many ways. We as a group have grown close. I hope that in the future we can put together another pilgrimage.
Thank you again,
Sincerely,
Kris
From: Michelle
Sent: Wednesday, June 29, 2011
To: Cara Manise
Subject: Med Anniversary 19-27 June
Thank you for following up with the group. Our house was very nice, food was great and hospitality was excellent. Our tour guide(Slavenka) in Medjugorje was the best! When two of our pilgrims got hurt, she responded quickly and professionally.
Michele
From: anna oconnor
Sent: Friday, June 24, 2011
To: linda@206tours.com
Subject: Fabulous Pilgrimage
Dear Linda,
I can't find enough words to thank your company for the trip of my life. We had no complaints and had the most wonderful tour guide and driver. I am an escort for a tour company here in Ohio and I know when everything is excellent and this was undoubtedly perfect. I will recommend your company for anyone planning a trip to the Holy Lands, in fact I had a trip yesterday and a lady took the information. Father Tim Gareau 's holy heart and generous spirit, Kris and our Deacon just made everything so meaningful. My Spiritual life as been so enriched. Every day was a Blessing and joyous experience.
God Bless,
Anna O'Connor
From: Emmac Ana
Sent: Wednesday, June 15, 2011
To: Katrina Calvacca
Subject: Feedback for Tour 2-A 5/13
Thank you so much for organizing a truly amazing experience! Our tour was brief (3 days with 2 travel days) but was memorable. The group met for the first time in France but we immediately bonded as a family-making sure everyone was included on time and on track! Our spiritual director, Fr. Murphy from Massachusetts was truly inspiring; we prayed alot but were happy to do so with faith and hope. Our tour guides: Xavier is excellent! Very understanding, organized and friendly. His warmth cheered the group and kept us together. Francois was very knowledgable, engaging and polite. I would definitely tour with them again. As a matter of fact, I would kindly ask you to keep me informed of pilgrimages to Medjugore (sp?) with Fr. Murphy as spiritual director and Xavier as guide.
p.s. love the cake Rinda had prepared for us! I will upload a pic of it to the site!
Thank you and God bless us all.
Anna Malafronte
From: Bridgette McCarthy
Sent: Tuesday, June 14, 2011
To: 'Rinda Kanidinc'
Subject: Tour # 105: All Italian Shrines || May/June 2011
Hello Mike and Rinda,
I just wanted to say "Thank you" for helping to provide a wonderful pilgrimage to Italy. This was my first time in Italy, and I must say that it met all my expectations. Our guide, Karin, was excellent. She was very knowledgeable, efficient, caring, and had a great sense of humor. I loved how she provided us with both the religious, historical, and cultural information pertaining to the shrines and areas of Italy we were visiting. Our priest, Fr. Boguslaw Gil, was another blessing for our group. I have been on several pilgrimages before, and all the priests were great, but Fr. Boguslaw is the best one by far. I feel truly blessed to have had the priviledge to travel with him. I can't begin to count the number of blessings my family and I received on this pilgrimage. I look forward to taking more trips with 206 Tours in the future.
God bless,
Bridgette McCarthy RN, BSN
From: Diana
Sent: Thursday, June 9, 2011
To: 'Amanda Fortunato'; 'Linda Antonelle'
Subject: Pilgrimage to Italy
Dear 206 Friends,
IT was all WONDERFUL! The hotels were all great with perfect locations, great staff and clean rooms. The meals were all delicious – with the exception of scrambled eggs at breakfast – is there a rule that all buffets have to serve runny eggs??? (It's everywhere, not just Italy).
Several of our pilgrims loved the meal at our hotel the first night in Rome that they decided to eat at the hotel again the following night rather than going out and dining at a local restaurant in Rome!!!! That's never happened before in 10 yrs/11 pilgrimages!
The weather was warmer than expected but beautiful, sunny every day with only a few drops of rain while we were on the road.
The only question both Father George and I have is concerning the motor coach(s) and driver(s). We had more buses and drivers than we did hotel changes!
Antonella was wonderful, she was funny, dedicated, informative and very much a Pope John Paul II fan — we called her "His #1 Groupie". She has a wonderful devotion to our faith and shared that openly with all of us. Everyone loved her! She took great care of all of us with full attention from breakfast all the way through late evening walks for the "best gelato" in whatever city we were in. She was a member of our "family" very quickly. She cried when we all said our good-byes at the Rome airport last Sunday morning and so did many of our pilgrims.
I'm getting emails from pilgrims saying they miss her and are having withdrawals from the cappuccinos and gelatos.
Did you know we were in the Papal Audience last Wednesday morning when Matt Lauer was there with the Today Show? We were on the center aisle, 2nd row through 5th row all on the center aisle. We have photos of the Pope in his pope-mobile just a few feet from us. If you watch the video clip below, we were sitting several rows in front of the men's choir with the green bow ties – they were in the middle of our section and not close to the aisles. Antonella and several of us went to St. Peter's square Tuesday evening to map out our attack plan to get the front row. We were thrilled with our location and glad our plan worked.
Thanks again for putting together a fabulous pilgrimage, I'm looking forward to working with you again for 2012.
-Diana
From: Gus Guerrero
Sent: Wednesday, June 8, 2011
To: Mike Alessi
Subject: Feedback Holy Land May 21
Dear Mike,
This was our first pilgrimage and we would use 206 tours again in a heartbeat. The privilege to attend Mass every day in the holy sites was very rewarding. Fr. Tom Ganley was very, very helpful and inspiring. I would give him a perfect "10" as our spiritual
director. I would go out on another pilgrimage with him without hesitation. Lastly, I cannot say enough good things about Jack, our local guide. He is simply amazing and so full of local knowledge. I want him as my guide if ever I return to the Holy Land.
Thank you for offering this pilgrimage I've been raving about your operations to all my friends since we returned to US.
God bless.
Gus Guerrero
From: Gerry McGowan
Sent: Sunday, June 5, 2011
To: Katrina Calvacca
Subject: Feedback for Tour 37, 5/8
Katrina
The Pilgrimage to Fatima, Spain & Lourdes was a most memorable experience. Javier Gomez was a wonderful guide very knowledgeable and most gracious to all our little needs. He must be your BEST.
Father Murphy made it a most enjoyable pilgrimage with his many rosaries, his little stories and his homlies that were always so meaningful and engaging.
Going to Mass is always special however his passion and devotion to the Eucharistics and the Our Lady for me made his Masses Very Special!
Personally Santerem and the church of St Stephen was great but honestly I would have preferred a few extra hours in Fatima.
Bless You All
Gerry McGowan
From: Christina Meiners
Sent: Sunday, June 5, 2011
To: Katrina Calvacca
Subject: Feedback Tour 96 5/1
Katrina,
We arrived delighted and safely to our earthly home in Weslaco, Texas. It was a wonderful trip and our first pilgrimage. It's like coming down from Heaven !!! The places we saw were so beautiful and ancient as if we were stepping back in time and witnessing history. I wish I had taken a recorder to record all that was explained before we arrived at the site so that now that we are home we could see our pictures and remember dates and events that took place there. We are so grateful for having been chosen to participate in this pilgrimage. We saw the beauty of God's people and the wonders that can be accomplished if we Trust in God. I have been blessed to have taken a journey to heaven and back. Thank you.
Eliseo and Maria Luisa de Leon
From: Charles Carpenter
Sent: Friday, June 3, 2011
To: Mike Alessi
Subject: Pilgrimage Info
Mike,
The pilgrimage to Medjugorje on May 22nd went as smooth as silk!! Our hosts were exceptional, our guide wonderful and it was a very spiritual experience for all. We (all of us) even got to be in the visionary Ivan's daily apparition, courtesy of our hosts. Please convey our thanks to all the 206 group for setting it up.
Super job! Well done to all!! Our sincere thanks.
Yours in Christ,
Charlie Carpenter
Sent: Friday, June 3, 2011
To: 206 Tours
Subject: No subject
Rinda,
Thanks so much for the wonderful pilgrimage.
I have been on many tours – this one was the very best. #1
Our tour guide Javier Gomez was perfect, also Father Murphy was a wonderful priest.
Also Suzzanne Andersen of Tempo Travel she was so helpful in getting us going.
As I say again a perfect pilgrimage, I hope to go with you next year.
Sincerely
Therese Born
From: Janet Dillon
Sent: Tuesday, May 24, 2011
To: katrina@206tours.com
Subject: Feedback Beatification of John Paul II and Shrines of Italy
Dear Katrina,
Here are some of the pix I took. You will note at Monte Cassino, standing in the archway looking at the view is none other than a 206 pilgrim wearing one of your backpacks. The sweet older woman in the black sweater was lovingly known as "Mama Mary". EVERYONE loved her!
Highlights for me was actually making it into St. Peter's Square for the Beatification ceremony and receiving Holy Communion. People gathering from all over the world united as one to celebrate the Holy Sacrifice of the Mass, and the life of Giovanni Paolo II! I looked at my watch when I was in St. Peters Church…. when I was between the high altar and Pope John Paul II's casket… it was exactly 3:00pm on Divine Mercy Sunday! What a blessing. The last thing I did before I left before leaving Rome was to attend the afternoon Latin Mass in St. Peters. It was a sweet farewell.
An amusing happening was when I was trying to reunite with the tour group outside of church which was the designated gathering spot in Loretto. The official would not allow me to leave and I was confused… well that was until I notice a procession was beginning. I squished against a wall to make room for the procession. Incense, cross, candles and then…. oh yes the Bishop! He takes one look at the geeky pilgrim and blesses me! Talking about being in the wrong place at the wrong time… err or is that the right place at the right time?
My final highlight was the night before I left Assisi. I was in the Cross chapel in St. Clare's Basilica waiting for evening prayer. The workers began sweeping the chapel to clear it for vespers. I just sat quietly and closed my eyes. Low and behold they did allow me to stay, seemingly overlooking me. I was able to stay and hear the sisters chant evening prayer! Oh how sweet the sound…. and a sweet ending to a most blessed pilgrimage.
Janet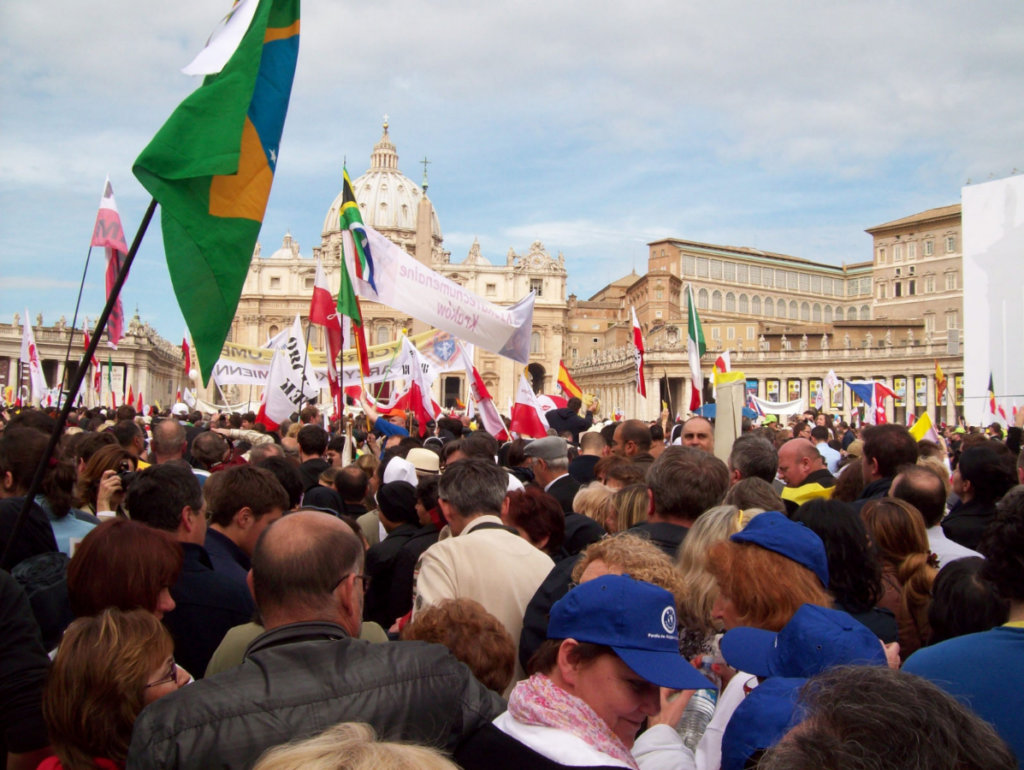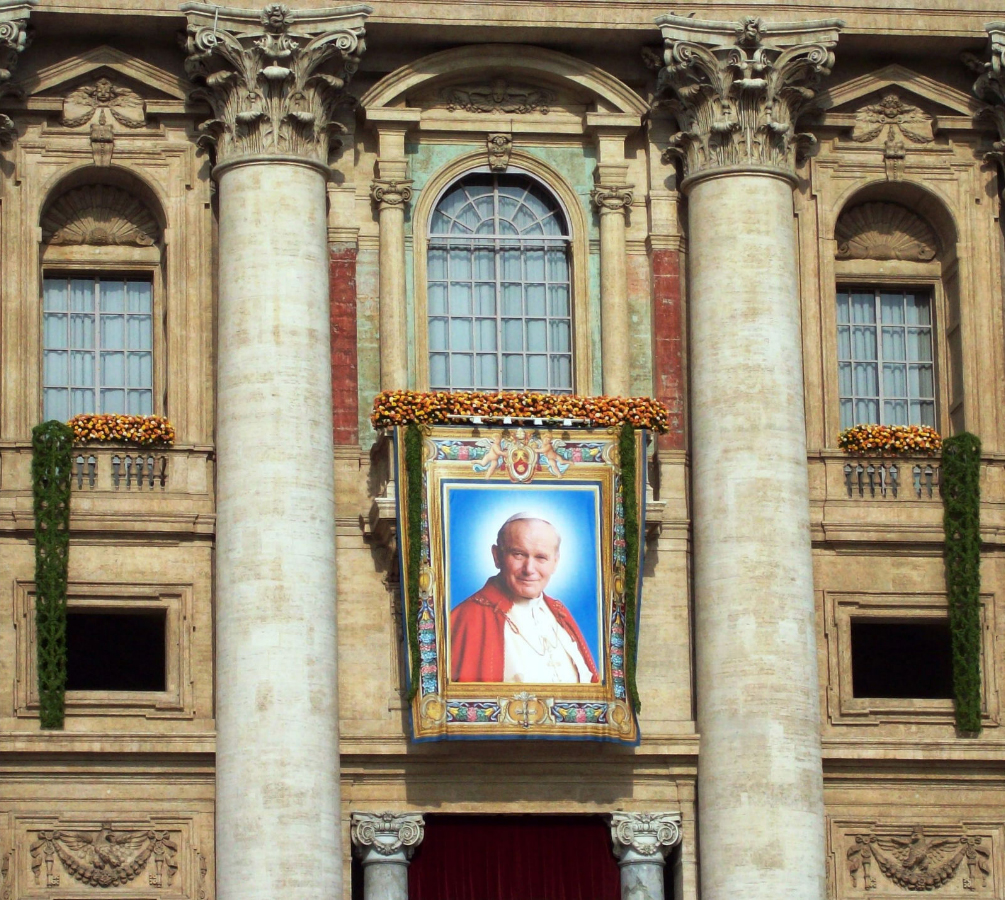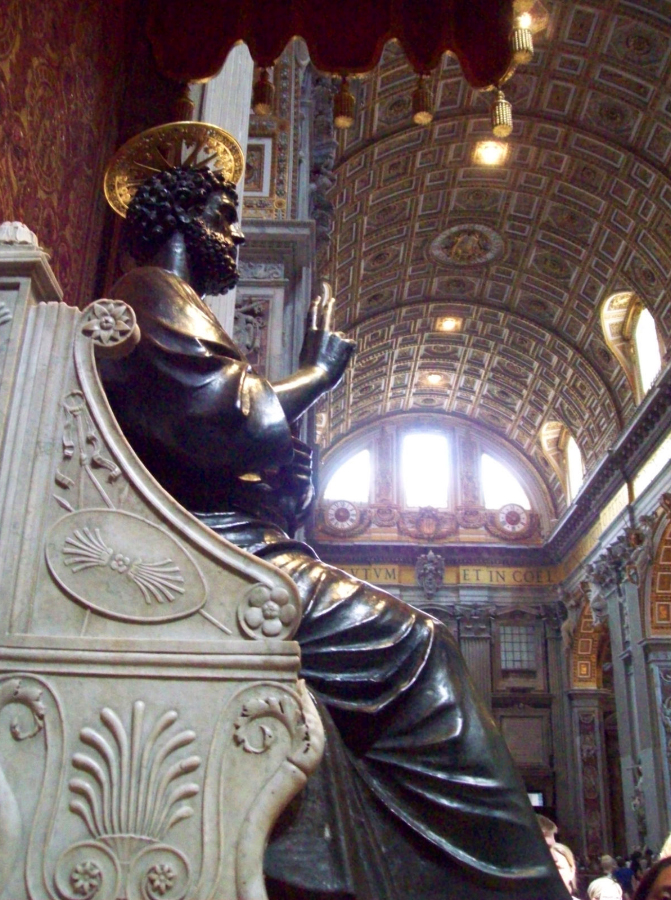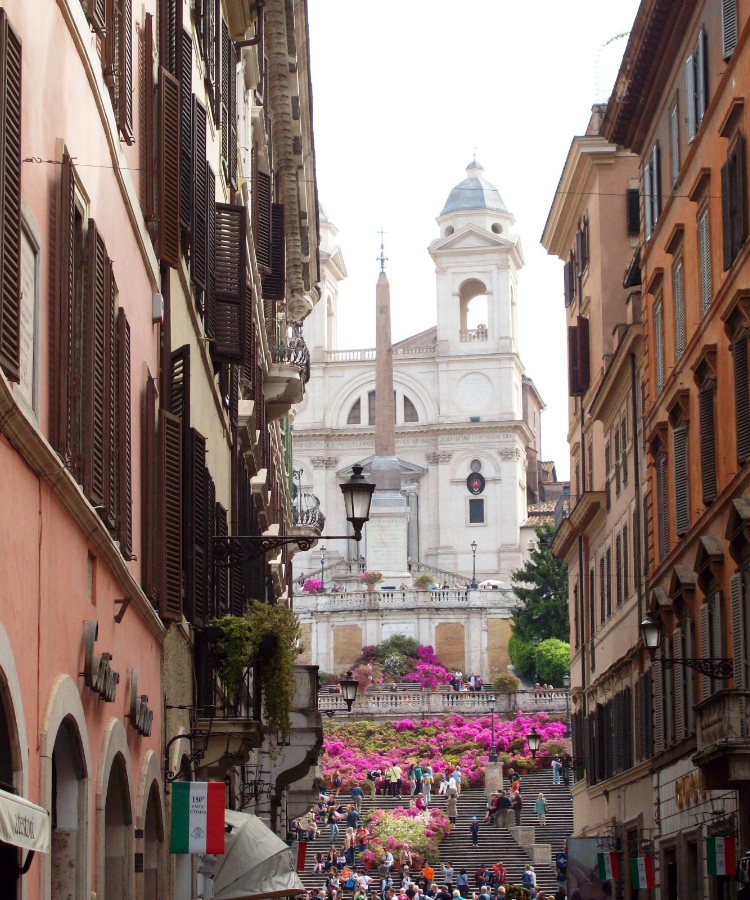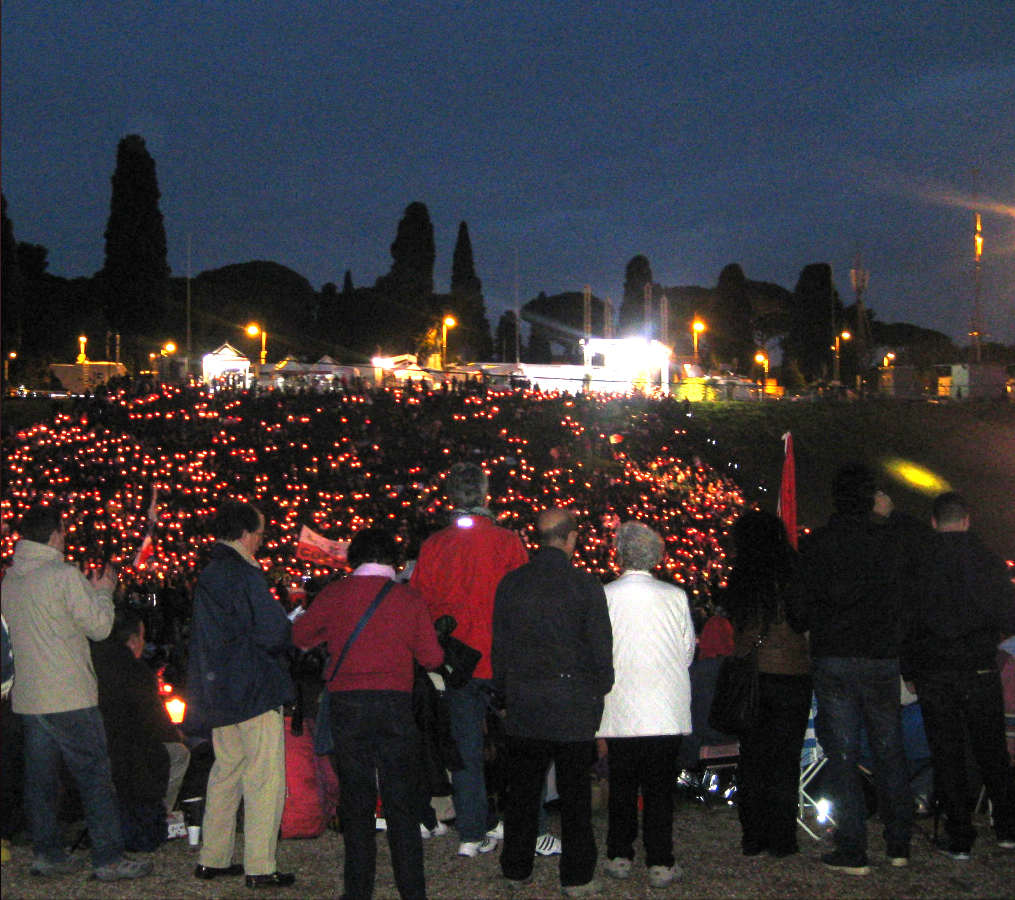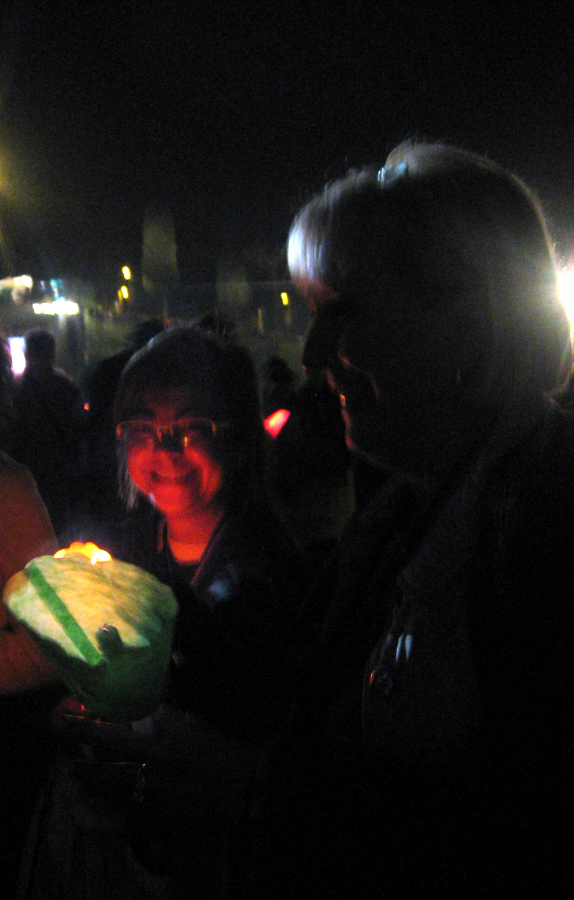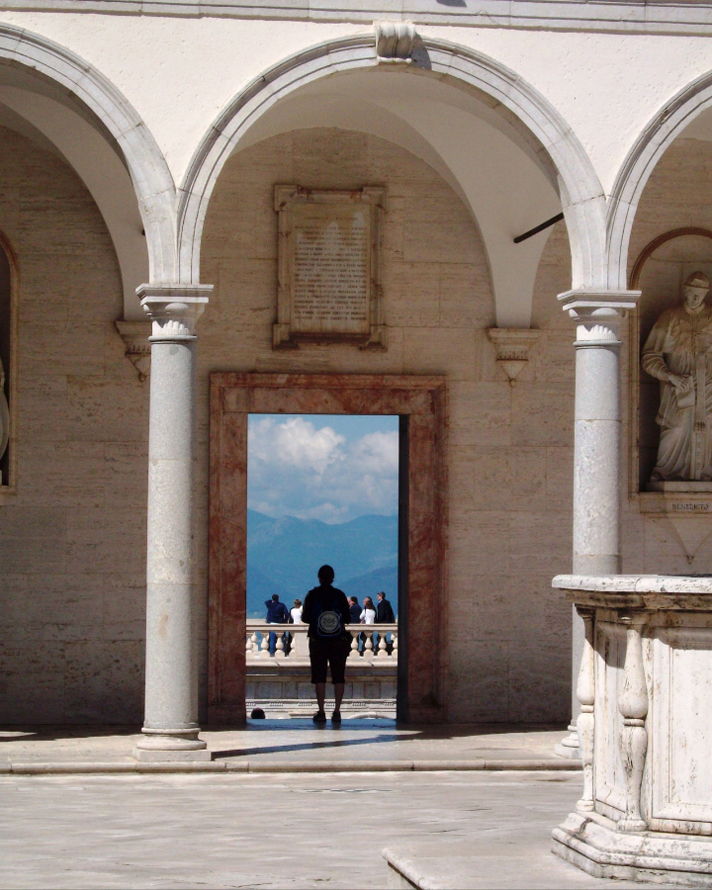 Monte Cassino, standing in the archway looking at the view is none other than a 206 pilgrim.
From: Robert J. Gingras
Sent: Tuesday, May 24, 2011
Subject: Pilgrimage to Portugal, Span and France April 20 to May 3, 2011 with guide Jesus Vivas Garcia
Dear Jesus,
I want to tell you what a wonderful experience it was to meet and get to know you. I think that you are a very special an extraordinary Christian young man. During our pilgrimage in late April you showed a wonderful brotherly solicitude toward all the pilgrims, but especially to Father Lipps and me.. Father needed help because of his advanced age and physical condition; and you were there to assist him without hesitation or impatience.
When I was injured in my fall down a stairway, you were there to lends assistance and to make my daughters feel that someone in authority was there to make sure that I was looked after. When, a few days later, I experienced a spell of dizziness and vertigo, you immediately went into action and personally wheeled me to the hospital. You stayed there, reassuring my daughters, until I was safely in the hands of a doctor.
From that time on, as I hobbled along with a leg brace, you kept a close watch over me to assure my safety. I have photographs of you, in the distance, assisting Father Lipps while glancing my way to make sure I was OK.
When tears were in my eyes during a Mass, you were there to console me and offer me a brotherly embrace. I have rarely met such a good Christian young man. I would be proud to have such a man for a son.
Your abilities as a tour guide are also outstanding. The amount of research that you have done is evident and the obvious reverence you exhibited at the pilgrimage sites was amazing,
You made my pilgrimage, by your presence, a very special time for me. The sites visited during the pilgrimage were inspirational; but no more than you.
Thank you,
Bob
From: Joseph and Teresa Braceland
Sent: Sunday, May 22, 2011
To: Katrina Calvacca
Subject: Feedback Tour 37 - May 8th
Dear Katrina
This is to let you know how much my wife and I enjoyed our recent pilgrimage to Fatima and Lourdes, with stops in Salamanca, Avila, Loyola, and Burgos.
Our guide, Javier Gomez, was exceptional; his knowledge, enthusiasm, and energy made for an excellent tour. He went out of his way to ensure that all had a good experience.
Our priest, Fr. Edward Murphy, provided us with wonderful homilies in his daily Masses which he celebrated in a very pious manner. Fr. Murrphy was very friendly and devoted. He performed a healing Mass at the request of several in our tour group. The local tour guides were also all very good.
The hotels were all very good, especially Santa Maria in Fatima and the Abba Burgos. The food provided was also very good.
We would enthusiastically recommend this tour to anyone interested in doing a pilgrimage.
Joseph and Teresa Braceland
From: Fr. Edward A. Murphy
Sent: Wednesday, May 18, 2011
To: milanka@206tours.com
Subject: Trip Fatima and Lourdes
Dear Milanka,
The trip appeared to work out well the group of 35 all seemed to be happy as they shared the last night.
Javier is good guide and more important holy man which made my job easy. They sure know how to pray the rosary and why they need too.
Peace
Fr. Edward A. Murphy
From: King Tracy
Sent: Tuesday, May 17, 2011
To: Katrina@206tours.com
Subject: Tour 186 Budapest, Hungary, Vienna, Austria, Mariazell, Salzburg, Prague
I absolutely loved the places on my tour. We were there at very special
times (Divine Mercy Sunday, Beatification of John Paul II and Holocaust
Remembrance Day ) all in Poland. I loved Salzburg being a great Sound of
Music fan.
Our tour guide Janusz was EXCELLENT as was the bus driver, Joseph.
liked that everyone was under the misconception that he was a Bishop.
The first hotel, the Hilton in Warsaw, was the best!
Overall, everything was great.
Sincerely,
Tracy King
From: Patricia Daniels
Sent: Tuesday, May 17, 2011
To: Katrina Calvacca
Subject: Pilgrimage to Poland, Budapest, Vienna & Salzburg
Dear Katrina,
I received your email this morning, and I was going to contact 206 this week to tell you that the pilgrimage to Budapest, Vienna, Salzburg and Prague was absolutely wonderful. It was exactly what I have always experienced when traveling with 206.
But, the most wonderful thing of all was the care and concern that my son received from our guide – Janusz Kulczynski.
My adult son has had a severe allergy to peanuts and all nut products since he was a child. While we were in the motor coach traveling from Vienna to Salzburg, I had some chocolate snacks in my bag that I picked up in my hotel room, and I shared them with my son. They had a trace of nuts somewhere in them, but we could not even taste it. My son ate it and within a few minutes he became very sick to his stomach, so the bus stopped and let him get out for a few minutes. After he got back on the bus, his throat began to close up and he could not swallow or breathe. He was gasping for air, and Janusz acted quickly and got him to the nearest hospital where he was treated immediately and released later that night.
Of course, the motor coach had to proceed without us to Salzburg, but Janusz did stay with us until Tim was stable. We were able to get on a train when Tim was released and got to Salzburg and to our hotel very late that night. When we arrived at the hotel, Janusz had arranged with the hotel staff earlier to bring us some food when we checked in.
This young man saved my son's life and I will forever be grateful to him for that, and he will always be in my prayers!
Again, I thank 206 for another wonderful and unforgettable trip – great tours, beautiful hotel rooms, breathtaking religious places, and caring guides and drivers!
God Bless Each of You,
Patricia Daniels
From: Liz and Larry Switaj
Sent: Monday, May 16, 2011
To: rinda@206tours.com
Subject: Pilgrimage to Poland, Budapest, Vienna & Salzburg
Rinda,
Thank you so much for the wonderful organization of our recent pilgrimage to Poland, Budapest, Vienna and Salzburg led by tour guide, Janusz Kulczynski. The itinerary was well planned out and we especially appreciated the revision to include the Beautification of Pope John Paul II at the Divine Mercy Shrine. That was one of the high points of the pilgrimage being among the Polish people at the Divine Mercy Shrine on Divine Mercy Sunday as their native pope was beautified. Hotel accommodations, meals and transportation, with our trusty and helpful driver Józef, were comfortable and more than adequate.
Our tour guide, Janusz Kulczynski, was amazing! He went above and beyond sharing his seemingly endless wealth of knowledge and humorous stories and always greeting us with a big welcoming smile. We greatly appreciated his resources, patience and expertise when dealing with complaints, schedule adjustments and our sole unfortunate medical emergency. It was evident that he really loves and enjoys his work. His enthusiasm, interest and attention to detail made our pilgrimage into a memorable and life changing experience.
So thanks again for offering this wonderful pilgrimage. We will always treasure our experiences and the friends we made along the way.

Liz and Larry Switaj
From: George Loftus
Sent: Sunday, May 15, 2011
To: rinda@206tours.com; sales@206tours.com
Subject: Group photos in Assisi May 2011 (from Shrines of Italy, April 28)
206 Tours Pilgrimage Group in Assisi with Fr. Damien Schill May 2011 Photo taken by
George Loftus.
From: Adrienne Khan
Sent: Thursday, May 12, 2011
To: Milanka Lachman
Subject: Medjugorje with Wayne Weible and 206 Tours
Hi Milanka!
Just wanted to let you know I completed my Wayne Weible tour last Friday, and you were right, i had a wonderful time! I enjoyed every bit of it and would do it again. I've been bragging about it to my co-workers all week. I especially enjoyed guide Slavenka (she is very knowledgeable and has a great personality) and Wayne's assistant Mary (she's very kind and easy going). And all my fellow pilgrims were wonderful companions. Thank you so much for getting us on the tour. I will definitely refer my friends to 206 Tours.
Sincerely,
Adrienne Khan / Diana Bramner
From: Janet Dillon
Sent: Wednesday, May 11, 2011
To: katrina@206tours.com
Subject: Feedback from Shrines of Italy, April 28
Dear Katrina- But just a few words now… the most amazing journey from beginning to end.
Janet Dillon
From: skrisak@peoplepc.com [mailto:skrisak@peoplepc.com]
Sent: Sunday, May 8, 2011
To: Cara Manise
Subject: Holy Land April 1-10 2011
Dear Cara – On behalf of our small but faithful group we want to thank you for the most spiritually moving trip to the Holy Land.
As soon as our tour guide Jack, met us at the airport in Israel, we knew it was going to be a wonderful pilgrimage. Jack turned out to be our saving grace, our beacon of light in so many places and circumstances. Father Gordon and I can not express how important Jack was to our trip and how his vision, his stories and his faith shaped our experiences in this holiest place on earth. His knowledge of scripture and relating it to each and every place we visited was truly a gift from God; not to mention his knowledge of having lived in Israel. Plus Jack was so passionate about his faith and making sure we understood each and every piece of information he provided. He also provided us entrance to all the right places at the right time of day. He worked his magic, via the phone, keeping us where we needed to be, when we needed to be there. He changed times and itinerary according to the tide of the day. So much work was made behind the scenes by Jack for us.
I believe I can speak for the entire group that the food, no matter where we went, was absolutely fabulous. From each restaurant we went to for lunches to both the Ron Beach and Dan Jerusalem hotels…the food and service was outstanding. Although our group appreciated the up scale amenities of the Dan Jerusalem, we really enjoyed the smaller warm family and intimate atmosphere we received from the Ron Beach by the Sea of Galilee.
Our bus driver, Joe, was awesome…getting us safely in and out of some really tight spots, especially with a million cars and buses on the roads going every which way.
The only thing that is missing here is our individual experiences. They are not only hard to express, but I don't think we have fully experienced all of them yet. The overview from our group about this trip was extremely the highest rating in terms of our hotels, our food, our tour guide and the weather. As for our spiritual experiences, there is no rating high enough. I can say this… that I believe everyone from our group connected with and had a personal encounter with God during this trip.
Father Gordon and I wish to thank you Cara for the outstanding job you did in answering all of our questions, concerns, special request, arranging and re-arranging our trip with joy, love and patience. It is in the prep work that makes a trip special and rewarding and you and 206 delivered. Awesome job!
Milanka and Eve….our thanks to both of you as well. 206 is part of Our Lady's mission to save souls by bringing them closer to her SON….mission accomplished! May God continue to bless 206 Tours and all who work there…..you are the best!
On behalf of our entire pilgrim group I thank you from the bottom of our hearts for your kindness and generosity.
God Bless,
Suzanne
From: Sorenson, Barbara M
Sent: Thursday, May 5, 2011
To: Mike Alessi
Subject: Tour 38 Apr 20
Hi Mike,
I returned from my trip yesterday and must share with you and 206 Tours that it was the most well organized tour I have taken.
During the first portion of our trip to Portugal, Spain and France, our tour guide Jesus Vivas Garcia did an excellent job and worked double duty. Jesus went beyond making sure that we had all our needs met in every way possible.
The second half of our trip to Medjugore was just as nice as the first half. Again, we had another great guide Snjezana Zovko. With her it was like spending time with family. She is very strong in her faith and was not shy to share that with us. The family who ran the pansion was gracious and kind…..I got to become friends with one of the daughters. We plan to stay in touch.
I am looking forward to booking my next pilgrimage which will be in October to Paris, Lisieux, Nevers…..my sister and I told our guide Jesus that we would love to have him again.
You were much help in organizing my trip and extremely considerate in answering my questions. Thank you so much Mike for all your help. I look forward to another successful 206 Tours pilgrimage.
Blessings,
Bobbie Sorenson
From: Margarita Arias
Sent: Monday, May 2, 2011
To: mike@206tours.com
Subject: Feedback Tour 37, March 13
Dear Mike:
Trip to Fatima-Lourdes, March 13-22, 2011
We would like to give our thanks to your company for organizing this wonderful trip to these marvelous places. Everything was beyond our expectations.
Our gratitude goes to Javier Gomez, our tour guide, who made each of us feel special with his attention to detail, knowledge, spirituality, and sense of humour.
Thank you again.
Ramon and Margarita Arias
From: bob/janet glasner
Sent: Thursday, April 28, 2011
To: mike@206tours.com
Subject: Tour 105 3/20-4/2/2011
Dear 206 Tours,
We recently were on tour 105 All Italian Shrines and it was wonderful. Our tour guide Viviana was so accomodating and patient (we took lots of pictures and lagged behind). Our bus driver Alessandro was excellent and manuvered that bus on streets I would never attempt in a car. The food offered at the hotels was good (Rome) to excellent (Assisi) and the accomodations were very clean and comfortable. I would definitely travel with 206 Tours and recommend it to others. Fr. Michael Brizio was very knowledgable and definitely kept the pilgrimage a pilgrimage which we very much appreciated. He spoke fluent Italian and so was a second guide and pointed out many things we would have missed just on our own. I couldn't be happier with our tour. Well done 206 and thank you for our once in a lifetime trip.
Janet & Bob Glasner
P.S. Just so you know- this was not our first time to Italy (we were there for the 2000 jubilee but
it was our best time.
From: Fr. Joe Batcheldor
Sent: Monday, April 25, 2011
To: Rinda Kanidinc
Subject: Israel April 10 – 19,11
Dear Rinda,
First of all I wish to thank you and all at 206 for allowing my little group to join with Fr. Patrick Crawley and his group for a wonderful pilgrimage to Israel and the Holy Shrines there. Once again you have provided us with a very special spiritual experience in the land of Jesus. I hope that my two companions, Theresa Thompson and Shirley Mayer, will send you a word of appreciation as well. This was my third year in a row to have opportunity to spend some of my Lenten time of preparation for the celebration of the last days of Holy Week at the very places marking the Paschal Mystery of the Passion, Death and Resurrection of Jesus. This is an experience every Catholic should have during a lifetime after which the Sacred Triduum can never be the same.
We enjoyed the hotels with a special cu-do for the one on the shore of the Sea of Galilee. That was a wonderful location and the place was comfortable in every way and a much better spot than the one in Nazareth we had stayed in the previous two years.
As an additional touch the dinner wine was much appreciated too.
I hope to travel at least one more time with you and that to Rome and Florence. In the next week or so I will contact you to discuss this possibility.
Thanks for all the special help you have given me over the years allowing me to visit places I never dream t I would see.
Sincerely,
Father C. Joseph Batcheldor
From: shirley mayer
Sent: Friday, April 22, 2011
To: Mike Alessi
Subject: Tr 111 April 10 Feedback
The trip was everything I'd hoped it would be… and more. It was a very spiritual journey. And I met some wonderful people who were in our group. Thank you, Mike, for your help and your patience during the planning of this journey. I hope to travel with 206 again.
Shirley Mayer
From: Ray Wycoff
Sent: Wednesday, April 20, 2011
To: Mike Alessi
Subject: Feedback Tr 1 Mar 27
Mike,
My wife and I had a very memorable trip to Medjugorje. There are too many highlights to just pick one. We had a great tour guide (Slevenka Jelavic), a very good priest (Father Brian Carney) with us and our other tour members were fantastic. Our tour guide arranged for a fairly private meeting with Mirjana, the afternoon following her apparition. After her talk and Q&A period, we had a group photo taken with her. We were also moved by our participation in the English Sunday Mass. Our priest was the principle celebrant and my wife and I were allowed to participate by doing the first and senond readings along with the responsorial psalm. All in all our week was filled with one great memory followed by another. 206 Tours has done a great job and furnished us with a very spritual pilgrimage and memories to last a lifetime. However, we are looking forward to our next trip to Medjugorje and allowing your company to handle the details.
Ray and Kathie Wycoff
Southport, NC
PS: We would definitely want to be with Slevenka on our future tour.
From: Fr. Gordon
Sent: Monday, April 18, 2011
To: Cara Manise
Subject: Holy Land Pilgrimage 1-10 April with Fr. Gordon
Thank you, Cara, for taking such good care of us! We absolutely loved our guide, Jack. And our driver, Joe, was excellent as well. Overall, I think everyone had a powerful and enjoyable experience. I'll leave the notes to Suzanne as she is more meticulous, but I do want to thank you for providing us with a beautiful glimpse of the Holy Land. Have a blessed Holy Week!
Fr. Gordon
From: Angela Dinkle
Sent: Sunday, April 17, 2011
To: Rinda Kanidinc
Subject: Jordan, The Holy Land and and Egpyt - October / November
Hi Rinda,
I came back from my wonderful tour (Jordan, Holy Land, Mt. Sinai, Cairo) in November 2010 and still have warm and inspiring memories from the pilgrimage. It made my Christmas season so much more meaningful. All in all, I think my relationship with Jesus has deepened and I feel I am even closer to HIm than before! I had been to the Holy Land in 1995 and this time I saw places I had not seen before.
The Jordan Trip: All in all, I thoroughly enjoyed my stay in Jordan. Even though my friend Jane and I missed the first day of the tour due to airline delays we were able to join the group in Petra. Petra was awesome. The resort hotel, Taybet, was very unique and blended into the Petra area landscape. Our tourguide, Nassir, was very knowledgeable and I learned many things about the Kingdom of Jordan.
The Holy Land speaks for itself. There are no words to describe the experience of being in Jesus ' land and visiting all the areas he frequented while preaching. It was so moving to follow the path of Jesus down the Via Delarosa to His crucifixion. Sami, our tour guide was excellent. He not only was very knowledgeable of the history, the Scriptures and the land but was efficient and no nonsense about getting us on the bus and on our tours.
We were very well taken care of in Egypt. It was so awesome from being at the Red Sea resort of Taba to Mt. Sinai and St. Catherine's monastery to where the Israelites wandered. Cairo was steeped in history. And seeing the Pyramids was incredible! It was great to be able to .see the Christian sites in Cairo and tour the Egyptian Museum. One young man from the tour group and myself took the Nile dinner cruise and thoroughly enjoyed it! Our guide Magat (not sure if that is how he spells his name) was excellent and took good care of us. We felt very safe because the bodyguards were always with us.
I plan to take other tours with 206tours in the future. I think you all are an outstanding tour company. When Jane and I were trying to trace our missing luggage you all were with us every step of the way. We never felt alone.
In conclusion I just wanted to let you know that the hotels were outstanding! The Egyptian hotel was all right….we would have preferred to be on the second floor instead of the first. Otherwise, everything was wonderful! Thank you!
Many blessings to you all and a Glorious Easter to you!
Sincerely,
Angela Dinkle
From: Cathy
Sent: Friday, April 8, 2011
To: mike@206tours.com
Subject: Feedback, Tour 2A March 18 Lourdes
I have to give credit to Francesco Javier,our tour guide.He is a wonderful,kind,and considerate person.He helped so much with my sister Mary,who is very ill;he showed a lot of patience waiting for her when she slowed up and got behind the group.we all appreciated his compassion and understanding.He is a true asset to 206 tours and a special person,Also Cathy who did our walking tour through Lourdes did a fabulous job of explaining the sites along the way.She answered all our questions in an informative and knowledgeable way.These two folks made our trip a memorable one,one we shall not soon forget.
Cathy Whelan
Sent: Friday, April 8, 2011
To: 206 Tours
Subject: No subject
Holy Land Been there!!! What a Blessed experience!!! I can't thank GOD enough for the great and Blessed experience He had showered me. I feel very privilege and GOD's love beyond my expectations…What an awe…And, I want to thank 206 tours staff for their awesome service, accommodation packages, professionalism & etc…special thanks to Milanka, she's a true and great leader for this spiritual journey of our life. Keep up the great work, boss! Every good deed you do and spread throughout the mankind is being exchanged with countless Blessing from the "boss" above…GOD Bless you and your staff always!
Hahaha…you remember my "request" huh! Yeap! front seat only for the "sicky"…hehehe….. Thanks, Milanka! But really, I'm just telling the truth, I don't think I could ever consider joining other tour group. I have such high regard of your staff. I guess they got it from you!
Ninfa R. Noval
Via Facebook
From: M Wolfgang
Sent: Tuesday, April 5, 2011
To: mike@206tours.com
Subject: Lourdes Pilgrimage
Dear Mike/206 Tours,
I just want to express my heartfelt gratitude to be able to pick the right Agency for our 3 days pilgrimage to Lourdes. It turned out to be so homely and very spiritual through the efforts of your well versed and very accomodating guide by the name of Javier. He made a big difference to all of us and made us feel so comfortable with the place. He knew everything by heart and made the whole group as one happy big family. I would like you to let him know that we were deeply touched by his presence and he is deeply appreciated.
I would recommend 206 Tours to my friends who will be interested to do the pilgrimage. I hope you will continue your good service by keeping the good people you have including Javier.
Thank you and God bless!
With our prayers,
Marina & Marielle Wolfgang
(from New Jersey)
Attached is our picture w/ Javier: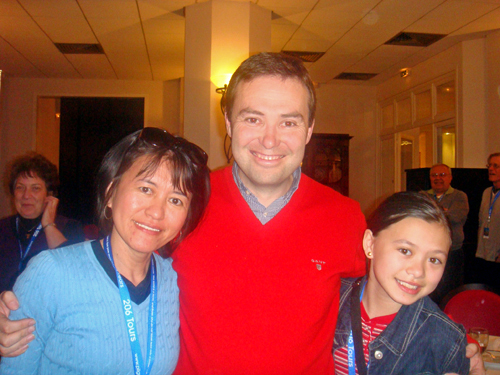 From: Donna Drazic
Sent: Wednesday, March 30, 2011
To: amanda@206tours.com
Subject: Croatian Church Pilgrimage - Holy Land -March 2011
Hi Amanda,
My husband and I like to thank you for this beautiful trip, well arranged in
every way and it was so much more then we inspected to be. I hope that you will continue to do what you are doing so that other people can experience this unforgettable spiritual journey
Gog Bless you all @ 206 Tours
Donna Drazic
From: Diana Lasic
Sent: Wednesday, March 30, 2011
To: Amanda Fortunato
Subject: Church Pilgrimage - Holy Land -March 2011
Dear Amanda,
I am very pleased with the organization and the trip.I can see that you have a lot of experience because everything was well planned.Also YOU HAVE AN OUTSTANDING ASSOCIATE/GUIDE Rimon who made for all of us this trip very special.I hope that he is well compensated for all the work he does over there.It is not just the work it is the mission,and that is priceless.I would love to go back to Holy Land again. I thank you & your staff, and hope to travel with you again.
Sincere regards to all of you,
and God Bless,
Diana
From: Jim Burkhardt
Sent: Wednesday, March 30, 2011
To: sales@206tours.com; groups@206tours.com
Subject: Slavenka Jelavic
206 Tours,
The purpose of this E-mail is to bring to your attention the outstanding work being done in Medugorje by your Tour Guide, Slavenka Jelavic. Please ensure that this correspondence is routed to Slavenka's superiors.
My wife and I just yesterday completed a nine day pilgrimage to Rome and Medugorje.
Upon our arrival at the airport in Split, Croatia, we were met by a driver holding a sign with our names upon it. When we arrived at our hotel in the evening, our tour guide, Slavenka Jelavic, had prepared a written schedule for us so that we could anticipate the next day's events.
The following morning, Slavenka met us at our hotel. Her enthusiasm was clearly evident. She was excited to show us Medugorje. Slevenka's knowledge of the events that have occurred there and her knowledge of the culture and history of the area really brought this tour to life for my wife and I.
As you know, Slevanka has lived in this area her whole life. This allows her to not only tell the story of Medugorje but to inter-mingle her personal experiences with the families of many of the visionaries whom she knows. She even arranged for us to met one of the visionaries, Vicka, which was very special for us. It was also apparent to us that Slavenka has been doing this job for some time. Everyone in Medugorje knows her. We teased her that she should consider running for Mayor.
Slavenka is just a wonderful person and your company is very fortunate to have her in your employ.
Sincerely,
Jim & Lisa Burkhardt
Seattle, Washington
Slavenka Jelavic
From: Fr. Stanley Kacprzak
Sent: Tuesday, March 29, 2011
To: Mike Alessi
Subject: Feedback Tour 111 march 12 Holy land
Dear Mike and all at 206,
I would like to thank you for all you did to make my 25th anniversary trip to the Holy Land one of the most memorable experiences of my life!
Every aspect of the trip (except for the delay flight from New Jersey to Rochester which you have no control over) was far beyond my expectations.
Sam, our guide was EXCELLENT! He was kind, polite, respectful and spiritual. The historical and biblical information he shared was incredible. Our driver Emad was equally kind and respectful and his skill ensured our safety and ensured that we arrived at all the sites in a timely manner. Staying at Ein Gev was beyond words. To stay right on the Sea of Galilee and to be able to pray right on the sea in the morning and the evening was indescribable. Our Chaplain, Fr. Lee, did a wonderful job of being available for everyone. What an honor it was to be able to concelebrate Mass with him at all the holy sites. I could go on an on but being that I am back in the parish, I have much work to catch up on.
However, I do so with an enhanced spirit, having been up on Tabor and now invited by God to live out my ministry in the glow of this incredible experience! I have included one of my favorite pictures of sunset on the Sea of Galilee. Once again thanks to all for everything. May God bless you.
Peace,
Fr. Stan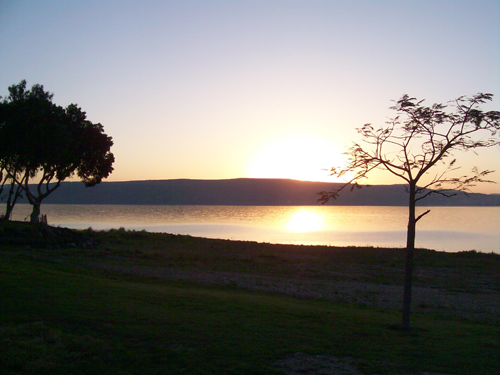 From: Alan Van Booven
Sent: Monday, March 28, 2011
To: sales@206tours.com
Subject: Reservations-Alan
Dear 206 Tours,
Just a quick email to let you know that our pilgrimage to the Holy Land and Rome was more than perfect. The weather was great, flight connections all made, the hotels were all wonderful, the sights, sounds and memories will be with us for ever.
The two people that lent the most to a perfect experience was Samel or guide and Emad or driver in Israel. They made the trip totally seamless. Not once was there ever a hiccup or bump in all the holy sights that we visited, hotels we stayed, meals taken or roads we traveled. Samel was able to part the tide of people and Emad was able to always safely maneuver the bus on the narrowest and busiest of streets. Samel had the most incredible knowledge of the history of the Holy Land. With his Christian perspective, he was able to make the holy sights come alive for us.
The biggest challenge now is to process all the info, memories and about 1,700 pictures.
Also, having some very nice wine at the dinner table each night made it all the more easy to make life long friends with our fellow pilgrims.
We are already talking about which tour 206 will be taking us on next.
Thank you 206 for a pilgrimage of a life time.
Alan & Dianna Van Booven
Godfrey, IL
From: Larry Henry Eger
Sent: Sunday, March 27, 2011
To: mike@206tours.com
Subject: Fatima Portugal March 13-March 17
I would like to say, that this was the best experience of my life. I had an excellent time in Lisbon, portugal, at Santarem and extraordinary time at Fatima, Portugal. Our tour guide, "Javier," made our trip an excellent one, his knowledge and his attention to detail was more than I could ask for. this was a trip of a lifetime. I cannot thank you enough for organizing our spiritual journey to Fatima. I will use your company and your tour guides in the future, and I will also recommend it to my church and to my friends, Thank You Very Much!!
Larry Henry Eger
Bayside, NY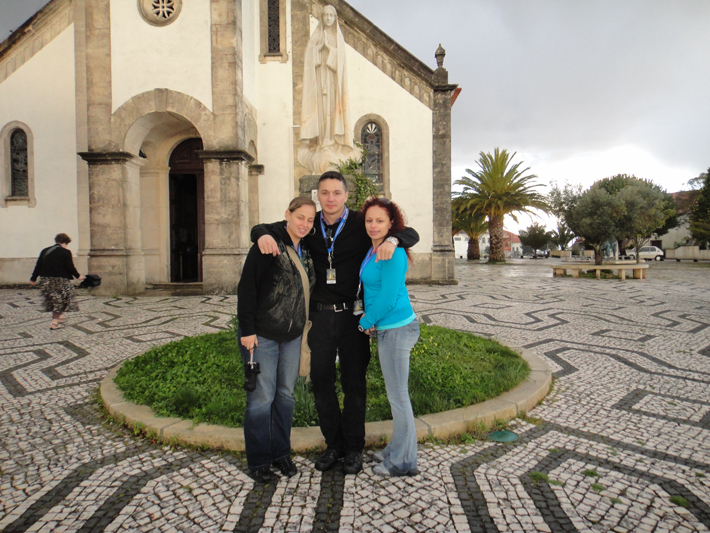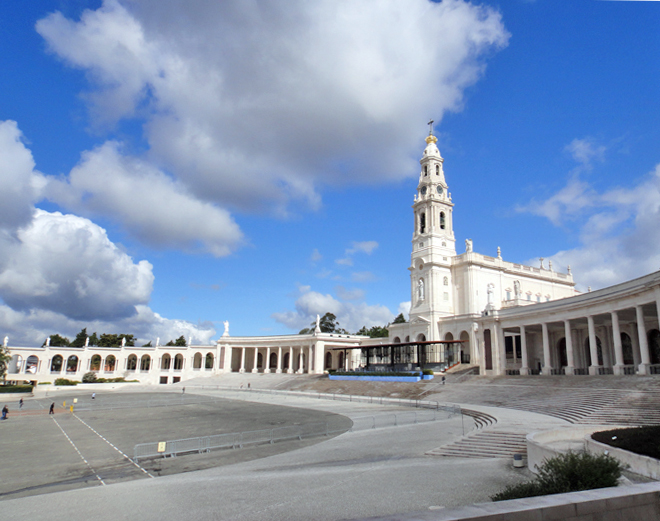 From: Peter Lee
Sent: Thursday, March 24, 2011
To: Mike Alessi
Subject: Feedback Tour 37, March 13
Hi Mike,
It was the most awesome experience! I loved it, almost didn't want to come home. Fatima and Lourdes were like perpetual miracles before my eyes.. you don't really know or believe what happened there until you visit it! I think my friends would be converted if they just step foot into those holy sites!
Our tour guide, Javier Gomez, was exceptional! He definitely set the bar! He was so professional, funny, knowledgeable, and most importantly, devoted! His devotion to Our Lady really inspired us and I think that makes all the difference in a catholic pilgrimage… he made the trip possible to be at the same time a vacation and spiritual journey! God really blessed us. He even saved us from robbery and when we got lost on our free time… it was like he was everywhere whenever we needed him. He is so nice…I just asked if there was a pamphlet or something describing the miracles at Lourdes because we weren't able to go see the museum during the off-season, he immediately went and bought me a book on Lourdes miracles!
Regarding the food and living quarters, it was just all TOO GOOD. We should have taken this trip after lent! hahaha.
Also, our spiritual director, Father Anthony Ho was awesome! Excellent homilies, great devotion, orthodox, and possessed a lot of relics!! He led wonderful morning prayers and rosaries and always blessed us with his 1st/2nd class relics. Apparently, he's famous too. We were in Fatima and some guy who's from Lisbon came up to us and said he came to Fatima just to see Father Ho. He's been following father's blog online and read that we'll be in Fatima!
I'm seriously looking into going with 206 Tours again for my next trip! 206 Tours has my recommendations.
Thanks be to God,
~Peter
From: Denise Booth
Sent: Wednesday, March 23, 2011
To: 'Liz Shea'; 'Linda Antonelle'
Subject: Italy with Denise Booth
Hi Liz, Amanda and Sandra (Linda and Patty),
The trip/pilgrimage was absolutely fantastic.
Our hotel was wonderful, in an excellent location. It was an absolutely perfect location and the hotel itself was impeccably clean and the service excellent. They provided maps each day and mapped out routes to where my clients wanted to walk. Very helpful. They were very accommodating with adjusting the revolving door each time our wheelchair clients needed to get through without much delay. The breakfast was excellent. Dinners were very good also.
Our tour escort, Karin, was also excellent. She was very animated, coming from Copenhagen but living in Italy for the last 30 years, so she had many colorful stories to add to the history she shared. All enjoyed her sense of humor and their sense of security around her. She was always on time, well dressed, professional, accommodating, etc. If they are all like Karin, you should be confident in your choice of escort in Rome.
Our local guide in Rome was excellent, Antonelle, passionate about Rome and its history.
Our local guide in Florence was good, Christina, but unfortunately there was a small problem with the whisper sets, so a few were disappointed to miss her descriptions. Our local guide in Assisi, Eduardo, had a few challenges, with the very cold weather and the fact that he seemed to be sick. For now, I would say, overall, the trip was fantastic.
Also, beating all expectations, was our visit to the Sportoletti vineyard. The family there treated us very well. Not only was their wine selection superb, but the food that they served with each wine was truly fantastic. Excellent choice for the wine tasting (and olive oil as well!)
The farewell dinner was excellent! Sometimes, I think the farewell dinners can be a little 'hokey' at times, with a dinner theater style that doesn't work for everyone. But this restaurant and the entertainment were a very pleasant surprise. The food was amazing and they staff was extremely friendly.
Thank you for your many hours of work with me to make this trip memorable for our travelers. My clients were so thrilled and many said it was the trip of a lifetime. Thank you for including the Magnificat in our documents. That was a very nice touch, especially since there was Mass every day.
Again, my sincere thanks for your hard work and product. It was excellent.
Denise
From: Delia Lorenzo
Sent: Wednesday, March 23, 2011
To: Mike Alessi
Subject: Feedback Tour 37, March 13
Dear Mike,
We arrived last night from the Pilgrimage to Portugal, Spain amd Lourdes. It was a very successful
journey to all the holy places you arranged for us to visit but truly made very memorable with the excellent guide and information we received from Javier Gomez. He is indeed a great help to all of us pilgrims esp/ with me and husband bacause we were the oldest in the group and naturally much slower and less energetic than the younger pilgrims. Thank for this journey. Thank you Javier!!!
Delia and Jose Lorenzo
From: Fr. Mykhailo Kuzma
Sent: Wednesday, March 23, 2011
To: 'Mike Alessi'
Subject: Feedback Tour 1 March 10 Medjugorje
Glory to Jesus Christ,
Dear Mike,
It was a great blessing and privilege to be part of the group that went to Medjugorje on March 10th.
Many people in my opinion deserve credit. For myself it began with Denis Nolan who contacted me and let me know a priest was needed on that particular tour. Rinda was extremely courteous, kind, efficient and a joy to have had the opportunity to communicate with over the phone and through e-mails. You could not ask for a more knowledgeable, dedicated and spiritual guide that Slavenka. I was very impressed with her in many ways. Finally, I was greatly uplifted by the wonderful group of people I traveled with and had the privilege of assisting spiritually.
I have already and will continue to acknowledge 206 Tours as a great pilgrimage organization that truly helps us to "walk towards God".
Also let me make mention of Pansion Dubrovnik. In my opinion, the service, location close to St. James Church, and courtesy of their staff are to be highly commended.
The trip to Medjugorje was very uplifting and rewarding to me. May our Lord bless you all at 206 Tours and may the Queen of Peace ever guard and protect your ministry.

Fr. Mykhailo Kuzma
From: Nancy Woods
Sent: Wednesday, March 23, 2011
To: mike@206tours.com
Subject: Tour 2A March 18 Lourdes
Hi, Mike!
John and I absolutely loved the pilgrimage to Lourdes! This was our second trip with 206 Tours, and the consistently great organization and attention to detail is what will keep us coming back to 206! Fr. Ho, our priest, was wonderful, and our tour guide, Javier, was just outstanding!!!!!
Thank you for all the effort that goes into making each pilgrimage so memorable!
Blessings,
Nancy Woods, PhD, MPH, CNM
From: John OBrien
Sent: Tuesday, March 22, 2011
To: Mike Alessi
Subject: Feedback Tour 1 March 10 Medjugorje
Mike- thank you for the chance to speak about my pilgrimage. This was my sixth time in Medjugorje, the second time with 206 Tours. My first time was 10 years ago and had Slavenka as our guide, just like this time. What a blessing. She and Snezana are the BEST and I got to see them BOTH. On pilgrimage it is so important to be guided by someone who knows and lives the messages. Slavenka does both.
One of the highlights was the people I got to meet in our group. So many great people and so many great sharings. As always the most important part was living the evening program. Rosary, Mass, Adoration, Stations. Having Father Mykhailo was a huge blessing. He was a great spiritual father to all of us.
This was probably the best pilgrimage so far. I hope and pray to be able to return more often if it is our Blessed Mother's plan. Thank you for everything you did and thanks for letting us stay at Hotel Dubrovnik-right across from Church. My new favorite place.
John O'Brien
From: Colleen Mazilli
Sent: Friday, March 4, 2011
To: rinda@206tours.com
Subject: Our Lady of Guadalupe, Mexico City and nearby places
Dear Rinda,
206 Tours has done a wonderful job in setting up this tour.
The hotel was great – rooms, meals, service – accommodated our group for late dinners and a special meeting area for a book (thanks for the copy)signing by Fr. John, exchangeddollars to pesos at good rate, etc. – water is drinkable,too.
Fr. John is special – enthusiastic and spiritual. Our guides, Roberto and Elvira, were wonderful. They are so knowledgeable, friendly, patient, etc Our driver, Angel, was excellent, also.
The Shrine of Our Lady of Guadalupe is marvelous!!! The actual Image, the Basilicas, the various outdoorstatues of Pope John Paul II, Indians offering gifts to Our Lady, etc,the grounds with beautiful flowers, the hundreds of people who were there to pray…
-Mexico City's Zocolo – the Cathedral, the Government Bldg. with Diego Riviera's murals, etc.
-Sacred places to the south in Puebla, etc
-Teotihuacan's Pyramids
-The restaurant, with the guitar-playing singers and native dancer and drummer
All were terrific!
It was a blessing and a real treat – so muchin just 4 days.
I'm looking forward to my next and 3rd 206 Tour to Lourdes.
Colleen Mazzilli
PS I appreciated the prompt refund for the taxi I had to take.
From: Louise Marquez
Sent: Wednesday, March 2, 2011
To: Rinda Kanidinc
Subject: Feedback for Pilgrimage to Guadalupe and Mexico City ~ February 21-26, 2011
Dear Rinda,
The pilgrimage was amazing. Father John Amsberry was a wonderful spiritual leader. He is witty and has a wonderful sense of humor. The group as a whole was very spiritual. Our tour guides and driver were extremely knowledgeable, kind and patient. My only complaint is that our time went much too quickly.
Thank you and 206 Tours for enriching my life and fueling me for the journey!!
Louise
From: Raoul Riendeau
Sent: Monday, February 28, 2011
To: Rinda Kanidinc
Subject: Feedback for Pilgrimage to Guadalupe and Mexico City ~ February 21-26, 2011
Hi (Rinda),
We had a wonderful trip – which exceeded all expectations. The guides – Roberto and Elvina were so patient and took very good care of us. The bus driver – Angel (sp) did an amazing job in all that traffic. Father John was a great priest and couldn't have been a better pick for our grandchildren. The food, the hotel and weather were exceptional. The small group was great, so we got to know the other pilgrims.
We would highly recommend your Tour group. We hope we can travel again with you.
May God Bless you all abundantly,
Raoul & Mary Riendeau
From: Mary Davila
Sent: Wednesday, February 2, 2011
To: Cara Manise
Subject: Feedback for Pilgrimage to Medjugorje, Jan 23-31 2011
Cara:
The trip was absolutely fabulous and very spiritual. Penny was my spiritual director.
The fact that we were a small group also made the trip perfect.
It was very spiritual. I found so much peace there and was given several insights into my life.
Penny picked up on it immediately. Her spirit and mine had a beautiful connection. I am so blessed to have met her.
Father Devine in Medj. is precious. I could go on and on.
The weather couldn't have been better. We were able to make each pilgrimage site on the perfect day.
The home and the people were wonderful. We had the best meals and the best companionship with our guide.
I didn't know what I was going to experience and was a little hesitant, but God was in control.
Whether the site has been officially authorized by the Catholic Church or not, I know the truth.
You could feel it all around and see it in the eyes of Vicka. That was one of my highlights —
to get prayed over by her. It was indescribable.
Kudos to 206 Tours and Penny and Matthew and especially God and the Blessed Mother, the Gospa.
I am so thankful to everyone for having included me in this journey!
God Bless You,
Mary C. Davila
From: Eleanor Nazzaro
Sent: Thursday, January 20, 2011
To: cara@206tours.com
Subject: Nov 7-16 Holy Land
Dear Cara,
I have been on a number of pilgrimages. This was a pilgrimage in the real sense of the word.
Penny, as always, was her wonderful self and Fr Tino, Fr Jeff and Fr Miguel were the most
amazing and spiritual priest I have ever met. In my 76 years, I have met many priests.
Not one of whom can compare to these men.
Even now, when I think back, the wonders and emotional journey I experienced are so clear in my mind.
I will never forgetthe magic of being in the places our dear Lord traveled.
Thespirituality of the priests will be forever in my mind.
Our group was surely assembled by Christ and my friends and I will be forever changed
We cried we laughed and leaned on each other, even on those pilgrims we just met.
Thank you, thank you
may God Bless you as you continue to guide His people back to Him
Eleanor Nazzaro
From: Fr. Peter Connolly
Sent: Thursday, January 20, 2011
To: 'Milanka Lachman'
Subject: Holy Land Pilgrimage
Milanka,
I had another great tour of the Holy Land; my group had a wonderful experience and especially appreciated Rimon. He is a great guide but I suspect you already know that.I will certainly contact 206 Tours for future tours, you're the best.
Fr. Peter
From: Lloren, Imelda
Sent: Wednesday, January 19, 2011
To: Mike Alessi
Subject: Holy Land December/January
Hello Mike,
Thank you for checking back on us.
Our trip to Holy Land was absolutely amazing!!Fr. Damien Schill must have been sentby heaven. He is such a blessing tomy familyandme.My husband was so touched by his homilies that he went to confession after so many years! I hadthe best birthday celebration of my life, and might very well be the best I couldever have. Thanks to Fr. Damien for providing all the added touches to an already extraordinary dayat Mt. Tabor – from our morning prayers toour dinner. It wasso much more than Iimagined it would be.
Our tour guide and driver are both experts in their own respective fields. Yousef is so knowledgeable in both history and biblical accounts. I learned so much from him. Rami was able togetour bus in and out of thenarrow, and sometimes, busy streetswithout difficulty.
I'd like tothink that our group was formed with the Divine intervention. It's fascinating how this group came about and how each family/pilgrim came on board the trip. It was really nice tobe with peoplewho share the same beliefs and faith as you; I felt spiritually invigorated. I can sense that the members of the group have given inspiration to one another,not to mention Fr. Damien who magnificentlycarried outhisrole asourSpiritualDirector.
Overall, the trip was worth all the money, time andenergy spent. I praise God for this wonderful blessing! Thank you to all the 206 Toursstaff, including Milanka, for all the prayers and services.
In Christ and Mary,
Imelda Lloren