Effects of Coronavirus on Your 206 Tours Pilgrimages – Updated DO NOT REMOVE!
Plans Underway to Ease Restrictions & Open Borders to American Travelers
At current, several countries have announced re-open dates, they are as follows: Italy – June 3, Croatia – June 15th, Greece and Spain both – July 1. Other countries are making similar arrangements. 206 Tours plans to resume Pilgrimages in September – we feel this plan is objective, as we will have three (3) months to monitor how all the developments unfold.
---
Your Holiness and Your Well-Being is My Priority: 206 Tours on Getting Ready to Resume Pilgrimages in September 2020
A Letter from 206 Tours President & Founder, Milanka Lachman
Life after pandemic will not be the same, we all know that. We will see changes in all aspects of our lives from daily life at home, to air travel, to anything that involves human contact. Pilgrimage markets will probably be the first segment of tourism to get back to travel with no fear. We, at 206 Tours, are working on the best protective measures for our pilgrims and our staff! Together with our partners, we are enhancing protective measures so that Pilgrims can have a worry-free pilgrimage. Our pilgrimages are set to resume in September, and by then we will be sure to follow guidelines do all in our power to make you feel safe.
You can count on us – when you're ready to travel, 206 Tours will be ready for you!
Book with 206 Tours & Book with Confidence!
2021 & 2022 – Dates Available Online at www.206tours.com/pilgrimages
Cancel For Any Reason – With this plan clients may cancel their departure anytime up until 48 hrs before departure, and receive a 100% refund!
Groups will be Smaller – (from 15 to 24) per bus, plus Priest and Tour Guide
Our Partners will be Ready – Motorcoach, hotels, restaurants, and airlines
More Space While Dining in Restaurants and on The Bus
Our Tour Guides will be prepared to handle our new health initiatives
Feel free to contact us by email info@206tours.com or, email me directly at Milanka@206tours.com  with any questions.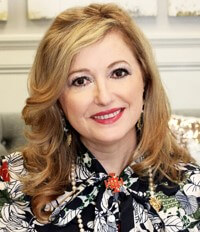 Milanka Lachman
President and Founder
206 Tours
---
Postponed Pilgrimages
Postponed – All Pilgrimages scheduled to depart through September 1st, 2020

Postponed – Oberammergau Passion Play to 2022
Clients affected are offered to transfer reservation at 100% credit and may choose any future Pilgrimage.
If you purchased Travel Insurance & Cancel for Any Reason, premiums will be transferred to your new tour at no cost.
Terms and Conditions (www.206tours.com/terms) will apply to your new tour.
If you have any questions email us info@206tours.com
Thank you for being part of our 206 Tours Family of Pilgrims. Until we meet again on another pilgrimage, let us pray for one another, stay faithful and healthy!
---
For past updates visit: 2020 Travel Alerts.
---
Oberammergau Passion Play Postponed Until 2022
In 1633 plague raged in Europe, Oberammergau villagers promised to perform the suffering, death, and resurrection of Christ every tenth year, in so far as no one was to die of the plague anymore. The villagers were answered by God and therefore in 1634, the first Passion Play took place. The promise has been kept until March 19, 2020, when the Oberammergau Passion Play announced it will postpone all performances of the 2020 Passion Play until 2022 due to the Coronavirus Pandemic. We have contacted all of our Oberammergau Pilgrims and provided options accordingly. Please email questions to info@206tours.com.
---
Travel Insurance
If you purchased travel insurance, it is imperative that your deal with travel insurance directly.
To File a Claim: Call Travel Insured International 24/7 Toll-free: 844-228-3679 mention plan code: T-20012
If you have not yet, but would still like to purchase travel insurance you may do so, up until 72 hours prior to your departure. Email us info@206tours.com.
Brief Outline of Insurance Coverage Restrictions Apply are here: www.206tours.com/insurance
Not Too Late to purchase -Travel Insurance & Cancel for Any Reason  ($299 or $349 extra – Get 100% MONEY BACK)!
If you have not purchased Travel Insurance before we encourage you do buy it now. Also, if you have not purchased our "Cancel for Any Reason" Plan (100% money back) with your original booking, you may do so now. By adding this plan you can hold your Pilgrimage confirmed with confidence! If you cancel, you will get 100%money back (except insurance premiums) up to 48 hours prior to departure. Click here for details or email us: sales@206tours.com
All Other Pilgrimages Remain As Scheduled
If you have an existing reservation for a 206 Tours Pilgrimage, you will be notified of any changes that may occur to your travel dates or itinerary.
If you wish to cancel or change your reservation, regardless of reason, our standard terms and conditions will apply.
If you booked one of our Oberammergau pilgrimages, please refer to the following terms & conditions: www.206tours.com/terms/ober
Travel Precautions
All Travelers who will be taking a flight in the near future should see this alert on how to keep your space on a Plane safe and clean, which can be found here: Travel Precautions.
Rest assured that we have set into motion a comprehensive policy by calling on all 206 Tours ground suppliers to facilitate extra cautionary steps to mitigate as far as possible risks, these include sanitizing, regular bus disinfection, an inspection of hotels and restaurants for highest standard hygiene, and more.
The wellbeing of 206 Tours clients and staff is the highest focus and priority.
Please join us in prayer for a cure to the Coronavirus, and for all those affected. God bless all!