Client Letters 2009

From: patti henson
Sent: Monday, December 21, 2009
To: stefanie@206tours.com
Subject: Pilgrimage from OH
Hello Stefanie:
I know it's been a few months since I returned from Lourdes, but I will take this opportunity to tell you what a truly wonderful trip through your agency that I experienced. It was my first trip overseas and I was anxious, but EVERYTHING was lovely. The airline, lodging, food, and of course Lourdes itself will always be in my mind and heart.
Thank you so much for helping make my trip a remarkable memory.
Have a beautiful, blessed Christmas.
Sincerely,
Patti Henson
From: ellie porlares
Sent: Wednesday, December 9, 2009
To: Rinda Kanidinc
Subject: The Holy Land - November
Hello, 206Tours has meet beyond our expectations and you really defined well and fulfilled your mission!
Its been a week were home after that pilgrimage of a lifetime and its still in my mind. We were so Blessed with a perfect weather(60-70F),wonderful humble group, (we bonded easily), very smart T Guide (Jack H.) I had a lot of inquiries and he answers them all, Makhmoud our driver was excellent, very good accommodations from Nazareth to Jerusalem not to mention healthy food (enjoyed them all).
From our arrival at Tel Aviv till our departure- since we were separated from the rest of the group you took care of everything which eased our anxities as first timers in Israel I call it The Land of Emotions.
Many thanks to you 206 TOURS. May you'll be Blessed more so you can continue your Mission, taking care of Pilgrims.
May you and your families have the Merriest Christmas and the most Bountiful New Year.
Sincerely,
ELLIE P.
From: Brenda Reyes
Sent: Monday, November 30, 2009
To: milanka@206tours.com
Subject: .....Tour 111, Holy Land, November 16 - 25, 2009
Dear Milanka, Rinda, Kristin, Stefanie and Cara,
With the help of our Lord Jesus and our Blessed Mother Mary, plus all the prayers from you and from family and friends, I was able to join the pilgrimage and stayed well throughout the trip. I am reminded of the Frank Sinatra song, "The Second Time Around", since I did the same 206 tour in November of 2008. It's a very special blessing to be able to revisit God's country. The second time around is "lovelier", " just as wonderful"………. It was another great and memorable spiritual experience!
I am again deeply touched by visiting all the places connected with Jesus and our Blessed Mother. It was an honor and privilege to do the reading at the Basilica of the Anunciation in Nazareth, where I did it also the year before. Since my husband Fred came with me for the first time, we had a marriage blessing at Cana, along with our friends, Art and Mely Lim. The daily Masses, whether it was done inside the Church, outside in a courtyard, or even in a hotel meeting room, were always so inspiring. It was great that Jack was able to get the 6 AM Mass for our group only at the Tomb of Christ in the Church of the Holy Sepulchre. The experience of participating in carrying the Cross at the Via Dolorosa is unforgettable.
Fr. John is a gem! He is spiritual, humble, caring, helpful and friendly. Everybody loves him! His homilies were very inspiring. The day before we left for the United States, we had the usual Mass for the 24th, and we had another special Mass at 6 PM that day, plus the blessing of all our religious items. That was also when we received the gifts from 206 tours (beautiful cross-shaped pendant with the loaves and fishes plus the signed certificate of our visit to the Holy Land). Afterwards, we stayed in the same meeting room for a while, to view the copy of the Shroud of Turin, which belongs to co-pilgrim Joseph, who had it blessed at the Chapel of the Crucifixion at the Church of the Holy Sepulchre. Thank you, Joseph for sharing this with us.
Our tour guide, Jack is very knowledgeable, caring, passionate and sincere. He always asked Father John to do a short reading or a short prayer at most of the religious places we visited. One day, Jack had to take care of funeral arrangement for a beloved cousin, and we had a substitute guide named Hannah, and he did a great job. Despite the deep grief felt by Jack, he continued to do excellent work.
Mahmoud was an excellent driver. He always had a smile and a helping hand.
It's definitely great to travel with good friends. Meeting other people and making friends with them is the icing on the cake. Ours was a very special group of pilgrims! Thanks to all my co-pilgrims for their love, kindness and generosity. May our paths meet again in the future!
The accommodations and food (breakfasts and dinners) at the hotel were also great. Every day, I enjoyed the tuna salad, the baked eggplant, the fresh pear and other fruits and the delicious desserts. For lunch, we had the St. Peter's fish once, falafel or chicken with salad and drink once, different foods at 2 kibbutz restaurants, and local dishes twice just outside Bethlehem.
Thanks to all of you for all the regular and special arrangements for this very special pilgrimage! The 206 tote bag is great, especially with the outside pockets. Thank God, we did not need the poncho you sent us. The Lufthansa flights between Washington Dulles, Frankfurt and Tel Aviv were OK. Coming in from Frankfurt, there was a long line (airline transfers) for customs, but everything ended up well, and we were all able to get on our plane for Charleston.
It was another blessed pilgrimage for me, and I thank you for it. I feel that if a person can take only one pilgrimage in a lifetime, the Holy Land should be their choice. I will definitely share my beautiful experiences with my family and friends. Although many of them are not able yet to join in the pilgrimages, they already know that a Catholic pilgrimage with 206 tours is the way to go.
You are all part of a most wonderful ministry, and may God continue to bless you and your company.
Love, joy and peace,
Brenda
From: Andrea Thibodeaux
Sent: Monday, November 30, 2009
To: Stefanie Meyer
Subject: Cyber Monday Special
Stefanie,
I just wanted to say thank you to all of you. Our Honeymoon trip to Medjugorje was awesome. John and I had a wonderful time. We enjoyed Sister Isabel, Slavinca, and our host family especially Natasha. Thank you again for all of the wonderful things you guys did to make our trip so special.
Thanks,
Andrea Thibodeaux
From: Gina Faustin
Sent: Saturday, November 28, 2009
To: milanka@206tours.com
Subject: Holy Land Tour
Hi Milanka,
Happy Thanksgiving to the whole staff of 206 Tours!
We had such a great time in Israel. Everything went well & the weather waswonderful. The choice of hotels wasvery good, the food was delicious and plentiful, I think we all gained something. The visits were well coordinated and our spiritual advisor " Father Charles" was a God-sent.Our guide George is simply superb, extremely knowledgeable, very patient andhas a good sense of humor. We always felt safe and welcomed every place we visited. This was my third visit to the Holy Land and a very memorable one.
Thanks,
Gina
From: Mr. Gamboa
Sent: Saturday, November 28, 2009
To: rinda@206tours.com
Subject: Medjugorje - Nov. 5-13
Hi Rinda,
Thank you for a making the pilgrimage happen on such short notice. Slavenka was an excellent guide and we had a large but very good group of pilgrims. Please reserve two spots for the May 2010 pilgrimage.
Best wishes,
Ed Gamboa
From: cflores
Sent: Saturday, November 28, 2009
To: Rinda Kanidinc
Subject: The Holy Land - November
Hello Rinda,
My pilgrimage to the HolyLand went on very smoothly thanks to the well planned arrangements by 206 tours. We had a very knowlegeable catholic tour guide and a very competent bus driver.My spiritual pilgrimage has strengthen my faith and spititual cinvections . l love the early morning Mass at the church of the Holy Sepulcher at the tomb of Jesus. l felt very blessed to be able to attend this Mass. Also we were privileged to have our spiritual director Fr. John with us giving us the opportunity to attend daily Masses in different churches and giving confessions. My experience with 206 tours had been excellent.
thank you
From: Mary and Paul
Sent: Friday, November 27, 2009
To: rinda@206tours.com
Subject: The Holy Land - November
Rinda,
Our lives have been enriched by the wonderful experience of visiting the Holy Land of Israel. This is our second pilgrimage with 206Tours (Italy in 2007) and we will not use any other Catholic Tour groups for our future pilgrimages. 206Tours does a magnificent job of providing a deep spiritual journey with an educational perspective and a "see the country" experience. It was truly a blessed trip for us and the Bible came alive as never before.
We especially want to give praise to our Catholic tour guide, Nabil, who was energetic, informative and deeply spiritual. He carried and read from the Bible throughout the trip and brought together the history of each site in relation to our Christian heritage. Nabil kept our group moving and got us in front of crowds on several occassions. We especially appreciated getting out early for the Via Dolorosa and Church of the Holy Sepulcher. He did a great job.
Our driver Raouf also was very professional and friendly. He did an excellent job getting in and out of all the tight places and was always there to greet us.
We feel especially blessed to have had the spiritual guidance of Fr. Charles Puthota. We can say enough good words in praise of our pilgrimage. Keep up the good work and we will pray for you, and recommend you, of course, to everyone considering a pilgrimage.
God Bless
Mary & Paul
From: steve kaiser
Sent: Saturday, November 21, 2009
To:
Subject: Tour 37 2009
Dear 206 Tours,
We would like to thank you for your professionalism in setting up this tour package for us. The tour guide, Jesus Garcia, did a superb job with the knowledge of the country in communicating with the people to accomodate us even when things did not go right. He quickly straightened things out for us. Also his religious training greatly helped us in our pilgrimage. We highly recommend him for his professionalism as a tour guide. He has a very good personality that made us all comfortable.
Thank you very much,
Steve & Vicky Kaiser
From: Lorraine Murphy
Sent: Saturday, November 21, 2009
To: rinda@206tours.com
Subject: Lorraine Murphy's feedback...
Dear Rinda,
My trip to the Holy Land was a beautiful experience and one that I will never ever forget. The accommodations, tour guides, bus rides – all were absolutely wonderful. I have recommended your tour to several friends because I feel certain they will be more than pleased. Thank you for an everlasting trip!
Warm Regards,
Lorraine Murphy
Sent: Friday, November 20, 2009
To: 206 Tours
Subject: No subject
Dear Mrs. Lachman,
First, I would like to bring to your attention the outstanding work of one of 206 Tours employees, Gaia Meuti. Gaia was our guide last month for a religious pilgrimage to Italy with our group from Walpole, Massachusetts. Gaia was perfect in every way. She was extremely knowledgeable, accessible, patient and helpful but as importantly, or perhaps even more so, Gaia was kind, friendly, fun and a joy to be around. Gaia was a very large factor in why we had such a wonderful experience. By the end of the trip we considered her a member of our group and a friend. What better compliment is there than this? Gaia has been invited to come and visit several of us in the U.S. and we certainly hope she will. I cannot say enough good things about her. 206 Tours is very fortunate to have such an amazing employee.
I also would like to bring to your attention the work of our bus driver, Luciano (I apologize I do not have his last name). Luciano, like Gaia, was exceptional and a wonderful addition to our group. He was an extraordinary driver, he was always helpful and attentive and he, too, was fun and a joy to be around. We had an individual in our group in a wheelchair and Luciano did everything imaginable to assist us with getting the person on and off the bus. He was just terrific. Luciano and Gaia also work extremely well together which is certainly to the benefit of everyone who travels with them.
Second, as you can see I have enclosed some of the items from our trip which are reusable. We are avid recyclers and hope that you can put these to use again. If you do not already have a practice regarding reusing/recycling items like lanyards, I would like to ask that 206 Tours consider encouraging its customers to return such items for reuse. While in Italy, we were each given several sets of earphones by the independent tour guides. Again, if there is any way to encourage travelers to reuse the first set of earphones for the duration of the trip, this would also cut down on waste. We are going to have a pilgrimage group reunion shortly and if you are interested I can round up more lanyards, ect. and send them to you. I do not want to be a pest, but this type of responsible behavior has immeasurable benefits for the environment, the company and ultimately all of us.
Sincerely,
Kathleen P. Stubbing
From: Mark Princisvalle
Sent: Wednesday, November 18, 2009
To: Rinda Kanidinc
Subject: The Holy Land - October/November
Hello,
This was my first time to the Holy Land & I would like to thank 206 Tours for making it a life transforming experience. Prior to this, the places of the Bible were just arbitrary names, but (thanks to my pilgrimage experience) after having encountered them, for me, the Bible (the Rosary, Angelus) has come alive. I'll never look at Scripture the same way again!
Our spiritual advisor, Monsignor Kenneth Steffen, was brilliant in his organization and preparation in leading us every step of the way. He is a very holy priest whose love for Christ & souls is evident in his charity & zeal. We were also extremely fortunate to have Fares Saba (an Israeli Christian from Nazareth) as our guide. Fares is extremely knowledgeable & gifted at what he does and didn't miss a beat in explaining A to Z about all the holy sites. Great job 206 for organizing a great pilgrimage & co-ordinating a brilliant team!
Sincerely,
Mark
From: Catherine Dollahite
Sent: Monday, November 16, 2009
To: 'Billy Ryan'
Subject: Graceful Living Ministries Pilgrimage to Medjugorje
Hi Billy,
I want to thank you for all your support! Our pilgrimage to Medjugorje was absolutely wonderful. Every detail worked out smoothly. We all were blessed every step of our journey! I appreciate all that you set up for us and for handling all our questions and concerns with grace and ease.
Thank you so much. If the Blessed Mother calls me back to Medjugorje, I will contact you!
Holiday Blessings to you and your family.
In Gratitude,
Catherine
Graceful Living Ministries
Rev. Catherine Dollahite
From: nick grasberger
Sent: Monday, November 16, 2009
To: Rinda Kanidinc
Subject: Medjugorje - November
Dear Rinda,
Our pilgrimage was very good, except for the weather which rained quite often. Our guide was Slavena, and she is above excellent!! She even interpreted at several talks by Ivanka and Fr. Danko.
Medjugorje gets in our blood, and this was our 4th trip. God willing, it will not be our last. There is simply no place on earth like Medjugorje, with its peace, serenity, lack of contact with the outside world, and the services at St. James with hauntingly beautiful music.
Thank you for arranging this most memorable pilgrimage !!
Nick Grasberger
From: Barbara Muzzarelli [
Sent: Monday, November 16, 2009
To: Rinda Kanidinc
Subject: The Holy Land - October
The accommodations were 4+
Meals great and more than enough
Ferris (our guide) was knowledgeable, courteous and patient
Mons. Steffen provided for our spiritual needs
Con: needed 3 plane changes both ways very strenuous on a 70 y/o esp. running to get next flight. Please, 1:30 min not enough time esp if plane late and had to go from domestic to international terminals and customs
Other than that very pleased with experience.
Barbara Muzzarelli, RN, CIC
From: Carl Pottorff
Sent: Sunday, November 15, 2009
To:
Subject: Our Pilgrimage
I just wanted to write a quick note to tell you how wonderful our pilgrimage was! It was spiritually everything I had hoped and prayed it would be. Our guides (Anne and Slavenka) were wonderful. Father Joseph was very kind, prayerful and his spiritual leadership was a huge help to me. I believe that since our group was so small that it truly made the journey even better.
I do plan on returning and I definitely will go with 206 tours again!
Thank you so much and please know that I came back spiritually recharged and ready to face every life.
From: Suzanne
Sent: Saturday, November 14, 2009
To: Rinda Kanidinc
Subject: The Holy Land
Hi Rinda,
This was my first trip to the Holy Land and also my first pilgrimage. It really was a life-changing experience! I am especially blessed to have had Fares Saba as the tour guide. It was wonderful to learn from an Arab Catholic who was actually from Nazareth. He gave me insight into what it is like to be one of the few Christians in the Holy Land, and was very knowledgeable about every person/place we visited. He even went out of his way to arrange a visit with the Latin Patriarch of Jerusalem. After listening to Fares and meeting other Catholics in the country, I now feel a strong solidarity with my fellow Christian brothers thousands of miles away. The Catholic Church truly is universal.
I also want to thank Msgr Steffen for leading our group. He celebrated beautiful daily Masses, prayed the Angelus and Rosary with us each day, and explained the biblical passages related to each site we visited. Without him, it wouldn't have been a real pilgrimage so thanks be to God for giving us a wonderful priest!
This pilgrimage reinforced my faith and was a blessing in every way. Thank you 206 Tours!!
Sincerely,
Suzanne
From: Rosedita Parlanan
Sent: Wednesday, November 11, 2009
To: Rinda Kanidinc
Subject: The Holy Land - November
Thank you. We arrive safely Nov. 10 in Boston. The Pilgrimage was excellent, this is my first time and I'm looking forward for future pilgrimage with friends, and I will higly recommend this to them 206 tours. the hotels where we stayed are excellent ( all hotels) the tour guide Fares Saba, he's excellent, very talented with good connections, hope you'll always take him as a tour guide, also the driver Ravea is also excellent so with Msgr. Steffan is also excellent. Again, thank you, hope you'll continue and keep up the good work. Regards.
Rosedita Parolanan.
From: The Order of the Sacred and Immaculate Hearts of Jesus and Mary
Sent: Friday, October 30, 2009
To: Kristin Shea
Subject: Thank you!!
Dear Kristin (and all at 206 Tours),
Thank you for helping us to have such a blessed pilgrimage to Rome, San Giovanni and Medjugorje. We are so grateful to our Lord for all of the blessings and graces that He showered us with in each of these places. We were so surprised and EXCITED to receive the canonization tickets. On our way over to Rome we met so many people going to the canonizations and many thought that we were going for St. Damian because we had the Two Hearts patch on our habits. They thought that we were from his congregation. So to arrive at the hotel (which was lovely, by the way) and have 8 tickets waiting for us was a SUPER gift. (How sneaky of you!!!) What a gift it is to be a part of the church and to be able to visit such holy places! Thank you once again for all that you did to make it happen. Thanks also for the Magnificats and the ponchos. Both came in quite handy. 😉
May the Two Hearts continue to bless and guide your ministry!
In Them,
Sister Teresa (on behalf of all of the members)
Sister Teresa of the Two Hearts, osihjm
www.HeartsofJesusandMary.com (740) 946.9000
The Order of the Sacred and Immaculate Hearts of Jesus and Mary
48765 Annapolis Road
Hopedale, OH 43976
www.HeartsofJesusandMary.com
(740) 946.9000
twohearts1@mac.com
Sent: Monday, October 26, 2009
To: 206 Tours
Subject: No subject
Dear Milanka M. Lachman,
Please accept my apologies for writing this letter so long after the Pilgrimage. Having computer problems and not the means to repair them. I've decided to personally write you the old fashion way…pen and paper.
This letter is in praise of the hard work our guide Xavier, did for Lorraine Echeveria's Lourdes Pilgrimage in late July this year. Our needs were many and varied and he worked long hours answering them.
Xavier(sp?) was always professional and had a kindly smile in greeting us. It was apparent he lived and believed his Faith as we all try.
This was my 9th Pilgrimage to Lourdes. You could say I've made a "Nouvena" in Pilgrimages. Xavier was in my opinion our best guide and he had the most number of participants in his case. Xavier not only guided us through St. Berreditte's footsteps but also shared his Faith always participating never only in our daily Masses and sharing his life's Miracles as well as listening to ours.
There were many children in our groups to which he was so attuned. One day after noticing the children's interest taken passing stores mean the Grotto he purchased personal souvenirs for them like a little pet(porcelain) on a small pillow. What smiles of surprise and delight he brought on their faces!
Xavier always answered our questions in understandable English. If he didn't know the answer he always returned to us with the correct information when he traced it down.
As you can tell he has my highest respect because he shared and lived his Faith. I wish I could have had more time with him as our guide. IT was very difficult to say " good bye" at the airport. He sensed my sadness and assured me "our paths would cross again in God's plan." Xavier chose the right words to soften the ache in my heart at parting that day.
Soon, we're having a reunion with this year's Pilgrimage group. I know there are many among us who may not write you but share my opinion of the wonderful work Xavier did to make this such a Blessing in our lives.
Respectfully and thank you for all your company has done in making
Pilgrimages possible,
Joanna E. Norman
From: Rosalie from Fairbanks, Alaska
Sent: Wednesday, October 7, 2009
To: Rinda Kanidinc
Subject: Fatima, Spain and Lourdes - September / October
Thank you for the trip. Mostly everything went as scheduled except for suitcase-related difficulty. I especially thank you for the birthday cake shaped like a mountain (Mount McKinley) and made of light chocolate and strawberry ice cream. It was delicious. The special cake served at the end of the trip was tasty, too.
Jesus, the Spanish guide, was courteous and excellent. Fr. Robert was very pleasant and nice. The other pilgrims were, likewise, wonderful…. meshed very well. We looked out for one another.
Of course, the places we visited were wonderful. I had strong connections with St. Teresa of Avila. Loyola, and Lourdes. The trip took me back in memory and, hopefully, forward in spirituality. I have both strong hearing limitations and increasing walking difficulties, so I did have trouble hearing everything that was spoken and did mind some of the hills we had to climb and the pace we, sometimes, went at. The climbs, steps, and pace were, however, less hectic than in Jerusalem.
Lufthansa is an excellent airline. United is not particularly good, but it got us there.
Rosalie
From: Theresa Weber
Sent: Monday, October 5, 2009
To: Rinda Kanidinc
Subject: Italy & Medjugorje - September
Good morning,
The trip was awesome. What made it really special was the people that we toured with. In Rome, we also had Rev Msgr John Sabia. He was such a blessing to have with us, and we really learned so much from him. In Medjugorje, we also had a wonderful tour guide, and our host family was great. They really made us feel at home, and served some delicious American style meals, which I really appreciated.
I think what we were missing was not having our own priest with us in Medjugorje. There were several groups that did have priests, and with Fr Sabia with us in Rome, we were hoping we would have one with us in Medjugorje. I will always appreciate what you and your tour group did for us b/c we could not have done it on our own.
Take care,
Theresa
From: Charles Machado
Sent: Thursday, October 1, 2009
To: Rinda Kanidinc
Subject: Feedback Portugal, Spain, France & Italy (48 Sep 2009)
Dear Rinda,
My wife and I would like to take this opportunity to thank you and your entire team for the dedicated service that you give your clients. It was really a wonderful and spiritual experience that we had during our pilgrimage and I will surely recommend 206 to everyone of my friends because it is a once in a lifetime trip that we make and 206 did not leave out anything from it. The visits to the various shrines, the Masses in chapels and Churches specially selected, was something that we would only dream of, the excellent schedules as well as the wonderful tour guides that 206 provided us with, made our pilgrimage an experience out of this world. I would say that we were truly blessed to experience all that we did.
Fr. Franco and Msgr. John were excellent Spiritual Directors who made sure that all our spiritual needs were met, their Masses, homilies and rosaries as well as general information that they gave us regarding all the sites we visited was invaluable and we took with us a treasure trove of information and spiritual experience from them as well as from the unique sites that 206 specially selected for us.
I would also like to comment on the excellent hotels that 206 made arrangements for us to stay in. Every one of them was par excellance and all of them provided us with all the amenities and services that we would expect and there were no complaints at all, thanks to 206 Tours. What was also amazing was that during our last leg of the pilgrimage, our group was down to only 6 of us but 206 kept their commitments and went ahead with all their plans, at a loss to them, I am sure, but with high regards to their clients. The arrangement made for my wife and me from Assisi to Rome and the private transport from Rome station to the airport too will never be forgotten and all my wife and I can say is MAY GOD BLESS YOU AND YOUR TEAM FOR THE WONDERFUL SPIRITUAL EXPERIENCE YOU GAVE US AND MAY HE ALWAYS KEEP YOU ALL IN HIS LOVING CARE.
Thank you once again and whenever the opportunity arises again, be rest assured that we will always use 206 Tours for our pilgrimages.
Affectionately,
Charles
Kuwait City – Kuwait
From: Fr Ray Orama
Sent: Wednesday, September 30, 2009
To: Rinda Kanidinc
Subject: Medjugorje Pilgrimage – September 10, 2009
Hi Rinda,
The trip went well; I was there last in November of 1998 and going back was an obligation since I have promised to the Blessed Mother that if she got me ordained I would go back. My vocation and priesthood as many others is a result of a visit to Medjugorje. I had to go back to give thanks to Mary. This trip was also my yearly retreat and although the place has changed quite a bit, it is still a placed where one finds peace and time to meditate. I am looking forward to be able to go back hopefully next year.
Thanks for all the help in making this trip possible.
Fr. Ray
From: Terry Hicks
Sent: Friday, September 25, 2009
To: rinda@206tours.com
Subject: All Italian Shrines - September
Rinda,
The trip was more than I could have ever imagined!! We had Mass in places that are so sacred. I know that only a few pilgrims are blessed to have Mass in these places. Mass at St Peter's basilica near the tombs of the popes, St Michael's cave, St Francis' tomb, Chapel behind the eucharistic miracle at Lanciano, St Mark's cathedral just to name a few. I know that Vincenzo, our guide, is extremely good and made many of these arrangements. He always made sure we knew when and where to be. Anytime we asked for anything, he did his best to provide, usually successfully. He is very patient and has a great sense of humor. If we only learned one word in italian it was "Andiamo" let's go! Father John Struzzo was a huge blessing. His insight and guidance helped us each step of our journey. He helped us understand and grow in our faith and become closer to God in the process. 206 tours made taking a pilgrimage so easy. This is my first pilgrimage and I didn't know what to expect. The arrangements were perfect, the hotels amazing and the entire experience lifechanging. I hope to make another pilgrimage in the future and when I do, I'll definitely arrange it with 206 tours. Thank you.
As someone said to me in Assissi,
Go With God Today,
Terry Hicks
From: Fr. Joe Mundakal
Sent: Thursday, September 17, 2009
To: milanka@206tours.com
Subject: Guadalupe
Dear Milanka, Linda,
Thank you very much for your quick and encouraging reply. I know when we go with 206 Tours, it is easy and enjoyable, as I always have experienced, that is reason I come to 206 Tours!
God Bless you all for your wonderful ministry!
Sincerely in our Lord,
Fr. Joseph
From: Fr. Anthony Lopez
Sent: Monday, September 14, 2009
To: Milanka Lachman
Subject: Lisbon, Fatima, Spain, Lourdes, and Italy – August 09
Dear Milanka,
I am still reveling for the blessed experience of a "dream come true"!! What an experience! It was unforgettable and truly a blessing from God!!
No doubt, from some of the feedback you've gotten, I can only say that our Tour Guide in Spain, Jesus Garcia, was absolutely marvelous. Please relay our thanks to him for all he did for us. All in all, 206 tours was incredible.
For me, the best part was being able to say Mass at all the beautiful, holy places!!
Thank you so much for the great communication. Rinda and all your staff were wonderful! I hope to someday again have the opportunity to serve with your company again.
May God Bless you all with every good grace! Peace in Christ,
Fr. Anthony Lopez
From: Grisel Choter
Sent: Sunday, September 13, 2009
To: rinda@206tours.com
Subject: Fatima, Spain, Lourdes, and Italy-August
Hi Rinda,
This was my first pilgrimage and for the most part exceeded my expectations. I had the most wonderful, awe inspiring time in Fatima, Spain, Lourdes, and Italy. I loved the fact that we landed up being a small group. This made it more intimate and gave us the opportunity to get to know one another. I do have to say if it was not for our "Fearless Leader" Jesus Vivas Garcia; it would not have been so. He was an extremely knowledgeable, friendly, attentive, patient, and caring tour leader who was just one of the pilgrims on this tour. He was with us every step of the way and participated in every aspect of the tour. There are not enough words to say what a lovely, spiritual human being he is. And I must not forgot our bus driver Juan who was able to beautifully manipulate those treacherous winding roads with great skill and ease. I cannot say the same for the Italy portion of the tour. When we flew into Italy we had to search for our tour leader and after left pretty much to our own devices. The first two evenings he just dropped off our group at a restaurant a number of blocks away to cater to a friend of his that was in town. Many of our tour group were elderly, walked with canes and had a great deal of difficulty making it to the restaurant. Also a few members of our group had special needs for meals and our tour leader did not bother to make arrangements for their meals. He had to be told to do so. Thank heavens for Fr. Anthony Lopez, our spiritual leader, who took charge of the situation and also made the tour guide participate with the group.
All the all, the pilgrimage was a wonderful experience and I would definitely recommend it. I do plan on going on another pilgrimage in the future and it will be with 206. I do wish to thank Rinda Kanidinc and the 206 staff for all their help, support and patience with the planning of this trip.
Sincerely,
Grisel Choter
From: Justin Esser
Sent: Friday, September 11, 2009
To: 206 Tours
Subject: 206 Tours in August 2009 guide: Jesus Vivas Garcia
I took a pilgrimage through 206 Tours and part of it was run by a man from Okay Tours named Jesus Vivas Garcia. Jesus was an extraordinary tour guide leader. He was so attentive to details making sure things ran smoothly. I lost my luggage on the way over and he was relentless with the airport tracking down my luggage and ensuring that I got it in a timely manner. He made sure our luggage was taken care of along the way and that our needs with food and other things were being met. He really wanted to make sure our pilgrimage was the best. I was profoundly touched that he joined us for Mass. He showed great care for the priest who accompanied us and he wanted to make sure that Father Anthony had everything he needed to celebrate Mass. The second half of my pilgrimage was run by someone else and many people in our group commented how much they missed Jesus and his good work. In the future when I go on my next pilgrimage, I am going to inquire whether or not Jesus is leading the tour. If he is, I will definitely sign up for that one no matter where it goes! Please keep my address and send me updates to when he will be leading various pilgrimages because I'd like to start planning my next trip. You really should reward this man for his work because he did a fantastic job. He is certainly an asset to your company.
Sincerely,
Justin Esser
From: Theresa Goenner
Sent: Saturday, September 5, 2009
To: Rinda Kanidinc
Subject: The Shrines of Italy - August
Hi Rinda!
I am very happy with our 206 Tours, and if I was so blessed, I would choose you for another tour in the future. We carefully read the information booklet you sent us ahead of time and that had us prepared for the trip. Everything went as your schedule promised. Drivers picked us up promptly, tour guides were knowledgeable, and the hotels and food were excellent. Our local guide in Medjugorje took us to key places, praying with us as we climbed Apparation Hill, and she got us set up to know where to spend our free time for the rest of our visit. Our local guide in Rome was a walking encyclopedia and had us laughing along the way. Best of all was to experience Mass at some very holy places, like the tombs of St. Benedict and St. Francis of Assisi, at the Eucharistic Miracle and the Catacombs. One suggestion I have is to ask the tour guide to allow 10-15 minutes after Mass for people to pray before having to move on to the next location. I wanted time after Mass in those beautiful places to make a prayer of thanksgiving.
Thanks for a great tour and God bless your ministry!
Theresa Goenner
From: JOHN PIRRO
Sent: Monday, August 31, 2009
To: rinda@206tours.com
Subject: The Holy Land - August
Hi Rinda,
Just a quick note about our trip. It was fabulous, Spiritual rewarding etc. Our tour guide was the best and Fr Gary was the icing on the cake. He was rewarding and inspirational. Downside of the trip: 5 am flight from Israel could have been later if possible and in your pre trip instructions you suggested shekels. Every item was priced in dollars. Taking a trip with 206 tours again ABSOLUTELY. Would I recommend 206 tours you bet I will.
Pax et Bonum
JOHN A.PIRRO
From: Den Todaro
Sent: Friday, August 28, 2009
To: Kristin Ryan Shea
Subject: testimony
Hi Kristin,
Back in March of 2009, I became very sick with intestinal problems. I thought it would pass in a few days since we were in the middle of flu season. This problem persisted for several weeks so I went to my doctor for some relief. It seemed that no medicine or home remedyappeared to help. I went back to my doctor after two more weeks and was scheduled for a colonoscopy to find out what the problem was. As it turned out I developed a severe case of ulcerated colitis and was literally living in the bathroom. Over the next two weeks I lost 30 pounds had no energy and began missing many days of work because of it. Well as you might expect, I collapsed and ended up in a Pittsburgh hospital. It became so bad that one doctor examined me and said "I've been a doctor for 28 years and can find no reason why you should be alive today". I told her I'm going to Medjugorje on May 31, so your job is to get me in shape to go. Well, that doctor and six others said traveling was definitely out of the question. To make matters worse my mother suffered four heart attacks in three days and had to be scheduled for heart by-pass surgery. As it ended up three day beforeour departure date my mother had her surgery.
By now I was still taking Massive doses of medicine. I was still living in the bathroom, was concerned about my mother, and was scared to death to leave town. In fact on the way to the airport there was still a 50 – 50 chance that I would back out and not go. What was I to do, I had 29 others depending on me! To make along story short, I called the hospital where my mother was and ask the nursing staff how her vital signs were. Thay informed me thatshe was stable and recovering well. I said to them, "Tell my mother I'll see her in 10 days". At the airport I said to Fr. Bill Kiel who was traveling with us,that if our plane was delayedone minute I was getting off, and I was dead serious. So I boarded the plane still very sick, thinking my worst fears would come true that when we arrived in Medjugorje I would have a message waiting for me to come home for my mother's funeral, and my heart was just not in it. At that last moment I just prayed and said "Jesus what are you doing to me, I thought it was my mission for you to take multitudes of people to Medjugorje? So I'm giving this trip toYou, You take over, I'mjust along for the ride! We finally departed. As I looked out the window I could hardly see from the tears in my eyes from feeling so guilty about leaving. At the same I was praying," Jesus I trust in you" please get me through this.
Well the trip went very well, and the 10 daysseemed like 10 minutes. As we flew home, I realized I had just flownover the Atlantic 9hours without getting up one one time to use therestroom! What's going on here?
Several days after we returned I had an appointment to see a physician in Pittsburgh, Dr. Fusko, a specialist dealing with conditions like mine,which I was now told bysix doctors that this condition is for life, there is no cure, you just have to try and control it.
As you might expect I now had my third colonoscopy so he could see for himself what we were dealing with. Thirty minutes after the procedure Dr. Fusko came into the recovery room and said to me "who drove you here?" I said "My brother." He replied "wait here I want to get him." He brought my brother into the room and said to himpay close attention because you brother is not going to remember this conversation. Well, I remember every word of it. He said, "If I had not known your condition before from reviewing all the prior tests and reports, I would say to yougo home, there is nothing wrong with you. I found no ulcers, no colitis, no Crohn's disease, no cancer, no polyps, no bleeding, no nothing! Just to be sure I did 12 biopsy's." A week later he called me and said to me, "Stop taking all your medicine, the biopsy's are all negative. You must have been mis-diagnosed I said to him, could 7 doctors before you have been wrong? It was then I said to him, no," It was Medjugorje." He had heard of Medjugorje but was not a believer. As it appeared, there were three others on that trip consisting of 30 pilgrims who had some type ofcure other than myself.
Looking back I think sometimes God will test your faith then reward you when you least expect it. Over the years I've taken many people to Medjugorje. Some of them I know for a fact had only several months to live. Each one of them were cured and arealive today. I've seen this with my own eyes and can testifyto that. Don't kid yourself. Medjugorje is for real, it's the most exciting thing going on in our lifetime. It's Mary's continuationof Fatima.Everyone need's to go to Medjugorje andexperience what's happening there. When I tell people about it, I tell them it's not like a vacation, but it's a spiritual vacation in which your faith WILL be renewed, you will experience true peace and marvel at the daily occurrences going on there. I now have over 100 letters from past pilgrims who have accompanied me and they all say the same thing. They say, "this was the most incredible trip of my life." I can only agree with them.
Den Todaro
God Bless!
From: Sister Bernadette Barrett
Sent: Thursday, August 27, 2009
To: rinda@206tours.com
Subject: Lisbon, Fatima, Spain and Lourdes - August
Dear Rinda,
The pilgrimage was wonderful–the only fly in the ointment was not enough time in a few places (Salamanca, Avila, Burgos), but that's where the geography works against us a bit. I wouldn't have missed Mass at Alba de Tormes for anything! To have Mass in the chapel of the Carmel, with St. Teresa's relics above us & to receive from the chalice used by San Juan de la Cruz! There are no words for such joy. Juan was a super driver–I'm glad he was negotiating those tight spots and not me! The local guides were very good, especially in Lisbon & Avila. The real gem, however, was Jesus Vivas Garcia, our guide throughout. He was fun to be with, very caring and attentive, very knowledgeable…well, you get the idea. Superlatives sound pretty lame. What I especially appreciated was his arranging for those of us who were less mobile to gain access to spots we might not have seen if we'd had to walk very far(for example the apparition site of 19 August at Fatima). His evident delight in sharing the treasures of the trip with us was infectious. Thank you for the pilgrimage of a lifetime, and for letting us go even with a small group–that was actually a real plus for us, though undoubtedly not so great for the bottom line.
Yours in Christ,
Sr. Bernadette Barrett, OSB
From: Martin J. Bancroft
Sent: Wednesday, July 15, 2009
To: milanka@206tours.com; rinda@206tours.com; liz@206tours.com; sandra@206tours.com
Subject: Italy and Poland
Greetings: A million thanks to all @ 206 Tours, especially to Milanka!
Italy- It was wonderful and the pilgrims were wonderful. Vincenzo was terrific. He lives in Rome and is very knowledgable and very polite. Poland – The Divine Mercy, was unbelievable…as was Aushwitz. The Black Madonna was incredible…as was the Salt Mines. We had great tour guides @ every stop. Thank you for allowing me the priviledge of being the chaplain for 206 Tours. I will write again and visit.
Peace,
Fr. Mickey
From: Koch, Kathleen
Sent: Monday, July 13, 2009
To: Linda Antonelle; Sandra Savic Lippold
Subject: Our Thanks
Dear Linda and Sandra:
Now that the dust issettling, I wanted to send a more formal "thank you" message for your many efforts to make our pilgrimage a blessed and memorable one. It was, indeed, the trip of a lifetime.
From theoutset, this was a first-class experience, with a first class guide. When we arrived at the Lisbon airport, and were greeted by our guide, Javier Gomez, carrying "the best bottled water in Spain" — putting my mother's mind at ease about finding tasty water abroad. Javier then proceeded to take care ofeverydetail with grace and a smile. He patiently answered all of our (sometimes repeated) questions. He ensured that every mealmet our needs. He freely shared his knowledge and his devotion to Our Lord and Our Lady. He cheerfully pushed my mother's wheelchair up precipitous inclines. He customized our activities so that we could gain the most fromeach day without overtaxing my parents..He found ways that we could participate– leading theRosary in Fatima,singing in the choir at Lourdes — that allowed us to experience our pilgrimage more profoundly. He"tuned in" toeach concern and interest. He was patient,kind, and generous of spiritat every step.My father will never forget how Javier helped us to celebrateDad's birthday on our last night,creating memories that we will always cherish.
The hotels were lovely and well-located. The transportation ran smoothly and exceeded our expectations. With Javier handling the translating, we felt welcomed at every turn. We were well-prepared for our adventures, thanks tothe informationprovided by 206 Tours and your answers to our manypre-travel questions.
Thank you for your guidance, support, and service.Your advice was spot-on and I frequently found myself thinking "This is just as Linda had described." I could notimagine a more personal andextraordinaryexperience.
And thank you for your friendship along the way! I hope that you will keep me up on life in the north. My fingers remain crossed that our paths with cross one of these days.
From my entire family, our deepest thanks.
Blessings,
Kathleen
From: marian Stankiewicz
Sent: Wednesday, July 8, 2009
To: 'Rinda Kanidinc'
Subject: Poland - June
Dear Rinda,
Tour Number 168 to Poland was wonderful. I recommend it to all your customers. Paulina was an excellent, caring, knowledgable guide. I enjoyed learning all about Poland. I have relatives living there, and was able to speak to them by telephone, which means someday I will return to Poland to visit my relatives and do some of the things in Krakow I did not have time to do on this tour.
Two very special moments for me were: in the shrine of Jasna Gora, we were present at the time of consecreation of the Mass as we knelt before the painting of Our Lady of Jasna Gora. Then we were allowed to reenter the chapel of the icon a second time. My time at the Divine Mercy Shrine was very special. I lectured at our morning Mass and the readings were very appropriate for that day. Some of us stayed behind when the group left and I spent time praying in the chapel and participated in the Divine Mercy hour at three o'clock. The food was delicious and I was able to eat almost all my favorite Polish foods. I heard polish music which is not quite like our Polish music. From the hotel room in Krakow, you can hear the hoofbeats of the horses as they draw the carriages around the square of Krakow. Paulina kept telling us Krakow is the most beautiful city in Poland, I think she is right.
Thanks for a wonderful tour.
Marian Stankiewicz
From: Steve Piga
Sent: Wednesday, July 8, 2009
To: Rinda Kanidinc
Subject: Rome & Medjugorje - JUNE
Dear Rinda,
Yes, I enjoyed the pilgrimage very much and would go back again. The guides, Karin and Slavenka, were both excellent people. The housing was very good, food good and plentiful, locations superb, transport fine, program well thought out and executed well. The heat was terrible but there was time to recover from it. I really have no complaints. My fellow pilgrims (and I) groused about this or that sometimes, but they had wonderful times and were drawn closer to God and to Mary too.
Yours in Christ,
Rev. Steve Piga
From: Pat
Sent: Tuesday, July 7, 2009
To: kristin@206tours.com
Subject: Welcome Home from Medjugorje! with Michelle Lennon
Kristin,
What a wonderful trip! To walk in the mountains where our Lady appears is a magnificent honor.
The house where we stayed could not have been nicer. The family made you feel very much at home. The food was delicious and to be in walking distance of the Church and mountains was wonderful.
God Bless,
Pat
From: "R. Marie Chacon"
Sent: Tuesday, June 30, 2009
To: Rinda Kanidinc
Subject: Re: Fatima, Spain and Lourdes - June
Dear Rinda-
I want to let you and your entire organization know how wonderful my tour to Fatima, Spain and Lourdes was. Everyday was full of new wonders to see. However, more than that is how much I have grown in my faith. I have always felt close to our Blessed Mother, but after my time in Fatima, I feel her presence so much more. I must say that Fatima was my favorite stop, I really didn't want to leave. She is so present and the feeling of peace is very powerful. If I had a choice, I would have liked to stay in Fatima an extra day and taken a day off of our time in Lourdes. I found the commercialism of Lourdes somewhat distracting.
Of course the trip was made truly a pilgrimage because of our wonderful guide, Jesus. He was so attentive and made sure that we were able to worship without a care about the practical aspects of a trip. He took care of all the details and did a fantastic job. He is a true blessing. I can't say enough good things about him.
Anyway, thanks for putting together this great package for us. It was a true faith experience.
Rose Marie Chacon
From: Abarno, Chris
Sent: Thursday, June 25, 2009
To: Milanka Lachman
Subject: Happy 28th Anniversary!!
Keep up the good work. Thanks to your commitment and love for people, many have been converted by going to Medjugorje through 206 Tours. You are truly doing Our Lady's work, and so I say "Thank you Milanka for responding to Her call". Hope all is well. Take care.
God bless you,
Chris
From: Penny Abbruzesse
Sent: Thursday, June 25, 2009
To: milanka@206tours.com
Subject: Happy Anniversary
A Blessed 28th Anniversary to you and all of your staff as well….
Great Work in bringing thousands upon thousands to Our Lady as she brought them closer to Jesus!
From: Coki Gonzalez
Sent: Wednesday, June 24, 2009
To: Rinda Kanidinc
Subject: Re: Fatima, Spain and Lourdes - May
Our second pilgrimage with 206 was as good as the first one. Monsignor Steffen was absolutely what we expected of a spiritual director and such a dedicated and spiritual PRIEST! One of a kind. And our tour guide, Juan Carlos. I wish I could travel with him again! He went 1000 % for us. He was always willing to help and very, very patient with some of the pilgrims in our group… He's an asset to 206 tours. Rinda, our stay in Santiago and the town where I went to H.S. with our friends and relatives was incredible, I got to see a lot of them and they're were surprised that I remembered so much and so many of them after 34 yrs from my last visit. Thank you for all your help and God Bless You!
Coki
From: Adrianne Patullo
Sent: Thursday, June 18, 2009
To: Rinda Kanidinc
Subject: Re: The Holy Land - June
Hello,
My mother and I were on the Holy Land pilgrimage in June 2009. Father Philip Pavich was our spiritual director and George Said was our guide. The pilgrimage greatly exceeded our expectations. Father Philip, a Franciscan, has many contacts in the Holy Land from the years that he lived there. He and George were both very knowledgeable and generous in sharing their contacts – Father Philip with the Franciscans who run the Catholic sites, and George with the Catholic community in Nazareth, Bethlehem and Jerusalem. In addition to all the fascinating sites included in the tour, we also visited a church that was not on the itinerary (the Milk Grotto in Bethlehem) and received a private guided tour by a Franciscan priest at the church.
The accommodations and food were of excellent quality. The service at the first hotel in Bat Yam (Mercure Suites – one night only) was not very attentive, but the hotels in Nazareth (Golden Crown) and Jerusalem (Olive Tree) were modern, spacious and very comfortable.
The Holy Land itself is an unparalleled destination for Catholics. It was extremely moving to see the actual sites of Jesus' life, miracles, death and resurrection. Learning about the role the Franciscans have played in securing these sites over the centuries was fascinating. Father Philip's spiritual guidance, Masses and homilies greatly enhanced the experience of visiting the Catholic sites. I would highly recommend this tour to other pilgrims.
Sincerely,
Adrianne Patullo
From: Fr. Turner
Sent: Wednesday, June 17, 2009
To: rinda@206tours.com
Subject: Re: Fatima, Spain and Lourdes - June
Thank you for a wonderful and well-organized tour of Fatima and Lourdes. Our guide was excellent, the accommodations and meals superb and the plane arrangements better than I expected. We had a smaller group than usual, but this certainly made the travel and stops much easier. I'm looking forward to my next pilgrimage with 206!
Father William Turner, KCHS, PhD. Michigan
From: Sister MARY IWEANYA
Sent: Sunday, June 14, 2009
To: milanka@206tours.com
Subject: 206 Pilgrimage tour
My name is Sister Mary Iweanya of the Daughters of Divine Love. I am one of the pilgrims of May 10th – 19th , 2009 Pilgrimage with 206 Tour led by Monsignor Kenneth Steffen
I wish to cease this opportunity to express my feelings about the pilgrimage. It was an experience of a lifetime for me which I will always remember and cherish for the rest of my life. With Monsignor as our spiritual leader for the pilgrimage it brings to light when Christ was on earth with His disciples He went about doing good, curing peoples' diseases, listening to them and making their concerns His. Monsignor was just exactly like that for us the pilgrims. We were nourished with the word of Christwith his daily Mass and Homily. He was able to to reach out to all races by our daily participationin the Rosary in different languages of the pilgrims. Each and every one of us were celebrated in our own specific vocation in life. The two consecrated nuns among the pilgrims were remembered in a very special way. The couples and the singles were also celebrated in a very specialway. In fact each day of the pilgrimage was a day of thanksgiving to God. Monsignor also extended his goodness even to the beggars in the streets of Lourdes and Fatima. In fact there is something in him that attracted people to him because all the while on pilgrimage, people from different parts of the world were streaming to him for blessing, advice and the Sacrament especially that of reconciliation. The Pilgrimage programs and sacramentals he gave from his own pocket allowed us to recollect upon our beautiful pilgrimage. We the pilgrimsin his group all felt like brothers and sisters from the same womb.
Our pilgrimage guide Juan Carlos also is a very wonderful man. He has the patience of Job and he was able to put up with us for those ten days. With that we, the Pilgrims named him Saint Juan Carlos of Salamanca. I wish at this point to recommend Monsignor Kenneth Steffen as the leader for many more pilgrimages because he is a wonderful spiritual leader.
Thank you for giving me an opportunity of a life time to travel with your wonderful 206 Pilgrimage Group. I will never forget it and I will pray for you and your pilgrimage ministry.
Sister Mary, DDL
From: Jeffery Bennis
Sent: Sunday, June 14, 2009
To: Rinda Kanidinc
Subject: Re: Lourdes- MAY
The Tour guide did a fantastic job. Jesus was his real name. He went out of the way for everyone. He is from Spain. I would highly recommend him again
From: LINDA PIETRASZEK
Sent: Wednesday, June 10, 2009
To: Rinda Kanidinc
Subject: Re: Greece: In the Footsteps of St. Paul - MAY
DEAR RINDA, IN THE FOOTSTEPS OF ST.PAUL PILGRIMAGE. THIS WONDERFUL HOLY AND PRAYERFUL TRIP HAS MADE A POWEFUL IMPACT ON MY PRAYER LIFE. FR. JOHN TINO WAS A GIFT TO US ALL. WE WERE VERY BLESSED ON THIS PILGRIMAGE. Mass EVERYDAY PRAISE GOD. ALL THE GUIDES WERE EXCELLENT AND OUR CONNECTING FLIGHTS WERE EASY TO REACH. PENNY ABB WAS SUCH A VERY GOOD FRIEND… MAY GOD BLESS HER, AS WELL AS THE OTHER PILGRIMS LIKE FAMILY . THIS JOURNEY TO GREECE AND TURKEY WAS THE BEST EVER. THANK YOU 206 TOURS FOR ALL THAT YOU DO FOR PEOPLE. PEACE AND PRAYERS
LINDA PIETRASZEK
From: M. Garcia
Sent: Tuesday, June 9, 2009
To: Kanidinc Rinda; Meyer, stefanie
Subject: Fatima, Lourdes and Spain, May '09
Hello Rinda and Stefanie.
I am a little late in sending this to you, but I just wish to thank you for giving us the opportunity to enjoy such a wonderful pilgrimage to Fatima, Lourdes and Spain last month – May 10-19. My mother and I can't say enough about how much we enjoyed ourselves; everything about the trip was first rate: the organization, the transportation, the hotels. We must commend our tour guide, Juan Carlos, who kept us on schedule, was very helpful with answering questions, and was very friendly and up beat.
Most of all, we were absolutely thankful for our spiritual director, Msgr. Kenneth Steffen, who was, in our opinion, truly a blessing to be with on our pilgrimage. He is such a kind and generous person who made each one of us feel special. His outgoing and caring personality shone throughout our trip. He was the key that brought everything and everyone together because he let us know that God was with us, present in each one of us. We pray that our paths will cross again. This pilgrimage was a blessed experience which we will never forget. Looking forward to the next one! Thank you,
Maria and Teresita Garcia – Edison, NJ
From: J. Nobles
Sent: Tuesday, June 9, 2009
To: Rinda Kanidinc
Subject: Re: Greece - May
Our 206 fr coryer trip to greece may 1 thru 11 was absolutely marvelous. even the daily reading at Mass were st paul in the venue that we ourselves were visiting!!! it was spiritually moving. our guide john ventiroso was exceptionally knowledgeable and shared all this wisdom with us every step of the way, we also loved our bus driver, petras who always had a smile for us. thank you for a memorable trip and yes i'd certainly like to go with your group again.
love jeannine nobles
From: Mike Regan
Sent: Tuesday, June 9, 2009
To: rinda@206tours.com
Subject: Re: Greece: In the Footsteps of St. Paul - MAY
Dear Rinda;
I had a very good Pilgrimage in Greece. I would like to say it was one of the best trips I have experienced. Fr John was great (the best) with Mass every day and his homilities were right on.. Everyone in the group was very friendly and considerate of each other. Penny was a great group leader.. Everything was excellent; the people, the hotels, the guide Athena, the bus driver, and even the weather.. Thank you very much for everything..
Sincerely, Mike Regan
Sent: Monday, June 8, 2009
To: 206 Tours
Subject: No subject
Dear Rinda,
The pilgrimage was awesome!!! And Jesus and Fr. Nick were not only very helpful, but also such a Blessing to us to be able to have Holy Mass etc. and to feel safe. They were very knowledgeable about everywhere we went and very helpful.
I definitely will recommend 206 Tours for anyone who wants to go on a pilgrimage. And also if I ever want to go on another one I will request 206. God Bless and thanks for everything.
Mrs. Frances D. Hovis
From: Fr. Nicholas Zientarski
Sent: Monday, June 8, 2009
To: Rinda Kanidinc
Subject: France pilgrimage
Dear Rinda,
Just wanted to send a quick note that the pilgrimage to France went very very well and we were all very blessed by God in many ways throughout this past week. I'll give a more detailed review when I get more settled, but for now know that everything went extremely well. God bless and be well.
Fr. Nick Zientarski
From: Paul Miozza
Sent: Friday, June 5, 2009
To: stefanie Meyer
Subject: Fatima, Spain and Lourdes - May
Hi Stefanie,
Wow!!! Best vacation ever, that's all we kept saying, so I said to my wife how can we pray every minute of the day and say this is the best vacation ever. Answer —— Monsignor Kenneth C. Steffen – most holy man we ever met. What a spiritual leader – he should be a bishop. Without preaching, he explained things that we heard all our lives but never understood. He passed out pamphlets and religious cards that emphasized what the itinerary was for that day. He gave blessing to individuals, to singles, to those who were widowed, to member of religious orders. And renewed marriage vows (which was a highlight of the trip). He never left anyone out, what a caring and compassionate man. Please let us know when Monsignor Steffen does another trip because we are very interested in going with him again. He generates a lot of love from Christ. He kept us happy all the time.
Carlos the driver was great. Juan Carlos our tour guide, who we appointed as Saint Carlos on the last night, was better than a mother hen. . He kept his eyes on all 29 of us. He is definitely in the right profession. He is patient, caring and did all the worrying for everyone. He made sure we were happy all the time.
Now for the tour – Imagine 300,000 people gathered at Fatima, Portugal to celebrate the anniversary of the Blessed Virgin Mary appearing to three children. Then visit where they lived, where they are buried and everywhere in between. Imagine seeing the beautiful cathedral/churches of Spain. Let's celebrate Mass in the chapel of St Ignatius home. Imagine Lourdes, France where 17,000 members of the military from around the world gathered. We were greeted by 40 of them from the United States Armed Forces. Why don't we take a healing bath? Pray at the Grotto where Our Lady appeared to St Bernadette, visit all the places in between. We did!!!
Could we be lucky enough to celebrate daily Mass at all these wonderful churches and have this very holy man lead you. Yes, Monsignor Kenneth C. Steffen.
How about the 29 tourists who were all complete strangers when we began this pilgrimage, and after just 10 days together, we are all now special friends in Christ. Credit – Monsignor Kenneth C. Steffen and Juan Carlos.
It was sad when most of us parted after Lourdes.
My wife and I continued on to Medjugorje. We stayed at Family Pansion of Ivanka & Natasa Pandza. She was a great host and a fabulous cook. She was extremely caring and make sure we always had more than enough to eat. We would love to stay there again.
Our tour guide Snjezana Zovko (snow white) was fabulous she took us on tour each day. We climb Apparition Hill (twice) and Cross Mountain. We attended daily Mass and said the rosary at St James Church. The highlight of our visit was on the last night at 10:00 PM we climbed Apparition Hill. We were present when the Blessed Virgin Mary appeared to the visionary Ivan. We could not see Mary, but we could definitely feel her presence. This was the best tour of our life – thanks 206 tours. We thought at time it took longer than necessary to receive our documentation. We would like to especially thank Stephanie Meyer for all her hard work in keeping our stress level low, and getting us advance seating on our flights. She has chosen the right job and is an excellent customer service person. We think she deserve a pay raise.
Thanks Reverend Monsignor Kenneth C. Steffen (keep us informed of your trips). Thanks Carlos and Juan Carlos. Thanks Natasa and Snow White. Special thanks to all of the 29 tourists who became our friends.
Love to all Pauline and Paul Miozza
From: Mr. and Mrs. Mays
Sent: Saturday, May 30, 2009
To: Rinda Kanidinc;
Subject: Re: Fatima, Spain, Lourdes and Rome - May
This pilgrimage was amazing! Our spiritual director, Monsignor Kenneth Steffen, was one of the holiest priests my husband and I have ever met. He always had time to speak with and care for those in our group, as well as, strangers that we met along the way! He made sure that all of us had a special blessing during the trip in a very special way. I loved that he said Mass even on the day of arrival after a long day/night of travel! He must have spent many hours preparing for this pilgrimage. Monsignor appeared to be tireless! Such energy and so caring! Even though we spent only eight days with him, I feel like I have known him for ever. I pray it is God's will that I get to go on another pilgrimage with him again!
Juan Carlos Tejeda was an excellent tour guide. He took care of us like we were family. In fact, we adopted him and by the end of the trip, we all decided he should be canonized St. Juan Carlos of Salamanca. He kept us all on schedule and organized, in spite of ourselves. And he was very knowledgeable about all of the places we visited and I appreciated the movies he provided while en route. We wish him much success and hope our paths cross again.
Our accommodations were excellent. I particularly loved the Grand Hotel Moderne in Lourdes and the Hotel Michelangelo in Rome because of their great location!!!! But the other hotels were just as beautiful! All of our meals were delicious, full breakfast buffets in all locations and three course dinners every night. And service in each of the restaurants was impeccable!
The bus transportation was very comfortable. It is very important that we were NOT packed in like sardines. And Juan, our driver, was very accommodating! Check in and luggage control was flawless. Transportation to and from all airports was on time. It was always a relief to see the 206 sign when we got off the plane.
We made so many great friends on this pilgrimage, that when we left for Rome, and some left for home, we were hugging each other like we had been friends for years, not just days. Some pilgrims left with us from Toulouse to spend a couple of days in Rome. Father Edwin Paniagua was our spiritual director in Rome. He did a great job in the short time we were in Rome (two days). One night, he took a few of us by public transportation to see more of the city, including the pantheon, and to buy some gelato! On our last day, he took us to see the convent started by Mother Teresa in the area of the Vatican. The guide, Antonio, that we had for the Vatican Museum and the four Basilica's the next day, was the best we have ever had. This was the third time we have toured these sites and we learned a lot of new information this time, thanks to Antonio. Please continue to enlist the assistance of both Fr. Edwin and Antonio going forward! We did not see much of Karin, but when we did, she was very helpful and kept everything organized and on schedule. She also got us in to the Papal audience in a most efficient manner.
This was our 2nd pilgrimage with 206 Tours and God willing it will not be our last. Please keep up the good work. Thank you, Sefanie for confirming our reservations and responding to our questions in a timely manner! You will always be our first choice for a Catholic pilgrimage!
Best regards,
Dale and Linda Mays
From: Mr. and Mrs. Rossy
Sent: Saturday, May 23, 2009
To: Rinda Kanidinc
Subject: Re: The Holy Land - May
Dear Rinda,
Our pilgrimage to the Holy Land was such a beautiful experience! All the Holy Sites were true conversion experiences. Our tour guide Samie was excellent and we appreciated his thorough explanations and historical information. All our Masses were held in special locations. The Mass held in the tomb was unforgettable. Father Patrick Crowley's gifts from the Holy Spirit were so uplifting. We were blest to have him! Helen took excellent care of all of us. She helped us feel safe! God bless all of you for all your efforts in making our pilgrimage in the footsteps with Jesues very unique and special.
Peace and all good,
Yolanda and George Rossy
From: Patricia Galeaz
Sent: Friday, May 22, 2009
To: Rinda Kanidinc
Subject: Fatima, Spain and Lourdes - May
Rinda,
I want to commend 206 tours for the excellent tour and tour guide that we had on my trip to Fatima, Portugal; Spain; and Lourdes, France. But I especially want to commend you on you're choice of spiritual leader, Monsignor Kenneth C. Steffen. When the group was all together, Msgr Steffen handed out little booklets of the places and shrines we would visit on the pilgrimage. Undoubtedly, Msgr's preparation before the trip was extremelythorough! There were no hesitations when anyone askedquestions regarding the individual places that we visited!
Not everyone is that well-versed on the various subjects and places! All the pilgrims on the trip spoke very highly of Msgr Steffen and would definitely want to have him lead another pilgrimage! The time and work thatMsgr spent in preparation for the pilgrimage was definitely very extensive! Msgr Steffen also showed so much kindess indealing with each individual on the pilgrimage! No onefelt left out or slighted.
Msgr had special blessings for married couples, single persons, medical persons, religious persons, widow/widowers to name a few of the special blessings he had during the trip. No one was omitted from a special blessing! I have never witnessed such caring and thoughtfulness from a priest before! Everyone wants to keep in touch with Msgr Steffen.That alone should tell you howeveryone feels about him asthe spiritual director of this trip and for future trips.
Juan Carlos Tejeda was also an excellent tour guide! His patience with all individuals was amazing. Juan Carlos was very prepared for the pilgrimage. If he did not know of something that you asked about, he would find out about it and then inform you. He is very pleasant and easy to deal with and be in his company.
Juan, the bus driver, was pleasant and easy to be around. But every time we got in and out of the bus, we had to tell him to lower the steps of the bus down! That should be automatic. At 5'1″, I was definitely not the shortest, but it was a BIG step down if the steps were not lowered!
The hotels were always fine except for a couple times. It was much more crowded with three in the room and there was no space to move around in the room as the beds took up all the room.
I would definitely take another 206 Pilgrimage with Msgr. Kenneth Steffen as Spiritual Director! He makes the trip very special to each and every pilgrim!
Thank you for you're help and guidance,
Patricia Galeaz
From: Marie Georganakis
Sent: Thursday, May 21, 2009
To: Rinda Kanidinc
Subject: Re: The Holy Land - May
Rinda,
The Pilgrimage to the Holy Land was an unbelievable experience. There are no words to express the experience. The guide (Sami) and bus driver (Eed) were to of the nicest people. Sami was so knowledgeable about all the sites we went to, and the whole area in general. Everything was so well planned out and we did get to see so many sites.
Thanks again for a great tour
Marie Georganaki
From: Msgr. Kenneth Steffen
Sent: Thursday, May 21, 2009
To: Rinda Kanidinc
Subject: Fatima, Spain and Lourdes - May
Milanka, Rinda,
It was great pilgrimage.
All the members of the pilgrimage grew closer together and established ties among each other. They were very caring towards one another Juan Carlos did an excellent job. He was very conscientious about caring about the needs of the pilgrims. He would stay behind to make sure everyone was taken care of. He especially was very solicitous towardspilgrim who was suffering from MS and had to take dialysis. He made sure she was cared for. He was very patient with everyone. At he end of the pilgrimage we raised him as a candidate for canonization and we referred to him as Santa Juan Carlos de Salamanca.
The other guides who were with us also were very competent and knowledgeable about their subject matter. I was especially impressed with them as it was evident that they interwoven the spiritually element into their explanations. I was especially impressed with Blanca(Avila) who extremely knowledgeable about St. Therese of Avila as many of the pilgrims were knowledgeable about St. Terese of Avila and her spirituality. The tour director of Lourdes (I was not sure of her name) was extremely well informed. I had been to Lourdes a few time before and she had reveal information that I had not heard before.
The hotels were beautiful and very accommodating. I was especially happy that we stayed at Hotel Moderne Soubirous. For many years I had walked by this boarded up hotel and thought how wonderful it be to stay here. It has been richly restored with all the elegents and craftsmanship of the 1800's plus all the conveniences of the 21st century. I noticed how all at the Hotel, from Franco Tedesco the owner to those who cleaned the rooms went out of their way to be of service to us. There was a real sense of pride of the employees who served in this beautifully restored hotel. You could feel the Soubirous spirit in the building. The meals were delicious and well prepared and served. It was wonderfully to see that this landmark hotel has not been torn down but has been restored. It is great selection for future pilgrimages to Lourdes. Another advantage of the Hotel was that it was so close to the Shrine that a person could walk there in a short period of time. Thank you for the delicious 206 Tours cake they presented for us. There were many powerful sharing in the pilgrimage of how the pilgrims were transformed in their experience. We prayed for the 206 Pilgrimage Ministry during our prayer time.
Suggestions for next time.
Visit with the Carmelite Sister at the Incarnation Convent in Avila (at Alba de Tormes Sanctuary, we were able to meet with the Mother Superior and the sisters.)
Visit the Cenacolo Community for those who would be interested in going while in Lourdes. Lourdes is a place healing.
Sister Mary was such a wonderful addition to the pilgrimage. In fact one of the member had thought of being a nun due to her influence.
It was definitely a spiritual uplifting experience
Monsignor Steffen
From: Helen Zec, Marian Travel Services
Sent: Thursday, May 21, 2009
To: Rinda; Milanka Lachman, CTC
Subject: Holy Land
Dear Rinda and Milanka,
Thanks for all your work in making this pilgrimage possible. Everything went well and everyone was satisfied. Our guide, Sami, was as good as in September. He is an excellent guide – always conscious of what the needs of the pilgrims are – very knowledgable and informative. Our driver, Eid, was a gem! A perfect gentleman and helpful in every way. The arrangements were great – no problems! I know this doesn't happen without a lot of work and thought – so I thank you again from the bottom of my heart. You were in my prayers at all the Holy Sites.
Love, Helen
From: Sandy Griffin
Sent: Wednesday, May 20, 2009
To: Javier
Subject: No subject
Dear Javier,
I cannot believe that I am just now writing you after returning from my wonderful journey. I have been jet lagged and swamped at worked and have just now sat down to write. My trip was so amazing all thanks to you. You were so selfless in tending to every ones needs on the tour. I also want to thank your beautiful wife and mother for the wonderful lunch they prepared for all of us. My husband could not believe it all when he say the pictures. He is putting together a beautiful book for me thru shutterfly and I will be able to remember your entire family for ever including those darling boys Javier jr and Juan. I am a very sentimental person and I never forget anyone who has done something for me. I believe God brings people into your life for a reason. If we can ever do anything for your family just let me or my husband know. Thank you so much for everything. My pilgrimage was life changing.
Sincerely,
Sandy Griffin
From: Paula Barr
Sent: Wednesday, May 20, 2009
To: kristin@206tours.com
Subject: Holy Land with Father Timothy Joyce
I am very pleased to inform you that the tour of the Holy Land was superb, I enjoyed it immensely.
Thank You,
Paula Barr
From: LESLIE ALLGOOD
Sent: Wednesday, May 20, 2009
To: stefanie@206tours.com
Subject: Hi
STEFANIE,
OUR TRIP TO PORTUGAL, SPAIN AND FRANCE WAS WONDERFUL! MAGICAL!
206 IS THE BEST! I LOVED JUAN CARLOS, HE IS A FANTASTIC GUIDE, SO NICE AND ACCOMMODATING, BUT MOST OF ALL PATIENT AND CARING.
MONSEINGER….WAS THE BEST! SO PASSIONATE ABOUT OUR FAITH AND FUNNY AND FUN! WE COULD NOT HAVE ASKED FOR A BETTER SPIRITUAL LEADER.
MY FELLOW PILGRIMS ARE NOW MY FAMILY MEMBERS. JUST THE RIGHT NUMBER.SO KIND AND NICE. I MADE NEW LIFE FRIENDS.
MOST IMPORTANT MY FAITH GREW AND I FEEL EVEN CLOSER TO OUR LORD AND BLESSED MOTHER. MIRACLES HAPPENED FOR ME AND FOR OTHERS
PAINS WENT AWAY AND WERE REPLACED WITH PEACE.
THANK YOU SO MUCH STEFANIE! I WILL FORWARD YOU SOME GREAT PHOTOS LATER!
YOUR FRIEND,
LESLIE ALLGOOD
From: Patti A.
Sent: Tuesday, May 19, 2009
To: milanka@206tours.com
Subject: Re: Lourdes & Fatima Pilgrimage with Fr. Mickey Bancroft
Dear Milanka,
Our Lourdes and Fatima Pilgrimage was a deeply moving experience. Thank you for all you did to make this trip such a remarkable journey! Our accommodations were spectacular, the food was superb, and we were truly welcomed guests at each location. Our group, diverse in age (from 13 to 85), quickly bonded and became a family.
In addition to the peace and holiness I found at Lourdes and Fatima, I thoroughly enjoyed our bus ride through Spain and our stops at Loyola and Salamanca. The opportunity to see the countryside and get a taste of Spanish spirituality, culture and art was wonderful.
We were so very blessed to have Fr. Mickey Bancroft as our Spiritual Director and Javier Gomez as our Tour Guide. Fr. Mickey and Javier are gentle, compassionate and generous men who truly live their faith and "walk the walk". Throughout the pilgrimage, they set the example for us of "being Christ to each other".
This was my second pilgrimage with 206 Tours and Fr. Mickey. Both have been profound spiritual experiences that I will forever remember. Fr. Mickey's homilies are always a source of encouragement and inspiration; his words remain with me long after the celebration of Mass has ended. His deep spirituality, along with his engaging personality, ensures the perfect balance of faith and fun.
For Javier, being a tour guide is clearly more than a profession; it is a ministry. He immediately endeared himself to our whole group, treating us as his personal guests/ friends rather than just "clients". He consistently went well beyond his responsibility as a tour guide to make our pilgrimage both memorable and uniquely special. He is truly an asset and wonderful representative of 206 Tours!
Three times during the week the gospel reminded us that "it was not you who chose me, but I who chose you", and that we are to "love one another as I have loved you". It was no coincidence that we were all brought together on this journey in faith, trust, spirituality and friendship. I will always be grateful to Fr. Mickey, Javier and my fellow pilgrims for allowing me to see the face of God in them.
Sincerely,
Patti A.
From: Tom D
Sent: Tuesday, May 19, 2009
To: milanka@206tours.com
Subject: Pilgrimage to the Holy Land with Seven Seas and Fr. Joyce
Dear Milanka,
All of the time and effort put into the 2009 Holy Land Pilgrimage was well worth it. The trip exceeded everyone's expectations, I believe. At the least, it exceeded mine and I know that Fr. Tim was very happy overall and the comments I received from the pax were all more than positive.
Our guide, Joseph, did a splendid job. His depth of knowledge and caring was extraordinary. Ramzi, our driver, was cordial, friendly and highly competent. The sites we visited were overwhelming in their Christian importance and the spiritual feelings that they invoked. We were oftentimes moved close to tears by many of them. For me, touching the slab that Jesus laid on, after His crucifixion, in the Holy Sepulchre brought a flood of emotions.
Our hotels were excellent. The food was well-prepared and in abundance. The staffs were friendly and competent.
The lady who had the kidney stone attack, finished the pilgrimage without further incident. A huge thank you goes to Joseph for using his connections at the Nazareth hospital to get a quick diagnosis of her condition.
This was my first pilgrimage in 3 years due to illness. I came home exhausted, but with a greater sense of connection with my lord Jesus Christ and my Church.
Many thanks to all of the folks at your office and those on the ground in Israel for making this pilgrimage extra special.
Now on the 2010 in Spain and Portugal.
GBY
Tom
From: Kim
Sent: Monday, May 18, 2009
To: milanka@206tours.com
Subject: Lourdes & Fatima Pilgrimage w/Fr. Mickey Bancroft
Dear Milanka,
We just returned from our pilgrimage to Lourdes & Fatima last evening. You and your 206 team did it again; you organized yet another truly spiritual and magical experience. From the beginning you showed us how truly special you are, when on the morning of our departure, you and your family were there to see us off.
We had a group of 33 pilgrims. Our guide, Javier was and is a truly WONDERFUL humble man. (A true Gift from God) Anything that I could ever write or say about him wouldn't even begin to do him justice. He gave of himself 150%. He has a very generous, loving, humble heart and a gentle soul. Javier made us all feel like family. He was always very patient and helpful with us, especially to those who had special needs. (He went above and beyond at some points). Javier took this journey with us. He showed and shared his faith and knowledge with us. His devotion to his faith and the Blessed Mother is beautiful and inspiring.
Our spiritual director, Fr. Mickey Bancroft (Sorry Mickey, you know I love you dearly, but I had to give Javier top billing in this letter) also was and is another of Gods precious Gifts to us. Again, I cannot adequately express my thoughts or feelings here to do him justice; as his friend, he knows how I feel about him. He made this a truly Blessed pilgrimage. His daily Masses were wonderful and full of the Holy Spirit. Fr. Mickey made sure to include as many of the Pilgrims as possible, as Lectors, Eucharistic Ministers, Altar Server and Cantor. Fr. Mickey always had a ready smile on his face, was available to answer our MANY questions and always made sure to spend time with all the pilgrims. He made this a truly Blessed experience for us all.
Now, about the pilgrimage. We spent the first two and a half days in Lourdes. Lourdes was a truly Holy and Blessed place for me. The Grotto, the Basilica's, the candle light procession, the baths and hiking the Pyrenees, were for me the spiritual highlights of the pilgrimage. After we left Lourdes (en route to Fatima) we traveled by bus to Loyola for a quick stop and tour of the Basilica de Loyola. We visited Salamanca (Javier's hometown) for one day. What an amazing & beautiful town. It is here where we saw Pilgrims traveling the Route of St. James, to Santiago de Compostela. Even though we only had the afternoon and evening there, we were able to see so much. Javier was wonderful; he was very excited and proud to show us his hometown. Our next stop, Fatima. One of the highlights of our bus ride to Fatima was the lunch break at a roadside pit stop. Javier surprised us with a picnic lunch with goodies he bought while we were in Salamanca. That was a wonderful bonding experience. We arrived in Fatima on Friday.We spent a day and a half there. We were able to see and do so much in that short period of time; the Chapel of Calvary, the town of Aljustrel (where the children lived), candlelight procession to pray the rosary and so much more.
We had a such a wonderful and spiritually enriching pilgrimage. I'm so looking forward to going to Oberammergau with 206 next year.
Thank you again for everything. Many Blessings to you ,your family and all at 206.
Warmest Regards and Blessings
Kim
"When we take one step toward God, he takes seven steps towards us."
From: Costello, Edward
Sent: Monday, May 18, 2009
To: milanka@206tours.com
Subject: Costello message
Good afternoon Milanka,
I just came back from the Pilgrimage trip that Father Mickey attended. I wanted to let you know that Javier was absolutely wonderful. His insight and knowledge relating to religion, culture, and local history was impressive. However the most important attribute of Javier is his compassion for people. He made all of us feel as if we were family. You have found a gem in Javier.
I also wanted to comment on you and your company. Every last detail of my trip was well thought out and the Hotels you choose were great. You and your company are first rate. I have already recommended your company to others.
Sincerely,
Ed Costello
From: G. & D. Cabeza
Sent: Thursday, May 14, 2009
To: rinda@206tours.com
Subject: Re: Rome, San Giovanni Rotondo and Assisi - MAY
Good morning Rinda:
We are back home and we are glad to say that everything went according to schedule. We had a wonderful trip with an excellent tour guide Vicenzo who was always with us, on time, professional, friendly and a skillful driver Miguele. Father Chris was always "looking after his sheep" and delivered beautiful homilies. He sings like an angel and is an excellent priest. Everybody liked him. And yes…we made it to the airport 3 hrs. before the flight!!.
From all the local tour guides, by far Anthony in Rome was the more knowledgeable and spoke perfect English.
Good choice of hotels close to the Shrines and excellent food specially at the Savoia in San Giovanni Rotondo. The food at the Hotel Gioto in Assisi was only a 2 stars compare to the Savoia with a 5 stars. The Michelangelo in Rome also had excellent location and good food. In reference to time off, we liked the fact that we had a couple of hours off at the end of the day to take a short nap or the young and active went back for more shopping around the hotel. In summary, not an overwhelming schedule and a small group made a big difference. We enjoyed having mostly young people in the group. We had good laughs and they were fun to travel with.
The memories that we have from Padre Pio and St. Catherine of Siena will last forever.
Thank you again for a wonderful tour and we will contact you in the near future for other itineraries.
God Bless,
Guillermo and Denise Cabeza
From: J. Cutler
Sent: Tuesday, May 12, 2009
To: Rinda Kanidinc
Subject: Re: Greece - May
Dear Rinda….
Absolutely loved the entire trip. Our guide in Athens was the greatest. We had daily Mass with our spiritual director, Fr Coryer. All accommodations very good. Exhausted and having some jet lag today. We never knew what to expect on flight home on Olympics. We ate sandwiches just before being served a meal which was not announced. Very difficult to hear the announcements. But flight was on time and no problems with baggage. Greece is a beautiful country. It truly is necessary to have good walking shoes and stamina to walk up many hills.
Jackie Cutler
From: dulce v
Sent: Tuesday, May 12, 2009
To: Rinda Kanidinc
Subject: Re: Lisbon, Fatima, Spain and Lourdes - April
Dear Rinda,
Thank you very much for welcoming us back home after a wonderful pilgrimage. The three of us, Carmelita Jocson, Leonor O'Sullivan and myself really enjoy our stay in the four countries and so many cities with all of us, pilgrims. We went to all the wonderful places we have not seen before. Everybody are so kind, friendly and nice. We were like a big family together, Father Caprio being our spiritual director. and Javier Gomez, our tour guide were so good, friendly, accommodating and we all love them. Javier is a wonderful guy and his family, who invited all of us to have lunch in their place at Salamanca, Spain. We will never forget what they did, and we're looking forward for another trip.
Thanks again, and have a nice day!
Dulce R. Villabona
From: Patricia Daniels
Sent: Tuesday, May 12, 2009
To: Rinda Kanidinc
Subject: Re: Poland - May
Dear Rinda,
I arrived back home last night – tired but very excited and happy! Poland was the most beautiful country that I have visited so far! My son and I enjoyed every minute of the pilgrimage. We were with a small, lovely group of people. And our guide, Paulina, was terrific. She did everything in her power to make us comfortable. And she is so knowledgeable about everything! We learned so much from her. Our driver, Gregory, was also very kind and helpful to all of us. They made the trip so very much fun. I am already thinking about going back next year!
Thank you for all of the arrangements that you made for us. Everything was perfect!
God Bless You,
Patricia
From: Fr. Al Caprio, O.P.-Spiritual director
Sent: Monday, May 11, 2009
To: 206 Tours
Subject: Portugal, SPAIN, LOURDES PILGRIMAGE APRIL 26-MAY 5, 2009
Overall the pilgrimage was successful and a blessed event. The (more or less) 25 pilgrims seemed to bond together and to form a pilgrim family.
Personally, I'm sorry to say that I was affected by lower back pain, which decided to act up because of the long and uncomfortable plane trip. Various pilgrims were very kind and considerate showing concern for me every step of the way. What kind and loving people!
As you well know, Javier is and was his outstanding self and was loved by all. During our visit to Salamanca, his mother and friends prepared the most wonderful paella meal for the whole group, which was transferred to the parish church hall due to inclement weather. That same evening we shared dinner with his beautiful wife and two wonderful boys, which also was a highlight event.
The pilgrimage fulfilled its purpose of being a prayerful and blessed event appreciated by all.
Fr. Al Caprio
From: Abueita, Samir
Sent: Thursday, May 7, 2009
To: Rinda Kanidinc
Subject: Rome, San Giovanni Rotondo, Assisi, Florence and Venice - April
Rinda,
Our trip to Italy was great in every aspect. From the time we arrived to Rome until we departed from Venice, every thing was very well organized, the hotels were clean with good service. Our guide Vincenzo made every thing very easy and comfortable, he knew exactly what and when to do things. It was great also to have father Charles with us, he did great and helped a lot. The other members of the group were great, we became like a big family, we hope to continue our friendly relationship with them. We were very impressed with all the spiritual history, and arts in all the places we visited. It was truly a spiritual journey we will never forget. We hope to book another trip with 206 Tours in the future, and will strongly recommend them to our friends and family members. Thanks for a very wonderful trip.
Emilia & Samir Abueita
From: Fr. Charles DesRuisseaux
Sent: Wednesday, May 6, 2009
To: Rinda Kanidinc
Subject: Re: Rome, San Giovanni Rotondo, Assisi, Florence and Venice - April
Dear Rinda,
Thank you for having invited me to be chaplain of your wonderful pilgrimage to the shrines of Italy. This entire pilgrimage was very well planned. I appreciate greatly the booklet that was prepared for this. It was very helpful. Having Magnificat was helpful too. I had bought 18 copies of the short breviary but since the group kept changing numbers of participants I did not give it out. We were so very busy and tired. We did Morning prayer a couple of times on the bus from Magnificat. In most shrines we celebrated the Mass of the saint whose tomb we venerated. We celebrated the Masses at the shrines which had been previously booked for us. I only changed the second day in Rome. That day I concelebrated with a couple of bishops and 20 others priests in St. Peter's Basilica. The participants were happy to have had Mass and Communion at St. Peter's in back of the papal altar at the chair of St. Peter.
Thanks also for your most generous stipend. I received it before I left.
Vincenzo Palego was a wonderful tour escort. He was always pleasant and helpful. He suggested self-service restaurants for lunch which were reasonable, fast and had delicious food. I am also very glad that breakfast and dinner was included every day. There were all very good. It is nice to eat together. That way we get to know everyone. The group because friends very fast and hated to separate at the end. There were no complainers and everyone was on time for all the tours. The Hotel Michelangelo in Rome, has been renovated since I was there several years ago. It is much better and the location is ideal. Again I thank you for the experience. If ever you need another chaplain, I hope to be able to serve again on one of your tours.
Best wishes in Christ,
Fr. Charles DesRuisseaux
From: Antonio Manalo
Sent: Tuesday, May 5, 2009
To: Rinda Kanidinc
Subject: Re: The Holy Land - March
Hi,
We are very satisfied with the excellent way George conducted our trip. We like to return to the Holy Land very soon.
Tony
From: Stephens, Diane
Sent: Tuesday, May 5, 2009
To: Rinda Kanidinc
Subject: Rome, San Giovanni Rotondo and Assisi - April
Rinda,
Our trip to Italy was wonderful. We loved it every step of the way and our guide was very informative. We never would have been able to see or know what we were seeing had we done the trip on our own. The hotels and buses were spotless and very comfortable, the food was great and I particularly liked trying different wines.
We would recommend 206 tours to anyone, everything was so well organized and meticulously scheduled, it was especially nice to not have to wait in lines, and our tour guide was able to get us to the right place at the right time. We were both overwhelmed with the art, sculptures, architecture and the beautiful countryside throughout Italy. This trip was very spiritual for us and we came home with lots of great pictures to share with our family and friends.
It was great having Fr. Charles from our parish with us also, he had traveled to Italy so many times before that we had the opportunity to get a private tour of the Vatican on the first day when we arrived. All the people in our group were great and I hope we can continue to keep in touch with them. We have made great friendships with them, this was a trip we'll never forget.
Thank you again for the well organized trips that you schedule, we hope to take a tour again in the future and we will certainly book though 206 tours.
Best regards,
Diane and Bill Stephens
From: R. Vatcher
Sent: Monday, May 4, 2009
To: rinda@206tours.com
Subject:   Trip We Won
Dear Mary and friends at WAU,
I would like to thank you wholeheartedly for our pilgrimage to Italy with 206 tours! It was such a faith-filled experience! We had two wonderful priests (on different portions of the trip) with us all the time. We got to see Pope Benedict and receive his blessing in St. Peter's Square in Rome. We had Mass inside St. Peter's twice – one day at the main altar and one day underneath the altar where St. Peter and other popes are buried. We saw the churches of St. John, St. Paul, and St. Mary Major – all more magnificent than the next. We visited the catacombs where four early Christian martyr saints were buried and had Mass inside one of them. We visited Monte Cassino and saw the beautiful church of St. Benedict and St. Scholastica. We had Mass under the altar where they were buried – we felt we were in a truly holy place. We visited Florence and saw Michelangelo's David and the Duomo. We also visited Assisi – a town out of the Middle Ages – where we visited the churches of St. Frances and St. Clare. We saw the incorrupt body of St. Clare who died in 1253 and she's still there – amazing. There were three doves at St. Frances' church that were descendents of the original three doves that came to stay with him so long ago. The thornless rose bushes were in bloom.
The whole trip was a powerful, inspirational faith experience. Our two teenagers were able to experience their faith in an unimaginable, remarkable way and for that we can't thank you enough! The tours were all well-organized and led by tour escorts that were friendly and knowledgable. We would recommend a 206 Tours for anyone who wants to deepen and experience their faith in a whole new way. Visiting the holy places where these holy people lived and died is a powerful testament to our faith.
Again, I would like to thank you on behalf of myself and my family very much for the faith journey you provided for us!
Blessings,
Rita Vatcher
From: "Michael & Pauline Bowen"
Sent: Sunday, May 3, 2009
To: 'Rinda Kanidinc'
Subject: Rome - April
Rinda-
We are back and our body clocks are still re-adjusting; however, we will remember our pilgrimage to Italy for the rest of our lives.
This was our first experience with 206 Tours and we will strongly recommend you to anyone who asks – in fact, we have already sung your praises to several friends at our church. We weren't sure what to expect before we left, especially with the change in itinerary and priests. Our expectations, though, were greatly exceeded. Both Father Charles and Father Peter were wonderful, each in his own way. They provided a deeply spiritual dimension for our pilgrimage that those who simply "tour" Italy do not come close to realizing. After Father Charles and the other tour left on their separate pilgrimage, we met Father Peter at dinner the night he arrived into Rome. After dinner, even though it was late and he was obviously tired, he told us that he had never been to Italy and wanted to walk over to St. Peter's Square, so we and another couple accompanied him. Witnessing the excitement of a young Priest's first visit to St. Peter's Square is a memory that we will always cherish. After our tour ended, he stayed an extra night in Rome and invited us to have dinner with him, since we, too, were staying a few extra days. We had a very enjoyable visit with him and we thanked him for adding Rome to his itinerary. Even though he is young and has been ordained for less than 2 years, his homilies have the wisdom of someone who has been preaching for 20 years. He is a real gem and we hope you continue to use him for your tours as long as he is willing and able to participate.
Vincenzo and Gaia, also, were exceptional as our tour guides. Even though our group was relatively small, especially after we split (our tour numbered only 6 on the last day), they did not let the small numbers affect their level of professionalism and zeal. Gaia, especially, appeared to take advantage of the small number to get to know each of us on an individual basis so that she could meet our needs and expectations. We have attached a picture of our group on the last evening. Rick and Rita Vatcher and their children are on the left (even the kids have big smiles!), Gaia is in the middle front, and Pauline and I are standing in front of Father Peter. You can tell by our smiling faces that we were quite pleased and blessed with our experience. What you can't see in the picture is our inner sadness that the tour was ending.
Thank you for making this type of experience available. It deeply enriched our lives and we will certainly look to you for our next pilgrimage.
Kind Regards,
Mike & Pauline Bowen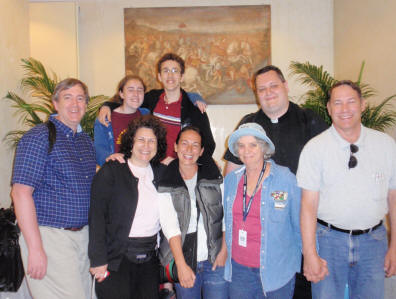 From: Logan Mohring
Sent: Saturday, May 2, 2009
To: rinda@206tours.com
Subject: The Holy Land - March
Dear Rinda,
I hope this email finds you well.
Permit me the opportunity to thank you and all the staff at 206 Tours for a wonderful pilgrimage to The Holy Land in March.
As a young seminarian faced with the many challenges and opportunities that being a discerning seminarian hold, I continue to be enriched with a sense of renewal and affirmation as I reflect upon the spiritual experience of the places we visited. The renewal of Baptismal promises in the Jordan River at the foot of Mt. Hermon, the celebration of the Holy Eucharist in Bethlehem, walking the Via Dolorosa, the beauty of the people and cultures, the spiritual guidance of Fr. Joseph, the joyfulness of my brother and sister pilgrims, etc. I hope to return to Israel again one day and encourage everyone to do so as well.
Again, I am sincerely grateful for your generosity, professionalism and support.
Pray for the peace of Israel.
Yours very truly,
Logan
From: mary h bernard
Sent: Sunday, April 26, 2009
To: rinda@206tours.com
Subject: RE: Lourdes- April
Dear Rinda,
PEACE and BLESSINGS !!
My Pilgrimage to Lourdes with Jesus and His Mother was a great and spiritual exprience from day one. This time I was brave enough with the grace of Jesus to go into the baths which was a different holy experience. There were so many wonderful events and graces from Mary and her Son that I do not know which was the most outstanding. One evening my legs would not do the big procession so I pulled the drapes in our room and opened the window. The sight and sound was unbelievable. I could see all the candles twinkling in the distance and clearly hear the music and the final blessing.
The people at the hotel were friendly and helped us in any way they could. I could go on but I wish to thank you for all the help that you gave to me in getting this Pilgrimage together for my spiritual health.
May Jesus and Our Lady of Lourdes keep you in their protection now and always.
Sr. Mary Henry Bernard aka Helen Bernard
From: Joe Parlett
Sent: Friday, April 24, 2009
To: Rinda Kanidinc
Subject: Re: Medjugorje - April
The pilgrimage was excellent! What had started as a relatively normal sized group in the planning had shrunk to just three of us by the time we went. However, we were treated as if we were royalty. Our guide and our house Manger gave us full service and their complete attention throughout. It could hardly have been a very profitable set-up for them or for 206, but no hint of this dimmed our welcome. It presented them with an opportunity to give us very personal service, and they met that opportunity to the fullest.
JOE PARLETT
From: Tom Dwyer Seven Seas Voyages
Sent: Monday, April 20, 2009
To: milanka@206tours.com
Subject: Isn't this your 25th year in business? 
Dear Milanka,
Isn't this your 25th year in business?
If so, congratulations on a tremendous accomplishment. Your company has made it possible for thousands of people to seek the Lord in holy places throughout the world. I can't think of a more noble undertaking.
GBY
Tom
From: Mary Viens
Sent: Tuesday, April 14, 2009
To: 'Kristin Shea'
Subject: Pilgrimage with Father Gerry Bertin and Doreen Duquette!
Dear Kristin,
My husband and I were fortunate enough to go on the pilgrimage to Medjugorje with Fr. Gerry and Doreen.
We send heartfelt thanks to Slavenka who is a fabulous guide and wonderful person.
This trip has changed our lives! A change that will hopefully last forever!
All our best,
Mary and Paul
From: Joe Batcheldor
Sent: Thursday, April 9, 2009
To: Rinda Kanidinc
Subject: Re: The Holy Land - March
Rinda,

Thanks for allowing me to be the spiritual director for our "Once and lifetime Pilgrimage" to Israel. It was certainly a wonderful preparation for the Sacred Triduum, beginning with this evening's Liturgy of the Lord's Supper which I will be celebrating in the little Church of St. Ann in Howardstown, Ky., a small hamlet in the southern section of Nelson Co. about 20 miles south of Bardstown, the county seat. Our group of Pilgrims were diverse in both age and places of origin; Italian, Philippines, New York City, Florida, Kentucky and California.

The highlights expressed by most was the renewal of Baptismal promises at the foot of Mt Hermon at the springs there, the source of the Jordan River way up in the Golan Heights; the renewal of marriage vows at Cana; reflecting on the teaching of Jesus while sailing on the sea of Galilee; walking the Via Dolorosa in the Old City of Jerusalem; and particularly the celebration of the Holy Eucharist at Bethlehem, in the Holy Sepulcher, Palm Sunday in the Church of the Good Shepherd in Jericho with the parishioners there, and in the church in the Garden of Gethsemane.

Our guide was most knowledgeable as well as entertaining.

Again, my best to all at 206 Tours. A Holy and Happy Easter to you all!

Your religious tours have enriched me over the years as well as the many who have traveled with me. I am ever grateful for the opportunities you have given me and I hope I have met the expectations of those whom I have tried to serve.

Father Joseph Batcheldor
From: Shannon Rodriguez
Sent: Monday, April 6, 2009
To: Kristin Shea
Subject: Pilgrimage with Father Gerry Bertin and Doreen Duquette!
Hi Kristin,
We had a wonderful time in Medjugorje and we loved Doreen and the rest of the group. They were all so helpful with our infant, Conner, and they even babysat for us. Medjugorje was everything I expected and more.It is such a peaceful place and we can't wait to return.
Thanks,
Shannon Rodriguez
From: Father Diaz
Sent: Thursday, April 2, 2009
To: Rinda Kanidinc
Subject: Pilgrimage to Greece March 2009
Hi Rinda,
I'm sorry for not going back to you sooner. I enjoyed very much our pilgrimage to Greece
I enjoyed my visit to Rome specially because I ended my pilgrimage at the tomb of St Paul in Rome. The inland tour guide Mr. Ianess Ventiroso did a great job. He had everything prepared for us and he is a very well educated man.
I learned a lot from him. Fr. Patrick from Milwaukee is a lot of fun. I left him everything for his last Mass with the group in Ephesus.
Attached to find a picture of the whole group. Thank you very much for your kindness and cooperation. in Christ,
Fr. Diaz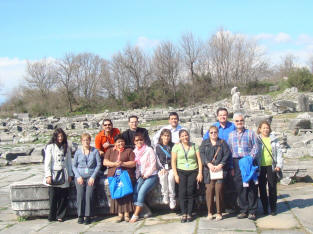 From: Consuelo M. Benson
Sent: Thursday, March 19, 2009
To: kristin@206tours.com
Subject: Holy Land with Fr. Brian Mulcahy!
GOD IS LOVE
Dear Kristin: Thank you for asking !! Every thing went well as expected. Could not ask for more. Julie was great and we all were happy with our guide and the chauffer.
Very well planned trip. The weather was perfect, sunny and brilliant. I really enjoy all of every thing.
Thank you, and Gold Bless you all.
Consuelo M. Benson
From: janet diller
Sent: Tuesday, March 17, 2009
To: Kristin Shea
Subject: Holy Land with Fr. Brian Mulcahy!
Dear Kristen,
It is great to be home but I already miss the wonderful people I met on the pilgrimage to the Holy Land with Julie and Fr. Brian. I never expected the glory of the trip and the friendships that developed from all the pilgrims. Jack the guide was wonderful , knowledgeable of all the areas we visited but mostly a wonderful caring and spirit full man . He was always looking out for our welfare and guided us through the entire trip with professional respect. He is certainly a "Keeper" and should be commended for his job. Omar the bus driver was beyond great and very caring for us all.
I sit back and think of all the places we visited and my mind just swims with joy knowing that Jesus walked here, preached here and died here . The highlight was the Mass at the Holy Tomb of Christ was beyond words to describe . Special , inspired by God, blessed by the Holy Spirit, a once in a life time experience, thank you for all of this and the many hours you and Julie worked on this most unforgettable experience for me and the other pilgrims. I sleep dreaming of all that I have seen and enjoyed.
I'm looking forward to next year and maybe a surprise trip for our growth in spirit and prayer.
Many thanks to you and your staff.
Sincerely,
Janet Lombardi-Diller
From: John and Hazel Roeder
Sent: Tuesday, March 17, 2009
To: Kristin Shea
Subject: Holy Land with Julie Zackrisson & Fr. Brian Mulcahy
Dear Kristin,
This is my fourth pilgrimage with Julie and Father Brian. The first three were to Medjugorje. Each was different, but equally blessed and I am eternally grateful.
In the Holy Land we had Jack as our guide and Omar as our bus driver. Those four holy people guided us to Our Lord at each sight and we were blessed
and protected as we walked toward God. The knowledge and deeper convictions of God's merciful love and faithfulness down through the centuries were palpable.
A treasure to enlighten my faith forever more. May all the world come to know God's infinite love through us pilgrims whom 206 Tours bring to Our Lady and Jesus.
God bless you all,
Hazel Roeder
From: Brian Mandeville
Sent: Tuesday, March 17, 2009
To: Kristin Shea
Subject: Holy Land with Fr. Brian Mulcahy, Mar 2009
Kristin,
The Pilgrimage trip was magnificent; life changing to a large degree.
Fr Brian made it especially wonderful. He is a marvelous person and priest. Truely he added so much to the specialness of each place we visited.
Julie was a saint, too, with her eye problem but keeping it strictly to herself and family. Thank God she is OK now.
And Jack was like a angel! What a find for you! Do not let him go.
– Jean & Brian
From: Fr. Jiri
Sent: Saturday, March 14, 2009
To: 'Stefanie Meyer'
Subject: 162:03-06 GREECE PILGRIMAGE
Stefanie,
I am back from a GORGEOUS trip to Greece, first time with your 206 agency. It was superb, smooth, highly organized, and beautiful. I am amazed, and thanks many times for your services. Will do a publicity for you, and am sure to come with you soon again. Thanks. God bless!
Fr. Jiri (George) Kucera, Taft-Texas
From: Marcia Sutton
Sent: Wednesday, March 4, 2009
To: Kristin Shea
Subject: Israel Pilgrimage
Dear Kristin,
I wanted to let you know how much I have appreciated all your support for the success of my recent group Pilgrimage to Israel. We had a glorious time!
The way was truly prepared for us to take advantage of our intention to "walk in the footsteps of Jesus."
Salah (our guide) and Reshad (our driver) took expert care of us. Salah's wisdom was evident in his historical presentations and he provided me ample time to do the sacred teachings that were mine to give at each site we visited. He took care of all our logistics in a professional way and always adapted to every request I made of him. I'm also grateful that I had the opportunity to have dinner at his home and meet his lovely wife and beautiful boys. Our whole group was blessed and grateful to the many ways each of them expressed their love of Israel and their respect of us.
I'm also grateful for the support we received from Guiding Star Tours. I was able to meet with one of their representatives upon our arrival in Jerusalem as well as receive our farewell message and gift from their 'founding father.' It was a nice touch to the end of our tour.
As you know, the only source of our difficulty was the return routing back to the United States. It was a 'rough landing' for most of us. However, I do understand that in these times of reduced schedules by the air carriers, adjustments must be made. This situation does not takes away from the true value of all that was given and received during our Pilgrimage.
Again, I'm deeply grateful for each and every person who provided such wonderful service to us throughout our journey. I would highly recommend 206 Tours and it's affiliated partners to anyone in the future.
Marcia
Gracious blessings,
Rev. Marcia Sutton
Christ Church of Co-Creation
10824 SE Oak St. #327
Portland, OR 97222
503/654-0792
www.SacredDays.org
From: CAROL LITSTER
Sent: Monday, March 2, 2009
To: Kristin Shea
Subject: Re: Welcome Home from Your pilgrimage to the Holy Land with Marcia Sutton!
Thank you Kristin for the lovely tour of Israel with Marcia Sutton. It was beyond my expectations. I loved the hotels, the way Israel (the cities) have grown, the agriculture, the tour guide's knowledge. There's still a lot to process. I thoroughly enjoyed.
Carol
From: Catherine Dollahite
Sent: Sunday, March 1, 2009
To: 'Kristin Shea'
Subject: RE: Welcome Home from Your pilgrimage to the Holy Land with Marcia Sutton!
Thanks so much Kristin for your email. I had a wonderful time. Every part of my trip was fabulous except the very long journey home. Salah was an excellent guide and a wonderful man. Rashad was an excellent bus driver. I felt we were in very good hands our whole trip. Israel is a incredible country. Walking in the footsteps of Jesus was indescribable. I am sure I will continue to be blessed beyond measure by my sacred journey to the Holy Land. Thank you so much for your help in setting up our journey. I look forward to working with you in the future.
Blessings,
Catherine Dollahite
From: Christine Green
Sent: Sunday, March 1, 2009
To: 'Kristin Shea'
Subject: RE: Welcome Home from Your pilgrimage to the Holy Land with Marcia Sutton!
Hi Kristin,
It was an amazing pilgrimage! Thanks so much for your support.
We loved Salah! What an awesome person and incredible guide. He took great care of us.
Thank you for all your attention to details and for all your assistance.
Blessings,
Christine Green
From: Dominic and Victoria
Sent: Sunday, February 15, 2009
To: Kristin Shea
Subject: Pilgrimage to Mexico with Suzanne Krisak and Father Gordon Reigle
Hi Kristin
What an experience of affirmation to have seen the original tilma Juan Diego displayed before the bishop – the only Image of Our Lady that was evershown to the world. We are moved. The trip was even more memorable since everyone got along so fabulously. Suzanne no doubt was superb in her organization and made the pilgrimage go so smoothly. We hope to be with 206 Tours in the future, God willing.
Dom and Vicky
From: Mr.McAloon
Sent: Monday, February 2, 2009
To: rinda@206tours.com
Subject: Our Holy Land Pilgrimage
Dear Rinda & Staff,
It's no wonder you didn't block my phone calls prior to our trip to the Holy Land, because I gave you such grief. My wife has always wanted to go to the Holy Land, and I would always find a reason not to, because I never felt comfortable with all the trouble in that area of the world. However, in a weaker moment, we decided to book in the beginning of 2008 for the Jan '09 trip.
All went well until about a week prior to us leaving….then the Gaza dispute broke, and missiles were flying, and tanks were rolling. I might mention my stomach was rolling also! And that's about the time I began badgering Rinda.
Well, I'll save the details, we went, we were perfectly safe, and I would have to say, this was the most memorable trip I have ever taken! Our guide, George was a wealth of information, and the driver Tony was exceptionally pleasant. We also had the advantage of being a small group, able to go where larger groups could not. It was wonderful!
Valerie and I love vacationing, and have been travelling since we were married 40 years ago, but I will never forget this trip, it has enriched our lives so much, and Rinda, thanks for your patience and understanding.
Mr. Mc Aloon
From: Msgr. K. Steffen
Sent: Wednesday, January 28, 2009
To: Rinda Kanidinc; Milanka Lachman
Subject: Fw: Congratulations: Prayers answered while on pilgrimage
Milanka and Rinda,
A miracle as a result of 206 Tour to Lourdes this year. One of the Pilgrims on the Lourdes Pilgrimage in March 2008 had been trying to conceive a child for 8 years. In this Lourdes jubilee Year, Mary interceded to Her Son with the miracle of life given to this child. Below is the correspondence.
Hi Betty:
How are you abs Delores? Haven't heard from you in ages.
I finally have some good news for you. God has answered our prayers, Shay is pregnant five weeks!!! Please include her in your prayers and please remind Monsignor, he promised me during our trip in Lourdes he was going to pray for Shay and that goes to Delores too. I am so grateful for all your prayers. Hopefully with God's blessings, everything will be okay.
Take care and God bless,
C. Chatfield
From: Mr. and Mrs. Madiwela
Sent: Saturday, January 24, 2009
To: Rinda Kanidinc
Subject: The Holy Land - January
Dear Rinda and Staff,
Words are inadequate to express our sincere thanks and joy, for enabling us to make this pilgrimage to the Holy Land, such a memorable one We just can't express our feelings. This memorable and treasured experience has brought back childhood memories. Then, we never in the wildest of dreams thought that we would have this opportunity to tread the very holy paths that Christ has trod. Needless to say, when Fr. Wency first sounded us about the Pilgrimage,, we were a bit apprehensive about participating. Nevertheless his persuasion to join helped us make it, never ever to be forgotten.
Our flights right through were smooth and free of any problems. We met the rest of the group at TelAvieve and George Sa'id our wonderful guide and Tony Hosh our driver were there to greet us and accompany us to the first Hotel. Everything, accommodation, food etc, etc. were very good all along. George is so well informed and knowledgeable in the Scriptures and the history of the Holy Land . George is the BEST. All in all we felt like one family after we got to know each other. Everything, starting with where Fr. Wencey was to say Mass each day and the places we were to have a snack etc. were well prearranged in advance by George. Tony on the other hand, very cheerfully drove us to all the places carefully and safely. He always had the words "no problem on his lips" to put us at ease. They both were very tolerant and helpful. Fr Wency had come prepared with a prayer book for each of us for the morning prayers as soon as we got on the bus and George had a Gospel ready for each day which he read very reverently. We were happy to meet your representative Gabriel in the Holy Land, who spoke to us of the importance of Christians making this Pilgrimage, and we sure will speak about it to our friends and encourage them to go to the Holy Land. It was also a joy to meet the parishioners in a small parish where the Sunday Mass was concelebrated. The Strength of their faith, strengthened our faith even more.
So, with renewed thanks for all your help and assurance of prayers that more and more Christians may be inspired to make this hallowed and treasured Pilgrimage, we conclude this note with a big "God Bless You and the 206 tours." always.
Francis and Carmel Madiwela…
From: W. Rodrigues
Sent: Monday, January 19, 2009
To: rinda@206tours.com
Subject: Holy Land Pilgrimage
Dear Milanka, Rinda and Staff.
It has been a life time experience here in Holy Land. I must congratulate you for having arranged for us such a wonderful pilgrimage. The holy sites remind us of our childhood faith. Lord says 'Unless you become like little children you will not enter into the kingdom of heaven.' It has been a wonderful experience of reinvigorating and reenergizing our faith. Although soon we will wind up our trip but it has made us to think how the plan of God in Jesus came to be fulfilled in a unique way in this part of the world.
The weather, the hotels, food and water were excellent. Our tour guide George Sa'id was superb. He is very witty, man of faith and knowledgeable. As a trained guide he had been very helpful. We have had no problems at all all through the journey. Although there is political tension underway between Israelis and Palestinians.. No way, did we feel the impact of it. People here are used to it. They say it is part of their history. We got to pray for a peaceful settlement of their issues.
Everybody was so cordial and helpful to make our trip a success. The 206 tours local staff has been wonderful. They have asked us to pray for the peace in this land and specially for minority Christians who are struggling and demoralized. They not only need our prayers but much more our presence by undertaking pilgrimages. which will help their economy and boost morale. May Prince of Peace guide and protect them.
Thanks for all your prayers and support.

Fr. Wency
From: Fr. Rodrigues
Sent: Wednesday, January 14, 2009
To: rinda@206tours.com
Subject: News from Holy Land
Hello Rinda and staff,
Reached Tel Aviv safely yesterday at 3:30 local time. George, the local guide was at the airport to pick us up. Surprisingly, it was a union at the airport all the pilgrims landed by the same plane. Although they came by different flights to Frankfurt but boarded the same plane to Tel Aviv. The George took us straight to Joppa where St. Peter stayed with Simon the Taner before he set sail to Rome. In the adjacent Church I offered Mass. Thereafter we were driven to hotel at Tel Aviv.
Today we left from Tel Aviv to Ceasarea to see the ruins of king Herod's palace and amphitheater from there we drove to Mount Carmel where Prophet Elija had killed the false prophets of god Baal. from there we moved to Stella Maris (Star of the Sea, Marian Shrine) went to see the city of Haifa one of the famous biblical cities on the Mediterranean. (the cave where prophet Elija hid and offered sacrifice to God, now the shrine of Mount Carmel stands on the top of the cave). Proceeded to Cana where the couples renewed their marriage vows in the place where Jesus had performed his first miracle; changed water into wine. Around evening we came to the Basilica of Annunciation to offer Mass adjacent to the house of Mary, where Mary was given the message by the archangel Gabriel. Saw the well where she would draw water. Visited the carpentry shop of St. Joseph, Thus the day ended with a lot of spiritual and historical experience. Now we are in the hotel at Nazareth. Tomorrow will be a day to visit places like sea of Tiberius, perhaps we will be taking a boat ride where Jesus gave explicit command to Peter that he would now no longer be a fisherman rather fisher of men . Arrangement has been made to have the Mass on the shore.
Thank God so far there is nothing untoward has happened beyond Gaza, The security in the streets of the cities is very tight, one sees the police and army personnel armed with heavy guns. Pray that there is peace in this region. So far arrangements have been excellent. Our tour guide is highly knowledgeable.
The weather is fantastic. Hope you all are fine. I pray for you specially during this journey.
O.K. then, bye for now.
God bless you.
Fr. Wency