The
Way.

The

Truth.

The

Life.

Jesus said to him, "I am the way, and the truth, and the life. No one comes to the Father except through me."

Catholic Pilgrimages & Spiritual Journeys to the World's Holiest Sites with 206 Tours.

2020 Pilgrim Appreciation Sale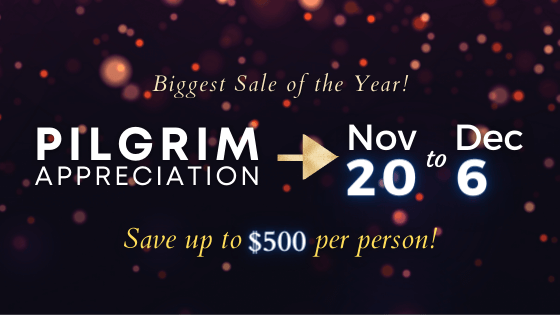 To say "2020 has been hard on everyone" would be a huge understatement. In an effort to extend our great gratitude to our pilgrims for standing by us, we've decided to extend our biggest sale of the year to last 17 days! This year, we've replaced our Cyber Monday Sale (which typically lasts for 48 hours) with our new Pilgrim Appreciation Sale which can be redeemed on new bookings of Series Tours made between November 20 and December 6, 2020 (206 – see what we did there!?)
We value our pilgrims more than anything! This sale is a small token of our appreciation for your support and loyalty – we've been overwhelmed by the outpouring of prayers and well wishes received from our pilgrims throughout this extremely difficult year. We want to ensure our pilgrims that 206 Tours will remain here for you! 206 Tours will survive this pandemic and we are so looking forward to resuming travel soon and serving our valuable pilgrims.
We hope you will consider to plan and pray now and book a pilgrimage for 2021 or 2022. Together we remain united in prayer to end this pandemic!
2020 Pilgrim Appreciation Sale in a Nutshell: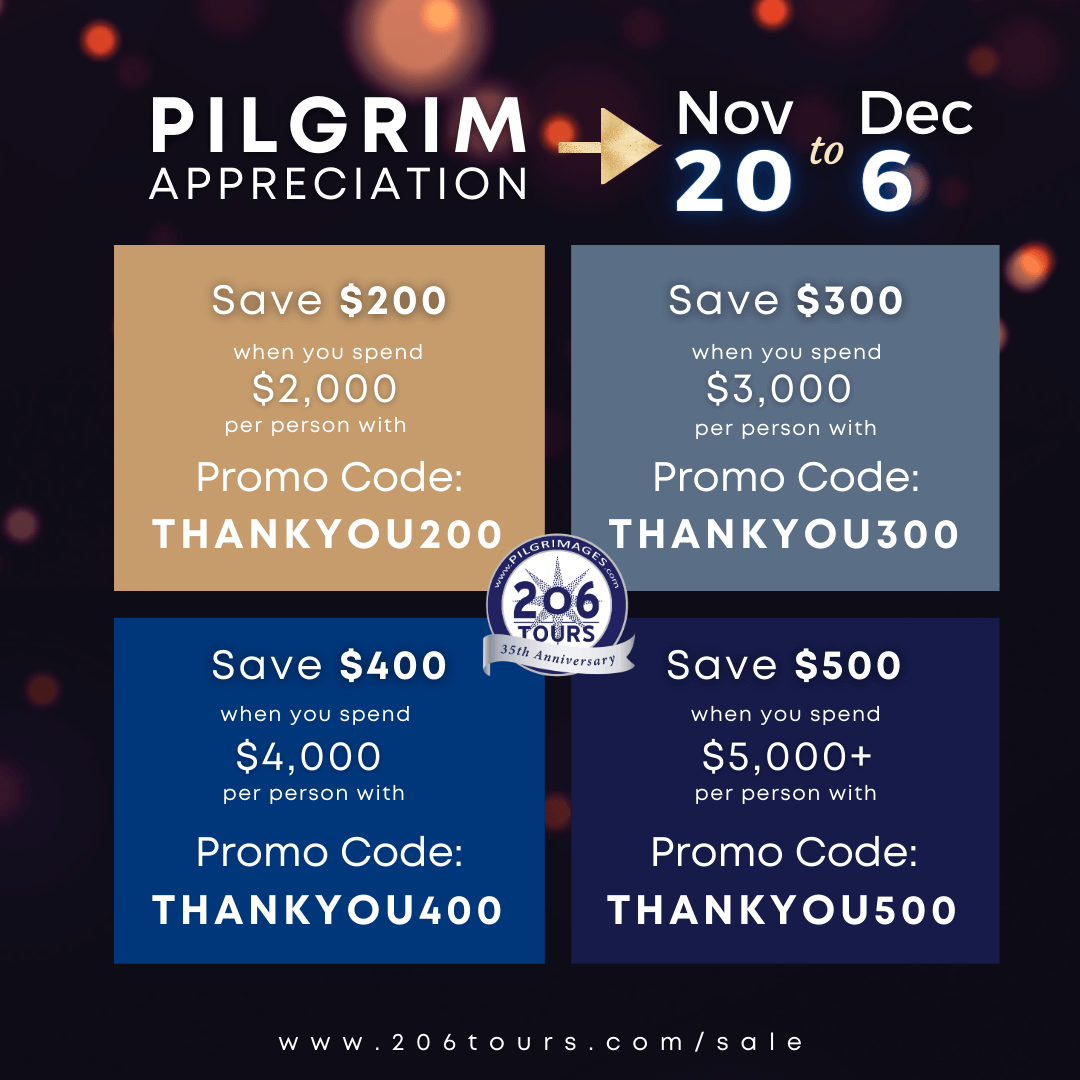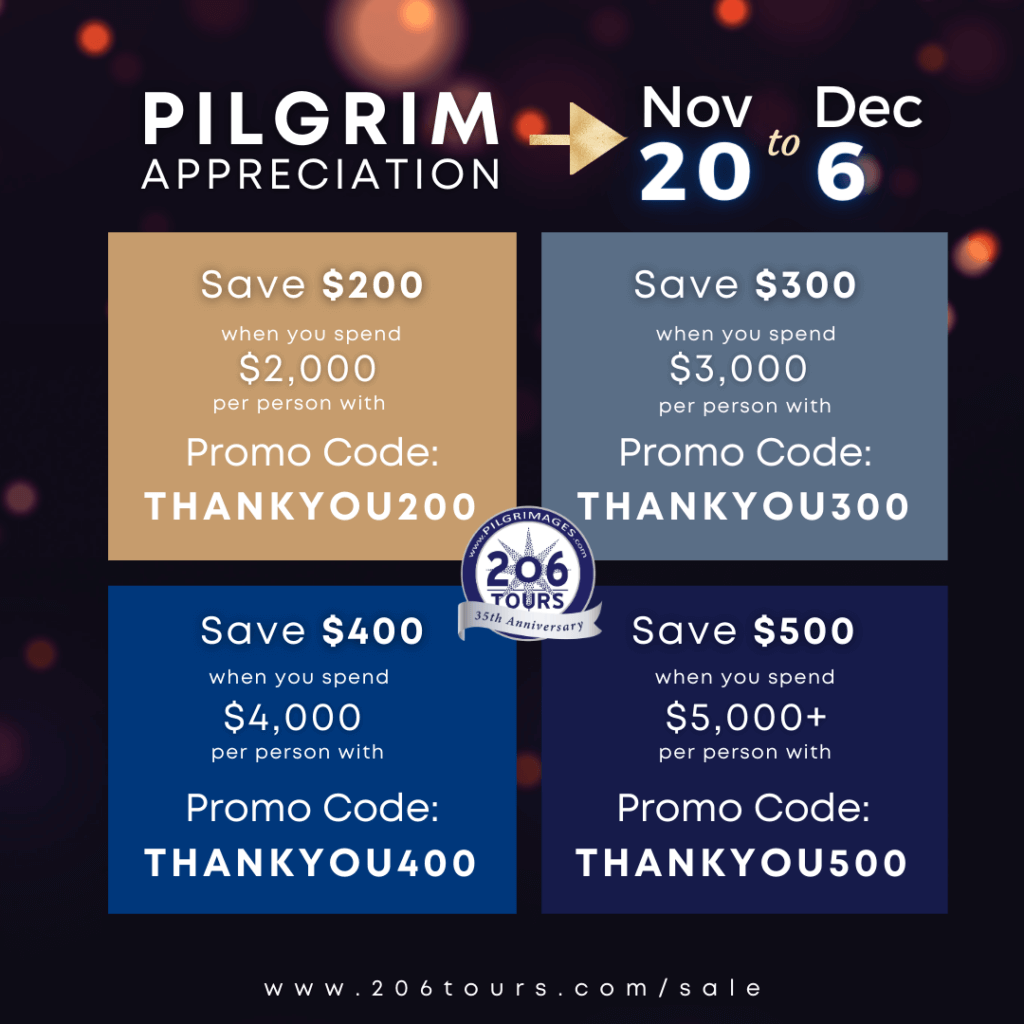 The Pilgrim Appreciation discount is only valid on new bookings purchased online from November 20 – December 6, 2020, and is not to be combined with other discounts or offers. The discount applies per person and is only redeemable on tours 1 – 242 as listed on www.206tours.com/pilgrimages, excluding all USA pilgrimages. Our Special Tours are also excluded from the discount because they are already greatly discounted.  For a list of all our specials visit: www.206tours.com/specials.  Click here to view all terms.
Looking Forward
See the links below for more information on how 206 Tours is being proactive to continue to prioritize our pilgrims' safety and best interests
For all details on our Pilgrim Appreciation Sale, please visit www.206tours.com/sale.  If you have any questions, please email us at sales@206tours.com, chat with us online, or call us at 800.206.8687 and we will gladly assist you! God Bless!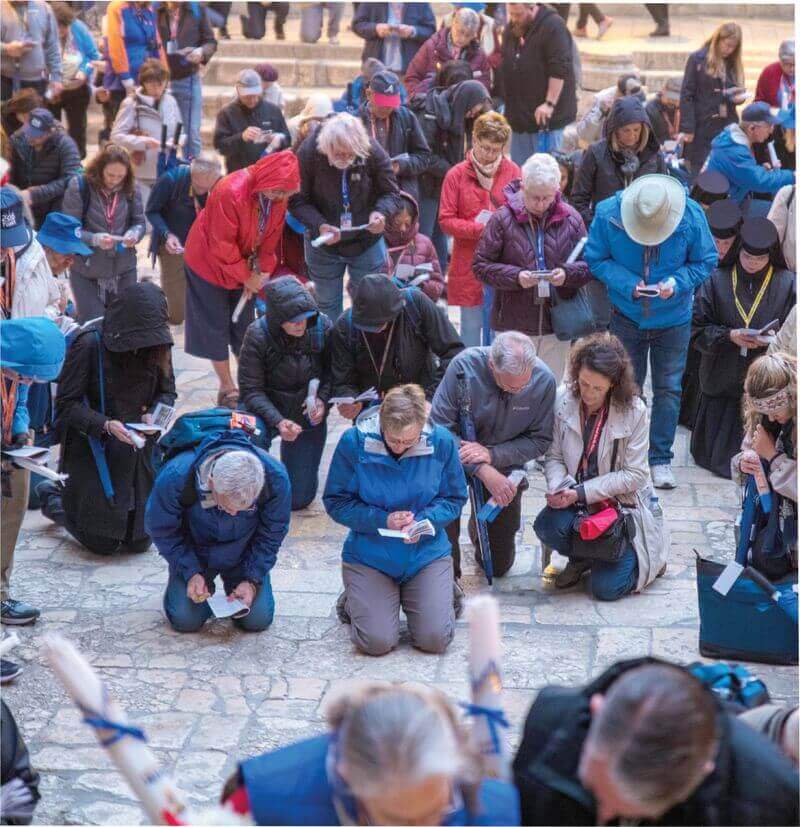 206 Tours Pilgrims
What is a 206 Tours Pilgrimage Like?
"To go on pilgrimage really means to step out of ourselves in order to encounter God where he has revealed himself" – Pope Benedict XVI
Join Us
Join over 400,000 faithful Pilgrims and get exclusive travel tips, giveaways and more!
POPULAR POSTS