Open Letter to Pilgrims - February 25, 2021


Dear Pilgrims,
It's a fact - 2020 was the worst year on record for travel industry! There were 1 billion fewer international arrivals in 2020 than 2019. 206 Tours was down 98% in 2020, compared to 2019.
It's been hard. March through June 2020, were the hardest months; working endlessly to answer every "what if" question and process millions in refunds. It was like a switch was shut off and we suddenly lost 50 -100 million in projected sales. All suppliers - guides, drivers, hotels - suddenly got nothing but cancellations. Those are my lifelong friends and family who were counting on my promises for their livelihood. I waited until last summer to put my staff on the state's shared-work program (reduced hours with government supplemented full pay). We eventually had to let go of most of our staff and are now down to 16 in the New York office, many still on reduced hours.
2021, so far, has been as gut wrenching as 2020, with postponing hundreds of groups. My intention is to start operation in June. When you are at the bottom, there is only one way to go -up! Right?! Not sure. Sometimes one can go below bottom in minus (or red territory). I have promised to be transparent, and while I know Who is in control, as a business owner many are counting on me and I have no luxury but to be objective.
Having bored you with all the negative, I must tell you not to fear! Not to fear for me or my mission; 206 Tours will not be detoured! I am very responsible when it comes to our financial positions, and I can promise that, even if we go for 10 more years without any sales, we will still be here.
My mission is as strong today, as it was in 1985. I wholeheartedly trust in Him, with every move I make. Except for having money in reserve today, and that I have 35 years of experience, unlike 1985 when I had no money and no experience, - the unknowns are many. Never was I more thankful for my faith, and never did I wonder what do people do that have none?
As we approach the third month of 2021, prospects of rebound are slow, but I'm confident. Our clients are fearless, are packed and ready to go. Some countries will probably require tests, and jury is still out on vaccine passports, but I'm praying that such rules not be implemented.
As for 2022, I'm incredibly blessed to have more than 10,000 bookings! Frankly, it's an unusual situation, as many groups are "sold out". The availability will not be what it used to be, given that some airlines, hotels, restaurants, bus companies, and churches may not even be around. Add to that all the pent-up demand, you should know this: if you or your loved one, wants to travel in 2022, get your reservation confirmed soon. All it takes is a dream and a deposit of $400 to book a Pilgrimage. The balance is not due until 60 days prior.
My deepest gratitude to all who sent encouraging messages, cards, Mass cards, and flowers. Most of all, thank you for continuing to keep our mission, staff, guides and ground teams in your prayers. Please be assured of mine for you and your family. A huge thanks to all who put their trust in me and who continued to keep their reservations with 206 Tours. You mean the world to me and I will never forget it.
Life is tough, but I am tougher.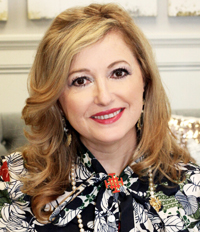 Milanka Lachman
President and Founder
206 Tours
New Offerings:
Quick Links:
Stay in Touch:
How 206 Tours is Preparing for Post-Pandemic Pilgrimages
We are prepared to cultivate an enjoyable spiritual experience that is safe and comfortable. Here are a few pillars of our business that support the safety of our clients:
Book with Confidence
Cancel for Any Reason Policy:
Pilgrims can book with confidence with our new Cancel for Any Reason (CFAR) policy. In addition to purchasing travel insurance, our clients have the option to add CFAR for $299 at the time of booking, or at a later date any time until 60 days prior to departure for $349. Learn more about our Cancel for Any Reason offering, here.
Travel Insurance:
All pilgrims are offered Travel Insurance upon booking and encouraged to add it to their orders. 206 Tours offers Travel Insurance through Travel Insured International. All details on coverage can be found, here.
Health & Safety
Travel Restrictions:
We expect to see changing governmental procedures around health and travel in the months and years to come. While it is too soon to know what these measures may be, we are actively investigating and prepared to react in accordance with any changes. Please continue to check our website for updates.
Health Services:
Health services are always available to our Pilgrims, regardless of if they have purchased insurance. Our guides and drivers are fully trained for emergency situations, and procedures are in place to help pilgrims get medical care if necessary.
Travel Safety:
Our itineraries are strategically cultivated and all locations visited carefully considered. We would never lead pilgrims to or through a known dangerous or unsafe area. We do not visit high risk locations. In the event a location becomes unsafe, changes to avoid the area would be immediately made to the itinerary to preserve our Pilgrim's safety.
Healthy Staff:
Our suppliers will need to meet our health and safety standards. We plan to arrange for our guides and our Priests to be test ahead of travel, only those with a clean bill of health will be allowed to participate.
Emergencies and Evacuations
We provide a 24/7 emergency phone line to all clients within their travel documents. Should a client ever encounter an emergency, miss a flight, or need to be extracted from a location, we are prepared to do everything in our power to provide immediate assistance. Our online "Know Before You Go" guides detail all one needs to know ahead of travel, including what to do in case of an emergency. Read more, here.
Changes to Group Travel
In the wake of the Coronavirus Pandemic, we are considering adjusting our average group size to allow for more space on buses and at meals, as well as less exposure to each individual Pilgrim. This will enable proper spacing (ex. Assigned every-other-row seating on the bus) we are working with restaurants to ensure seats are spaced out too. Larger groups (ex. 200 people) can still be accommodated, but will also be spaced more evenly on busses, and at masses and restaurants. There will always be a Catholic priest and Mass daily, if more than one bus, the Priest may share his time between buses.
Private Travel
206 Tours has always offered custom and private pilgrimage services. Travel individually, with your family, or with a small group of friends. Learn all about our Private Pilgrimage Services, here.
Cleanliness & Sanitation
Protection:
Masks may be required to be worn in certain places. We have made these available to all our guides, drivers, and staff. If needed, masks will always be available for Pilgrims to use on the bus. Hand sanitizer will also be available to all pilgrims.
Cleanings Increased:
We have instructed all our supplier to increase their daily cleaning to provide safe and sanitary environments.