"Stay Pilgrims" - Open Letter to our Clients


I was the first 206 Tours pilgrim. There were travel risks back in the 1980s, mostly due to terrorist attacks on major European airports. Then, there were wars, and economic downturns - been there, done that.
September 11th came, and shook the travel industry to its core. Recently someone asked me, to compare the effects the September 11th tragedy had on travel, to the effect the Coronavirus is having on travel. I explained that from an industry standpoint September 11th was like a drop in the bucket compared to this virus misery.
Like most, I'm home today, as, I have been for the last 15 weeks. I live in a beautiful home, but I was not made to be in any one place, none of us where – if we were, God would have made us with roots like trees.
Today, it is all so calm. Our emergency phone lines are not ringing, I used to dread those midnight calls, but for months there have been none, no one is misconnecting their flight, as no one is going anywhere.
2020 was going to be the biggest year in our 35-year history. The labor for this year has been in progress since 2017. The instructions booklets and labeled packages were ready to be shipped. For 3 straight years we worked on groups that would never take off! I hired more staff, remodeled our headquarters, and expanded our offices.
When January 2020 came, we were so ready. Then, I began to receive strange emails, with requests to cancel groups due to Coronavirus concerns. One of the earliest emails came from a group leader who has taken a group of pilgrims to Lourdes, every year for the past 30 years. I was so surprised. In February similar calls continues and concerns spread. And then, March came, with thousands of frantic calls and emails. It is hard to quantify or explain the fears and emotions of some callers, but I vividly remember hearing some say: "send me my money now, before you go bankrupt". As a hands on, small business owner, staying calm during such calls was humbling to say the least, and processing millions in refunds, postponing much of what was planned for the uncertain future, was something that I have never known or expected.
Right now, there should be 1,000 pilgrims traveling through European Shrines, Israel, Mexico, and visiting the world's most magnificent sites! Many conversions should be taking place right now, perhaps a healing that only a pilgrimage can bring, and those same pilgrims would come back home to evangelize. Many pilgrims should be recharging their souls and having the time of their lives. But we have 0 pilgrims traveling, and 100% of our guides are without work. All is shut down; even Jesus is in quarantine as some churches are locked up, empty and dark.
All travel and pilgrimages are all put on hold.
I know it is not only travel, almost everything is affected! My heart breaks for people's graduations, weddings, visits with family, job losses, loneliness, faithlessness, and all once-in-a-lifetime opportunities that were cancelled.
But there is little we can change. Clearly, we cannot travel if borders are closed for Americans. These days, it is hard to portray a strong leadership role, if I am constantly saying: "Not sure? Everything is subject to change. Let us continue to trust in Him". Everyone wants direct answers to specific questions. I am sorry if my answers are inadequate to an employee, supplier, or client, for all their questions regarding the new protocol "how" "when" & "if" are outside of my control.
Some clients called to say: "I want to travel but I do not want to wear a mask" I told them that, unfortunately, it is not up to me, as, it is not my country we are going to, not my plane, not my hotel, not my church, or my museum.
After 15 weeks of working from home, we plan to reopen our 206 Tours offices on July 6th. We will return to our office working half time, taking AM or PM shifts. We are blessed to have large open-space desks are surrounded with dividing walls, as well as 20 private offices. We are prepared and with new signs, directions, cleaning procedures, and clean air-condition filters in place.
I will do all humanly possible to protect my employees, as they are my family.
Our current plan is to resume 206 Tours Pilgrimages on September 1st. We have many eager loyal pilgrims ready to go. Of course, it is not only up to me, but, if boarders are open, if it is safe, all while prayerfully discerning - we will travel again. I intent to lead the way, to be the first 206 Tours pilgrim again, not just because I am being called like crazy to go, but to show how I trust in Him, and that I truly care for my guides, and my clients!
What kind of pilgrimage can one expect with social distancing regulations in place? I am not sure, but it's not the 206 Tours kind. Life is precious indeed, but pilgrims staying six feet apart from one another, and wearing masks, throughout is hard to put in practice. I cannot imagine someone going who fears long distance plane or bus rides?
And, nobody wants to eat their dinner in some glass bubble. I cannot imagine not being able to prayerfully reflect at the Holy Sepulchre without the fear of someone touching them. I cannot imagine our priest having to wear a mask during Mass. I cannot imagine all pilgrims not praying the rosary together, or not praising God by singing out loud. For those reasons I must humbly go and see such a pilgrimage.
This misery virus, as I call it, has put many pilgrimages and many of our dreams on hold. It has delayed almost everything. I am aware that many have found their silver linings within it, but I am united with all small business owners who have risked all. I am praying for you all.
There is a lot of justified concern out there, but I feel that people who fear the most, probably do not own the passport. Right now, the most fearful people are buried deep, hiding. I've thought a lot about it lately, fear must be mostly reserved for those who don't know God, and who don't get out much.
Those who have faith and stamps on their passport, are probably not afraid. They know and understand that the Community is a God-Global-Thing.
Most of Europe, not all but specifically European Union, is scheduled to open on July 1st, the reopening will take place without American tourists. Unimaginable. American Tourists happened to be the most desired of all tourists in the world. Sure ,there are few that may not fit that narrative, but, trust me, the world loves the American traveler and are missing them horribly. With 100% certainty, I promise you that the staff at hotels, tour guides, ships, bars, and restaurants, appreciates American tourists, and think that we are the kindest, most punctual, form best lines, have the warmest smiles, give the biggest hugs and biggest tips too!
I'm trying to show how thankful I am for all that God has put in front of me, for all the great employees, incredible priests, clients, and suppliers around the world.
If everybody traveled on a pilgrimage the world would be a great place.
Thanks for reading my reflections, I pray for you and yours within this surreal time, please pray for me.
To the thousands of 206 Tours pilgrims, I pray that you do not spend days in fear, that we continue to pray for one another. Let our faith shine, #staypilgrims as we embrace the hardships and the road ahead towards Him, no matter what.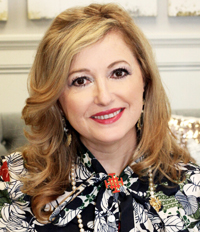 Milanka
Milanka Lachman
President and Founder
206 Tours