The
Way.

The

Truth.

The

Life.

Jesus said to him, "I am the way, and the truth, and the life. No one comes to the Father except through me."

Catholic Pilgrimages & Spiritual Journeys to the World's Holiest Sites with 206 Tours.

Lost Luggage: What To Do If This Happens to You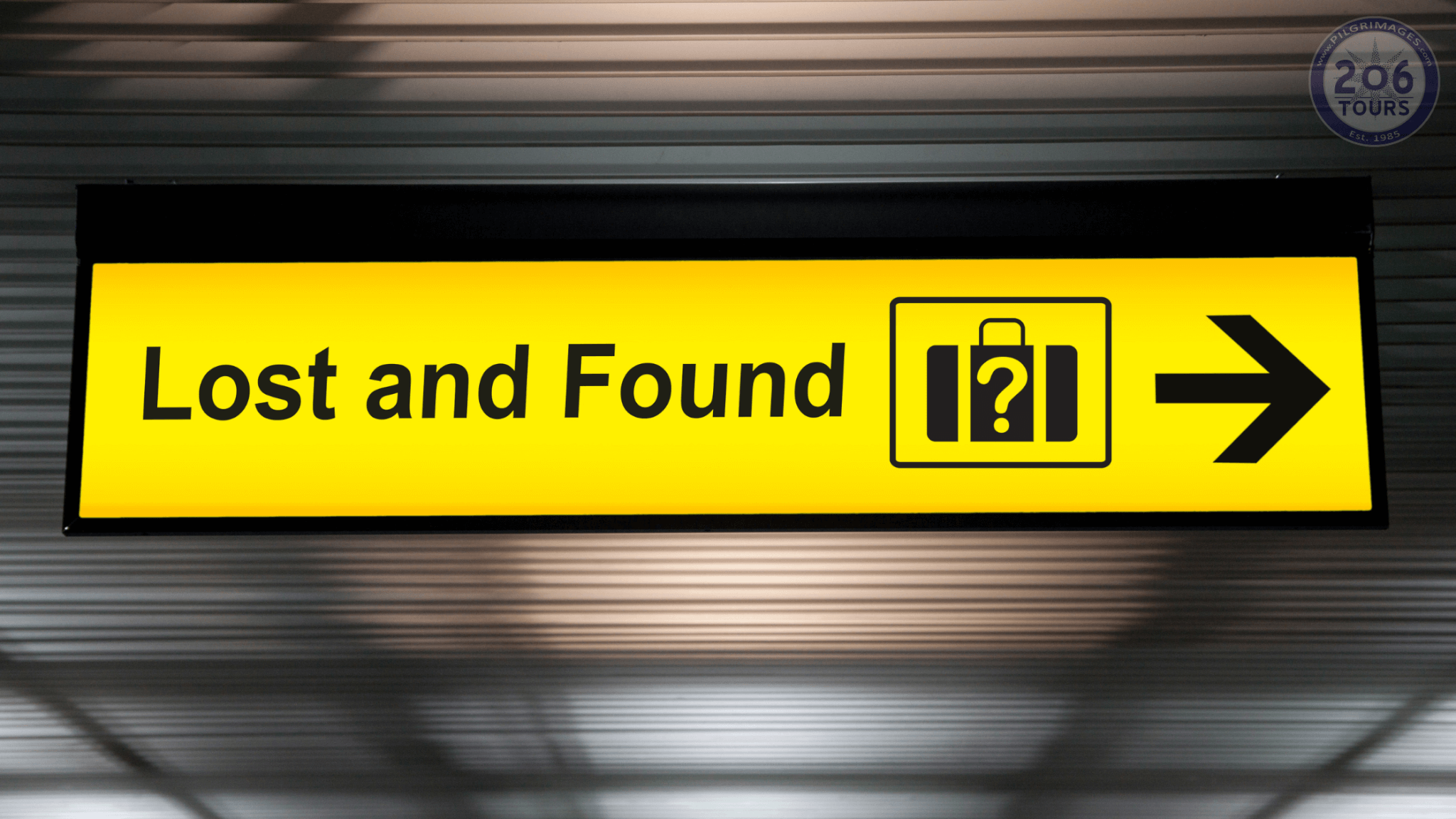 You've probably heard on the news – lost luggage is the newest hurdle in travel. More luggage is being lost than ever before partially due to understaffed airlines, airports, and transfer organizations.
We don't wish lost luggage on anyone – it's an unfortunate inconvenience that is sometimes part of travel. Tour Operators & Agencies, like 206 Tours, do not have special tracking tools, capabilities, or access to airline tracking programs. 206 Tours will of course do everything in our power to assist (make calls, send representatives to airports, file claims, etc.) In other words, the best we can do is call/email/file claims, just like you can. So if your luggage is lost, it is best that you work directly with the airlines in person, on the phone, or online.
206 Tours highly recommends that all pilgrims mentally and physically prepare for this situation. If your luggage is lost, the bottom line is:
be patient and courteous to airline staff
pack at least 2 days worth of clothes and all essentials in carry-on luggage.
To elaborate, find the recommended steps you should take to recover your luggage and what to do in the meantime.
Pray to St. Anthony
Saint Anthony is the Patron Saint of lost things, so lost luggage would be a perfect time to ask him to intercede for you! Pray to Saint Anthony for the situation to be rectified as quickly as possible.
Prayer to Saint Anthony for Lost Items
St. Anthony, perfect imitator of Jesus, who received from God the special power of restoring lost things, grant that I may find what has been lost.

[Mention your Luggage/Personal Items]

​At least restore to me peace and tranquility of mind, the loss of which has afflicted me even more than my material loss. To this favor, I ask another of you: that I may always remain in possession of the true good that is God. Let me rather lose all things than lose God, my supreme good. Let me never suffer the loss of my greatest treasure, eternal life with God. Amen. St. Anthony, helper in all necessities, pray for us.
Speak with a Representative in Person
First try to speak with a representative of the airline at baggage claim, the airline's check-in desk, or at the airports Baggage Office. If you cannot find a representative, call the airline. *Please try to remain patient, calm, and courteous – this will should help expedite the process for you. Remember that the airlines, and airports are understaffed with shortened hours.
Complete a Missing Luggage Form
Complete any applicate forms to submit a claim before you leave the airport.
File a Complaint
File a complaint with the airline that lost your luggage as this may assist begin the process of locating your items and providing reimbursement or compensation.
Save all Paper Work, Phone Numbers, Tracking Information, etc.
Please make sure to save all paperwork and tracking information given to you by the Airlines.
Provide Proper Delivery Address
Upon locating your baggage, the airlines will bring your luggage to your Hotel (or home if returning). It is important that you provide them with the correct address and dates that you will be at your hotels (noted in your Digital Confirmation.)
Provide Contact Details
Make sure to provide your phone number for updates. You may also provide the phone number of your Guide, also noted in the Digital Confirmation.
Save Receipts
You may need to purchase necessities. If your baggage is delayed for over 24 hours, and you purchased insurance, you may submit a claim upon your return to the US (only applicable to passengers that purchased Travel insurance through 206 Tours). Be sure to keep all receipts as the Insurance should reimburse your necessary purchases.
Check Returned Luggage
When your baggage is returning, check to make sure all belongings are included. If there is any damage to your luggage or goods, take pictures of the damage to submit within your claim.
SPECIAL NOTE! Travelers Insurance Allows You to Buy New Clothes & Essentials
Travel Insurance can be extremely helpful to pilgrims with missing luggage. Pilgrims can be protected to spend up to $100 per day, per person to purchase new clothing and essentials. You may have travel protections included through your credit card benefits, or, if you're a 206 Tours pilgrim, you can purchase it through Travel Insured International any time up until 72 business hours prior to departure.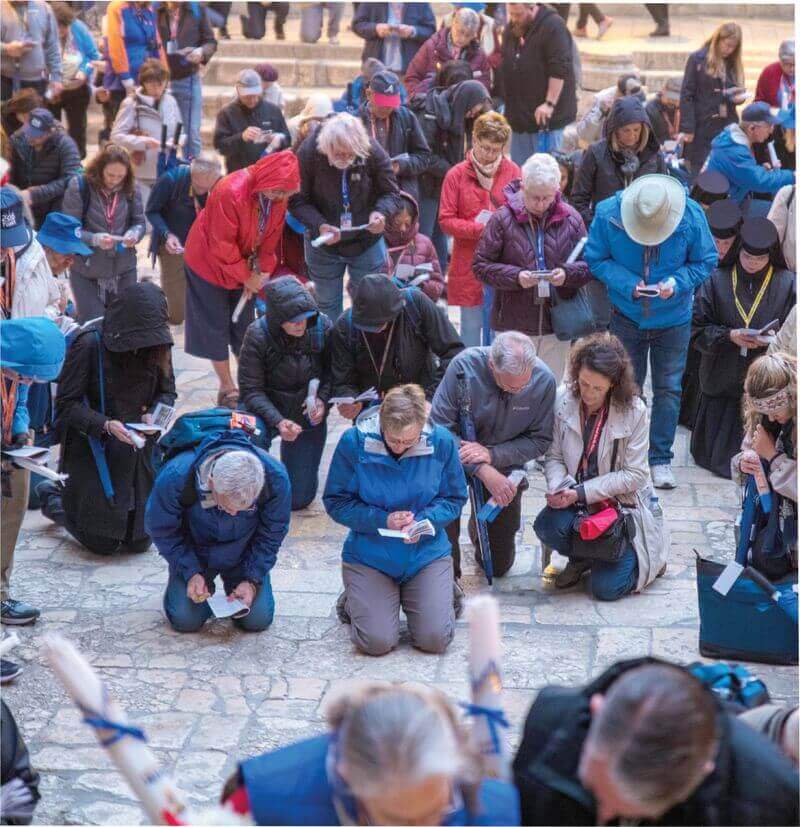 206 Tours Pilgrims
What is a 206 Tours Pilgrimage Like?
"To go on pilgrimage really means to step out of ourselves in order to encounter God where he has revealed himself" – Pope Benedict XVI
Join Us
Join over 400,000 faithful Pilgrims and get exclusive travel tips, giveaways and more!
POPULAR POSTS