The
Way.

The

Truth.

The

Life.

Jesus said to him, "I am the way, and the truth, and the life. No one comes to the Father except through me."

Catholic Pilgrimages & Spiritual Journeys to the World's Holiest Sites with 206 Tours.

Remembering Saint Padre Pio on the Anniversaries of both his Stigmata & Death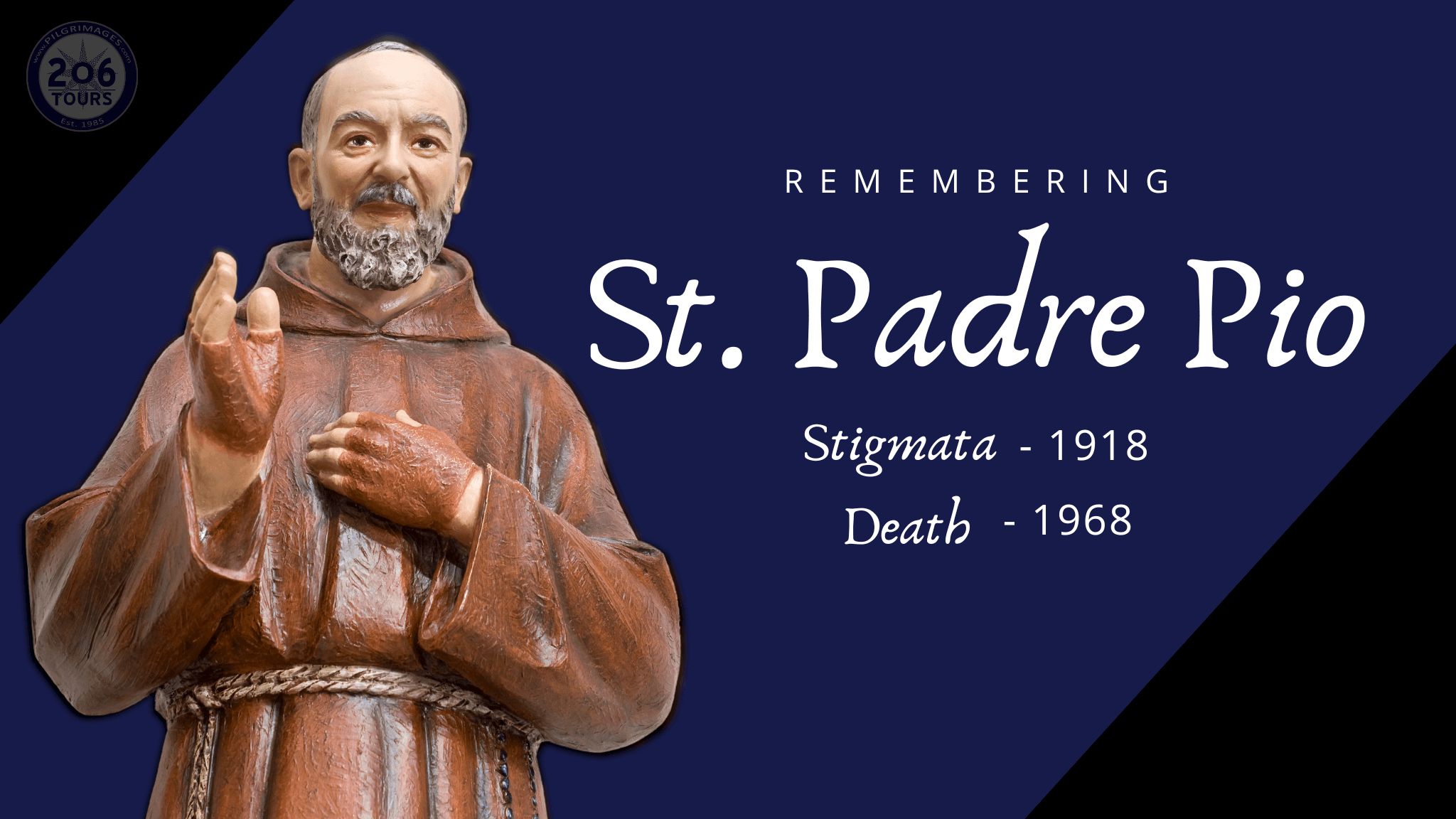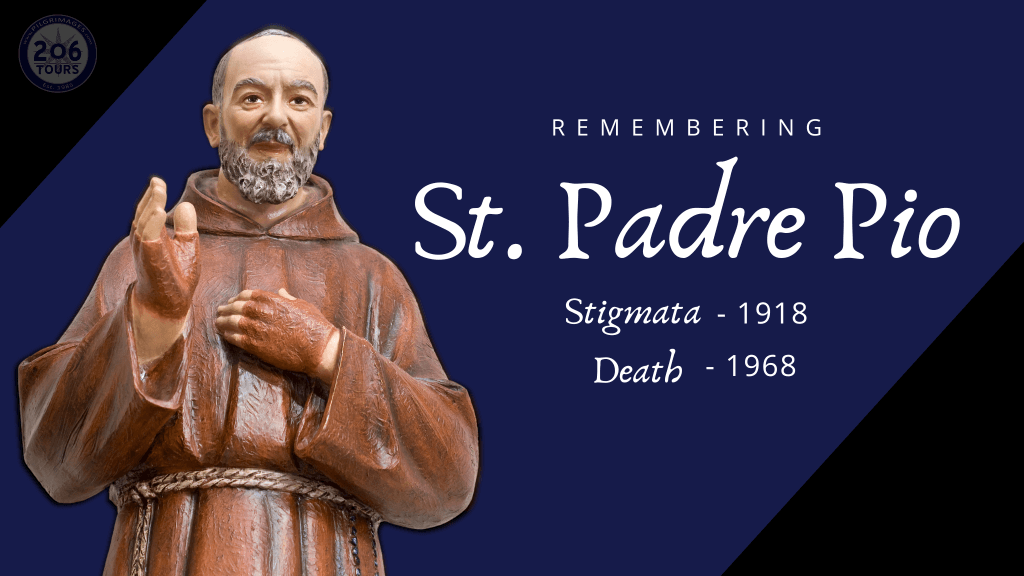 On September 20, 2018, we honored the 100th Anniversary of Saint Padre Pio's Stigmata – and – Sunday, September 23th, marks the 50th Anniversary of his death. We would like to give Special Recognition for the example he set for us and for his service to all Catholics.
Stigmata
Saint Padre Pio is famously known for his stigmata, visions, and the gift of healing. His stigmata first appeared on September 20th, 1918 while he was hearing confession. The Stigmata directly mimics Christ's Crucifixion and Passion wounds on his hands, feet, and side. The wounds had a floral odor, often referred to as the, "odor of sanctity", and the Stigmata was perceived by many as evidence of holiness. With much skepticism surrounding Saint Pio, he was investigated many times, but all the doctors commissioned by the Holy See confirmed his Stigmata is to have been a gift from God.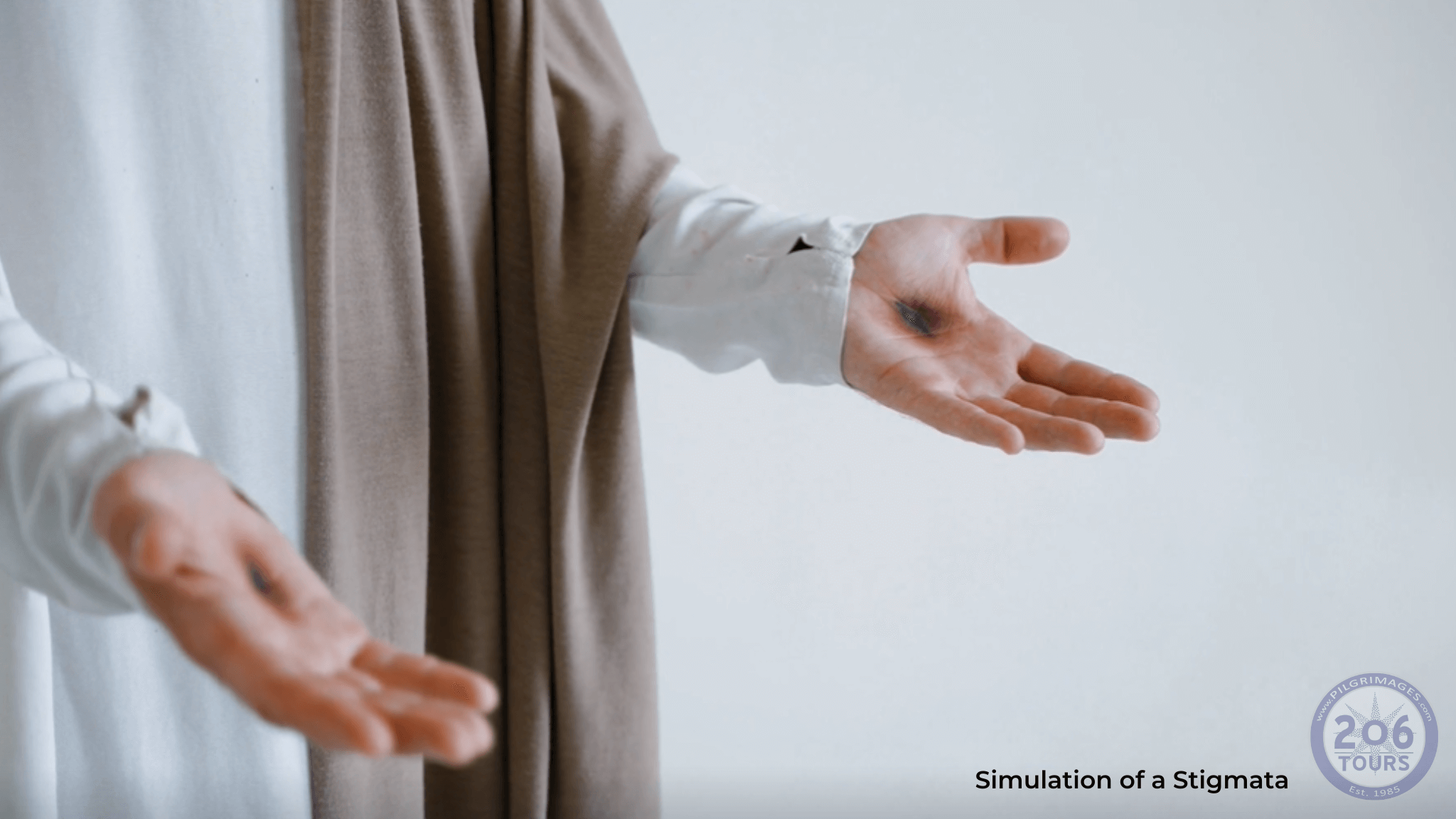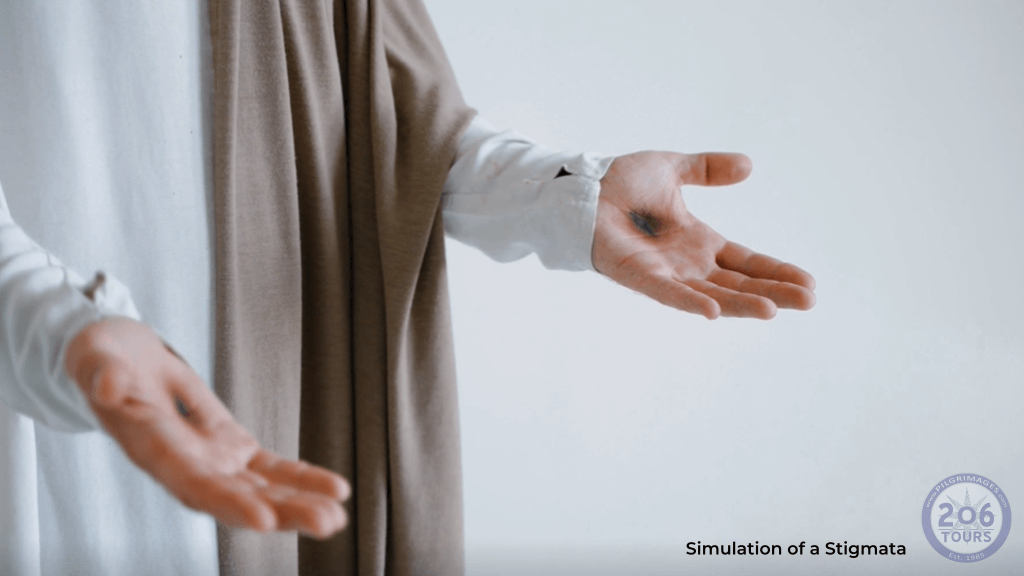 Superhuman Qualities
As Father Sean Connolly mentions in his recent article for Catholic World Report, Padre Pio's "devotion to prayer, fasting, and penance was superhuman." From as early as 5 years old, Saint Pio dedicated his life to God, and throughout his life remained extremely connected to Christ. He was known to speak directly to Mary, Jesus, and the Angels, in addition to his gift of visions, and ability to bi-locate and read souls. Saint Pio barely ate or slept, yet always pushed through his pains, demons, and illnesses to serve God and His people in a way that demonstrated supernatural physical resilience and unwavering Faith.  To Fr. Sean's read the full article, click here. 
Connection to St. John Paul II
In the late 1940s, Saint John Paul II visited Saint Padre Pio and confessed to him. There, Saint Pio shared that he had a prophecy that Saint John Paul II would one day serve the highest post in the church. As we all know, he went on to be elected Pope in 1978, and subsequently, Beatified Padre Pio in 1999, and Canonized him in 2002.
Death
On September 20

th

, 1968, Saint Padre Pio had endured 50 years of living with his stigmata and began to feel great fatigue. The next day he celebrated his last Mass in San Giovanni Rotondo, in a town packed with Pilgrims who came to see him. On the morning of September 23

rd,

Saint Padre Pio made his last confession and renewed his Franciscan vows before stating he could see two mothers, presumably his own mother and Mary, and whispering "Maria!" with his final breath. 
Throughout his life, Catholics would travel great distances, and wait outside for weeks to confess to Saint Pio. Likewise, his funeral Mass received the same response and was attended by over 100,000 people.
Saint Padre Pio had often said that his real mission would begin after his death, and now – 50 years after his death, we still remember and honor him, forever inspired by our modern-day biblical Prophet. Many Catholics honor Saint Pio's life by making a pilgrimage to San Giovanni Rotondo. To learn more about how you can remember Saint Pio through Pilgrimage, visit – Shrines of Italy or All Italian Shrines.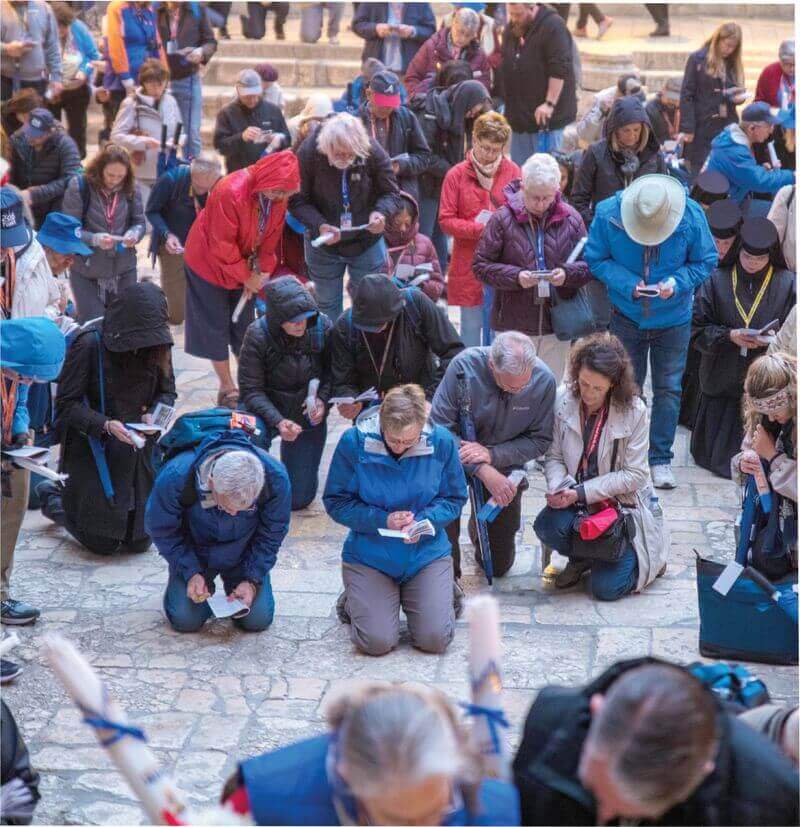 206 Tours Pilgrims
What is a 206 Tours Pilgrimage Like?
"To go on pilgrimage really means to step out of ourselves in order to encounter God where he has revealed himself" – Pope Benedict XVI
Join Us
Join over 400,000 faithful Pilgrims and get exclusive travel tips, giveaways and more!
POPULAR POSTS