The Holy House of Loreto Pilgrimage

The Story:
The Holy House of Loreto (in Italian, "Santa Casa di Loreto") is the house where Mary was born and the site of the Annunciation. The Holy House is in Loreto, in the Italian Province of Ancona. The miracle states that in 1294 angels carried the house from the Holy Land to its current location of Adriatic coast in Loreto. This great Marian shrine is also known as the House of Nazareth, and it also holds the beautiful statue of the Madonna of Loreto. More than fifty Pope's have made pilgrimages to the house in the hills of central Italy. Tradition has it that this is the house in which Mary first prayed the Magnificat, in which Jesus grew to manhood, and in which the Holy Family lived. This house now lies within the grand Basilica of the Holy House (in Italian, "Basilica della Santa Casa") and has been one of the most famous Marian Shrines for Catholic Pilgrimages since the 13th century. The feast day of Our Lady and the Holy House of Loreto is on December 10th each year.
Location: The Holy House of Loreto is about an hour and a half drive from Assisi.
Accommodations: There are many 4 and 5 star hotels in Loreto.
Address: Piazza della Madonna, 1, 60025 Loreto AN, Italy
Tours visiting Italy:
Shrines of Italy
Rome (Papal Audience with Holy Father) * Monte Cassino * San Giovanni Rotondo (Padre Pio) * Monte Sant'Angelo (St. Michael) * Lanciano (Eucharistic Miracle) * Loreto (Holy House) * Assisi (St. Francis) * Cascia
| Duration | Destination |
| --- | --- |
| 10 Days | Italy |
VIEW DETAILS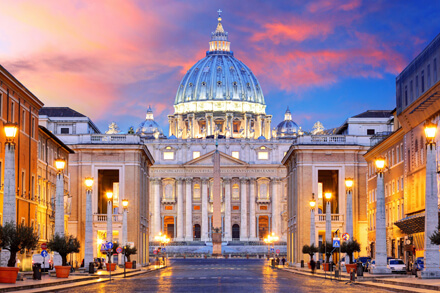 All Italian Shrines
Rome (Papal Audience with Holy Father) * Monte Cassino * San Giovanni Rotondo (Padre Pio) * Monte Sant'Angelo (St. Michael) * Lanciano (Eucharistic Miracle) * Loreto (Holy House) * Assisi (St. Francis) * Cascia * Siena * Florence * Padua (St. Anthony) * Venice
| Duration | Destination |
| --- | --- |
| 14 Days | Italy |
VIEW DETAILS