The
Way.

The

Truth.

The

Life.

Jesus said to him, "I am the way, and the truth, and the life. No one comes to the Father except through me."

Catholic Pilgrimages & Spiritual Journeys to the World's Holiest Sites with 206 Tours.

Untold Stories About Medjugorje: Virtual Pilgrimage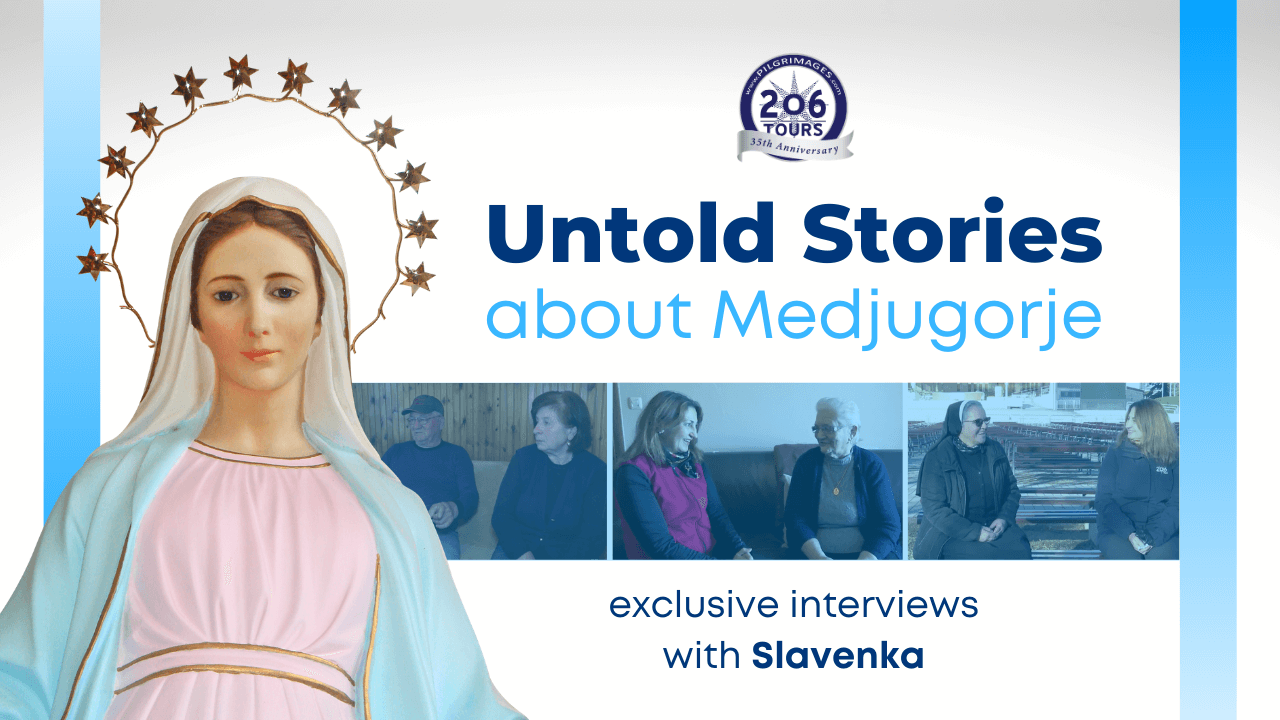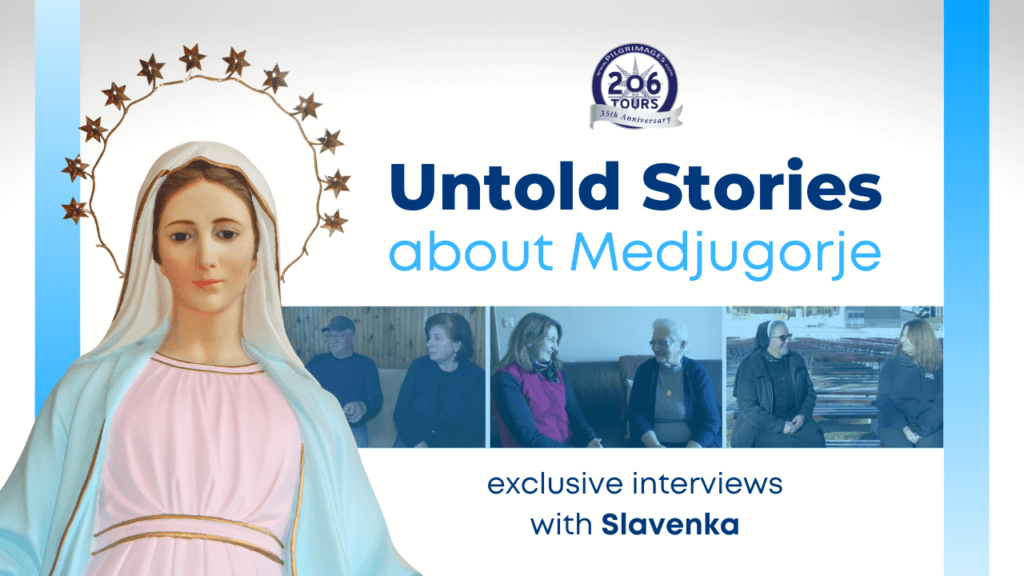 Available to Rent On-Demand Now:
Untold Stories of Medjugorje: Virtual Pilgrimage
We're so excited to finally be able to bring our Pilgrims a taste of Pilgrimage after a long year without travel. On this Virtual Pilgrimage, you will hear the history of Medjugorje like you have never heard it before! These exclusive interviews cannot be found anywhere else, but here.
Join Slavenka as she interviews several locals in Medjugorje to hear their experiences as members of the village who watched as the visionaries witnessed our Lady's Apparitions. Interviews include Sister Marina Ivankovic, a Franciscan Nun; locals Marinko Ivankovic and Draga Vidovic; Mother of Visionary, Vicka, Zlata Ivankovic; and parents of a child who was miraculously healed.
WATCH OUR TRAILER
HOW TO WATCH
206 Tour's Virtual Pilgrimages make it easy for all pilgrims to "travel" without limitations! Simply find a comfy seat at home, sit back, relax, and feel transported to Medjugorje!
Step 1
To watch, simply visit our Vimeo page and click the blue "RENT" button.
Order here: www.vimeo.com/ondemand/206toursuntold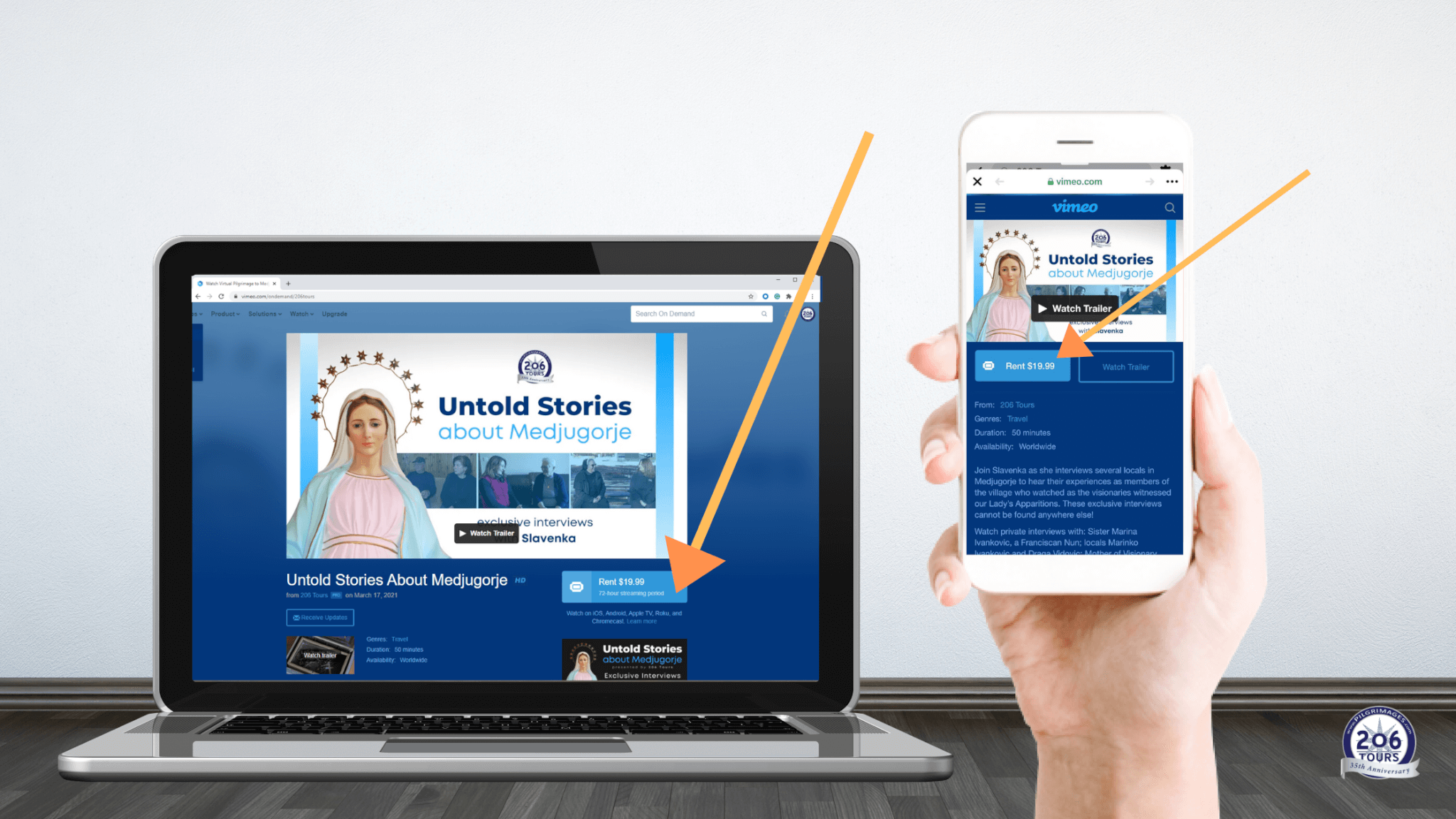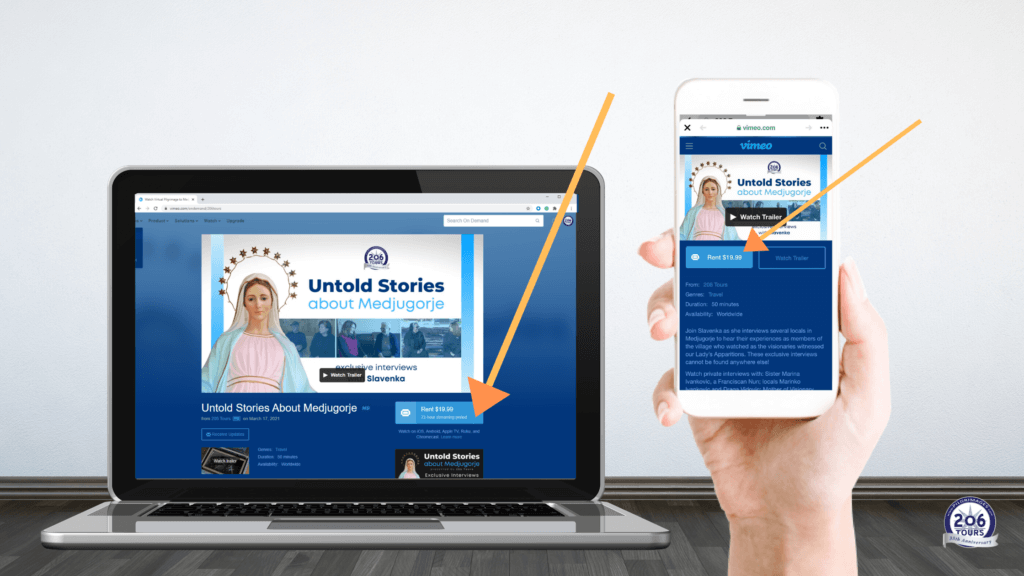 Step 2
If you don't already have an account, you may be asked to create a Vimeo Log In. You will also have the option to log in through Google or Facebook. Vimeo is a trusted American video hosting, sharing, and services platform headquartered in New York City with over 200 million users worldwide. This is a secure transaction, you will not be charged to make a Vimeo account. The only fee you will encounter is the $19.99 rental fee for the Virtual Pilgrimage.
WAYS TO WATCH
Once rented, you will have 72-hours to enjoy the Virtual Pilgrimage as many times as you like! The Pilgrimage can be watched on devices such as Smartphones, Smart TVs, Tablets, iOS, Android, Apple TV, Roku, and Chromecast.
Download the Vimeo App: It's easy to watch our Pilgrimage on any device, including Smart TVs with the Vimeo App.
To view your Vimeo On Demand (VOD) purchase on a computer, log in to your Vimeo account in your desktop browser and go to your Purchases (purchases also appear in your Watch Later queue). Clicking on a title in your purchases will take you to the VOD page, where you can stream the video(s). To switch into full-screen, click the icon in the lower-right corner of the player.
For more details on how to watch, click here: Vimeo Watching On-Demand Videos
OPT-IN
When you purchase, you will be asked if you'd like to "opt-in" to receive updates from 206 Tours. While this is optional, we strongly suggest you do this so that we can contact you with future Virtual Pilgrimage offerings!
SHARE!
Let's get social! We'd love to see what your movie night looks like! Snap a pic or a selfie watching the Virtual Pilgrimage and post it with the hashtag #206tours on Facebook or Instagram! Also, feel free to join our Virtual Pilgrimage Facebook Group!
THANK YOU!
Most of all, thank you for your interest in our Virtual Tours! This year without travel has been so difficult as we dearly miss our pilgrims and the world's most sacred sites. We hope you enjoy this Virtual Pilgrimage and consider joining us on a real-live tour to Medjugorje in the future!
We hope to expand our Virtual Pilgrimage offerings in the near future with more tours to the World's Holiest Catholic sites. Join our email list for updates on future tours, or to send your suggestions.
Join our waitlist to receive updates on this tour as well as future Virtual Pilgrimages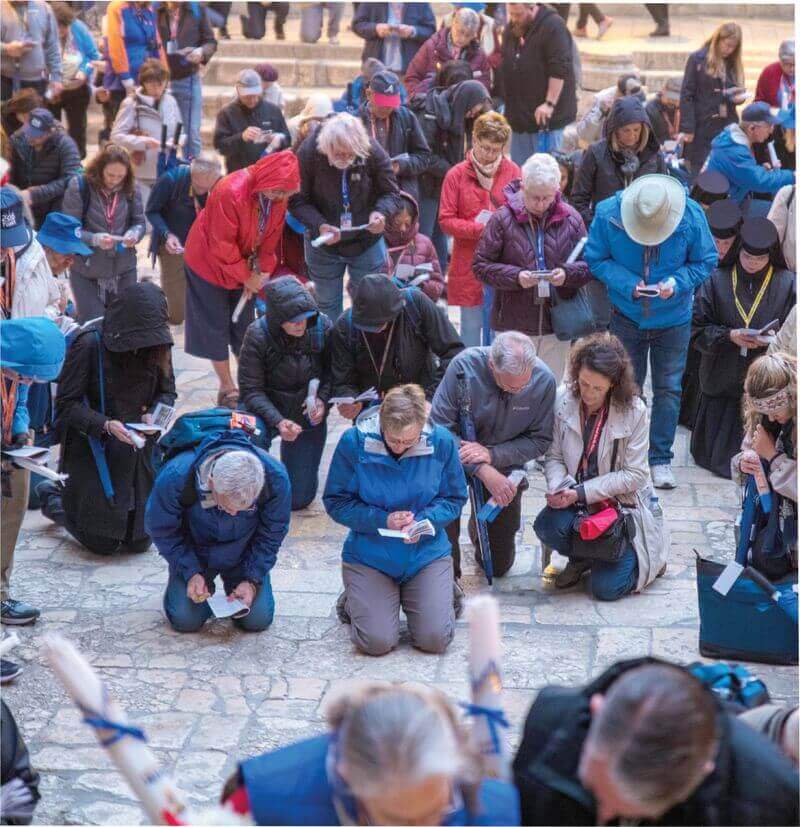 206 Tours Pilgrims
What is a 206 Tours Pilgrimage Like?
"To go on pilgrimage really means to step out of ourselves in order to encounter God where he has revealed himself" – Pope Benedict XVI
Join Us
Join over 400,000 faithful Pilgrims and get exclusive travel tips, giveaways and more!
POPULAR POSTS