Virtual Pilgrimages
A Pilgrimage is an act of spiritual devotion that will bring you closer to Jesus. In addition to real live group pilgrimages, 206 Tours offers Virtual Pilgrimages that bring aspects of the prayerful, personal and transformational experience that is Pilgrimage into your own home.
A Virtual Pilgrimage experience is an alternative to travel that is perfect for those who are currently unable to leave their home, or even for those who are just looking for a taste of a Spiritual Journey.
Join our talented guide Rami as he walks in Jesus' last footsteps in this new FREE Virtual Pilgrimage; "Holy Week: from Where It Happened". Be there in spirit as you see the sites from the final days of Jesus' life, all filmed in March 2021, amid widespread lockdown due to the pandemic. The sites, typically bustling with Pilgrims and tourists, are empty. See these sites like never before – bring the Holy Land into your homes, as you sit back, watch, and feel as though you are on a Holy land Pilgrimage! Learn more https://www.206tours.com/cms/blog/holy-week-virtual-pilgrimage
Virtual Pilgrimage to Medjugorje
Tour VPM1
Join Slavenka, Ivan, and Slavica for our first Virtual Pilgrimage to Medjugorje! On this virtual pilgrimage, you will learn the history of this sacred place, especially with regard to Our Lady's 1981 Apparitions. You will tour local churches and places of prayer as well as "climb" Apparition Hill and visit Cross Mountain, the Blue Cross, the Risen Christ, and more!
| Duration | Cost |
| --- | --- |
| 110 Minutes | | $35 per person |
Untold Stories About Medjugorje
Tour VPM2
Join Slavenka as she interviews several locals in Medjugorje to hear their experiences as members of the village who watched as the visionaries witnessed our Lady's Apparitions. These exclusive interviews cannot be found anywhere else!
| Duration | Cost |
| --- | --- |
| 50 Minutes | | $19.99 per person |
A Taste of Medjugorje
Tour VPM3
Join Slavenka and a local cook in her home kitchen to learn how to cook a local Medjugorje favorite dish!
| Duration | Cost |
| --- | --- |
| 40 Minutes | | $20 per person |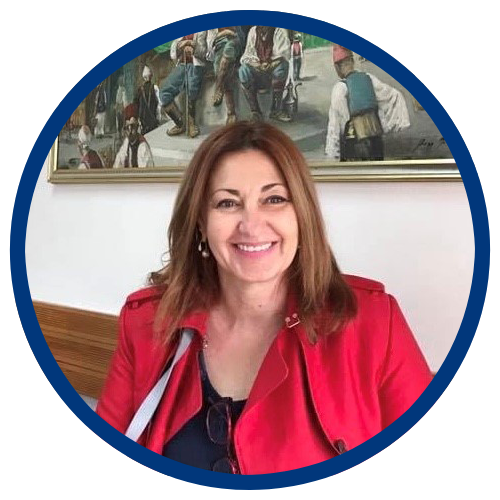 Virtual Tours with Slavenka
Slavenka has been a dedicated Medjugorje tour guide with 206 Tours for decades leading thousands of Pilgrims to Holy sites and Experiences. Slavenka, along with her fellow guides, Ivan and Slavica, will take you through Medjugorje's rich historical and religious past.
Virtual Pilgrimage Offerings
Select one of our Virtual Pilgrimages above to join our waitlist. You will receive an email confirmation with a link and instructions on how to purchase and view the virtual pilgrimage on our Vimeo platform. Refunds are not available on booked Virtual Pilgrimages - for a full list of terms, please visit www.206tours.com/terms/virtualpilgrimage
Custom Virtual Pilgrimage Offerings
Request your own custom experience! Perhaps host a virtual Family Reunion and pray the Rosary "at" Apparition Hill. Host a virtual cocktail party and learn how to cook a local delicacy! Request a custom and private Virtual Tour by emailing FIT@206tours.com