St. Peter's Basilica and the Vatican Pilgrimage

The Story:
First built in 337 and then rebuilt in 1626, the basilica lies over the tomb of St. Peter. Contained within St. Peter's Basilica is one of the world's most famous collections of artwork ever assembled, reflecting the immensity, beauty, vastness, majesty, glory and awesomeness of God. This Basilica is the spiritual capital for over a billion Roman Catholics around the world. Around 64AD Peter the apostle Peter was martyred on Vatican Hill, and crucified. Several years later Pope Anacletus built an oratory over his tomb. In the year 337 Constantine built the original basilica. The current Basilica was built in the 16th century with artists and architects like Michelangelo, Bernini, Raphael, and more all contributing.

Walking into the enormous basilica, pilgrims encounters thousands of magnificent pieces of art and sculptures decorating the walls, floors and halls of the vast church. Michelangelo's Pieta (a marble sculpture of Mary grieving over the body of Jesus after the crucifixion) is just within the entrance. In the central nave is a statue of the seated apostle Peter (one foot worn thin from pilgrims touching it). The most important relic is that of St. Peter, located under the papal altar, containing his bones. A large piece of the true cross is enclosed in one of the four huge pillars facing the high altar. The lance that pierced the side of Christ is located in one of the pillars nearest the statue of St. Longinus. This is the largest religious temple in the world; hosting numerous canonization ceremonies and hundreds of major papal events with 266 Popes. Pilgrims from all over the world make the journey to St. Peter's Square each day to celebrate Mass, most days between 20,000 and 80,000 people gather. There are over a hundred tombs under St. Peter's Basilica, almost all of the Popes.
Address: Piazza San Pietro, 00120 Cittá del Vaticano, Vatican City
Accommodations: There are many 4 and 5-star hotels in central Rome
Tours visiting Italy:
Shrines of Italy
Rome (Papal Audience with Holy Father) * Monte Cassino * San Giovanni Rotondo (Padre Pio) * Monte Sant'Angelo (St. Michael) * Lanciano (Eucharistic Miracle) * Loreto (Holy House) * Assisi (St. Francis) * Cascia
| Duration | Destination |
| --- | --- |
| 10 Days | Italy |
VIEW DETAILS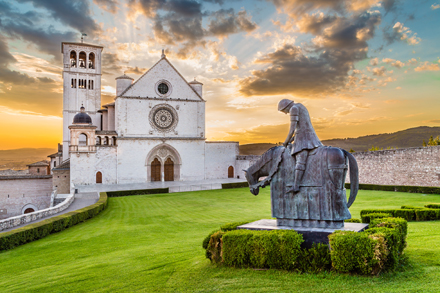 All Italian Shrines
Rome (Papal Audience with Holy Father) * Monte Cassino * San Giovanni Rotondo (Padre Pio) * Monte Sant'Angelo (St. Michael) * Lanciano (Eucharistic Miracle) * Loreto (Holy House) * Assisi (St. Francis) * Cascia * Siena * Florence * Padua (St. Anthony) * Venice
| Duration | Destination |
| --- | --- |
| 14 Days | Italy |
VIEW DETAILS