St. John Vianney Pilgrimage
The Story:
Jean-Marie Vianney was born in the small village of Dardilly, France in 1786. As a young boy he had a deep love and understanding of God and would often instruct other children in the Christian faith. Although he had very little schooling, he entered seminary at the age of 20. Because of minimal education, he had much difficulty with Latin and philosophy, however, through perseverance and providence, he was finally ordained a priest. He was then sent to a small parish in Ars, France, where he remained for the rest of his life. His powerful sermons and personal example of holiness brought the many whose faith had suffered during the French Revolution back to God. The Cure of Ars received many supernatural gifts from the Lord. Reading souls in the confessional, predicting events, and performing miracles were a few reasons that pilgrims from all over France flocked to Ars to see him. From 1830-1845 an average of 300 people visited Ars daily. In 1858-59 more than 100,000 pilgrims traveled to Ars. St. John Vianney lived a simple life: eating little, wearing old clothing, and sleeping on a hard bed. He spent many hours per day in the confessional – in the summers he was sometimes there for 16 hours! He faced many trials in his lifetime, and gave up his soul to God on August 4, 1859. He is an outstanding example of the power of one person who responds to God's grace and fulfills his vocation. The Church has proclaimed him patron saint of parish priests.
Accommodation: There are many hotels of all price ranges and quality in Ars and Lyon.
Transportation: Ars sur Formans is located in the southeastern portion of France approximately a 45 minute drive from Lyon (25 miles) via the A6. Train/bus: Take the train from Lyon to Villefranche-sur-Saone, then transfer to the bus to Ars-sur-Formans Village. The trip takes about 1.5 hours each way.
Tours visiting France: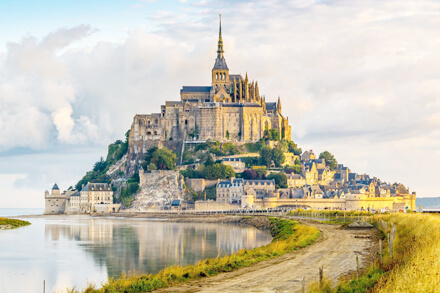 Great Shrines of France
Lourdes (St. Bernadette) * Lisieux (St. Therese the Little Flower) * Normandy Beach * Chartres * Paris * Nevers (St. Bernadette) * Paray-le-Monial * Lyon * La Salette (Our Lady of La Salette) * Ars (St. John Vianney "Cure of Ars")
| Duration | Destination |
| --- | --- |
| 13 Days | France |
VIEW DETAILS
Great Shrines of France & Medjugorje
Lourdes (St. Bernadette) * Lisieux (St. Therese the Little Flower) * Normandy Beach * Chartres * Paris * Nevers (St. Bernadette) * Paray-le-Monial * Lyon * La Salette (Our Lady of La Salette) * Ars (St. John Vianney "Cure of Ars") * Medjugorje
| Duration | Destination |
| --- | --- |
| 17 Days | France, Medjugorje |
VIEW DETAILS