St. Bernardino of Siena Pilgrimage
The Story:
St. Bernardino (or Bernardine) was an Italian Priest and Franciscan missionary who was widely known for his preaching in the 15th century. When he was Canonized in 1450, just several years after his death, he was also called "the Apostle of Italy" due to his role is re-popularizing the Catholic faith in Italy through his preaching. Saint Bernardino is the Patron Saint of Capri, Italy and also of advertising and communications. Siena Collage is a Franciscan Catholic liberal arts college named in his honor. St. Bernardino remains are in the Basilica of San Bernardino in L'Aquila, Italy. The Church was built just after St. Bernardino's death and was declared a Minor Basilica in 1946.
Location: Located just northeast of Rome, L'Aquila is about a 2 hour drive from central Rome.
Address: Via S. Bernardino, 67100 L'Aquila AQ, Italy
Phone: +39 0862 200390
Tours visiting Italy: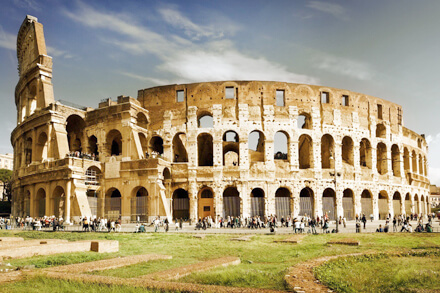 Shrines of Italy
Rome (Papal Audience with Holy Father) * Monte Cassino * San Giovanni Rotondo (Padre Pio) * Monte Sant'Angelo (St. Michael) * Lanciano (Eucharistic Miracle) * Loreto (Holy House) * Assisi (St. Francis) * Cascia
| Duration | Destination |
| --- | --- |
| 10 Days | Italy |
VIEW DETAILS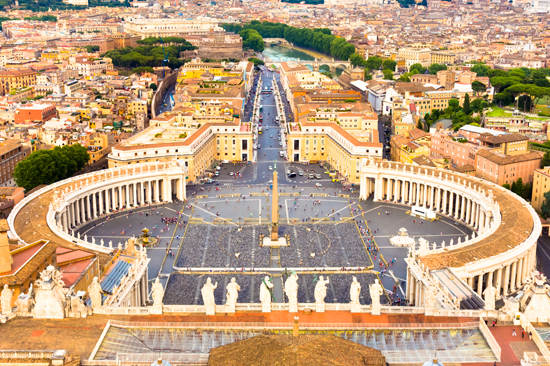 All Italian Shrines
Rome (Papal Audience with Holy Father) * Monte Cassino * San Giovanni Rotondo (Padre Pio) * Monte Sant'Angelo (St. Michael) * Lanciano (Eucharistic Miracle) * Loreto (Holy House) * Assisi (St. Francis) * Cascia * Siena * Florence * Padua (St. Anthony) * Venice
| Duration | Destination |
| --- | --- |
| 14 Days | Italy |
VIEW DETAILS