Shrine of Divine Mercy Pilgrimage
The Story:
The Shrine of Divine Mercy is in Lagiewniki (Krakow), Poland. The theological idea of the mercy of God goes back to Biblical times, but the Divine Mercy of Jesus Christ has been emphasized in a special way since the early 20th century. Jesus revealed the Divine Mercy message to St. Faustina Kowalska in the 1930s. The message and her visions were written from 1934-1938 and published as the Diary: Divine Mercy in My Soul, a profound account of her mystical encounters with Christ. Jesus said to St. Faustina, "I am Love and Mercy itself." She was commanded to have an image painted that would convey Christ's mercy and bring graces to wherever it was displayed. The painting says "Jezu, Ufam Tobie" or "Jesus, I trust in you". St. John Paul II canonized St. Faustina in 2000, and he dedicated the Second Sunday of Easter in the Roman Catholic Church calendar to Divine Mercy.
The Shrine of Divine Mercy in Lagiewniki (Krakow) Poland is the center of Divine Mercy devotion in the world. It is where St. Faustina is buried. The chapel is dedicated to St. Joseph and is within the complex of the convent of the Sisters of Our Lady of Mercy, the order to which St. Faustina belonged. The chapel is a very popular place of pilgrimage, and to handle the large crowds, a new church was built (1997-2002), and then was consecrated by St. John Paul II in 2002, during his final pilgrimage to his homeland. Since March 6, 2003, the church has been a Minor Basilica.
Location: Siostry Faustyny 3, 30-420 Kraków, Poland
Phone: +48 12 252 33 11
Accommodations: There are many hotels from budget to 5* in Krakow, a very short drive or tram ride from the Shrine.
Transportation: The Shrine of Divine Mercy is located about 15 minutes (5 mile) drive from Old Town Krakow, in Lagiewniki. Public transportation is also available.
Tours visiting Poland: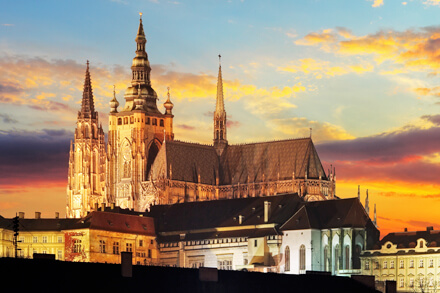 Poland
Warsaw * Niepokalanow * Swinice Warckie * Czestochowa * Wadowice * Krakow * Zakopane * Auschwitz * Lagiewniki (Divine Mercy) * Wieliczka
| Duration | Destination |
| --- | --- |
| 9 Days | Poland |
VIEW DETAILS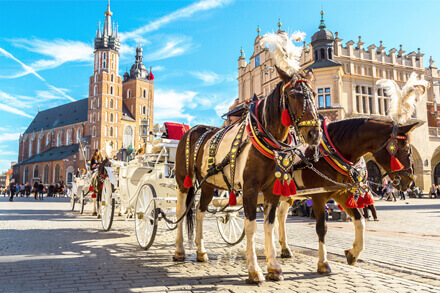 Poland & Prague
Warsaw * Niepokalanow * Swinice Warckie * Czestochowa * Wadowice * Krakow * Zakopane * Auschwitz * Lagiewniki (Divine Mercy) * Wieliczka * Prague
| Duration | Destination |
| --- | --- |
| 11 Days | Poland, Czech Republic |
VIEW DETAILS