Santo Domingo de Silos Monastery Pilgrimage
The Santo Domingo de Silos Monastery is located in Burgos, Spain. The Monastery was originally named San Sebastian de Silow but was renamed after St. Dominic of Silos was entrusted to renovate the Monastery. Benedictine monks call this this Monastery home. In the 1990's they became world famous after their recordings of Gregorian chants led to hit records. These cloistered monks are dedicated to serving Christ through chastity, poverty and obedience. Seven times a day the monks gather in the cloister's church to raise their voices to God in praise and thanksgiving. They devote their lives to the study and singing of Gregorian chant. The music is a weaving of sacred Scripture and sacred writings and seems to bathe and refresh the soul. A visit for a morning, a day, or several days allows the pilgrim to experience the soothing sounds of heaven.
Located: The monastery is amidst the rolling hills of north central Spain 100 miles north of Madrid. Can be reached by car (N1 south from Burgos); Train to Burgos then bus or taxi); bus.
Tours visiting Spain: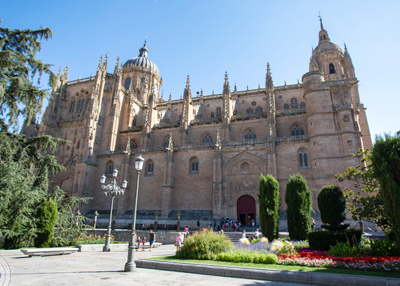 Fatima, Spain & Lourdes
Lisbon (St. Anthony) * Santarem (Eucharistic Miracle) * Fatima * Salamanca * Alba de Tormes * Avila (St. Teresa) * Burgos * Loyola (St. Ignatius) * Lourdes (St. Bernadette)
| Duration | Destination |
| --- | --- |
| 10 Days | Portugal, Spain & France |
VIEW DETAILS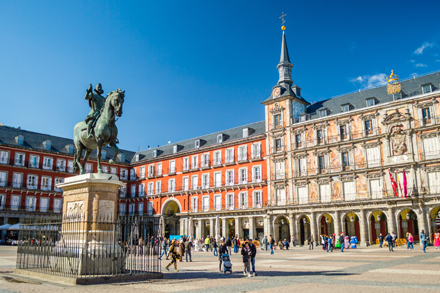 The Shrines of Spain, Fatima & Lourdes
Barcelona * Montserrat * Manresa * Zaragoza * Toledo * Madrid * Santiago de Compostela (St. James) * Lisbon (St. Anthony) * Santarem (Eucharistic Miracle) * Fatima * Salamanca * Alba De Tormes * Burgos, Loyola (St. Ignatius) * Avila (St. Teresa) * Lourdes (St. Bernadette)
| Duration | Destination |
| --- | --- |
| 17 Days | Portugal, Spain & France |
VIEW DETAILS