Santiago de Compostela Pilgrimage
The Cathedral of Santiago de Compostela is in Galicia in northwestern Spain in the Province of A Coruña. The Cathedral is well known for being the final resting place and tomb of St. James the Apostle of Jesus Christ. Also known as St. James the Greater, he is well known for heroically trekking through Spain preaching Christianity. After spreading Christianity through Spain, he was martyred and tried in Judea where his was put to death in 44 A.D. His remains were put on a boat and moved to Santiago de Compostela. His route is now called The Way of St. James or "El Camino". For over a thousand years, millions of Pilgrim's have followed in St. James's footsteps on this ancient Pilgrimage trial to ultimately visit Santiago de Compostela, Cathedral and attend Pilgrim Mass there. El Camino is one of the three Pilgrimages where a Plenary Indulgence can be attained. In Medieval times, this Pilgrimage was extremely popular. In 1211 the Cathedral was completed – it is now and integral component of what makes the city of Santiago de Compostela and UNESCO World Heritage Site.
2021 / 2022 Jubilee Year
A Jubilee Year is any year in which July 25 falls on a Sunday. 2021 is a Jubilee year in which Pilgrims will be able to receive a plenary indulgence to be absolved of the temporal punishment for all sins, and they can gain this indulgence for themselves or their beloved deceased! This special Jubilee occurs only fourteen times each century drawing many Catholics to make a Pilgrimage there. Due to the pandemic, the Vatican announce they will extend the Jubilee Year through 2022 in hopes to accommodate more pilgrims and grant them plenary indulgences.
In order to receive the indulgence, pilgrims must visit the tomb of the Apostle St. James in the Cathedral of Santiago. While at the tomb, the Pilgrim must pray at least the Apostles' Creed, Our Father, and a prayer for the intentions of the Holy Father, as well as go to Confession and receive the Eucharist within fifteen days of visiting the Cathedral. Plenary Indulgence can be achieved once per day and be applied to the individual or for the faithful departed. It is not necessary for Pilgrims to have arrive on foot or to have completed any certain amount of walking to receive Plenary Indulgence, but it is recommended to attend the daily Pilgrims Mass and to enter through the Puerta Santa door.
This Holy Year begins with a ceremony on December 31st opening the "Puerta Santa", or Holy Door, where the Archbishop of Santiago symbolically strikes the wall three times with a silver hammer in homage to the difficulty involved in the Camino. This door remains open for the next 12 months so that Pilgrims can use it to enter the tomb and will be closed off by a fence at the end of the Jubilee year until the start of the next.
The El Camino de Santiago or the Way of St. James is the most famous, and sacred, walking pilgrimage in the world. For over 1,000 years millions of people walked these ancient paths. In the last Jubilee Year, 2010, a reported 272,135 Pilgrims were said to have visited Santiago de Compostela. 206 Tours makes it possible for anyone who wishes to experience this incredible journey, coordinating all accommodations, meals, luggage handling, transfers, and guiding.
With every step you take, and every town you pass through, you are drawn closer to St. James. Moments of quiet, and moments of interactions with someone new, draw you closer to Him – especially in a Jubilee year. You can relax knowing the person you are, and the questions you have, will be completely different by the time you arrive in Santiago, and perhaps, that was the answer you were looking for.
While on this Pilgrimage you will be removed from the routine of your everyday life, rest assured you will be taken care of with outstanding accommodations, meals and transportation with van/bus driving parallel to the path you walk each day. Should at any point you feel tired, need water, or any medical assistance, it will be readily available to you at check points that are set up along the way on your path. Tourists pass through places, places pass through Pilgrims. Take advantage of this El Camino Holy Year opportunity which occurs only fourteen times per century!
Tours visiting the Santiago de Compostela: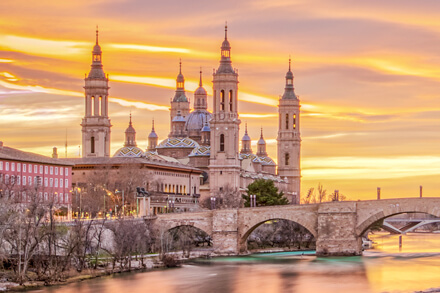 Shrines of Spain
Barcelona * Montserrat * Manresa * Zaragoza * Toledo * Madrid * Santiago de Compostela
| Duration | Destination |
| --- | --- |
| 9 Days | Spain |
VIEW DETAILS