Santa Maria Sopra Minerva Basilica Pilgrimage
The Story:
Santa Maria Sopra Minerva Basilica is one of the major Churches in the Diocese of Rome located in Piazza della Minerva near the Pantheon. Completed in 1370, it is the only Gothic Church in all of Rome. It was built in 1280 by Dominicans who modeled it after their church in Florence, Santa Maria Novella, and adjoined it to their Monastery. The church was consecrated in 1370 and has been considered a minor Basilica since 1566. In the late 18th century there was an overhaul that turned the mainly Baroque Church into a more Neo-Gothic atmosphere decorated with frescoes and later in the late 19th century, with stained glass windows. In the 13th century Santa Minerva served as a convent and "studium" for the Roman province of the Order. Later in the the 16th century it became the College of Saint Thomas, then the Pontifical University of Saint Thomas Aquinas. Over the years Sopra Minerva was also used as the seat of the Congregation of the Holy Office - famously in 1633 Galileo partially recanted his views on the Copernican theory after being tried for heresy.
Doctor of the Church, St. Catherine of Siena is entombed in Sopra Minerva and lies under the main altar. St. Catherine devoted her life to prayer and played a huge role in convincing the Vatican to return to Rome for Avignon. The Carafa Chapel is dedicated to Saint Thomas Aquinas - relics of his are kept here, and paintings show scenes of the Annunciation and the Assumption. Pope Paul IV is also entombed in this chapel.
Entombed here are Pope Leo X, Pope Clement VII, Urban VII, Fra Angelico (Dominican Friar blessed John of Fiesole), Guillaume Durand, Blessed John of Fiesole, or Fra Angelico, the Dominican Friar and Francesco Tornabuoni.
The Basilica of Santa Maria Sopra Minerva is full of famous and invaluable artwork as well. Perhaps most notably, Michealangelo's Christ the Redeemer is housed near the altar of the Church. Paintings, frescoes, sculptures, mosaics and stunning stained-glass windows make for an overwhelmingly beautiful experience.
When to visit: The Basilica is open: Monday – Friday, 6:55am-7:00pm; Saturday from, 10:00am-12.30pm & 3:30-7:00pm; and Sunday from 8:10am-12.30pm & 3.30-7pm.
Location: Piazza della Minerva, 42, 00186 Roma RM, Italy
Accommodations: There are many 4 and 5 star hotels in central Rome.
Transportation: Located about 4 miles from the Vatican, Santa Maria Sopra Minerva Basilica is about a 40-minute walk. The Basilica can be reach by car or bus.
Tours visiting Italy: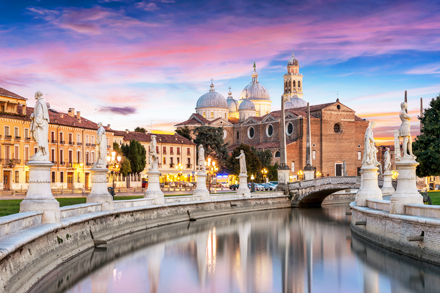 Shrines of Italy
Rome (Papal Audience with Holy Father) * Monte Cassino * San Giovanni Rotondo (Padre Pio) * Monte Sant'Angelo (St. Michael) * Lanciano (Eucharistic Miracle) * Loreto (Holy House) * Assisi (St. Francis) * Cascia
| Duration | Destination |
| --- | --- |
| 10 Days | Italy |
VIEW DETAILS
All Italian Shrines
Rome (Papal Audience with Holy Father) * Monte Cassino * San Giovanni Rotondo (Padre Pio) * Monte Sant'Angelo (St. Michael) * Lanciano (Eucharistic Miracle) * Loreto (Holy House) * Assisi (St. Francis) * Cascia * Siena * Florence * Padua (St. Anthony) * Venice
| Duration | Destination |
| --- | --- |
| 14 Days | Italy |
VIEW DETAILS