The Sanctuary of Our Lady of Licheń Pilgrimage
The Story:
The Sanctuary Our Lady of Licheń is a Shrine of Our Lady of Sorrows, Queen of Poland, located in the village of Licheń, Poland. In 1813 a Polish soldier was gravely injured in Germany while fighting under Napoleon. He began to pray to Our lady, begging her to spare his life and return him to Poland, when she appeared to him in a dark red gown and gold crown holding a white eagle in her hand. She told him he would recover and asked him to find her image and share it publicly saying, "My people will pray before this image and shall draw many graces at My hands in the hardest times of trial". The soldier found the icon of Our Lady in the woods in Grablin, which was created in 1772. In 1852 the icon was moved to a Parish in Licheń where the first celebration was attended by about 80,000 faithful Pilgrims. Since then, some 3,000 acts of grace are attributed to the icon. The icon is now enshrined above the main altar in the Basilica of Our Lady of Licheń. Built in the late 90's, Pope John Paul II blessed the Basilica in 1999. Consecrated in 2004, this beautiful church is an example of post-modern architecture. It is the largest church in all of Poland, and eleventh largest in the world.
Address: Klasztorna 4, 62-563 Licheń Stary, Poland
Location: The Sanctuary is located about a 2.5 hour carried from Warsaw.
Accommodations: Licheń Stary, Poland has many 4 and 5 star hotels
Tours visiting Poland: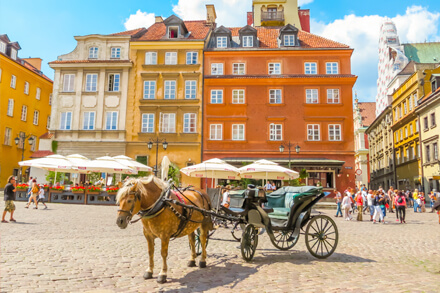 Poland
Warsaw * Niepokalanow * Swinice Warckie * Czestochowa * Wadowice * Krakow * Zakopane * Auschwitz * Lagiewniki (Divine Mercy) * Wieliczka
| Duration | Destination |
| --- | --- |
| 9 Days | Poland |
VIEW DETAILS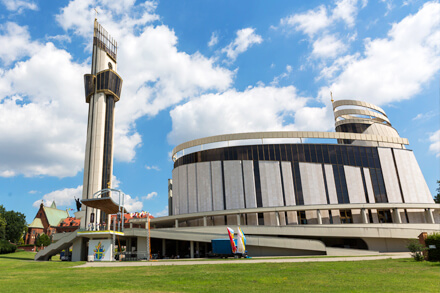 Poland & Prague
Warsaw * Niepokalanow * Swinice Warckie * Czestochowa * Wadowice * Krakow * Zakopane * Auschwitz * Lagiewniki (Divine Mercy) * Wieliczka * Prague
| Duration | Destination |
| --- | --- |
| 11 Days | Poland, Czech Republic |
VIEW DETAILS