Our Lady of Zaragoza Pilgrimage
The Basilica del Pilar is dedicated to Our Lady of Zaragoza. This shrine, located in northeastern Spain is closely associated with the shrine of Santiago de Compostela. Before her glorious assumption into heaven, the Blessed Virgin Mary appeared to St. James the Apostle on his way to northwestern Spain. At this time, St. James was traveling through Spain spreading the Gospel but making very little progress. The Blessed Virgin Mary encouraged St. James to continue his mission and instructed him to build a church in her name. Unlike other Marian apparitions, when Our Lady appeared to St. James, she was still living on earth in Jerusalem – this is her only known instance of bilocation. Today the shrine of Our Lady of Zaragoza is the second most famous pilgrimage site in Spain and is the first chapel ever dedicated to the Blessed Virgin Mary. Many Spanish children make a pilgrimage to the Virgin of El Pilar at the time of their first Holy Communion.
Location: 160 miles west of Barcelona. Can be reached by car, train, bus.
Accommodations: There are many four and five-star accommodations in Zaragoza
Tours visiting Spain: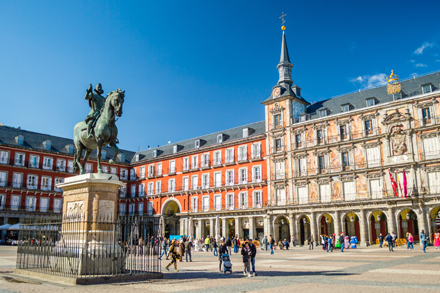 Shrines of Spain
Barcelona * Montserrat * Manresa * Zaragoza * Toledo * Madrid * Santiago de Compostela
| Duration | Destination |
| --- | --- |
| 9 Days | Spain |
VIEW DETAILS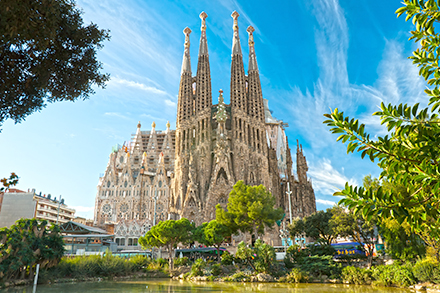 The Shrines of Spain and Italy
Barcelona * Manresa * Montserrat * Zaragoza * Madrid * Toledo * Astorga * O' Cebreiro * Santiago de Compostela (St. James) * Rome (Papal Audience with Holy Father) * Monte Cassino * San Giovanni Rotondo (Padre Pio) * Monte Sant' Angel (St. Michael) * Lanciano (Eucharistic Miracle) * Loreto (Holy House) * Assisi (St. Francis) * Gubbio * La Verna
| Duration | Destination |
| --- | --- |
| 17 Days | Spain & Italy |
VIEW DETAILS