Lourdes, France Pilgrimage
The Story:
On February 11, 1858, 14 year old Bernadette Soubirous, a poor young girl in rural France, joined her sister and friend in search for firewood. Before crossing the stream in front of her, Bernadette heard a "rustling sound of wind." Turning toward the Massabielle Grotto, Bernadette saw a young and beautiful lady dressed in white. The woman beckoned her forward. Immediately, Bernadette pulled out her rosary and knelt before the lady. Her companions had not seen the lady so she proceeded to tell them about her. Although promising them to secrecy, the entire town knew about the incident by nightfall. The lady requested that Bernadette return to the Grotto, which she did in obedience to the woman she called "uo petito damizelo" – a small lady. At this point the vision had not revealed her name or identity. On February 25, Bernadette was asked by the lady to drink of the waters of the spring as penance. The following day, the muddy water ran clear. During the sixteenth vision that Bernadette experienced, the lady finally identified herself, revealing: "I am the Immaculate Conception." The Blessed Virgin appeared to Bernadette eighteen times. After a life of suffering and penance, Bernadette died at the age of 35. On December 8, 1933 Bernadette Soubirous was canonized by Pope Pius XI. Many documented cures and countless numbers of healings and conversions have occurred at this spring. Millions of pilgrims have traveled to Lourdes over the past 160 years in order to draw closer to Our Blessed Mother and her Son, and to ask for healing. Lourdes is a special place of grace and peace where pilgrims attend Mass, go to Confession, and pray the Rosary in a nightly candlelight procession. Almost every part of the Shrine, including the Grotto, is accessible to those in wheelchairs via ramps or special lifts.
Accommodation:
There are over 300 hotels and inns, many of which are a very short walking distance from the Shrine.
Location:
Lourdes is located in the foothills of the Pyreness Mountains in the southwest of France, about 500 miles from Paris. There is a train station in Lourdes near the Shrine, to travel from Paris to Lourdes via the high-speed train take about 5 hours. You may also fly to Toulouse, Pau, or Lourdes. The Shrine is located at, 1 Avenue Mgr. Theas, 65108 Lourdes France.
Tours visiting France:
Fatima, Spain, Lourdes
Lisbon (St. Anthony) * Santarem (Eucharistic Miracle) * Fatima * Salamanca * Alba de Tormes * Avila (St. Teresa) * Burgos * Loyola (St. Ignatius) * Lourdes (St. Bernadette)
| Duration | Destination |
| --- | --- |
| 10 Days | Portugal, Spain & France |
VIEW DETAILS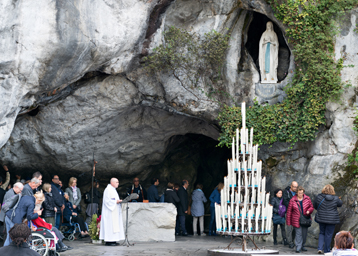 Fatima, Spain, Lourdes & Paris
Lisbon (St. Anthony) * Santarem (Eucharistic Miracle) * Fatima * Salamanca * Alba de Tormes * Avila (St. Teresa) * Burgos * Loyola (St. Ignatius) * Lourdes (St. Bernadette) * Paris * Lisieux (St. Therese the Little Flower) * Normandy * Chartres
| Duration | Destination |
| --- | --- |
| 14 Days | Portugal, Spain & France |
VIEW DETAILS