We promise to do all within our power to assist you with any questions or concerns you may have.
Should any problems arise during your trip you should first contact the emergency number located in your Final Instruction Booklet. Your customized Final Instruction booklet will be provided in your final document package approximately 3 weeks prior to departure.


We pray that your pilgrimage will meet and exceed all of your expectations.
Please share with us your positive and constructive feedback upon your return!
---
How to Prepare for Your Pilgrimage:
Thank you for your desire and readiness to visit these places of grace and prayer. May the Almighty God, through the intercession of our Heavenly Mother, reward you for all the efforts you undertake to come! As we would like your trip to be as pleasant and helpful as possible. It is important to note that 206 Tours pilgrimages are packed full of spiritual activities and sightseeing. We do not include much free time for recreation, such as shopping. This is because our desire is to offer you the most comprehensive pilgrimage possible. However, all tours/activities are optional, and if you feel you are unable to keep up with the pace of the tour, manage the terrain, or would like free time for your own interests, you are welcome to refrain from participating in any aspects of the program you desire (of course, no refund can be issued for any aspects of the tour which you choose not to participate in).


It is also important to note that the amount of walking is significant, and the terrain varies greatly through out our tours. You will encounter hills, mountains, unpaved streets, cobblestone streets, etc. Please prayerfully consider whether or not you are up to such physical activities prior to registering. For this reason, we would like to offer you some recommendations, and we ask you sincerely to read them carefully.

A couple of weeks before your pilgrimage, one should begin preparing physically as well as spiritually.
1 - If not accustomed to physical activity begin walking "briskly" 1-2 times a day; build up to 2-3 miles with no
discomfort.
2 - If possible attend daily Mass or attempt to spend quiet time in church during lunch or after work.
3 - Pray for Jesus and His Blessed Mother to open your heart and mind to be responsive to new perspectives, ideas,
their words laid on your heart, etc.
4 - Begin praying the rosary daily ( Learn How to Pray the Rosary ) or at least the Apostle's Creed, 7 Our Father's, 7
Hail Mary's & 7 Glory Be's as Our Lady has requested; this takes about 5-7 minutes.


---

Liquids Rule:
You are allowed to bring a quart-sized bag of liquids, aerosols, gels, creams and pastes in your carry-on bag and through the checkpoint. These are limited to travel-sized containers that are 3.4 ounces (100 milliliters) or less per item. Placing these items in the small bag and separating from your carry-on baggage facilitates the screening process. Pack items that are in containers larger than 3.4 ounces or 100 milliliters in checked baggage. Any liquid, aerosol, gel, cream or paste that alarms during screening will require additional screening.

Exemptions:
• Medications
• Infant and child nourishments

Inbound International Flights:
You may carry duty free liquids in secure, tamper–evident bags, more than 3.4 oz or 100 ml in your carry-on bag if:
• The duty free liquids were purchased internationally and you are traveling to the United States with a connecting flight.
• The liquids are packed in a transparent, secure, tamper-evident bag by the retailer and do not show signs of tampering when presented to TSA for screening.
• The original receipt for the liquids is present and the purchase was made within 48 hours.

*Liquids more than 3.4 oz or 100 ml not in a secure, tamper-evident bag must be packed in checked baggage.


---

General Info About Your Documents, Flights, Arrival & Travel:

Final Documents:
206 Tours will ship your final documents to the address provided on your reservation application approximately 2-3 weeks prior to your scheduled departure date. The package will be delivered by FedEx (can not be delivered to a PO Box). Your final documents will include your flight schedule with electronic ticket number, hotel confirmations, emergency contacts, general trip information, luggage tags, portfolio of travel documents, flight bag, and more. Carefully review your tickets to ensure that your name on the tickets are an exact match to that of your passport. Please note that the name field on your tickets is only 19 characters long, therefore names exceeding this length will be cut off (this is not a problem, as your actual reservation contains your full name). Please also carefully review the itinerary provided to ensure that all departure and destination cities, as well as dates, are correct. Please contact 206 Tours immediately should any discrepancies be found.
* Please note that late payment/bookings can cause delay in the shipment of your final documents.
International Flights:
We recommend that you check in for your international flight three hours prior to the scheduled departure time. Passengers must personally check their luggage at the airline counter. Please advise the airline representative of your final destination upon check in so that you will not need to claim your baggage and recheck it during flight connections. Please note that our pilgrims travel from across the world. You will be traveling independently for all flights until your arrival at your final destination. You will not have a tour escort with you during your flights. Please be advised that 206 Tours attempts to centralize as many pilgrims as possible on the same flights, so you may arrive/depart on the same flights as many of your co-pilgrims (for additional information see "Arrival Procedure" below).
Airline Connections:
206 Tours must book your airline reservations based on the routings provided to us by the airlines, including connection time, cities for connections, and partner carriers. Airlines determine the standard for the required minimum connecting time to transfer from one gate to another for each specific airport. At times, the connection times provided by the airlines are quite tight (i.e. 45 minutes) and require passengers to make haste during their connections. At times the airline connection times are quite long, due to the flight availability at the time of booking. While we wish we could determine the connection times for each of our clients, we are subject to the rules, regulations, and availability of the carriers we work with. We also must ensure that all reservations correspond so that each participant is able to meet the group transfer to/from the airport to hotel and hotel to airport. We promise to do all in our power to provide you with the most convenient flight schedule available to us with our partner airline carriers at the time of your booking, however, we must still follow all appropriate airline rules and regulations.
Airline Tickets:
Airlines now require that we provide electronic tickets (a.k.a. "e-tickets") in place of paper tickets. At check-in, you should be ready to provide your flight itinerary which was provided with your final documents and passport to the agent. The airline agent will then check you in for your flight, check your luggage, and provide you with a boarding pass for your flights. In the very rare occurrence where an e-ticket cannot be issued, you will receive your tickets in a paper form. Please note that paper tickets must be present in order to check in, and or board the plane.
Code-share Flights:
Many airlines participate in agreements/alliances with other airlines which permit passengers to travel from one point to another using more than one carrier. While your ticket may indicate that you are flying with one carrier (eg: Air France), you may find that you are actually seated in a plane belonging to another carrier (eg: Delta). Please review your airline itinerary carefully to determine which airline you should go to for check-in; if your flight is operated by a carrier other than the primary airline indicated on the itinerary, your itinerary will state "Flight Operated by (Airline)." You should check-in for your flight with the agent the plane is "operated by." If you have any concerns regarding which airline to check-in with, you may contact the airline directly or 206 Tours for clarification.
Airline Mileage Accounts:
Please contact the airline directly to open a mileage account and to obtain credit for the miles flown on this trip. Please be sure to save all boarding pass stubs from your trip as you may need them for proof of travel when obtaining millage credit upon your return.
Health Precautions:
No inoculations are necessary when arriving Europe, Israel or Egypt from the US. But consult with your health care provider before traveling. Although the water in Europe is completely safe in order to prevent "Montezuma's Revenge", avoid the tap water, including ice cubes. Your stomach may still become upset due to the change in diet. Bring anti-diarrhea medicine just in case. For the latest overseas travel health information, call the Center for Disease Control's travelers' hotline at 1-800-232-4636. Or visit their web site at www.cdc.gov.
Travel Warnings:
US State Department Travel Advisories: For up to date US State Department travel advisories you may visit: https://travel.state.gov/travel
Arrival Procedure:
After disembarking from the plane you will clear immigration, and proceed to the baggage claim to locate your luggage. You will exit the baggage claim through customs into the "arrivals hall/ lounge." Look for the 206 Tours representative who will be holding a sign with your name and/or "206 Tours." You will be transferred to your hotel where you will meet your guide and the rest of your group. Please remember to look for the sign!
If your plane arrives late, or you are re-routed you will probably miss the group transfer which is included in your package. In such circumstances you will need to pay for a taxi or private transfer to take you to your hotel. This cost will be at your own expense, and you may submit a claim to the airlines for reimbursement upon your return and/or to your travel insurance. For most destinations taking a taxi from the airport to your hotel is the easiest and least expensive course of action. However, for some destinations even a taxi can be very expensive due to the distance you are traveling. If you prefer to have a private transfer arranged for you in lieu of taking a taxi, you will need to contact 206 Tours to advise us of your flight delay and new arrival time at least 4 hours prior to your new arrival time. In this case will do all possible to arrange for a private transfer to meet you upon your arrival, however, you will be responsible to remit payment to your driver upon drop off at your destination. If you arrive at your destination, and are unable to locate your driver or a taxi, please call your local emergency contact (listed in your Final Instruction Booklet) so that they may dispatch a transfer for you. Please remember to save your receipts. We strongly recommend the purchase of Traveler's Insurance for this reason (www.206tours.com/insurance).
Luggage:
Your pilgrimage includes one (1) piece of checked luggage, and one (1) carry-on. International air carriers are becoming stricter about the size and weight of baggage and carry-on luggage. please limit the size of your hand luggage to 17x14x8 in. (43x36x20 cm) for easy storage on the motor coach. Porterage for one suitcase on tour is included in the tour price. The checked piece of luggage should have dimensions not exceeding 62 inches in overall (62inches: length+width+height) and weight not exceeding 50 lbs (23 kg).

Carry all documents and money on your person but not all in the same place to limit the inconvenience in case of loss; do not keep money, important documents, medicines or jewelry in your suitcase; We recommend a money belt worn inside your clothes, while touring. On departure from your hotel, remember to double check that you have your money belt with you, and that you have collected any items left in the hotel safe. Please, at all times, be as vigilant as you would be in any major city, especially in crowded places. Never leave your hand luggage unattended or out of sight in public areas, including airports, hotel lobbies or dining rooms.
Be sure to keep ALL medications in your carry-on bag during your trip in case your suit case should be lost. Keep a separate list of important numbers, i.e. passport, traveler's checks, and credit cards, in your luggage, together with photocopies of relevant pages of your passport/visas. Keep a separate copy i.e. passport, flight schedule, credit cards, in your luggage, The same common-sense rules of safety and security apply here as to anywhere else. Avoid excessive displays of jewelry or cash (only carry sufficient for daily needs). Room Safes may be used at your own discretion. Make certain that any valuables are insured against theft. Avoid exploration on your own of unfamiliar streets or areas Be cautious if people approach you begging.


Luggage Locks:
The more secure your personal items are, the better! TSA suggests you lock your luggage before you embark, and when you are flying home. In order to ensure the safe transportation of travelers, TSA screens all checked, and carry-on, baggage before it is permitted to be brought on-board. You can purchase locks for your bags, however, if they are "screened", you run the risk of them being cut open and no longer usable. However, there are TSA Recognized Locks – which allow TSA officials to use tools for opening and re-locking your baggage. Below are recommended brands:
How to Overcome Jet Lag:
Rapid travel through multiple time zones can take its toll on your physical and mental well-being. "Jet Lag" is the phrase used to describe the condition when an individual's internal body clock is out of sync with the actual time in the region to which you have traveled. It is important to try to adjust your internal body clock to receive the most out of your tour. Here are some tips on how to adjust your body to local time. On the day of the flight/arrival:
Get out of bed earlier than usual

Drink a lot of water to compensate for the dehydration that is common on long flights

Shortly after boarding our flight, set your watch to your destination's actual time

Try to rest or sleep as soon as possible on your eastbound flight

When you arrive try to keep active, and go to bed around 10:00 PM local time
Insurance:
Please note that traveler's insurance is STRONGLY recommended for all 206 Tours pilgrims. Be advised that traveler's insurance can not be purchased after you have paid in full for your trip. For those who have purchased Travelers Insurance through 206 Tours a pamphlet will be included in your final documents. Please refer to this brochure for specific stipulations or questions. For more information you can also visit www.206tours.com/insurance.
Transportation:
The duration of driving time between cities/countries can range extensively depending on your itinerary. Some days may include only short transfers on the bus from your hotel to a restaurant, or similar. Other days you may drive a couple of ours to travel from one city to another. There are some days/itineraries which may include up to 8 hours of driving in one day. During travel days with extensive driving the coach will stop for bathroom/stretch (approximately every 2 to 3 hours) breaks as well as a lunch stop.
Money:
Make sure to bring along a credit card for convenience and security. Credit cards offer a very reasonable exchange rate and can be canceled should it be lost. Visa or MasterCard are the best options as American Express and Discover Card are not accepted in most stores outside of the USA. We recommend that you exchange US dollars (USD) at your local bank prior to departure if possible, in order to obtain the best exchange rate. It is also practical and cost effective to withdraw local currency using your ATM/Debit card during your trip. ATMs are readily available in most of the destinations we service, and are very similar to those in USA. Most offer English as a language option. It is recommended that you contact your local bank and credit card companies before departing on your trip to advise them that you will be traveling. Traveler's checks are NOT recommended, as they are often not accepted and are difficult to exchange during the trip.
Be advised that exchanging money at airports will result in higher fees. We strongly recommend that you refrain from exchanging money at your hotel or local change booths, as the fees are extremely high.
We are frequently asked, "How much money should I bring with me?" This is an impossible question to answer as each person is different. The type of lunches you prefer can make a big difference (restaurant vs cafe). Are you planning on purchasing mementos for yourself or loved ones? We recommend that the minimum spending money you should bring with you / budget for, in addition to the suggested tips, is the equivalent of EUR 25.00 per day. Remember, you can always spend less, or bring money home!
Currency Exchange:
The EURO is the currency of Austria, Belgium, Cyprus, Estonia, Finland, France, Germany, Greece, Ireland, Italy, Luxembourg, Malta, the Netherlands, Portugal, Slovakia, Slovenia, and Spain. Keep in mind that this is the "pure" exchange rate, any form of currency exchange has some fees associated. Please note that the currency flocculation has been particularly volatile in the last year, so we strongly urge you to check the current exchange rates prior to departure and prior to exchange.


FreeCurrencyRates.com
ATM Machines:
ATM machines can be found at most bank branches, post offices, train stations, airports, shopping centers, etc. and are accessible 24 hrs/day. Most banks charge a commission when you withdraw money, especially if it is from the network of another bank. You should ask your bank for information about where you can use your card and what commissions are charged for withdrawing money. Most US banks assess a $2.00-$5.00 international ATM fee in addition to the ATM's usual fee of 1-3 euros. Your bank will utilize an exchange rate that is a couple percent above the "true" exchange rate." Be sure to find out your daily withdrawal limit before you depart. You can also get cash advances on your credit card at an ATM. Credit card companies try to protect themselves from theft by limiting the funds someone can withdraw outside their home country, so call your credit card company before you leave home. And keep in mind that you'll pay interest from the moment of your withdrawal, even if you pay your monthly bills on time..

For increased security, European Banks now issue debit and credit cards that carry an embedded chip. As part of their anti-fraud measures, you are seldom asked to give an store / restaurant employee your card for them to swipe. Instead if you are at a restaurant, your waiter will bring a portable little machine / card reader to your table with the amount of your bill already entered. You cannot add a tip to the total (leave small tip in cash instead). Your card is swiped and you will be asked to OK the total and enter a PIN. Note: The PIN for this is not the Cash Back PIN. If you have a normal US credit/debit card without a chip, you do not have a PIN. Just in case you do not have or you forget your PIN, just hit the OK with no PIN entered. It usually works. If you have any questions about your ATM card, check with your bank in advance of your departure from home. Ensure you know how to contact them if you encounter problems using your card. Use your card before you leave home and again shortly after arrival, even if you do not need the money, solely to verify that everything works.
Value Added Tax (VAT):
There is 20% value added tax on most goods and services in Portugal. At retail stores, this tax is always already included in the price. Upon making a purchase of $50.00 or more at a gift store that has an agreement wit the VAT authorities, you should fill out a form at the store and have it stamped there. You will be eligible, upon presenting the form and the item, for a 20% refund at the airport prior to departure. Do not pack these gift items in your luggage. They should be kept in your hand luggage. By the way, tourist services, such as hotel accommodations and meals taken in hotels, paid with foreign currency are exempt from VAT tax.
How to Get Your VAT (Value Added Tax) Refund:
Portugal sales tax, or VAT (value-added tax), is 20%, but you can get most of that back if you spend € 175 (EURO) or ($274.54 USD as of March 27, 2008) or more at any participating retailer. You must be over 15 years old, and you must present a passport. The name of the refund is détaxe, meaning exactly what it says. You never really get the full 20% back, but you can come close. After you spend the required minimum amount, ask for your détaxe papers. Fill out the forms before you arrive at the airport for departure. Be sure to have the forms stamped at the airport customs desks. The customs official may ask to see your purchases so it's best to have them in your carry-on bag. Mail the stamped forms at the airport (the store provides an envelope) and the refund process has begun (note - this is only if Portugal is your final point of departure back to the U.S.). For additional information on the VAT refund https://en.wikipedia.org/wiki/Value_added_tax. All refunds are processed at the final point of departure from the E.U., so if you're going to another E.U. country, you don't apply for the refund in Portugal. Mark the paperwork to request that your refund be applied to your credit card so you aren't stuck with a check in Euros. Even if you made the purchase in cash, you can still get the refund on a credit card. This ensures the best rate of exchange. You can get cash in some airports, but if you don't take the cash in Euros, you'll lose money on the transaction. If you're considering a major purchase, ask the store policy before you get too involved -- or be willing to waive your right to the refund.
Weights and Measures:
The metric system is used exclusively through out Europe and the The Holy Land. A kilometer is a bit over 1/2 mile (.62 miles). A kilogram equals 2.2 pounds.
Time:
Most of Europe and The Holy Land operate on a 24 hour clock. This means that 6:00 pm is 18:00, etc.
Tipping:
Tips are an important part of earnings for your guides and bus drivers. Although you should tip according to your discretion and satisfaction, we recommend that you bring approx. $130 per person and place in tip envelopes (included in your final documents package) as follows:
Tour escort who is with you throughout your tour or for the whole day should be tipped approx. $10 per person per day (depending on level of satisfaction)

Bus driver $5 per person per day (depending on level of satisfaction)

It is suggested to provide the tour escort and the bus driver their tip money the day prior to your return.

Spiritual Director/ Your Priest: Gift or donation to the Spiritual Director is at your own discretion.

Restaurants, hotel staff, luggage handler and bell boy tips are included in your package price. No additional tips should be given.

Guide: EUR 8 per day



Driver: EUR 4 per day



Hotels / Accommodations:
The standard size of European hotel rooms may be smaller than you are used to in the USA. King size beds are rare in Europe. In some hotels, key cards operate the room lighting systems and/or the elevator. Fixtures in bathrooms and bedrooms are not standardized so you may have to search for a light switch or outlet. While most hotels do offer a hair dryer in the bathroom, we recommend bring one if it is essential to you. Most hotels do toiletries (shampoo, lotion), we strongly recommend that you bring an adequate supply with you. Mini-bar items and access to pay TV channels are at your own expense.
Please note that while we do request non-smoking rooms for our clients, hotels are less stringent about enforcing these rules outside of the USA.
Remember to frequently check your hotel bulletin board for important information, suggestions, or any last-minute changes from your tour escort.
Adapters, Converters, and Electricity:
When traveling abroad, you will need to bring an Adapter in order to plug into the outlets. The voltage used is 220 volts AC, single phase 50 cycles (the U.S. uses 110/120 volts).The best option is bringing a Universal Travel Adapter with Dual USB Ports (that way, you can utilize a number of outlets at one time. Example – being able to charge your cellphone while using your laptop etc.)
Adapters we recommend:
www.walmart.com/ip/Ceptics-USA-to-Most-of-Europe-Travel-Adapter-Plug-With-Dual-USB-Type-C-Ultra-Compact/162080734
Converters:
Converters are used to convert the 220 volts to 110 volts. All of our Hotels have Hair Dryers, so you would only need if you were bringing a Curling Iron/Hair Straightener (which are not necessary on a pilgrimage). If you have a Laptop – check with the Manufacturer. Almost all laptops over the last seven (7) years already have a converter built in. Converter kits that include the entire range of plugs can be purchased at better electrical supply stores.

Stores such as Walmart, K-Mart, Target also have them for purchase. Buying electrical devices in foreign places is not recommended unless you are sure that the current they use is compatible with the current at home. It will likely cost you more than the original price to have an appliance converted.


Telephones:
The telephone country code for Portugal is +351 (from US 011 + 351 followed by the city code and telephone number).
Cell Telephones:
You may bring your cellular phone, but make sure to contact your wireless phone provider and inform them, that you will be traveling out of the country (giving them destinations). Most have an "international plan" if not get one for the trip. This will allow you to make calls to the United States while you are out of the country using your wireless phone. If you have a smart phone with a data plan please make sure to contact your cellular provider to inquire about an international data plan. International data usage can be VERY expensive. We suggest you get a generous plan or disable your data while traveling.

A Magnificat book has been provided to you for daily prayer and reflection. Please note you can now download the Magnificat App to your smartphone. However it will require international data consumption so make sure you have an international data plan prior to departure with your provider. This will be at your additional cost with your mobile provider.


Hotel Telephones:
While telephones offer convenience, they do tend to cost substantially more than public phones. You may choose to utilize a calling card to be more cost efficient, however, be advised that most hotels charge a connection fee which ranges from EUR 1.00 to EUR 5.00 for such calls.
Public Telephones:
Public phones are found in cafes, restaurants, Metro stations, post offices, airports, and train stations, and occasionally on the streets. Finding a coin-operated telephone in Europe is an arduous task. A simpler and more widely accepted method of payment is the télécarte, a prepaid calling card available at kiosks, post offices, and Metro stations and costing € 7.50 (EURO) - € 15 (EURO) ($9.75-$20) for 50 and 120 units, respectively. A local call costs one unit, which provides you 6 to 18 minutes of conversation, depending on the rate. Avoid making calls from your hotel, which might double or triple the charges. To make a direct international call, first dial 00, listen for the tone, and then slowly dial the country code, the area code, and the local number. The country code for the U.S. and Canada is 1. A reasonable way to communicate.
Public Toilets:
Known as WC, and available in most tourist locations. Be prepared with tissues in your pocket at all times. Also, be aware that some public toilets are manned/ womaned by attendants who ask for a small "user's fee".
Photography:
If you are bringing a digital camera, make sure to bring extra batteries. If not digital, remember to bring plenty of film (200 or 400 speed is recommended for outdoor and indoor-flash photography). Photography is not allowed in some museums and in some security-conscious facilities.
Terrain:
Europe is based on a myriad of old buildings, and there are split-levels and uneven surfaces everywhere; please watch your step! Due to the structure of old buildings, access to some establishments may not be convenient for wheelchair use, and facilities for the disabled in general may be limited. Many areas are pedestrian only and have cobblestones. High-heeled shoes are not suitable for cobblestone streets; rubber-soled walking shoes are recommended. Many streets in Europe and The Holy Land are narrow, and due to strict traffic regulations, the buses are not always permitted to drop groups off directly in front for their destination. Please be prepared to walk.
Taxis:
Be wary of any person approaching you offering unofficial taxi services. If you do not have an airport transfer included and you need transportation, make your way to the official taxi desk or to the regular taxi line outside the terminal; choose only those vehicles with a meter and a taxi sign. We recommend you per-negotiate the fare, as taxi drivers in some countries may attempt to overcharge unwary travelers.
Capital:
Lisbon is the capital of Portugal. Other major cities are Agualva-Cacém, Águeda, Almada, Fatima, Funchal, and Coimbra. Portugal is bordered by the Atlantic Ocean to the west and south and by Spain to the north and east.
Local Customs:
A different way of life in some countries on tour may take you by surprise, but if you travel with an open mind and respect local customs and culture, you should find it easier to adapt to and enjoy your new surroundings. Standards of living may not be quite what you are used to, but there are compensations – a closer sense of reality and a more authentic feeling of locale. Due to cultural differences in Europe and The Holy Land you may not be greeted quite as cheerfully as back home; smiling is generally reserved for intimate friends! So be especially wary of people presenting themselves as "instant friends" and never accept any offer of food or drink from strangers.
Shopping Hours:
Department stores are open Mon-Sat 9:00-6:30. Some shops close 12:00-2:30. Food shops open 7:00-6:30 or 7:30. Some food shops (particularly bakers) open Sunday mornings, in which case they will probably close Monday. Many shops close all day Monday or Monday afternoon. Hypermarkets are normally open until 9:00 or 10:00.
Shopping:
Most stores and businesses are closed on Sundays through out Europe. Many stores in The Holy Land are also closed from sundown on Saturdays. Stores are open daily from Monday to Saturday. Some observe a "siesta" from 1pm to 4pm, re-opening until 7pm. Some malls close later in the day and are open Saturdays after sundown. Ask your tour escort for regional specialties products which the countries/cities in your itinerary are known for (i.e. Paris is known for fashion, Venice is known for hand blown glass, Santiago de Compostela for the pilgrim shell, etc.).


Enjoy some stress-free Christmas shopping during your travels; small, light items that you can easily carry home make splendid and festive gifts. Don't forget to buy something nice for yourself too, to take home to evoke pleasant memories of your vacation abroad.
If you purchase a video or DVD, please check very carefully that it is compatible with your home viewing system (for USA and Canada – VHS NTSC and DVD region 1; for Australia, New Zealand and Pacific – VHS PAL and DVD region 4).


Sales tax or VAT (value added tax) is already included on price tags; VAT refunds, if applicable, may sometimes take up to three months to process. Whenever traveling abroad, be aware of your personal belongings when shopping in crowded areas.
U.S. Customs:
U.S. citizens who have been in The Holy Land and Europe for more than two days may return to the United States with up to $800 worth of merchandise duty-free. For those who wish to bring more home with them, a flat rate of 3% duty is levied on the next $1,000 worth of purchases. It's a good idea to retain the receipts from your purchases should they be requested by a Customs Inspector upon your return to the United States. For details visit the U.S. Customs and Border Protection website https://www.cbp.gov/xp/cgov/travel.

*Global Entry:
An ideal program for frequent travelers

Traveling International – Register with US State Department
Enroll with The Smart Traveler Enrollment Program (STEP) - https://step.state.gov/step. It is a free service to allow U.S. citizens and nationals traveling abroad to enroll their trip with the nearest U.S. Embassy or Consulate. For 24 Hour Consular Emergency Line: U.S. 1.888.407.4747 / Outside the U.S. 1.202.501.4444


Meals / Food:
Most European and The Holy Land countries tend to dine later than we are accustom to. Please expect that your dinners will be scheduled around 7:30 pm to 8:00 pm. Most breakfasts are buffet style. Unlike in the USA, it is frowned upon to take food out of the breakfast room. Most dinners will be served "sit down" with a per-determined 3 or 4 course meal. Your meals include iced tap water and coffee or tea. All other beverages, including bottled water, will be at additional cost. While some restaurants may be able to provide for a special diet, such as vegetarian or salt-free, there is no way for us to guarantee this. Please note, vegetarian meals tend to lack variety and imagination.
Check with your tour guide or concierge for a list of good restaurants. Food is generally safe to eat. Should you want to feel "at home", many American franchises now operate in Portugal and France: Burger King, McDonalds, Subway, Pizza Hut, Domino's Pizza, Kentucky Fried Chicken, and more.
Tap Water:
Due to differences in mineral and micro-biotic levels, we recommend that you avoid consuming local tap water (including ice), as it may upset your stomach.


---

General Information About Your Pilgrimage Destination(s):


Climate: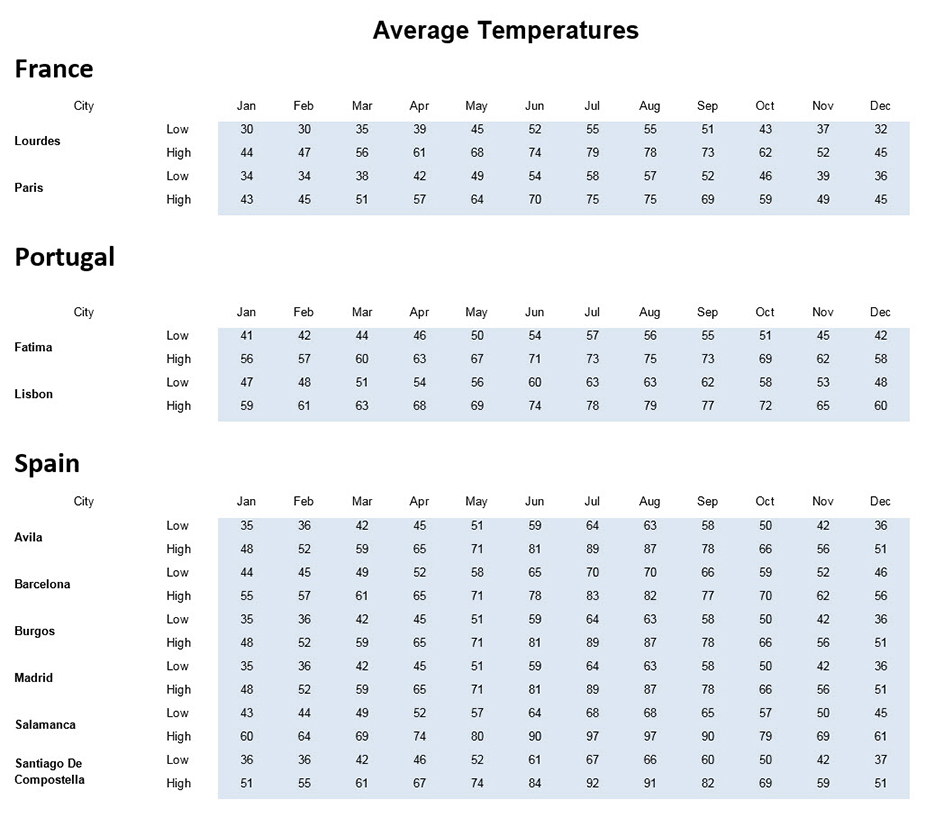 Due to global weather changes, regional temperatures may deviate from the norms. We recommend layered, easy care, loose-fitting clothing, an item or two for rain or unseasonable temperatures and something warmer. Light-weights for summer. Medium-weights for winter with heavier clothing for inland areas. It is a good idea to pack waterproofs at any time of year.
Mid-summer advice: Wear a sun hat and loose-fitting clothing, drink at least one liter (one quart) of mineral water a day if you can (carry a small bottle in your hand luggage); avoid eating too much ice-cream and reduce the amount of ice in drinks. A small battery-operated fan may be useful in warm weather.
Language:
The official language of Portugal is Portuguese. English is widely spoken, and many signs appear in English too.
Useful Portuguese Phrases: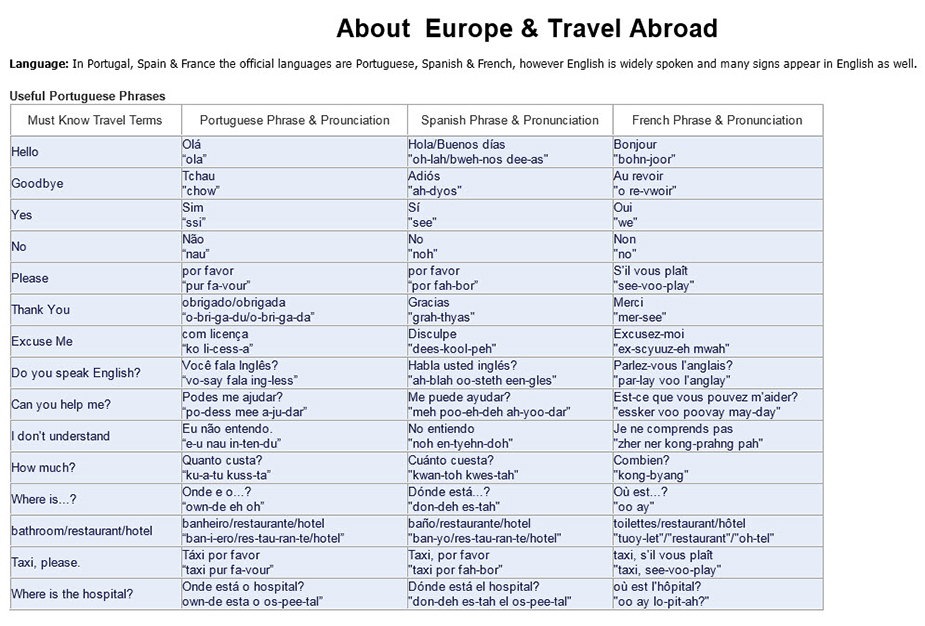 Passports:
All foreign (non-European) nationals need a valid passport to enter Portugal. For an up-to-date country-by-country listing of passport requirements around the world, go to the "Foreign Entry Requirements" page of the U.S. State Department website at https://travel.state.gov/passport/passport_1738.html


All U.S. citizens must have a valid passport to enter Europe or The Holy Land. Please note that for most European and The Holy Land travel your passport MUST be valid for 6 months after your scheduled return date.


A visa is not required for citizens of the USA for most destinations serviced by 206 Tours. For example the following countries do not require US citizens to obtain a visa for entrance: Portugal, Spain, France, Italy, Germany, Croatia, Bosnia, Portugal, Poland, Czech Republic, Hungary, Ireland, Israel, Turkey, Greece. Please be advised that it is the passengers responsibility to reconfirm if any visa's are required for their trip itinerary.
Visas:
U.S. citizens do not need an entry permit (visa) to stay in Portugal as either tourists or on a business trip for a period of up to three months. (If you enter Portugal under the Visa Waiver Program, you are not allowed to take up any employment there.) More information is available from the Consulate Section of the Portugal Embassy, 2012 Massachusetts Avenue, NW Washington, D.C., 20008. (202) 328 8610.
Portugal Embassy:
https://portugal.usembassy.gov

Emergency Telephone Numbers in Portugal:
Emergency Police: 112
Ambulance/Medical: 112
Emergency/Fire: 112
European General Emergency Code:
112

Embassy in Portugal:
Americans living or traveling in Europe are encouraged to register with the nearest U.S. Embassy or Consulate through the State Department's Travel Registration web site https://travelregistration.state.gov/ibrs/ui/ , and to obtain updated information on travel and security issues. Americans without Internet access may register directly with the nearest U.S. Embassy or Consulate. By registering, American citizens make it easier for the Embassy or Consulate to contact them in cases of emergency.


United States Embassy
Avenida das Forças Armadas
1600-081 Lisboa
or
Apartado 43033
1601-301 Lisboa
Tel.: 351-21-727-3300
Fax: 351-21-726-9109
E-mail: lisbonweb@state.gov
https://portugal.usembassy.gov
For Additional Information About Your Destination:
Please visit the official tourism website as follows: www.visitportugal.com
US Offices for the Portugal tourist board:
New York: 590 Fifth Avenue, 3rd Floor ~ New York, NY 10036, USA Tel. (646) 723-0200 ~ tourism@portugal.org


---

What To Pack:


Clothing:
Due to global weather changes, regional temperatures may deviate from the norms. We recommend layered, easy care, loose-fitting clothing, an item or two for rain or unseasonable temperatures and something warmer.


For Winter, Early Spring, and Late Fall: be sure to back a warm jacket, a hat, scarf and gloves. Just in case.
For Summer, Late Spring, and Late Summer: Bring a sun hat and plenty loose-fitting clothing. Don't forget a lightweight sweater for the evenings as some places may be a little cooler than others.


A note about summer attire; shorts (or mini skirts) and bare shoulders are considered inappropriate at some religious sites. For men, shorts that can be transformed by zippers into trousers may be convenient.


Bring an all-weather coat, just in case. We strongly recommend that women bring a shall or sarong which can be placed conveniently in their day bag, so that they may drape their shoulders, or tie around their waists in the more religious sites.


Make sure you have a good pair of walking shoes. If new, make sure you walk in them for a couple of weeks to break them in. On the plane you will want to wear loose-fitting clothes and pack a pair of slippers to wear for the flight, as well as a lightweight jacket. Make sure your shoes are lace-up, as your feet may swell a little.

General Clothing for Men:
Jeans, casual slacks, short and/or long sleeve shirts, socks, undergarments, and light jacket or coat.
General Clothing for Women:
Jeans, long skirts, casual dresses, casual slacks, short and/or long sleeve, socks, stockings, undergarments, and a light jacket or sweater is suggested.
Other Suggested Items to Bring (check list):
__ Inflatable head & neck rest, eye mask, foam earplugs (for flight)
__ Portable alarm clock
__ Flashlight with extra batteries: take batteries out while traveling
__ Old towel or small plastic bag to sit on outside
__ Handy wipes: freshening up during the day
__ Travel pack size Kleenex.
__ Extra batteries for flashlight, camera, recorders
__ Tape recorder or journal for Mass, and talks
__ Extra film for camera: expensive outside of US
__ Travel size poncho, in camping section of Wal-Mart
__ Optional grocery size plastic bags: 1-2 for dirty clothes or items you purchase
__ Soap-small bar travel size
__ Shampoo-travel size or put some in a small container; don't carry some big bottle
__ Toothbrush & Toothpaste-travel size
__ Deodorant-travel size
__ Chap stick
__ Comb/Brush
__ Aspirin/Advil, Etc.
__ Feminine protection
__ Laxative/Imodium
__ Band-aids
__ Dramamine or Bonine - if subject to motion sickness
__ Pepto Bismol- tablets
__ Sominex
__ Allergy/cold medicine; tablets (put medicines in a sandwich bag)
Health Care:
Some people find that taking them selves off caffeine and taking compounds high in anti-oxidants to be helpful in combating jet lag. You can also take Jet-stress or Cell Guard which are herbal complexes designed to combat jet lag. Ginger can be helpful in motion sickness. Melatonin helps to allow you to sleep on the plane. These items can be found at most health food stores.


---

What If...& Frequently Asked Questions:
What should I do if I lose my ticket?
If you should lose your ticket prior to your departure date please contact 206 Tours immediately. We will fax a copy of your original ticket to the airlines. You will need to arrive at the airport extra early and sign a Lost Ticket Indemnity Form, and pay the airlines a $100 reissuing fee. If you should lose your ticket during your trip please immediately inform your tour escort who will advise us, so that we may follow the same procedure.
What should I do if my flight is canceled or delayed?
If your flight is canceled or delayed it is imperative that you work DIRECTLY with the airlines at the airport to arrange for alternate flights or protection. Please note that once your tickets have been issued or you have check-in for your flights, 206 Tours can no longer make any changes to your flight itinerary. This can only be done by the airlines. In such case, remember, the squeaky wheel gets the grease, so be persistent. However, it is important to remember that it is not the airline agents fault, so try your best to remain courteous to them, as you may find that you receive more assistance this way. Please be advise that the airlines are not required to offer reimbursement for personal expense or overnights when delays/cancellations occur due to weather. We strongly recommend the purchase of Traveler's Insurance for this reason (www.206tours.com/insurance). However, if you find that you have no luck with the airline personnel, please contact 206 Tours and we shall do all in our power to assist you.
What should I do if I miss my flight due to my late arrival at my departure airport?
If you should miss your flight, due to your own late arrival at your departure airport, it is imperative that you work DIRECTLY with the airlines at the airport to arrange for alternate flights. You will incur additional costs (minimum of $200 per person) for such changes. Please note that you should contact 206 Tours once your alternate arrangements have been made so that we may arrange for a private transfer (at your expense) if necessary.
What happens if I miss my group transfer upon arrival?
If your plane arrives late, or you are re-routed you will probably miss the group transfer which is included in your package. In such circumstances you will need to pay for a taxi or private transfer to take you to your hotel. This cost will be at your own expense, and you may submit a claim to the airlines for reimbursement upon your return and/or to your travel insurance. For most destinations taking a taxi from the airport to your hotel is the easiest and least expensive course of action. However, for some destinations even a taxi can be very expensive due to the distance you are traveling. If you prefer to have a private transfer arranged for you in lieu of taking a taxi, you will need to contact 206 Tours to advise us of your flight delay and new arrival time at least 4 hours prior to your new arrival time. In this case will do all possible to arrange for a private transfer to meet you upon your arrival, however, you will be responsible to remit payment to your driver upon drop off at your destination. If you arrive at your destination, and are unable to locate your driver or a taxi, please call your local emergency contact (listed in your Final Instruction Booklet) so that they may dispatch a transfer for you. Please remember to save your receipts. We strongly recommend the purchase of Traveler's Insurance for this reason (www.206tours.com/insurance).
What happens if I have a problem or complaint during my trip?
If you have any problems, concerns, or complaints during your trip, please communicate them IMMEDIATELY to your tour escort. Your tour escort is at your disposal to assist you with all your needs including issues with your hotel room, meals, etc. Remember, there is very little that can be done to undo a problem once you have returned home, but, most of the time your tour escort can address any concerns you may have swiftly. However, if the issue is not resolved to your satisfaction by your tour escort, then please contact our office.
What should I do if I want to change my ticket?
If you would like to change your ticket for any reason once it has been issued you MUST work DIRECTLY with the airlines. You will incur additional costs (minimum of $200 per person) for such changes.
For more on our general terms and conditions visit www.206tours.com/terms

Please share with us your feedback upon your return!



---

view all our pilgrimages

Any questions? Call 800-206-TOUR (8687) or Email Us

Why travel with 206 Tours? Read letters from our clients

Give the gift of a Pilgrimage with a 206 Tours GIFT CERTIFICATE