Cologne & Aachen
The Story:
These two cities located in West Germany were devastated in World War II. However, their prominent cathedrals survived. Cologne was settled by the Romans in 38 BC, and the Roman Emperor Claudius made it a Roman capital naming it in honor of his wife, Colonia Claudia Ara Agrippinesis in 50 AD. It was the Holy Roman Empire's largest and richest city from the 11th to 16th centuries. It gained importance in 1194 after it acquired the relics of the Three Magi, the Wise Men who brought gifts the infant Jesus. Needing a home worthy of their importance, work began in 1248 on the Kolner Dom, or Cologne Cathedral, a magnificent Gothic cathedral, where the relics remain today. At the time this cathedral was built, the Kolner Dom's twin west towers, at 515 feet, were the tallest structures in the world. The enormous church can hold 20,000 people. Cologne is well known for "Eau de Cologne", or "Water of Cologne", the first perfume produced there in the 18th century, as well as its many restaurants, bars, shops, museums, and Romanesque church.
Hundreds of pilgrims traveled to Aachen from central Europe in the Middle Ages primarily because of the many holy relics there since the time of Charlemagne. The most important relics are the swaddling clothes of Christ, the loincloth of Christ, the cloth from John the Baptist's head and the Blessed Virgin's cloak. These are housed in an eight-sided chapel Charlemagne, or Palatine Chapel built as the core of Aachen's cathedral and is a UNESCO World Heritage Site. Also, within is a 14th century statue of the Virgin that is said to be miraculous. While Charlemagne was crowned Holy Roman Emperor in Rome in 800, there have been 32 Holy Roman Emperors crowned at Aachen and with each coronation another magnificent gift given to the cathedral. There is a richly decorated golden shrine that holds the remains of Charlemagne given by Frederick II. Charlemagne's marble throne is also housed there. Cologne and Aachen are approximately 45 miles apart. s. It is also known by its French name - Aix-la-Chapelle. Hot springs are still there which many people claim can cure various ailments, many museums are there.
Kolner Dom:
Location:
Cologne Cathedral, Domkloster 4, 50667 Köln, Germany
Hours: Open Daily; 6:00am – 7:30pm (November through April) and 6:00am – 9:00pm
(May through October). Sundays and Holidays, 1:00pm – 4:30pm.

Aachen Cathedral:
Hours: Aachen Cathedral is not open for sightseeing during service hours, including unscheduled services and special concerts.
Sightseeing hours start weekdays at 11 a.m. and at 12.30 p.m.
For more information about Cologne & Aachen: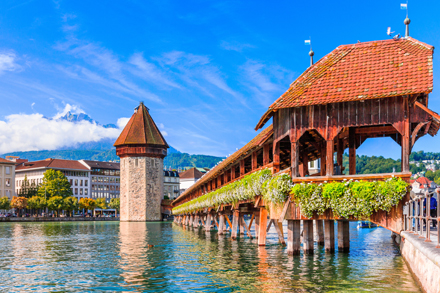 The Netherlands, Belgium, Germany & Switzerland
Amsterdam (Our Lady of All Nations) * Ghent * Bruges * Brussels * Echt * Beauraing (Our Lady of Beauraing) * Banneux (Our Lady of Banneux)* Aachen * Kevelaer (Our Lady of Kevelaer) * Cologne * Trier * Strasbourg * Lucerne ·* Einsiedeln (Our Lady of Einsiedeln) * Interlaken * Berne * Geneva
| Duration | Destination |
| --- | --- |
| 12 Days | Germany, Netherlands, Switzerland, Belgium, France |
VIEW DETAILS
France, The Netherlands, Belgium, Germany & Switzerland
Paris * Lisieux (St. Therese the Little Flower) * Normandy * Chartres * Amsterdam (Our Lady of All Nations) * Ghent * Bruges * Brussels * Echt * Beauraing (Our Lady of Beauraing) * Banneux (Our Lady of Banneux)* Aachen * Kevelaer (Our Lady of Kevelaer) * Cologne * Trier * Strasbourg * Lucerne * Einsiedeln (Our Lady of Einsiedeln) * Interlaken * Berne * Geneva
| Duration | Destination |
| --- | --- |
| 16 Days | France, The Netherlands, Belgium, Germany & Switzerland |
VIEW DETAILS