Radisson Royal Hotel
*****
Nevsky Prospekt 49, Tsentralny, 191025 Saint Petersburg, Russia
About the Radisson Royal Hotel:
Experience the city like a local by staying at the very center of St. Petersburg. The Radisson Royal Hotel is perfectly located on St. Petersburg's main street, Nevsky Prospect. It is only a short distance from all the city's world-famous cultural and historic attractions, including the Fabergé Museum, and offers luxurious accommodation for an enjoyable stay in St Petersburg. As well as its close proximity to the shopping and business areas, the hotel is also conveniently located within 5 minutes' walking distance of several metro stations.
Dating back to the 18th century, the building housing the Radisson Royal Hotel has a colorful history. The interior of the building was completely reconstructed in 2001, and the original façade has been restored to its former glory while retaining original features, many of which are almost 300 years old. Our first-class hotel in St Petersburg is chic and cozy. Our 164 fully renovated, elegant and modern rooms provide guests with high-end amenities including free high-speed Wi-Fi, full HD smart TVs, 24-hour room service and heated bathroom floors. The Radisson Royal team is on hand to deliver the brand's Yes I Can! service philosophy, and this, combined with the quality of accommodation, will ensure you have the best possible stay!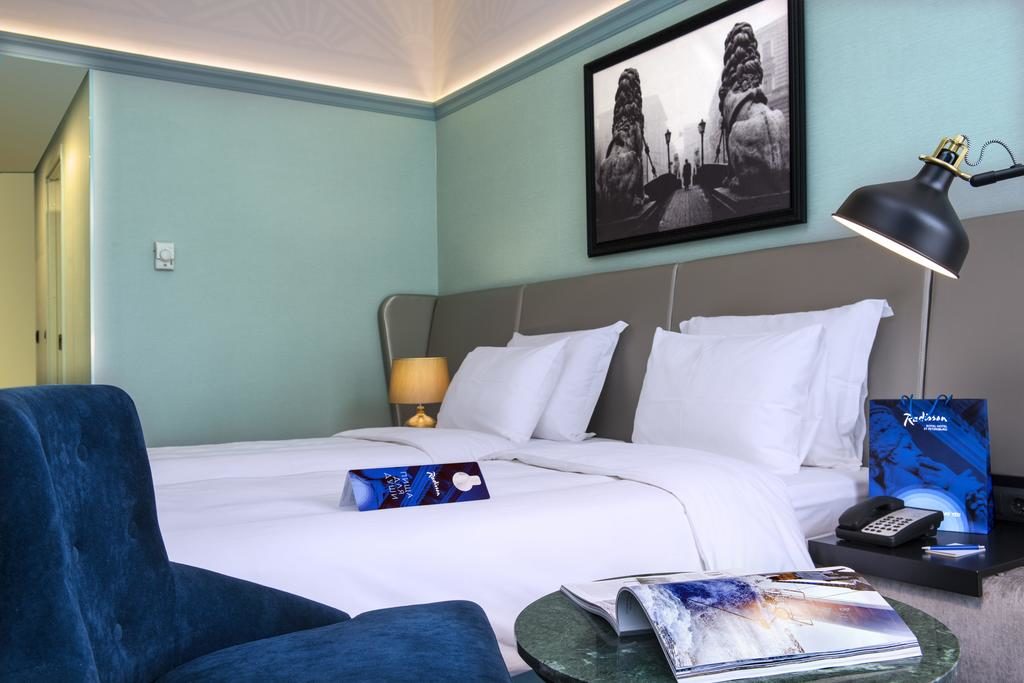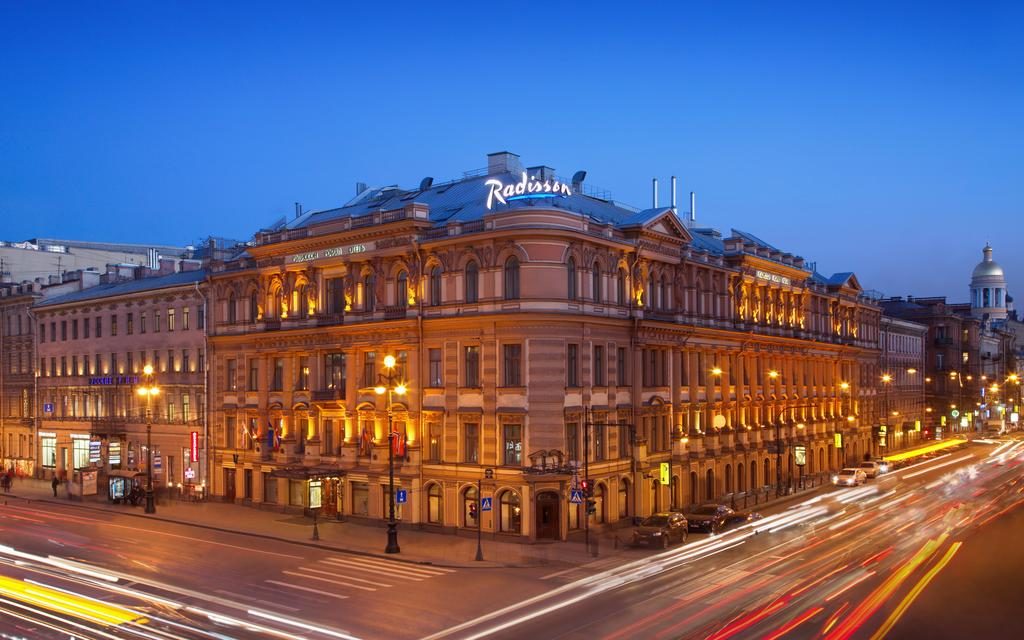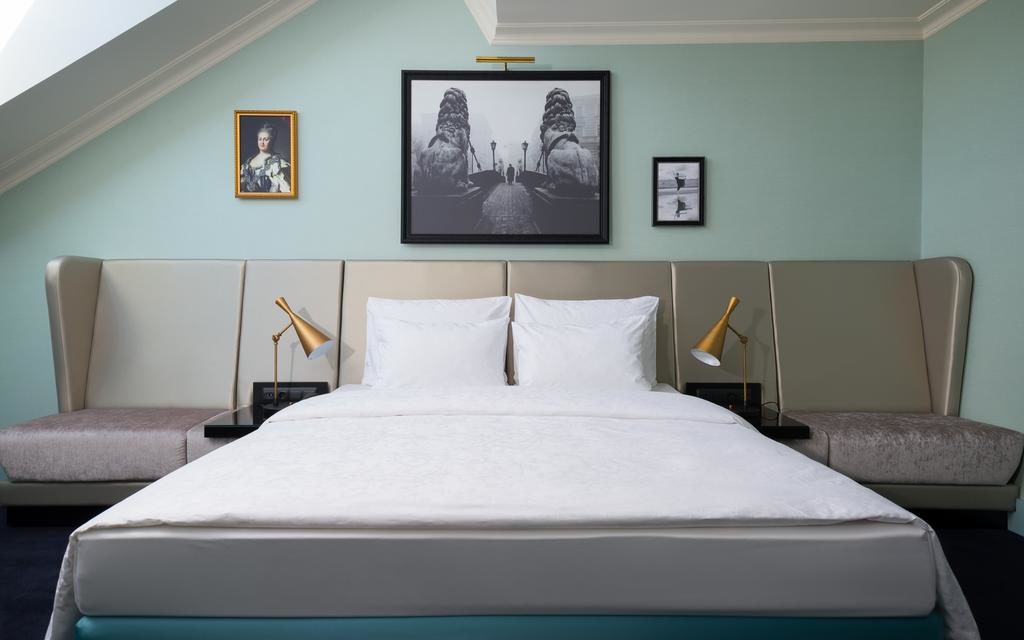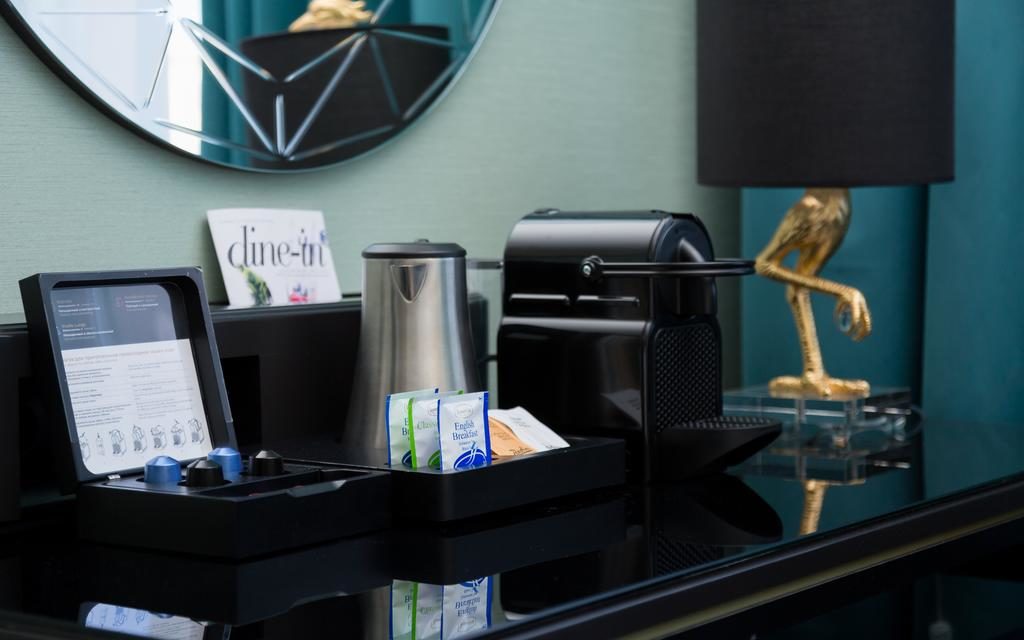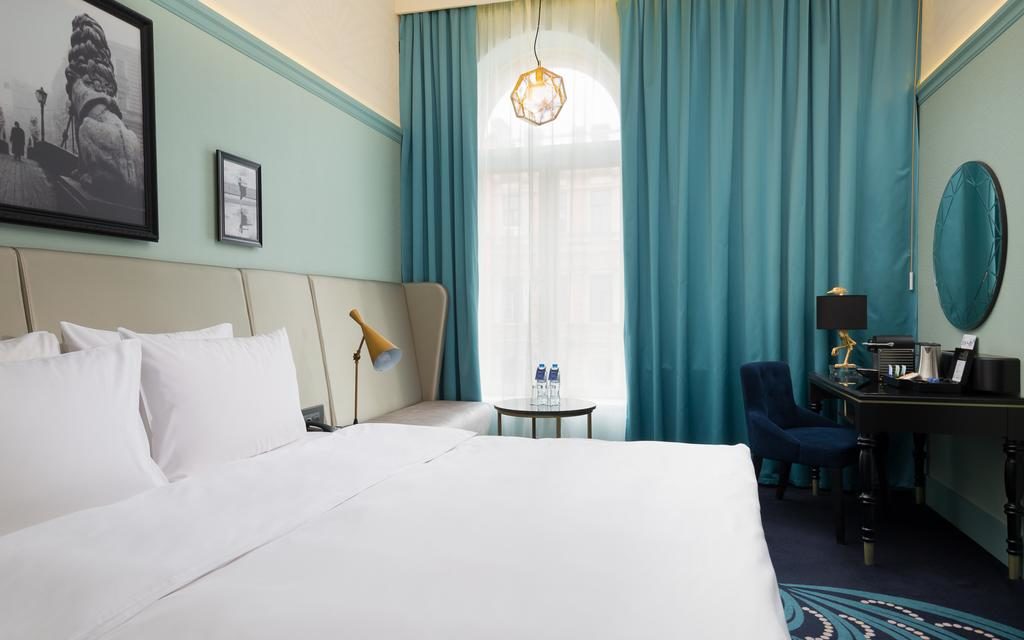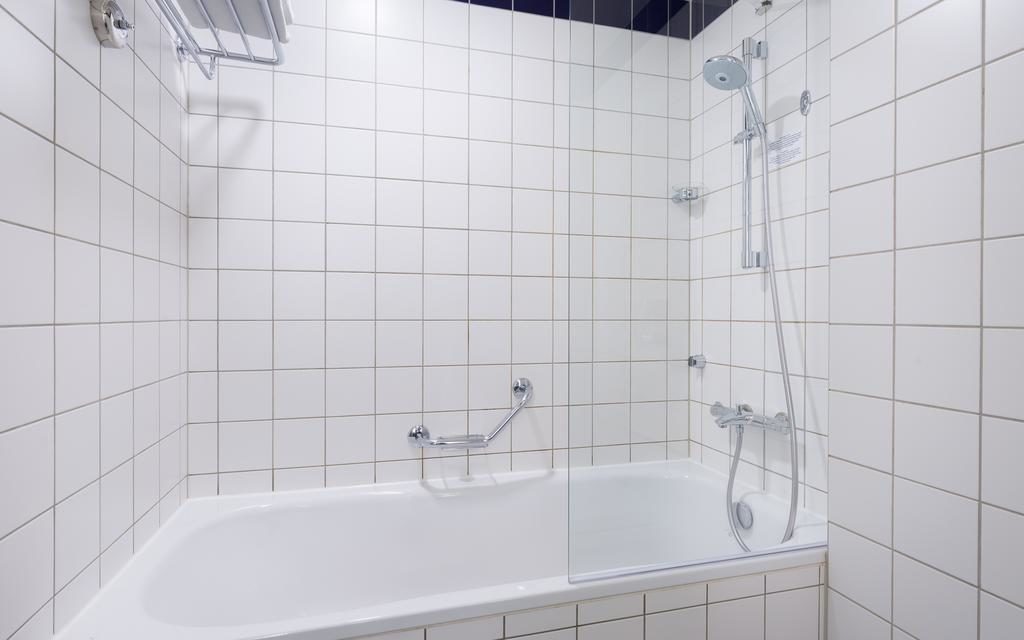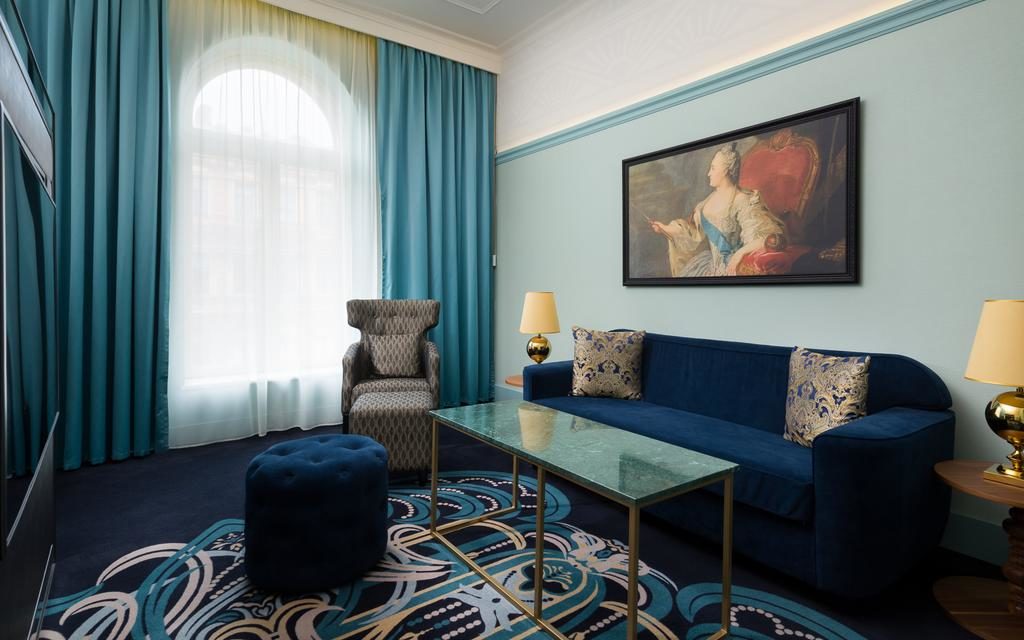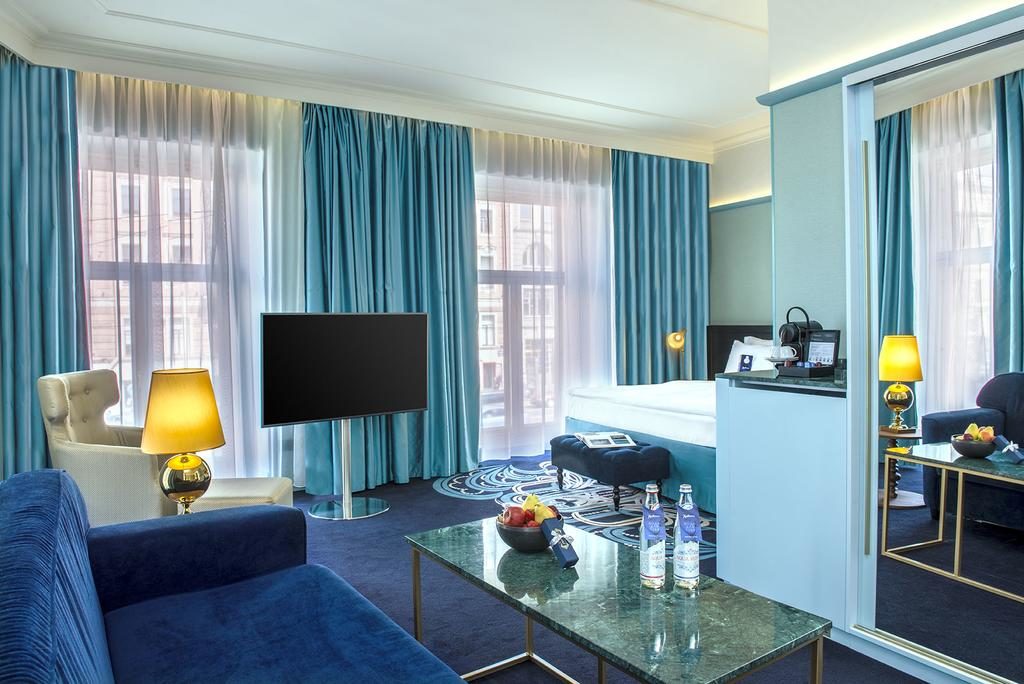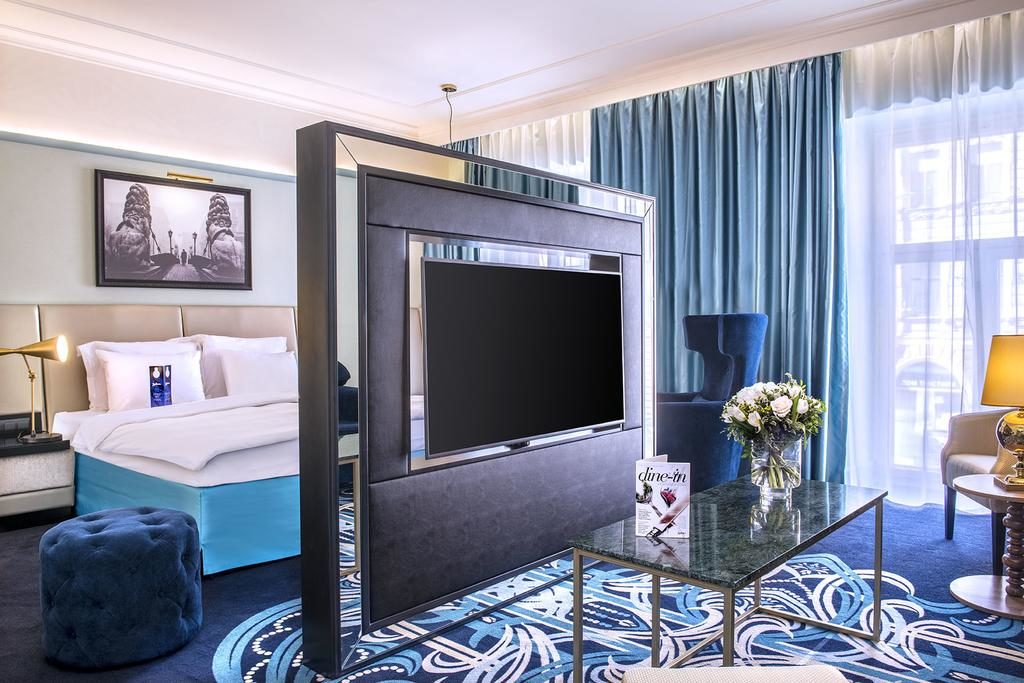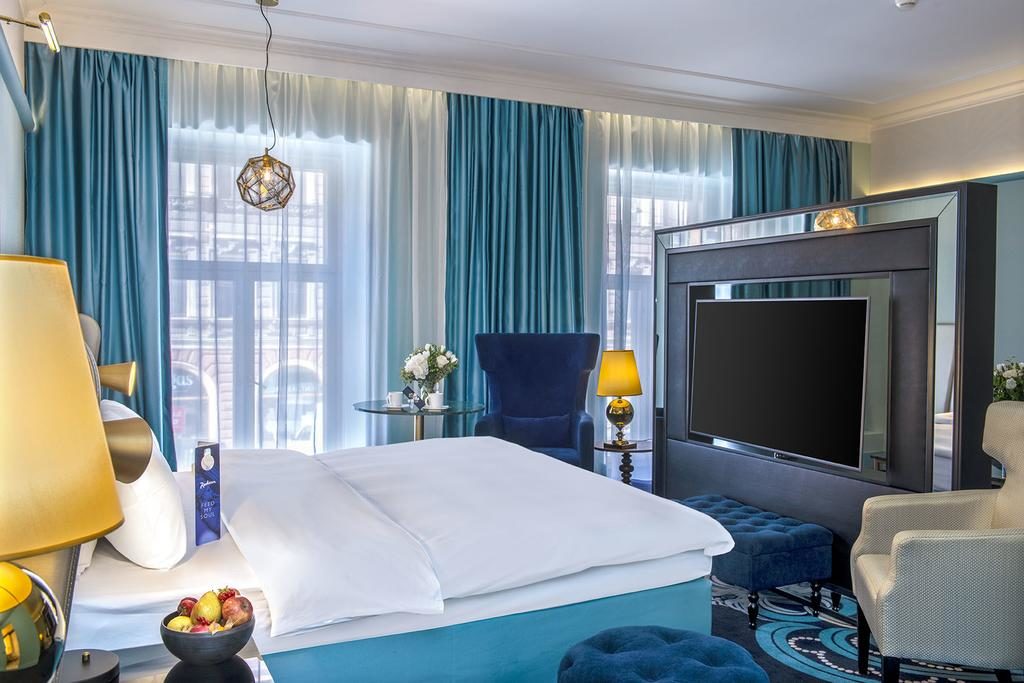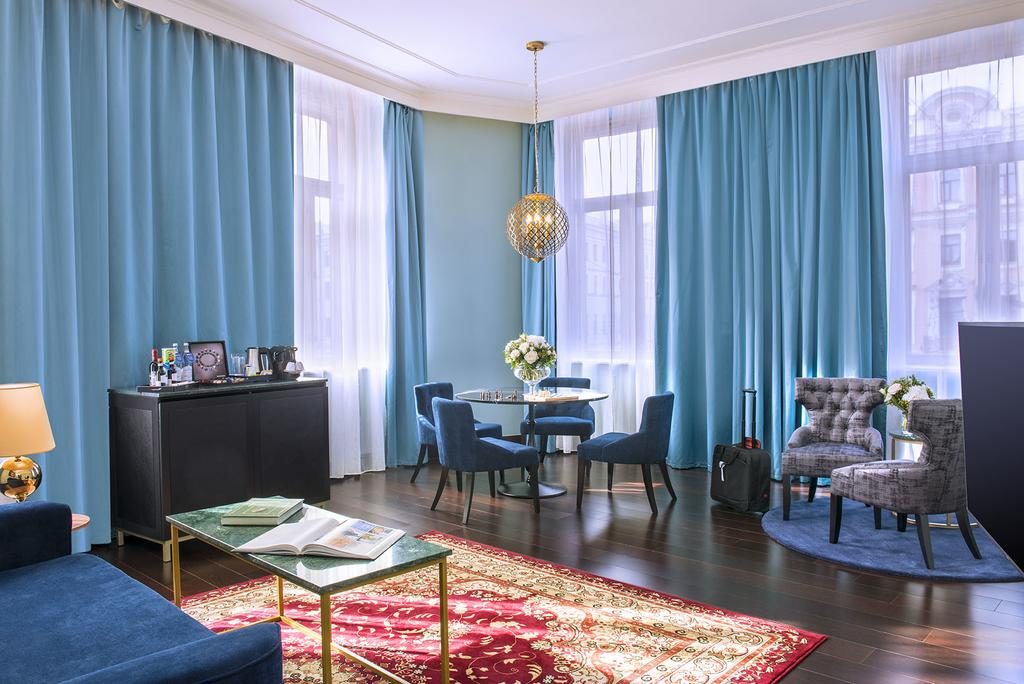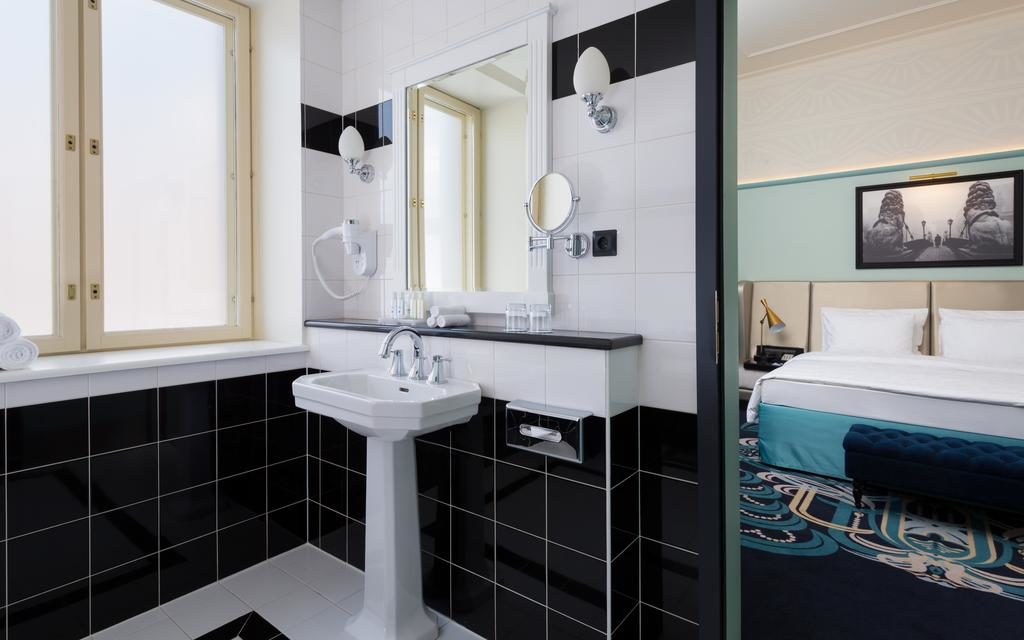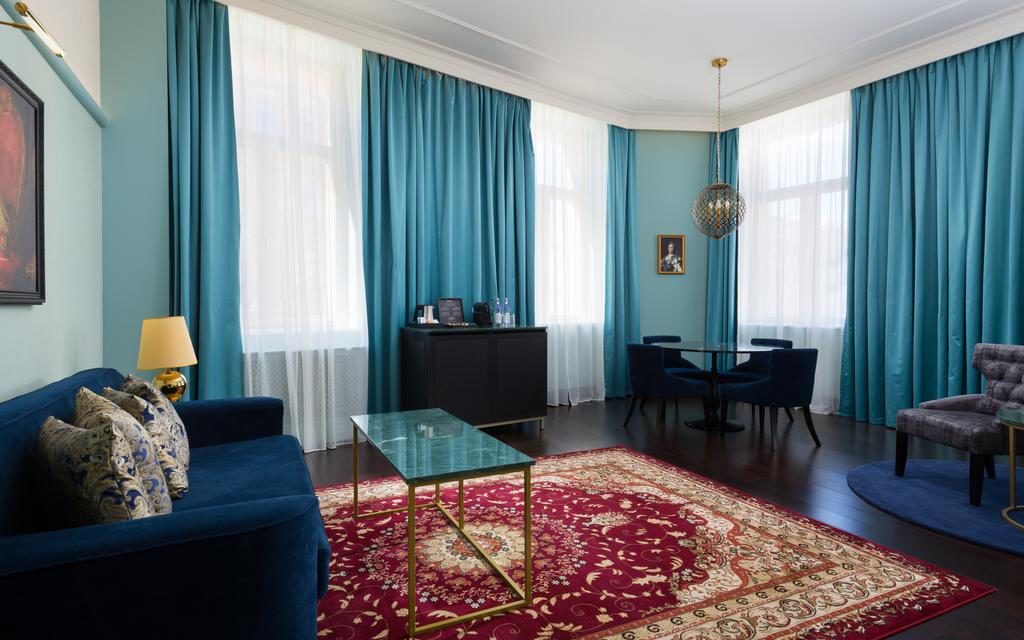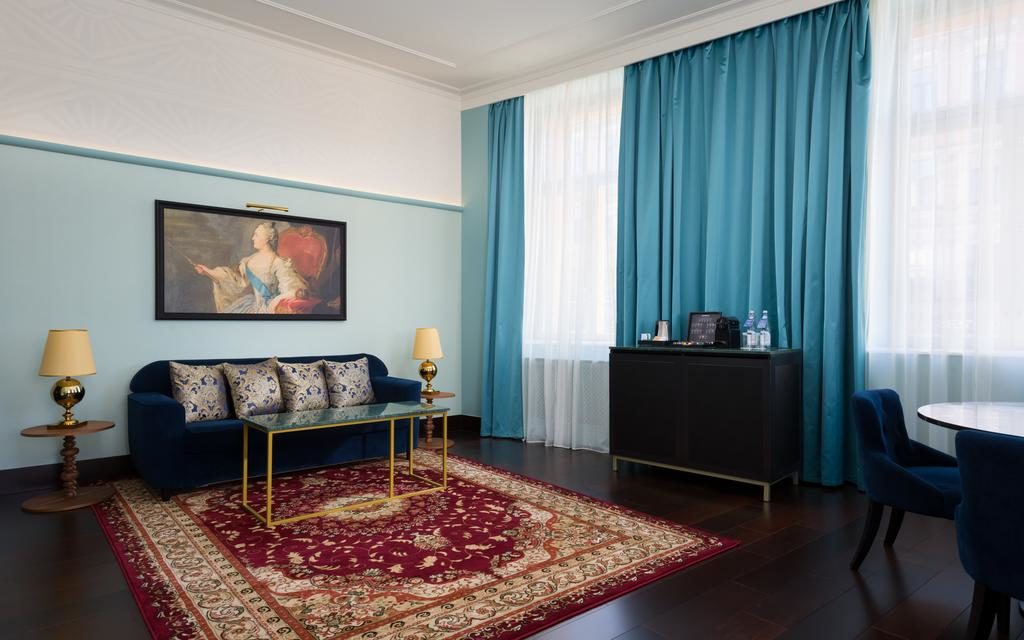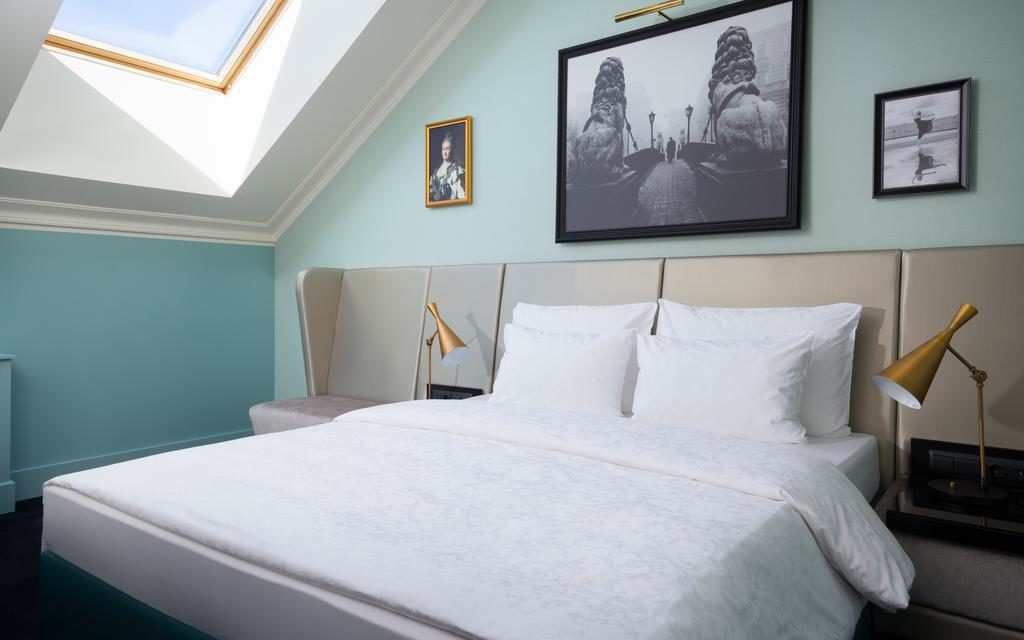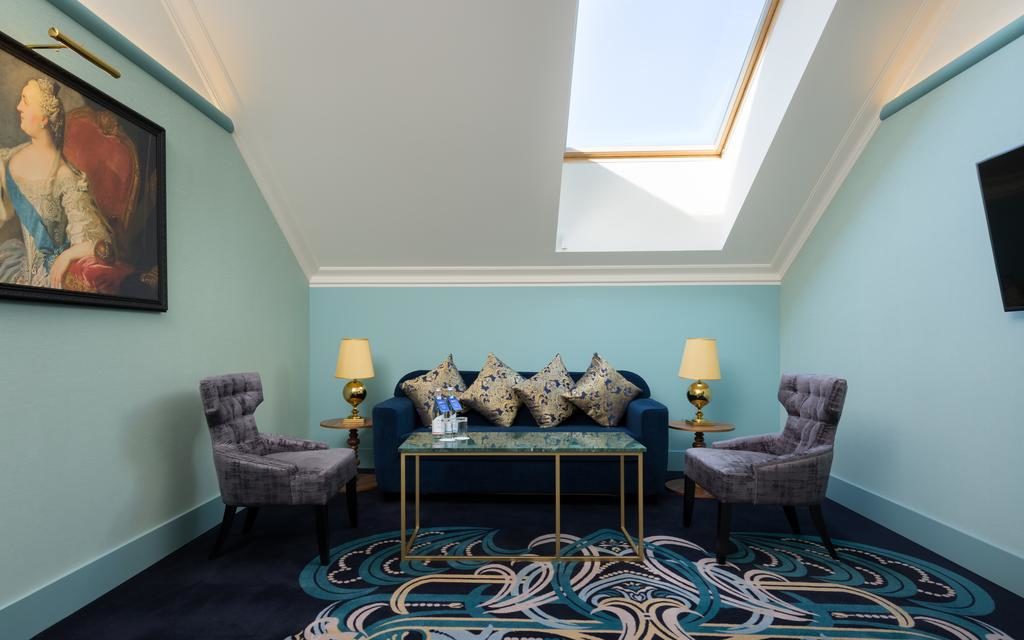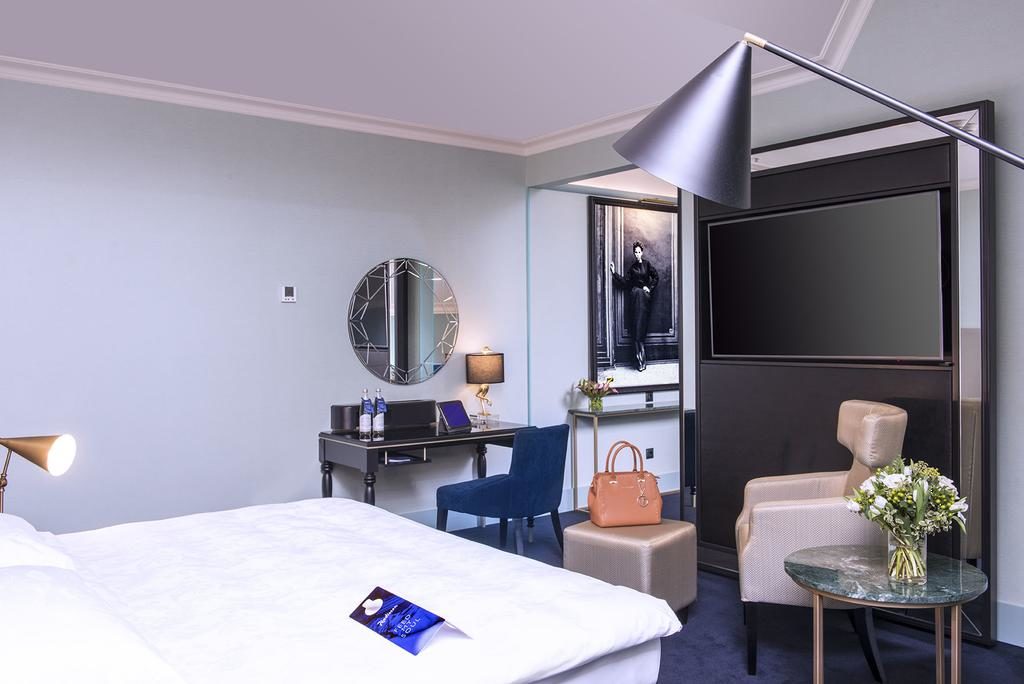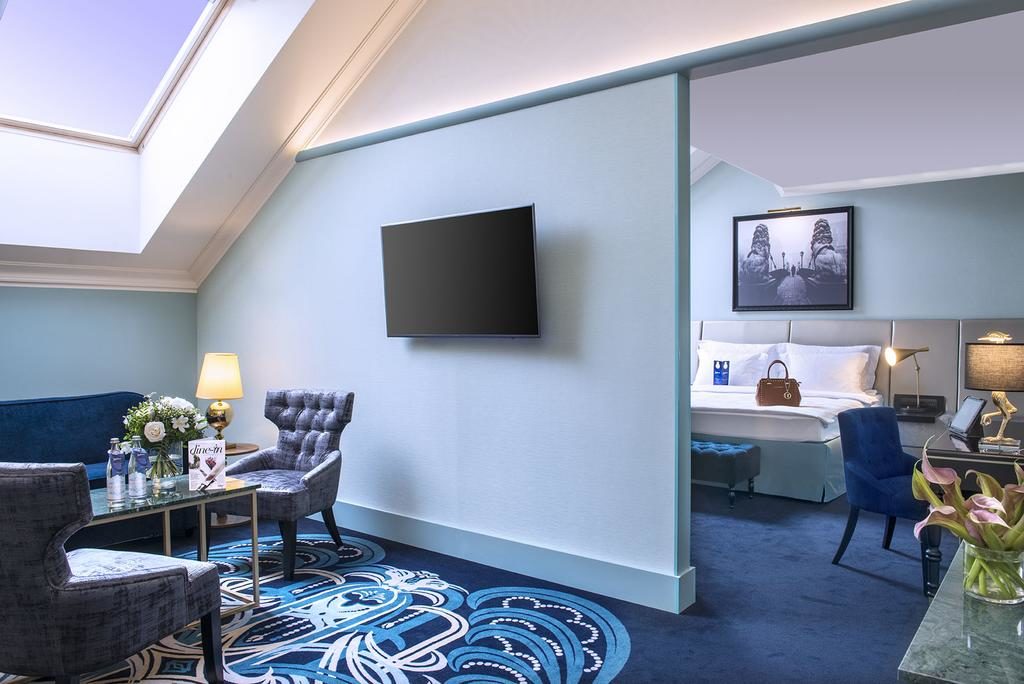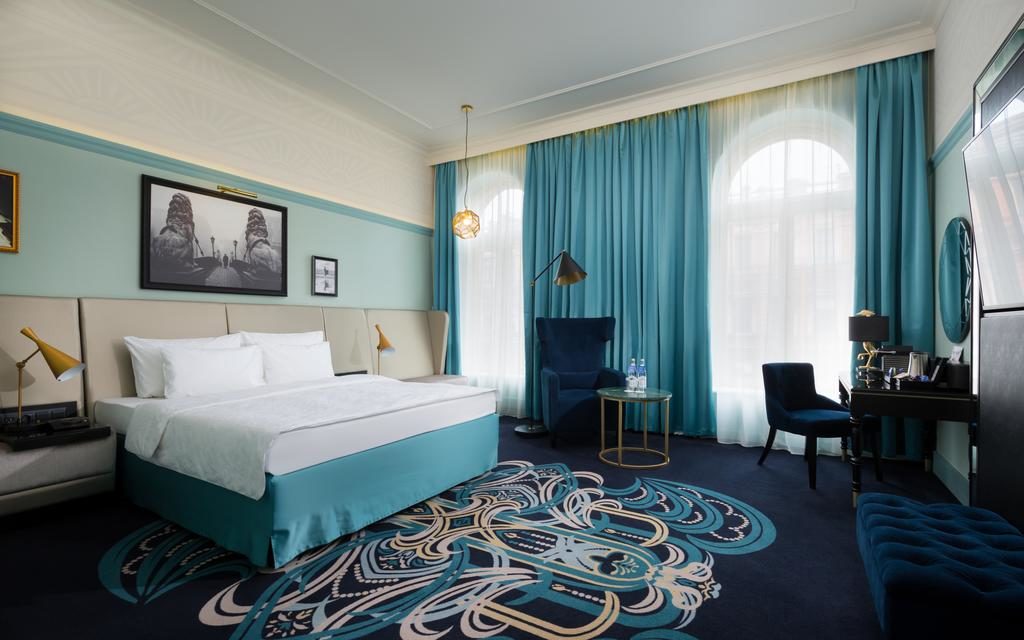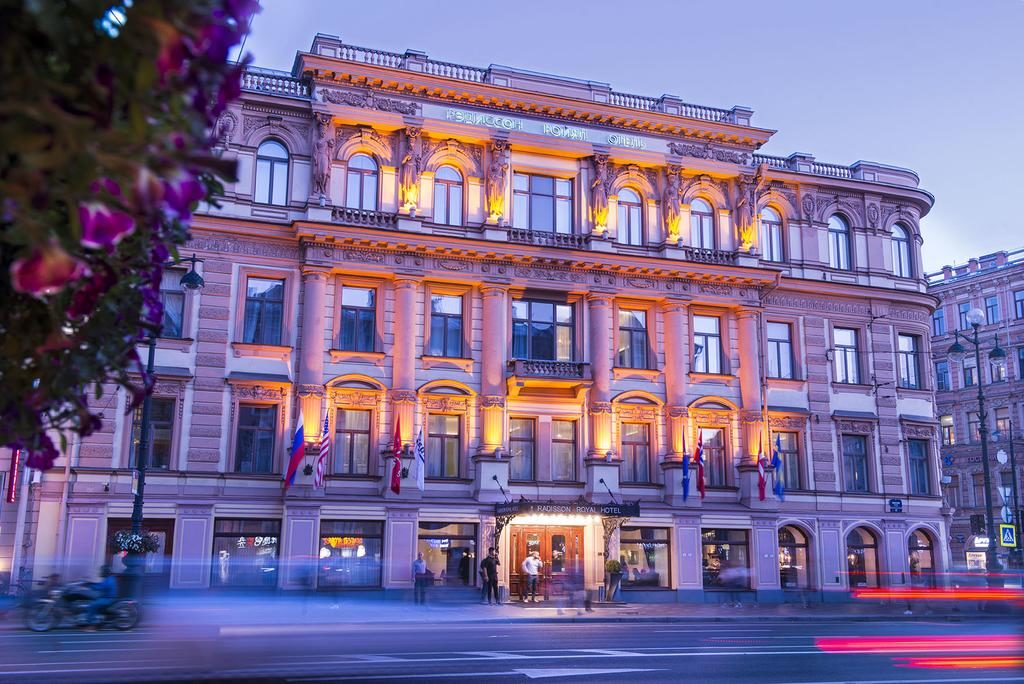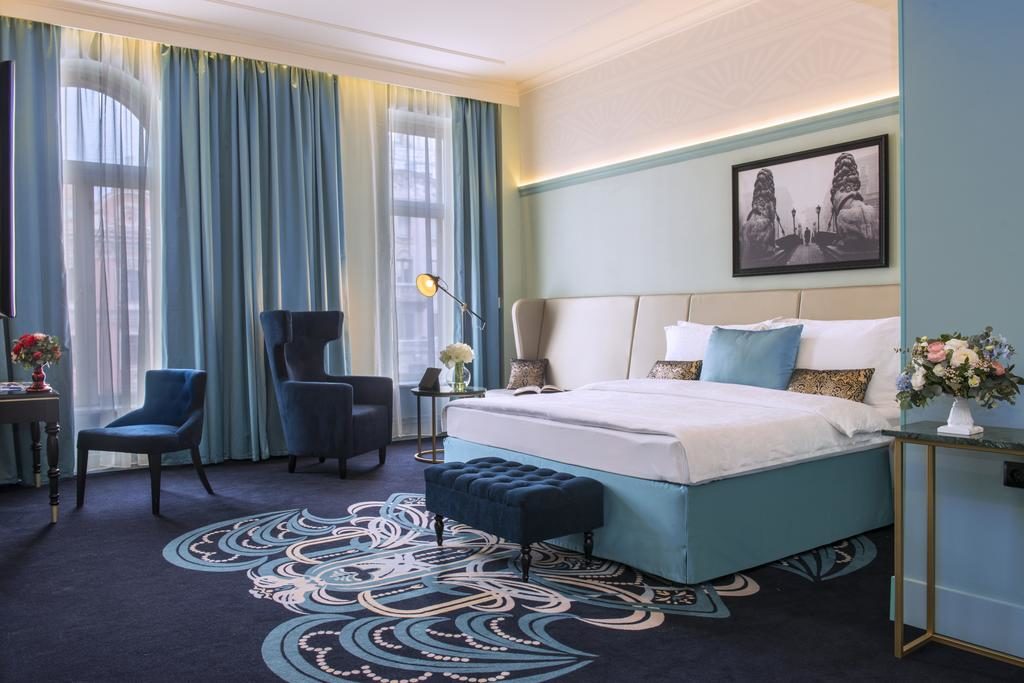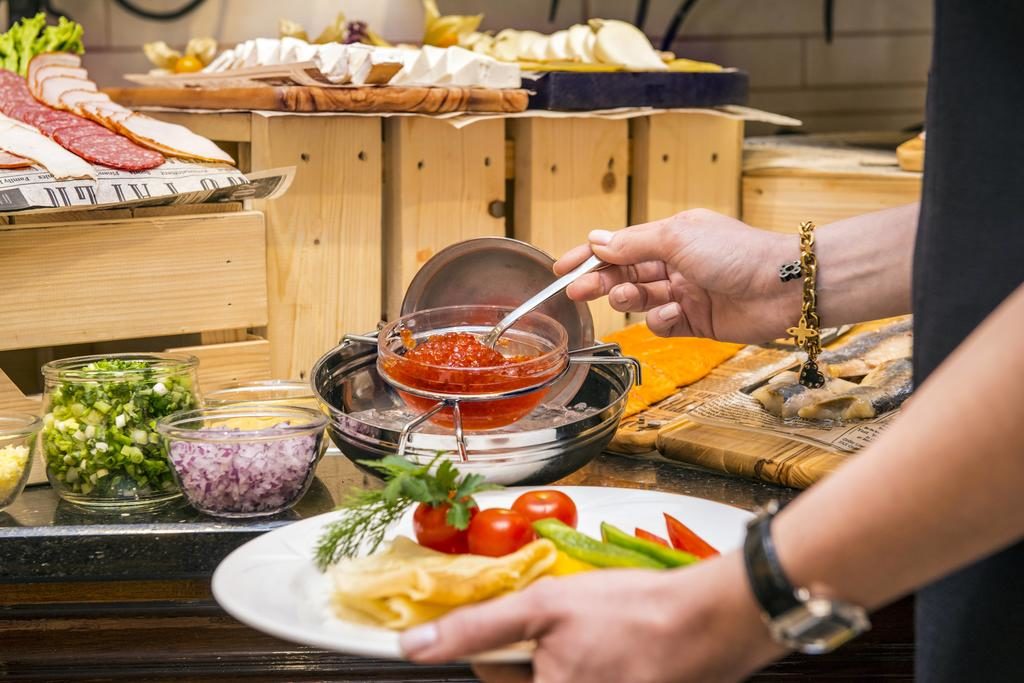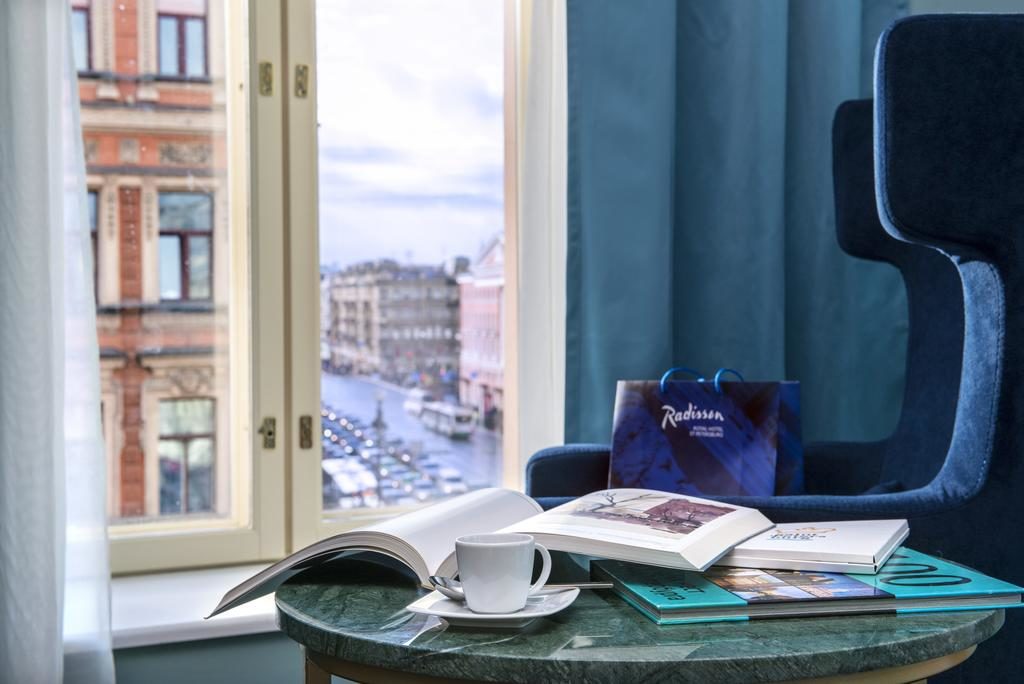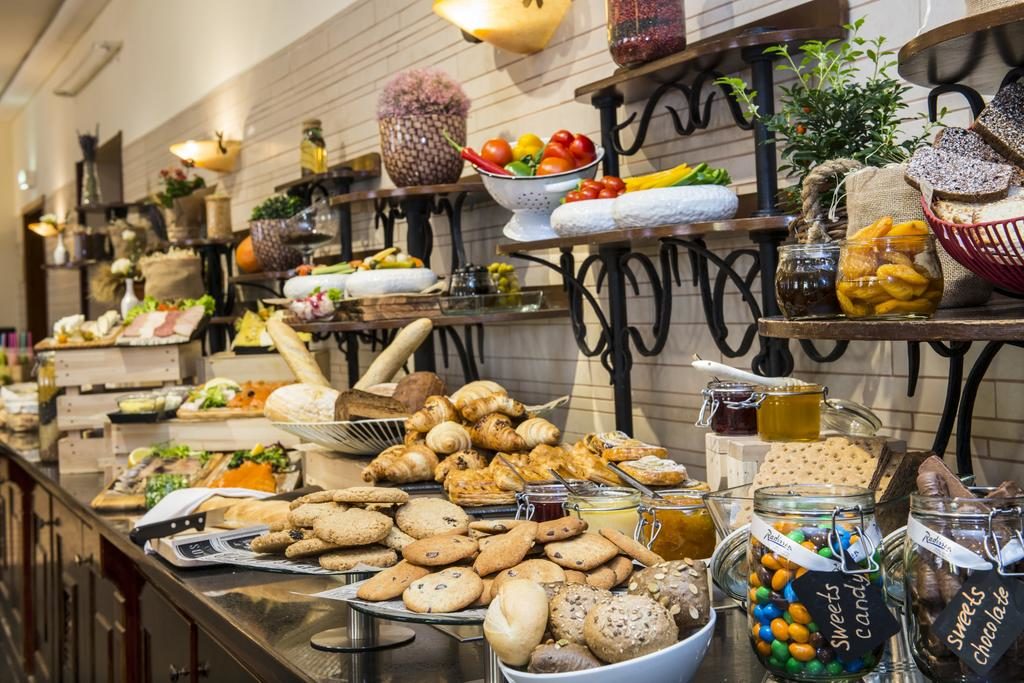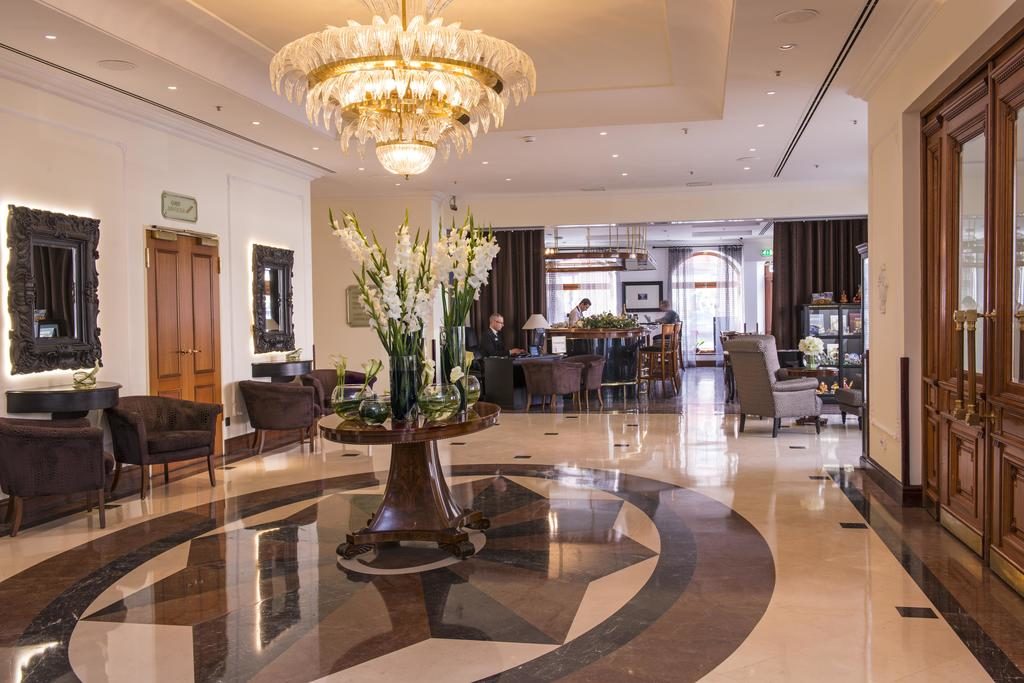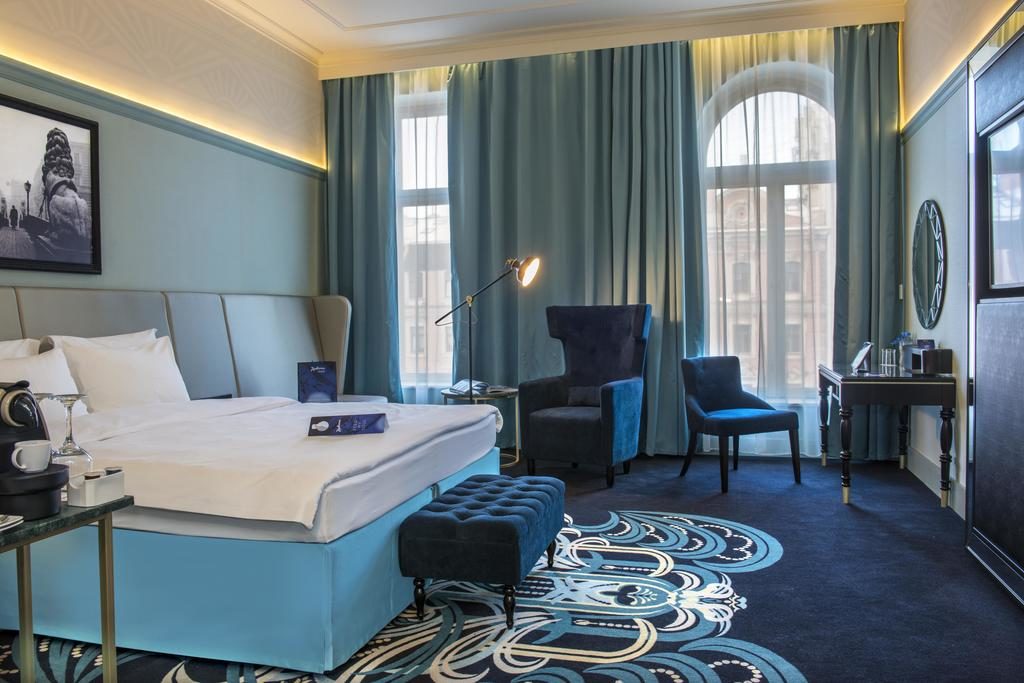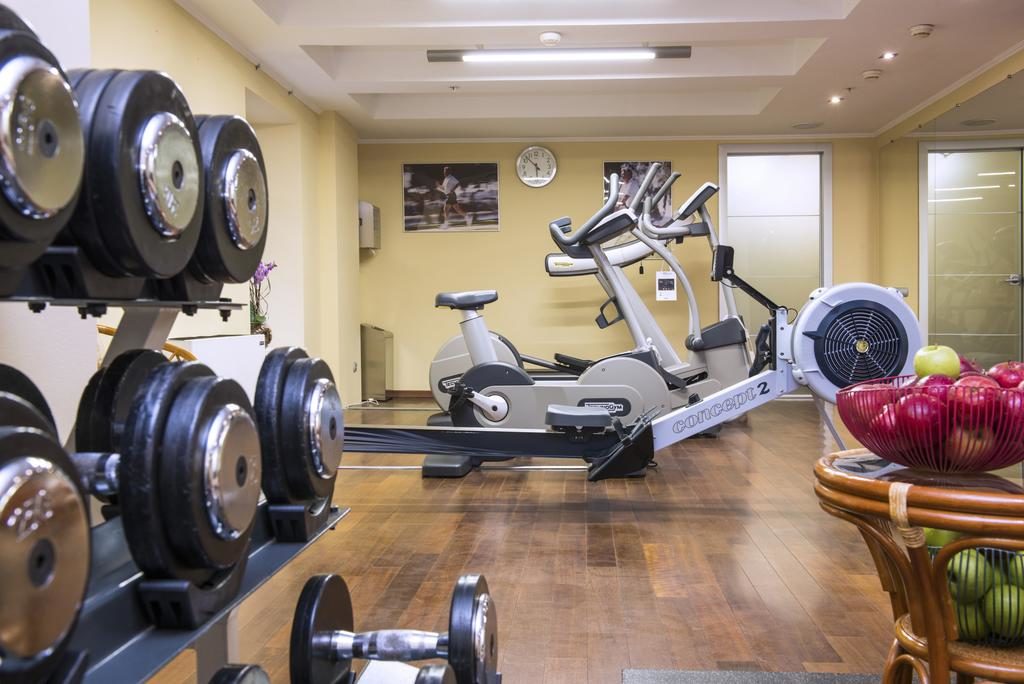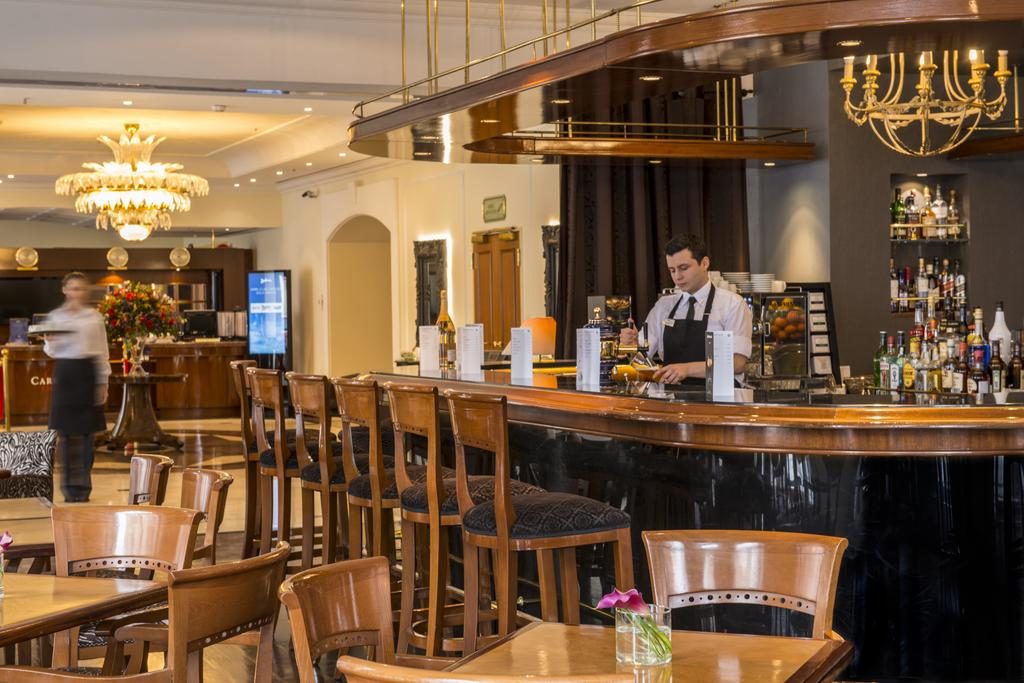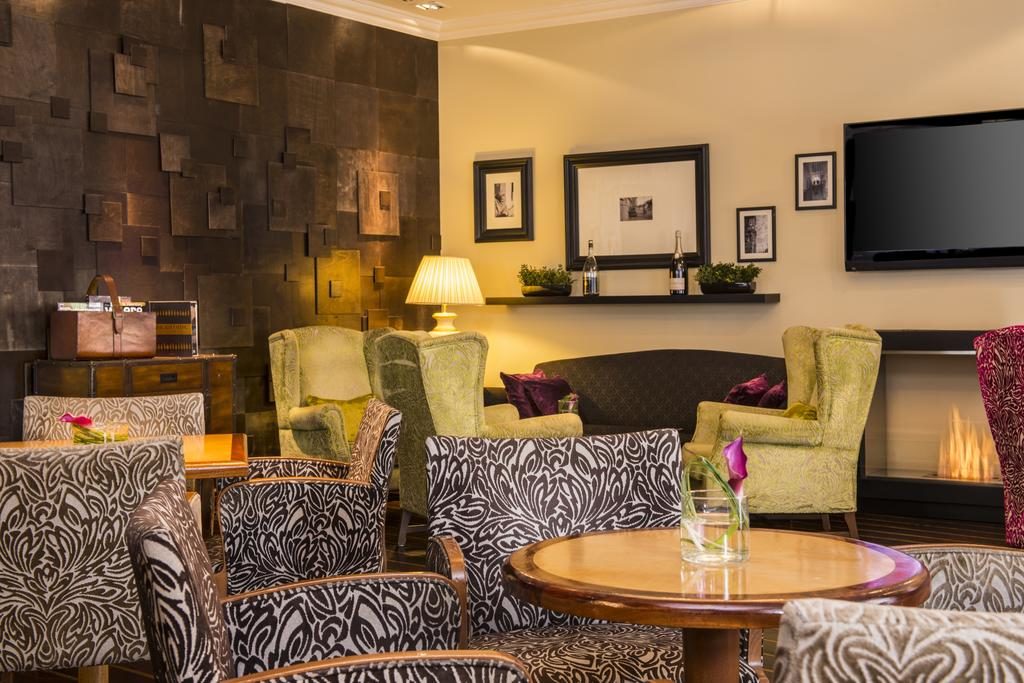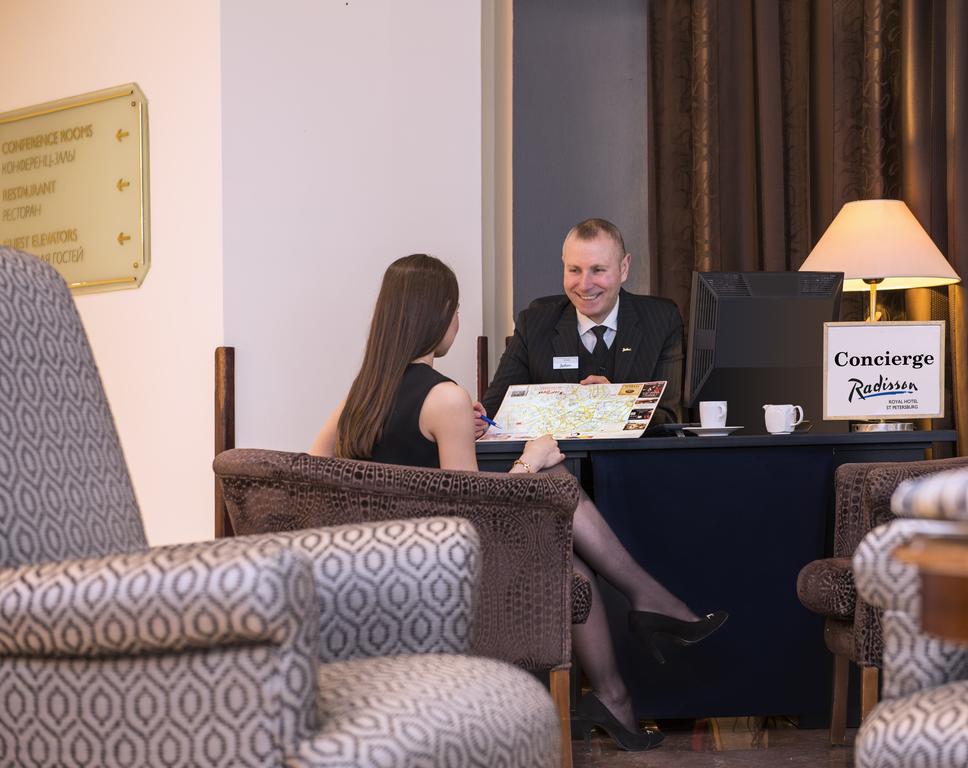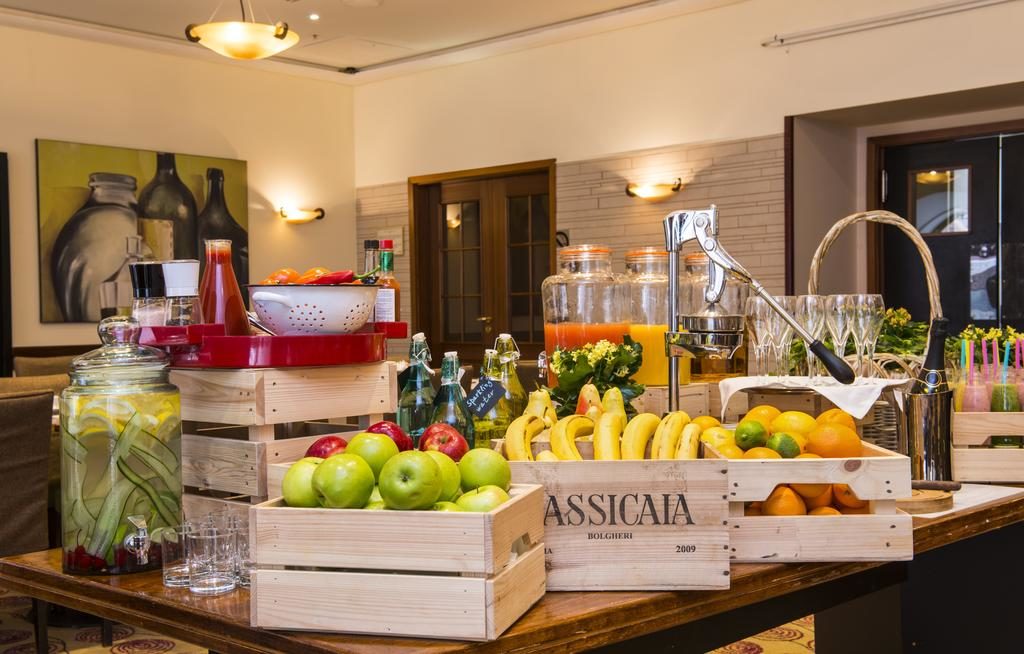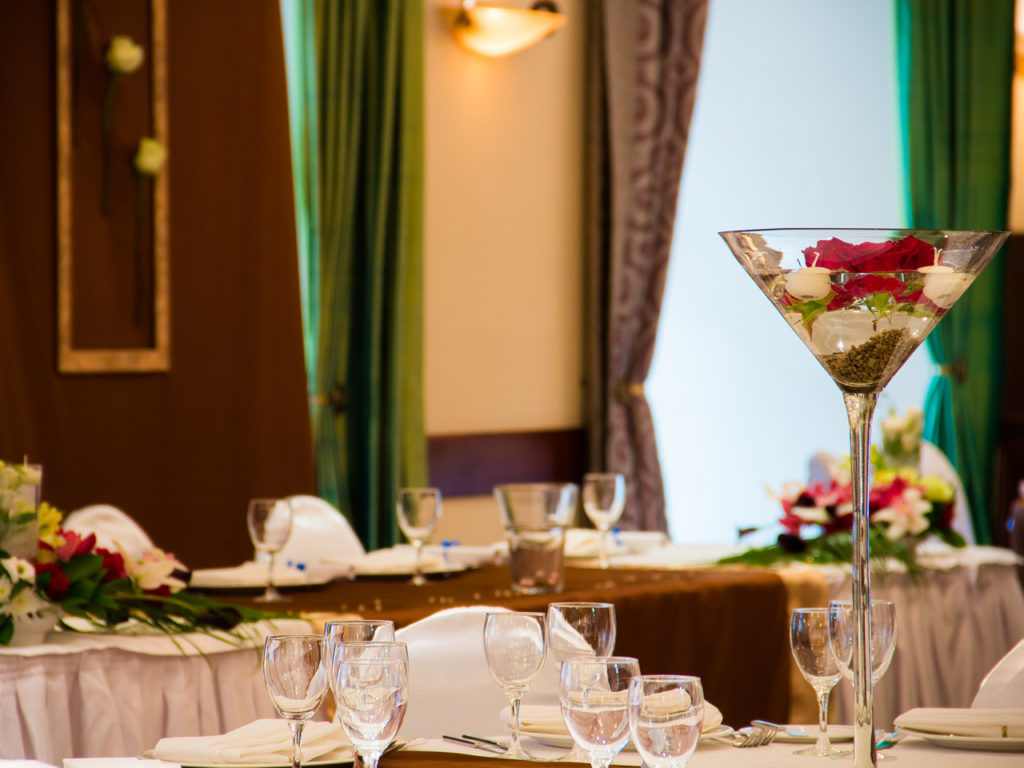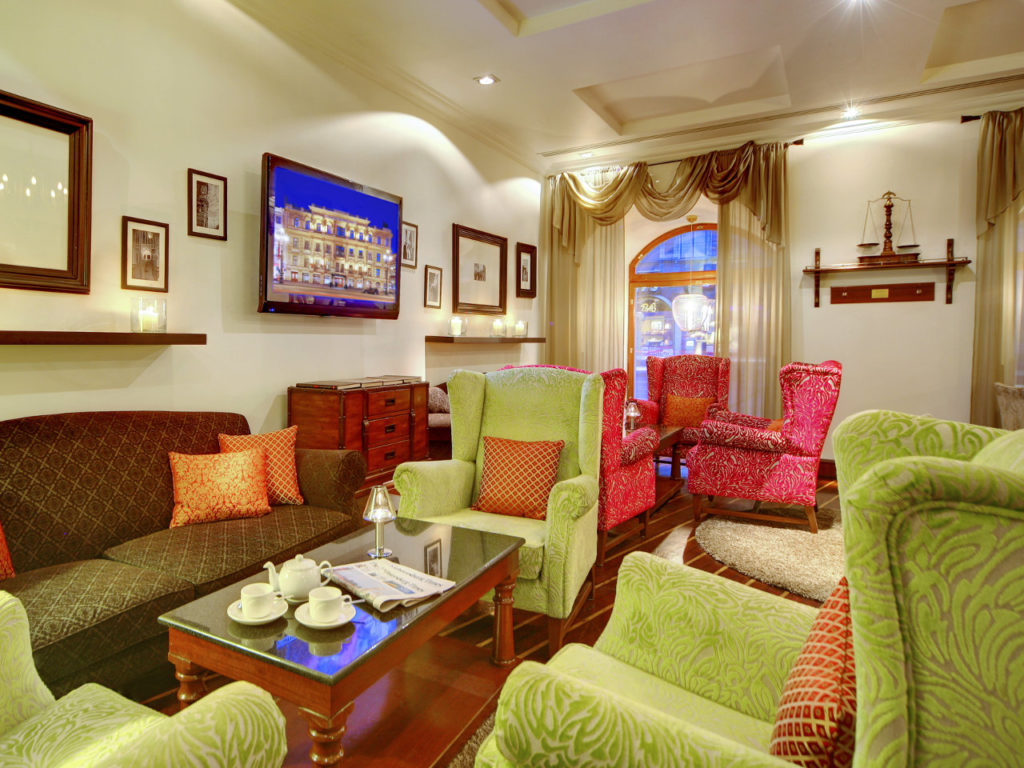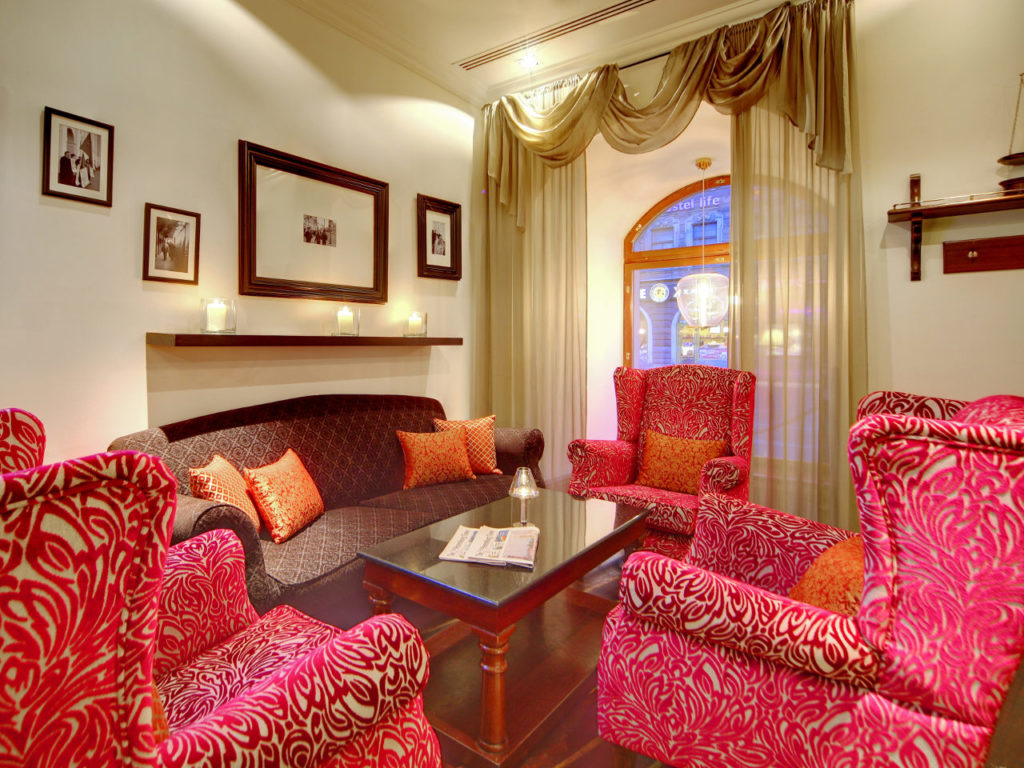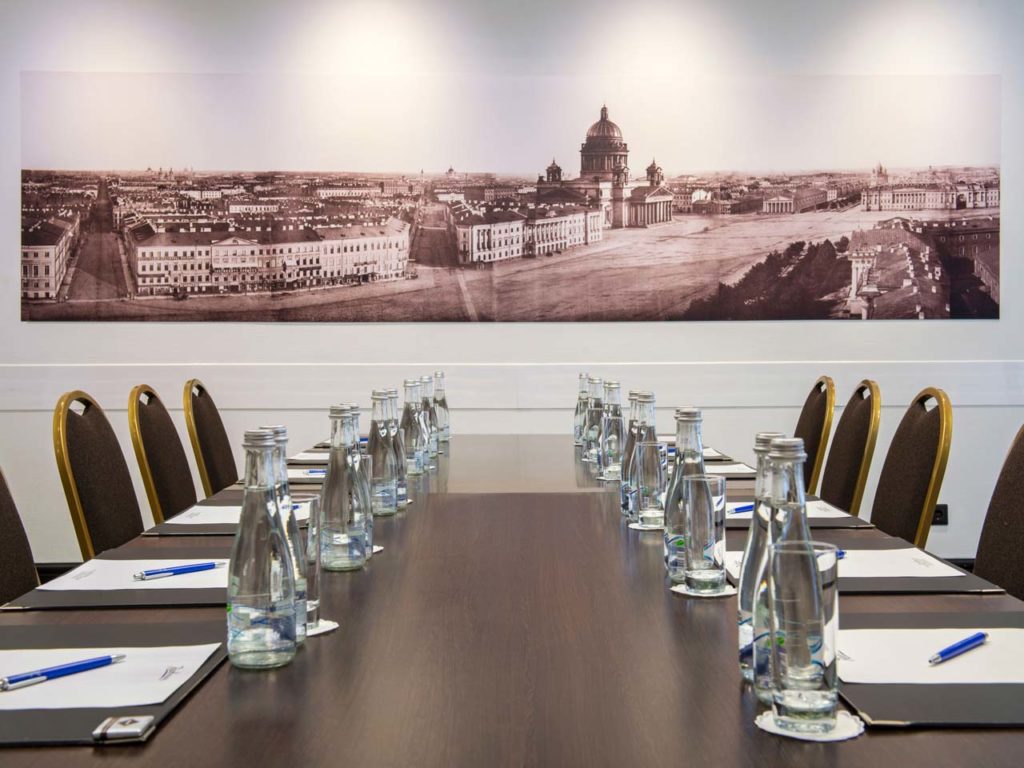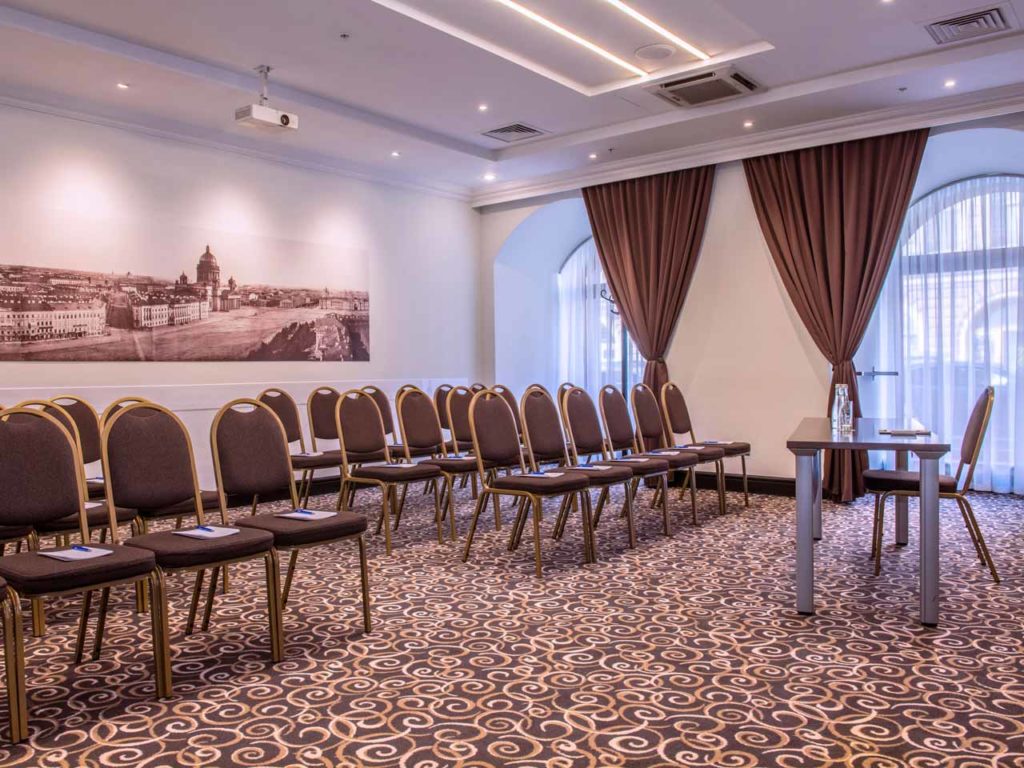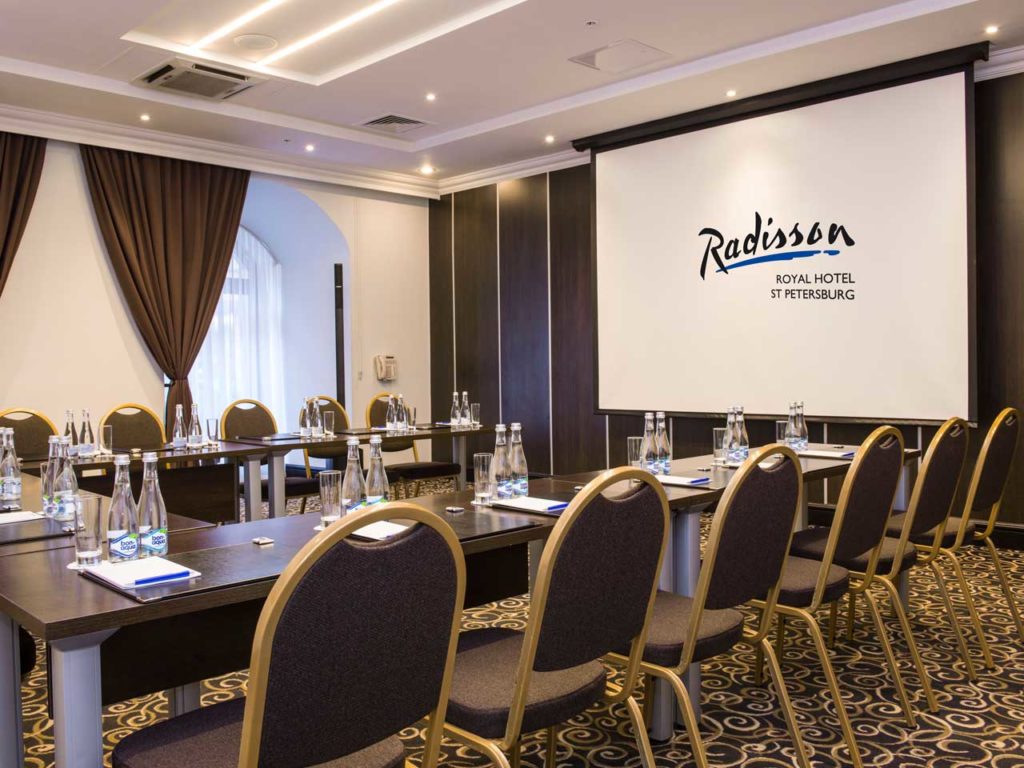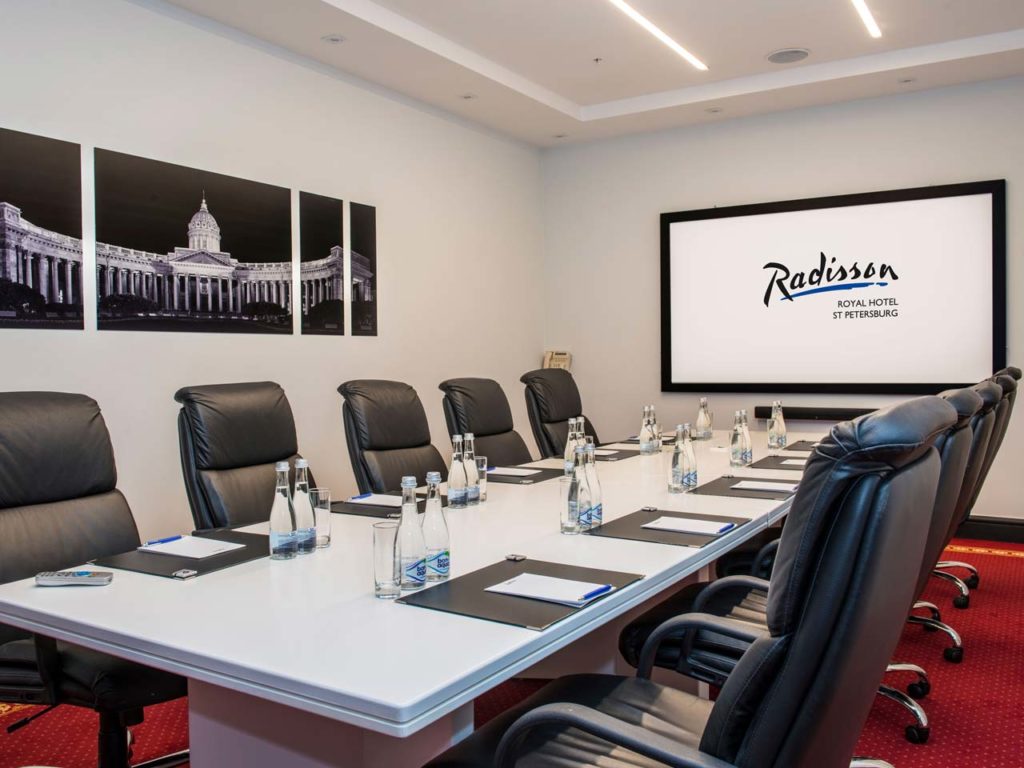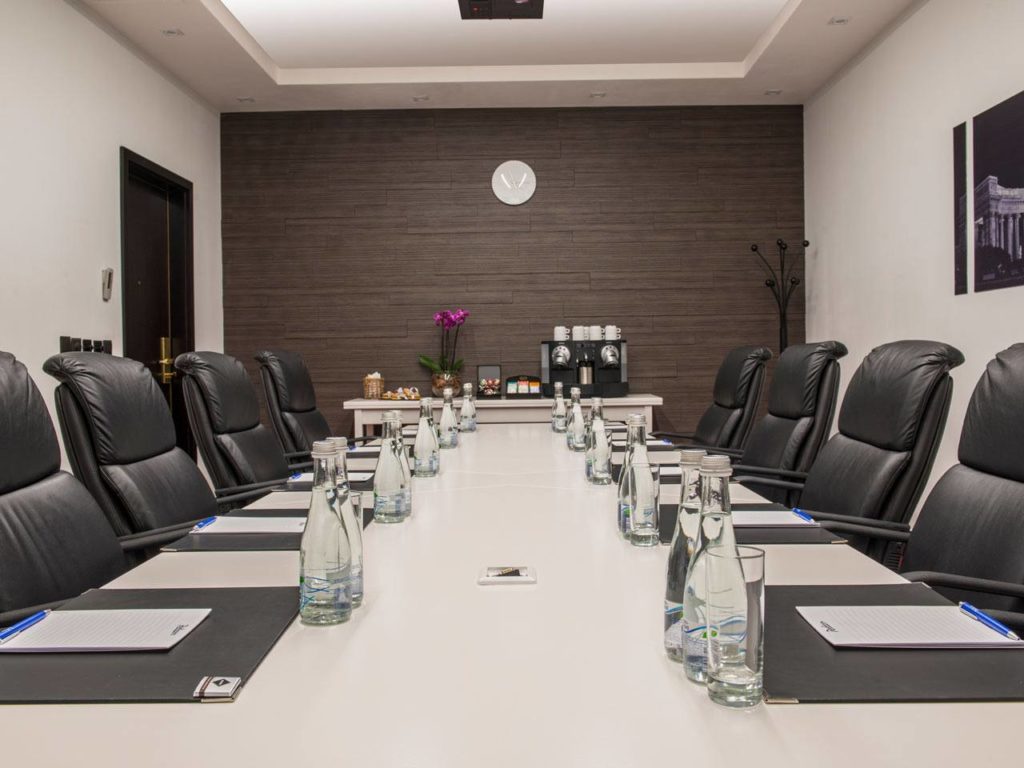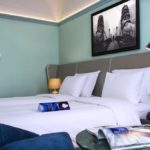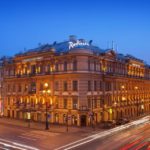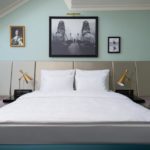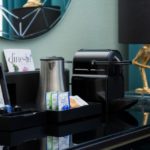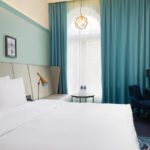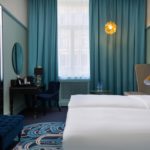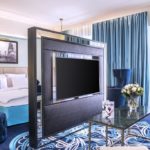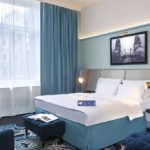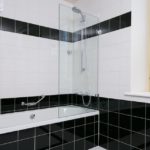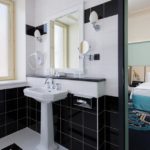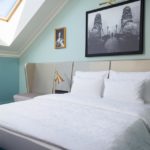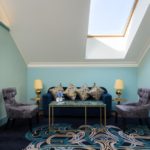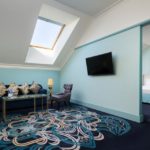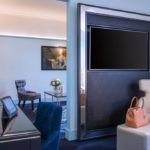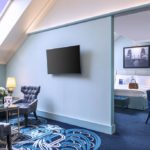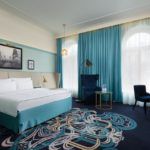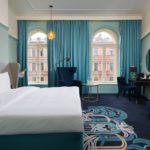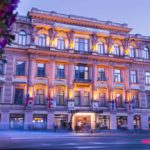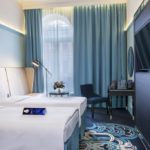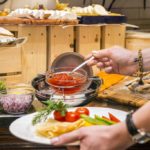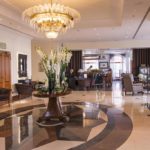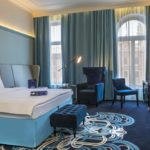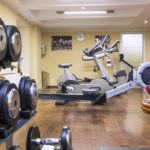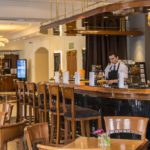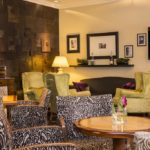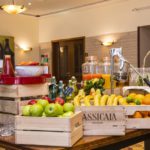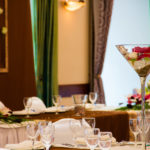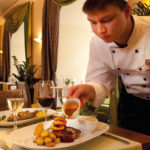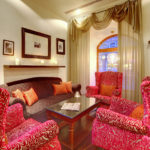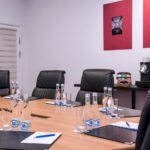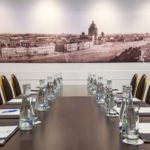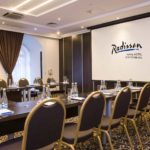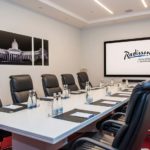 Guest Rooms
Experience the city's cultural spirit in rooms designed by the famous Swedish company, the Lundwall Architects (LWA). Our 164 top-notch and elegant hotel rooms have impeccable classic décor and a huge selection of features to make each guest feel like royalty. The rooms, each in the "Modern Classic" style, are uniquely decorated with timeless color combinations, from light and airy to deep and mysterious shades of blue. They offer classical style blended with modern convenience, creating a comfortable, exclusive and relaxing ambiance.
All rooms include a host of amenities, including individual climate control, a Full HD Smart TV, in-room Nespresso® coffee machine, safe, mini bar and Free high-speed, wireless Internet. This Works® bath amenities will help you to unwind after a full day in the bustling city center. Guests can stay on track with their exercise regimens at our fitness center or relax in the sauna, Jacuzzi® whirlpool and private massage room.
A number of accessible rooms are available upon request, and family travelers will appreciate connecting rooms, which allow for accommodation with kids or other company. Our VIB (Very Important Baby) concept will make your stay with little guests stress-free and comfy.
STANDARD ROOM
Room Size 28 m²
With our Standard Room, you will have everything you need for a comfortable stay and a good night's sleep. We offer our guests more space and the choice between king and twin beds. Stay connected with our free Wi-Fi, while enjoying a hot drink from the in-room coffee and tea making facilities. All rooms include a steam iron and ironing board, so you can look your best. What's more, if you want to relax after a long day, you have free entrance to 2-level gym, saunas, jacuzzi and pool.
Room Facilities:
Free WiFi
Free newspapers and magazines via the One Touch App
1 free bottle of water per person per night
Coffee and tea making facilities
Individual climate control
SUPERIOR ROOMS
Room Size 20-32 m²
After a day of sightseeing or business meetings, guests can enjoy restful evenings at our St Petersburg accommodation. Our Superior Rooms offer a wide range of amenities in a modern, yet cozy space. Light hues of décor brighten the room and help to make it perfect for relaxation. Heated floors in the bathroom offer additional comfort.
Wake up well rested in one of our inviting Superior Rooms and start your day with freshly brewed coffee from the in-room Nespresso® coffee machine. Our guests can also enjoy 24-hour room service, dry cleaning and laundry services with a press of the One Touch Service button. Rooms also come with a safe to give you peace of mind.
Room Facilities:
49-inch Full HD Smart TV
Bathrobe and slippers
Free high-speed, wireless Internet
Iron and ironing board
Nespesso® coffee machine; tea & coffee facilities
BUSINESS CLASS ROOMS
Room Size 24 m²
The hotel's Business Class Rooms come equipped with all the amenities of a Standard Room and add little niceties to make your business trip a pleasure. After a day of meetings, unwind at the fitness center and then retire to your room, where you can relax in a comfy robe and slippers while you peruse the daily paper. Unwind with a hot drink from the in-room Nespresso® coffee machine. Upload photos of your trip to St. Petersburg with Free high-speed, wireless Internet while you sip a cup of hot coffee or tea. Join us each morning for the Super Breakfast Buffet before you begin your day in the city, or relax in your room with a continental breakfast brought right to your door.
Room Facilities:
Complimentary room service delivery
Daily newspaper
Free drink (wine, beer or soft drink) at the Cannelle bar
Free laundry or pressing service (1 item per day)
Free local calls
JUNIOR SUITES
Room Size 30 – 40 m²
With a separate sitting area, the Junior Suite provides ample space for travelers to settle in for a longer stay. Guests enjoy extras such as a city view and upgraded bathroom amenities in addition to all the amenities of a Business Class Room. Begin each morning with the Super Breakfast Buffet before you start your day in the city, or relax in your room with a continental or English breakfast brought right to your door.
Room Facilities:
2 umbrellas
55-inch Full HD Smart TV
Daily newspaper
Free drink (wine, beer or soft drink) at the Cannelle bar
Free laundry or pressing services (1 item per night)
Super Breakfast Buffet or in-room continental/English breakfast
SUITES
Room Size: 40 – 43 m²
Bright and spacious well-appointed Senior Suites provide everything you need to live, work and relax. The rooms offer the amenities of a Junior Suite as well as a separate bedroom and sitting area. Room service is available 24 hours a day, and Free high-speed, wireless Internet and a Smart TV ensure that you can always access global news and entertainment. As an added bonus, take advantage of our One Touch Service and express laundry service.
Room Facilities:
55-inch Full HD Smart TV
Daily newspaper
Free laundry or pressing services (1 item per night)
Free drink (wine, beer or soft drink) at the Cannelle bar
Room service delivery at no charge
Separate bedroom and sitting area
Super Breakfast Buffet or in-room continental/English breakfast
THE MOSCOW SUITE
Room Size: 45 m²
The Moscow Suite features 2 light and airy rooms with sky view windows across the ceiling, creating a large space to relax after a busy day in the city center. Its ample size and natural lighting provide a pleasant open atmosphere that energizes the guests and makes their trip a pleasure. A Nespresso® coffee machine and in-room breakfast add comfort for our guests.
Room Facilities:
2 rooms (bedroom and living room)
55-inch Full HD Smart TV
Complimentary room service delivery
Daily newspaper
Free drink (wine, beer, soft drink) at the Cannelle bar
Free laundry or pressing service (1 item per night)
Super Breakfast Buffet or in-room continental/English breakfast
THE ROYAL SUITE
Room Size: 65 m²
High on comfort and elegance, the Royal Suite features a separate bedroom area and is complete with a king-size bed and grand en-suite bathroom, giving you a large space to relax and feel like royalty in these sumptuous surroundings in the city's historic center. Among the most famous people who have stayed in this room are HM King Carl XVI, HM Queen Silvia and Crown Princess Victoria. A large, comfortable living room area makes this suite ideal for families and extended-stay guests, creating an exclusive and relaxing ambiance. The Royal Suite also includes a dining room table, perfect for an intimate meal in the comfort of your own room. In addition, this room offers a panoramic city view of the bustling Nevsky and Vladimirsky prospects.
Room Facilities:
2 rooms (living room and bedroom)
55-inch Full HD Smart TV
Daily newspaper
Super Breakfast Buffet or in-room continental/ English breakfast
Complimentary room service delivery
Free laundry or pressing service (1 item per night)
Free drink (wine, beer or soft drink) at the Cannelle bar
ACCESSIBILITY FEATURES
We understand that accessibility is important to our guests. This hotel has accessible rooms and amenities. Please contact the hotel to confirm if an accessible room will meet your needs or if you have other questions.
Amenities within accessible range to reach
Audio and visual emergency warning devices
Controls operable without grasping or twisting
Grab bars alongside toilet
Grab bars by tub
Lever hardware
Transfer seat to tub
Wheelchair-accessible lobby
Wheelchair-accessible public entrance
Wheelchair-accessible public restrooms
Wheelchair available (on request)
Wider guest room and bathroom doorways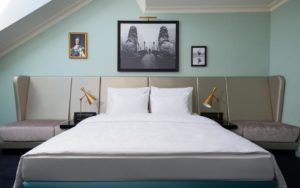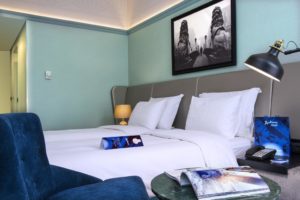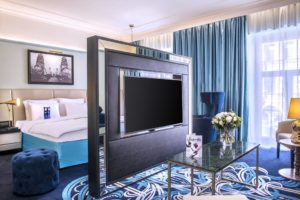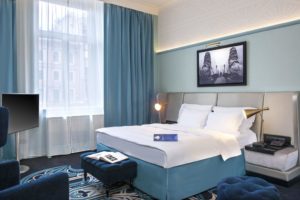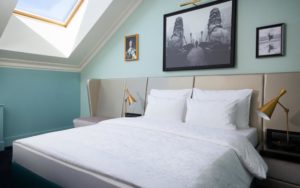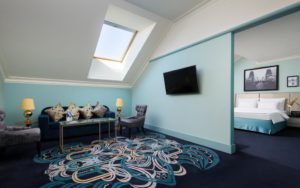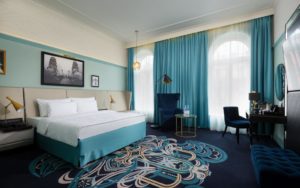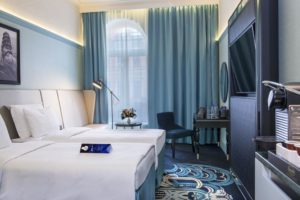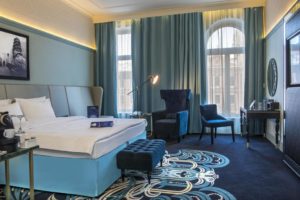 Dining
Breakfast in the Room
Bar
Restaurant
Very Good Coffee!
RESTAURANT
ENJOY STUNNING SERVICE AND VARIED CUISINE AT OUR BARBAZAN RESTAURANT
St. Petersburg visitors find a cozy atmosphere and fantastic food inside our on-site restaurant. Named for the spice merchant who once owned the hotel's historical building, Barbazan creates dishes with an international flair using fresh, healthy ingredients. Guests enjoy a savory assortment of traditional Russian and European cuisine in a convenient 1st-floor location. Start the day with a rich and balanced Super Breakfast Buffet at the restaurant, and every morning will be a good one.
BARBAZAN
Barbazan combines delicious meals with exclusive service. Guests can order mouthwatering dishes, including fresh light starters and grilled favorites like steak. Each season, our chefs are committed to pleasing you with original plates, paying special attention to serving dishes in order to highlight your culinary experience. We also offer our guests a wide variety of international and local breakfast specialties, buffet style. The restaurant is happy to meet your specific requirements, such as gluten-free products and vegetarian foods.
OPENING HOURS
Breakfast: 06:30 – 10:30 (Mon – Fri), 06:30 – 11:00 (Sat, Sun and public holidays)
BAR
MEET YOUR FRIENDS AND COLLEAGUES OVER DRINKS AT THE COZY CANNELLE BAR
The Cannelle Bar and Café is the perfect spot to enjoy dinner or cocktails paired with an amazing view and outstanding service. The word cannelle, French for "cinnamon," is a nod to the bar room's history as a spice store once owned by a prominent spice merchant. In the Soviet era, the former area housed the most popular bohemian art-café in St. Petersburg, Saigon, a gathering place for a multitude of musicians, artists and poets, among whom the future Nobel prize-winner Iosif Brodsky was a regular visitor.
Watch the bustling activity of St. Petersburg through our bar's panoramic windows as you settle into a cozy chair. From this position, you will enjoy live music and refreshing drinks. The Cannelle Bar gives you the ideal place to relax or socialize.
CANNELLE BAR
Filled with natural light, the Cannelle Bar exudes a balanced blend of warmth and vibrancy, creating an inviting atmosphere around a bio fireplace to spice up your evening. Take a seat at the bar and enjoy our specialties – the best homemade desserts in the city. When the sweet-tooth comes a-knocking, we are ready to dish up one of our luscious sweet courses.
OPENING HOURS
7 am – 2 am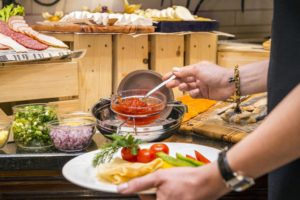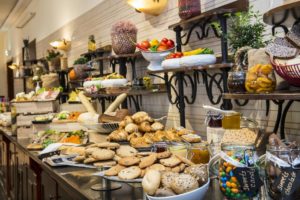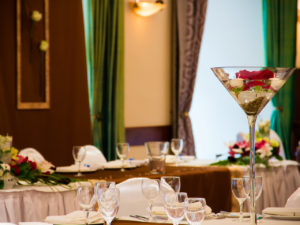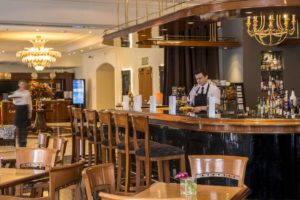 Wellness
HEALTH & FITNESS
Keep up with your workout regimen at our health and fitness center, where all hotel guests receive complimentary access to the facility's weightlifting and cardio equipment, sauna and Jacuzzi® whirlpool. Boost up your energy and pamper yourself with a day of Spa. Relax and unwind in the Royal Thai Wellness Club..
Jacuzzi® whirlpool
Thai Massage
Sauna
Training machines
ROYAL THAI WELLNESS CLUB
Traditional Thai massage is the standard of health practices which restores vitality, gives flexibility and lightness in the whole body and wonderful state of health. This ancient health practice is aimed at increasing mobility in the joint area, restoring blood circulation and easing the pain in joints.
Traditional Thai Massage
Traditional Balinese Massage
Ayurvedic Treatments
Express Massage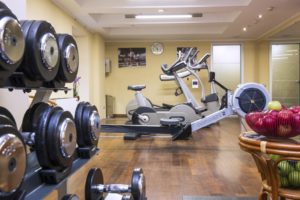 Events
RADISSON ROYAL HOTEL OFFERS SPACIOUS YET COZY VENUES FOR IDEAL MEETINGS IN THE CITY CENTER
Organizers and delegates alike appreciate the unparalleled convenience of our hotel's location in the very heart of St. Petersburg. Whether you're planning a corporate seminar, a reception or a wedding, consider our well-equipped conference rooms and lovely atrium for your special event. Entrust your details to our professional Meetings & Events staff; a highly trained team of event planners will ensure the seamless success and personal approach to every meeting, conference and function.
As an additional bonus, our venues are available for incentive organizers and a variety of events ranging from corporate parties, themed events and others to be held. Give your guests a taste of our history, together with a sumptuous dinner, as they witness the past unfold before their very eyes while attending a banquet or dinner.
Well-equipped, sophisticated boardrooms, Radisson Blu's corporate concept of Experience Meetings, and an excellent location allowing delegates to join a meeting some 5 minutes after train arrival – these are novel conditions taking events in St. Petersburg to a completely new level.
MEETING ROOM FEATURES
Plan your next corporate presentation or special occasion in our 7 flexible meeting rooms, 2 of which can be combined to create a grand space. Each room offers amenities like the latest audiovisual technology, an LCD projector and a Nespresso® coffee machine, which adds a pleasant taste to your meeting. Free high-speed, wireless Internet can be accessed by guests throughout the facility to make your Skype-calls and video-conferences seamlessly.
KEY FEATURES
7 meeting rooms spanning more than 217 m

2

Dedicated Meetings & Events coordinator
Flip charts, stationery and white boards
Free high-speed, wireless Internet access
Largest room spanning 100 m

2

LCD and overhead projector
Natural light in 4 meeting rooms
Nespresso® coffee machines in all boardrooms
Personalized menus from the hotel's experienced chef
Professional entertainment, music and lights upon request
Video conferencing available upon request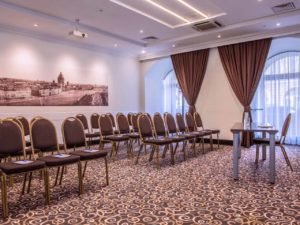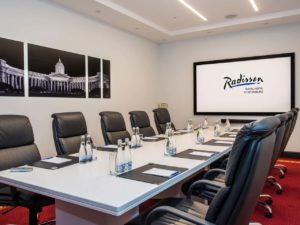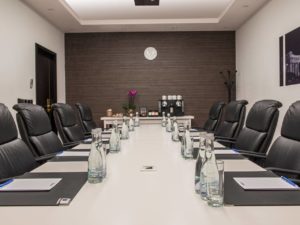 Facilities
General
Airport Shuttle (additional charge)
Air Conditioning
All Spaces Non-Smoking (public and private)
Shops (on site)
Heating
Car Rental
Packed Lunches
Soundproof Rooms
Souvenir/Gift Shop
Safe
Elevator
Honeymoon Suite
Facilities for Disabled Guests
Non-smoking Rooms
Room Service
Pets
Pets are not allowed.
Activities
Parking
No parking available.
Front Desk Services
Concierge Service
ATM On Site
Baggage Storage
Ticket Service
Tour Desk
Currency Exchange
Express Check-in/Check-out
24-Hour Front Desk
Cleaning Services
Suit Press
Shoeshine
Ironing Service 

(additional charge)

Dry Cleaning 

(additional charge)

Laundry 

(additional charge)
Languages Spoken
Russian
Japanese
Italian
Spanish
English
German