La Verna Sanctuary
****
Via del Santuario, 45 – 52010 Chiusi della Verna (Arezzo) - Italy
About the La Verna Sanctuary:
La Verna Sanctuary is located in the Tuscan Apennines. The mount covered with a monumental fir and beech trees forest, is characterized by an unmistakable appearance thanks to its summit (1283 sea level) bending in sheer drop over the valley. Over the sheer cliff and wrapped around by a surrounding wood we can find the hole unit of the Sanctuary, which cherishes several art, culture and history treasures inside its massive and articulated structure.
In the summer of 1224 St. Francis withdrew on the mountain for his ordinary spiritual exercises and silence. During his stay, he asked God to be able to take part, from the very deep of his heart, of the Passion of Christ, mystery of both love and pain. The Lord paid attention to his words and appeared to him in the guise of a crucified seraph who gave him as a gift the seals of the Passion. 'Francesco' turned into a visible and concrete image of Christ, not only in his heart, mind and soul, which already were, but even in his exterior body.
The Stigmata episode together with Francis' lifestyle are the most precious things given to his friars at La Verna. St Francis' important spiritual heir not only deals with every single friar in the monastery, but it turns into the main vehicle which the community wants to convey to all those who visit la Verna.
Contact number: +39 0575 5341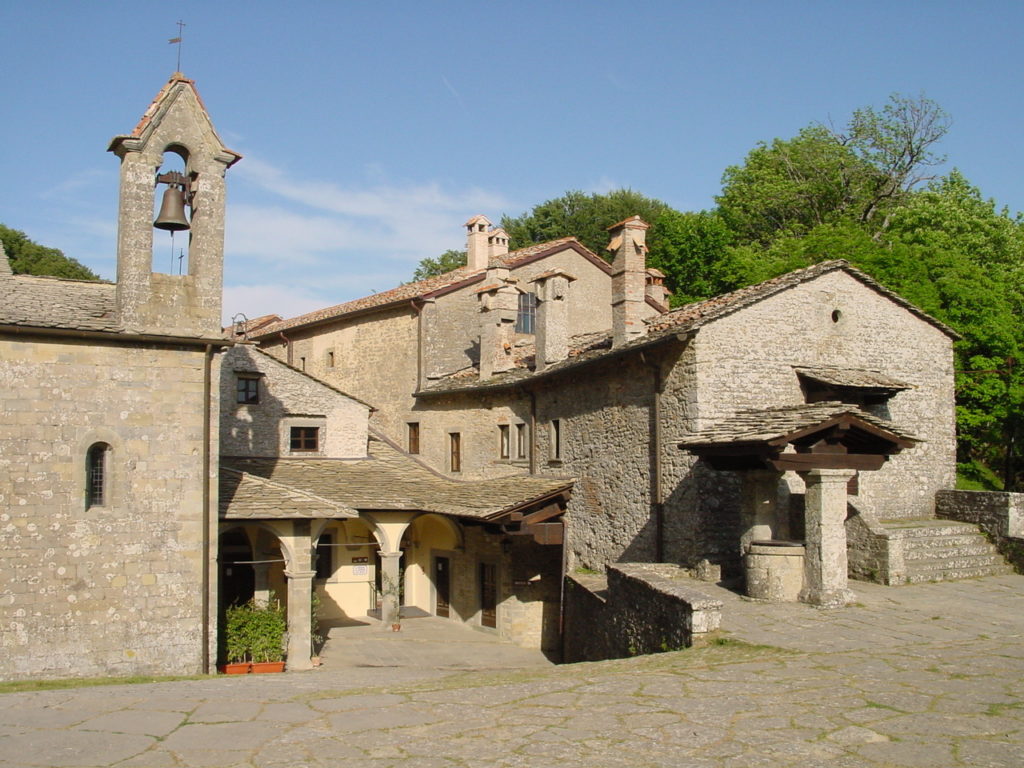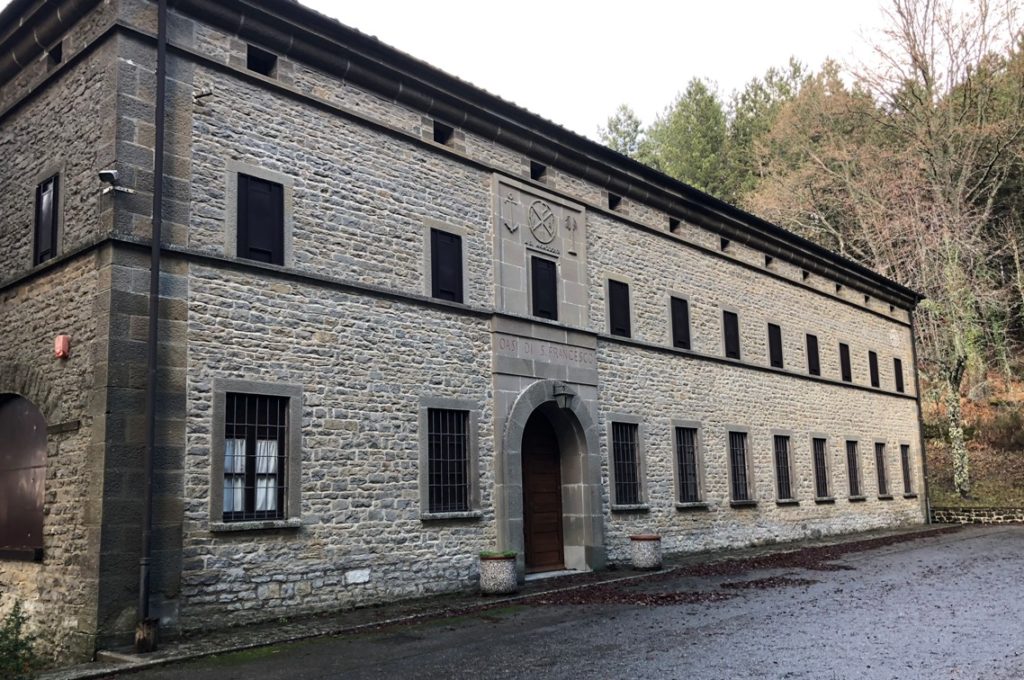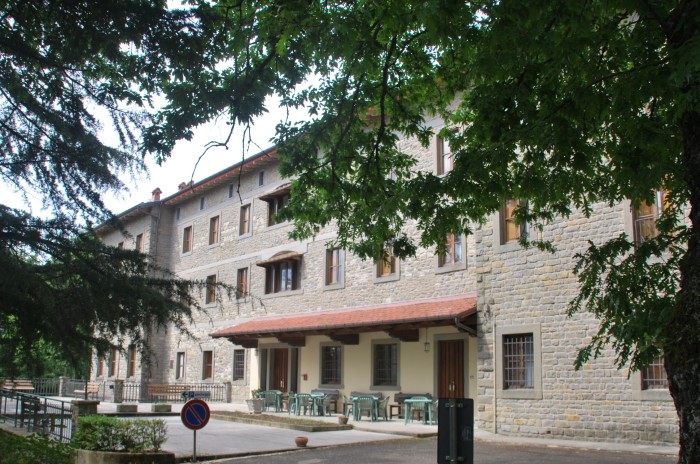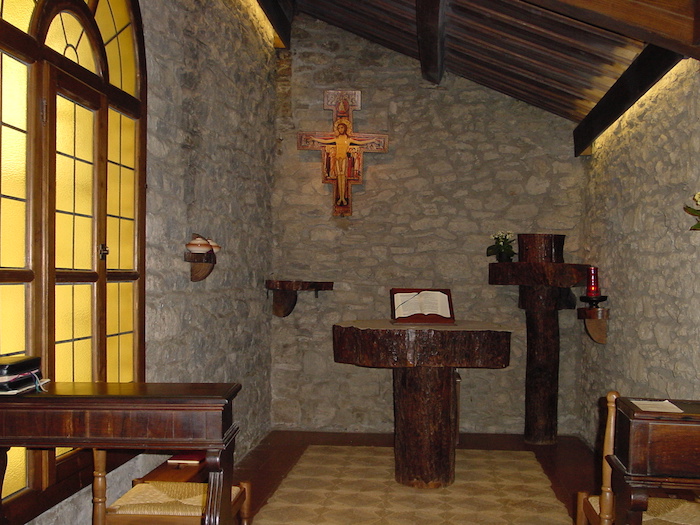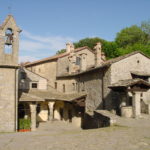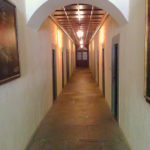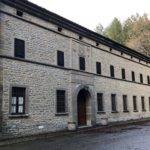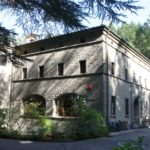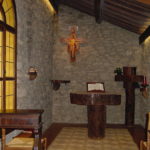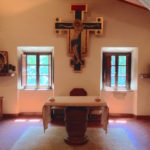 Guest Rooms
For those wishing to stay in the Sanctuary for a while, there are many types of hospitality available.
La Verna is a place of spirituality and pilgrimage, therefore we try to keep the services and the ways of staying in accordance with the nature of the place. Individuals and groups can refresh themselves in the convent's guesthouse and in the Refuge of the Pilgrim.
GUESTS QUARTERS
For individuals, families and groups willing to spend few days in la Verna to pray together with the friars and rest.
The Guests Quarters have many rooms available provided with heating, toilets, and showers, whatever it takes to have some prayer period.
Employees do not provide linen change and room cleaning service during the stay.
Opening Time ↝ 08:00 – 20:30
Available places ↝ 105
Rooms ↝ 72 (singole, doppie e triple)
PILGRIM'S REFECTORY
The Pilgrim's Refectory is open all year and it has many halls available whereas other halls are opened only of necessary or in great influx of public periods. Here people can have a meal or bar service at an affordable price.
Opening time ↝ 08:00 – 20:30
Meals schedule ↝ 12:30 – 14:00;   19:30
Available places ↝ 600
TAU
Indicated for self-management groups who want to take advantage of a site so rich in spirituality.
Tau is put at disposal for at least twenty from 17 to 30-year-old people groups.
Friars are available to have meetings and invite people to participate at least once during the day into one of the community's prayer hours.
Self-management groups are expected to carry linen or sleeping bag, bath towels and to provide for furnish (cooking included). Groups are finally asked to think about rooms cleaning service and to tidy them up before leaving.
Spaces ↝ Chapel, Fully equipped Kitchen , Dining room, Assembly room
Places ↝ 72
MONASTERY
For friars, religious people, priests, seminarians who want to rest or wish for a spiritual retreat in fraternity with the Franciscan Community.
STIGMATA HERMITAGE
Indicated for priests and religious people longing for live an absorbed prayer period, according to the nature of St. Francesco.
PASTOR ANGELICUS
This treatment is suitable for conferences, refresher courses, spiritual exercises and stays.
The braid building is located in Chiusi della Verna and it has comfortable rooms provided with bathroom, elevator, a chapel and assembly rooms.
OPENING TIME ↝ from April 2nd to October 4th
Spaces ↝ Chapel (100), Assembly room (100), Dining Private rooms for small meeting
Available beds ↝ 160
Rooms ↝ 90 (singole, doppie e triple)
HOUSE OF PRAYER
A concrete offer of silence, introduction to prayer and a way of seeking God's will in everyone's lives dedicated to young people, both males and females. In addition to some particular and intense prayer periods (see Youth initiatives) the building is all year open to individuals and young people who wish to carve out time to pray and meditate.
The house is thought for self-management stays.
PILGRIMS
A simple treatment is expected for pilgrims who visit St Francesco's places on foot. We offer a 15 beds dormitory, pilgrims can spend only one night here and are expected to have linen or sleeping bag. Cause of limited places available, reservation is compulsory.
Opening time ↝ 08:00 – 20:30
Places ↝ 15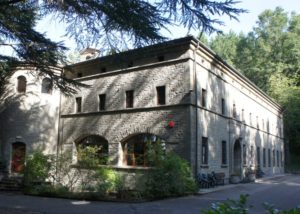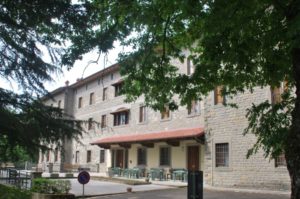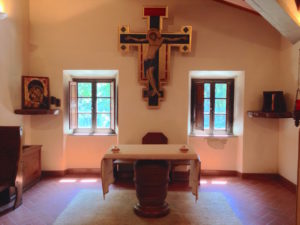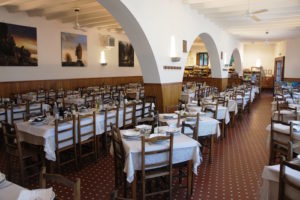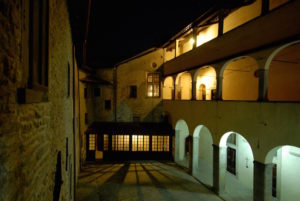 Events
CHAPELS RESERVATION
Pilgrims' groups with a priest who want to celebrate the Holy Mass and who cannot do it according the Sanctuary's schedule, are given the chance to request on of the dedicated locations but only on working days (with the exception of foreign group).On public Holydays people are expected to participate to the community's celebrations.
CATHEDRAL
Seating capacity: 400
SANTA MARIA DEGLI ANGELI CHURCH
Seating capacity: 60
ADORATION CHAPEL
Seating capacity: 80
STIGMATA CHAPEL (only at 07:00 – 11:45 – 13:15 – 17:30 – 18:30)
Seating capacity: 50
GUIDED TOURS
Friars are at disposal for guided tours of the Sanctuary. The best way to ensure this service is to request a tour by fax specifying when (date and hour) and how many people are expected to participate. Do not forget to leave an address to write back. We would like to remind you that groups are often various, so it is not always possible to have available friars.
MEETINGS
Should a group be willing to have a talk with a friar for meditation or witness, it is necessary to get in touch with them.