The
Way.

The

Truth.

The

Life.

Jesus said to him, "I am the way, and the truth, and the life. No one comes to the Father except through me."

Catholic Pilgrimages & Spiritual Journeys to the World's Holiest Sites with 206 Tours.

What Does a Pilgrimage Mean to You?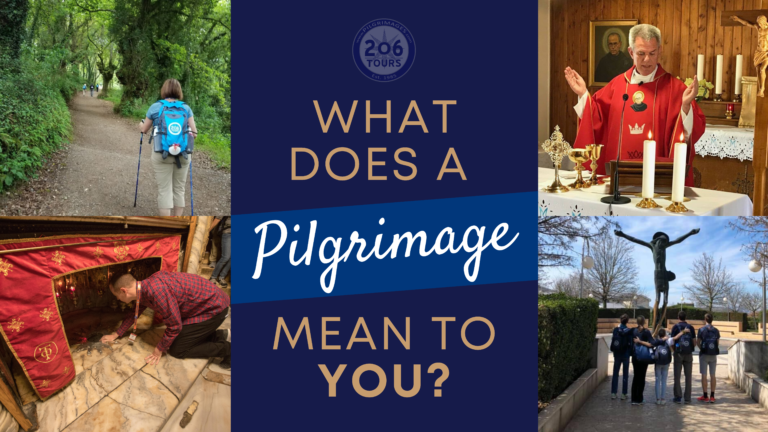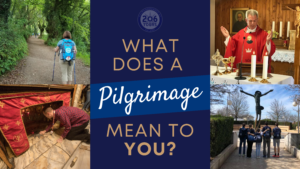 A Pilgrimage is an extremely personal and meaningful act of faith. For those who have never been on a Pilgrimage, it may be hard to understand how it differs from a vacation or simple tour. We posed a question to our Pilgrims and Facebook community: "What does a Pilgrimage mean to you?" Here are a few of our favorite responses!
Fr. David Bellusci: "Pilgrimages with 206 Tours are extraordinary experiences where the human encounters the Divine. We meet Christ in these pilgrimages — we meet His Mother — we meet the Saints. I have always found that the 206 pilgrims take their faith seriously; we pray together, we grow in truth together, and our faith is strengthened. 206 Tours is a blessing to Catholics who want to discover the richness of their Church and the depth of Truth.?"
Karen D: "A pilgrimage deepens my faith in God and in humanity. I am inspired by the beautiful places and I love the people I meet, both on the pilgrimage and by happenstance along the way. The priests and guides are amazing. They, too, become friends. My first pilgrimage was to the Holy Land. To walk in the footsteps of Christ, to be on the Sea of Galilee, and attend Mass throughout the pilgrimage was a highpoint in my life. Scott and Kimberly Hahn were with us and spoke often at the sites and in evening seminars. It was wonderful to meet them and hear their perspectives."
Julia B: "A pilgrimage is a way to deepen your faith and detox your mind, spirit, and body of the world. It is a gift from God for our souls."
Nancie W: "Our pilgrimages have helped to bring a better understanding of the Bible, Saints and our faith. They have also allowed us to have many A-Hah! Moments. We have met many wonderful pilgrims on our journey, some who have become lifelong friends."
Candice S: "Just last night, I was tearing up thinking about all the sites God has allowed me to visit. It's impossible to put into words just what it feels like to be in the same exact spots our Lord, His most Blessed Mother and the apostles have all walked. I never imagined I'd be so blessed to see and literally touch these incredible places. As I envision my outstretched arms on the rock of Gethsemane, the place of His birth, death, the stone where our Lord's body was cleaned after the crucifixion and so many more, I feel there is no greater place to be closer to Heaven while we are all pilgrimages on this earth. I am forever grateful to the staff and tour guides of 206 tours for allowing me this truly priceless experience!"
Leila S: "To enrich the soul. To keep the faith alive."
Mary Ellen V: "A pilgrimage is a vacation/retreat with God. For me personally over the past 30 years it has been the great experience of my life. It has brought me to places that are miraculous and filled with beauty. These pilgrimages have lifted my eyes and soul towards heaven, and they have added incredible joy to my existence. It is not boring to travel to beautiful and holy places. I have traveled extensively during my life. A great blessing. I guess I have what you call wanderlust but the trips I have taken with 206 Tours have been the best trips of my life. I pray that I still have many more pilgrimages to take in my life. Take a pilgrimage with 206 Tours I promise you will not be disappointed, and the memories will last for a lifetime. ?❤?❤?❤?"
Mary D: "A pilgrimage for me is very therapeutic! It refreshes my soul, gets my mind back on the Beauty and richness of our Catholic Faith, and rejuvenates me! I'm praying about which pilgrimage to sign up for! ???. JMJ"
Lonnie V: "Our pilgrimages have provided an avenue to greater spiritual growth through knowledge.??"
Cindy O: "Of course it is mind-blowing to visit such sites of sacrifice, beauty, and prayer – treasured moments. I also cherish the fellowship of other pilgrims and seekers, and many remain long-distance friends."
Judy P: "I have been on pilgrimage one way or another almost all of my adult life. Pilgrimage is a huge part of my life and I couldn't imagine not being able to go. I think there are special graces attached to pilgrimage sites that infiltrate your soul and change you. As I said once about Medjugorje, but it is probably true of so many other places: Its a bit like being out in a fine drizzle. At first, you don't notice but if you are out in it long enough, you get soaked. Except that here, it's not a drizzle but graces."
Lucy S: "It is a time to get closer to the Holy Trinity, to connect to the source of true happiness, even if you have to go through a rough patch. The end gives hope of a joy that can't be expressed in words. It makes you more aware of how truly blessed you are."
Lisa H: "That He and only He is our peace. We come home with peace in our hearts. We start to see through the eyes of Jesus and Our Blessed Mother. We receive the strength to keep going and live His commandments. ??"
Sonia S: "For me would be the most beautiful to witness all the paths of our where my Jesus was and Mama Mary, it would be a dream come true for me and my husband who's from Babylon and speaking Aramaic he adores this places just like me  ✝️??❤️"
Kathleen R: "A pilgrimage for means taking the hand of Our Lady as she leads me to the Gateway to her Son to renew me to give me time to pray meditate and find peace that nobody else can give. That is what a pilgrimage means to me.❤️"
We'd like to extend a huge thank you to all our Pilgrims who submitted their reflections! Thank you for your loyalty, support, encouragement, and participation! We are so blessed to have you as Pilgrims!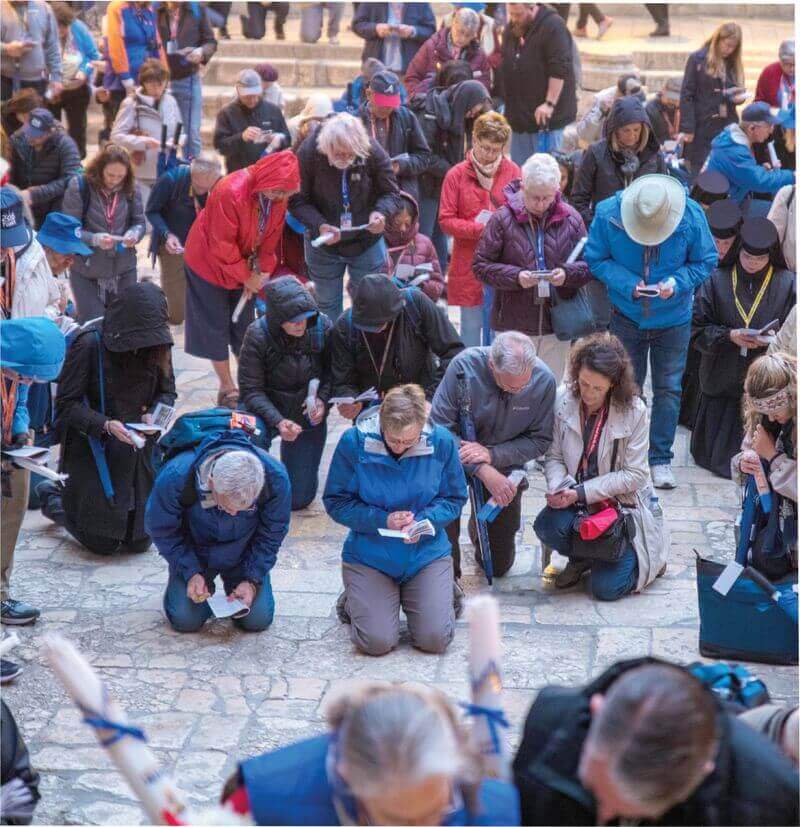 206 Tours Pilgrims
What is a 206 Tours Pilgrimage Like?
"To go on pilgrimage really means to step out of ourselves in order to encounter God where he has revealed himself" – Pope Benedict XVI
Join Us
Join over 400,000 faithful Pilgrims and get exclusive travel tips, giveaways and more!
POPULAR POSTS