The
Way.

The

Truth.

The

Life.

Jesus said to him, "I am the way, and the truth, and the life. No one comes to the Father except through me."

Catholic Pilgrimages & Spiritual Journeys to the World's Holiest Sites with 206 Tours.

Pilgrimage Love Story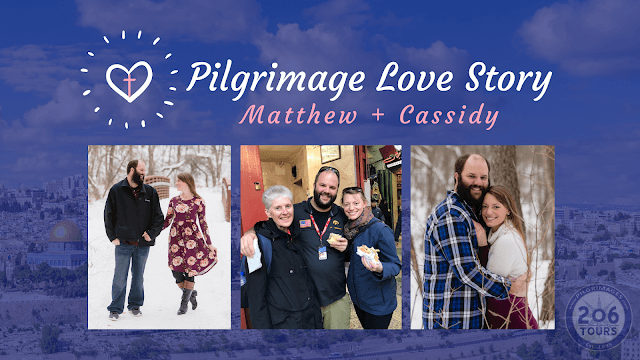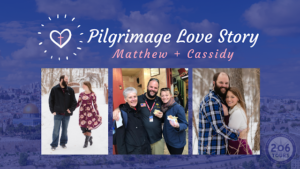 A Pilgrimage is an opportunity to make deep connections, not just with Jesus, but with fellow Pilgrims as well. This was certainly the case for two young Pilgrims, Matthew & Cassidy, who met during a 206 Tours Pilgrimage to the Holy Land led by Group Leader Mary Johnston. Read all about their charming love story below:
In 2019, Cassidy went with a friend on a 206 Tours pilgrimage to the Holy Land (Israel). It was on this pilgrimage that Cassidy first met Matthew, who was taking accompanying his mother. Their first words were exchanged in the old city of Jerusalem while partaking in falafel sandwiches, recommended by their 206 tour guide Usama (locally known as the best tour guide in Israel)! Their connection quickly grew from there, as Cassidy realized Matthew is a history buff and had previously taken the same pilgrimage. Knowing this, she often brought her questions to Matthew who was happy to answer what he could – without giving away spoilers or Usama's secrets of course! This started many conversations throughout the pilgrimage. A key moment occurred when Matthew and Cassidy were part of a small group of pilgrims allowed to stay overnight locked in the Holy Sepulcher church to spend the entire night in prayer. This is an incredible experience for any pilgrim, but for Matthew and Cassidy the shared experience was a catalyst for bringing them closer together and getting to know each other on a more personal level. By the end of the trip, they were conversing until late at night in the hotel lobby – usually over glasses of wine or whiskey, of which they shared a common interest and taste. The pilgrimage was fertile soil for the start of a beautiful friendship – talking about their shared Catholic faith, depth of belief, and the many positive impacts that the pilgrimage had on their faith and their lives.
After the pilgrimage, they both returned to their normal lives about 3 hours apart in Iowa, neither one knowing the adventure that had just begun. Matthew and Cassidy continued conversations, and about a week after returning home Matthew mustered up the courage to call Cassidy to ask if she wanted to meet up again for a drink at a fellow pilgrim's winery outside of Cedar Rapids. After closing down two bars and still not running out of things to talk about, they quickly realized that their connection was more than just the excitement and novelty of being on a pilgrimage to the Holy Land.
Their interest in each other grew from there in the coming weeks and months ahead. They attended a Lenten Bible study about the Holy Land (along with half the pilgrimage group), and met weekly with many others in Cedar Rapids, and got to relive their experiences through that study. Through this faith-based interaction and daily conversation, their friendship deepened. With their strong Catholic faith as the cornerstone and foundation of their friendship, and much individual and personal prayer, they agreed to begin dating on Easter, with the intention of discerning marriage. In November, Matthew asked Cassidy to be his forever wife and adventure companion, and she was delighted to say yes!
This year, they returned to the Holy Land as an engaged couple on a 206 Tours pilgrimage along with many of their family members. They returned to the spot where they first shared words and celebrated their engagement with their families over a delicious falafel sandwich! They also returned to another overnight stay praying in the Holy Sepulcher. This year, they offered prayers of thanksgiving for God's Divine Providence!
We want to give a special thanks to Fr. Chris and 206 Tours – especially Usama – for setting up such an amazing pilgrimage and an unforgettable experience! We believe that every follower of Christ needs to make a trip to the Holy Land due to the incredible impact it can have on one's spiritual life, the opportunity to walk in Jesus's footsteps, the knowledge of Christian history that can be gained, and the first-hand understanding of the dilemma local Christians face today.
St. John Paul the Great was right when he said that the Holy Land is the fifth Gospel because it makes the Gospels come alive! As they say, see you next year in Jerusalem!
God's Blessings to the beautiful betrothed couple!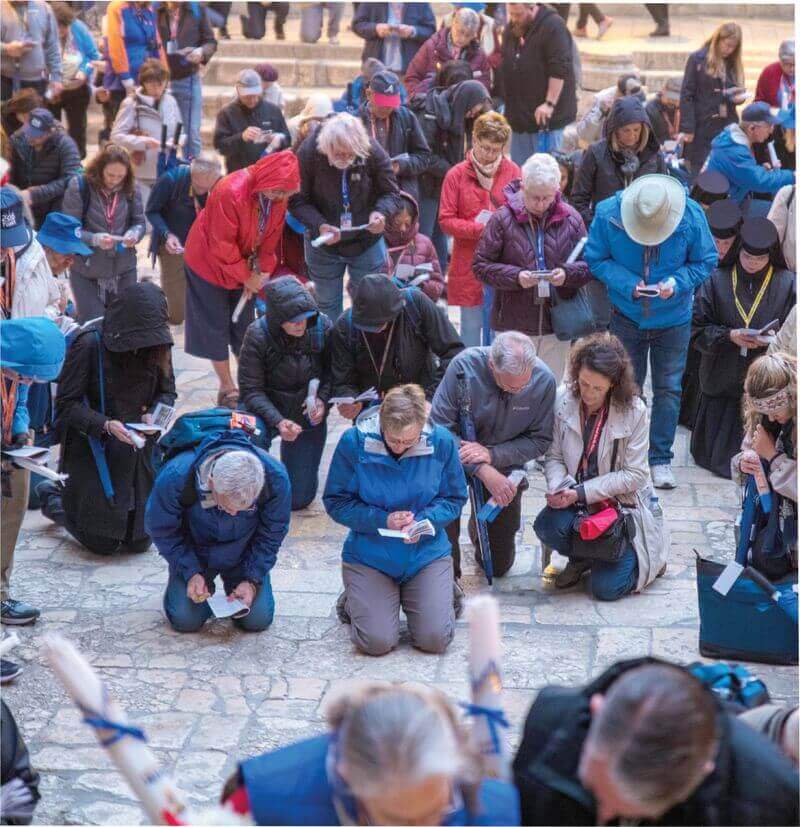 206 Tours Pilgrims
What is a 206 Tours Pilgrimage Like?
"To go on pilgrimage really means to step out of ourselves in order to encounter God where he has revealed himself" – Pope Benedict XVI
Join Us
Join over 400,000 faithful Pilgrims and get exclusive travel tips, giveaways and more!
POPULAR POSTS