The
Way.

The

Truth.

The

Life.

Jesus said to him, "I am the way, and the truth, and the life. No one comes to the Father except through me."

Catholic Pilgrimages & Spiritual Journeys to the World's Holiest Sites with 206 Tours.

Novena: St. Thérèse of Lisieux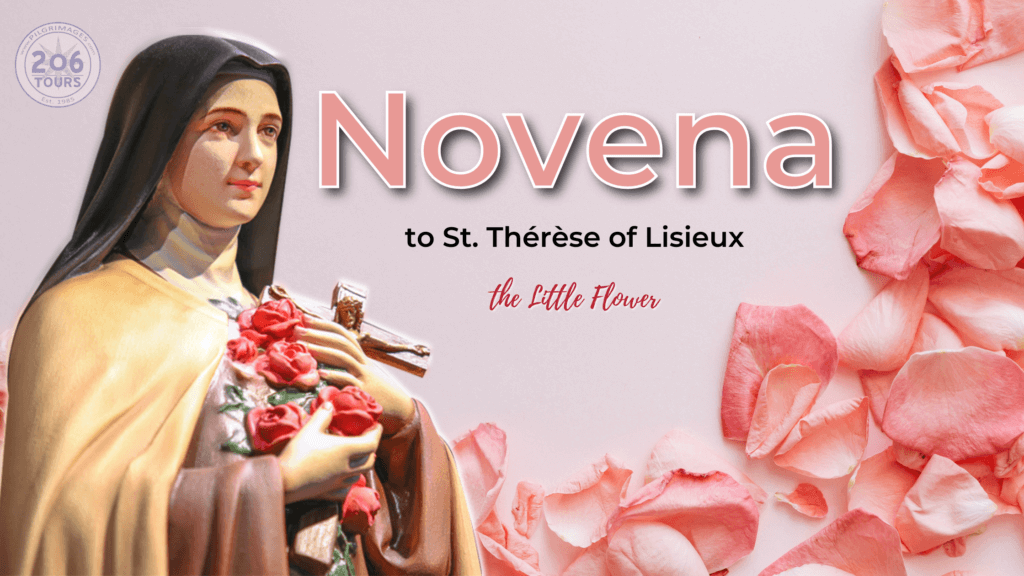 Please join us in praying a special Novena starting September 22, 2021, leading up to the Feast of St. Thérèse of Lisieux. This great Saint has played a huge role in the life of 206 Tours and its founder, Milanka Lachman. Here, Milanka shares a meditation in honor of her favorite Saint:
"St. Thérèse of Lisieux, you are our model, you lived the profound truth of Love as the center of life and heart of the Church. It is precisely this truth and love that we try to emulate at 206 Tours.

We have turned to St Thérèse since the day we started October 1, 1985, but especially in the past 2 years, a particularly difficult time for our pilgrimages, we have prayed not just for a shower of roses, which of course we do, but also for showers of brightness, truth, clarity, and love.

St. Thérèse, you kept your word to love God and to trust the world to that loving providence. Pray for us that we may be faithful to our commitment to love. May we be His small instruments, may our works with pilgrimages continue to touch the world and bring it peace." – Milanka Lachman
Novena to St. Thérèse 
In this novena, pray the following for nine consecutive days. Be sure to follow this prayer with your specific special intentions, asking that St. Thérèse intercedes for you. Finish by praying "Glory Be".
O glorious St. Thérèse, whom Almighty God has raised up to aid and inspire mankind, I implore your miraculous intercession.

So powerful are you in obtaining every need of body and soul, Holy Mother Church proclaims you a "Prodigy of Miracles, the greatest saint of modern times."

I now fervently beseech you to answer my petition and grant me, Mention your intentions here…. and to carry out your promises of "spending Heaven doing good upon earth, of letting fall a shower of roses."

Henceforth, dear Little Flower, I will fulfill your plea to be made known everywhere, and I will never cease to lead others to Jesus through you. Amen
About St. Thérèse of Lisieux
Pope Pius X described her as "the greatest saint of modern times" and her writings have captured the hearts of millions. "The Story of a Soul", her spiritual autobiography, made her world-famous. Born Marie Françoise-Thérèse Martin, she came from a devout and well-to-do family and was the youngest of nine children. At the age of four, she suffered the loss of her mother – which affected her deeply. During the following ten years, she grew inseparable from Pauline, her older sister. When her sister, Pauline left home to enter the Carmelite convent, Therese fell mysteriously ill. On May 13, 1883, while praying a nine-day novena before the family's statue of the Blessed Virgin Mary, Thérèse fell into a deep ecstasy. After a vision in which the Blessed Virgin Mary smiled at her, little Thérèse was cured.
Later, a profound conversion took place in her on Christmas day 1886 as her shyness and seriousness washed away in an instant; she had received strength and peace to last her lifetime. With her conversion at the age of fourteen, she felt ready to enter the Carmelite order. As the Rule of Carmel allowed only those twenty-one and older to enter, Thérèse needed a special dispensation from the bishop. Throughout her life as a nun, she lived the faith of Christ in a most extraordinary way.
She declared "I came to Carmel to save souls and to pray for priests". After suffering from tuberculosis for several years, she gave up her soul on September 30, 1897, declaring in her last moments "I do not regret having given myself to Love". The figure of St. Thérèse of Lisieux in the Carmelite Convent Chapel is not her body but a waxen replica of it. Her earthly remains lie beneath the statue. St. Thérèse once confided to a sister that, after her death, she would send down a shower of roses; and she has kept her promise. It is well known that when a prayer is answered through her intercession, one will receive roses.
The video below was taken on her Feast Day, October 1, in 2019 at the Basilica of St. Therese of Lisieux in France.
Millions of Pilgrims journey to this Shrine to pay homage to this great Saint, the Little Flower, the Holy Child of Jesus. For details about how to make a Pilgrimage in her honor, click here.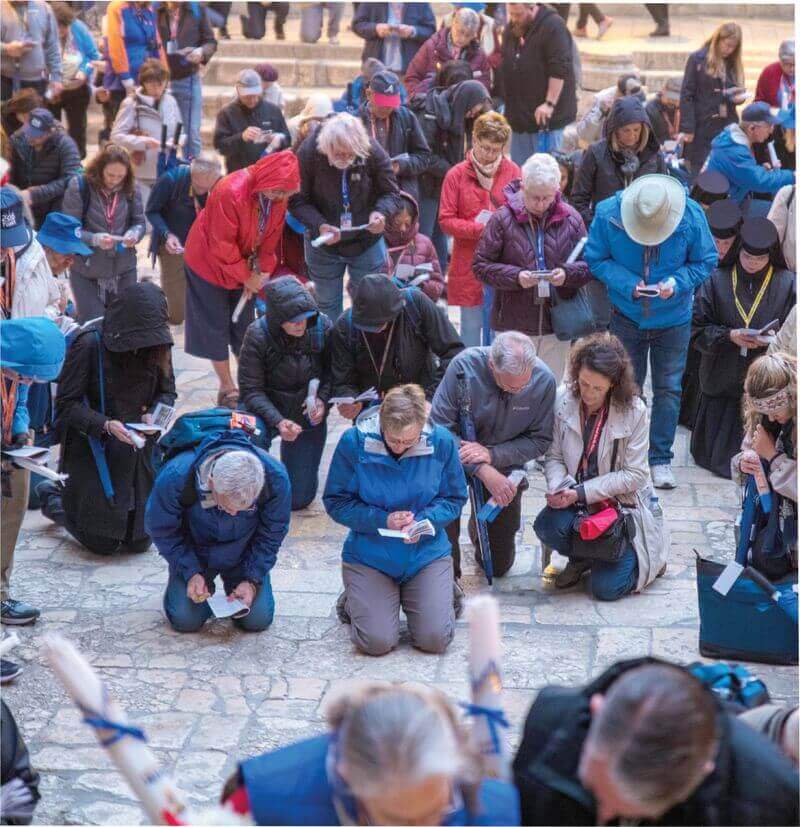 206 Tours Pilgrims
What is a 206 Tours Pilgrimage Like?
"To go on pilgrimage really means to step out of ourselves in order to encounter God where he has revealed himself" – Pope Benedict XVI
Join Us
Join over 400,000 faithful Pilgrims and get exclusive travel tips, giveaways and more!
POPULAR POSTS