Inside Look: The Church of the Holy Sepulchre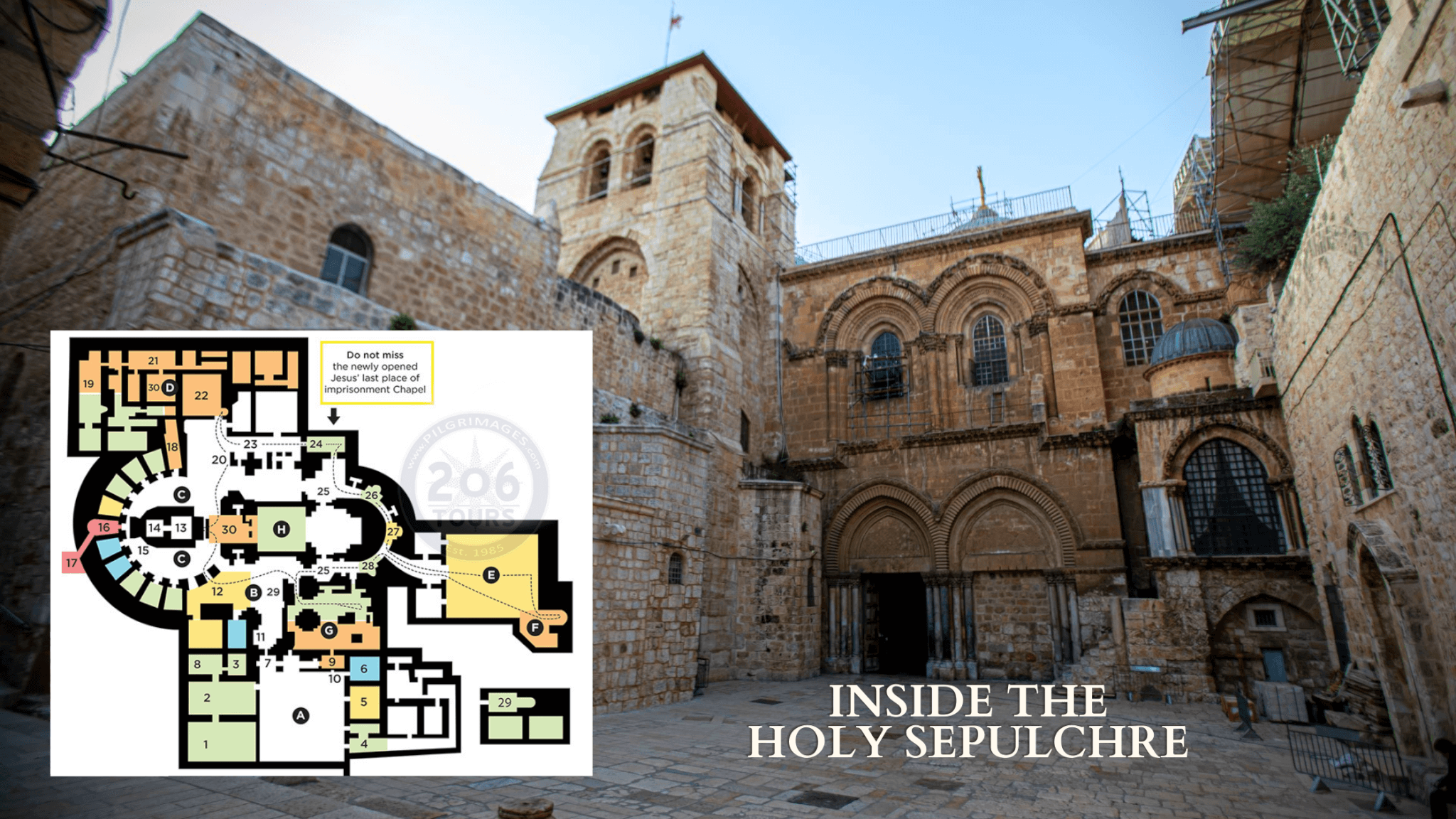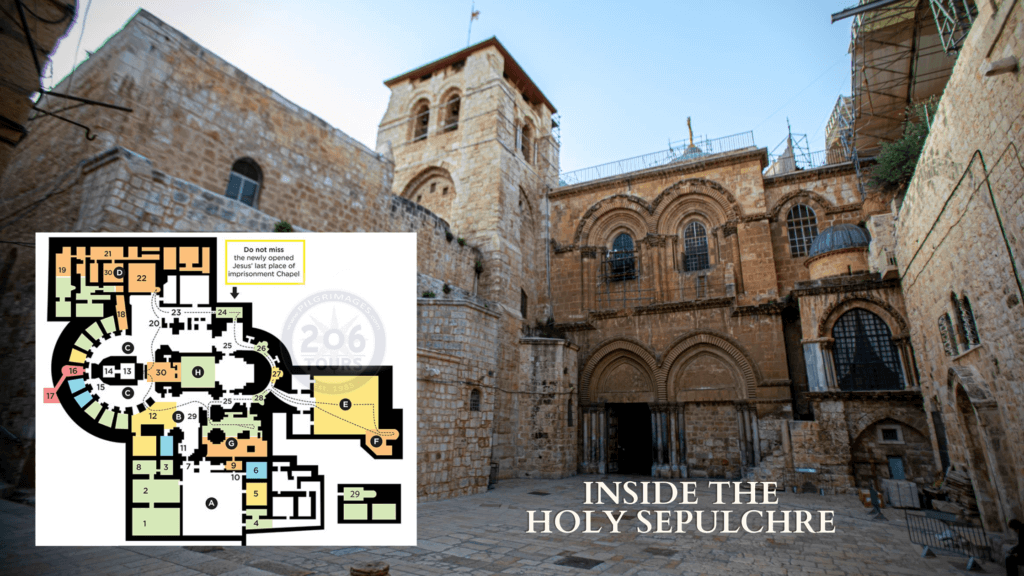 In Holy Week, the Holy Land is typically overflowing with Pilgrims who came to Jerusalem to Walk in Jesus's Footsteps. However, in 2021, Jerusalem is quieter than normal in the days leading to Easter, as the world is still entangled in a global pandemic. In our 35 years as a leader in Catholic Pilgrimages, we have sent hundreds of thousands of pilgrims to the Holy Land. After a year of sending 0 pilgrims, we'd like to share these exclusive photos with you as an Easter Gift, as we join in prayer together for an end to the Pandemic.
The photos below were all taken in March 2021 by our talented Photographer, Shiraz Production. Normally, these sites are so crowded with faithful pilgrims – shots like these are almost never seen. See the most Holy Catholic Sites in the world, empty, still, and reverent.
Here is a detailed map of the Church of the Holy Sepulchre.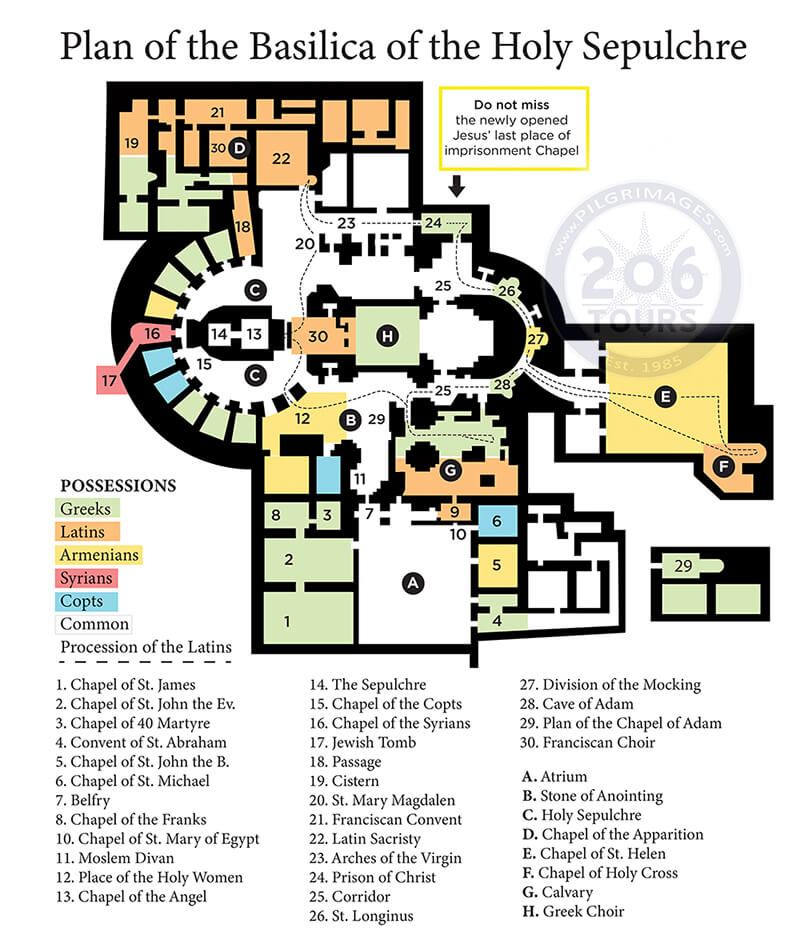 You can visit all of these sites on a Holy Land Pilgrimages with 206 Tours. All details for 2022 and 2023 departures: www.206tours.com/tour111
WATCH this Free Video to feel as though you are actually Walking in Jesus's last footsteps.
Calvary:
This is Calvary, or "Golgotha", the actual spot where the Cross stood, and where Jesus Christ died for our sins. At this Alar, inside the Church of the Holy Sepulchre, pilgrims can kneel under the altar to touch the actual spot where Our Saviour's earthly days came to an end before his miraculous Resurrection.
Tomb of Christ:
This is the Edicule, the Tomb of Christ, located within the Church of the Holy Sepulchre. Inside, there are two Chambers – the first being the "Chapel of the Angel" which displays a stone that is part of the large stone that was rolled away from Christ's tomb on Easter morning. This second Chamber is the "Tomb of Christ" which contains the marble slab where Jesus' body was laid. A vase of candles marks the place where his head lay, and a banner hovering over the slab updated based on the liturgical seasons (after Easter, it notes "Christ is Risen").  This is the most Holy Catholic site in the world, the place where Jesus rose from the dead.
Stone of Anointing:
This is the "Stone of Anointing" where Jesus's body was laid and prepared for burial by Joseph of Arimathea. Pilgrims come to solemnly venerate this slab, as seen in these moving images.
Our Lady of Sorrows:
Here you see Our Lady of Sorrows directly adjacent to Calvary, where Her son died on the Cross.