The
Way.

The

Truth.

The

Life.

Jesus said to him, "I am the way, and the truth, and the life. No one comes to the Father except through me."

Catholic Pilgrimages & Spiritual Journeys to the World's Holiest Sites with 206 Tours.

VIDEO| Holy Week: from Where it Happened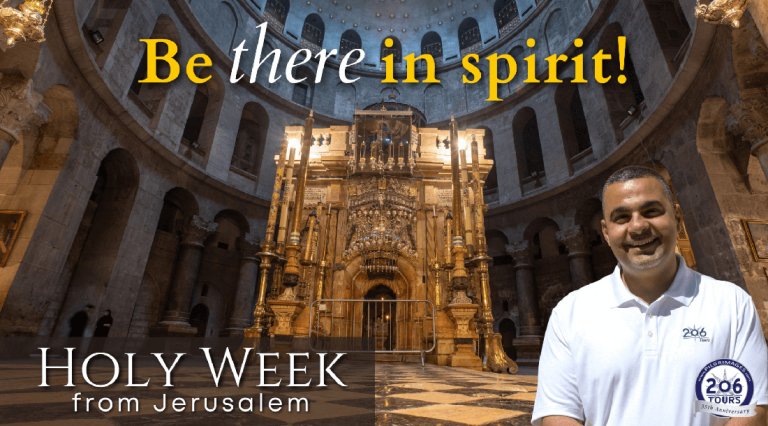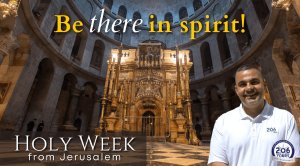 In deep gratitude to all our Pilgrims, Priests, Clergy, Group Leaders, and Guides, we have created this Holy Week Virtual Pilgrimage as our Easter gift to you!
Join our talented guide Rami as he walks in Jesus' last footsteps in this new FREE Virtual Pilgrimage; "Holy Week: from Where It Happened". Be there in spirit as you see the sites from the final days of Jesus' life, all filmed in March 2021, amid widespread lockdown due to the pandemic. The sites, typically bustling with Pilgrims and tourists, are empty. See these sites like never before – bring the Holy Land into your homes, as you sit back, watch, and feel as though you are on a Holy land Pilgrimage!
Here is a brief video trailer:
Watch our full-length (35-minute) Virtual Pilgrimage will be available here:
Also available on Facebook, YouTube.
We hope you enjoyed our Easter gift! If you feel called to support our Pilgrimage mission, please feel free to make a contribution via PayPal, email to sales@206tours.com, or by calling us at 800.206.8687. The past 13 months have been extremely difficult as we have operated 0 pilgrimages and therefore made 0 income. 206 Tours staff, guides, and mission all depend on your support. Your contributions would help to support the production of this gift, as well as our guides, staff, and mission.
206 Tours is not going anywhere; when you're ready to travel again, we will be here for you! 2022 Pilgrimage dates are now available. We cannot wait to visit the world's Holiest Catholic Sites with you again!
Visit sites from the life of Jesus like; Caesarea, Haifa, Stella Maris, Nazareth, Cana, Tiberias, Sea of Galilee, Jordan River, Mt. Tabor, Jerusalem, Ein Karem, Bethlehem, Qumran, Jericho, the Dead Sea, Mount of Olives, Mount Zion, the Via Dolorosa, Gethsemane, Calvary, the Church of the Holy Sepulchre and more on a Pilgrimage to the Holy Land! Learn more about the Holy Land here. 
Book a Pilgrimage and Walk in the Footsteps of Jesus!
God Bless & Happy Easter!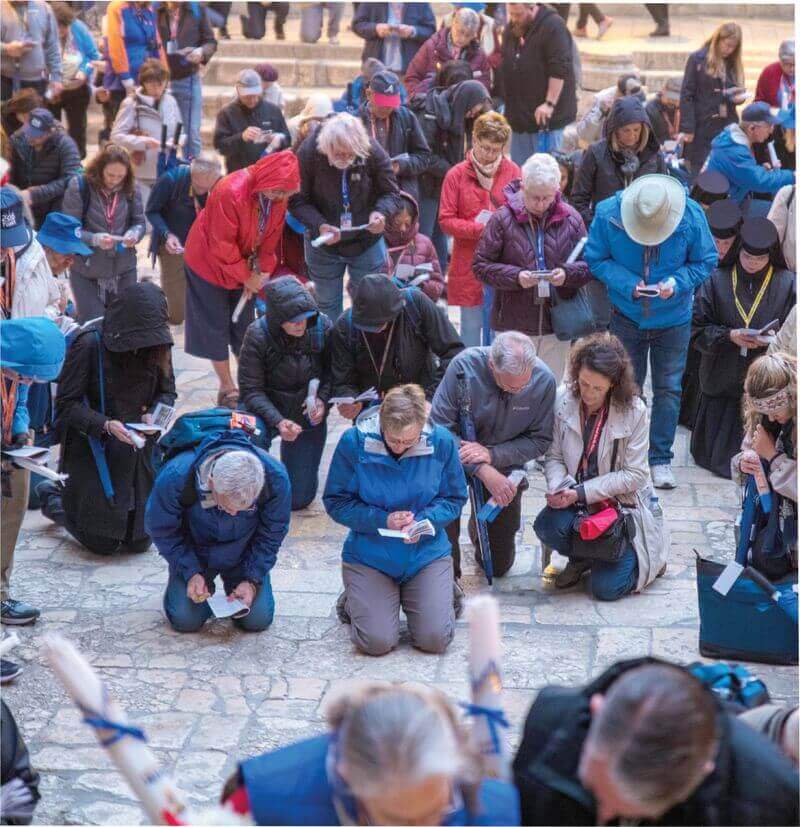 206 Tours Pilgrims
What is a 206 Tours Pilgrimage Like?
"To go on pilgrimage really means to step out of ourselves in order to encounter God where he has revealed himself" – Pope Benedict XVI
Join Us
Join over 400,000 faithful Pilgrims and get exclusive travel tips, giveaways and more!
POPULAR POSTS