The
Way.

The

Truth.

The

Life.

Jesus said to him, "I am the way, and the truth, and the life. No one comes to the Father except through me."

Catholic Pilgrimages & Spiritual Journeys to the World's Holiest Sites with 206 Tours.

Famous Pilgrimages
A Pilgrimage is not a simple trip, tour, or vacation – it is an act of spiritual devotion. Answering the call to Pilgrimage means you have felt drawn to know God and to connect more deeply to your Catholic Faith. A Pilgrimage takes you out of your comfort zone, out of your normal life, and into a new environment visiting Holy Sites as you learn of the lives of Saints, follow in Jesus footsteps, or learn about Our Lady's messages, and strive to be more Holy in their example.
Some of the most famous Catholic Pilgrimages are detailed below. Each is Sacred, special, and powerful in their own ways. For more information on any of our Pilgrimages, visit us online, or email us!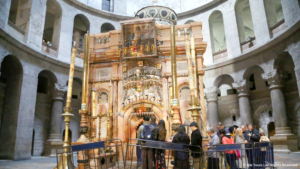 THE HOLY LAND
Pilgrimages to the Holy Land are an enduring tradition for a variety of religions as the place has great significance for them all. For Catholic pilgrimages, the Holy Land holds importance as the place where Jesus' birth, ministry, death, and resurrection took place. Travel to Israel to visit significant sites from his life, like Nazareth and Bethlehem to touch the spot where he was born. In Tiberias, take a boat ride on the Sea of Galilee to learn more about Jesus's ministry, in the spot where He fed the masses. The Wedding Church in Cana is the site of the miracle of turning water into wine. In Jerusalem, visit the Garden of Gethsemane where He wept on the night before His betrayal and see the Rock of Agony inside the Church of All nations. Walk through the Old City on the Via Dolorosa, or "Way of the Cross", where Jesus walked during His Passion. The Church of the Holy Sepulchre contains Golgotha and Calvary where He was Crucified and his Tomb where he was Resurrected. Pilgrims follow in His footsteps in these essential places and see Him in the works He performed, and realize He is still there today. Together, Pilgrims celebrate votive Masses in the very places where the Scriptures came alive. The entrance to the Church of the Nativity says: "We are hoping that: If you enter here as a tourist, you would exit as a pilgrim. If you enter here as a pilgrim, you would exit as a holier one."
For all details on a Pilgrimage to the Holy Land, visit Tour 111: www.206tours.com/tour111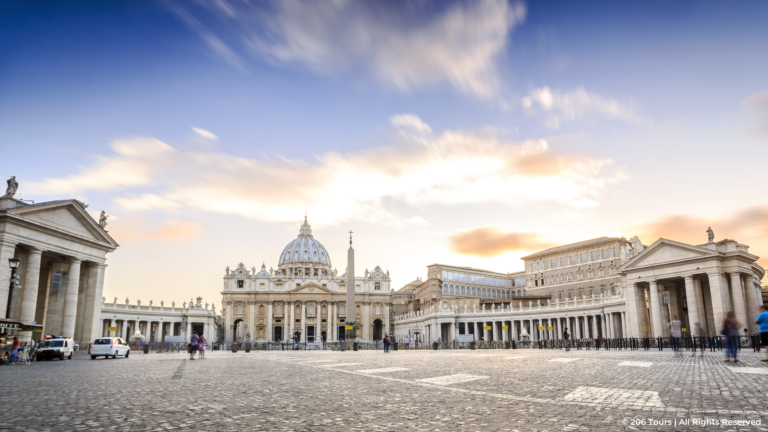 ROME
Vatican City, Rome, is the Catholic center of the World. Explore the eternal city and all the marvels Rome has to offer and even experience a Papal Audience with the Holy Father. Visit important Catholic sites like the Holy Stairs, the minor Basilicas, and some historical sites like the Trevi Fountain. Tour the Catacombs in Rome, which are the world's largest underground Christian burial site. Experience Catholic Culture like never before, in this hub where it all began.
For all details on a Pilgrimage to Rome, visit Tour 97: https: www.206tours.com/tour97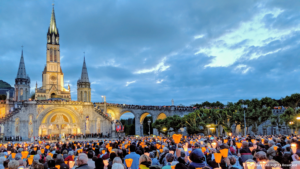 LOURDES
In Lourdes, located in the Pyrenees mountains of France, Our Lady first visited Saint Bernadette in 1858. Here, she announced herself as, "The Immaculate Conception" near the Grotto of Massabielle, which now has a miraculous spring and healing baths that have famously healed and transformed many.  Life-size gold Stations of the Cross will provide an opportunity for all to meditate on Christ's unconditional love. This Marian Sanctuary attracts about 6 million people every year. Each evening, Pilgrims participate in a candlelight vigil to this stunningly beautiful church.
To visit Lourdes on a Pilgrimage, visit Tour 5: www.206tours.com/tour5
FATIMA
Another famous Pilgrimage will bring you to this significant Marian Shrine about 80 miles northwest of Lisbon. On May 13, 1917, the Blessed Virgin Mary first appeared in Fatima, Portugal to three Shepherd children. The children, Sister Lucia, Saint Jacinta Marto, and Saint Francisco continued to witness the apparitions through October, during the start of World War I. Our Lady counseled the children to pray the Rosary and to pray for world peace. The Basilica of Our Lady of the Rosary is a stunning dedication to Our Lady's message and the Sacred Heart of Jesus. A visit to Fatima is a time for deep spiritual reflection and prayer at its many chapels, statues, and monuments. An estimated 4 million people make a Pilgrimage to this incredible Shrine every year.
To visit Fatima on a Pilgrimage, visit Tour 37: www.206tours.com/tour37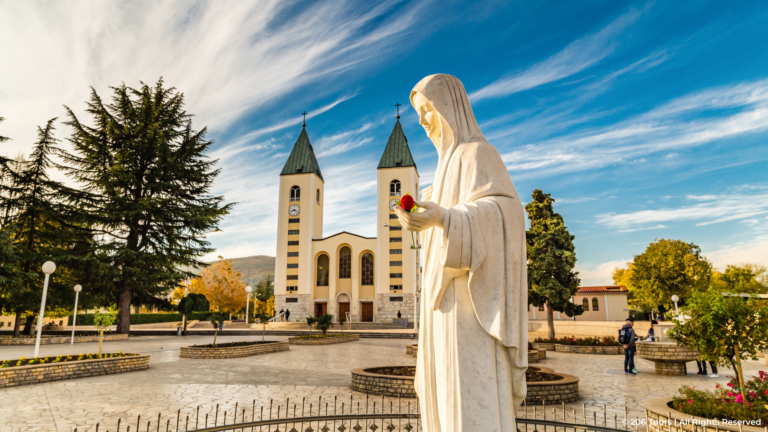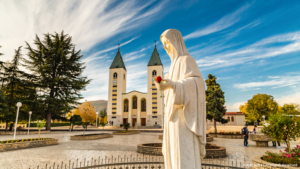 MEDJUGORJE
Another Marian Shrine that is a famous Pilgrimage site is Medjugorje. Located in Bosnia-Herzegovina, Our Lady visited six children for the first time on June 24, 1981, on what is now known as Apparition Hill. Many of the visionaries continue to witness Our Lady's apparitions to this day. In 2019, Pope Francis authorized official Pilgrimages to Medjugorje, after over 40 million Pilgrims have visited in the past few decades.  This extremely small village has opened its arms to Pilgrims from all over the world, seeking prayerful connection to Our Lady.
To visit Medjugorje on a Pilgrimage, visit Tour 1: www.206tours.com/tour1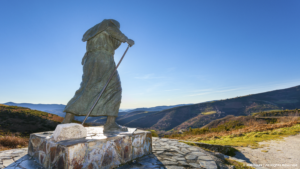 EL CAMINO
El Camino is another extremely famous Pilgrimage. El Camino, translates to "The Way of Saint James". This walking Pilgrimage has been drawing adventurous pilgrims for centuries. Pilgrims backpack their way through Spain following the path St. James the Apostle took to Santiago de Compostela, spreading the word of Jesus. Pilgrims walk over a hundred miles to get to the incredible Cathedral which is the final resting place of Saint James. Here, venerate the Patron Saint of Pilgrims and celebrate the very special Pilgrim's Mass.
For more information on an El Camino Pilgrimage, visit Tour 70: www.206tours.com/tour70
Every Pilgrimage is important, meaningful, powerful, and invaluable. The five Pilgrimages above are some of the most famous Catholic Pilgrimages in the world, however, there are hundreds of additional options. To learn more about all our Pilgrimage Itineraries, visit: www.206tours.com/pilgrimages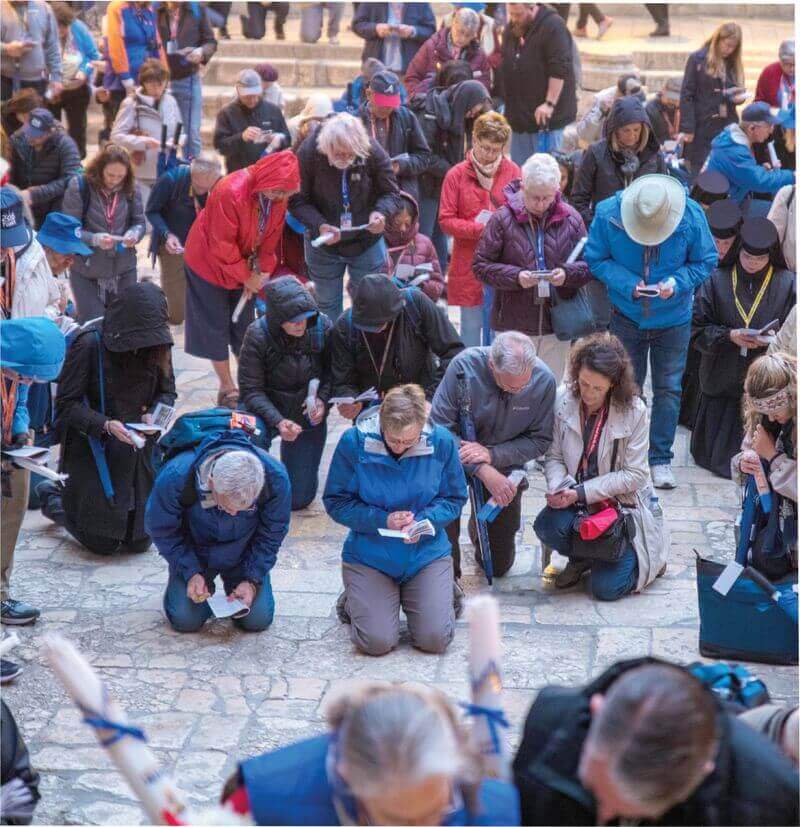 206 Tours Pilgrims
What is a 206 Tours Pilgrimage Like?
"To go on pilgrimage really means to step out of ourselves in order to encounter God where he has revealed himself" – Pope Benedict XVI
Join Us
Join over 400,000 faithful Pilgrims and get exclusive travel tips, giveaways and more!
POPULAR POSTS