The
Way.

The

Truth.

The

Life.

Jesus said to him, "I am the way, and the truth, and the life. No one comes to the Father except through me."

Catholic Pilgrimages & Spiritual Journeys to the World's Holiest Sites with 206 Tours.

Consider a Family Pilgrimage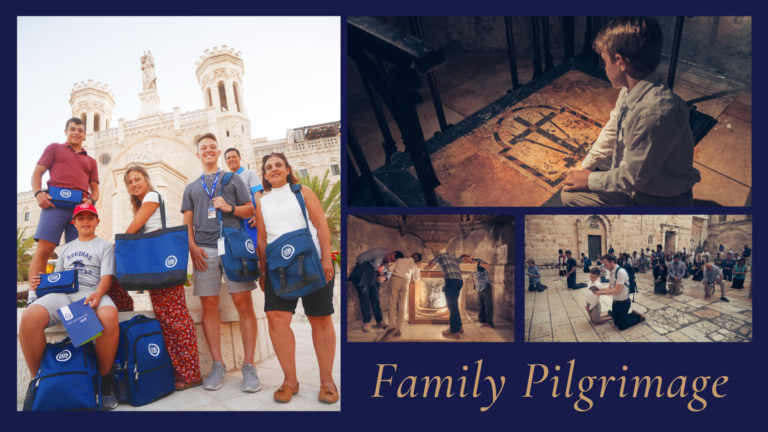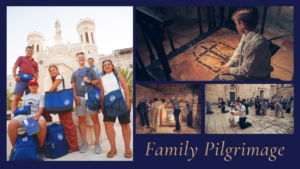 A Family Pilgrimage is a beautiful experience for all ages! Bringing Children on a Pilgrimage can connect them forever with scripture in a way that will stay with them for the rest of their lives. A holy Pilgrimage will build the foundation for a strong relationship with Jesus, that children will carry with them every day.
Below, find some tips and ideas about bringing your children on a Pilgrimage.
Prepare and Pray:
To make the most of this Pilgrimage, we suggest you take time to prepare and pray with your child in the weeks before your trip. This will allow the child to fully understand the journey they are about to embark on. We recommend showing them maps, reading the itinerary together, and reading scripture or learning about Saints relating to the sites you will be visiting. Also, prepare them to experience a new culture by describing local food, delicacies, language, and traditions.
If you're going to the Holy Land, give your child a children's Bible that includes pictures ahead of the pilgrimage. When they get to the sites they have seen in their bible, they will recognize the place and connect it to the scripture. Realizing they are standing in the very spot they read about, will inspire them to say, "Aha, now I get it!"
The most important way to prepare for any pilgrimage, of course, is to pray. Praying together as a family is always powerful. It is especially powerful when it relates to a shared experience, like this trip you will all be taking together. Begin praying for your pilgrimage with special intentions – perhaps even encourage your children to keep a journal and write down, or even drawer, their prayers and petitions. Encourage them also to include other family members or friends by asking for special petitions and prayers.
Altar Serving:
While on Pilgrimage, you will celebrate Mass daily. If your child is an altar server, we encourage you to bring their black Altar server cassocks along.
Collect Memories:
A great way for your children to stay present and engaged throughout the tour, is by encouraging them to literally collect memories. Where available, have them collect maps, brochures, or prayer cards. Bring zip lock baggies for them to keep their "daily treasures"; rocks, shells, leaves, etc.
Things to bring:
A great thing to bring is 50 small coins for the children to contribute at masses and light candles. Giving them the coins at the start of the trip will give them a sense of independence as they use their own discretion on when and where to donate.
Also, bring a small rock that says "I love you Jesus" to leave in a prayerful spot is another great way to make children feel connected to a special stop on their pilgrimage.
Bring a notepad to draw pictures and write notes is also a great idea. Encourage your children to make notes or drawings for their fellow pilgrims, their guide, or to bring to a local Catholic school.
A family Pilgrimage will create stronger bonds within your family, as well as draw you nearer to Jesus and the communion of Saints!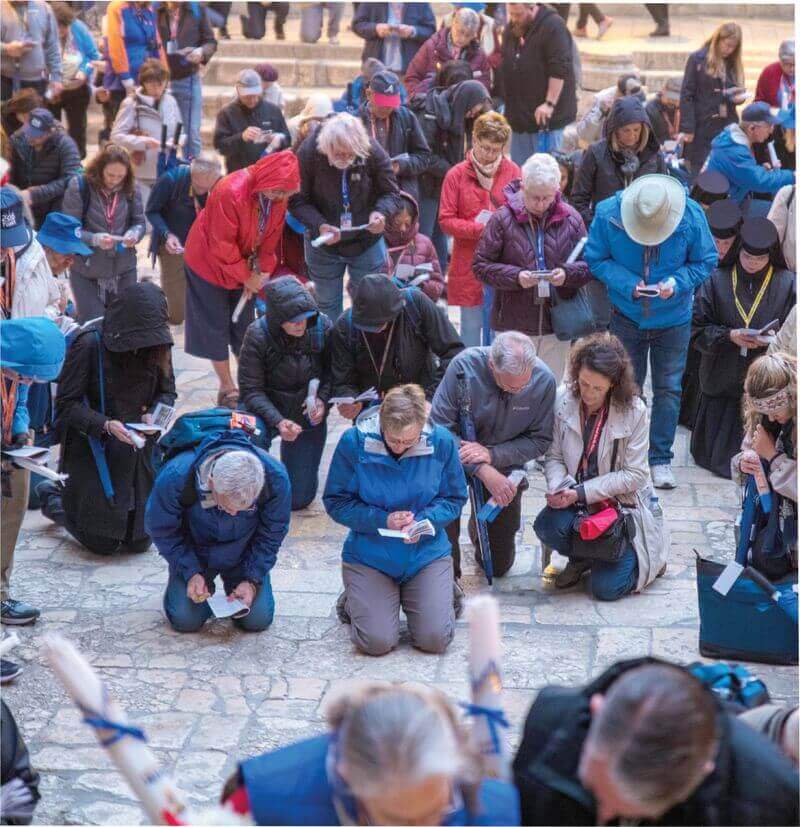 206 Tours Pilgrims
What is a 206 Tours Pilgrimage Like?
"To go on pilgrimage really means to step out of ourselves in order to encounter God where he has revealed himself" – Pope Benedict XVI
Join Us
Join over 400,000 faithful Pilgrims and get exclusive travel tips, giveaways and more!
POPULAR POSTS