The
Way.

The

Truth.

The

Life.

Jesus said to him, "I am the way, and the truth, and the life. No one comes to the Father except through me."

Catholic Pilgrimages & Spiritual Journeys to the World's Holiest Sites with 206 Tours.

Divine Mercy Sunday & St. Faustina
Divine Mercy Sunday, or Feast of the Divine Mercy, falls on the Octave of Easter, and celebrates the encounter Saint Faustina had with Jesus known as the Divine Mercy. Jesus gave Saint Faustina the message of Divine Mercy on February 22, 1931 – in Lagiewniki (Poland).
St. Faustina joined the convent in 1925, taking the religious name, Sister Maria Faustina of the Blessed Sacrament. While assigned to a convent in Plock, Poland, St. Faustina developed an illness that required her to rest for several months at a nearby farm.
On the night of Sunday, February 22, 1931, Jesus appeared to her wearing a white garment with colorful rays emanating from His heart. She details in her diary that Jesus told her that the first Sunday after Easter is to be celebrated as the Feast of Mercy, and that He wished His image to be shown as He appeared before her – and for it to be venerated and displayed for all to see.
Jesus' main message of the Divine Mercy devotion is to ask for, and receive, the Mercy of God through consistent confession, to trust in Jesus' Mercy, and to show mercy to others as God would. Specifically, any person who receives Reconciliation and Holy Communion on Divine Mercy Sunday will receive a Plenary Indulgence.
Though St. Faustina could not paint, she promised to venerate this image.  After a few years, with the help of Father Michał Sopoćko, she commissioned artist Eugene Kazimierowski to create the painting that has now become the famous image of Divine Mercy. It is accompanied by the phrase "Jezu ufam Tobie" or "Jesus, I trust in You." The image has been replicated and distributed countless times, however, the original painting now resides at the Divine Mercy Sanctuary in Vilnius, Lithuania.
For years, St. Faustina conversed with Jesus and devoted her life to His mission of spreading Divine Mercy. Through her steady and impassioned work, the message of Divine Mercy did spread rather quickly through the distribution of brochures, books, and prayer cards. Divine Mercy became a source of inspiration and strength for the Polish people, as just before her death in 1938, St. Faustina predicted that a terrible war was approaching. By 1941, the image and message of Divine Mercy had reached many countries, even as far as the United States.
In the 1950s, both Pope Pius XI and Pope Pius XII personally spread messages of, and approved the devotion to, the Divine Mercy. St. John Paul II was an ardent supporter of St. Faustina and Divine Mercy – and so he Beatified her in 1993, and Canonized her on April 30th, 2000. Surprisingly, he closed the Canonization by officially designating that the Sunday after Easter as the "Feast of Divine Mercy". Coincidentally, St. John Paul II died in Saturday, April 2nd, 2005 – on the eve of Divine Mercy Sunday. He was later Beatified by Pope Emeritus Benedict XVI on Divine Mercy Sunday in 2011, and Canonized on the Holy day in 2014 by Pope Francis.
The legacy and strength of the message of Divine Mercy has not wavered, much in part due to the loyalty and perseverance of St. Faustina and those who honored her legacy. St. Faustina now lies at the Divine Mercy Shrine in Lagiewniki, Poland. As her October 5th Feast Day approaches, we take this opportunity to reflect on her devotion and trust in the Mercy of Jesus.
To learn more about how you can visit:
www.206tours.com/stfaustina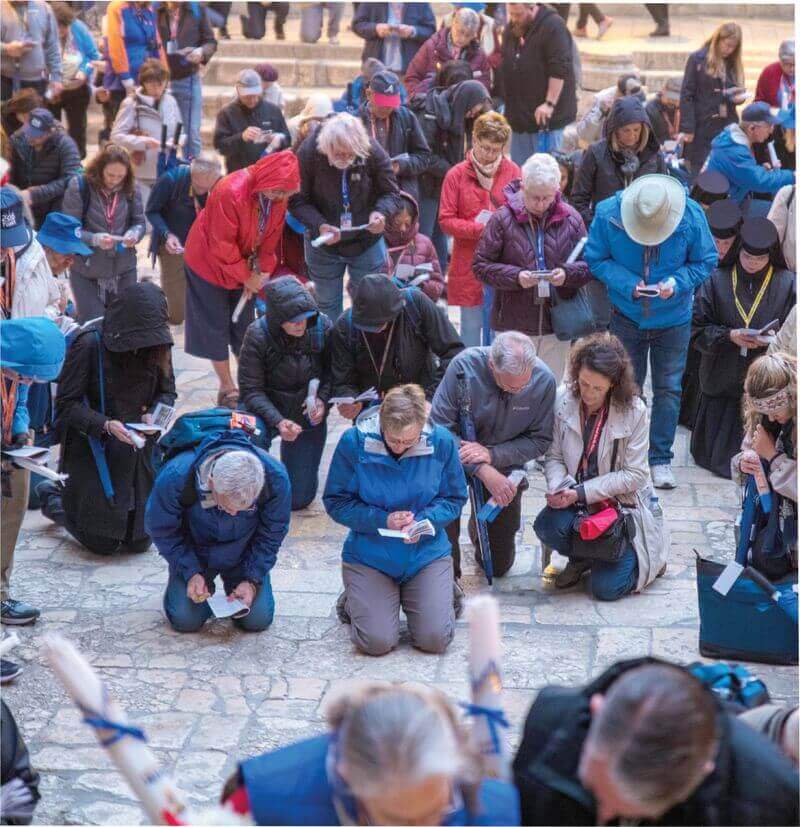 206 Tours Pilgrims
What is a 206 Tours Pilgrimage Like?
"To go on pilgrimage really means to step out of ourselves in order to encounter God where he has revealed himself" – Pope Benedict XVI
Join Us
Join over 400,000 faithful Pilgrims and get exclusive travel tips, giveaways and more!
POPULAR POSTS