The
Way.

The

Truth.

The

Life.

Jesus said to him, "I am the way, and the truth, and the life. No one comes to the Father except through me."

Catholic Pilgrimages & Spiritual Journeys to the World's Holiest Sites with 206 Tours.

Celebrating the Canonizations of St. Pope Paul VI and St. Archbishop Óscar Romero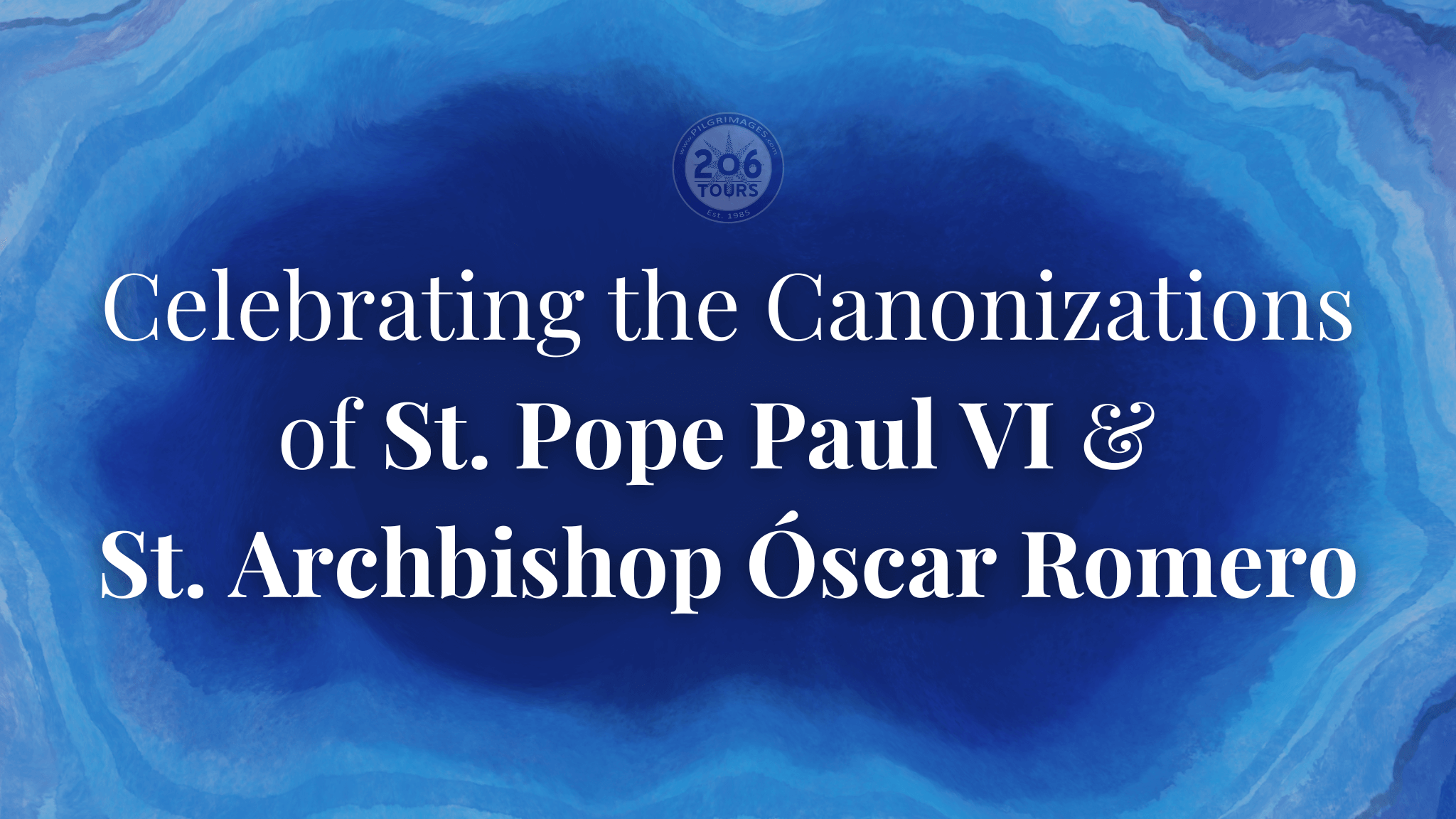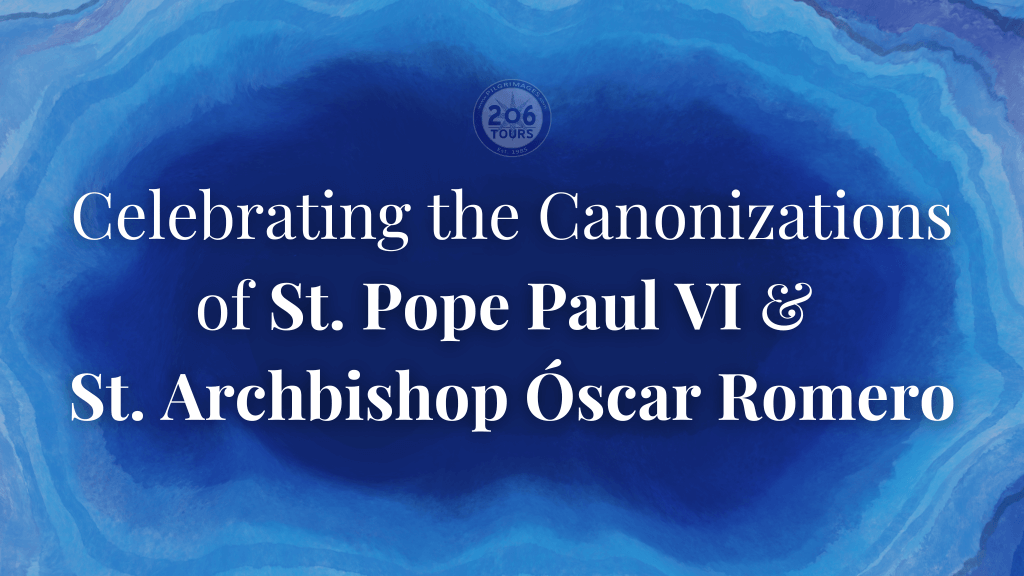 In May of 2018, The Vatican's Secretary of State announced that Blessed Pope Paul VI and Blessed Archbishop Óscar Romero would be Canonized in October. Here, we take a look at the lives of these two amazing figures in the Catholic Faith.
St. Pope Paul VI
Blessed Pope Paul VI's papacy began on June 21, 1963, and he served until his death on August 6, 1978. He was born Giovanni Battista Enrico Antonio Maria Montini in Italy in 1897. Ordained in 1920, Pope Paul VI was never appointed a Parish Priest.

 

Rather he had a long career in the Roman Curia or the papal civil service. His position as one of the heads of the Secretariat of State of the Holy See established a close relationship with Pope Pius XII.
As requested by Pope Pius XII, Pope Paul VI was very involved in providing aid to refugees and displaced soldiers. In 1954, he was appointed the Archbishop of Milan making him the Secretary of the Italian Bishop Conference. During this time, Blessed Pope Paul VI was vocal about political issues like working conditions and labor laws, built over 100 new churches, and reached the public by speaking in schools, hospitals, places of work, courtyards, and even barracks. His goal was to re-introduce the Catholic Faith and generate more public participation and stewardship. Blessed Pope Paul VI is perhaps best known for the Humanae Vitae which reaffirmed the church's stance on contraception in 1968, at a time when many speculated the church might change its views on marriage and marital relations.
In September of 1965, Blessed Pope Paul VI created the Synod of Bishops, a selected group of Bishops to meet periodically as an advisory body to the papacy also known as the Code of Canon Law (CIC).

 

It is fitting that Pope Paul VI will be canonized this October during the
15th Ordinary General Assembly of the Synod of Bishops.
He left behind Peter's Boat and exchanged it for a Plane. He visited nineteen (19) countries throughout the five continents, in nine (9) Apostolic visits. Included in the Pontiff's travels were New York, Iran, the Philippines, Colombia, and Portugal. When he finally returned from the Holy Land, he went out to the streets of Rome with open arms.
St. Óscar

 

Romero
Archbishop Óscar Romero is revered as a strong advocate of the marginalized and poor, often speaking out about social injustice, violence, and poverty.
The Archbishop of San Salvador was born Óscar Arnulfo Romero y Galdámez on August 15, 2917. He was ordained in 1942, and after two decades in El Salvadorian parishes, he was appointed rector of the inter-diocesan seminary in San Salvador.  In 1970 Romero was appointed auxiliary bishop for the Archdiocese of San Salvador before becoming the Bishop of the Diocese of Santiago de Maria in 1974 and subsequently the Archbishop of San Salvador in 1977.
Just a month after being appointed Archbishop, Blessed Archbishop Óscar Romero's close friend, a Jesuit priest, Fr. Rutilio Grande was assassinated in front of him. Deeply disturbed, Romero became an even stronger advocate against violence. He gained a huge following through the use of radio and the press.  
On March 23, 1980, after delivering a sermon in which he called on Salvadoran soldiers to end violations of basic human rights on behalf of the government, a gunman entered the chapel and fired a shot killing Romero on the altar. After the assassination, over 250,000 mourners from all over the world traveled to attend his funeral in San Salvador. During the funeral mass, chaos erupted on the streets of San Salvador, leaving dozens dead.  
Romero's ardent seeking of peace has left a legacy that has touched millions. Many worldwide political and religious figures have nominated him for the Nobel Peace Prize. In 2010 the UN named March 25, "the International Day for the Right to the Truth Concerning Gross Human Rights Violations and for the Dignity of Victims" in honor of Romero celebrating his strong in defense of human rights.  
In 2015, Pope Francis beatified Romero calling him a "voice that continues to resonate" with an estimated 250,000 people attending the services and thousands more watching via television.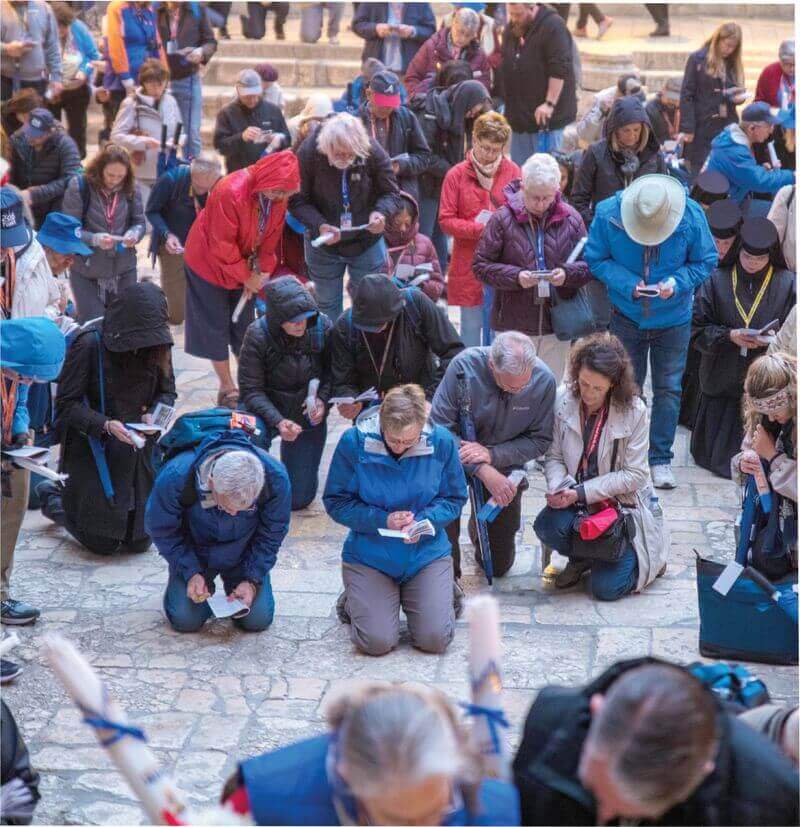 206 Tours Pilgrims
What is a 206 Tours Pilgrimage Like?
"To go on pilgrimage really means to step out of ourselves in order to encounter God where he has revealed himself" – Pope Benedict XVI
Join Us
Join over 400,000 faithful Pilgrims and get exclusive travel tips, giveaways and more!
POPULAR POSTS