The
Way.

The

Truth.

The

Life.

Jesus said to him, "I am the way, and the truth, and the life. No one comes to the Father except through me."

Catholic Pilgrimages & Spiritual Journeys to the World's Holiest Sites with 206 Tours.

Catholic Italy 2022 with Greg Smith & 206 Tours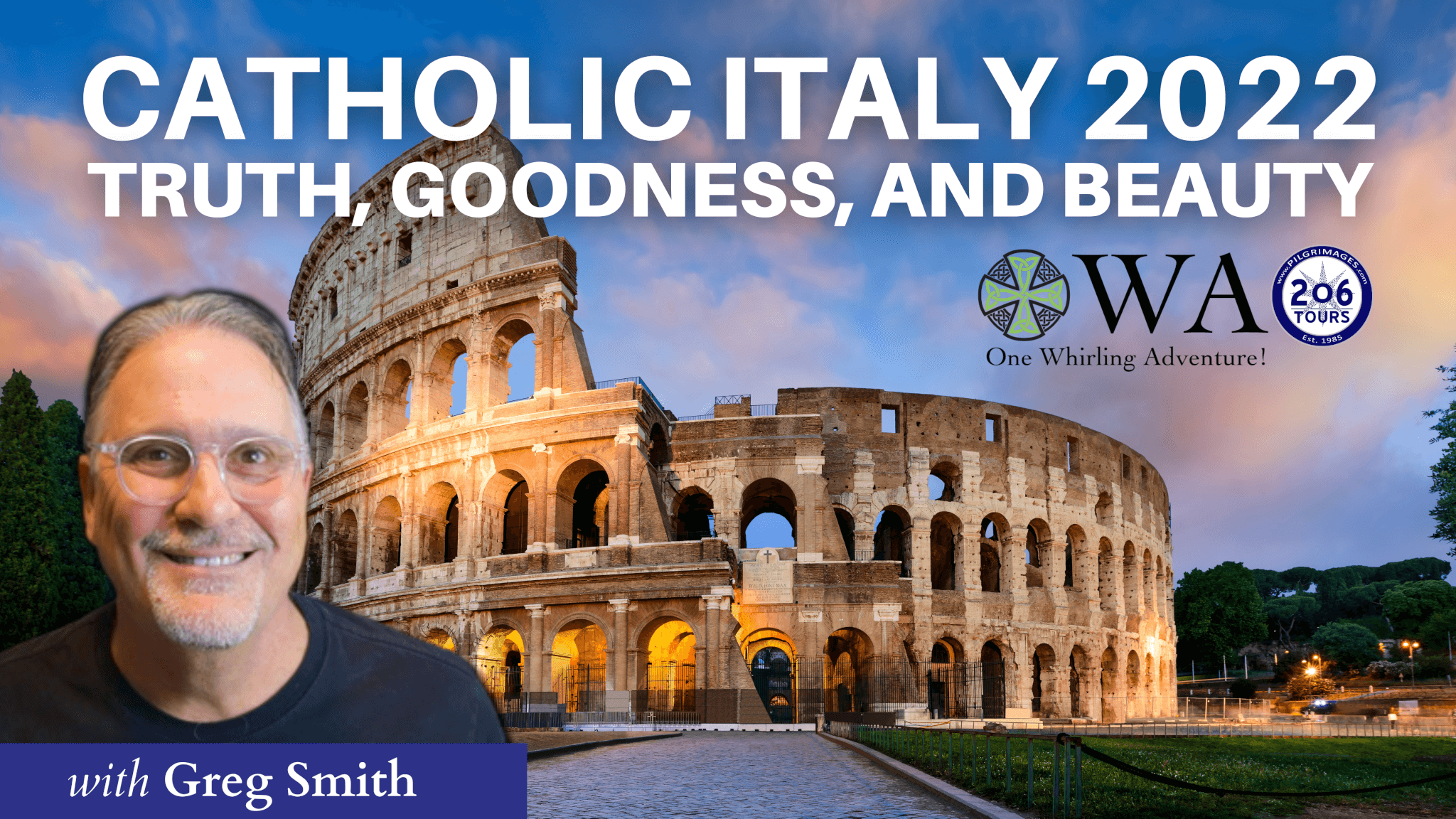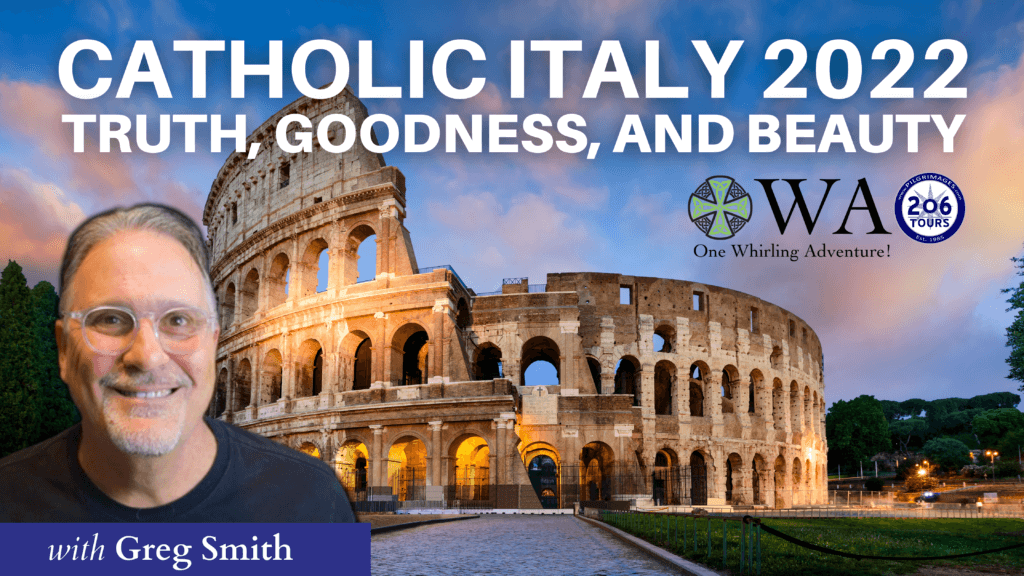 Join Greg Smith, founder of One Whirling Adventure on a Pilgrimage to Italy from May 2 – 12, 2022. He will explore the Catholic Faith, on a quest to know God through Truth, Goodness, and Beauty. Watch the video below for a sneak peek of what to expect.
A Letter from Group Leader: Greg Smith

Executive Director of One Whirling Adventure Ministries

For two thousand years, the catholic church has been on a quest to know God through Truth, Goodness, and Beauty. And there is no better place to discover this quest, then in Italy.

Come with me to experience Rome, the city that exemplifies the quest for Truth, the Eternal city of Peter and Paul. Let me show you it's most famous landmarks, as well as the lesser known but significant spots where history and faith, culture and art, have played out over the ages.

Then let me introduce you to one of my favorite cities in Italy, Orvieto. Where a Eucharistic Miracle occurred during the darkest hours of the middle ages.

Fall in love with the city that exemplifies the quest for Goodness, Assisi. We'll walk its streets to discover the lives of St. Francis and St. Clare. Let me show you the chapel where Christ told Francis to rebuild his church, and where he wrote the Canticle of the creatures to Brother Sun and Sister Moon.

Let's walk together through the medieval streets of Siena and visit the home and tomb of St. Catherine, Doctor of the Church.  Whose courageous faith influenced the course of the papacy.

We'll finish in the city that exemplifies the quest for Beauty, Florence. The jewel of Tuscany – the city of creative geniuses like Dante and Michelangelo, who turned faith into art that changed the world.

Grow in faith and knowledge with one whirling adventure and 206 Tours, and discover the true, the good, and the beautiful in Catholic Italy.
Visiting: Rome, Vatican City, (Papal Audience with Holy Father), Trevi Fountain, Vatican Museum, Appian Way, Basilica of St. Paul Outside the Walls, Catacombs, Colosseum, Roman Forum, Pantheon, Piazza Navona, Spanish Steps, Orvieto, Assisi (St. Francis), Siena, Florence  Book Now!
Extended Trailer: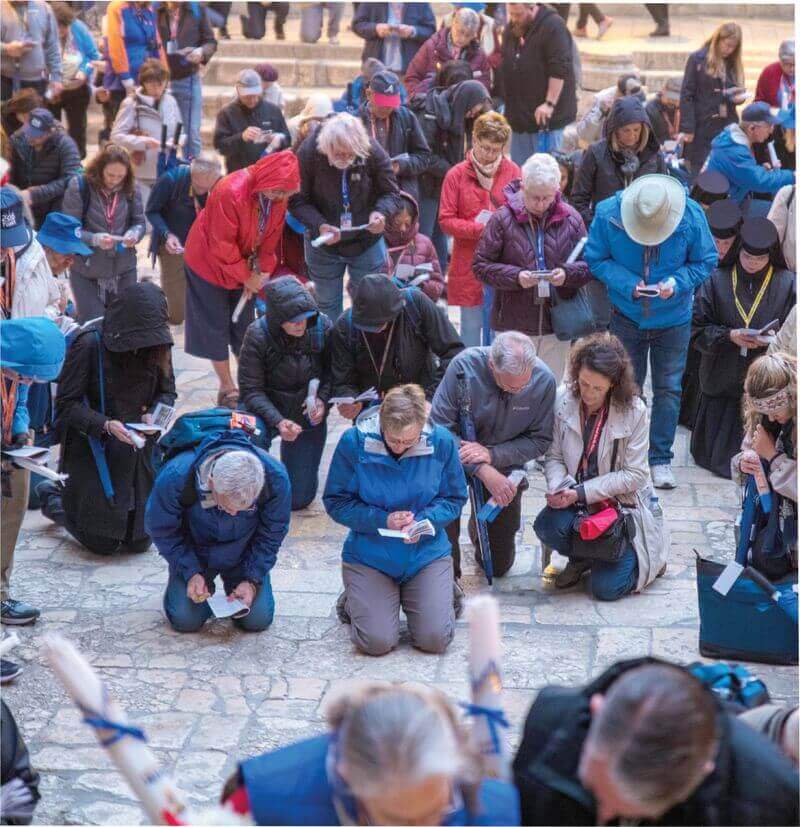 206 Tours Pilgrims
What is a 206 Tours Pilgrimage Like?
"To go on pilgrimage really means to step out of ourselves in order to encounter God where he has revealed himself" – Pope Benedict XVI
Join Us
Join over 400,000 faithful Pilgrims and get exclusive travel tips, giveaways and more!
POPULAR POSTS