The
Way.

The

Truth.

The

Life.

Jesus said to him, "I am the way, and the truth, and the life. No one comes to the Father except through me."

Catholic Pilgrimages & Spiritual Journeys to the World's Holiest Sites with 206 Tours.

Archbishop Pizzaballa Appointed Latin Patriarch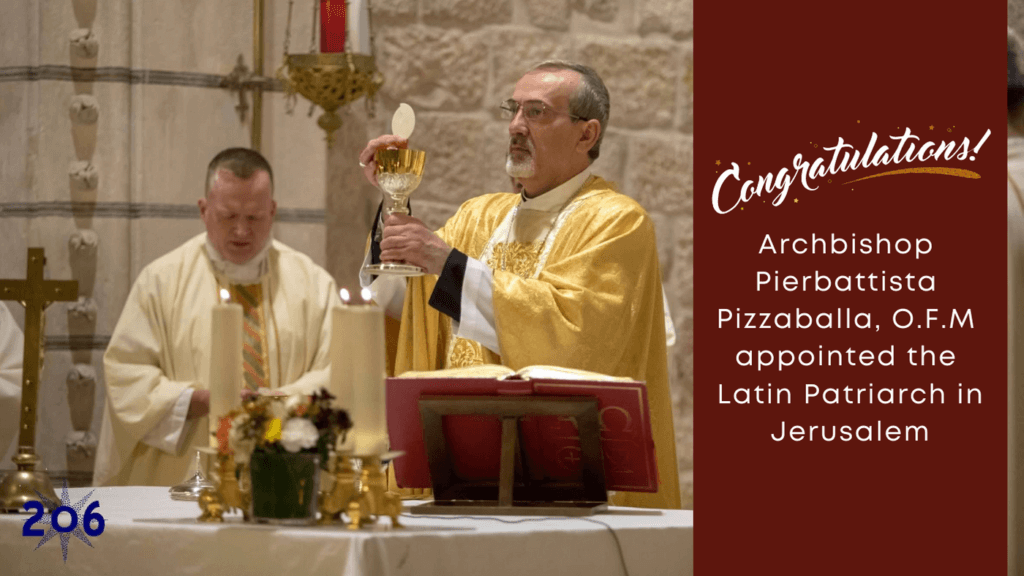 It was announced on Saturday, October 24th that His Holiness, Pope Francis, appointed Archbishop Pierbattista Pizzaballa, O.F.M, as the Latin Patriarch in Jerusalem. His Beatitude spent the last four years in service as the Apostolic Administer and has lived and served in the Holy Land for over 30 years.
His Beatitude is a very strong supporter of Pilgrimage to the Holy Land as he understands how greatly it supports the local community financially as well as protects the presence of Christianity in the region. In a July 2020 Vatican News article, Archbishop Pizzaballa acknowledged that Holy Land Pilgrimages will have to adapt to accommodate changes required in a post-COVID-19 world, however, he noted: "in the Holy Land the pilgrimage will always have the fundamental characteristic of an encounter with Jesus in his places. This will never change"
Archbishop Pizzaballa has personally greeted many 206 Tours Pilgrims over the past four years, even concelebrating Mass with eight of our Spiritual Directors in 2019, as shown below. In a letter to 206 Tours Founder, Milanka Lachman, the Archbishop wrote, "The presence of pilgrims is very important for our local Christians, as a sign of solidarity that you all stand with us in the many challenges we face every day."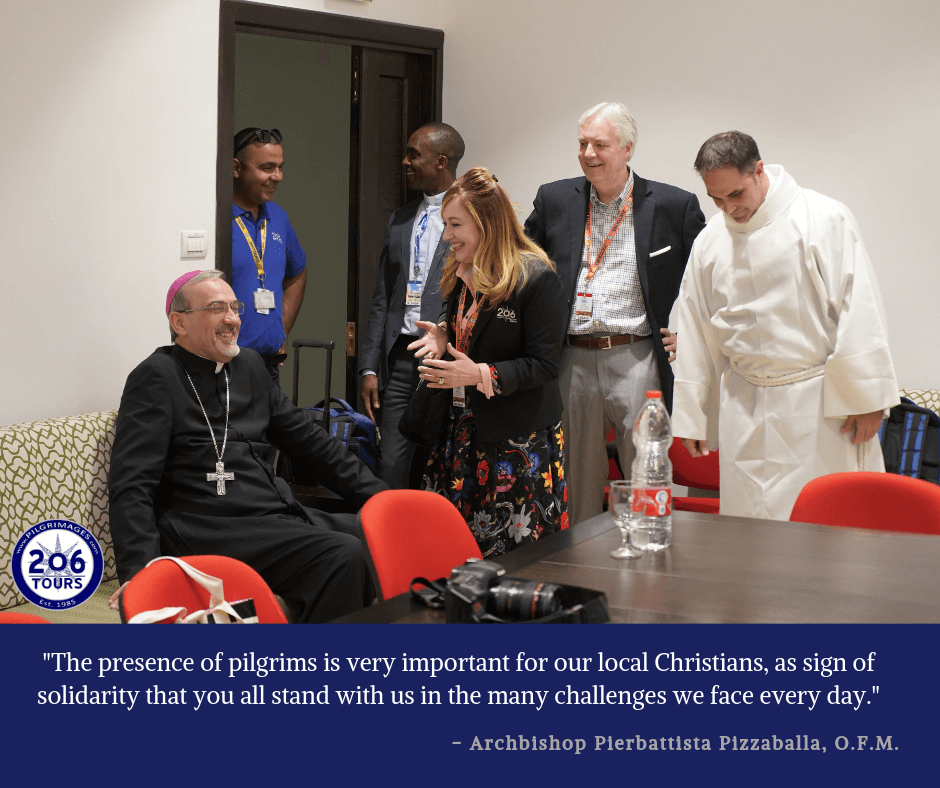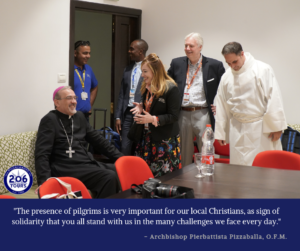 Archbishop Pierbattista Pizzaballa, O.F.M with 206 Tours Founder Milanka Lachman, Charlie Lachman, Fr. Donald Calloway, MIC, Fr. Philip Tah, and guide Rami at Notre Dame Cathedral in the Holy Land, in April 2019.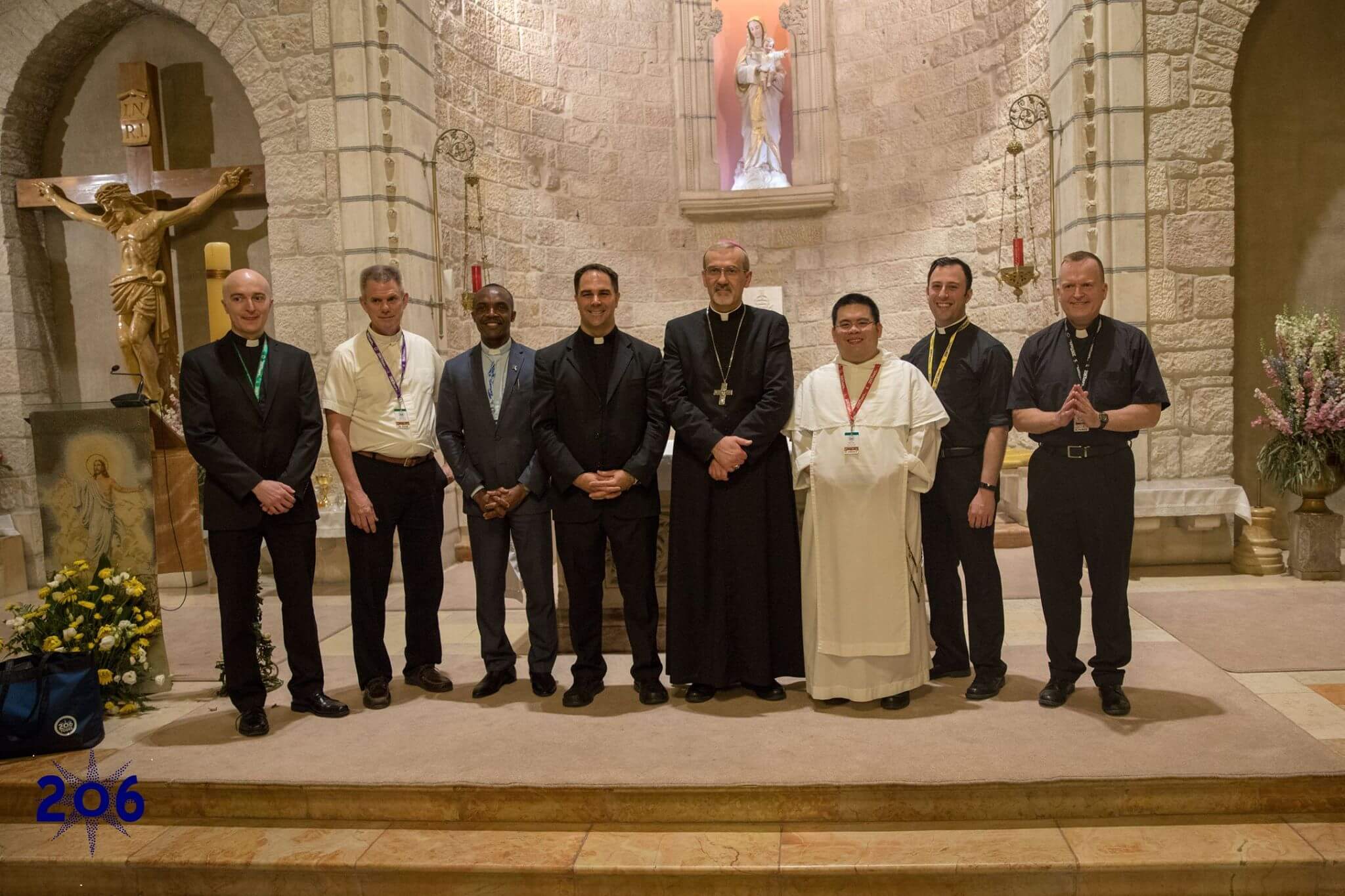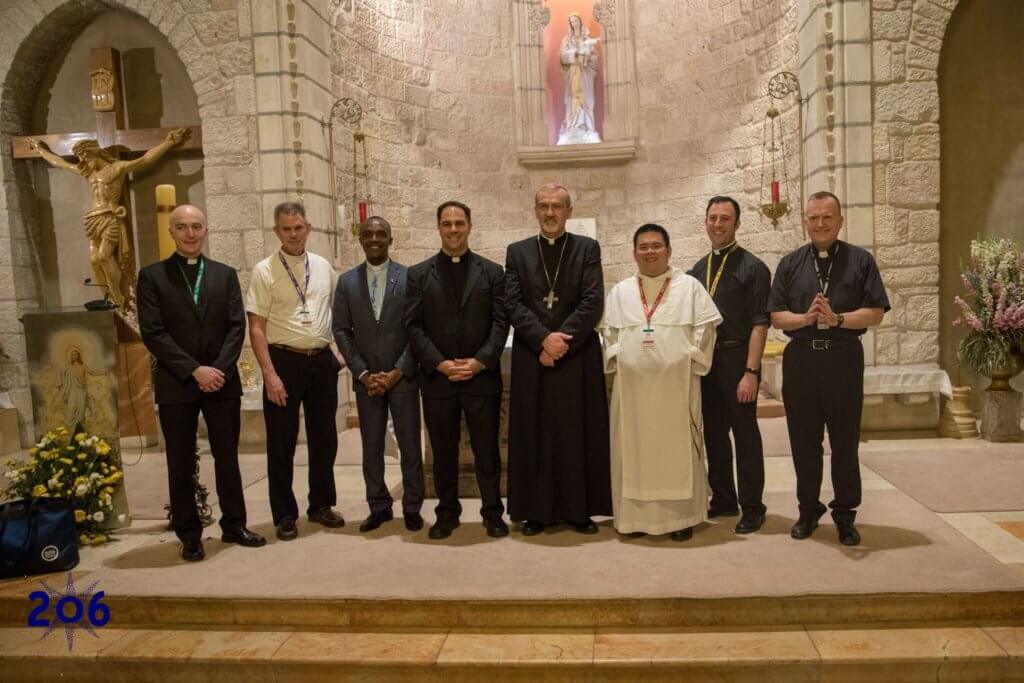 From Left: Fr. Przemyslaw Nowak, Fr. Peter Dugandzic, Fr. Philip Tah, Fr. Donald Calloway, Archbishop Pizzaballa, Fr. Lawrence Lew, Fr. Sean Magaldi, and Fr. Patrick Keane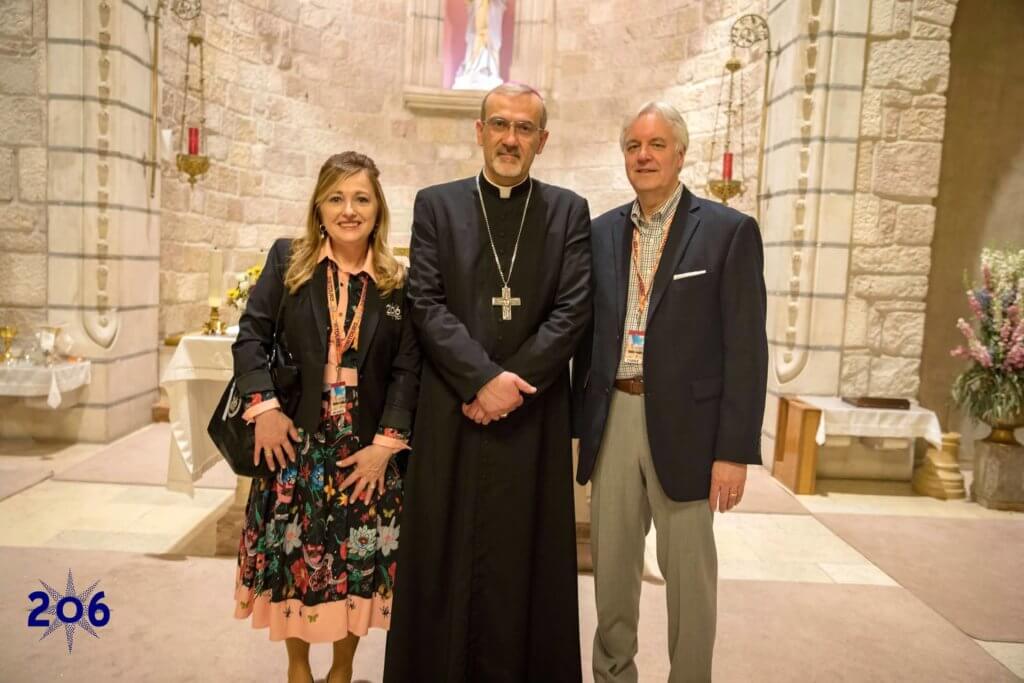 From Left: 206 Tours Founder Milanka Lachman, Archbishop Pierbattista Pizzaballa, Charlie Lachman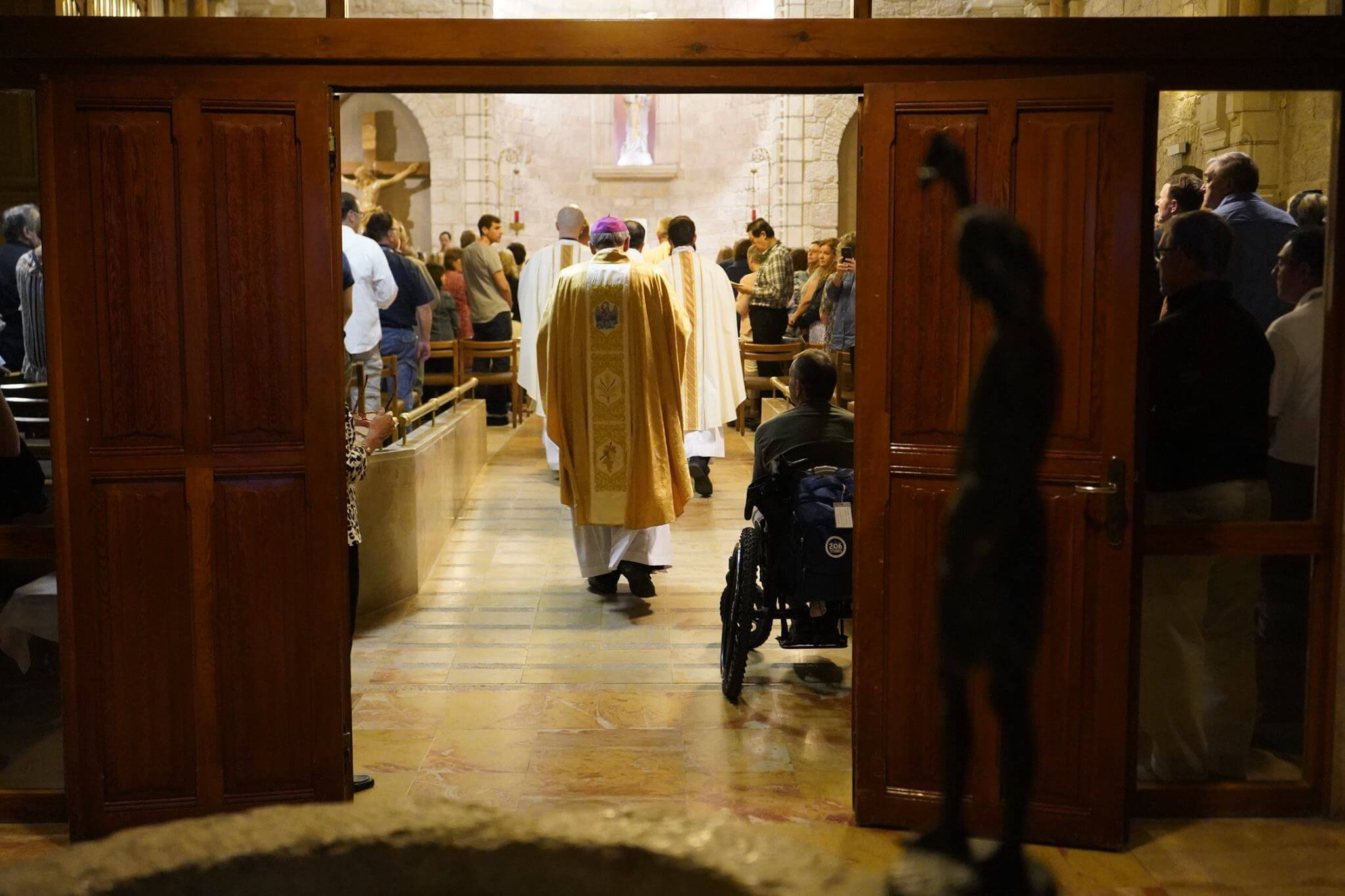 Archbishop Pierbattista Pizzaballa enters the Notre Dame Chapel in Jerusalem to celebrate Mass for 206 Tours Pilgrims.
Watch this clip below of Mass that Archbishop Pierbattista Pizzaballa, O.F.M concelebrated with our Pilgrimage priests in April 2019.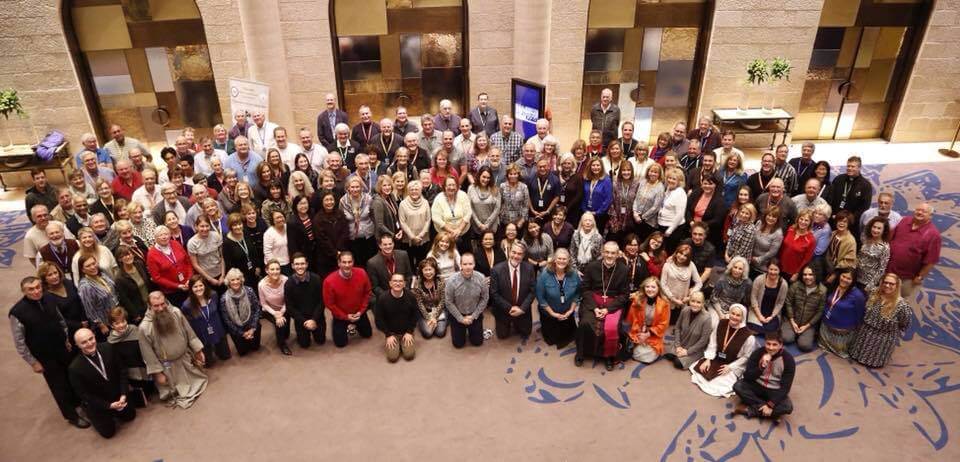 Dr. Scott Hahn's group with His Excellency Archbishop Pierbattista Pizzaballa, January 2018
Thank you Archbishop Pierbattista Pizzaballa, O.F.M for your service, constant leadership, championing of the Holy Land, and consistent friendship! We continue to pray for you and wish you the best in this newest appointment to Latin Patriarch – congratulations! God Bless!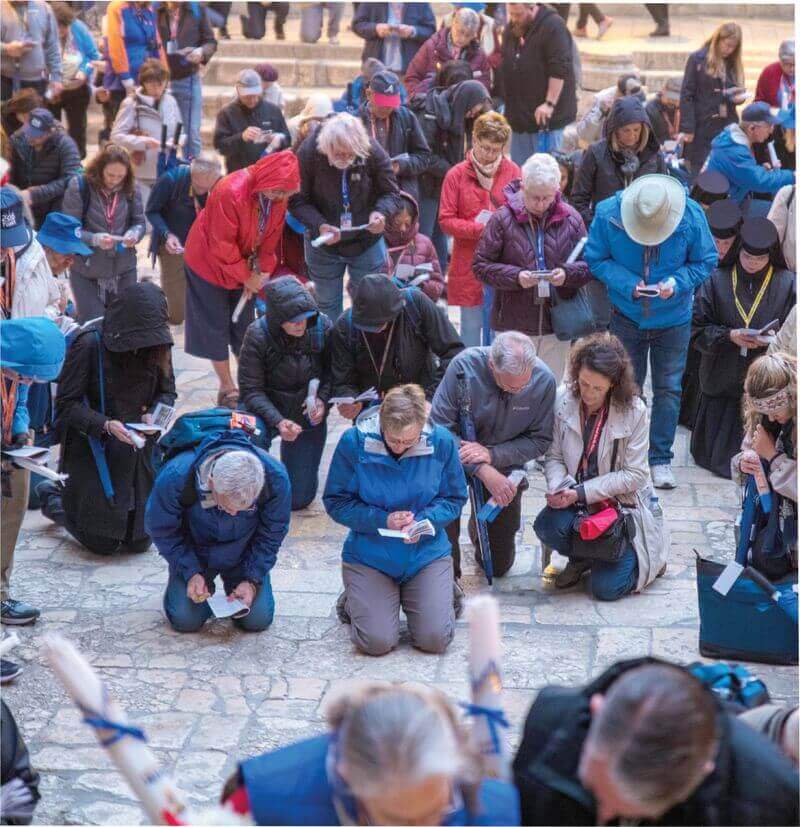 206 Tours Pilgrims
What is a 206 Tours Pilgrimage Like?
"To go on pilgrimage really means to step out of ourselves in order to encounter God where he has revealed himself" – Pope Benedict XVI
Join Us
Join over 400,000 faithful Pilgrims and get exclusive travel tips, giveaways and more!
POPULAR POSTS