Basilica of Saint Anthony of Padua Pilgrimage
The Story:
The Basilica of Saint Anthony of Padua is a minor Basilica in Padua, Venetro, Northern Italy. St. Anthony of Padua (also known as Saint Anthony of Lisbon) was a Portuguese Catholic Priest form the Franciscan Order who lived from 1195 to 1231. The Basilica is dedicated to him, as he is a beloved Saint and Doctor of the Church. Many know that Saint Anthony is the Patron Saint of lost things! Just a year after his death, he was Canonized by Pope Gregory IX and ground broke on the Basilica in his honor. Locals in Padua call the Basilica "il Santo" meaning, "the Saint". In accordance with his wished, St. Anthony was buried in the church of Santa Maria Mater Domini which is now part of the Basilica often called the Chapel of the Dark Madonna (Cappella della Madonna Mora). The Basilica is recognized by the Holy See as one of the eight international shrines and is visited by many Pilgrims each year. The Basilica displays the chin and tongue of St. Anthony in addition to his tomb. There are also many important pieces of art including paintings, frescoes and sculptures.
Transportation: From Rome, a flight to Padua is about an hour and a train ride is about 4 hours.
Accommodations: There are many four-star hotels nearby
Address: Piazza del Santo, 11, 35123 Padova PD, Italy
Phone: +39 049 822 5652
Tours visiting Italy: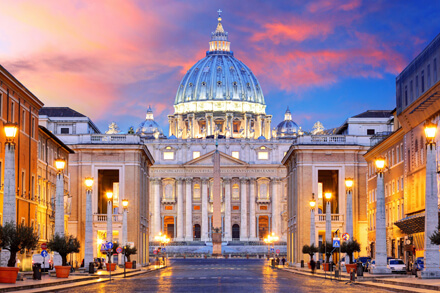 Shrines of Italy
Rome (Papal Audience with Holy Father) * Monte Cassino * San Giovanni Rotondo (Padre Pio) * Monte Sant'Angelo (St. Michael) * Lanciano (Eucharistic Miracle) * Loreto (Holy House) * Assisi (St. Francis) * Cascia
| Duration | Destination |
| --- | --- |
| 10 Days | Italy |
VIEW DETAILS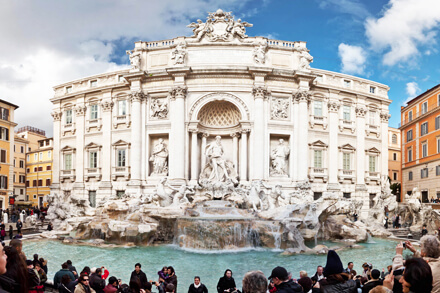 All Italian Shrines
Rome (Papal Audience with Holy Father) * Monte Cassino * San Giovanni Rotondo (Padre Pio) * Monte Sant'Angelo (St. Michael) * Lanciano (Eucharistic Miracle) * Loreto (Holy House) * Assisi (St. Francis) * Cascia * Siena * Florence * Padua (St. Anthony) * Venice
| Duration | Destination |
| --- | --- |
| 14 Days | Italy |
VIEW DETAILS