St. Catherine of Bologna Pilgrimage
The Story:
Born to a wealthy Italian family, St. Catherine was educated in reading, writing, music and art before becoming a entering the convent at just 13 years old. She is described as pious and artistic and even witnessed several apparitions of Jesus, the Blessed Virgin Mary, and St. Joseph and even had visions of some future events. Her writings and drawings were widely known in her time. In 1432, St. Catherine and other members of the convent founded a Monastery of the Order of Poor Clares, following in the footsteps of St. Francis and St. Clare of Assisi.
St. Catherine fell ill and died in 1463. After many reports of cures at her grave site, her body was exhumed after just 18 days. Her body remains incorrupt, those her skin has blackened attributed to exposure to light and soot. Canonized in 1712, her feast day is March 9th. She is the Patron Saint of Artists, Liberal Arts and Bologna. In her final resting place in the chapel of the Poor Clare's in Bologna, she rests in her religious habit, sitting on a golden throne behind glass. Pilgrims venerate St. Catherine at Corpus Domini, the Monastery of Clarissan nuns in Bologna, Italy.
Address: Via Tagliapietre, 21, 40123, Boglna BO, Italy
Phone: +39 051 331277
Accommodations: Bologna is in Northern Itlay, about an hour flight from Rome. There are many 4 and 5 star hotels in this metropolitan city.
Tours visiting Italy: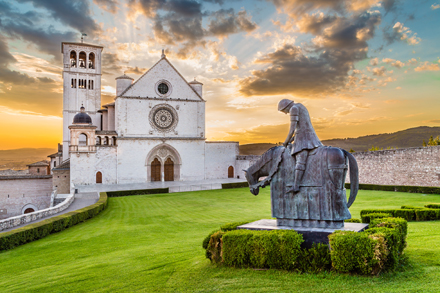 Shrines of Italy
Rome (Papal Audience with Holy Father) * Monte Cassino * San Giovanni Rotondo (Padre Pio) * Monte Sant'Angelo (St. Michael) * Lanciano (Eucharistic Miracle) * Loreto (Holy House) * Assisi (St. Francis) * Cascia
| Duration | Destination |
| --- | --- |
| 10 Days | Italy |
VIEW DETAILS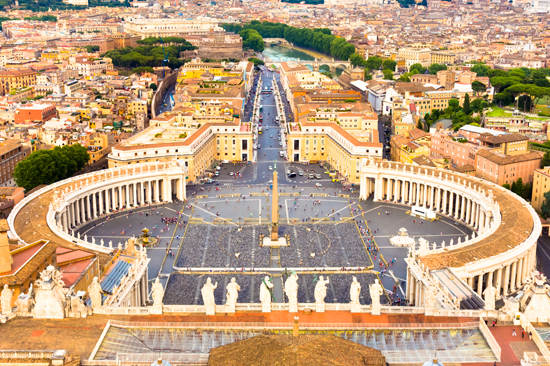 All Italian Shrines
Rome (Papal Audience with Holy Father) * Monte Cassino * San Giovanni Rotondo (Padre Pio) * Monte Sant'Angelo (St. Michael) * Lanciano (Eucharistic Miracle) * Loreto (Holy House) * Assisi (St. Francis) * Cascia * Siena * Florence * Padua (St. Catherine of Bologna) * Venice
| Duration | Destination |
| --- | --- |
| 14 Days | Italy |
VIEW DETAILS