"Stay Pilgrims" - Open Letter to our Clients


Dear Pilgrims,
First and foremost, thank you for choosing and putting your trust in 206 Tours! Rest assured that we continue to be here for you! We are assessing the situation on regular basis and monitoring local governments and health advisors guidance in all regions operated by 206 Tours.
Pilgrimages will resume when government authorities and medical professionals advise it is safe to travel, of course, we will proceed in accordance with their recommendations and guidelines. We pray this day comes soon, and we promise, we will be here for you, and prepared to proceed safely, when you're ready!
We understand countries will have varying requirements and protocols, and we are prepared to follow all guidelines that become available. As we continue to wait for more information, we ask that you join us in prayer for an end to the pandemic. For more information about how we are preparing for post-pandemic pilgrimages, please see below.
Please check our website for the latest travel updates. We ask that you remember us for future Pilgrimages and encourage you to consider booking one of our new offerings in 2021 or 2022. Our website is consistently updated with travel alerts as well as exciting new tours and offerings. Feel free to contact us should you ever have any questions. We can be reached via online chat at www.206tours.com, via email at sales@206tours.com or via telephone at 800.206.8687. Our office hours remain Monday – Friday, 9 am to 5 pm EST. Know that you are in our prayers, always have been, and always will be.

Until we can be together again on Pilgrimage, stay safe & stay pilgrims!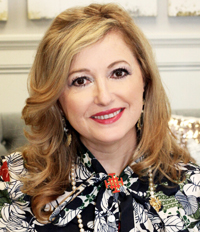 Milanka
Milanka Lachman
President and Founder
206 Tours