Lisieux Pilgrimage
The Story:
Lisieux, France, is where St. Therese Martin lived from the age of four and where spent her short and saintly life. Pope Pius X described her as "the greatest saint of modern times." The Story of a Soul, her spiritual autobiography, made her world famous, and she is one of only four female Doctors of the Church.
Therese came from a devout and well-to-do family and was the youngest of nine children. At the age of four she suffered the loss of her mother - which affected her deeply. During the following ten years she grew inseparable from Pauline, her older sister. When her sister, Pauline left home to enter the Carmelite convent, Therese fell mysteriously ill. On May 13, 1883 while praying a nine-day novena before the family's statue of the Blessed Virgin Mary, Therese fell into a deep ecstasy. After a vision in which the Virgin smiled at her, little Therese was cured. A profound conversion took place in the life of the saint on Christmas day 1886, and with her interior conversion at the age of fourteen, she felt ready to enter the Carmelite order. As the Rule of Carmel allowed only those twenty-one and older to enter, Therese needed a special dispensation from the bishop. On a pilgrimage to Rome at the age of fifteen, she asked Pope Leo XIII himself for permission to enter. He told her, "Go, go, you will enter if God wills it." On January 1, 1888 she was given permission by her bishop to enter the Carmel early. She lived a life hidden from the world there, until she died at the age of 24. She is now only of the most beloved saints in the church – she who said she would spend her Heaven doing good on Earth. 700,000 pilgrims visit Lisieux every year.
Accommodation: There are a variety of charming hotels in Lisieux, to fit all budgets.
Transportation: Lisieux is about a 2 hour drive (100 miles) northwest of Paris via the A13, in the region of Normandy. Train: Can be reached by train from Paris St. Lazare station.
Tours visiting France: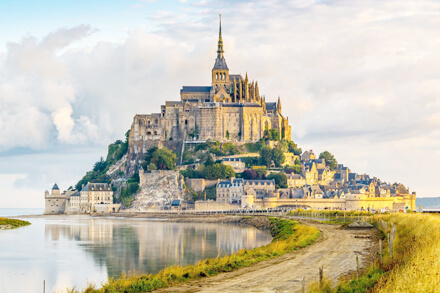 The Best Shrines of France
Lourdes (St. Bernadette) * Toulouse * Rocamadour * Paray Le Monial * Nevers (St. Bernadette) * Chartres * Lisieux (St. Therese the Little Flower) * Normandy Beaches * Mont Saint Michel * Paris
| Duration | Destination |
| --- | --- |
| 12 Days | France |
VIEW DETAILS