---
From: Susan McFadden
Sent: Monday, May 20, 2013
To: Rosalie DeFilippo
Subject: Pilgrimage to Lourdes: May 9-13, 2013
Good Morning Ms. DeFilippo,

I have been telling everyone that this was a "horribly perfect" pilgrimage. Everything that could go wrong did, but it all was necessary for my journey and turned out perfect in the end. :o)

For starters my flight out of Baltimore was delayed (5 hours) which caused me to miss all connecting flights. I honestly can't remember whom I spoke with from 206tours that day (I was pretty emotional) but they were super. They were very professional and assured me all would be fine. Unfortunately, I arrived a day later than planned, but in all honesty it worked out okay. It was great. Although I missed the tour bus from Pau airport to Lourdes, 206tours provided me with a driver when I arrived. Although he did not speak any English, he was kind and we managed to communicate (a smile is a universal language). I had a mishap with my luggage (it did not make the flight to Pau) and the driver was able to help me provide the hotel information to the airport.

When I arrived to the hotel, the tour had already begun an excursion (which was completely fine) and the hotel staff got me settled in my room. Not wanting to waste a minute of my time, I dropped my carryon off in the room and then went right back to the lobby. I decided to venture out just a little to take in the narrow streets and the people. Shortly afterwards, Jesus, the tourguide, came and found me. He had been checking back frequently with the hotel waiting for my arrival. That was nice. He helped me join the tour in the Shrine. I immediately felt accepted in the tour group and all went well.

Lourdes was an incredibly spiritual place (without question). It was an incredible pilgramage and I am blessed to have traveled there. Jesus checked on me frequently (and my luggage - it did not arrive until Sunday night at 7:00pm and I was leaving Monday morning at 7:00am).

I do not fault 206tours at all for the misfortunes I encountered. I am truly grateful for all that you did to support me during those obstacles. It was a wonderful pilgrimage and I would recommend you to others. I am also looking forward to another pilgrimage in the future.

Thank you for a wonderful 1st experience.

God's Blessings.
Susan
---
From: Susan Cryder
Sent: Sunday, May 19, 2013
To: Rosalie DeFilippo
Subject: Pilgrimage to Fatima, Spain, Lourdes & Medjugorje
Dear Rosalie,

The pilgrimage was just wonderful. I came back so spiritually full and overwhelmed at all the sites I saw and the holy places I visited. I must tell you that my tour guides were both excellent. I had the pleasure of meeting Jesus Vivas on my first 206 pilgrimage 3 years ago and he was personable, knowledgeable and very devout both times. He was an absolute pleasure to be with again. Father Wimsatt was a very special priest who was so sincere, spiritually uplifting and genuinely easy to talk to. His homilies impacted me with something so moving at every Mass. He was an absolute credit to the priesthood and an asset to this pilgrimage. I can't say enough good things about my Fatima to Lourdes experience. I felt Our Blessed Mother's presence in my heart each and every day. The Medjugorje experience was so different in pace but so appropriate. To end my travels with a more relaxed, less regimented schedule was perfect. Dragan was amazing in so many ways. I learned so much history but also saw the devotion that he had and it inspired me. Father Zacharias was very kind. We didn't get spend much time with him, but he was truly a good, caring priest.

I want to take this opportunity to thank everyone at 206 who work so very, very hard to provide such well planned, efficient and most of all holy experiences. I traveled alone and always felt safe and that I was in expert hands that could take care of any situation. I marvel at the amount of know-how and logistics that go into planning these trips and I want to commend all who do their jobs so well. I am blessed to have had the chance to travel to these miraculous places and 206 made the experience something I will remember and hold in my heart forever. I came home with a renewed faith and the will to be a better ME through the help and intercession of Mary and her divine Son. Thank you to those of you who work behind the scenes to make these pilgrimages run smoothly while bringing faith filled experiences and life long wishes to fruition.
God bless you all.

With sincere thanks -
Susan


---

From: Fr. John
Sent: Saturday, May 18, 2013
To: Rosalie DeFilippo
Subject: Pilgrimage to Lourdes & Medjugorje: May 9-17, 2013
Dear Rosalie DeFilippo,

Greetings from Fr. John, Rome. The experience as a Spiritual Director to the 206 group (Only to Medjugorje (13-17 May) was a special one for me personally and I hope for the group as well; we had a special opportunity to renew our faith at Medjugorje. When Maria, one of the visionaries, gave a talk in Italian and in Croatian language to a group of more than 4,000 people, the people were moved to see Mother Mary continues her cooperation in the mission of our Lord Jesus even today. The guide had translated the talk and thanks to him because he had also arranged a personal prayer service with her near her home. Weeping Cross is another testimony for Medjugorje to show that the Lord has taken this place as a special place to dispense His Grace to the penitents.
Thank you for the opportunity and I hope the group also enjoyed their pilgrimage. I assure my prayers for the success of the spiritual mission of 206 Tours.
In Christ,
Fr. John
---
From: Fr. White
Date: 5/15/2013
To: Rosalie DeFilippo & Rinda Kanidinc
Subject: Holy Land | May 4-13, 2013
Dear Rosalie, dear Rinda,
Peace of Christ. I write with great gratitude and joy to thank you and all at 206 Tours for such a graced pilgrimage to the Holy Land. It was amazing! Really!
The manner in which you organized all was superb. The preparation, your communication and quick and efficient replies to any and all questions, and once in country our accommodations, transportation, meals, combination of time visiting sights and time for rest and or personal prayer, and most especially the arrangements that were made that allowed us to have Mass at all of these holy sights--amazing!
Let me single out especially for praise and gratitude our tour guide Mr. Jack Hlais. He couldn't have been better. His knowledge, devotion to the Holy Land and the sights, generosity, good humor, care, and gentleness--real, real graces and gifts. One example: he urged us to wake up on our last day for a 5:30 am Way of the Cross in Jerusalem prior to our 7 am Mass so that we would be able to pray the Stations of the Cross in preparation for the Eucharist there at Calvary in as much peace and recollection as is possible on the streets of Jerusalem. The earlier we came, the greater peace and quiet we would have on the streets. Yet, this meant that he, too, would have to get up at 4:30 in the morning to join us! Most generous and thoughtful. Even the other tour guides while in the Holy Land would tell us that we have the best! He was the teacher of many of them. You are blessed to have him; we were blessed to have him!
The group of pilgrims was another gift and we all agreed that the community of pilgrims we formed quickly was another grace received. I could go on and on, Rosalie and Rinda.... It was an amazing time and pilgrimage. I remain most grateful to you and to all at 206 Tours for such a great gift and opportunity.
Since you asked I have 1, very small invitation for you to consider: We supplemented the song book with some simple Taize songs which you may want to consider including. For example, we sang "Jesus, remember me, when you come into your kingdom," and "Were you there when they crucified my Lord?" between stations. These and other simple, common songs might be a nice addition to your song book.
Thank you again very, very much for this opportunity to serve and accompany this wonderful pilgrimage. I would very much like to serve again as a spiritual director. Let us remain in touch. Again with deep gratitude,

Yours, in Christ,

Fr. White


---

From: Antonio Filio
Sent: Wednesday, May 15, 2013
To: Rosalie DeFilippo
Subject: Pilgrimage to Fatima: May 4-11, 2013

Dear Ms. Rosalie,
We want to thank you and 206 Tours for taking care and helping us fulfill one our lifelong dreams, to go on a pilgrimage tour to Fatima, Portugal. This was the experience of a lifetime that my wife and I will never ever forget. The whole tour from beginning to end was informative, educational, emotional and very spiritual. Because of this pilgrimage tour my faith as a Catholic has been strengthened. Our tour guide Jose was very knowledgeable and spoke English fluently. He has the perfect personality and attitude for a tour guide. Father Mike Wimsatt was the best and coolest priest ever. All of the other people on this tour were very friendly and funny. My wife and I really had a wonderful time.

Thanks again Ms. Rosalie and to 206 Tours. We will recommend 206 to all of our family and friends.

Sincerely,
Sonny and Lynn Filio


---

From: Susan
Sent: Wednesday, May 01, 2013 6:40 PM
To: Yaritza Rodriguez
Subject: Pilgrimage to Cascia & Rome | April 15-25, 2013

Dear Yaritza,

THe trip far exceeded my expectations. Each time I visit Italy it gets better and better. The trip was so well planned and having time on our own was such a pleasure. The hotel in Rome was beautiful. I had a king size bed all to myself. And the rooftop terrace was a bonus!!! I would highly recommend it. It was so convenient to walking to the Vatican and so many excellent restaurants and stores nearby.

Cascia is just beautiful. I think we may have been the first group of pilgrims there this season. For a few days we had the whole place to ourselves. Not many tours go to Cascia but I would highly recommend it.

Once again 206 did an excellent job in planning and expediting out journey.

Thank you so much for all the work you did to make it such a success.
Ciao!

Susan


---

From: Fr. Paul
Sent: Wednesday, April 17, 2013
To: Rosalie DeFilippo
Subject: Pilgrimage to the Holy Land | April 7-16, 2013

Hi Rosalie,

As far as I am concerned the trip was just fabulous!!!!!!!!!!!!
I like all of the hotels, food, tour guides and plans for each day.

Fr. Paul


---

From: Miriam Serano
Sent: Thursday, May 02, 2013
To: Rosalie DeFilippo
Subject: Pilgrimage to the Holy Land | April 7-16, 2013

Our trip was exceptional!! We all had a great time and a great spiritual journey. Joseph, our tour guide was very knowledgeable. He took us early to the Church of the Holy Sepulcher, and we hit no lines going into the tomb of Christ. I have been there before and the line was incredible. But Joseph got us there early, and we were very happy.

I enjoyed traveling with your tour company. I am thinking of going to Medjugorge in June with Fr. Peter from Greenlawn, LI. Thank you for a great pilgrimage!

God Bless,
Miriam Serano
---

From: Angelica Perez
Sent: Friday, April 26, 2013
To: Rosalie DeFilippo
Subject: Paris & Rome: April 12-19, 2013

Arriving on April 13th with little sleep was a bit rough. Next time we will arrive a day earlier and relax and get ready for the tour. Paris was great. Jesus, our tour manager, was very attentive. We had a special tour that included lunches and a nice lunch at le maurice. Jesus knew nothing about it, but informed us that he would take care of it and he did. The hotel was great. Our tour included a 5 star or similar and I would say it was.

The second half of our trip was in Rome. Karin has so much energy and really knows how to stay on track. I enjoyed her attention to detail. The hotel we stayed in was nice, but not a five star or similar. I will definetly use 206 tour for my future travels.

Thank you,
Angelica Perez


---

From: Rosalinda Ursua
Sent: Tuesday, April 23, 2013
To: Rosalie DeFilippo
Subject: Pilgrimage to Guadalupe

The experience was defintely an inspiring and spiritually enriching experience. The tour guide, Elvira Ayala, was a master of her trade. She was engaging and knowledgeable. All the sites included in the five-day pilgrimage were made significant by her giving the pilgrims clear and concise orientation of their religious meanings and how those sites affect the residents of the community as well as their influence on the growth of the community's governance, politically and religiously. The hotel accommodation was very good. The schedule of activity was well planned although there were a couple of places where the cathedral was closed when we got there after a long and winding walk up a hill. The food served in some of the restaurants for lunch was not as good as we expected. Ms. Elvira Ayala and Mr. Roberto as well as the driver, Mayolo were great in executing their respective responsibilities. Overall, I would recommend 206 Tours to my family and friends after this experience in Mexico.

Rosalinda V. Ursua
Benicia, CA
---
From: Frida Callejas
Sent: Monday, April 22, 2013 10:23 AM
To: Yaritza Rodriguez
Cc: Sandra Lippold
Subject: Pilgrimage to the Holy Land with Fr. Orlando Gomez & Fr. Juan Perez ~ April 8-17, 2013
Good morning Yaritza,
Our beloved group is back from pilgrimage with great joy, filled with blessings and appreciation for the wonderful experience we had. I want to thank 206 Tours' staff for all the tremendous work you did for group; it was "first class service" in all aspects: hotel, meals, transportation, our daily visits etc. Most important, I want to commence 206 Tours for choosing top services for all their travelers, especially for having wonderful tour guides such as Ramzi Ghattas. He was very knowledgeable in the catholic faith and history; Ramzi's care and services exceeded our expectations!!

Our hotel in Tel Avid was beautiful, what I would love to consider for the future is to possibly add an extra day to rest and enjoy the beautiful beach and surroundings. In a few weeks I will be sending you pictures, right now I have a lot of catching up to do =)
Finally, as the result of your outstanding service we would love to plan a Marian Pilgrimage for 2014!!

Hope your life is full of His blessings, always!
Frida Callejas
---

From: Kelly Rogers
Sent: Friday, April 19, 2013 10:11 AM
To: Amanda Fortunato
Subject: Fr. Joe Dygert - The Holy Land

Amanda,

I can't say enough about this experience. It was such a blessing in my life. We were so blessed to have Habib as our guide. Words cannot express how wonderful he was. Not only is he a walking encyclopedia about the history of Israel and the Bible, he went above and beyond everyday to make sure we never missed a sight even when the schedule was tight. Such a wonderful, sweet and faithful man. Likewise Feris was fabulous. They were a great team. We were very surprised they had never worked together before because they worked so well together. If I am ever able to return to Israel they would be the team I wanted to guide me through this faith walk again.

Sincerely,
Kelly Rogers


---

From: Dennis Doran
Sent: Thursday, April 18, 2013
To: Rosalie DeFilippo
Subject: Pilgrimage to Fatima, Spain, Lourdes & Medjugorje

Hi Rosalie,


We had a wonderful, special and holy pilgrimage! It was the best way to celebrate our 30th Wedding Anniversary.
We especially loved our 206 Tour Guides (Jesus Vivas and Slavica Marincic).
Our priest was very special as well (Fr. Damien Schill).
The bonus with Fr. Damien is that he lives in our city and we will get to see him at home.
I would recommend this tour to anyone interested in these special places.
Attached is a picture of us with our tour guide and fellow pilgrims on Apparition mountain in Medugorje.

Thanks for your service to the many pilgrims!
Dennis and Patti Doran


---

From: Gregory
Sent: Thursday, April 18, 2013 11:14 AM
To: Amanda Fortunato
Subject: Fr. Joe Dygert - Holy Land Pilgrimage

Amanda,

Trip was very rewarding and the guide was second to none.

Humble, helpful and knowledgeable.

Best Regards,
Gregg
---

From: Allen Harvey
Sent: Wednesday, April 17, 2013
To: Rosalie DeFilippo
Subject: Welcome Home! | Pilgrimage to the Holy Land | April 7-16, 2013
Dear Ms. DeFilippo,
I just returned last night and I have to say that this was the best and most meaningful trips I've been on. It was outstanding and exceeded my expectations! Exploring the origins of our faith - seeing the actual sites - was so meaningful to me. In particular, our guide Joseph, was the best. I can't imagine anyone doing a better job than he did. This was an absolute 5 star trip! A suggestion: not to take away anything from the pilgrimage, and this is not a criticism, I suggest you might consider having two types of groups, a more active and a less active group. We found that there was quite a mixture of physical and mental abilities in our group, everything from a couple of young, athletic men to an older woman in a wheelchair and an older women with memory problems. While this is part of the journey (and I took pleasure in helping the ones who needed help), it might be helpful to bifurcate these people. The younger, more active, were eager to go at a fast pace with longer journeys (walking / hiking) while the others seemed physically and mentally exhausted after a short time. Thank you for setting up this pilgrimage. It's a trip I will never forget.
Sincerely,
Allen Harvey


---

From: Mary Jo Garraty
Sent: Tuesday, April 16, 2013
To: Rosalie DeFilippo
Subject: Re: Welcome Home! | Pilgrimage to Fatima, Spain & Lourdes: April 4-13, 2013
Dear Rosalie,
I am still in the peaceful state of being that filled me during our pilgrimage. Even a two hour wait upon return to get through customs could not dampen the joy of our experience. Everything was efficiently coordinated; transfers were flawless; accommodations were excellent. Our driver, Michael was courteous and professional. Most importantly, I always felt safe when he drove.
Jesus Vivas, our tour guide, was knowledgeable, helpful, friendly and kind. He would often go out of his way to make sure our smallest needs were met. Dealing with a diverse group of individuals can be challenging and he always did so with a sincere smile. His faith is evident. He is a true gentle man. If I would ever have a chance to go on another tour, and hopefully I will, I would confirm that Mr. Vivas was the guide assigned.
Father Damien Schill added a depth of spirituality that I never would have known if I had gone on a pilgrimage alone. His words brought tears to my eyes and joy to my heart. I wish I could have taped his homilies as I do not want to forget the lessons he taught with wisdom and humor.
I have been gushing to everyone about our tour, our guide, our spiritual director, our wonderful experience. I have and will continue to recommend 206 tours. Thank You
Attached is my favorite picture of our trip, the hands of Maria dos Anghos, niece of Lucia, taken in Fatima.
It was an honor to met her, an experience that will stay with me always.
Mary Jo Garraty


---

From: Dyann Andersen
Sent: Monday, April 15, 2013 8:28 AM
To: Carol Cassano
Subject: Medjugorje Pilgrimage with Wayne Weible
Dear Carol,

Thank you for your interest in how I feeel about my Medjugorje trip. It was without a doubt an experience I will never forget!! The whole team, including those working for and with Wayne Weible we just the greatest! Mary, Wayne's assistant, Fr. Bryan Carney, they were all just great. Especially Slavenka!! What a gem you have with her!!!

As for negative remarks, during the stay my friend and roommate, Dorothy Westermann, and I did notice a few things, but obviously they were not worth writing about or otherwise I would have contacted you.

I will be sending others now, through your tour company, to Medjugorje and will thell them of the wonderful experiences I had. We all had!! I certainly do NOT mind if you share any photos or info. I will send some as soon as I get a chance. (I am fighting a nasty cold and I think it is winning!). Yaritza was absolutely wonderful in arranging our accomadations. Everything flowed smoothly. Thank you again for the wonderful experience. (p.s. I experienced several miracles while there, especially having my hearing restored after 30 years of being totally deaf in my left ear!!

Sincerely,
Dyann Andersen


---

Sent: Monday, April 01, 2013 4:24 PM
To: sales@206tours.co
Subject: Easter Greetings
I have to tell you, as an agency owner since 76 I have never seen such nice documents ( along with VIKING and SEABOURN of course ) as those that just arrived for my booking # 409119 the other booking went directly to the client saving me a mailing...THANK YOU you have done a superb job and I am so happy I was able to meet your staff at the OSSN show that one year Happy Belated EASTER and hope we can do more with you.


Jan

Jan Paytas, PTANA, CTC, DS
Pres/Owner
World Wide Consolidated Travel Services, Inc.


---
From: Fr. Joe Mundakal
Sent: Thursday, March 28, 2013 6:14 PM
To: Milanka Lachman
Subject: Blessed Triduum
Hi Dear Milanka,

Thank you so much for remembering me in your prayers! This Lent has been very special Lent with our Holy Father Benedict XVI retiring and the election of the new Pope!

Milanka and Rinda, and the whole 206 Tours, have been in my thoughts and prayers, particularly these past several months. The way you recognized me, honored me and loved me, in so many ways, especially your generosity in giving me so many Pilgrimages, are very special and very fresh in my mind! Since 1997 there hasn't been an year without you giving me a Pilgrimage to lead! Quite often, I just look at these name tags hanging in my room and remember and pray for you and the 206 Tours, and all the Pilgrims. Sometimes some Pilgrims thankfully remind me about our Pilgrimage and ask for some prayers or some guidance, is a reminder for me that how much those Pilgrimages meant to them too! I know I do not have to mention this to you, because you hear this always from thousands! Praise God!

I am sure you will continue to remember me in your prayers, but still I want to ask your prayers as I am completing my 30 years as a priest this May! May the Joy and Peace of His Resurrection be with you and your family always!

Sincerely in Christ,

Fr. Joe Mundakal


---

From: Judy Canclini
Sent: Tuesday, March 26, 2013 12:30 AM
To: Amanda Fortunato
Subject: Lynn Hoffman | Medjugorje with overnight in Frankfurt | March 2013

Dear Amanda,
Our pilgrimage to Medjugorje couldn't have been nicer!! Lynn Hoffman and 206 couldn't have provided a more well planned trip. Everything went off without a hitch as far as I was concerned. Our accommodations were the BEST!! The owners were delightful and couldn't have been more cordial. Anything we asked for was granted immediately. The food was fabulous and the people in this village were unbelievably nice. Our overnight stay in Frankfurt was delightful too and I would recommend this pilgrimage to anyone. Thanks again Amanda for a fabulous trip!!
Judy Canclini
---
From: Mary G. Hodgson
Sent: 26 March 2013 18:15
To: ROK@206tours.com
Subject: Holy Land tour 111
Finally settling down after my pilgrimage to the Holy Land (Mar 10-17, 2013). I cannot give enough praise to Usama Salman, our guide. Having him as our guide, was like having a week long bible study. His knowledge was amazing and his patience phenomenal. His passion for making Jesus come alive to all the pilgrims was evident in everything he said. This was my second trip to Israel and I learned more from him in one day than I did the entire previous trip with another guide. On a scale of 1 to 5, he rated a 10! All in all, I would definitely recommend 206 tours to the Holy land, especially if Usama were leading the group. Please pass on my thanks to him for making my trip such a fantastic experience.
Our bus driver also went above and beyond to be helpful, and his driving skills kept me comfortable and not biting my nails as I tend to be a "back seat driver". Kudos to him!
Our itinerary was very strenuous but worth every moment. My one disappointment was with the restaurant that served "St. Peter's" fish. The whole fish was too dry and the fish fillets were oily (I had a change to try both.). It would have been better if they had not fried it so early. What a waste of good fish. Everyone else at the table had the same complaint.
It was amazing having 4 priests with us: Fr. Salvo with our group and three others with the group that joined ours. Having them concelebrating Mass at the different sites was such a blessing. Fr. Salvo's readings from the Bible at each site and Usama's background information, made everything so much more meaningful. Fantastic trip and something I will always remember.
Mary Hodgson


---

From: Dan Dougherty
To: Usama@206tours.com
Cc: Rinda@206tours.com
Subject: Holy Land –March 2013


Dear Usama,
I would like to thank you for your outstanding tour of the Holy Land. I learned a great deal about the area that I did not know previously. You have opened my eyes. As far as the Religious sites, I was enlightened by your insights pertaining to all the places we visited. My Catholic Faith has been strengthened by this pilgrimage. I will encouraged my fellow Catholics in the U.S. to use 206 Tours for their pilgrimage. If they are Blessed, they will get you for their Tour Guide.
If you ever need to visit Florida, you have a place to stay at my home. I will have a very fine scotch prepared for you.
God Bless you and your family.
Daniel Dougherty
---
From: KATHRYN BARRY
Sent: Friday, March 22, 2013 7:49 PM
To: Rosalie DeFilippo
Subject: Italy
Dear Ms. DeFilippo,
Because of privacy policies that Facebook recently instituted, I no longer sign on. However below are some of my thoughts on our tour.
Our trip was terrific. Our accommodations were simple but adequate and in an extremely convenient part of Rome overlooking the Vatican. The Lufthanza and Swiss flights were far more comfortable than most of our US carriers. However our stopover time in Zurich on our flight over was not adequate. We had about an hour in which to go through security and then customs. Both had long lines and we were 15 minutes late for our second flight. Amazingly they held it for us, something I have not encountered in the US for years.
The itinerary was well planned and able to be modified as conditions changed, something that was necessary because of the Marathon and the Papal Installation coincided on same day, same time. Our prayer services were simple, beautiful, and moving. Lyn Osiek is a terrific scholar who shared info readily. Chris Schenk was a great organizer, very knowledgeable, down to earth and approachable. Gaia is a phenomenal guide, extremely resouceful, and oh so generous with her time. I have never had a better one and can't even imagine one.
By sheer coincidence the unexpected papal election made this an especially memorable trip.
Kate Barry


---

From: Margo & Russ
Sent: Friday, March 22, 2013 5:34 PM
To: Rosalie DeFilippo
Subject: Pilgrimage to the Holy Land - March 10, 2013

Dear Rosalie,

Our pilgrimage to the Holy Land was an incredible 'journey' beginning with our arrival in Tel Aviv, Israel, on March 11, 2013, to our departure on March 19, 2013.

Usama, our tour guide, was most knowledgeable and thorough in his explanation of all the holy sites we visited. Abid, the tour driver, whose help facilitated our pilgrimage by having my mom's wheelchair available, when and where needed, was invaluable.
We would be remiss if we didn't give 'kudos' to Brian and Brenda Flannery, the tour directors/coordinators, who went above and beyond the 'call of duty' to make this wonderful pilgrimage, to the Holy Land, one we will never forget!

Our Spiritual Directors (Leaders), Father Brian E. Jeffries, Father Enrique Salvo, and Father Lourduraj Alapaty, and with the assistance of Franciscan Friar, Father (Drezak)? provided us with the spiritual guidance and meditation that is a requisite for this moving experience.

God willing, we will be able to join 2006 tours on another of their pilgrimages...

Thank you, Rosalie, and sincerely,

Margo Jo and Russell Joseph O'Connor, Jr.


---

From: Betty Pearson
Sent: Wednesday, March 20, 2013 5:07 PM
To: Rosalie DeFilippo
Subject: Pilgrimage to the Holy Land
Thank you for a wonderful pilgrimage we enjoyed it very much the first plane we had to fly in was much too small and uncomfortable for the price we paid we were little disappointed have the Sea of Galilee s house see wasn't quite up to our standards I guess!!! Really like their tour guide he was fun to be with a very knowledgeable Loved all the places you chose to show usX Really would have liked to have had more of a direct flight and waiting at the airport WAS areal pain for us! love to be with Carmelhaving her waiting for me at the airport fly all the way there together seats together was awesome for us!I still don't have my luggage called United there checkn it out now! Liked all the priests awesome group tooIt was over the top thank you
Blessings
Betty Pearson


---

From: Sonny Ungson
Sent: Tuesday, March 19, 2013 4:17 PM
To: Amanda Fortunato
Subject: Lynn Hoffman | Medjugorje with overnight in Frankfurt | March 2013
Dear Amanda,
Thank you to 206 tours for arranging our pilgrimage to Medugorje with Lynn Hoffman, and for arranging Lourdes Beltran's last minute booking. It was such a wonderful experience, pleasant and spiritually enriching. We enjoyed this group as we're like brothers and sisters looking after each other.

Lynn Hoffman took good care of us, always sharing her thoughts and her broad experience in Meduorje. She always make a head count to make sure that no one is missing.

Our hosts, Dragica and Marinko, together with Dado and the cook were so welcoming. They let us feel like we're home away from home. The dining is always open even in the middle of the night, with fruits, bread, ham and cheese, coffee and tea. I think we all gained weight!

Our tour guide, Slavenka speaks very good English, she knows all the details of Medugorje's Apparitions. Highly recommended! She's well known by the visionaries too!

We felt so blessed to have met Vicka, the visionary, who shared the messages of the Virgin Mary to us, with Slavenka as interpreter.
The only thing that the group missed on this trip was an encounter with an actual apparition which we were looking for. Slavenka made an effort though to schedule with one of the visionaries, but I guess they were not available.

Overall, this trip was superb!
Wishing you a Blessed and Happy Easter!
Sincerely,
Feliciano, Elizabeth & Marianne
---

From: Julia De La Cruz
Sent: Thursday, March 07, 2013 9:44 PM
To: Rosalie DeFilippo
Subject: Pilgriamge to Lourdes & Rome
Ms. DeFilippo, our pilgrimage to Lourdes and Rome was wonderful. The tour guides we had, Javier Gomez
in Lourdes and Simona in Rome were just wonderful. They not only showed us the sites, but they gave us much more information on these sites, information that a regular tour guide would never think to share.

They each had a "Guide in Training". In Lourdes it was Alejandro and in Rome it was Maria Graciela. Again, they are being trained by the best, so they both were wonderful.

We had two pilgrims in Lourdes who required the use of a wheel chair. During the Way of the Cross, much help was needed with the wheel chairs. If it had not been for Javier's and Alejandro's help they would not have made it. They took it upon themselves to ensure that we were all able to see everything. They were just wonderful.

Javier and Alejandro also purchased a candle for our group, posted our intentions, and we took the candle to Lourdes in our own procession...very moving. Our candle should still be burning at Lourdes, a satisfying thought now that we're home.

Javier had dinner with us each night, each night at a different table. That was very special, he truly made us feel like family.

Simona was very good to us as well. She showed us as many sites, beyond what was on our itinerary, as she possibly could in the time we had. Her knowledge of Rome and the Vatican City was amazing, as was Javier's in Lourdes.

Thank you so much. Because of our wonderful experience on this pilgrimage, our next pilgrimage will be with 206 Tours.

Here are a couple of pictures. You may use them anyway you like.

Julia and Vicente De La Cruz
Albuquerque, NM


Thank you,
Julia De La Cruz



| | |
| --- | --- |
| | |
---
From: Kathleen Frampton
Sent: Saturday, March 02, 2013 10:01 AM
To: rosalie@206tours.com
Subject: Guadalupe, Mexico City and Riviera Maya (February 6-15, 2013)
Dear Rosalie,

My husband and I recently returned from our pilgrimage to the Shrine of Our Lady of Guadalupe, Mexico City and the Riviera Maya and it was wonderful. The trip exceeded our expectations on every level! Reverend Thomas Ganley, our pilgrimage Spiritual Director, is a holy, charismatic priest who is very congenial and exudes joy in his priestly vocation. It was a blessing having him accompany our tour group.
Our Tour Escort while in Mexico, Elvira Ayala, is very professional, accommodating and extremely
knowledgeable on all aspects of our tour sites - Mexican culture, history (both secular and religious) and art/architecture.
The tour was well organized to include two trips to the Our Lady of Guadelupe Shrine along with other basilicas in Mexico that were spectacular examples of Mexican Baroque design - truly breathtaking. Both my husband and I were glad that after we saw the highlights in Mexico City, we were able to explore other key areas of the country - i.e., Tlaxcala, Puebla and the Mayan ruins. We felt like we got a good initial overview of the diversity of these geographical areas.

Our 4 day add-on to the Riviera Maya was also a great experience. We stayed at the all-inclusive Wyndham Maya and had great accommodations, food selection and gorgeous beaches to enjoy - overall a great value. I know that many Americans are hesitant to travel to Mexico because of safety concerns, but the areas we visited were extremely safe with great security and police presence. Many thanks to 206 Tours for planning an excellent itinerary!

Kathleen K. Frampton
---
From: Msgr Hilary
Sent: Friday, March 01, 2013 4:18 PM
Subject: Pilgrimage to Holy Land
Dear Liz,

Thank you so much for your gracious message I just received. We would like to express our gratitude for the optimal service provided by you personally and by the organization of 206 Tours to our 27 pilgrims. It was indeed, a blessing for all of us to be in the Holy Land at this time, and to experience firsthand the presence of the Lord in his earthly abodes.
Please extend our thanks to all those who were involved in the preparation of our Pilgrimage and to our guide, Mr. Rimon, who did an excellent job.
God love you!

Msgr Hilary
---
From: Leona Foos
Sent: Sunday, February 24, 2013 3:03 PM
To: Rosalie DeFilippo
Subject: Pilgriamge to Lourdes & Rome
Dear Rosalie,

The trip was great. Our guide at Lourdes was "Juaviera) spelling? was extra special, the food plentyful and delicious, the hotels , beds and personel the best. Enjoyed shareing with other tourists. The Basilicas, shrines, grottos and all other stops on our tour were spectactluar.

Also enjoyed Italy but it was too much too fast for me and my wheelchair. Also was stressed out at the too fast connection in Atlanta too Paris, barely made it, the plane was loading and ready for departure as we arrived.

Thank You,
Leona Foos

PS Will keep your address if the Miracles we requested will be answered will let you know.
---

From: Dennis Maldonado
Sent: Thursday, February 21, 2013 2:47 PM
To: rosalie@206tours.com
Subject: Pilgrimage to Fatima, Spain & Lourdes: February 9-18
Hi Ms. DeFilippo,

This trip was given to me by my beautiful wife as a birthday gift. It was the first time that we were visiting Europe. Although I was a little nervous, I left it in the hand of our Holy Father Jesus Christ. The trip was an experience of a lifetime ! I will definitely recommend it to all my fellow parishioners at Our Lady of Lorretto Church in New York.

As I'm sure you heard by now, Javier was wonderful. He was extremely informative, caring and patient. He answered every question without hesitation and it was a pleasure to see someone whom does his job with great pride and pleasure. He really made us feel like a family and I will always be grateful for that. Alessandro was also a great influence to the enjoyment, knowledge and comfort to us all on the trip. He also showed a lot of passion which I highly admired.

I wish to Thank both men for the wonderful experience that my wife and I share with our Blessed Mother and I wish to thank 206 Tours for having these two great men on their staff. I look forward to the next pilgrimage ! Hopefully it will be guided by Javier and Alessandro. They are truly by far " THE BEST " !!!!!!!!!!

God Bless !

Dennis Maldonado


---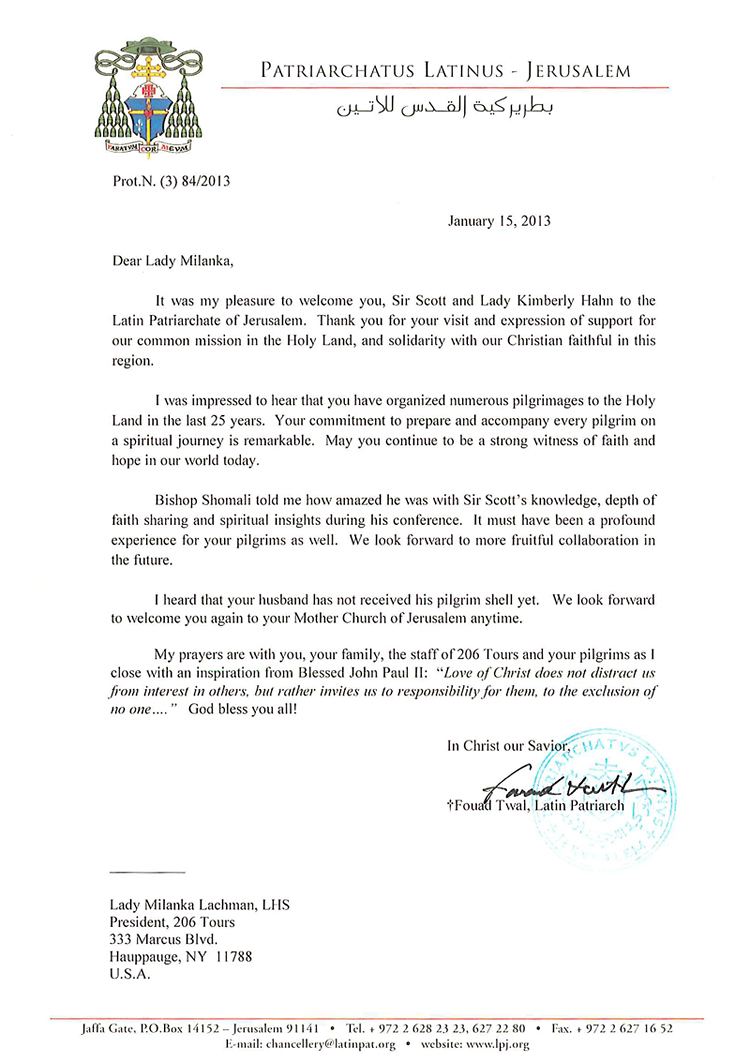 ---
From: Pauline Micek
Sent: Tuesday, January 23, 2013
To: 206 Tours
Subject: Pilgrimage to the Holy Land: January 4 – 14, 2013
206 Tours is the BEST!!!!!!!!!!!!! This trip was a surprise trip given to us from our children for our 40th wedding anniversary. They knew we read and listened to Dr.Scott and Kimberly Hahn. Beautiful couple! We also got to renew our wedding vow!! Kenny had wanted to go to the Holy Land many times and I would tell him to take another family member and I would look at his pictures. There is absolutely nothing that takes the place of being there in person. The bible and rosary become ALIVE!! God continue to bless our family and 206 Tour family along with all who travel with them abundant graces to follow Gods call and especially our Catholic Priests and Religious. Thanks to all of you!! You tour guides and drivers were the BEST! Thanks Dr. Scott and Kimberly for saying YES! We love all of you!"

Pauline
---

From: Aw Tutoring
Sent: Wednesday, January 23, 2013 4:57 AM
To: Yaritza
Subject: Holy Land with Dr. Scott & Kimberly Hahn, January 414, 213

Dear Yaritza,

My apologies for the length of time it has taken me to reply. I arrived from Hong Kong three days ago and have been busy with work as you can imagine. You and Milanka and all the 206 organisers were wonderful on the trip. It is the best tour I have been on, everything was so beautifully organised, the accomodation and the food, so much food and all of it delicious, one felt quite thoroughly spoilt. It was a blessing to meet so many pilgrims who have become so dear to me now. I have been recommending to many people your company.

It was an amazing experience to be in the Holy Land, a pilgrimage like no other. Surprisingly, I felt there an absence, but a good absence. I went to the Holy Land expecting to feel the Lord's presence in a more special way but when I was there realised that when I am at adoration before the Blessed Sacrament exposed in the monstrance, I feel His presence in a much stonger way. The Holy Land gave me a deeper love for the sacraments, it is Our Lord's way of remaining with us until the end of time.

However, lectio divina has never been so virant and alive. When one hears the Gospels read and one has just recently been there, how easy it is to meditate and immerse in the Scriptures, the Word comes alive. This is like a pearl of great price. What an extraordinary grace to be in the Holy Land for this reason alone. Dr Scott and Kimberly Hahn's lectures was the cherry on top of an exquisite dish.

So once again, thank you, this will be an experience which I will always cherish and bring with me as I re-enter the enclosed garden of monastic life. I shall always keep Milanka, yourself and all your colleagues, guides and pilgrims in my prayers and pray that many hearts will draw ever closer to the Sacred Heart and to the Heart of His Immaculate Mother through the ministry which has been given you.

Your sister in Christ,

Mother Marilla OSB
(alias Sr Carolyn)
---

From: Hubka Family
Sent: Friday, January 18, 2013 12:42 AM
To: 'Rinda Kanidinc'
Subject: Pilgrimage to the Holy Land: December 27 - January 5, 2013

Hello Rinda,

How do we even start giving you feedback? I guess by saying that we were generally positively overwhelmed by the entire experience, and are extremely pleased overall with 206 Tours. You seemed to have things well covered in pretty much all ways. We feel we got a quality pilgrimage at a satisfactory price. Knowing what we know now, if we had a chance and could do it all over again, we would emphatically say YES, and probably the only thing we would do differently is have even more enthusiasm in recruiting others. 

One absolutely outstanding thing was our tour guide, Nabil Qurt. What a great guy and a super guide! Our family has been on 5-10 guided tours like this before (although this was the first of them that was a pilgrimage), and we have to say that Nabil was the most personable and outstanding tour guide we have ever had.

We were also extremely pleased with our spiritual director, Monsignor Cahalane – what a holy and humble shepherd. He helped break open the Word so exceptionally well and guided us to a deeper understanding of all the sites we visited.

The 3 hotels we stayed at were also of top quality. And all the meals were excellent. No complaints on any of those things.

As far as things that 206 Tours could have done better, there are just a few things that we will mention. (And we want to emphasize that these are very minor negative comments – we are 99.9% positive on the entire tour.)

- In the hotel lobby on the morning of our departure, we were given certificates attesting to our visit. These were very nice – nice enough to frame and hang up. But unfortunately, they were given to us AFTER we had packed our suitcases.
- Another minor item was selection of travel bags. We were not given choice to the style of our 206 Tours travel bags. Thus we were surprised on arrival to see that there appeared to be 4 different styles of 206 Tours travel bags.

We have attached 3 pictures from our pilgrimage. You are welcome to share them for future trip promotions. We would love to encourage families to make this pilgrimage together.

Thanks,
Dave Hubka



| | |
| --- | --- |
| | |
---

From: Yang Sciscent
Sent: Friday, January 18, 2013 3:10 PM
To: Yaritza
Subject: Holy Land with Dr. Scott & Kimberly Hahn, January 4-14, 2013
Dear Yaritza,

Thank you very much for your email and your beautiful thoughts! I cannot thank you and the team enough for the precious experience I have had through this pilgrimage to the Holy Land. Your dedicated work and good coordination made every day, and in fact every activity meaningful and enjoyable to me. Although we had rainy days and walking days that I would expect some people might feel less enthusiastic, I never heard any complain during the entire trip. I think it's a miracle that Americans don't complain, especially the senior citizens! And miracle happened due to your team effort!

Personally I am very flexible in terms of lodging and food, as long as the learning aspect of the trip is satisfied. But as a result, I found great satisfaction in every aspect of the trip, especially in learning and sharing. Many thanks for your efforts!

I will contribute pictures in about 2 weeks, since my husband took the camera and iPad on his trip to Vietnam. I would also wish you continued success and hope someday in the near future we the NY group could get together soon!

Keep well and God bless!
yang
---

From: jackie alcantara
Sent: Thursday, January 17, 2013 5:38 AM
To: Yaritza; Sandra Savic-Lippold
Subject: Holy Land with Dr. Scott & Kimberly Hahn
Hi Yaritza!
My trip was simply the most well organized and spiritually enriching ever! It's my first experience joining a 206 tour and I'm beyond impressed! Thanks to everyone in 206 for ensuring everyone's safety and comfort, for keeping a positive attitude through the most challenging and unexpected situations, and for remaining focused on the pilgrimage aspect.
I guess the only aspect I found a bit out of context was the bahai gardens (lovely though) & the boat museum. Or perhaps this was just a contingency plan because of weather or scheduling concerns. Would personally have preferred to stay in church & spent the time in quiet meditation.
Everyone was most kind & helpful. Giovanni & Nazhee are rare gems! Giovanni's warmth & attention to each one in the green bus despite his father's illness is truly heroic. Nazhee's quiet but steady disposition proved most comforting under difficult driving situations.
Thanks again for a very memorable experience. I hope my whole family can go next time!
Jackie


---

From: Anielyn Delicana
Sent: Wednesday, January 09, 2013 8:55 PM
To: rosalie@206tours.com
Subject: Thank You
Dear Rosalie,
Greetings of Christ's love and joy!
The pilgrimage last December 27, 2012 - January 5, 2013 was indeed a renewal and a deepening of my faith relationship with God. I was thankful for the opportunity that was given to me to see the placse where Jesus was born, grew up, have preached and where he was crucified and died.
The entire pilgrimage is a successful one - spiritually, emotionally and logistically.
I commend the efforts and sacrifices, you and your staff and all the people working in 206 Tours in making the pilgrimage a meaningful and an "awesome" one.You did a great job in planning and arranging everything for the convenient of everybody who joined the pilgrimage.
Indeed, God is working to all who joined in the pilgrimage; it is really a gathering of people from different parts of the world simply showing that peace and unity is still possible in the world amidst of war.
Also, I would like to congratulate our tour guide Nabil who was patient with us, pilgrims. He explains very well the sites we visited and we feel at home with him. He is energetic and enthusiastic to share with us the things he knows - very informative. He goes down to the details of what he is telling us. Thank you also for providing us a bus driver who drives us safely to our destination. You have chosen the best people to make our day lively as we walk in the footsteps of Jesus.
To Monsignor Cahalane, he is really a very, very very good father to all of us by nourishing us spiritually with reflections in the bus and during the Eucharistic Celebration; also the sharings and the Sacrament of Reconciliation.
Thank you again Rosalie and all the staff of 206tours.

You are all a blessing to me and to all people who experience the caring and loving services you have shown to your customers.
May the God of all consolations and blessings be your reward!

with my prayers,
Sr. Anielyn, SPC
---