What Our Clients Say About 206 Tours...

mon - fri
9am - 5pm EST


Click below to read more client letters:
2014 2013 2012 B 2012 A 2011 2010 2009 2008 HOME
---


From: LaChita Calloway
Sent: Wednesday, March 25, 2015
To: Yaritza Rodriguez
Subject: Pilgrimage to France with Fr. Donald Calloway, MIC March 16-23, 2015


Yaritza,

Our pilgrimage to France was fabulous! LOURDES, baths were open. Nevers & Lisieux - Very special, loved every minute! Paris- Checked all the right boxes-Amazing. Every step we took the pilgrimage to France just kept getting better! Our guide Javier is so very knowledgable, humble, & entertaining. He makes everyone laugh & very accommodating/patient, 20 new pilgrims added to the family. Hotels were top notch. Food- Excellent! Tour Guides- So nice! & historically accurate. Feel free to use any of my pics on my wall. I must have taken 300 between my iPhone & camera:). 206 Tours is just the best of the best for pilgrimage. It was overjoyed to spend time with Fr. Don & all the other pilgrims. I made new friends & every one was very nice :) loved to see the Joy & Peace , Charitable Acts of Kindness we all shared for one another in Faith, Hope, & Love as pilgrims on our journey from the very moment our pilgrimage began!!! Thank You! JMJ, 206 Tours & Fr. Don Calloway, M.I.C., & All our newest family of pilgrims. Have A Happy & Blessed Easter.


Love,
LaChita

---


From: Chloe Giampaolo
Sent: Wednesday, March 25, 2015
To: Sammie Gough
Subject: message from Chloe re: pilgrimage


Hello Sammie

Words fail to express my joy and gratitude for the wonderful experiences I had in making this spiritual journey!
Jesus, Slavenka, Fr. Carlos, and my driver Zdenkoin Medjugorje / Split were the best! The tour group I was with as far as Lourdes was lovely and we ll had a good time together. I have a strong feeling that Our Lady wants me to return to Medjugorje in the not-too-distant future. Please accept my heartfelt thanks for all that you did to make my pilgrimage a success.


Wishing you God's choicest blessings,
Chloe Giampaolo


---


From: Angie McGraw
Sent: Tuesday, March 24, 2015
To: Donna Strucic
Subject: Re: Pilgrimage to The Holy Land on March 9-17, 2015.

Dear Donna,

I apologize for the delay in responding to your email. As you can imagine, it takes a bit of time and effort to get back in the swing of things after being gone.The Holy Land Tour surpassed all of my expectations! Hands down, the best part was our guide, Usama. He was knowledgeable, passionate, considerate, professional and best of all CATHOLIC! The group, a blend of a Missouri parish group and those of us "independents", was wonderful; I know that this was the group of people God chose to accompany me. I say this because I had hoped to go with the February 8 group and then was unsure if I could do the March 8 departure due to health issues that arose that week. All hotel accommodations were very good. The itinerary was busy and very full. Frankly, I don't think we missed a thing. In fact, when given the option of a few hours on my own in Jerusalem, I returned to the hotel because I couldn't think of anything we hadn't seen. Our bus driver was very good too! Overall, my pre-trip experience was good. I would highly recommend 206Tours to anyone interested in a Catholic pilgrimage.

God Bless,
Angie

---


Sent: Tuesday, March 24, 2015
To: Yaritza Rodriguez
Subject: Re: Welcome Back! Italy with Fr. McQuesten & Matthew Leonard


Hi Yaritza,

Yes, we are happy to share with you our wonderful experience with the 206 Tours pilgrimage to Italy. It was a fabulous trip! First, let me say how truly exceptional our tour director, Alessandro is. You are blessed to have him as a part of your company. He was patient and kind and immensely capable. A very knowledgeable and devout Catholic, he kept us well informed and in a "pilgrim" state of mind, always inviting us back to the heart and practices of the Church. He was gracious to the easiest AND most difficult in the group. He made the experience a relaxing one for us as we were confident that all the details were taken care of; he never seemed to stress out or become frustrated when one of us was tardy or missing or needed direction or a helping hand. Truly he was a gentleman and a blessing! A small example is I simply mentioned that "today" is Jim's birthday and he arranged to have the restaurant bring the dessert cake out with a candle on it and then began us singing Happy Birthday. It was thoughtful and special for us! Similarly, he helped organize a celebration for a couple's 50th anniversary and a woman's 70th birthday.

As for the itinerary of the trip we felt it was just about the right pace with enough free time to ourselves and yet we still covered many of the major sites of Catholic Rome. I must say we are thankful that we came in a day early, though. We explored many sites on our own that day and then we were well rested to join the group in the afternoon the next day. It was perfect, including the flight details you kindly arranged and the transfer at the airport. We were even able to attend Mass at one of the Station Churches the morning before the group arrived, joining a couple of hundred religious and possibly another hundred non-religious at 7am at St. Peter's first church in Rome: St. Pudenziana. This may be an option to consider and offer for Lent of next year.

The hotels were very comfortable and accommodating with delicious breakfasts and prompt courteous service. In addition, the dinners at San Giovanni Rotondo and Assisi were well prepared and varied nicely. My only suggestion is that, if possible, it would have been nice to eat in the community one night at each of those two locations. Engaging in the community with the "locals" at their dining establishments is always a lovely experience. That being said, we truly enjoyed the dinners and atmosphere of the small, quaint restaurants in Rome. From start to finish: our experiences with you and your office, the spiritual director - Matt Leonard, Alessandro, the local guides and the fact that a priest was able to join us were positive and joyful experiences. One thing that I would suggest is rethinking the times of the lectures given by the spiritual director. At such a late hour of the day, particularly after we all have had a glass of wine or two we were quite tired. All of us wanted very much to hear what he had to share but the lectures typically began a little later than we would have liked.

As for the sites/locations themselves, each stop was truly worthwhile and holy. It was simply a joy to learn about and experience the places where so many holy men and women walked and served the Lord!
Jim and I did a lot of reading, studying and watching DVDs of the locations and people that we were going to visit and that effort enhanced our experience immensely. Where others were remarking that they were overwhelmed, we felt that we were being reminded of what we already learned while gaining a little more info that we may have missed in our own preparation. Of course, physically being at the sites enriched our knowledge and experience of it a hundred-fold. I would recommend others do the same in preparation for the pilgrimage.Thank you again for helping to make our trip so memorable and enjoyable. We will happily recommend your company to all our friends and family as they consider their own pilgrimages!

May the joy of the Lord be with you and yours this Lenten season and throughout the Easter season.
Sharon (and Jim) Pierson


---


From: Frank Saad
Sent: Monday, March 23, 2015
To: Yaritza Rodriguez
Subject: RE: Welcome Back! Italy with Fr. McQuesten & Matthew Leonard

Yaritza,

We found our trip to be a blessing that changed us! Alessandro is a Superstar Director! He was available 24X7 to respond to our needs and he was highly professional in his approach. Alessandro exhibited spiritual leadership that made the trip very special. We will look for Alessandro on future trips. I will remember him referring to us as Family for a long time to come! Matthew Leonard was also a Superstar! He is an outstanding speaker and attended all locations with us. Matthew is deeply spiritual and he engaged with the entire group. One of his outstanding emotional speeches had a life changing effect on my wife! The venues for Masses was truly spectacular and the church/museum visits were outstanding. Our bus driver Mauro was very skilled and professional. The tour guides were very insightful and in many cases endearing. Titziana in Rome had brilliant artistic and religious insights. Restaurant selections were very good and the Giotto in Assisi was truly 5 star. Hotel locations were also very good. Friday night dinner in Rome with singers will be remembered for a long time to come.

My one major complaint was the hectic pace. I understand the itinerary was packed with highlights but going from 6 AM in the morning to attending Matthew's talks at 8:30 PM made for an exhausting day. More time for reflection would have been appreciated. The bus was very comfortable at 1/2 capacity. A completely full bus would have been cramped.

Thanks for a memorable event.
We will return to 206!


---


From: Butler, Denise
Sent: Monday, March 23, 2015
To: sales
Subject: Pilgrimage to Fatima, Spain, Lourdes & Paris (Tour 40)


Dear 206 Tours,

I wanted to tell you I had a wonderful tour. I went on the tour to Fatima, Spain and Lourdes. Our tour guide, Jesus, was the best. Very knowledgeable, and knew the areas well that we were visiting. He kept us on track, was very personable with a great sense of humor. He was great helping pilgrims (pushing wheel chair, helping others get to destinations), and me personally with an injury I had incurred in the airport. Our bus driver was exceptionally nice and helpful for all travelers, and brought us safely to all destinations. Our priest was present for everyone, right on target for guidance, keeping us focused. The tour was well planned, hotels very nice, meals exceptional. The tour was tight, always on a timeline, but we were able to experience and see some amazing sites. I highly recommend 206 Tours, and would personally use them again, if opportunity arouse for me to take another tour.

Thank you very much 206, Pedro, Father, and especially Jesus for making this a wonderful tour.

Dee Butler

---


From: Frank Domeracki
Sent: Sunday, March 22, 2015
To: Amanda Fortunato
Subject: Deacon Pete Rodriguez | Holy Land Pilgrimage | February/March 2015


Hi Amanda,

I can sum up my feelings about this pilgrimage in one word: SPECTACULAR!
The entire trip was an experience I will cherish the rest of my life. Deacon Pete and his group are some of the nicest people I have ever met. They welcomed me and made me feel accepted from the beginning. In fact, in the middle of the trip, a few people decided to "knight me" an "Honorary Hispanic" and made my name Pancho. I treasure my new friendships! I hope and pray we can bridge the geographic distance and stay in touch to some degree. I could go on and on about how wonderful these kind and God-loving people are, but I think these comments will help you understand how I feel.

While I felt the love and presence of God throughout the pilgrimage, I experienced 4 profound experience where I truly felt the awesome presence of our loving God. The most profound my time with the people on the trip, Deacon Pete, our guide Nadi, and our bus driver, Akrim. This scripture passage will sum up what I mean. Jesus said, "For where two or three are gathered together in my name, there am I in the midst of them." Matthew 18:20. Jesus was on the trip with us!

Our 206 Tours guide, Nadi, was a gentleman like no other. For example, I was not aware this trip was going to be in Spanish until I arrived in Tel Aviv. My thought when I was told this was, "Well I'm here by the grace of God. I am open to see what God has in store". Well, Deacon Pete and Nadi graciously decided to do in Spanish with English recaps. Nadi was immediately open to this despite the fact it would require more effort and work on his part. As the trip progressed, Nadi, Deacon Pete, and the group did some things in Spanish with English recaps and some things in English with Spanish recaps. This included the daily Mass. Everyone was open to this. (Some of the group said early on that while they knew Spanish, they would prefer things be said in English as they would comprehend better. ) I think the use of both Spanish and English allowed us to bridge our different upbringings and cultures. Nadi knows his stuff. He is very knowledgable. He had each days events coordinated in a way that we never had to wait for anything more than a few minutes, if that. Usually, we were admitted to Holy Sites as soon as we arrived. Nadi cared about us, got to know us, and made the trip exciting and fun. Towards the end of the trip, I realized the following: Nadi and our bus driver, Akrim, made each of us feel so special. I believe it can be challenging for people who do their "job" over and over again, such as the same tour over and over again, to project the sense of newness and excitement like it is their first time as well. Nadi and Akrim have the knowledge, skills, talent, and personalities to make any pilgrimage exciting and project newness and excitement to each and everyone there. Please thank both of them for me. I would gladly go on any tour with them again.

Sincerely,
Frank Domeracki


---


From: Todd St.Romain
Sent: Thursday, March 19, 2015
To: Donna Strucic
Subject: Holy Land (March 9-17, 2015)

Donna,

I have never made a pilgrimage in my life. I really did not know what to expect. The travel arrangements and the extra amenities included in the VIP package were superb. The pilgrimage itself was enlightening and life altering for me. I had no idea of the magnitude of such a journey. It is like a veil has been lifted from me. Our guide, Usama added much value to the trip. He is very passionate about his faith and his work. I certainly look forward to more pilgrimages in my future.

May continue to bless you and 206 Tours.
Todd St. Romain


---
From: Matthew Leonard
Date: March 19, 2015
To: Milanka Lachman, Patrick McKenna, Yaritza Rodriguez
Subject: Alessandro


Milanka, Patrick, Yaritza, and everyone at 206,

I'm preparing to leave Assisi and just wanted to send a quick note to say thank you for all the work in putting this trip together. It's been beautiful.
In particular, I want to commend Alessandro. He was absolutely phenomenal! Everyone adored him and was always on top of every detail, going above and beyond every moment.
Of course, the same can be said for all of you,as well. God bless and I pray we all work together more in the future.

Matthew


---

From: Deacon John
Sent: Monday, March 16, 2015
To: Liz Shea; Linda Antonelle
Subject: Thank you.


Liz and Linda,

I want to thank you both for the GREATEST TRIP EVER.. All of the people had the greatest time with no issues. 206 Tours IS THE GREATEST.After meeting with the Latin Patriarch, I came to the conclusion that I will be organizing a Holy Land Pilgrimage every 2 years and I will always use 206 Tours. You are great professionals who have done a phenomenal job helping me organize the trip of a lifetime for all the people who went on this trip. Also, our Tour Guide Jack Hasai is the GREATEST TOUR GUIDE EVER.... I and the group have nothing but HIGH PRAISE for the job he did. Nassir our bus driver did a wonderful job as well. Please pass on my comments to the highest executives in 206 tours. They are free to call me at any time if they have any questions.
God Bless you for work that you do.

In Christ,
Deacon John
St. Francis Church
---


From: Fred Marion
Sent: Monday, March 16, 2015
To: Milanka Lachman
Subject: Holy Land Pilgrimage with the Deacon John Hunt group



I just returned from my Holy Land Pilgrimage with the Deacon John Hunt group. Our trip was from 3/5 - 3/14/15. Naseey was our bus driver and he was clearly someone whom I felt comfortable with after seeing him weave our large bus through pretty small openings.

Jack Halis was our tour guide. Jack was pleasant, informative, open to questions, and willing to point out changes in the itinerary that might make our trip more enjoyable. His deep knowledge of the major sites we visited was something that surely is hard to come by. He coupled his biblical knowledge with recent news about archaeological finds. He interjected his information with spot-on delivery of witty humor. It's easy to see why Scott Hahn has and will be using 206 Tours. Jack's a 'keeper'. I highly recommend Jack and 206 Tours for groups seeking to go to the Holy Land and have a genuinely unforgettable pilgrimage.



Fred Marion

Dracut, MA



---


From: Msgr John
Sent: Tuesday, March 03, 2015
To: Chris Wright
Subject: Re: Pilgrimage to the Holy Land w/Msgr. James P. Swiader

Good morning Chris,


My apologies for not replying sooner, especially since the entire pilgrimage with my good friend Msgr. Jim Swiader and parishioners from Garden City was FABULOUS!! In every respect, in every place, in every way. Our guide, Rimon, was encyclopedic in describing each of sites, and so much of the background and historical information about each place. I also came away with a new appreciation for the Franciscans, who so wonderfully care for the shrines, but whose involvement in nearby ministries of education, child care, health care, and low cost housing is little short of heroic. Good Friday's annual collection for Shrines in the Holy Land takes on a new impetus for me -- and hopefully, for the parish. Saying Mass at a site each day, renewing Baptismal promises at the Jordan River, seeing couples renew marriage vows at Cana, the pilgrims' special prayers for Msgr. Swiader and I in the Upper Room -- all of them were unforgettable, and very special!


Rimon arranged for a few stops at various shops in Bethlehem and Jerusalem -- quite sufficient for those who wished to purchase some religious articles and souvenirs. My olive wood carvings arrived yesterday, wonderfully packed, and in excellent condition. The Hotel accommodations were fantastic and quite convenient. The food was excellent. Milanka and Patrick were most helpful with their suggestions at our preliminary meeting in January. It was a pleasure meeting them. While we have not met, it is a pleasure speaking with you. Thank you for your courtesies to me. Thank you for a wonderful trip, one which I will not soon forget! All the best for Lent, Holy Week, and Easter!


Gratefully,
Msgr. John


---



From: Mary McDonald
Sent: Wednesday, February 18, 2015
To: Donna Strucic
Subject: Feedback | Pilgrimage to The Holy Land: February 8-17, 2015

Dear Donna,

It was an amazing trip! We were nervous at first, as we have never been with a tour group before. We would usually go on our own, but we were truly blessed to be able too go on such a beautiful tour. Our tour guide, Jack, was an excellent guide! He truly loves what he does, and Father Brian was wonderful too. You can really see the love of our lord in him. Thank you so much for everything. We have already started to look at what pilgrimage we want to go on next


Blessings,
Mary


---


From: Lynn
Sent: Saturday, January 31, 2015
To: Amanda Fortunato
Subject: Fr. Raymond | Italy Pilgrimage | December/January 2015
The trip was spiritually fulfilling and both our guide Jesus, and our driver were excellent. Fr. Raymond was very supportive and a wonderful spiritual presence. Because of my walking with a cane, the hills and stairs were difficult, but fellow pilgrims were very helpful in assisting. I had to skip some of the more difficult areas to navigate and both Fr Raymond and Jesus were most gracious about my limitations and arranged for taxis when necessary. I have been to Italy several times and this pilgrimage afforded me to see things I'd not viewed on prior trips. Thanks for all the wonderful information you provided.


Lynn

---

From: Helene Knapp
Date: Friday, January 30, 2015
To: Katherine
Subject: Welcome Back! Pilgrimage to Guadalupe & Mexico City with Fr. Donald | December 8-13, 2014


Katherine,

I had the BEST birthday of my life when I went on the tour to Mexico city with my daughter and 56 other wonderful , compatible pilgrims, and the amazing Fr. Calloway. I enjoyed every day of the tour. The hotel and meals were lovely, our tour guides (two Roberto's) were patient , informative, and always good-natured and available.The sites were well chosen and the daily Masses with Fr. Calloway were absolutely beautiful. Such appropriate and meaningful homilies!I found Mexico City to be very beautiful and saw churches that could rival those of Europe. I came home with a deep love for St. Juan Diego and Our Lady of Guadalupe. On my birthday, Dec. 9, the hotel made me a huge birthday cake and 56 people serenaded me with the birthday song loud and clear Also, at one of our lovely lunches, a mariachi-type band honored me and I have a photo with them wearing a huge sombrero just like theirs. I appreciated the two informative booklets you provided for us and my travel accomodations. In fact, it was a perfect tour in every way. it was difficult for me to return home to the hustle and bustle of the Christmas season after such serenity and inspiration. thank you to all who worked hard to provide this exceptional experience. I have raved about 206 tours to all my friends!!


Gratefully,
Helene Knapp


---


From: Butch Polasek
Sent: Thursday, January 29, 2015
To: Amanda Fortunato
Subject: Fr. Raymond McDaniel | Italy Pilgriamge | December/January 2015


It was a great trip. Father McDaniel was great and Jesus did a fabulous job. I appreciate what you did for us with our last minute decision to stay three extra days. The trip exceeded my expectations. Assisi was a real surprise and I would have like to spent more time there. The only negative I saw was that several people struggled due to health issues or age with the walking. Fortunately for us we enjoyed it and it was great exercise for us.

Butch
---
From: dianne arellano
Sent: Thursday, January 29, 2015
To: Donna Strucic
Subject: Pilgrimage to The Holy Land: December 27- January 5, 2015!


Hello Donna,

It's been a few weeks now since my family and I returned home from our pilgrimage to The Holy Land. All we can say is that it was a dream fulfilled for the three of us, and we are constantly reminiscing about how wonderful and truly special everything was. To have finally been there, physically, on the land that is so immersed in history, culture and religion, was simply incredible. We were so very blessed to have Fr. Nowak as our Spiritual Director, leading us in the footsteps of Jesus, bringing the Gospels to life, guiding us in prayer and reflection... and keeping us laughing with his fantastic sense of humor! And let me say, celebrating daily mass in the most sacred places on earth was a bit surreal! Nadi, our guide, was great. He is intelligent, knowledgeable, and very helpful... what a great asset to your team! Every pilgrim in our small group was lovely, and it was quite special to see other younger people sharing this experience with their parents as well :). We would, without hesitation, encourage and recommend 206 Tours to anyone considering a pilgrimage to the Holy Land.

Thank you for providing such exceptional service, from beginning to end! There was not a single facet of the tour that did not meet our expectations, you actually exceeded them... by far!

I've attached a few photos that you are more than welcome to pick and choose from :).
Kindest Regards,
Dianne, Patricia and Roger
---

From: Jack Gieryic
Sent: Thursday, January 29, 2015
To: Amanda Fortunato
Subject: Fr. Raymond McDaniel | Italy Pilgriamge | December/January 2015


Dear Amanda,

It was above our expectations from accommodations to fantastic tour guide. Jesus was the BEST!! It gave us the opportunity to not only see holy sites but also to see the countryside, talk to local people and experience the delicious food and drink we hear so much about the country of Italy. We highly recommend this tour for anyone who would like to get out and about on a daily basis.


Our individual guides in the cities were exceptional, especially "T" in Rome ("Mama Mia").
Jack & Deanna Gieryic



---
From: Linda Piso
Sent: Thursday, January 15, 2015
To: Jennifer Norris
Subject: Holy Land & Rome: December 27, 2014-January 8, 2015


I was apprehensive when I began to search for a tour agency to lead me on a Pilgrimage to the Holy Land. Searching the internet for an agency to handle such a sacred journey seemed odd, for many reasons. At the time of my search I was not yet Catholic and would not be Catholic when the pilgrimage took place, but more importantly, I was transitioning from being a blissfully happy wife of 17 years to a suddenly broken hearted widow. After reviewing numerous tour companies, a little voice in my heart kept whispering, "journey with 206".

The wisphering had to be the voice of God. From the moment I left my home alone in Pittsburgh and arrived in Tel Aviv, I knew I was on a first class God lead Pilgrimage. Not only was I blessed with the opportunity to do a Pilgrimage to the Holy Land followed by three days in Rome, the blessings extended to the group of people I was with. Each member of our 24 person group was a blessing. From Fr Nowak and Deacon Sean, I could not have ask for more spiritual and bible backed guidence. Our local Israeli guide Nadi, a Christian, could not have been better! His infectious smile and silly jokes were an added benefit to his highly educated explanations of history and current events at these sacred spots. In Rome, Alessandro, our local guide was so approachable and he went to great lengths to keep us on track and show us as much as possible during our 3 day visit. He willingly stayed up well past 11 pm walking the city after dinner with group members - that is truely going the extra mile! Add to the fact that he got us so close to Pope Francis for the general audience, I could have touch him if I hadn't be awe struck! I will never forget the warmth I felt when Alessandro smiled in celebration of my successful completion of the 27 step climb of the Holy Stairs on my knees! Everything, from the minute I left my home til I arrived back home was even better than what the tour information on line promised.

The accommodations were much better than expected, the food was delicious and plentiful, we saw more than I actually anticipated! So, I want to thank you for the 5 star treatment, I want to thank my group for the loving arms and generous spirit they offered so readily. I really believe I've made life long friends and IT's because you all know what you are doing there at 206Tours.com.

Please feel free to share my email address with any person wanting a personal recommendation of 206Tours, and if you feel appropriate, publish any of the attached photos.

Linda (Pittsburgh, PA)


| | |
| --- | --- |
| | |
---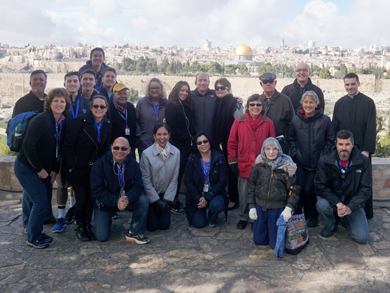 From: Rogelio and Aleli Duque
Sent: Tuesday, January 13, 2015
To: Jennifer Norris
Subject: Holy Land, Rome & Fatima: December 27-January 8, 2015


Hello 206 tours,

We just got back last night from the trip that was a fulfillment of a lifelong dream. Words cannot express how we feel at this very moment but 206 tours you did an excellent job of arranging such a pilgrimage. Our guide in Israel Nadi and driver Joseph, In Rome, Alessandro and our local guide Ulysses and in Lisbon,Santarem & Fatima - Felippe and Louise,they all did a very wonderful job in showing us and explaining to us the significance of the sites that we were seeing. Our spiritual director Fr. Nowak was so wonderful and the masses that we have had in the holiest sites are so spiritually enriching. Nothing to complain about our hotel accommodation or the food that we were served or on anything.They were all fantastic. New friendship were created and we are looking forward to doing another pilgrimage with you and I will not hesitate to recommend 206 to my friends and family. I am attaching some pictures and you are free to share it in your site. Thank you again so much. May God continue to guide and bless you.

Rogelio & Aleli Duque


---

From: Caroline Dixon
Sent: Friday, January 09, 2015
To: Donna Strucic
Subject: Pilgrimage to The Holy Land: December 27- January 5, 2015!


Dear Donna,

We were so delighted with our trip! It was very well organized. We loved Nadi our tour guide and loved our priest Father Shemak. We were very lucky to have both of them on our trip with us. They made it all the more incredible and memorable!!! All the places we visited were fantastic - we couldn't believe we were at these sites! My 4 sons also loved the trip!! They were the youngest ones on the trip! We will never forget this unforgettable trip and 206 tours made it very special and we didn't have to worry about a thing!


Thank you so much,
Caroline Dixon