From: Fr. Patrick
Sent: Tuesday, May 24, 2016
To: 206 Tours
Subject: Medjugorje on May 5-13, 2016.

Our trip was absolutely wonderful and as always Slavenka was awesome. We stayed at Grace Hotel which was top notch and the staff, especially Ivan our waiter, were all wonderful. I know all of the people in our group were well pleased.

Peace be with you,
Fr. Patrick


---

From: Robert Giugliano
Date: May 21, 2016
To: Milanka Lachman
Subject: Holy Land Pilgrimage | May 1 - 11, 2016

Dear Milanka,

Once again, thank you for your responsiveness to our concerns and for inviting Fr. Sullivan, OSA to be our spiritual director. He is a truly pastoral priest who connected and related easily with all of us and whose Masses and homilies were moving and brought us into the spirit of the Pilgrimage, i.e., a deeper knowing and loving of Jesus so as to follow him in the course of our daily lives. He has many years experience as a giver of parish retreats and missions along with his experience of being a pastor at a large urban church for many years. He relates easily, is genuine, sincere, at ease, with a good sense of humor; a mature priest who loves his ministry. Everyone in our group enjoyed his company and pastoral presence and he made himself available for private consultations. He is a real spiritual asset for any pilgrimage you may want to invite him on.

I cannot say enough about our tour guide, George! Among his many remarkable gifts is his spiritual enthusiasm and his sense of being a tour guide in the Holy Land as a ministry. His faith is very much a part of his identity as he was taught by the Christian Brothers. His love for the faith was evident in how he discussed the sacred sites and his wonderful blend of quotes from the Old and New Testaments. He is a true leader who got us to where we needed to go with humor and ease, on time and usually ahead of the crowds. He related well and easily with everyone; he was patient and kind and answered everyone's questions. He lives in the the Old City where he an his wife are raising two daughters in the faith. Again, he is a real asset for any pilgrimage you may want to invite him to guide.

George, our bus driver, was excellent!!! He got us safely to and from all the sights. The meals, including the lunches on the road at local restaurants, and accommodations, most especially the Notre Dame, were excellent. Thanks for your hospitality on our last day by giving us some extra time in Jerusalem, the drive with George to Jaffa for dinner and then to Tel Aviv for our flight home. We have been singing the virtues of 206 Tours to all we've told about our Pilgrimage to the Holy Land.

Thanks again and Christ's Peace to you and all at 206,
Bob


---


From: Mullin, Sheila
Sent: Thursday, May 19, 2016
To: Milanka Lachman
Subject: Buen Camino – on The Way of St James

I recently returned from the El Camino and must tell you that it was the best trip of my life. It started with our sweet, fun loving, intelligent guide "Val" and continued with our helpful, kind driver "Dave". Our small group was truly diverse and we all came together to form a small loving family. The trip was super organized and Val reached out to every person insuring we were so well cared for each day. The pilgrimage was so wonderful that I truly will say it was difficult to say Goodbye. This was our second pilgrimage with 206 and I would highly recommend everyone travel with 206. The food, the arrangements, the people and places we got to see and enjoy was just over the top. I hope this email gets to Val and Dave's supervisor to insure they realize the fantastic employees they having working and representing 206. They truly were a gift. Thank you… cannot wait for our next experience with 206… Buen Camino

Sheila Mullin


---

From: Janice Rutten
Sent: Wednesday, May 18, 2016
To: 206 Tours
Subject: Pilgrimage to Shrines of Italy: May 2 - 14, 2016

The Shrines of Italy was one of the best trips I've ever been on. It was so well planned and thought out. Our tour guide, Matilde, was amazing. She was knowledgeable, kind, helpful, good sense of humor, and could not have been better. The bus driver, Mario, was where he was needed to be and navigated the narrow streets like the veteran he obviously was. Fr. Francis was wonderful. Such a sweet and holy man. We had wonderful Masses and he was just a joy to be around. The hotels were great and we saw places and things that I would have never have been able to see otherwise. Thank you!!

Janice Rutten


---


From: Fr. Diego
Sent: Tuesday, May 17, 2016
To: 206 Tours
Subject: El Camino April 15th thru 25th 2016

It was a very very good spiritual experience to me and to the rest of the group. It was for me part of my annual priesthood retreat and I am very grateful to have chosen El Camino. I had very deep spiritual moments thru out the walks, and when I was celebrating masses in those ancients churches and holy shrines and thru out the encounters with others walkers and conversations with the people of the group. I would like to say that our guide Balvanera, was a very dedicated lady doing an excellent job, taking care of all our needs like masses, food etc. and always present thru out the walks. Thank you very much and May God bless all of you.

Fr. Diego


---
From: Rosalie
Sent: Tuesday, May 17, 2016
To: Donna Strucic
Subject: Ireland "In The Footsteps of St. Patrick" - May 2017

I thoroughly enjoyed this pilgrimage. It was a wonderful experience. The many sites we went to were very interesting. The ruins were just unbelievable. I would have liked to see more of the modern monasteries, however. John, our tour guide was so great. He gave us so much local and Irish information. His stories were fun to hear and his singing was awesome. Father Daemon was a great spiritual father. It was wonderful to have morning prayer, the rosary in the afternoon, and mass everyday. Father would give us a "lesson" each day in our Catholic faith or interesting stories about saints and such. Morris, our coach driver, was excellent. He was a very good driver and really looked out for us. I always felt safe with him. I could say many more things about this trip of a life time, but I don't want to bore anyone.

Peace and love.

Rosalie Webster




---


From: Joseph Nistler
Sent: Monday, May 16, 2016
To: Donna Strucic
Subject: Pilgrimage to The Holy Land on May 1-10, 2016

Dear Donna,

Concerning our Holy Land Pilgrimage, I just want to say that we were very pleased and enlightened by the experience. We were delighted and felt blessed to have George Stephan and Father Sullivan as our tour guide and spiritual director. George was outstanding in his knowledge of the tour sites. We couldn't have been more satisfied with a tour guide. Father's homilies were very inspirational and it was wonderful to have him with us. I was impressed with the overall tour and wouldn't hesitate to use 206 again.

Sincerely,

Joseph C. Nistler


---

From: Kralovec, Janet K.
Sent: Friday, May 13, 2016
To: Donna Strucic
Subject: Pilgrimage to Jordan & The Holy Land on April 28-May 10, 2016

Dear Donna,

My friend Carol and I had an amazing Pilgrimage to Jordan and the Holy Land. Our tour guide, Sam and Talal, the driver in Jordan were great. Sam was very knowledgeable about Jordan and all the sites in Petra and was a very hospital host. He was very good about helping us with any sales we wanted to make and was always in a good mood. Talal was a great driver and we were very comfortable and safe with him during our entire visit. The accommodations and food at all the hotels were very good and the personnel were nice and accommodating. In Israel, everything worked out, the Harod's hotel was magnificent and the Leonardo's in Tiberias was great. Our hotel accommodations in Jerusalem at Notre Dame was fine, clean and accommodating. The tour guide, George was excellent. He was very very knowledgeable about the bible and all the sites were visited. He was humorous and made sure the group was safe and had a good time as well. We got to see a lot of important icons in a short period of time. Our driver, George, was a very good driver and kept us all safe in our travels. All in all it was an exciting and very inspiring and rewarding trip. Our spiritual director, Fr. Sullivan, was not only inspirational in all his masses, but had a wonderful sense of humor which made the trip even more pleasant. I would highly recommend 206 tours to my family and friends.

Janet K. Kralovec


---


From: Fr. Wilde O.S.A.
Date: May 13, 2016
To: Milanka Lachman
Subject: Poland: In the Footsteps of St. John Paul II & St. Faustina: May 3 - 10, 2016


I can say that "206" runs the best pilgrimages by keeping extra close to needs of the pilgrims and in getting to the homespun informational fabric of the whole experience - and I have witnessed that on the three pilgrimages I have had the privilege to lead – Italy, Israel, and now Poland.

Fr. Wilde


---


From: Maria Chiu
Sent: Friday, May 13, 2016
To: 206 Tours
Subject: Pilgrimage to Poland - In the Footsteps of St. John Paul II & St. Faustina: May 3 - 10, 2016

I loved the tour. It far exceeded my expectation. Our group was small (15) which allowed us to get to know one another so well that at the
end of the tour it felt like we had a family reunion. It was a fun group and I especially liked the spiritual guidance of Fr. Wilde, who not only led us in prayers and mass everyday but also entertained us with his great piano playing, singing and jokes. What a wonderful person! I also liked our tour guide Jan who was very well versed in all things Polish, from history to folklore to customs and culture of Poland. He was also very responsible and got us to all the places that were in the agenda despite having to juggle National holidays and pilgrims being stuck in the USA because of weather issues and flight delays. Our driver, even though he did not speak much English, always greeted us with a bright smile and was such a gentleman. I loved everything about this trip.

Maria J. Chiu



| | |
| --- | --- |
| | |
---


From: Larry Keith
Sent: Thursday, May 12, 2016
To: Donna Strucic
Subject: Pilgrimage to The Holy Land on May 1-10, 2016

Dear Donna,

Our 206 tour to Israel (May 1-10) was outstanding in every way. The accommodations, the food, the driver, the tour guide, the spiritual advisor, and, of course, the sites. Many thanks to 206 for arranging such a complete and fulfilling journey. We are especially indebted to our guide, George, who is a true Biblical expert, and Fr. Sullivan, whose homilies were especially poignant and enjoyable. It was a wonderful way of getting to know Christ and his story more intimately. It was more than a tour; it was the journey of a lifetime.

Regards,

Larry and Carolyn Keith


---

From: Susie Arthur
Sent: Tuesday, May 10, 2016
To: Bika Stevic
Subject: Pilgrimage to Jordan & The Holy Land: April 7 - 20, 2016

God certainly called us to this tour of Jordan & Israel. It has renewed our desire to learn more about our Catholic faith, read more of the Bible, & attend more daily Masses. Ed was our wonderful guide & Bible Historian in Jordan for the 4 of us, which included Fr. Murphy. Our driver was very good, & safe in transporting us. Our April tour had perfect weather for riding camels in Petra, climbing ancient Roman ruins & a Crusader castle. It was an adventure crossing the border into Israel, and Ed was extremely helpful in the process. It was thrilling to be in Nazareth, to renew our marriage vows at Cana, & overlook the Sea of Galilee & ruins from our Hotel room. Everywhere we went was jaw dropping--"We're really here?" Masses were celebrated at most of the Holy Shrines, including near the Grotto of the Nativity, aside the Rock of Agony, outside of the Church of the Beatitudes, & inside the Holy Sepulchre, a very special honor. We walked so many sites where Jesus had taught & lived, put our hands over the place where Jesus was born, & where His cross had stood on Golgotha. We said our Stations of the Cross along the Via Dolorosa at 5am, dark & peaceful. It was a lot to process, but the highlight was receiving Jesus in the Holy Eucharist at these Holy Sites. Thank you to Fr. Murphy, George S. our Israeli tour guide, & George our experienced driver. Never once did we feel unsafe, even when walking in Jerusalem on our own. There were no extra fees, no unpleasant surprises on these tours, & great Hotels, the jewel being Notre Dame of Jerusalem Center, directly across the street from the Old City's New Gate, which we were able to take advantage of 3 different times. 206 Tours had great organization, with a terrific itinerary, and presented us with so many outstanding experiences, a lifetime of Blessings! Thank you!! We have pictures to send at a later date.

Ed & Susie Arthur


---


From: Charissa Vargas
Sent: Monday, May 09, 2016
To: 206 Tours
Subject: Pilgrimage to Fatima, Spain & Lourdes: April 24 - May 3, 2016

Our pilgrimage with 206tours was excellent!

We had the blessing of having 2 priests or spiritual leaders in our trip. Fr. Jason and Fr. JohnBosco have such big hearts! They were very kind and helpful. They even volunteered to push my mom's wheelchair a few times! They didn't have to, but they insisted. Our tour guide, Valvanera, was excellent! She has such a kind heart, always in a happy mood, ready to help and made sure everybody's needs were taken care of. She is one of the sweetest and most humble person I have ever met, one with a golden heart. She went above and beyond her duty to help not only my mom, but also my dad in obtaining a wheelchair and assisted him during our tours. Our driver, Miguel, was the best driver ever! Everybody was impressed on how he was able to maneuver such a big tour bus in some of the narrowest roads and streets you can ever imagine. He was also very sweet, nice and helpful. The hotels, food, local tour guides, places we went to were also all excellent! Everybody in our group, both pilgrims and 206tours staff, were all very kind. Truly, truly good people. My parents enjoyed this whole pilgrimage tremendously, which was what I was hoping for. This tour was something all of us will cherish for the rest of our lives. Thank you 206tours for being part of this wonderful memory! May our Lord Jesus Christ and our Mother Mary continue to bless you!

Charissa


---

From: Carol Josey
Sent: Thursday, May 5, 2016
To: Sammie Gough
Subject: Tour 37 | April 24-May 3, 2016

Dear Sammie,

We thank you for all of your help with planning our pilgrimage. Steve, Mary and I have arrived home. Mark is in Prague. His checked baggage did not arrive. I am working with the insurance company about the continued delay. I told him to go shopping and purchase clothing and whatever he needs for his stay in Prague. Our tour guide, Valvanera was fabulous. She paid attention to every detail and was smiling and kind through any challenges. The minor challenges were not the fault of the tour, but outside events. We had a very friendly and congenial group of people. I enjoyed every single person. Father Jason was great! I hope you invite him to lead other groups. I will definitely recommend 206 Tours to my friends and others who are considering a pilgrimage.

Sincerely,
Carol


---

From: Mark Chisam
Sent: Wednesday, May 04, 2016
To: Stefanie Meyer
Subject: Pilgrimage to Lourdes & All Italian Shrines: April 15 - May 1, 2016

Stefanie,

Wow, what a trip! This tour exceeded all our expectations, it was really hard to come home. Ann and I grew in our faith throughout the pilgrimage and were so blessed with our priests and tour guides. Father James was great and it was hard not having him at mass with us back home. So many outstanding examples of Saints who demonstrated what can be accomplished through faith and humility. Tony was AMAZING in all respects. He did everything you could ever ask for as a tour guide and he felt like family by the end of our trip. Lourdes was such an overwhelming experience, lots of tears and hard to put into words. I can't wait for our next 206 tour and would highly recommend your service to anyone who asks.



Mark and Ann Chisam
---

From: Mary Inghilterra
Sent: Tuesday, May 03, 2016
To: Amanda Fortunato
Subject: Rome & Assisi | April-May 2016

Dear Amanda,

Our trip to Italy was wonderful. We arrived home Sunday afternoon. The flights to and from Italy were smooth as silk. The drivers in Rome and Assisi were excellent and made us feel so comfortable and welcome. They were Maximilio and Silvio. We loved the Hotel Della Conciliazione. It's location so close to the Vatican is excellent and the staff were always friendly and helpful. Thank you for all of the preparation that you did to make our trip flow so easily. I appreciate all of your help.

Mary Inghilterra


---


From: Araceli Torres
Sent: Monday, May 02, 2016
To: Katherine Iversen
Subject: Thank you 206 Staff!

On behalf of the St. Michael Staff, I wish to express our gratitude for such a marvelous experience in the Holy Land. Several of the pilgrims have already considered a second visit to Israel with 206. A sincere thanks to the 206 tour staff for all their efforts in arranging our Pilgrimage, always so enthusiastic and most helpful. Our Pastor, and Spiritual Director Fr. Fabio enriched our spiritual journey throughout the pilgrimage and is grateful for celebrating masses in the most treasured places. Furthermore, a big thanks to our tour guide Nadi who made us all feel like family. He was always very attentive to our group. Traveling to the Holy Land is a life changing experience! Having good staff and good companions is an extra blessing. We strive to promote 206 tours, and are currently doing so for another parish's pilgrimage.
Araceli


---

From: Rita Faudale
Sent: Sunday, May 01, 2016
To: Amanda Fortunato
Subject: Fr. Carroll | France | April 2016

Amanda,

So here it goes, our trip was very nice, Father Carroll being our Spiritual Leader , we could not ask for more. However, our guide Alessandro, was one of a kind. From the moment we met to the last at the airport was an incredible experience. Truly involved in the well being of all the pilgrims, anything anyone needed (if any at all) was taken care of from him. Did we come back spiritually fulfilled? We did. If there was any thing that could be better in the future would be to NOT to have only one night at the Hotels, is very tiring to fix suitcase every night to be put outside to be picked up. However. the suitcases were in our rooms as promised.

Would I recommend 206 to others

Ciao,
Rita Faudale
---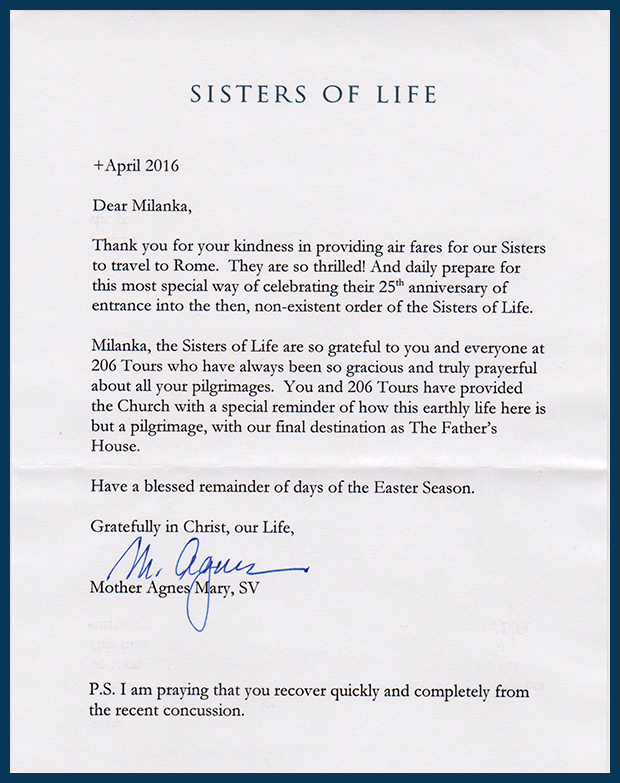 ---

From: Terry Gallagher
Sent: Thursday, April 28, 2016
To: Bika Stevic
Subject: Pilgrimage to Jordan & The Holy Land: April 13 - 25, 2016

Hi Bika,

Thank you and everyone at 206 Tours for arranging my pilgrimage to the Holy Land. It was a wonderful spiritual journey that I will always treasure. Everything was perfect, from the holy places we visited to the excellent accommodations, meals and transportation. I would especially like to thank Father Connolly, our spiritual director. His devotion to Christ, his enthusiasm and his knowledge of the Holy Land made the pilgrimage even more special. I will send some photos soon.

God bless you,
Terry


---


From: Maurice and Lillian Oubre
Sent: Monday, April 25, 2016
To: Amanda Fortunato
Subject: Fr. Oubre | France | April 2016

Amanda,

The pilgrimage was exceptional. We visited a lot of interesting places that were spiritually uplifting. We had Alessandro for our guide and I can't imagine anyone that could have been better. He was always very patient and attentive and answered our questions as best he could. He was very involved and even served as an altar boy for Father Carroll at daily mass. It was a very busy 10 days but well worth it. I can't think of anything that could have been done better. Thank you for all you did to make our tour successful.

Best regards,
Maurice & Lillian Oubre


---


From: Thomas Montalbano
Sent: Monday, April 25, 2016
To: Bika Stevic
Subject: Pilgrimage to The Holy Land: April 10 - 19, 2016

Thank you for your email, we simply was overwhelmed with the experience you provided to us. Father Murphy, George the tour guide and George our driver, well you hit a home run, grand slam home run. I can not imagine having a better team to introduce us to the Holy Land. Our fellow pilgrims were a delight to be with. We will recommend 206 Tours to our friends, no doubt! We give you 4 1/2 stars, not 5 stars because the hotel in Tel Aviv needed some upgrading. Other than that 5 stars!

Thank you so much for exceeding our expectations!
Tom Montalbano & Mila Sumabat


---


From: Marie
To: Katherine
Sent: Tuesday, April 23, 2016
Subject: Pilgrimage to Poland with Fr. Calloway, MIC | March 28th - April 5th

Good Day Ladies,

I had a wonderful time on the pilgrimage to Poland. I thought the trip was well planned out. Everything was up to my expectations. It was very organized and action packed. The meals were good. Hotels were extremely nice. I wouldn't change a thing. And yes I would definitely go on another pilgrimage with 206 tours. I will be looking out for the holy land tour! Thanks for a great experience. I thought the trip was well worth the money!

God Bless,
Marie Lewandowski


---


From: Chuck Bianco
Sent: Tuesday, April 19, 2016
To: Amanda Fortunato
Subject: Fr. McDaniel | Portugal, Spain & France | April 2016

Just a quick note to tell you how much we enjoyed the tour. It was not only a wonderful time to learn and explore, but an even more important time to grow spiritually. We look forward to joining tours in the future. Of course, our wonderful Fr. McDaniel and Deacon John made the tour very special. Plus all the wonderful shrines we visited, were so impactive. But we couldn't let this experience go by without a word of thanks and gratitude to our guide Inez, who went far above what duty commands to make this tour so wonderful for our whole part. she is an exceptional and loving person, who showed her love and concern for each of us. She set such a positive environment, that none of our party became upset with the little things that go wrong in such a trip as she took care of all of these promptly and efficiently, so that we were able to concentrate on the pilgrimage and what it meant to all of us and as individuals. She was so living that many of us wanted to adopt her and take her back to the USA with us. We also thought all of our bus drivers were superb. We couldn't believe how they could maneuver in such tight spots throughout the trip. We couldn't let such a wonderful job go by without a word of thanks.

Chuck


---

From: Marilyn McGuire
Sent: Monday, April 18, 2016
To: Amanda Fortunato
Subject: Fr. McDaniel | Portugal, Spain & France | April 2016

Hi Amanda,

Thank you for allowing me to be a late entrant into this tour. I had a wonderful time. I especially enjoyed all of the beautiful locations that Father McDaniel was granted permission to say daily mass. Being able to go to mass in the Grotto at Lourdes was especially nice. Some of the other old churches were also amazing. I also loved the scenery especially at Rocamadour and Conques. The Alps at La Salette was also nice but since it was snowing we could not see very much of the Alps. That was a little disappointing but definitely not 206 Tours fault. We were able to have a snowball battle there though and that was fun. Our guide, Ines, was outstanding. We all enjoyed her very much and she is very knowledgeable. I would love to tour with her again

Thanks
Marilyn McGuire
---


From: Mary Souhrada
Sent: Friday, April 15, 2016
To: Amanda Fortunato
Subject: Fr. Vetrano Pilgrimage to Italy, March-April 2016

This entire tip was awesome! Vanessa was the perfect tour guide. She was so knowledgeable and caring. She made sure everyone was comfortable and safe. Mario the bus driver was her perfect assistant. Father Vetrano was very best spiritual leader. I looked forward to his daily masses. cant wait to go on another pilgrimage

Mary


---

From: Grace
Sent: Friday, April 15, 2016
To: Elise
Subject: Fr. McShane Pilgrimage to Guadalupe Mexico Apr 7 - 12, 2016

Hi Elise,

Yuki and I had a fantastic time and appreciate the excellent service at the hotel. Our tour guide Roberto was very good, patient and helpful. He did a great job. We appreciate everything also to Fr. McShane, Jennifer and Dolores from Ely, Nevada. Thank you so much. We will recommend 206 Tours to our friends.

Grace Torres


---


From: Bonnie Medler
Sent: Friday, April 15, 2016
To: Amanda Fortunato
Subject: Fr. Vetrano Pilgrimage to Italy, March-April 2016

Dear Amanda,

As a part of Fr. Vetrano's pilgrimage to Italy I would like to express my thanks for a wonderful experience. We were so fortunate to have a wonderful Tour Guide. Vanessa was so knowledgeable, so caring and more than any of us could have hoped for. We had a great group which made the whole experience unforgetable. Thank you for your part in making it great!

Bonnie (Margaret ) Medler
---

From: Fr. Vetrano
Sent: Thursday, April 14, 2016
To: Amanda Fortunato
Subject: Pilgrimage to Italy with Fr. Vetrano | March - April 2016

Amanda,

I have been looking forward to speaking with you and telling you what a wonderful pilgrimage we had. Everyone was so pleased all you did to make our time in Italy perfect. I can't say enough about our guide Vanessa. She was thoroughly professional and guided our group with a cheerful attitude, unceasing kindness, and a great sense of flexibility and practicality. Her knowledge of history, religion, and culture was first rate. The accommodations were super. All the restaurants selected were good quality and each had a very authentic and local flavor.
Having wine included was appreciated by all! Very happy with all you have done to make this trip special!

Fr. Vetrano


---


From: Malena
Sent: Thursday April 14, 2016
To: Elise Devery
Subject: Wayne Weible on a Divine Mercy Pilgrimage to Medjugorje March 31 - April 8, 2016

Hi Elise,

Thank you so much for everything! It was "the journey" of my life! Spiritually and in every other aspect, everything was perfect! The hotel, the food, our tour guide Slavenka who was funny and full of great stories to tell, and even Ivan the waiter at the hotel who took the time for giving me recipes of the best Croatian soups I've ever tried. I enjoyed every minute at Medjugorje. And Wayne, the best! He was such a blessing! Many many thanks to 206 Tours. Hopefully this is the first of many Pilgrimages I will go on with your group. Thanks a lot!

Malena


---


From: Greg Terrebonne
Sent: Wednesday, April 13, 2016
To: Katherine Iversen
Subject: Pilgrimage to Poland with Fr. Donald Calloway, MIC | March 28th - April 5th

Katherine,

Our pilgrimage was fantastic. What a memorable experience to spend Divine Mercy Sunday at the Shrine of Divine Mercy with Father Calloway! All the places we visited are so important to my wife, Peggy, and I's spiritual lives in relation to Saint John Paul II, Sister Faustina, Maximilian Kolbe, and Divine Mercy. This pilgrimage made maximum use of time in order to visit the most sites possible. Our guide, Bart, was very knowledgeable and very proud of his country. He was always looking after our best interests and was always available to answer any questions we may have had. Our driver was very professional and helpful. He was very good at maneuvering in and out of tight spots and getting around traffic. The places we visited on this pilgrimage have such significance in the life of the Catholic church and Divine Mercy! In other words, this pilgrimage is well-organized in order to visit them all!
Thanks again to you, Katherine, and the staff at 206 tours for all your efforts.
Greg Terrebonne

---
From: Tom, Seven Seas Voyages
Sent: Monday, April 04, 2016
To: Natasha Tosic
Subject:

Dear Natasha,

I can't tell you how much I love you folks at 206 Tours! Your organization is different from any other I have dealt with over the years.

God bless,
Tom
Seven Seas Voyages


---

From: Tim Lytle
Sent: Wednesday, March 23, 2016
To: Melissa Mulligan
Subject: Pilgrimage to The Holy Land on March 6 - 15, 2016

This trip was by far the best experience of my life. Having done this just before Easter has had such an enormous impact on Holy Week so far. I also want to comment on the staff we encountered. Our guide Hasam was extremely knowledgeable, patient, and caring for our needs. I can not overstate the praise I have for him, he is exceptional. In addition our driver Raid was fantastic. I drive a large school activity bus here in Colorado and understand the pressure and stress he is in. I would never even attempt to drive in the situations he calmly negotiated us through. He was friendly, professional, and very helpful. It was a wonderful trip.

Tim
---

From: Richard White
Sent: Monday, March 21, 2016
To: Amanda Fortunato
Subject: Fr. Brian Grady & Marcie Girolamo | France | March 2016

Amanda,

Thank you! I've not yet had time to go through my photos, but would love to share 1 or 2 of the more memorable. The trip was AWESOME and the whole pilgrimage was spiritually enriching, it would be too difficult to single out any one thing. I would like to thank you & of course Fr. Grady & Marcie for all of your hard work. I would like to say a special thank you to our guide Javier who made our experience even more special through his knowledge & expertise. I brag about him every time I come home from one of these pilgrimages (it is our 3rd time with him as or guide) and to our driver for getting us to our destinations safely & in a timely fashion. I would be remiss if I didn't also say a thank you to all of our daily guides. Thank you again, GOD Bless

Richard White

---

From: Craig
Date: March 18, 2016
To: Milanka Lachman
Subject: Rome Pilgrimage | March 6-16, 2016

Milanka,

We returned this week from our pilgrimage to Rome and, as expected, the trip was magnificent! (If you could do something about managing the weather, it would be perfect!) Everyone had a great time and the entire pilgrimage was enjoyable. We had a few elderly women from Msgr. Avila's parish who thought they could walk more than they actually could! However, with a little help from everyone, they completed the pilgrimage. (The elderly enjoy complaining, but they all had a good trip!) I can't say enough about Alessandro, our guide. He was so attentive to the group, including the elderly. He was always with a smile and ready to help in any way. He anticipated our needs and reached out to those who needed help. Of all the guides I've had on 206 tours, he's by far, the best! (I hope his tips from the group reflected it!) We talked about a trip to St. James then Fatima for my next pilgrimage. I hope he can be the guide! Thanks for putting together a memorable trip for us, again!

Peace & blessings,


Fr. Craig



---

From: Jude Werra
Sent: Thursday, March 17, 2016
To: Donna Strucic
Cc: Nora Werra
Subject: Pilgrimage to Poland on March 7-15, 2016

Donna,

We find, that since we returned home, that we are constantly impressing our experiences upon people...we simply can't stop talking and showing photos...and we have only been home but a couple of days...just consider how much more we will share in the months to come!
Our priest/host, our local guide and our driver...and all of our on-site guides...the hotel and dining staff...the LOT and airport staff...staff in shops and restaurants...and in the churches and the several settings we visited...truly, everyone we had encountered, both en route and while in Poland, made us SO comfortable, informed, supported and welcome, everywhere we went. All aspects of the program and its execution came off without reason for complaint, which is something easy to say if one is only around a place for a day, but we visited many venues in our trip...and our journey was never tainted with complaints from our end...and we have been traveling widely for decades. We intend to share our experiences with all who need to hear our tales and will encourage others to visit Poland and our itineraries, with a positive endorsement of your organization's team and their skills. We need to look into other itineraries you offer to see whether they can manage to trump this Polish pilgrimage. We were so pleased to be on a Pilgrimage to Rome years ago with our Milwaukee diocese's leader, now Cardinal Dolan in NYC, while JPII was still in the Chair of St. Peter, literally with my bride at his elbow one day, in a group photo op..perhaps that is why she leads such a blessed life? So, our "following in JPII's footsteps" on this trip was a great spur to our making this trip. Perhaps another of your future itineraries will try to match up to this excellent experience?

Thank you for the experience!
Jude Werra


---


From: Bobbie
Sent: Wednesday, March 16, 2016
To: 206 Tours
Subject: Pilgrimage to Poland on March 7-15, 2016!

It was a pleasure dealing with 206 again. All travel arrangements went well, going and returning home. Our itinerary was excellent and we were exposed to a lot and learned a lot. Lodging accommodations were very good and staffing was efficient. The sites we visited were interesting and informative. I have a new appreciation for the Polish folks and all that they have endured over the years. I now have the three Saints that were highlighted on this Pilgrimage on my mind. Our main tour guide, Kris, did a super job and I liked his low-keyed, soft-spoken mannerism. He kept us together and kept us informed. We were busy, busy, busy and I liked that; we made the most of our time in Poland. I knew Fr. David and have traveled with him before and it was a pleasure to travel with him again. I attend daily Mass and appreciated having Mass daily at the various churches we visited. I can tell you that the other folks on the Pilgrimage loved Fr. David, especially his easy laugh and easy interaction ability. Looking forward to another 206 Pilgrimage.

Bobbie
---

From: Eugene Pfeiffer
Sent: Wednesday, March 16, 2016
To: Donna Strucic
Subject: Pilgrimage to Guadalupe & Mexico City on March 3-8, 2016

Donna,

Cecile and I throughly enjoyed the 206 Tour pilgrimage Guadalupe and Mexico City 3-8 March, 2016. Roberto was fantastic, always organized, and very helpful. When a purse was stolen from one of the fellow pilgrims, Roberto handled the situation with quiet confidence, resolving the many issues involved in reporting the incident and restoring essential documentation so she could return home on time at the end of the trip. He also went out of his way to help us recover a camera we accidently left on the bus the last evening of the pilgrimage. He should be commended on a job well done. Father Peter did a great job as the Spiritual Director. Father Peter took his role very seriously but his approachable and outgoing manner made the trip a very pleasant and relaxing pilgrimage. We are looking forward to our next trip with 206 Tours and would love to go on another trip with Father Peter.

Gene and Cecile Pfeiffer


---

From: Susan Caughey
Sent: Wednesday, March 16, 2016
To: Amanda Fortunato
Subject: Fr. Craig Pregana & Msgr. Stephen Avila | Italy | May 2016

Hello Amanda,

We had a very blessed pilgrimage for which we are so grateful. We had a most wonderful tour guide, Alessandro. He could not have been better! And, of course, Fr. Steve and Fr. Pregana were excellent spiritual guides. My favorite part of the pilgrimage was having Mass every day in all those beautiful, historically rich, sacred spaces in Italy! Hopefully we can join another 206 tour some day!

Sue & John Caughey


---
From: Claudia Nieves
Sent: Wednesday, February 24, 2016
To: Bika Stevic
Subject: Pilgrimage to Lourdes: February 12 - 19, 2016

We had a wonderful time on our pilgrimage and we found 206 tours to be a superb company. Your company is excellent and goes above and beyond from the first communication to find out information about the pilgrimage, all the way to making sure that we were all set for our trip. Melissa and Donna provided excellent service. Juan Carlos was exceptional as our guide and provided so much great information.
Monsignor Brian was wonderful as the spiritual director and as a priest. Everything was amazing and 206 provided everything they said and with great integrity.

Thank you very much,
Claudia
---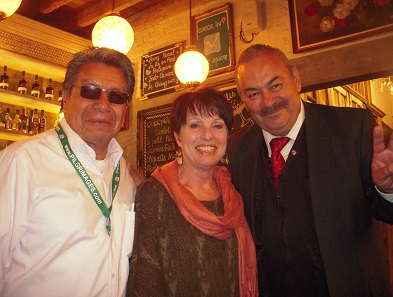 From: Susie Howard
Sent: Tuesday, February 16, 2016
To: Yaritza Rodriguez
Subject: Mexico with Taylor Marshall

Hi Yaritza,

The pilgrimage was excellent. Our local guides, Roberto and Pablo, took really good care of us. I have attached a photo below of our farewell dinner at Mexsi Bocu. Thanks again for an excellent, spiritual experience.

Blessings,
Susie

---


From: John O'Malley
Sent: Sunday, February 14, 2016
To: Yaritza Rodriguez
Subject: Pilgrimage to the Holy Land with Scott Hahn, January 4-14, 2016!

Hi Yaritza,

May I say thankyou to all of you at 206 tours for a very enjoyable pilgrimage to the Holy Land with Dr Scott Hahn in January 2016. There were many highlights but the unexpected blessing was the tour of Magdala site and mass at the stunning church on this site. Given that there were many more women than men on this tour this diversion was most welcome for many of them and in many respects healing. It would be nice if somehow it could be incorporated in the tour. Jesus' relationship with women is a welcome discovery on this pilgrimage.

Blessings,
John D O'Malley

---


From: Sherry Ellen Curry
Sent: Thursday, February 11, 2016
To: Elise Devery
Subject: Pilgrimage to Mexico with Dr. Taylor Marshall, February 4 - 9

Dear Elise,

I am back for two days now but still floating from my 206 Tour to Mexico City with Dr. Marshall and 40 happy pilgrims. The pilgrimage was magnificent for the following reasons: #1 It was highly spiritual-- daily Masses and prayer opportunities in some of the most beautiful sacred spaces of Mexico. #2 It was educational--I learned so much about the history of Mexico, especially as to how it relates to Catholicism. #3 It was fun--the camaraderie between the pilgrims at mealtimes etc. was something to celebrate. Thank you for this amazing opportunity with the expertise of Dr. Taylor Marshall, our knowledgable, courteous guides Roberto and Pablo, the jovial Padre Diego and Fr. Mangum.
P.S.--Great hotel choice and last night celebration dinner at Mexsi Bocu was terrific!

Sherry Eastwood-Falls
"un monde fou entre nous"


---

From: Ann Whitman
Sent: Wednesday, February 10, 2016
To: Patrick McKenna, Yaritza Rodriguez
Subject: Dr. Scott and Kimberly Hahn on a Pilgrimage to the Holy Land in 2016

We did this pilgrimage with Scott Hahn and cannot tell you how wonderful it was. We were on the Blue bus with Usama and Father Holland. We are doing our very best to promote your tour company. We can truly say this was the best trip we have ever had. Now the bible comes alive for us.

Ann Whitman
---

From: Mary Ellen Curry
Sent: Tuesday, February 09, 2016
To: sales
Subject: Mexico City Our Lady of Guadalupe Tour

My husband and I have just returned from the Feb. 4-9 pilgrimage to Our Lady of Guadalupe with Dr. Marshall. We could not be happier with our experience. The trip was full of interesting and exciting experiences. The hotel was excellent. I especially want to say that Pablo and Roberto, our guides, were the best. They were very knowledgable and ready to help us in any way they could.

Sincerely,
Mary Ellen Curry
---

From: Ralph & Carol Kramper
Sent: Monday, February 01, 2016
To: 206 Tours
Subject: The Holy Land with Fr. Kampschneider: January 10-19, 2016

Usually, expectations for an experience foil to live up. However, the 206 Tour to the Holy Land exceeded our lofty hopes. Fr. Kampschneider led us with knowledge and spiritual insights that came from his experience of God and profound preparation. Our tour guide, George, was personable and joyful and so well prepared with his wonderful educational background. Adel was the best driver we have ever seen. The cohesiveness and care and concern for each member of the group was amazing. This was a mountain-top experience and superb every way. Hats off to you for all the planning!

Sincerely,
Ralph and Carol Kramper


---

From: Janet Morris
Sent: Sunday, January 31, 2016
To: Yaritza Rodriguez
Subject: Pilgrimage to the Holy Land with Scott Hahn, January 4-14, 2016!

Dear Yaritza,

Our feedback is that the pilgrimage was absolutely wonderful and we are highly recommending 206 Tours and visiting the Holy Land to all of our friends and family members. We are very impressed with the high level of service and quality of the experience that you provided. Just one very minor point would be that it would have been helpful to be reminded in advance to be prepared to donate through the daily collections at Mass. Even now, it would be nice to know how to support the Holy Land shrines through financial donation. God bless all of you for the work that you are doing.

Brad and Janet Morris


---

From: Margo Meehan
Sent: Monday, January 25, 2016
To: Melissa Mulligan
Subject: Pilgrimage to The Holy Land with Fr. Kampschneider: January 10-19, 2016

Melissa,

The Holy Land Tour was awesome! We have decided that nothing could ever be any better! We loved George, our guide and our bus driver Adal. George has so much knowledge to share, I couldn't write fast enough. We felt so fortunate to see all the places they took us. Of course Fr. Kampschneider is a wonderful shepherd. We learned so much and truly felt as if we were walking the way of the Lord. We have yet to go through all our pictures but will certainly share if anyone stands out above the other. They are all precious to us. Thank you! It couldn't have been any better!

Tom and Margo Meehan


---

From: Denise McCoy
Sent: Saturday, January 23, 2016
To: Melissa Mulligan
Subject: Pilgrimage to The Holy Land with Fr. Kampschneider: January 10-19, 2016

Melissa,

We were pleased with our trip to the Holy Land. 206 Tours went beyond our expectations as far as the planning and preparation. The accommodations at both Tiberius and Jerusalem were great choices and both comfortable rooms and excellent food. Father Kampschneider was an excellent spiritual leader and we appreciated the locations where we celebrated masses. George, our guide was outstanding. His knowledge of the Bible, archeology and the land allowed him to share so much with us! I felt totally safe touring the Holy Land under his care. The places he picked for lunches were excellent choices. Our bus driver, Adel, was the best. He maneuvered the bus with ease through many a narrow and winding road. I would certainly choose 206 Tours again when we plan our next adventure! Thank you for making this pilgrimage an experience of a lifetime.

Denise McCoy

---
From: Dean Waldt
Sent: Wednesday, January 20, 2016
To: Yaritza Rodriguez
Subject: Pilgrimage to the Holy Land with Scott Hahn, January 4-14, 2016!

Yaritza:
There are no words to adequately describe our Holy Land pilgrimage. This was a spiritual journey and the Holy Land has come home with us.
Here is a photo of two of the great blessings on our journey, Scott Hahn and Sister Magdalit walking down the Mount of Olives to Gethsemane. Scott is reading the Gospel and Sister is leading us in song. This is the pilgrimage in microcosm. Scott blessed us with wisdom and insight into what we saw. Sister and our spiritual directors helped us focus our hearts in prayer and praise and, thus prepared, we walked where our Lord walked, knelt at the foot of the cross and wept on our knees as Fr. Luke walked out of the Holy Specular, elevated the host and proclaimed "Behold the Lamb of God who takes away the sins of the world". We marveled, we prayed, we sang, we danced, we shared our hearts over meals with brothers and sisters in Christ. We will always have this with us. Two comments to make. First, Sister Magdalit was absolutely fantastic. The yellow bus was in love with her after one day and she became our guide, our mentor and our friend. She is the best. Second, we have never experienced the level of professionalism and competency displayed by 206 Tours. Every aspect of the trip was well planned and executed and when circumstances demanded flexibility, things happened and were expertly done. Bravo and thank you. This outstanding service allowed us to focus on our pilgrimage experience and not on the logistics of travel. It was noticed and deeply appreciated and is just as much a blessing to the pilgrims as every other aspect of the trip. Toda.
We will be traveling with you again.
Shalom,
Dean and Linda Waldt
---
From: Rosie Godino
Sent: Tuesday, January 19, 2016
To: Yaritza Rodriguez
Subject: Pilgrimage to The Holy Land: Dec 15 - 26

Dear 206 Tours,
I'm sure my group leaders have thanked your team formally on our behalf but I wanted to express thanks at least one more time.
In particular, I wanted to thank again our tour guide Shafik, whose charism seems impossible to separate from the amazing experience of the sights and sounds of the Holy Land. I am happy to recommend him and 206 Tours with their package of excellent organisation and handy resources to future pilgrims.

Peace,
Seminarian Tyron


---
From: Tyron Stewart
Sent: Wednesday, January 20, 2016
To: sales@206tours.com
Subject: Pilgrimage to the Holy Land with Scott Hahn, January 4-14, 2016

Many blessings to you, This Pilgrimage was unbelievable I'm still waking up at 3 or 4 am wanting to to start the day. I go to sleep and dream of every place we went where Jesus walked, preached, suffered, died, rose and walked on water. I loved every day. I enjoyed our meals very much and our rooms.And our green Bus well, He had the best patient, Our tour guide "Jiovanni "I have ever seen and the smartest. God put me in the right tour bus the right pilgrimage and in the right place. May God continue to bless 206 TOURS! I pray that in the future I'm able to do it again.

Love,
The Godino's


---

From: John Gonczol
Sent: Tuesday, January 19, 2016
To: Bika Stevic
Subject: Pilgrimage to The Shrine of Guadalupe & Mexico City: January 7 - 12, 2016

Hello,

We had a wonderful time! 206 Tours organized this trip perfectly. The Franciscan priest was wonderful, the driver was excellent and the tour guide was very funny and well informed about the history. The people were very nice everywhere we went. Thank You again!

Sincerely
John & Elizabeth Gonczol
---

From: Jere Allen
Sent: Tuesday, January 19, 2016
To: Yaritza
Subject: Pilgrimage to The Holy Land with Scott Hahn, January 4-14, 2016

Hi Yaritza,
I love the idea of keeping in touch! Yes! this trip has always been a lifelong dream of mine and I finally realized it! There were so many great places and memories that touched me, it would take a whole book to list them. Our tour director, George, was the best!! I made many friends along the way and shared so much. I will definitely recommend 206 to anyone interested in a Pilgrimage!
Again, everything was so organized and went so smoothly, I couldn't have asked for a better experience. Jesus Himself was definitely in this all the way!

Thanks again,
Jere Allen


---

From: Kerry and Laura
Sent: Tuesday, January 19, 2016
To: Yaritza
Subject: Pilgrimage to The Holy Land with Scott Hahn, January 4-14, 2016

The trip was incredible. Words cannot easily convey how it touched our hearts and souls. Masses were meaningful thanks to our wonderful priests. Thanks for all the hard work and a pilgrimage of a lifetime.

Thanks again,
Kerry and Laura


---

From: John
Sent: Tuesday, January 19, 2016
To: Yaritza
Subject: Pilgrimage to The Holy Land with Scott Hahn, January 4-14, 2016

Hi Yaritza,

What an incredible pilgrimage Debbie and I had! I tell everyone that on a scale of 1 to 10, it was a 10. The 206 team could not have served us better. The travel arrangements, the hotels, and the food were flawless. The ability to have Mass said at all the important sites without having to compete with other tours was totally unexpected. All the priests were inspirational. Scott Hahn never stopped amazing us with his wisdom and insight. And last but not least, the "Red Bus" led by George was beyond expectation. He took care of each of us like a shepherd--it was obvious that he treats his job as a ministry, and loved doing it. We could not ask for more. Yaritza, I have one request. Although we were able to get a number of emails from fellow travelers, we did not get all we wanted. Would it be possible to send out an email asking everyone if they were willing to share their email addresses, and then send out a list to all those who said "yes"? I think that would really be appreciated by most of the attendees. Thanks so much for all you did to make this trip of a lifetime happen. We look forward to participating on another
206 pilgrimage in the future.

In Christ,
John


---


From: Sheila McCoy
Sent: Monday, January 18, 2016
To: Yaritza Rodriguez
Subject: Pilgrimage to the Holy Land with Scott Hahn, January 4-14, 2016!

No time now to elaborate. But in short it exceeded all my expectations. I will highly recommend 206 Tours to all my friends and family. You all took such good care of all of us, including my roommate and me when I had to go to the emergency room the first night due to a cat scratch. Can't thank you enough.
Sheila


---

From: Dan McKenzie
Sent: Monday, January 18, 2016
To: Yaritza Rodriguez
Subject: Our Recent Pilgrimage to The Holyland

Yaritza,

Just wanted you to know we really enjoyed our trip with Fr Calloway 12/26/15 through 1/4/16. The weather could have been a little better (cold, windy, and rainy in Jerusalem) but it did not keep us from seeing everything on the plan. The accommodations were excellent. Food was also very good. I am going to attach a couple of pictures. The files are large, so you might need to be patient. Thanks for working so well with Sandy to get everything just right.

Dan and Sandy McKenzie
| | |
| --- | --- |
| | |
---

From: Knight, Eileen Quinn
Sent: Friday, January 15, 2016
To: Yaritza Rodriguez
Cc: Sandra Lippold
Subject: Holy Land with Dr. Scott Hahn

Dear Colleagues,

Thank you for the wonderful pilgrimage! It was awesome! The whole thing was planned with graces and blessings. I really appreciate all the behind the scenes work that you did. The flow of the entire pilgrimage was flawless. I am so happy with all that happened!

With the love I received at the Holy Land,
Dr. Knight
---


From: Arleen
Sent: Monday, January 11, 2016
To: Yaritza Rodriguez
Subject: The Holy Land with Fr. Donald Calloway, MIC | December 26-January 4, 2016

Our trip to the Holy Land with Fr. Calloway was absolutely wonderful. Fr. Calloway is a very gifted priest and spiritual leader. Our guide, Jack was amazing. His knowledge and resourcefulness was beyond any expectation. Daily, with our agreement, he adjusted our schedule to secure last minute opportunities for the Holiest places to offer our daily Mass. I never heard him say no to a request. He always found a way to offer us the best. He worked around the stormy weather until we had a calm day for the Sea of Gallilee. I just can not say enough about how he enhanced our journey. Our driver, Nazee, was also superb. As someone who gets easily motion sick, I greatly appreciated his smooth driving and skill at maneuvering to bus. Staying at the Notre Dame of Jerusalem was a real blessing too.

Arleen Funk


---

From: Verzosa, Jude
Sent: Monday, January 11, 2016
Subject: Our Holy Land experience

Dear Rinda,

I am writing you to let you know of how overjoyed my family and I are about the tour. The experience was amazing and the effects of it undoubtedly indelible. What greatly contributed to such a wonderful experience was the tour guide. Mr. Shafik was very professional and knowledgeable. To refer to him as a tour guide would not do justice to the service he provided. He has a wealth of information about history, archeology, culture and geography. This is not uncommon for a tour guide. However, it is rare to find someone who is able to tie it all in with the Holy Scripture and the Catholic religion. During the tour, I have had the chance to listen in to the other pilgrims' various tour guides in more than a few occasions. I must say that they paled in comparison to Mr. Shafiks' ability to share a trove of information while delivering these facts in perfect English. Lastly but most importantly, he was inspirational. I speak for the group in saying that he left all of us in awe of God and his works. We were left with seeds of wonder of the Old and New Testaments which touched our souls like it never did before. I would hope that Mr. Shafik continues to touch more souls through your tours. Thank you again for a such an amazing and life changing experience.

Sincerely,

Dr. Verzosa


---

From: Danette Vanover
Sent: Sunday, January 10, 2016
To: Bika Stevic
Subject: Pilgrimage to The Holy Land: December 7 - December 14, 2015

206 Tours,

Thank you Thank you Thank you !!!! for a most awesome Pilgrimage to the Holy Land. It was truly the experience of a lifetime and more. Your pre-planning details, the individual organized travel packets,the token crosses, the tour itself (which exceeded our expectations), Naddie, our tour guide, your post emails follow ups and the various certificates we received make 206 a one of kind unique agency that is above all others.

The staff at 206 needs to be commended. Your no question too small to ask policy- was evident when it came to sending a photo of the proper adapter to use while in Israel.The use of individual headsets was a perfect tool. Thou we were a group 12 + Fr Tah. Our group became known as the 12 disciples + 1. We came as far away from Australia, Washington, California, Colorado & New York. Strangers who bonded instantly as family. Even outsiders thought we were from the same parish. Naddie,our tour guide is a great person and a new found friend. He truly loves what he does. His is an encyclopedia of knowledge, well respected by ALL sects of people, full of humor and spontaneity, (he stopped by road side to pick a branch from a thorn bush) his words of caution, his attentiveness to each one in our group was always a priority from arranging special dietary meals, a lunch when Sr. Mary as he would call her had to remain behind on one of the tours, to switching out a room, or being that extra arm of walking support for Sr makes Naddie is a keeper an asset to 206. What could one say about our Spiritual Guide- Fr. Tah - nickname aka- Fr. Murphy you selected for us. What a blessing. This man truly was sent by God. It was his 1st pilgrimage on this tour as like the rest of us. Who can ever forget his humor, his sermons ,his singing voice, look of awe, his prayer fullness and of course his daily quote: "God is Good - God Loves You" He touched not just us, but others who came in contact with him. To see joy radiating from him in spite of the hardships and learning on a news channel of the devastation & massacre of his home village in Africa. We forever remember him in our prayers as he begins to serve in a few weeks as a US Army Chaplain. We ask anyone who reviews this letter to go to his website he founded Fountains of Compassion: Fountainsofcompassion.org to consider financial support for his mission.

So, if you are like me I went through various tour sites listed in my local diocesan & parish bulletin it was pure luck I found 206.
I knew this was the one for us and you too. Go for it You will be truly amazed by what 206 has to offer and so glad you chose them over all others. They are my #1 tour group.

God Bless,
John & Danette Vanover, California
Sister Mary Angelee Kowalik, Texas



---


From: jocelyn ybarra
Sent: Sunday, January 10, 2016
To: Yaritza Rodriguez
Subject: Pilgrimage to the Holy Land with Fr. Donald Calloway, MIC | December 26-January 4, 2016

Hello Yaritza,

First of all, we would like to thank you all in 206 Tours for the wonderful service from booking the trip to the end of the trip. My husband John and I were very lucky to have joined Fr. Calloway in this unforgettable journey that took us through the footsteps where Jesus walked along with our Blessed Mother Mary. We enjoyed every minute of the tour, the sites, the food ( excellent), and the inspiring and powerful homilies by Father Calloway. We were very blessed to have had Fr. Calloway as our spiritual guide, Jack our knowledgeable tour guide, a walking encyclopedia,( Jack you are the best!!!), and Nazeed, a great bus driver and his great smile. We really enjoyed the fabulous dinner/party on New Year's Eve , a nice surprise, thank you 206 Tours.... We have received so many blessings and graces throughout our pilgrimage. With God's guidance we will radiate and share these blessings to those we love and those who we encounter in our path. What a wonderful way to start The Jubilee Year of Mercy. We will definitely book our future Pilgrimage tours with 206 Tours. We would like to see a pilgrimage tour that will include San Giovanni Rotondo, St. Padre Pio's town with Fr. Calloway :)

Abundant Blessings,
John and Jocelyn Ybarra
---

From: Anita Florence
Sent: Sunday, January 10, 2016
To: Bika Stevic
Subject: Pilgrimage to The Holy Land: December 27 - January 5, 2016

I want to thank you for a wonderful tour experience. My husband and I were on the Dec 27 Holy Lands tour. It was really great – from start to finish. We especially want to tell you how great our tour guide was – Shafiq. He was extremely knowledgeable in Scripture, archaeology, culture, politics, and language. He really brought the whole experience to life for us. And George was a really great bus driver! We will definitely recommend 206 Tours to others. And if the opportunity arises, we will use 206 Tours again. Thank you!



Anita Florence



---

From: Fe Prudence L Pamintuan
Sent: Thursday, January 7, 2016
To: Bika Stevic
Subject: Pilgrimage to The Holy Land: December 28 - January 5, 2016

Hi! This is Mr & Mrs Lagunzad's daughter. My mom and my dad really loved it. They were so happy about their tour. My mom and my dad said that you all are so helpful, so nice and the tour guide is very knowledgeable. You really took good care of them. If ever they will have a pilgrimage again, they will choose 206 tours again.

Sincerely,
Fe Pamintuan


---

From: Pattie Marshall
Sent: Tuesday, January 5, 2016
To: Yaritza Rodriguez
Subject: Pilgrimage to the Holy Land with Fr. Calloway, MIC | December 26-January 4, 2016

We had a fantastic time and would definitely use 206 Tours again. Our guide, Jack, was so knowledgeable and was able to arrange things that I don't think we would gotten to do without his hard work. Father Calloway was a true blessing and gives the best homilies. Our driver, Nazeeh, was always able to get in and pick us up or drop us off right in front of most places. We saw other people walking long ways to and from their bus. I don't think this trip could have gone any better. And I loved the upgrade to the Notre Dame hotel - right across from the gate into the old city, it was fantastic. I'm not able to attach many pics, but here are a few.

God bless,
Pattie



| | |
| --- | --- |
| | |
| | |
| --- | --- |
| | |
---

Sent: Monday, January 4, 2016
To: Yaritza Rodriguez
Subject: Pilgrimage to the Holy Land with Fr. Calloway, MIC | December 26-January 4, 2016

Hello Yaritza,

It was a fabulous trip! Full of the spirit and the graces kept coming.... a pilgrimage with Fr. Don is out of this world. He is spoiled by Jesus and Mary, therefore we ALL get spoiled! This is my second pilgrimage with him and each time spiritually growth for sure. The New Year celebration was a very nice surprise...thank you 206 Tours!

Thank you,
Sandra Koceja



---
---