St. Bernadette Soubirous
The Story:
Bernadette was born on Jan. 7, 1844 in Lourdes. In 1854 an epidemic of cholera left Bernadette with a painful asthma condition that lasted the rest of her life. Two years later poverty struck the family. In Jan. 1858 the Blessed Virgin Mary appeared to Bernadette at the grotto of Massabielle for a total of 18 times. As word spread of Blessed Virgin's appearance, the investigations began. Throughout the apparitions the faithful flocked to the grotto. Finally, in 1862 the bishop acknowledged the authenticity of the apparitions. After Bernadette joined the Sisters of Charity in Nevers, France July 4, 1866 she never spoke of the grotto unless ordered to by her superiors. Taking the religious name, Marie-Bernard, she suffered from recurring bouts of sickness and ill health. One of her religious sisters described has as being deeply pious and possessing childlike simplicity, extraordinary evenness of temper and profound humility. Other sisters recalled Bernadette's youthful charm, spontaneous disposition and playful attitude.
However, Sister Marie-Bernard was being led by Jesus to live a crucified life of prayer, suffering, silence and sacrifice. The little child of Lourdes accepted her life with perfect resignation and submission. Suffering from asthma and tuberculosis, she spent the last 24 hours of her life in terrible agony. Her last day was April 16, 1879 - it was just after three o'clock, the same time Christ had died. In agony she stretched out her arms like the crucified Jesus and whispered, "I am thirsty." Sister Marie-Bernard then made for the late time her majestic sign of the cross that she learned from the Blessed Virgin at Massabielle. With no strength left, her head bowed to the right, she gently gave her soul back to God. Hands clasping a crucifix as two tears rolled down her cheeks. In 1925 her body was ceremoniously transferred her body to the chapel of St. Gildard, where it now rests in a glass reliquary. Her body has remained intact and only a thin layer of wax has been added to her face and hands. On December 8, 1933, the Catholic Church canonized Bernadette. During this time, examiners had exhumed her body on 3 different occasions and each time found it incorrupt.
Location: 130 miles south of Paris. Can be reached by car (N7 south); train; bus (local)
Tours visiting France:
Fatima, Spain & Lourdes
Lisbon (St. Anthony) * Santarem (Eucharistic Miracle) * Fatima * Salamanca * Alba de Tormes * Avila (St. Teresa) * Burgos * Loyola (St. Ignatius) * Lourdes (St. Bernadette)
| Duration | Destination |
| --- | --- |
| 10 Days | France, Spain, Portugal |
VIEW DETAILS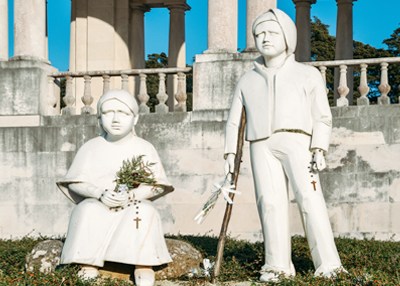 Fatima, Spain, Lourdes & Paris
Lisbon (St. Anthony * Santarem (Eucharistic Miracle) * Fatima * Salamanca * Alba de Tormes * Avila (St. Teresa) * Burgos * Loyola (St. Ignatius) * Lourdes (St. Bernadette) * Paris * Lisieux (St. Therese the Little Flower) * Normandy * Chartres
| Duration | Destination |
| --- | --- |
| 14 Days | France, Spain, Portugal |
VIEW DETAILS