Our Lady of Montserrat Pilgrimage
The Shrine of Our Lady of Montserrat is located perched on a rugged mountainside in Catalonia, Spain. According to Catholic tradition St. Luke carved the statue of the Black Madonna around 50 AD and brought it to Spain, where it was hidden by the Moors and later rediscovered by shepherds and the Bishop of Manresa. The Bishop suggested that the statue be moved to Manresa, but it remained in Montserrat due to its weight. Closely united with the sanctuary is the Monastery of Montserrat. Here the monks spend their time praying and welcoming pilgrims. Blending the two activities the monks invite the faithful to participate fully in their daily recitation of the Liturgy of the Hours, the Mass and other religious ceremonies. St. Ignatius of Loyola went on pilgrimage to Montserrat after being wounded in war. Soon after visiting the mountain he wrote the famous Spiritual Exercises. Along with Santiago de Compostela and Zaragoza, Montserrat ranks as one of the most important and famous pilgrimage sites in Spain. Rock climbers, sightseers, tourists, and pilgrims alike are attracted to the mountain for hiking, climbing, biking and praying.
Location: Montserrat is located 35 miles northwest of Barcelona. It can be reached by bus, car, or train (Barcelona to Manresa. At Aeri de Montserrat connect with cable car).
Accommodations: There are many 4 and 5-star accommodations in nearby Barcelona.
Tours visiting Montserrat: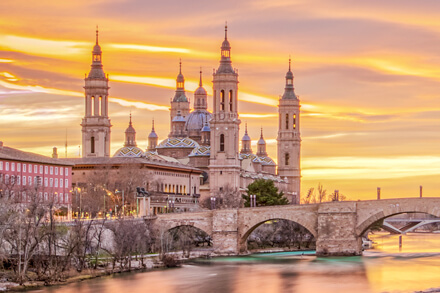 Shrines of Spain
Barcelona * Montserrat * Manresa * Zaragoza * Toledo * Madrid * Santiago de Compostela
| Duration | Destination |
| --- | --- |
| 9 Days | Spain |
VIEW DETAILS
The Shrines of Spain and Italy
Barcelona * Manresa * Montserrat * Zaragoza * Madrid * Toledo * Astorga * O' Cebreiro * Santiago de Compostela (St. James) * Rome (Papal Audience with Holy Father) * Monte Cassino * San Giovanni Rotondo (Padre Pio) * Monte Sant' Angel (St. Michael) * Lanciano (Eucharistic Miracle) * Loreto (Holy House) * Assisi (St. Francis) * Gubbio * La Verna
| Duration | Destination |
| --- | --- |
| 17 Days | Spain & Italy |
VIEW DETAILS