What Our Clients Say About 206 Tours... 2009
---
mon - fri
9am - 5pm EST

From: Stephens, Diane
Sent: Tuesday, May 05, 2009 1:44 PM
To: Rinda Kanidinc
Subject: Rome, San Giovanni Rotondo and Assisi - April

Rinda,

Our trip to Italy was wonderful. We loved it every step of the way and our guide was very informative. We never would have been able to see or know what we were seeing had we done the trip on our own. The hotels and buses were spotless and very comfortable, the food was great and I particularly liked trying different wines.

We would recommend 206 tours to anyone, everything was so well organized and meticulously scheduled, it was especially nice to not have to wait in lines, and our tour guide was able to get us to the right place at the right time. We were both overwhelmed with the art, sculptures, architecture and the beautiful countryside throughout Italy. This trip was very spiritual for us and we came home with lots of great pictures to share with our family and friends.

It was great having Fr. Charles from our parish with us also, he had traveled to Italy so many times before that we had the opportunity to get a private tour of the Vatican on the first day when we arrived. All the people in our group were great and I hope we can continue to keep in touch with them. We have made great friendships with them, this was a trip we'll never forget.

Thank you again for the well organized trips that you schedule, we hope to take a tour again in the future and we will certainly book though 206 tours.

Best regards,

Diane and Bill Stephens

---
From: R. Vatcher
Date: Mon, 04 May 2009 16:41:18 -0400
To: rinda@206tours.com
Subject: Trip We Won

Dear Mary and friends at WAU,

I would like to thank you wholeheartedly for our pilgrimage to Italy with 206 tours! It was such a faith-filled experience! We had two wonderful priests (on different portions of the trip) with us all the time. We got to see Pope Benedict and receive his blessing in St. Peter's Square in Rome. We had Mass inside St. Peter's twice - one day at the main altar and one day underneath the altar where St. Peter and other popes are buried. We saw the churches of St. John, St. Paul, and St. Mary Major - all more magnificent than the next. We visited the catacombs where four early Christian martyr saints were buried and had Mass inside one of them. We visited Monte Cassino and saw the beautiful church of St. Benedict and St. Scholastica. We had Mass under the altar where they were buried - we felt we were in a truly holy place. We visited Florence and saw Michelangelo's David and the Duomo. We also visited Assisi - a town out of the Middle Ages - where we visited the churches of St. Frances and St. Clare. We saw the incorrupt body of St. Clare who died in 1253 and she's still there - amazing. There were three doves at St. Frances' church that were descendents of the original three doves that came to stay with him so long ago. The thornless rose bushes were in bloom.
The whole trip was a powerful, inspirational faith experience. Our two teenagers were able to experience their faith in an unimaginable, remarkable way and for that we can't thank you enough! The tours were all well-organized and led by tour escorts that were friendly and knowledgable. We would recommend a 206 Tours for anyone who wants to deepen and experience their faith in a whole new way. Visiting the holy places where these holy people lived and died is a powerful testament to our faith.
Again, I would like to thank you on behalf of myself and my family very much for the faith journey you provided for us!

Blessings,
Rita Vatcher
---
From: "Michael & Pauline Bowen"
Date: Sun, 3 May 2009 12:27:16 -0500
To: 'Rinda Kanidinc'<rinda@206tours.com>
Subject: Rome - April

Rinda-

We are back and our body clocks are still re-adjusting; however, we will remember our pilgrimage to Italy for the rest of our lives.

This was our first experience with 206 Tours and we will strongly recommend you to anyone who asks – in fact, we have already sung your praises to several friends at our church. We weren't sure what to expect before we left, especially with the change in itinerary and priests. Our expectations, though, were greatly exceeded. Both Father Charles and Father Peter were wonderful, each in his own way. They provided a deeply spiritual dimension for our pilgrimage that those who simply "tour" Italy do not come close to realizing. After Father Charles and the other tour left on their separate pilgrimage, we met Father Peter at dinner the night he arrived into Rome. After dinner, even though it was late and he was obviously tired, he told us that he had never been to Italy and wanted to walk over to St. Peter's Square, so we and another couple accompanied him. Witnessing the excitement of a young Priest's first visit to St. Peter's Square is a memory that we will always cherish. After our tour ended, he stayed an extra night in Rome and invited us to have dinner with him, since we, too, were staying a few extra days. We had a very enjoyable visit with him and we thanked him for adding Rome to his itinerary. Even though he is young and has been ordained for less than 2 years, his homilies have the wisdom of someone who has been preaching for 20 years. He is a real gem and we hope you continue to use him for your tours as long as he is willing and able to participate.

Vincenzo and Gaia, also, were exceptional as our tour guides. Even though our group was relatively small, especially after we split (our tour numbered only 6 on the last day), they did not let the small numbers affect their level of professionalism and zeal. Gaia, especially, appeared to take advantage of the small number to get to know each of us on an individual basis so that she could meet our needs and expectations. We have attached a picture of our group on the last evening. Rick and Rita Vatcher and their children are on the left (even the kids have big smiles!), Gaia is in the middle front, and Pauline and I are standing in front of Father Peter. You can tell by our smiling faces that we were quite pleased and blessed with our experience. What you can't see in the picture is our inner sadness that the tour was ending.

Thank you for making this type of experience available. It deeply enriched our lives and we will certainly look to you for our next pilgrimage.
Kind Regards,

Mike & Pauline Bowen
---
From: Logan Mohring
Sent: Saturday, May 02, 2009 2:04 PM
To: rinda@206tours.com
Subject: The Holy Land - March

Dear Rinda,

I hope this email finds you well.

Permit me the opportunity to thank you and all the staff at 206 Tours for a wonderful pilgrimage to The Holy Land in March.

As a young seminarian faced with the many challenges and opportunities that being a discerning seminarian hold, I continue to be enriched with a sense of renewal and affirmation as I reflect upon the spiritual experience of the places we visited. The renewal of Baptismal promises in the Jordan River at the foot of Mt. Hermon, the celebration of the Holy Eucharist in Bethlehem, walking the Via Dolorosa, the beauty of the people and cultures, the spiritual guidance of Fr. Joseph, the joyfulness of my brother and sister pilgrims, etc. I hope to return to Israel again one day and encourage everyone to do so as well.

Again, I am sincerely grateful for your generosity, professionalism and support.

Pray for the peace of Israel.

Yours very truly,

Logan
---
From: Joe Parlett
Sent: Friday, April 24, 2009 4:08 PM
To: Rinda Kanidinc
Subject: Re: Medjugorje - April

The pilgrimage was excellent! What had started as a relatively normal sized group in the planning had shrunk to just three of us by the time we went. However, we were treated as if we were royalty. Our guide and our house manger gave us full service and their complete attention throughout. It could hardly have been a very profitable set-up for them or for 206, but no hint of this dimmed our welcome. It presented them with an opportunity to give us very personal service, and they met that opportunity to the fullest.

JOE PARLETT
---
From: mary h bernard
Sent: Sunday, April 26, 2009 3:25 PM
To: rinda@206tours.com
Subject: RE: Lourdes- April

Dear Rinda,

PEACE and BLESSINGS !!
My Pilgrimage to Lourdes with Jesus and His Mother was a great and spiritual exprience from day one. This time I was brave enough with the grace of Jesus to go into the baths which was a different holy experience. There were so many wonderful events and graces from Mary and her Son that I do not know which was the most outstanding. One evening my legs would not do the big procession so I pulled the drapes in our room and opened the window. The sight and sound was unbelievable. I could see all the candles twinkling in the distance and clearly hear the music and the final blessing.
The people at the hotel were friendly and helped us in any way they could.
I could go on but I wish to thank you for all the help that you gave to me in getting this Pilgrimage together for my spiritual health.
May Jesus and Our Lady of Lourdes keep you in their protection now and always.

Sr. Mary Henry Bernard aka Helen Bernard
---
From: Tom Dwyer Seven Seas Voyages
Sent: Monday, April 20, 2009 11:58 AM
To: milanka@206tours.com
Subject: Isn't this your 25th year in business?
Dear Milanka,
Isn't this your 25th year in business?
If so, congratulations on a tremendous accomplishment. Your company has made it possible for thousands of people to seek the Lord in holy places throughout the world. I can't think of a more noble undertaking.
GBY
Tom
---
From: Joe Batcheldor
Sent: Thursday, April 09, 2009 12:12 PM
To: Rinda Kanidinc
Subject: Re: The Holy Land - March
Rinda,

Thanks for allowing me to be the spiritual director for our "Once and lifetime Pilgrimage" to Israel. It was certainly a wonderful preparation for the Sacred Triduum, beginning with this evening's Liturgy of the Lord's Supper which I will be celebrating in the little Church of St. Ann in Howardstown, Ky., a small hamlet in the southern section of Nelson Co. about 20 miles south of Bardstown, the county seat. Our group of Pilgrims were diverse in both age and places of origin; Italian, Philippines, New York City, Florida, Kentucky and California.

The highlights expressed by most was the renewal of Baptismal promises at the foot of Mt Hermon at the springs there, the source of the Jordan River way up in the Golan Heights; the renewal of marriage vows at Cana; reflecting on the teaching of Jesus while sailing on the sea of Galilee; walking the Via Dolorosa in the Old City of Jerusalem; and particularly the celebration of the Holy Eucharist at Bethlehem, in the Holy Sepulcher, Palm Sunday in the Church of the Good Shepherd in Jericho with the parishioners there, and in the church in the Garden of Gethsemane.

Our guide was most knowledgeable as well as entertaining.

Again, my best to all at 206 Tours. A Holy and Happy Easter to you all!

Your religious tours have enriched me over the years as well as the many who have traveled with me. I am ever grateful for the opportunities you have given me and I hope I have met the expectations of those whom I have tried to serve.

Father Joseph Batcheldor
---
From: Mary Viens
Sent: Tuesday, April 14, 2009 7:46 PM
To: 'Kristin Shea'
Subject: Pilgrimage with Father Gerry Bertin and Doreen Duquette!
Dear Kristin,
My husband and I were fortunate enough to go on the pilgrimage to Medjugorje with Fr. Gerry and Doreen.
We send heartfelt thanks to Slavenka who is a fabulous guide and wonderful person.
This trip has changed our lives! A change that will hopefully last forever!
All our best,
Mary and Paul
---
From: Shannon Rodriguez
Sent: Monday, April 06, 2009 10:38 PM
To: Kristin Shea
Subject: Pilgrimage with Father Gerry Bertin and Doreen Duquette!
Hi Kristin,
We had a wonderful time in Medjugorje and we loved Doreen and the rest of the group. They were all so helpful with our infant, Conner, and they even babysat for us. Medjugorje was everything I expected and more. It is such a peaceful place and we can't wait to return.
Thanks,
Shannon Rodriguez
---
From: Father Diaz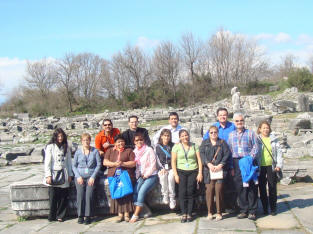 Sent: Thursday, April 02, 2009 6:53 PM
To: Rinda Kanidinc
Subject: Pilgrimage to Greece March 2009
Hi Rinda,
I'm sorry for not going back to you sooner. I enjoyed very much our pilgrimage to Greece
I enjoyed my visit to Rome specially because I ended my pilgrimage at the tomb of St Paul in Rome. The inland tour guide Mr. Ianess Ventiroso did a great job. He had everything prepared for us and he is a very well educated man.
I learned a lot from him. Fr. Patrick from Milwaukee is a lot of fun. I left him everything for his last Mass with the group in Ephesus.
Attached to find a picture of the whole group. Thank you very much for your kindness and cooperation. in Christ,
Fr. Diaz
---
From: Consuelo M. Benson
Sent: Thursday, March 19, 2009 10:12 PM
To: kristin@206tours.com
Subject: Holy Land with Fr. Brian Mulcahy!
GOD IS LOVE


Dear Kristin: Thank you for asking !! Every thing went well as expected. Could not ask for more. Julie was great and we all were happy with our guide and the chauffer.

Very well planned trip. The weather was perfect, sunny and brilliant. I really enjoy all of every thing.


Thank you, and Gold Bless you all.

Consuelo M. Benson
---
From: janet diller
Sent: Tuesday, March 17, 2009 8:10 PM
To: Kristin Shea
Subject: Holy Land with Fr. Brian Mulcahy!
Dear Kristen,
It is great to be home but I already miss the wonderful people I met on the pilgrimage to the Holy Land with Julie and Fr. Brian. I never expected the glory of the trip and the friendships that developed from all the pilgrims. Jack the guide was wonderful , knowledgeable of all the areas we visited but mostly a wonderful caring and spirit full man . He was always looking out for our welfare and guided us through the entire trip with professional respect. He is certainly a "Keeper" and should be commended for his job. Omar the bus driver was beyond great and very caring for us all.
I sit back and think of all the places we visited and my mind just swims with joy knowing that Jesus walked here, preached here and died here . The highlight was the Mass at the Holy Tomb of Christ was beyond words to describe . Special , inspired by God, blessed by the Holy Spirit, a once in a life time experience, thank you for all of this and the many hours you and Julie worked on this most unforgettable experience for me and the other pilgrims. I sleep dreaming of all that I have seen and enjoyed.
I'm looking forward to next year and maybe a surprise trip for our growth in spirit and prayer.
Many thanks to you and your staff.
Sincerely,
Janet Lombardi-Diller
---
From: John and Hazel Roeder
Sent: Tuesday, March 17, 2009 3:02 PM
To: Kristin Shea
Subject: Holy Land with Julie Zackrisson & Fr. Brian Mulcahy
Dear Kristin,
This is my fourth pilgrimage with Julie and Father Brian. The first three were to Medjugorje. Each was different, but equally blessed and I am eternally grateful.
In the Holy Land we had Jack as our guide and Omar as our bus driver. Those four holy people guided us to Our Lord at each sight and we were blessed
and protected as we walked toward God. The knowledge and deeper convictions of God's merciful love and faithfulness down through the centuries were palpable.
A treasure to enlighten my faith forever more. May all the world come to know God's infinite love through us pilgrims whom 206 Tours bring to Our Lady and Jesus.
God bless you all,
Hazel Roeder
---
From: Brian Mandeville
Sent: Tuesday, March 17, 2009 10:34 AM
To: Kristin Shea
Subject: Holy Land with Fr. Brian Mulcahy, Mar 2009
Kristin,
The Pilgrimage trip was magnificent; life changing to a large degree.
Fr Brian made it especially wonderful. He is a marvelous person and priest. Truely he added so much to the specialness of each place we visited.
Julie was a saint, too, with her eye problem but keeping it strictly to herself and family. Thank God she is OK now.
And Jack was like a angel! What a find for you! Do not let him go.
- Jean & Brian
---
From: Fr. Jiri
Sent: Saturday, March 14, 2009 5:29 PM
To: 'Stefanie Meyer'
Subject:162:03-06 GREECE PILGRIMAGE

Stefanie, I am back from a GORGEOUS trip to Greece, first time with your 206 agency. It was superb, smooth, highly organized, and beautiful. I am amazed, and thanks many times for your services. Will do a publicity for you, and am sure to come with you soon again. Thanks. God bless!

Fr. Jiri (George) Kucera, Taft-Texas
---
From: Marcia Sutton
Sent: Wednesday, March 04, 2009 1:00 PM
To: Kristin Shea
Cc: Milanka Lachman;
Subject: Israel Pilgrimage
Dear Kristin,
I wanted to let you know how much I have appreciated all your support for the success of my recent group Pilgrimage to Israel. We had a glorious time!
The way was truly prepared for us to take advantage of our intention to "walk in the footsteps of Jesus."
Salah (our guide) and Reshad (our driver) took expert care of us. Salah's wisdom was evident in his historical presentations and he provided me ample time to do the sacred teachings that were mine to give at each site we visited. He took care of all our logistics in a professional way and always adapted to every request I made of him. I'm also grateful that I had the opportunity to have dinner at his home and meet his lovely wife and beautiful boys. Our whole group was blessed and grateful to the many ways each of them expressed their love of Israel and their respect of us.
I'm also grateful for the support we received from Guiding Star Tours. I was able to meet with one of their representatives upon our arrival in Jerusalem as well as receive our farewell message and gift from their 'founding father.' It was a nice touch to the end of our tour.
As you know, the only source of our difficulty was the return routing back to the United States. It was a 'rough landing' for most of us. However, I do understand that in these times of reduced schedules by the air carriers, adjustments must be made. This situation does not takes away from the true value of all that was given and received during our Pilgrimage.
Again, I'm deeply grateful for each and every person who provided such wonderful service to us throughout our journey. I would highly recommend 206 Tours and it's affiliated partners to anyone in the future.
Gracious blessings,
Marcia
Rev. Marcia Sutton
Christ Church of Co-Creation
10824 SE Oak St. #327
Portland, OR 97222
503/654-0792
---
From: Catherine Dollahite
Sent: Sunday, March 01, 2009 12:42 PM
To: 'Kristin Shea'
Subject: RE: Welcome Home from Your pilgrimage to the Holy Land with Marcia Sutton!
Thanks so much Kristin for your email. I had a wonderful time. Every part of my trip was fabulous except the very long journey home. Salah was an excellent guide and a wonderful man. Rashad was an excellent bus driver. I felt we were in very good hands our whole trip. Israel is a incredible country. Walking in the footsteps of Jesus was indescribable. I am sure I will continue to be blessed beyond measure by my sacred journey to the Holy Land. Thank you so much for your help in setting up our journey. I look forward to working with you in the future.
Blessings,
Catherine Dollahite
---
From: CAROL LITSTER
Sent: Monday, March 02, 2009 2:58 PM
To: Kristin Shea
Subject: Re: Welcome Home from Your pilgrimage to the Holy Land with Marcia Sutton!
Thank you Kristin for the lovely tour of Israel with Marcia Sutton. It was beyond my expectations. I loved the hotels, the way Israel (the cities) have grown, the agriculture, the tour guide's knowledge. There's still a lot to process. I thoroughly enjoyed.
Carol
---
From: Christine Green
Sent: Sunday, March 01, 2009 8:01 PM
To: 'Kristin Shea'
Subject: RE: Welcome Home from Your pilgrimage to the Holy Land with Marcia Sutton!
Hi Kristin,
It was an amazing pilgrimage! Thanks so much for your support.
We loved Salah! What an awesome person and incredible guide. He took great care of us.
Thank you for all your attention to details and for all your assistance.
Blessings,
Christine Green
---
From: Dominic and Victoria
Sent: Sunday, February 15, 2009 4:52 PM
To: Kristin Shea
Subject: Pilgrimage to Mexico with Suzanne Krisak and Father Gordon Reigle
Hi Kristin
What an experience of affirmation to have seen the original tilma Juan Diego displayed before the bishop - the only Image of Our Lady that was ever shown to the world. We are moved. The trip was even more memorable since everyone got along so fabulously. Suzanne no doubt was superb in her organization and made the pilgrimage go so smoothly. We hope to be with 206 Tours in the future, God willing.
Dom and Vicky
---
From: Mr.McAloon
Sent: Monday, February 02, 2009 8:25 PM
To: rinda@206tours.com
Subject: Our Holy Land Pilgrimage

Dear Rinda & Staff,

It's no wonder you didn't block my phone calls prior to our trip to the Holy Land, because I gave you such grief. My wife has always wanted to go to the Holy Land, and I would always find a reason not to, because I never felt comfortable with all the trouble in that area of the world. However, in a weaker moment, we decided to book in the beginning of 2008 for the Jan '09 trip.

All went well until about a week prior to us leaving....then the Gaza dispute broke, and missiles were flying, and tanks were rolling. I might mention my stomach was rolling also! And that's about the time I began badgering Rinda.

Well, I'll save the details, we went, we were perfectly safe, and I would have to say, this was the most memorable trip I have ever taken! Our guide, George was a wealth of information, and the driver Tony was exceptionally pleasant. We also had the advantage of being a small group, able to go where larger groups could not. It was wonderful!

Valerie and I love vacationing, and have been travelling since we were married 40 years ago, but I will never forget this trip, it has enriched our lives so much, and Rinda, thanks for your patience and understanding.

Mr. Mc Aloon
---
From: Msgr. K. Steffen
Sent: Wednesday, January 28, 2009 11:22 AM
To: Rinda Kanidinc; Milanka Lachman
Subject: Fw: Congratulations: Prayers answered while on pilgrimage

Milanka and Rinda,
A miracle as a result of 206 Tour to Lourdes this year. One of the Pilgrims on the Lourdes Pilgrimage in March 2008 had been trying to conceive a child for 8 years. In this Lourdes jubilee Year, Mary interceded to Her Son with the miracle of life given to this child. Below is the correspondence.

Hi Betty:

How are you abs Delores? Haven't heard from you in ages.

I finally have some good news for you. God has answered our prayers, Shay is pregnant five weeks!!! Please include her in your prayers and please remind Monsignor, he promised me during our trip in Lourdes he was going to pray for Shay and that goes to Delores too. I am so grateful for all your prayers. Hopefully with God's blessings, everything will be okay.

Take care and God bless,

C. Chatfield
---
From: Mr. and Mrs. Madiwela
Sent: Saturday, January 24, 2009 9:54 AM
To: Rinda Kanidinc
Subject: The Holy Land - January

Dear Rinda and Staff,
Words are inadequate to express our sincere thanks and joy, for enabling us to make this pilgrimage to the Holy Land, such a memorable one We just can't express our feelings. This memorable and treasured experience has brought back childhood memories. Then, we never in the wildest of dreams thought that we would have this opportunity to tread the very holy paths that Christ has trod.
Needless to say, when Fr. Wency first sounded us about the Pilgrimage,, we were a bit apprehensive about participating. Nevertheless his persuasion to join helped us make it, never ever to be forgotten.
Our flights right through were smooth and free of any problems. We met the rest of the group at TelAvieve and George Sa'id our wonderful guide and Tony Hosh our driver were there to greet us and accompany us to the first Hotel. Everything, accommodation, food etc, etc. were very good all along. George is so well informed and knowledgeable in the Scriptures and the history of the Holy Land . George is the BEST. All in all we felt like one family after we got to know each other. Everything, starting with where Fr. Wencey was to say Mass each day and the places we were to have a snack etc. were well prearranged in advance by George. Tony on the other hand, very cheerfully drove us to all the places carefully and safely. He always had the words "no problem on his lips" to put us at ease. They both were very tolerant and helpful. Fr Wency had come prepared with a prayer book for each of us for the morning prayers as soon as we got on the bus and George had a Gospel ready for each day which he read very reverently. We were happy to meet your representative Gabriel in the Holy Land, who spoke to us of the importance of Christians making this Pilgrimage, and we sure will speak about it to our friends and encourage them to go to the Holy Land. It was also a joy to meet the parishioners in a small parish where the Sunday Mass was concelebrated. The Strength of their faith, strengthened our faith even more.
So, with renewed thanks for all your help and assurance of prayers that more and more Christians may be inspired to make this hallowed and treasured Pilgrimage, we conclude this note with a big
"God Bless You and the 206 tours." always.

Francis and Carmel Madiwela...
---
From: W. Rodrigues
Sent: Monday, January 19, 2009 10:19 AM
To: rinda@206tours.com
Subject: Holy Land Pilgrimage

Dear Milanka, Rinda and Staff.
It has been a life time experience here in Holy Land. I must congratulate you for having arranged for us such a wonderful pilgrimage. The holy sites remind us of our childhood faith. Lord says 'Unless you become like little children you will not enter into the kingdom of heaven.' It has been a wonderful experience of reinvigorating and reenergizing our faith. Although soon we will wind up our trip but it has made us to think how the plan of God in Jesus came to be fulfilled in a unique way in this part of the world.
The weather, the hotels, food and water were excellent. Our tour guide George Sa'id was superb. He is very witty, man of faith and knowledgeable. As a trained guide he had been very helpful. We have had no problems at all all through the journey.
Although there is political tension underway between Israelis and Palestinians.. No way, did we feel the impact of it. People here are used to it. They say it is part of their history. We got to pray for a peaceful settlement of their issues.
Everybody was so cordial and helpful to make our trip a success. The 206 tours local staff has been wonderful. They have asked us to pray for the peace in this land and specially for minority Christians who are struggling and demoralized. They not only need our prayers but much more our presence by undertaking pilgrimages. which will help their economy and boost morale. May Prince of Peace guide and protect them.

Thanks for all your prayers and support.
Fr. Wency
---
From: Fr. Rodrigues
Sent: Wednesday, January 14, 2009 3:15 PM
To: rinda@206tours.com
Subject: News from Holy Land

Hello Rinda and staff,

Reached Tel Aviv safely yesterday at 3:30 local time. George, the local guide was at the airport to pick us up. Surprisingly, it was a union at the airport all the pilgrims landed by the same plane. Although they came by different flights to Frankfurt but boarded the same plane to Tel Aviv. The George took us straight to Joppa where St. Peter stayed with Simon the Taner before he set sail to Rome. In the adjacent Church I offered Mass. Thereafter we were driven to hotel at Tel Aviv.

Today we left from Tel Aviv to Ceasarea to see the ruins of king Herod's palace and amphitheater from there we drove to Mount Carmel where Prophet Elija had killed the false prophets of god Baal. from there we moved to Stella Maris (Star of the Sea, Marian Shrine) went to see the city of Haifa one of the famous biblical cities on the Mediterranean. (the cave where prophet Elija hid and offered sacrifice to God, now the shrine of Mount Carmel stands on the top of the cave). Proceeded to Cana where the couples renewed their marriage vows in the place where Jesus had performed his first miracle; changed water into wine. Around evening we came to the Basilica of Annunciation to offer Mass adjacent to the house of Mary, where Mary was given the message by the archangel Gabriel. Saw the well where she would draw water. Visited the carpentry shop of St. Joseph, Thus the day ended with a lot of spiritual and historical experience. Now we are in the hotel at Nazareth. Tomorrow will be a day to visit places like sea of Tiberius, perhaps we will be taking a boat ride where Jesus gave explicit command to Peter that he would now no longer be a fisherman rather fisher of men . Arrangement has been made to have the Mass on the shore.

Thank God so far there is nothing untoward has happened beyond Gaza, The security in the streets of the cities is very tight, one sees the police and army personnel armed with heavy guns. Pray that there is peace in this region.

So far arrangements have been excellent. Our tour guide is highly knowledgeable.
The weather is fantastic. Hope you all are fine. I pray for you specially during this journey.
O.K. then, bye for now.
God bless you.
Fr. Wency
---