Eucharistic Miracle of Santarem, Portugal Pilgrimage
Eucharistic Miracle of Santarem:
The Eucharistic Miracle of Santarem occurred in the 13th century when a woman looked to a sorceress for help dealing with her unfaithful husband. The sorceress assured the woman she could rid their marriage on infidelity in return for a consecrated host. The woman went on to celebrate Mass at the Church of St. Stephen and after receiving communion, took the host out of her mouth and wrapped it in a veil to bring home. Almost immediately following this act of sacrilege, the host began to bleed intensely. The woman stowed the bleeding host in a trunk in her bedroom and in the middle of the night, a bright light began emanating from the trunk that woke the husband and wife. When she explained to him what she had done, the couple knelt an the trunk and repented. In the morning, they told the Priest at St. Stephens what had happened. The Priest kept the host in a Wax container at the church and soon word spread, bringing many to visit the church to witness. The next time the Priest opened the tabernacle, another miracle was discovered, the wax container was shattered and the host was now enclosed in a crystal pyx. This pyx was placed in a silver monstrance, where Pilgrims can still view it today. After official investigation, the miracle was approved and the church was renamed the Church of the Holy Miracle.
Location: Santarem is 45 miles north of Lisbon, and just several miles south of Fatima. The Church of the Holy Miracle can be reached by car, train, bus.
Accommodations: There are 4 and 5-star accommodations nearby in Fatima
Tours visiting Portugal: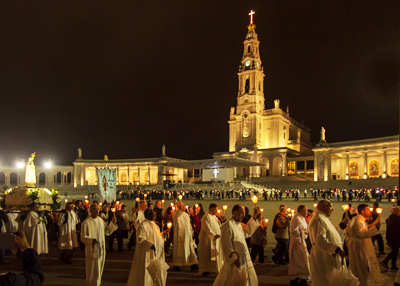 Fatima, Spain, Lourdes & Paris
Lisbon (St. Anthony) * Santarem (Eucharistic Miracle) * Fatima * Salamanca * Alba de Tormes * Avila (St. Teresa) * Burgos * Loyola (St. Ignatius) * Lourdes (St. Bernadette) * Paris * Lisieux (St. Therese the Little Flower) * Normandy * Chartres
| Duration | Destination |
| --- | --- |
| 14 Days | Portugal, Spain, France |
VIEW DETAILS
Fatima, Spain & Lourdes
Lisbon (St. Anthony) * Santarem (Eucharistic Miracle) * Eucharistic Miracle of Santarem * Salamanca * Alba de Tormes * Avila (St. Teresa) * Burgos * Loyola (St. Ignatius) * Lourdes (St. Bernadette)
| Duration | Destination |
| --- | --- |
| 10 Days | Portugal, Spain, France |
VIEW DETAILS