Eucharistic Miracle of Cascia Pilgrimage
Eucharistic Miracle of Cascia:
In 1330 in Cascia, Italy a very sick peasant asked a Priest from the Basilica of St. Rita to bring Communion to his dwelling. The Priest irreverently placed the host in a prayer book rather than taking the ciborium with him to the man's house. When the Priest arrived, and opened the book to administer the Host, it had miraculously transformed into a clot of blood. Dismayed and penitent, the Priest immediately took the book to nearby Siena to the Augustinian Priory and asked the counsel for advice. They pardoned him and kept the miraculous book. Many popes have promoted the veneration of this Eucharistic Miracle. The book in enshrined in the Church of St. Augustine and each year on the Feast of Corpus Christi a procession following the book is led through the city.
Location: Strada Regionale 471, 25, 06043 Cascia PG, Italy
Accommodations: There are many 4 and 5-star hotels in nearby Siena, Tuscany, Italy region.
Tours visiting Italy: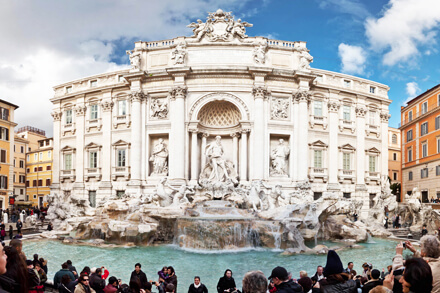 Shrines of Italy
Rome (Papal Audience with Holy Father) * Monte Cassino * San Giovanni Rotondo (Padre Pio) * Monte Sant'Angelo (St. Michael) * Lanciano (Eucharistic Miracle) * Loreto (Holy House) * Assisi (St. Francis) * Cascia
| Duration | Destination |
| --- | --- |
| 10 Days | Italy |
VIEW DETAILS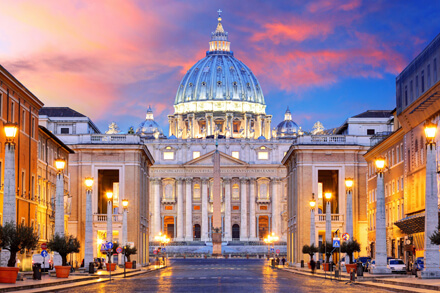 All Italian Shrines
Rome (Papal Audience with Holy Father) * Monte Cassino * San Giovanni Rotondo (Padre Pio) * Monte Sant'Angelo (St. Michael) * Lanciano (Eucharistic Miracle) * Loreto (Holy House) * Assisi (St. Francis) * Cascia * Siena * Florence * Padua (St. Anthony) * Venice
| Duration | Destination |
| --- | --- |
| 14 Days | Italy |
VIEW DETAILS