Basilica of St. Paul Outside the Walls Pilgrimage
The Story:
The Basilica of St. Paul, (in Italian San Paolo Fuori Le Mura) is often referred to as "St. Paul's Outside the Walls". The Basilica is considered one of the four (4) Major Basilicas in Rome, but unlike the others, it is not located within the Vatican City State, though it is owned by the Holy See. The Church is located on the Via Ostiense near the Tiber River and is the world's ninth-largest church. The Basilica was originally founded by Emperor Constantine in the 4th Century and is in the Neoclassical style. This Basilica is the burial places of Saint Paul the Apostle and contains many mosaics depicting the lives of St. Paul and St. Peter.
Hours: Open from 7AM – 6:30PM daily Open from 7AM – 6:30PM daily
Address: Piazzale San Paolo, 1, 00146 Roma RM, Italy
Location: The Basilica is about a 20 minute ride from Vatican city and about 45 minutes by public transportation. There are many 4 and 5 star hotels in central Rome.
Tours visiting Italy: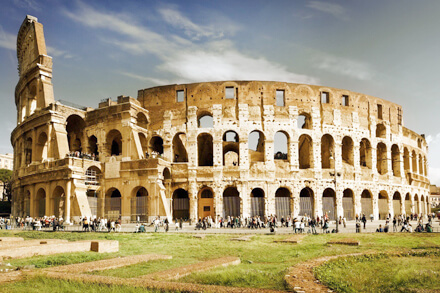 Shrines of Italy
Rome (Papal Audience with Holy Father) * Monte Cassino * San Giovanni Rotondo (Padre Pio) * Monte Sant'Angelo (St. Michael) * Lanciano (Eucharistic Miracle) * Loreto (Holy House) * Assisi (St. Francis) * Cascia
| Duration | Destination |
| --- | --- |
| 10 Days | Italy |
VIEW DETAILS
All Italian Shrines
Rome (Papal Audience with Holy Father) * Monte Cassino * San Giovanni Rotondo (Padre Pio) * Monte Sant'Angelo (St. Michael) * Lanciano (Eucharistic Miracle) * Loreto (Holy House) * Assisi (St. Francis) * Cascia * Siena * Florence * Padua (St. Anthony) * Venice
| Duration | Destination |
| --- | --- |
| 14 Days | Italy |
VIEW DETAILS