Canonization of Blessed Pope Paul VI & Archbishop Oscar Romero

Pilgrimages - Italy, October 14, 2018
Celebrate the Canonization of Blessed Pope Paul VI & Archbishop Oscar Romero in Rome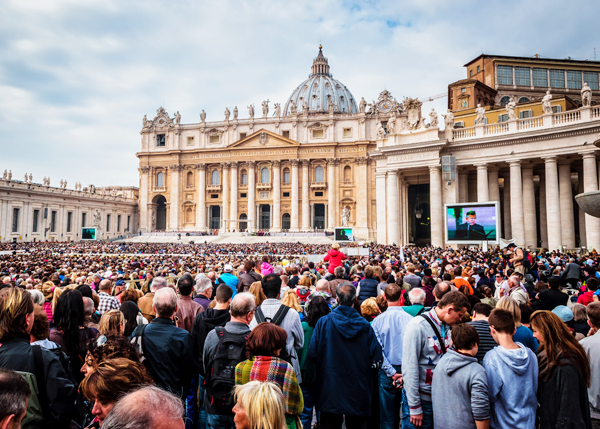 Lead a Group to the Canonization - 1 FREE Trip in each 10 Pilgrims
Click Here!
About Blessed Pope Paul VI & Blessed Archbishop Oscar Romero
On May 21, 2018 the Vatican announced that Blessed Pope Paul VI and Blessed Archbishop Oscar Romero will be Canonized in on October 14, 2018 during the Synod of Bishops.
Blessed Pope Paul VI
Blessed Pope Paul VI's papacy began on June 21, 1963 and he served until his death on August 6, 1978. He was born Giovanni Battista Enrico Antonio Maria Montini in Italy in 1897. Ordained in 1920, Pope Paul VI was never appointed a Parish Priest. Rather he had a long career in the Roman Curia, or the papal civil service. His position as one of the heads of the Secretariat of State of the Holy See established a close relationship with Pope Pius XII.
Blessed Pope Paul VI was vocal about political issues like working conditions and labor laws, built over 100 new churches, and reached the public in new ways by speaking in in schools, hospitals, places of work, courtyards and even barracks. His goal was to reintroduce the Catholic Faith and generate more public participation and stewardship. He was the first traveling Pope, visiting 19 countries by airplane.
In September of 1965, Blessed Pope Paul VI created the Synod of Bishops, a selected group of Bishops to meet periodically as an advisory body to the papacy also known as the Code of Canon Law (CIC). So it is fitting that he will be Canonized during the 2018 Synod of Bishops.
Blessed Pope Paul VI is perhaps best known for the Humanae Vitae which reaffirmed the churches stance on contraception in 1968; this year will mark the 50th Anniversary of that historic encyclical.
Pope Francis has confirmed the miracle attributed to Pope Paul VI's intercession whereby a woman from California in the 1990s was told her unborn child was very ill and advised she terminate the pregnancy as it posed a threat to her own life. The mother took advice from a nun who suggested that she pray for Paul VI's intercession and have her a piece of the Pope's vestments. The baby was carried full term and born completely healthy.
Blessed Archbishop Oscar Romero
Blessed Oscar Romero is revered as a strong advocate of the marginalized and poor, often speaking out about social injustice, violence, and poverty.
The Archbishop of San Salvador was born Oscar Arnulfo Romero y Galdamez on August 15, 2917. He was ordained in 1942, and spent decades as a Pastor in El Salvadorian churches before becoming the Bishop of the Diocese of Santiago de Maria in 1974 and subsequently the Archbishop of San Salvador in 1977.
Just a month after being appointed Archbishop, Blessed Archbishop Oscar Romero's close friend, a Jesuit priest, Fr. Rutilio Grande was assassinated in front of him. Deeply disturbed, Romero became an even stronger advocate against violence. He gained a huge following through the use of radio and the press.
On March 23, 1980, after delivering a sermon in which he called on Salvadoran soldiers to end violations of basic human rights on behalf of the government, a gunman entered the chapel and fired a shot killing Romero on the altar. After the assassination, over 250,000 mourners from all over the world traveled to attend his funeral in San Salvador. During the funeral mass, chaos erupted on the streets of San Salvador, leaving dozens dead.
Romero's ardent seeking of peace has left a legacy that has touched millions. Many worldwide political and religious figures have nominated him for the Nobel Peace prize. In 2010 the UN named March 25, "the International Day for the Right to the Truth Concerning Gross Human Rights Violations and for the Dignity of Victims" in honor of Romero celebrating his strong in defense of human rights.
Blessed Archbishop Oscar Romero will be the first Salvadorian Saint. In 2007 Pope Francis (then cardinal Jorge Maroi Bergoglio) said, "…to me, (Romero) is a Saint and a martyr. If I were Pope, I would have already Canonized him." He went on to beatify Romero in 2015, calling him, "a voice that continues to resonate."